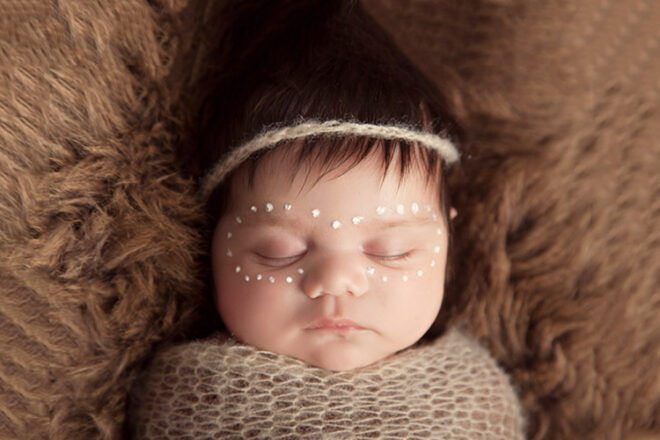 Aboriginal baby names are growing in popularity and it's not hard to see why. The beautiful languages from which they originate and their unique meanings are a special connection we can give our children to our Australian heritage.
Find inspiration from the world's oldest known civilisation when naming the newest addition of your family from our handy list of aboriginal baby names that we absolutely love.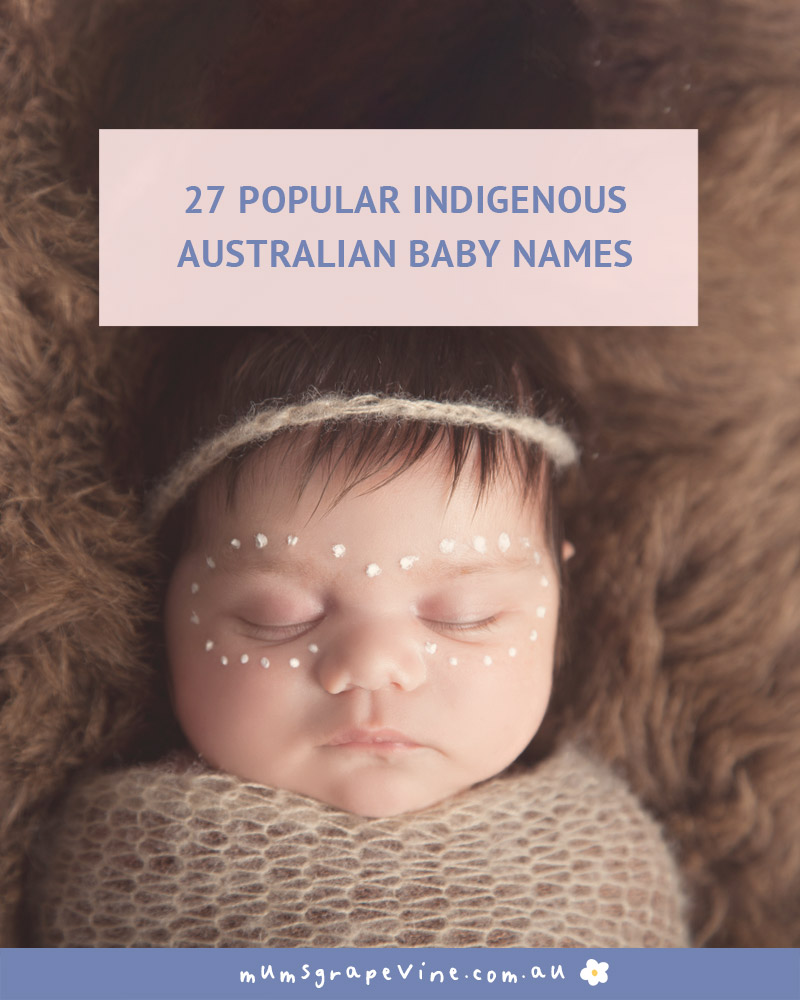 Boy and girl Aboriginal names
Alinta: Shining a light on one of earth's elements, Alinta is 'flame' in one of the Aboriginal languages of South Australia.
Alira/Allira/Allyra: There are various spellings to choose from, but one thing is for certain: this pretty indigenous name is strong, healing and beautiful for it refers to the gem quartz.
Arika: A serene vision is conjured with this water name: the Waka-Waka language uses this word which translates to 'blue water lily.'
Bindi: Already boasting celebrity credentials, this is a moniker with significant symbolism – the word Bindi-Bindi is the Noongar name for butterfly. Will this little girl aboriginal name flutter onto your radar?
Coen: Strong and powerful, the Aboriginal meaning for Coen (also spelt Koen) is 'thunder'. There'll be rumblings as this name ascends in popularity.
Daku: For those that are seeking a name connected to the land, Daku means 'sand hill'. The Diyari people live in the desert region near Lake Eyre where there is an abundance of sandhills; the name is from their language.
Ellin: It may sound like Ellen, but this Aboriginal word means 'wish' – very fitting for a child already so loved.
Jarli: Bestow your newborn with a name that will see them grow up with great wisdom. In the Jiwarli language of WA, Jarli means 'barn owl'.
Aboriginal names from the land
Jarrah: This is a name that conjures up images of the warm Australian wood known for its durability and strength. It comes from the word Djarraly, used by the Noongar people.
Jiemba: For those seeking a celestial name, Jiemba might just catch your gaze. It's the Wiradjuri word for the planet Venus or 'the laughing star.'
Kalina: We're enamoured with this name as it translates to 'love' in the Wemba-Wemba language of north west Victoria and southern New South Wales.
Kirra: With numerous meanings such as beautiful woman, boomerang, 'to live' and dancing leaf, it's also the name of a beach on the border of Queensland and New South Wales.
Koa: A short name but significant, it means 'crow' in the Kaurna language of Adelaide. We predict this one might take off in popularity.
Kylie: Did you know that Kylie is the West Australian Noongar word for 'boomerang'? This just might be a name that keeps coming back to your shortlist!
Marlee/Maali/Mahkee/Marli: Marlee is 'elder tree' in local Biripi language – the sweet berries of which are known as native bush food. For those that like dual meanings, it also means 'swan.'
Medika: For those desiring a floral namesake with a difference, Medika is translated to blossom or flower and is used for native water lilies.
Minjarra: The aboriginal name for a bush plum, Minjarra could be a sweet name pick for your newest addition.
Monaro: Park the association with cars for the moment because this Ngarigo word means 'high plain' which we think is even cooler.
Strong and striking Aboriginal names
Miro: This short sharp Noongar word describes a type of wooden spear thrower. A name of power, it's a striking substitute for Milo.
Monti: Not to be confused with being short for Montgomery, this great name in its own right has the Aboriginal meaning of 'black-necked stork.'
Ngarra: The sublime translation of 'together with you' from the Dharug language is something we can't ignore. What a beautiful meaning for your child to grow up with.
Tahnee: Making a splash onto our name list, the Adelaide-based tribes of the Kaurna people use Tahnee (also spelt Tarni) to mean the sound of the surf.
Talia: Already a largely recognised name, its Aboriginal origins refer to being 'near water' – which is something that a lot of Australians aspire to be.
Tau: If you're wanting a three letter aboriginal baby name that evokes emotion look no further than the Kaurna word Tau which means dusk or twilight.
Tidam: Reach for the heavens with your baby's name. Tidam, from the Waghiwoori tribe means 'star.'
Yarran: Give your child a name that is the Wiradjuri word for an Australian icon: the wattle tree. Its wood is very strong and used for making traditional tools.
Yindi: You may have heard of the band Yothu-Yindi, but did you know Yindi means child and Yothu means mother? And if that's not beautiful enough, Yindi is also 'sun' to many Indigenous peoples.
---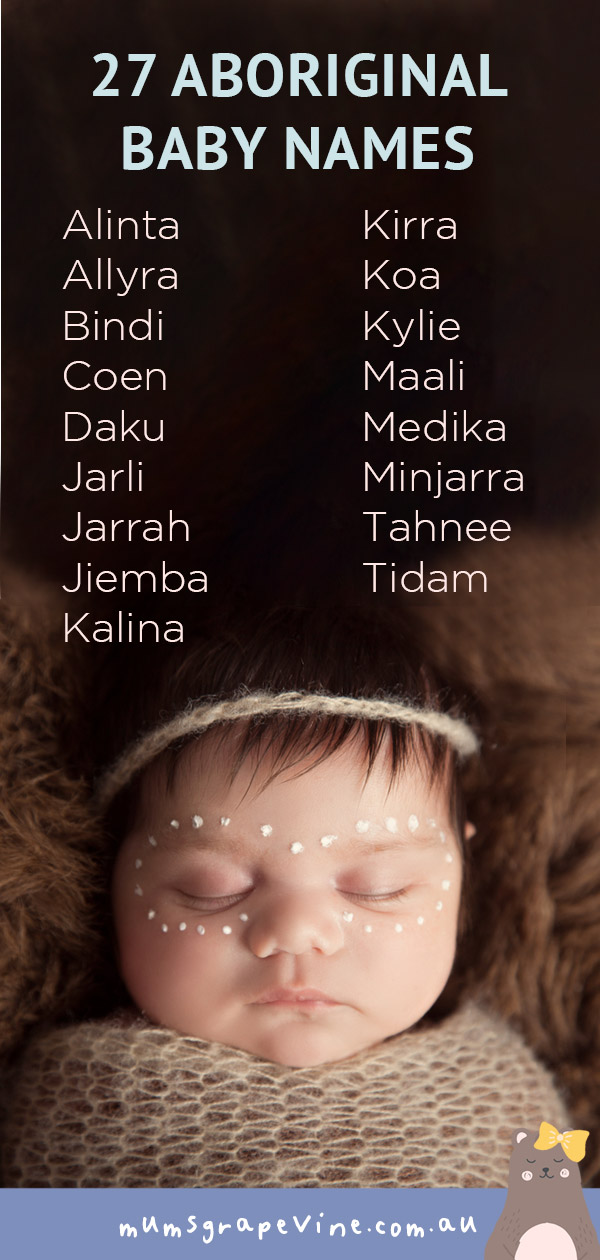 Read next …
Trying to choose the perfect baby name for your little one? Find hundreds of inspirational and unique baby names in these articles:
Join our Facebook groups
Join one (or four!) Mum's Grapevine Facebook groups and chat with other mums due at the same time as you. We have over 20 groups to join!
Click here >> Mum's Grapevine Facebook Groups << and find your group today!