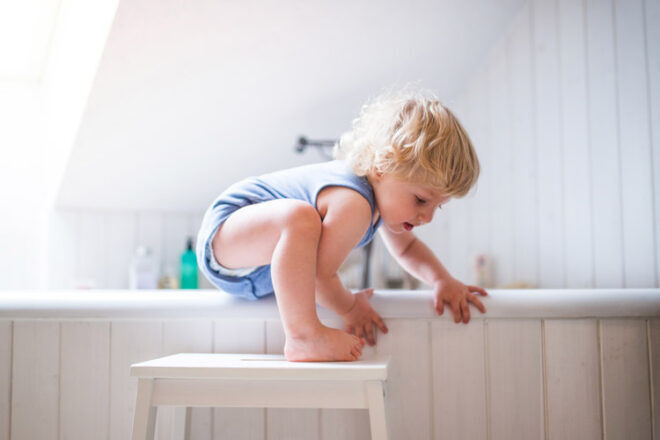 Inquisitive little humans have a way of getting into everything, so it's important to start babyproofing as early as possible to ensure your home is a safe place for bubs and tots to tinker.
To help you get the house ship-shape and safe for your precious new human, we've put together a complete home safety and babyproofing guide that will see you right through the eventful baby and toddler years.
Babyproofing the nursery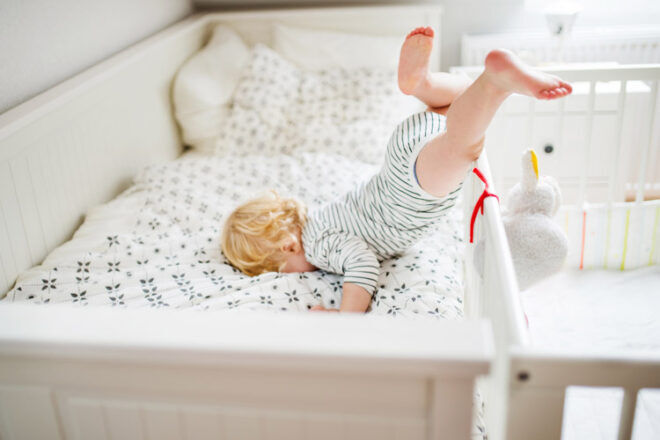 With so much snoozing and changing going on, baby will spend a lot of time in the nursery during the early months. And even if little legs aren't walking yet, there are plenty of potential dangers present like loose objects and exposed powerpoints.
Babyproofing checklist for the nursery:
Do all of your nursery purchases meet Australian safety standards?
If buying second-hand, do you have the seller's instruction manuals and warranties?
Is there a gap of no more than two adult fingers between the mattress and the cot?
Are curtain cords tied up and out of reach?
Are safety plugs placed in all powerpoints?
Is the cot positioned a safe distance from heaters or areas that get direct sunlight?
Are climbable pieces like the cot and change table positioned away from windows?
Have you removed any artwork or objects from above the cot or change table?
Toddler proofing doorways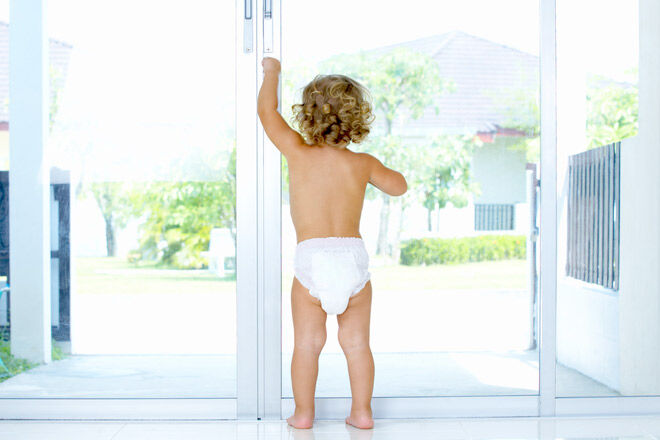 Once your child is crawling or walking, a whole new world opens up to them which means a different perspective on home safety. Things they've previously admired from afar are now within their reach, and unless you have eyes on the back of your head, you won't have your child in your line of vision at all times. It's time to take a look around the house and see what dangers lie in wait for your mobile toddler.
The front or back door is the first place your mini Houdini will look to make their escape. Make sure that the doors are shut at all times and ensure that your mobile munchkin can't hoist themselves up on anything to access the doorknob and/or locks and get out.
Babyproofing checklist for doorways:
Do all easy-to-open front and back doors have doorknob safety covers?
Do all sliding doors have childproof locks?
Are door keys stored nearby, but out of reach of children?
Have you removed rubber covers (a choking hazard) from existing door-stops?
Can your child crawl through any pet doors?
Do you have finger-pinch guards on internal doors?
Kitchen hazards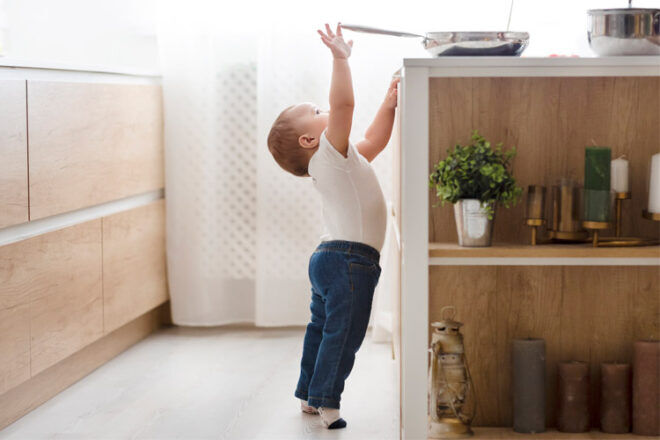 The kitchen is often the hub of the home, but it is also a major danger hotspot. From sharp objects in the cutlery drawer to the heat of the oven door, there are many things to consider once your baby can move around independently.
Babyproofing checklist for the kitchen:
Are sharp objects like cutlery, scissors and knife blocks out of reach?
Do you have choking hazards in the kitchen's 'junk draw'?
Are there any appliance power cords dangling off the bench?
Do you have door locks on your cupboards, fridge and freezer?
Is the kettle pushed to the back of the bench and emptied after each use?
Do you use the back burners and turn saucepan handles inward?
Is there a stovetop guard fitted?
Do you use placemats instead of tablecloths (which your toddler can more easily pull down)?
Can your child reach the stove/oven knobs? Do you have knob covers?
Does your oven door get hot?
Do you have chemicals (including dishwashing powder/tablets) in reach of children?
Are there corner guards on benches and tables to prevent little heads banging on sharp corners?
Are plastic bags (a suffocation hazard) out of reach and knotted in the middle?
Is the microwave out of reach of children? Does it have a child lock?
Do you have mice/rat bait poison under the fridge or behind stove? Are they out of reach?
Do you have fridge magnets (a choking hazard) on the fridge?
"Set aside a 'safe cupboard' for the little ones to explore. Filling it with plastic kitchenware, utensils and small pots and pans will go a long way towards distracting them from the 'no-go' areas." ~ C. Taylor (Elwood) VIC
Bathroom hazards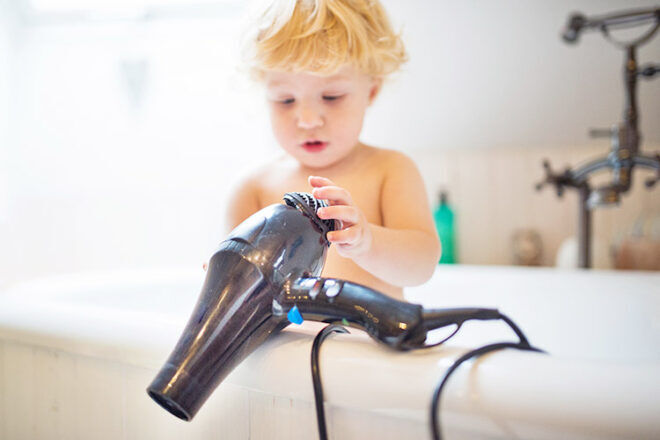 Children can drown in only a few centimetres of water – never leave a child unattended in or near a bath. Unfortunately, water isn't the only peril in a bathroom. Some of the most common bathroom accidents involve poisoning, electric shocks, burns, falls and illness caused by hazardous germs.
Babyproofing checklist for the bathroom:
Are sharp objects (eg. razors) out of reach of children?
Does the bath have a non-slip surface or mat?
Look for spout protectors to keep little hands away from potentially hot surfaces
Do you always empty the bathwater after bath time (drowning hazard)?
Do you unplug all electrical items in the bathroom when not in use? Don't forget electric toothbrushes.
Do you store the toilet brushes and bins out of reach of children?
Have you fitted a toilet lock to the lid?
Do you have a safe place for straighteners and curling irons to cool down? Are the cords out of reach?
Do you store shampoo, conditioner and pump soap out of reach?
Do you have a heated towel rail?
"Keep a spare towel, nappy and a pair of pyjamas in your bathroom so you won't be tempted to leave your child to grab them." ~ M. Sheppard (Surry Hills) NSW.
Babyproofing the rest of the house …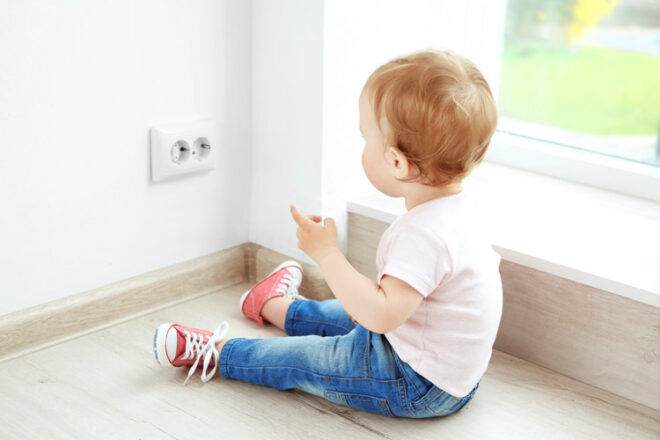 For peace of mind that you've done all you can to ensure safety in the home, take a look at these general tips.
Look for hazards. A great babyproofing technique is to get down on your hands and knees and look around your house from a toddler's perspective. What do you see? Are electrical cords poking out? Can you reach and pull down heavy objects? Can you poke things into electrical wall sockets?
Storing medicines and chemicals as high as possible or in a medicine safe.
Identify 'no go' zones. Rooms like the toilet, your bathroom, your office or the laundry are safer kept locked.
Keep emergency numbers stored in your phone. When adrenaline is running high, the last thing you want to be doing is panicking about remembering emergency phone numbers. These Australia-wide services are available 24 hours a day, 7 days a week; add these numbers in your phone, on the fridge and beside the home phone right now:
– Police, Fire or Ambulance services – 000
– Poisons Information Centre – 13 11 26
– National Home Doctor Service (after hours GP home visits – bulk billed) – 13 74 25
– SES Flood & Storm Assistance – 13 25 00
 Know what to do in an emergency. Do a first-aid course, download an App, have a cheat sheet handy in high danger areas like the bathroom or pool area. Have a well equipped first aid kit at the ready.
Be safe, not sorry. If it can strangle, suffocate, drown, electrocute or otherwise injure or kill a child, now is the time to do something to prevent it from happening.
Prevent electrocution. Install a safety electrical switch in the home. Put safety plugs on all unused powerpoints. Keep electrical cords cabled together and out of reach. Unplug all appliances when not in use. Never leave electrical items plugged in near water.
Prevent strangulation & suffocation. Tie up all loose blind cords on fixed cleats and install tensioning devices. Don't use a toy box with a lid. Teach older children to be careful about packing away small toys that could be choking hazards. Look in drawers and for other small objects.
Prevent poisoning. Move all chemicals into a lockable cupboard or keep them in a cupboard up high out of reach. That goes for poisonous items in the laundry, garage and sheds. Remove any poisonous plants.
Ensure home safety for playtime. Kids will be kids, and running and exploring is a big part of their everyday activities. Anchoring heavy furniture (including the TV), adding gates on stairs (at both ends!), putting furniture corner cushions on coffee tables, using finger pinch door stoppers etc. will go a long way to providing a kid-friendly, open space for your kids to explore and run around.
---
Shopping for babyproofing and home safety products
---
Read next …
Looking for Australia's best nursery furniture and safe playthings for your little one? We have the largest suite of product roundups in the country – from leading cots and mattresses to baby decor.
Read this: Safe sleep tips for setting up a cot
The information contained within this article is provided as a guide only. Refer to your own state/territory for current government legislation.