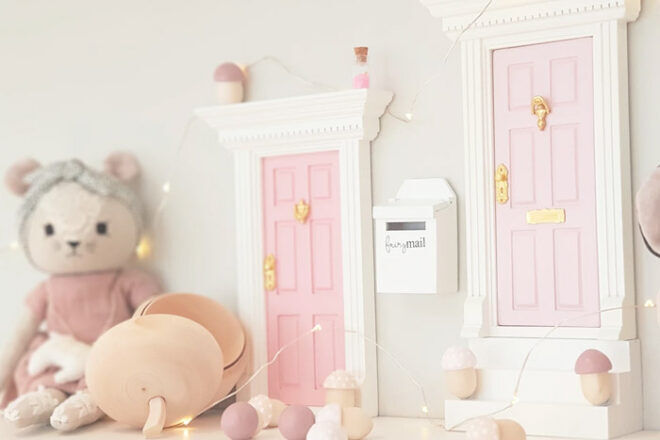 It's in the still, serene moments where your child's imagination can come alive. Invite some enchantment into a quiet corner of their room with a beautiful fairy door.
Fairy doors are miniature gateways to special worlds occupied by fairy folk. They attach to walls, shelves or even trees and kids interact with their fairy friends by leaving letters on the doorstep – and getting deliveries in return! Not only do fairy doors bring magic to kids' worlds, but they also inspire lots of neurologically beneficial pretend play.
We've left no stone unturned looking for the most delightful options in Australia and have gathered them together in one nifty list.
What to consider when choosing a fairy door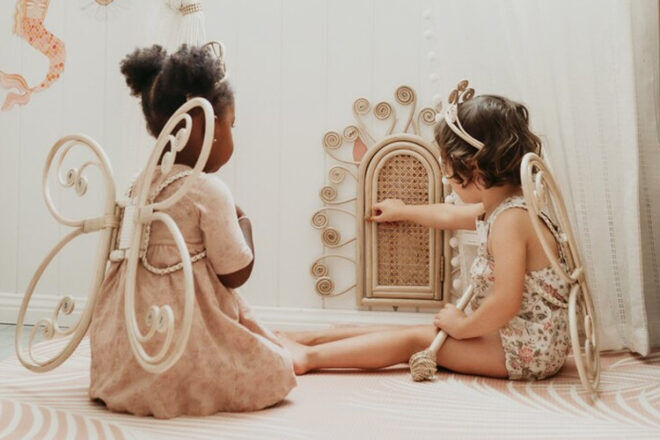 Charm-factor – A door that draws an ooh or an ahh will entice the fairies! Look for a door that captivates their imagination and looks beautiful in their bedroom. Its small size brings loads of cuteness, while extra details such as accessories or sparkles add a touch of extra magic.
Suitability – Fairy doors appeal to all ages (mums included) as there's a bit of wonder in all of us. However for your youngest folk, sets with loose parts that could present as choking hazards, so save the embellishments for when they're older.
Opening or closed doors – Fairy doors differ in their designs; some have doors that open and invite lots of interaction between kids and other worlds. And others have permanently closed doors, which are only opened by pint-sized fairies while kids are fast asleep.
Where it will live – Choose a design that suits where you want the fairy entrance to be. If it will be used outside, look for weatherproof materials. On the other hand, if it's to be positioned against a wall, you'll need Blu-Tack, velcro dots, adhesive or screws.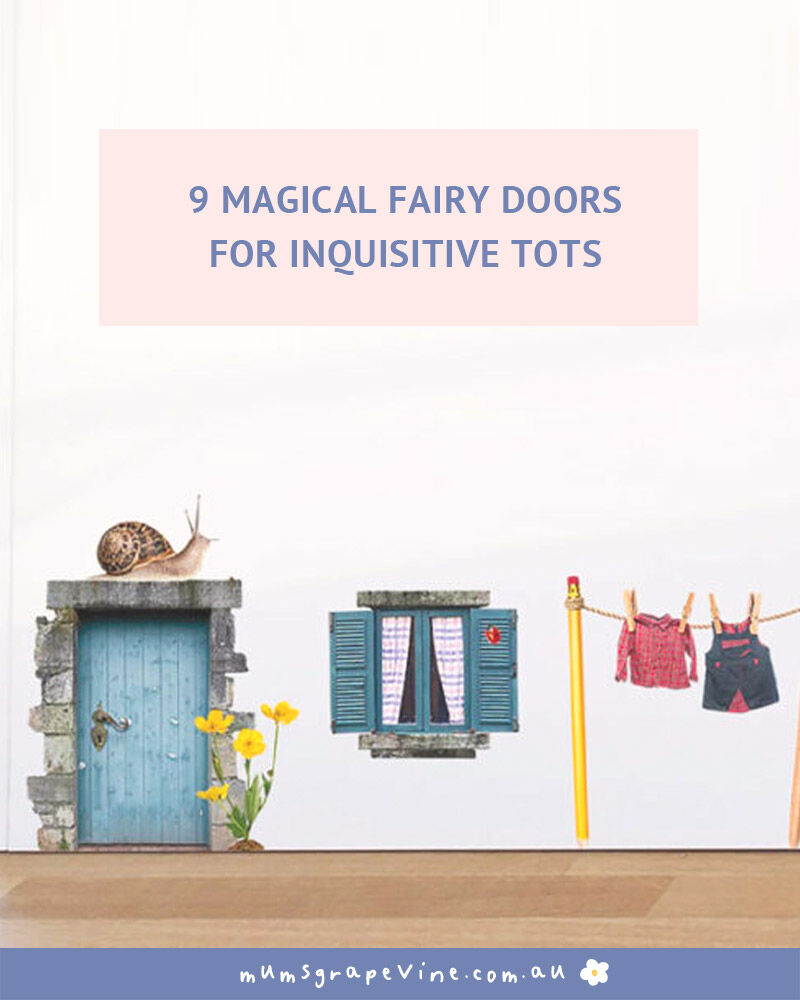 9 enchanting fairy doors for magical moments
Ready to create a captivating corner in your child's room? We've used a bit of fairy dust to conjure up nine exciting options. In no particular order, here they are:
Ginger Monkey
Installable on virtually any flat, clean surface, this easy-to-apply fabric decal is reusable without leaving residue. The soft watercolour shades make the perfect backdrop for fairy parties, and its generous size will mean it's visible from any part of the room.
---
Fairydoorz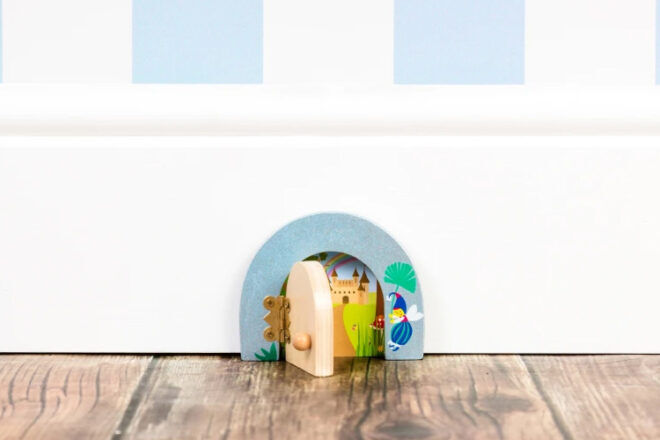 Finding the magic is easy with these miniature openable entrances, it's choosing between themes like pixies, pirates and mermaids that's hard. Personalisable with up to twenty characters, these doors will become an heirloom to treasure.
---
The Miniature Treasury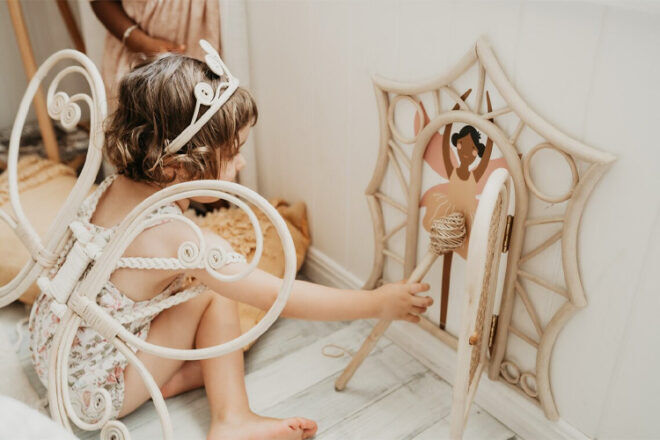 Standing at 50cm high, these openable rattan doors make a grand entrance for folk royalty to flutter through. An impressive decor piece in its own right, how will you choose between the two gorgeous designs? Go all out with a tiara, wings and wand for fairy.
---
Oakdene Designs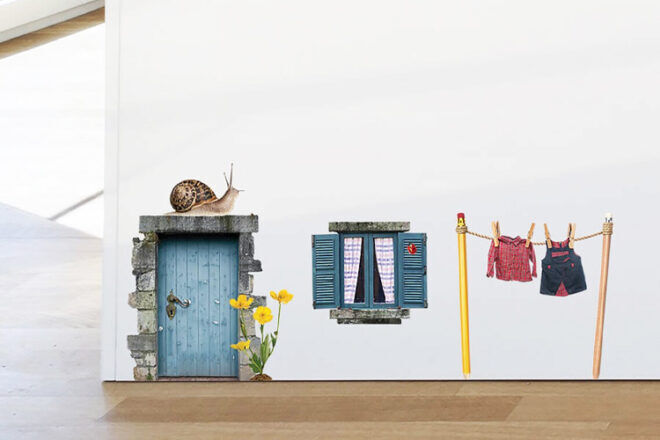 Beautifully made with exquisite detail, this wall decal turns plain walls into works of art. Choose from red or blue themes in this set, which includes a rustic door, clothesline, window and garden snail. Made from quality vinyl, it removes without any residue.
---
Earth Fairy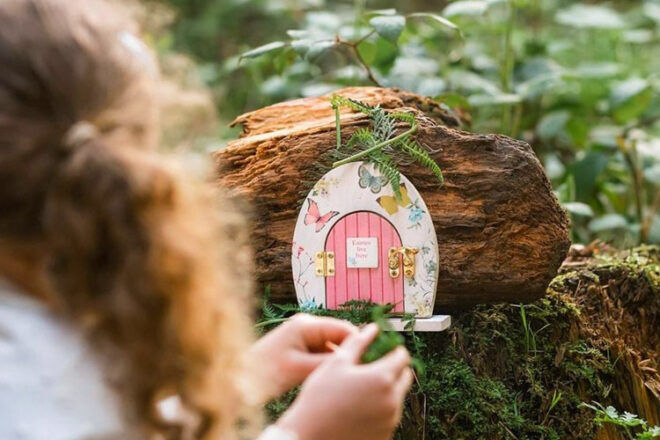 Let fairies take up residence with this realistic door. Featuring a 'fairies live here' sign and gold hardware, the door can be used in your child's room, the garden, for a fairy themed birthday or whenever the tooth fairy visits! All that needs to be added is imagination.
---
Meecoh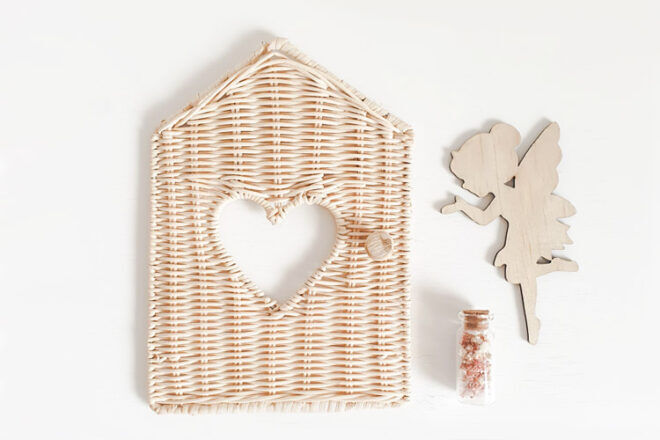 Display this natural rattan door on a shelf or wall and bring not just magic, but bohemian style to their bedroom. Complete with a wooden figure and sweet bottle of dried florals, the door measures 15 x 20cm and features a heart-shaped window that's oh-so-adorable.
---
My Wee Fairy Door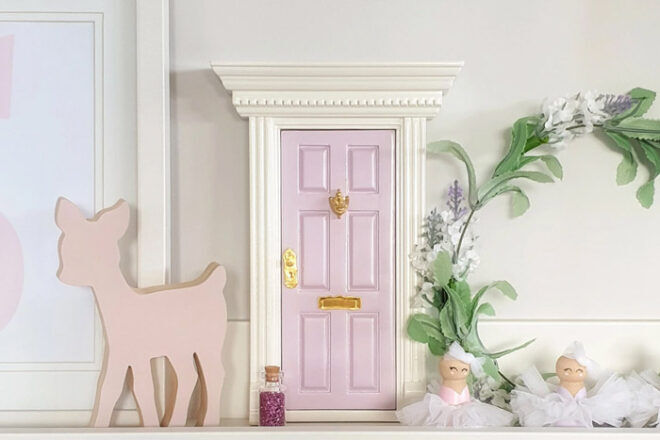 Let your child open this door to a world of make-believe! Available in sweet pastel shades, the set includes a key hidden in fairy dust and a removable decal to stick behind the door. Take a peek at the pint-sized accessories – we can't handle the cuteness!
---
Smallhavens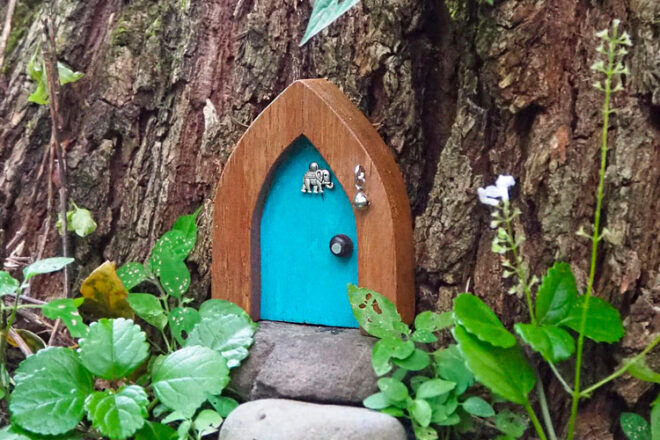 Choose from nine rainbow colours with these unique doors. Handmade from recycled fence palings, no two are alike. Each weatherproofed piece is adorned with a charm and there's even a sweet bell for the fairies to ring!
---
Opening Fairy Doors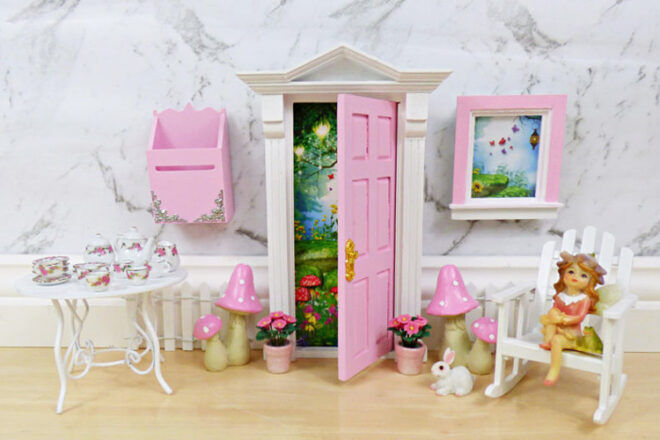 Packed with adorable details, kids will pore over these sweet sets for hours. Choose from individual pieces or complete starter packs with a dreamy background, a white picket fence, window, mailbox and, of course, a bottle of fairy dust.
---
This article is curated by our Editors and includes affiliates and/or paid inclusions. See our Disclosure Policy.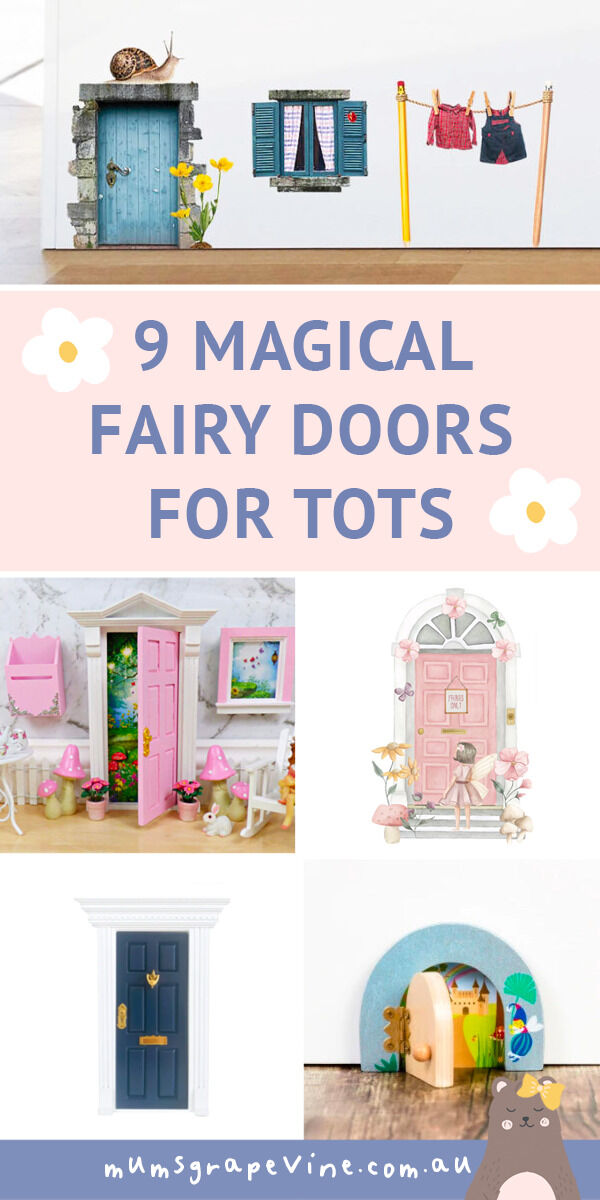 Know a product we should add to our list? Contact us and let us know.
Read these roundups next …
On the hunt for more gift ideas, decor or playthings for your busy little bees? Our roundups include a curated selection of Australia's top boutique brands and products.