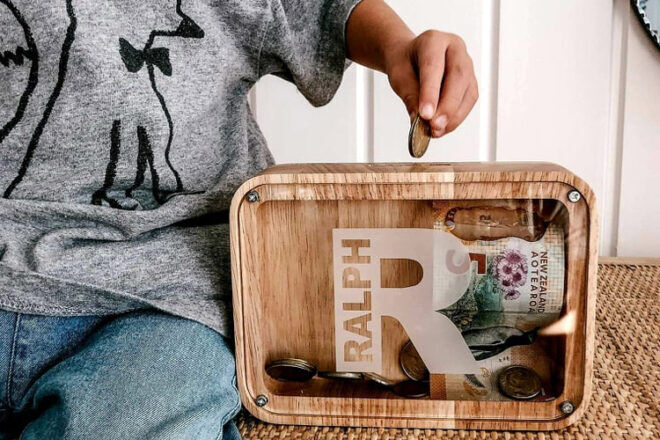 Teaching children the value of money is an important life lesson that will pay dividends for them in the future. What more tangible way than starting with a kids' money box or piggy bank?
Children's money boxes range from simple to interactive, classic to cute – and with so many gorgeous designs out there, they even double as decor. The joy and appreciation of saving can be cultivated and savings safely stored and guarded for future savvy spending. And if that's not cool enough, a piggy bank also helps kids develop their mathematical and fine motor skills.
To help you find your little one's first money box, we've weighed up oodles of options to bring you our favourites in one handy list.
What to look for when buying a kids' money box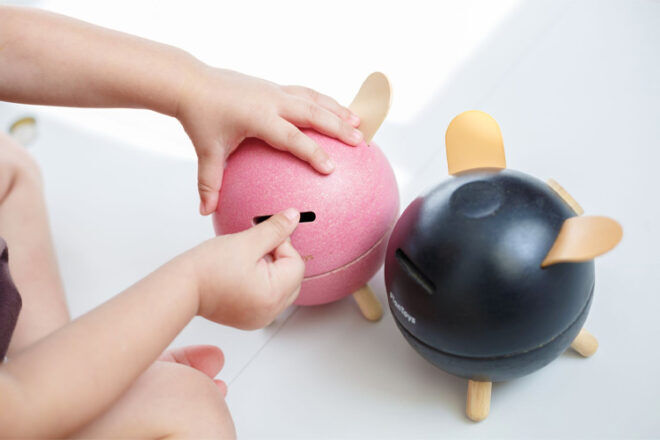 Age-appropriate – If you want a hands-on money box that young kids can play with (with supervision of course), look for materials that aren't breakable and styles that can be emptied with ease. Ceramic is more for money boxes that are a mainstay on a shelf rather than for doling out dollars.
Delightful designs – If we're going to be teaching kids about mathematics and the value of money, making it fun and exciting is a great way to get them engaged. Look for their favourite animal or icon, or features that are interactive.
Capacity – Do you want to store a little loose change or a lot? Look for a box that's generous in size if you want them to stick at saving for longer before the money is spent!
Safety first – Keep in mind that Product Safety Australia recommends avoiding items with small parts for children under three years.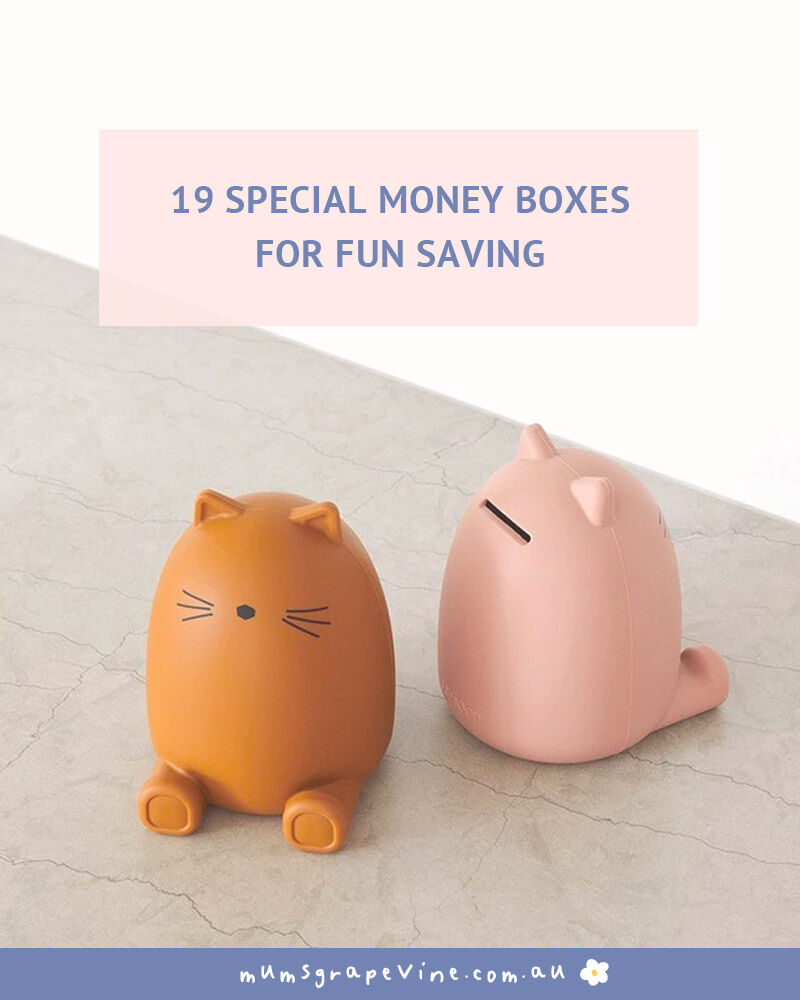 19 fun money boxes for saving
Introduce the kids to the concept of saving with a money box that sparks their interest. In no particular order here are 19 money boxes and piggy banks for kids who like to save:
Love Lottie XOXO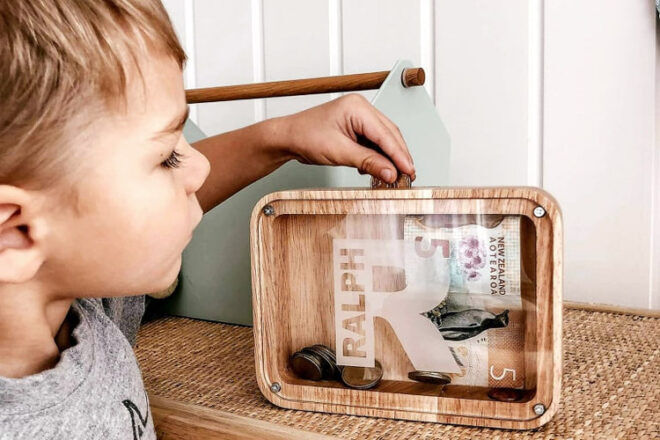 A solid investment for kids young or old, these handcrafted oak boxes come with a clear front for excited eyeballing of growing savings. Will you keep the personalisation simple or inscribe 'Toy Fund'? Use the provided screwdriver to release the loot when full.
---
Georg Jensen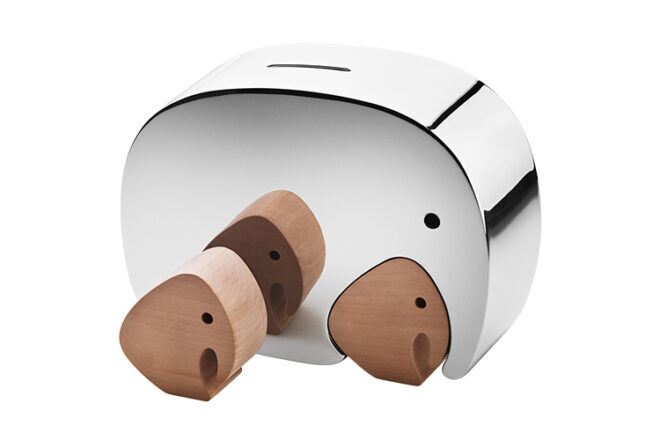 A satisfying 'ker-ching' will ring sweetly in their ears when coins are dropped into this charming money box. Crafted from stainless steel with a mirror finish, these iconic characters will be a beyond stylish addition to your child's room.
---
Liewood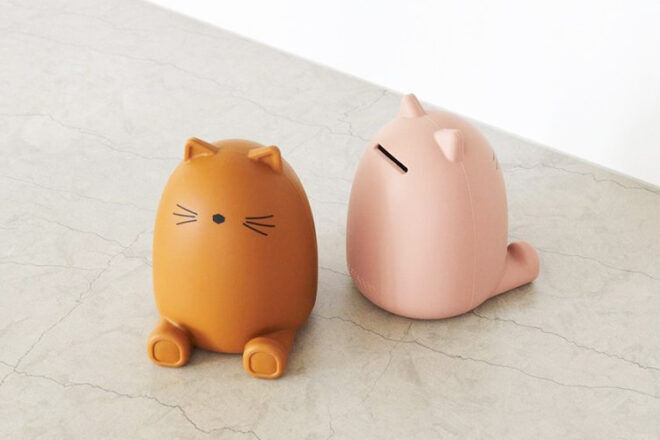 Made of lightweight and super-tough silicone, these Scandi gems are suitable for little savers as young as two. They each have a small slit on the top, a silicone plug at the base, and they come in a choice of characters that are too cute for words.
---
My Family Rulers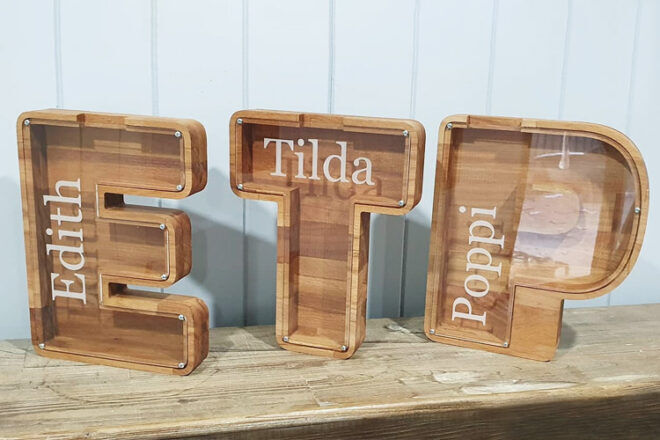 We can't get over how sweet these will look in your child's den. Will you choose an eye-catching initial or adorable animal? Made from solid oak, they come with a personalized perspex cover to give kiddos proud ownership of their money.
---
Money Savvy Kids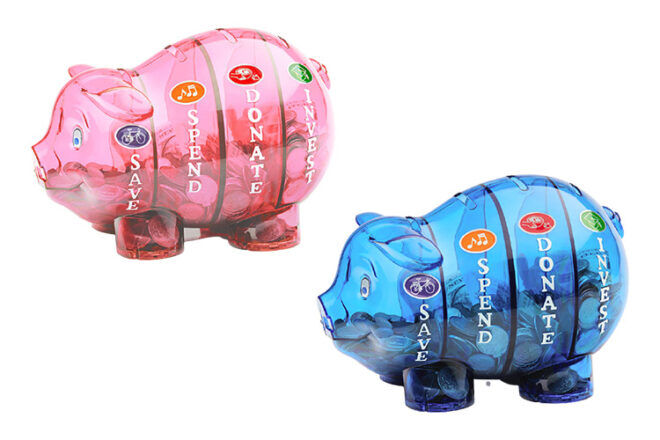 The traditional money bank has gotten a serious upgrade with this impressive piggy pal. With four separate chambers and four colour choices, kids will be well on their way to learning money management and the power of choice in an engaging and interactive way.
---
Janod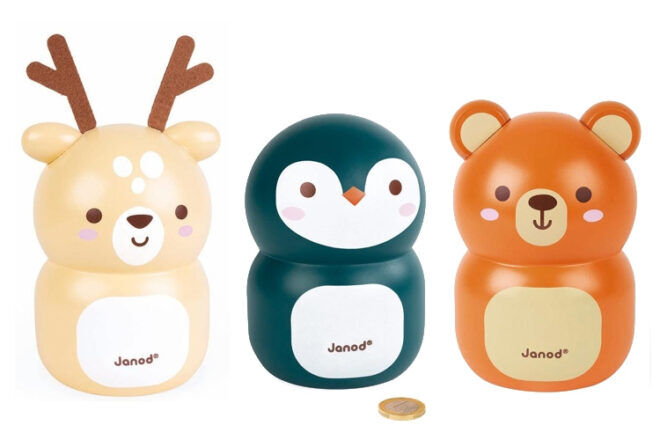 Let these adorable playful pals help your child save money. Looking like just a cute character, the coin slot and stopper are at the back and base. Standing at 15cm tall and available in three delightful designs, saving will be easy but choosing will be hard.
---
Yes Studio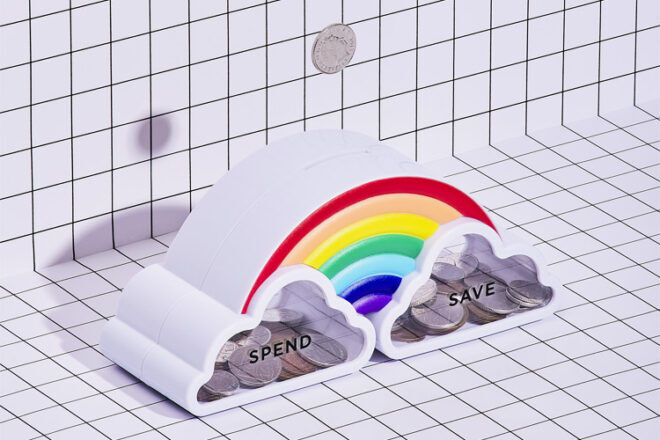 Spend or save? Adding a happy dash of colourful personality to their space, this money box evenly divides their pocket money between the two categories. If that's not cool enough, when the clouds are full, easily open the rubber stoppers to let the change rain out!
---
Plan Toys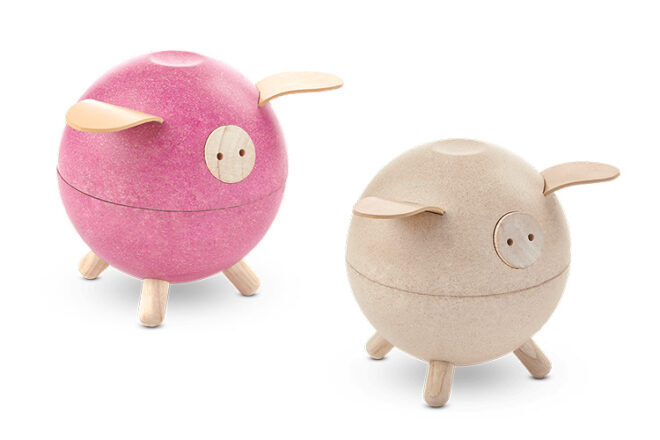 The traditional piggy bank is revamped with this simple, tactile companion. From the wooden legs and floppy ears to the financial discipline they'll adopt, this piggy will definitely be snorting its way to savings in no time. Loving the colours.
---
Pottery Barn Kids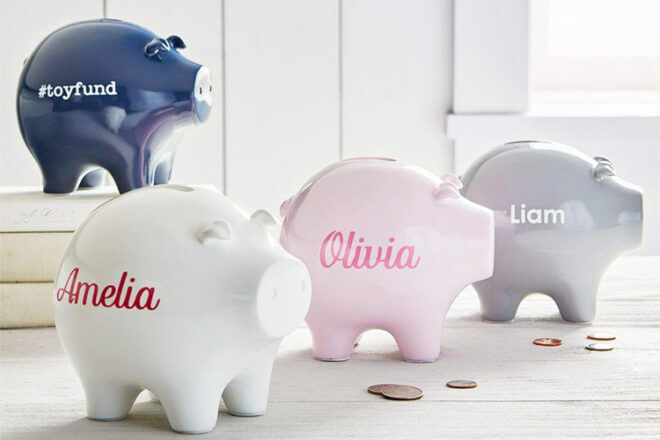 Made of polyresin to stand up to years of dedicated savings, these sweet little piggies are keepsakes to treasure. They come in a choice of classic colours and feature a wide slot and rubber stopper at the base.
---
Tiffany & Co
If you thought Tiffany & Co only made jewellery, think again. This colour-block earthenware money box brings some luxe to the art of saving while taking shelf decor to new heights. In signature robin's egg blue, it's one pretty piggy indeed.
---
OYOY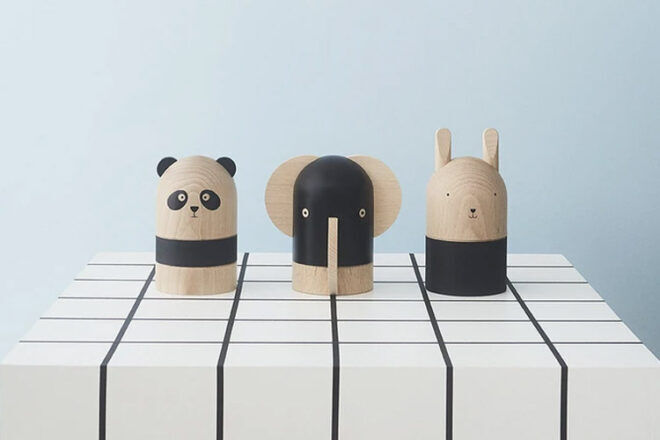 Crafted from natural beech wood, these sweet pals not only encourage wee ones to save, but they also double as playful room decoration. Each features contemporary painted details and measures 15cm in height. Choose from Ninka, Baba or Panda.
---
Melissa & Doug
It's the perfect piggy for older kids who love getting their craft on and a fab way to introduce the concept of saving. The set includes a resin piggy bank, four pots of paint, a brush, stickers and lots of glittery glue for wow-factor.
---
Yellow Octopus
Super shiny and cute as a button, this is a money box they'll want to show off.  It has a removable stopper at the base and comes presented in a sweet box for gifting. With a small slot on this one, it won't fit 50 cent pieces – which means more room for gold coins.
---
Splosh

Perfectly sized for little monsters to tuck away hard-earned coins, these fun money boxes feature clear panels for watching pocket money grow – and grow! There are over 15 designs to choose from and each comes boxed up and ready to gift.
---
Little Belle
Beautifully handmade with love from porcelain, Little Belle piggy banks are treasures to cherish. Each is printed with food-safe glaze and silver motifs and comes with a removable base plug. Personalise it with up to ten characters for a present they'll never forget.
---
Bloomingville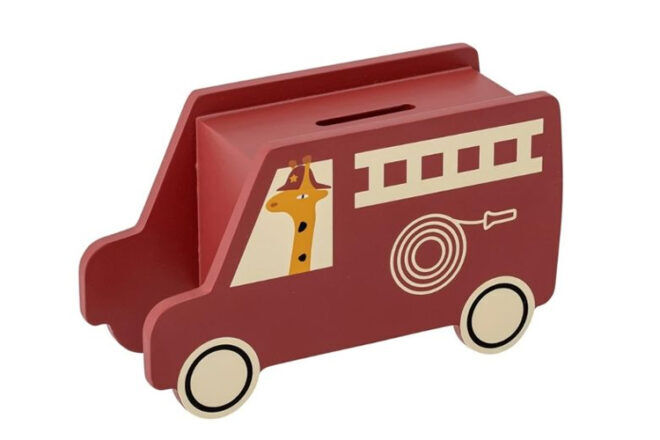 Rescue as many coins as possible with this classic but fun fire truck. Not immediately identifiable as a money box, it can be used as nursery decor before bubs is ready to start saving. It's made of child safe materials and measures 16cm wide.
---
Hannah Turner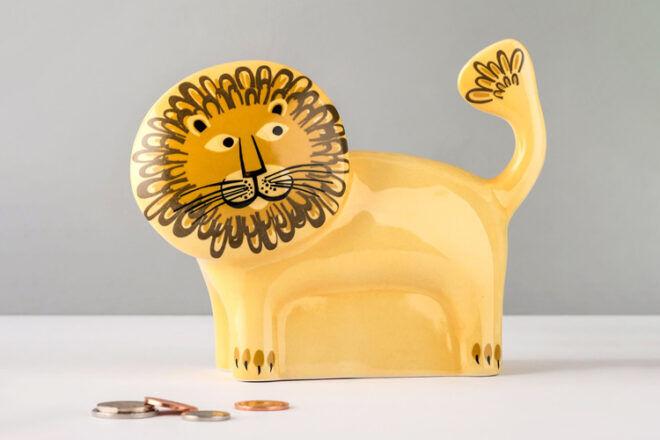 Roar! It's nostalgia-galore with this comic, retro lion coin bank. Standing at 13.5cm high, it will take pride of place on your child's shelf and encourage them to become super savers. Sustainably handmade, it has a coin slot at the back and a rubber stopper on the base.
---
Djeco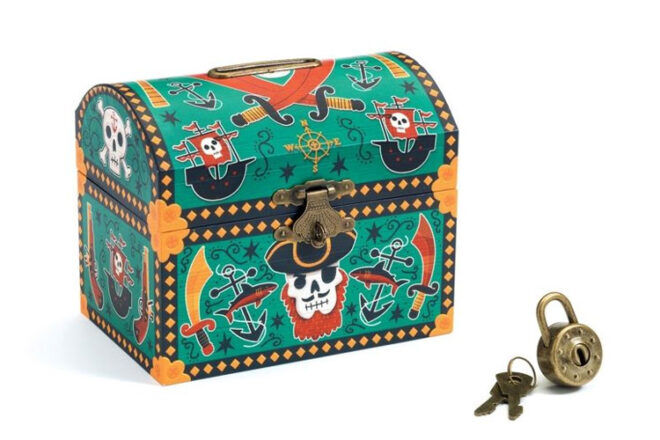 Hide away coins or treasures from siblings and parents in this vibrant chest. Complete with a charming brass lock and keys, kids will be guardians over their own loot as they save up for that pirate costume to complete the scene.
---
Robotic Dog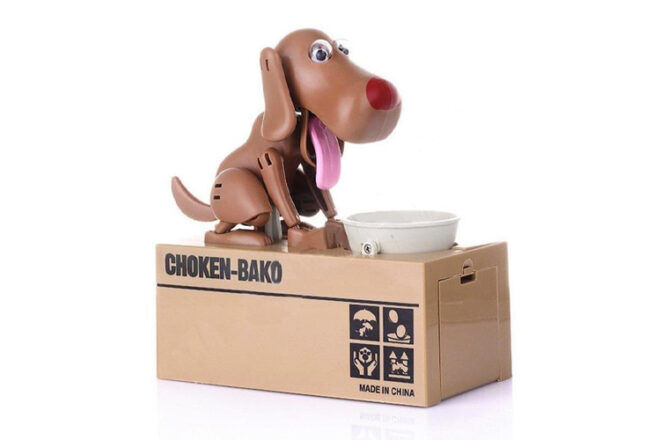 Most dogs love bones, but this canine only has eyes for coins. Animated and interactive, smiles are guaranteed when it reaches down and gobbles the change in his bowl and the hatch releases to let the loot out.
---
This article is curated by our Editors and includes affiliates and/or paid inclusions. See our Disclosure Policy.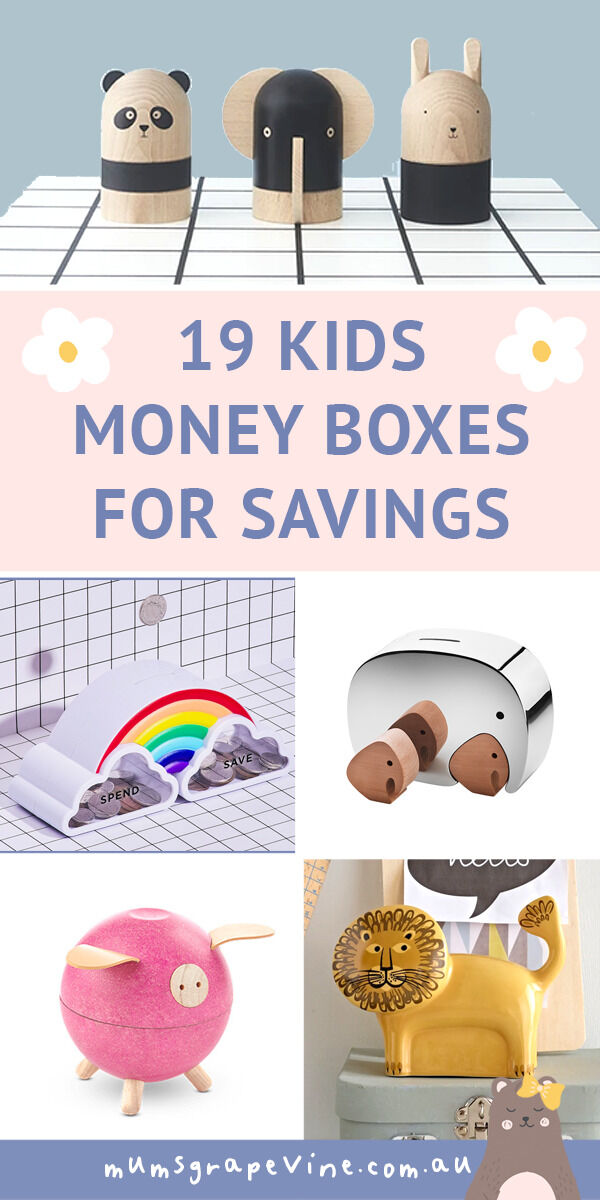 Know a money box we should add to our list? Contact us and let us know.
Find more goodies for the kids …
Looking for more gift ideas and homewares for your wee ones? Our suite of roundups connects you with the coolest toys and decor from Australia's top boutique brands.
Read this: 7 tricks to stop kids interrupting you