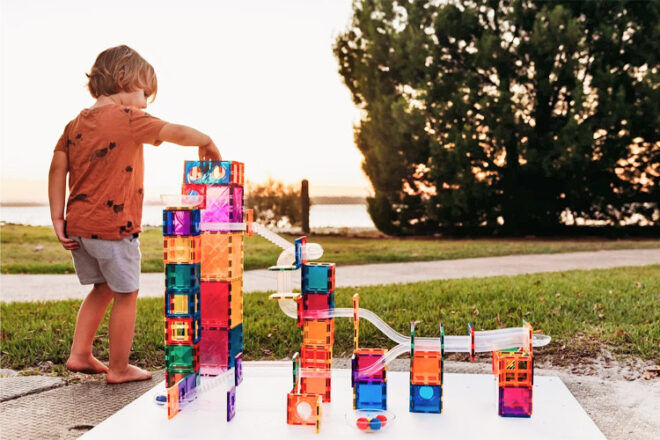 Whether magnetic or wooden, kids' marble runs are a fantastic sensory experience for all age groups. The drop of the ball and the excitement as it travels down the sloping plane makes for a fun activity that has so many well-rounded benefits for children.
Powered by gravity, marble runs are made of sloping surfaces that connect two or more levels. Children of every age can develop their STEM (Science, Technology, Engineering and Mathematics) skills. Incredibly calming or enticingly engaging – there's a run to suit and captivate all ages – adults included!
From simple to creative and complex, marble runs bring out the inner scientist in all of us. And to help you navigate the vast selection available, we've constructed a handy list that you'll want to refer back to.
What to look for when purchasing a marble run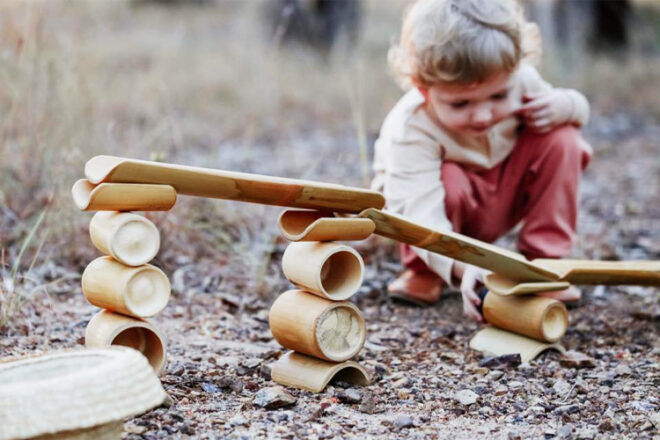 Age – The right marble run can really benefit a child's development. Keep an eye out for ones that are inviting and accessible, yet provides the right amount of challenge and interest. And of course, keep in mind that Product Safety Australia advises avoiding toys with small parts for kids under three.
Opportunity for creativity – Much of the wonder and excitement of a ball run is in creating and constructing it. For older kids, their cognitive thinking is rewarded in the most magical way. Look for sets that have parts that can be used in many ways, rather than just the prescribed.
Durable materials – Such a hands-on and very intently watched toy calls for components that are well-made. Bright rainbow colours, muted earthy tones or gorgeous natural wood adds to the whole sensory experience.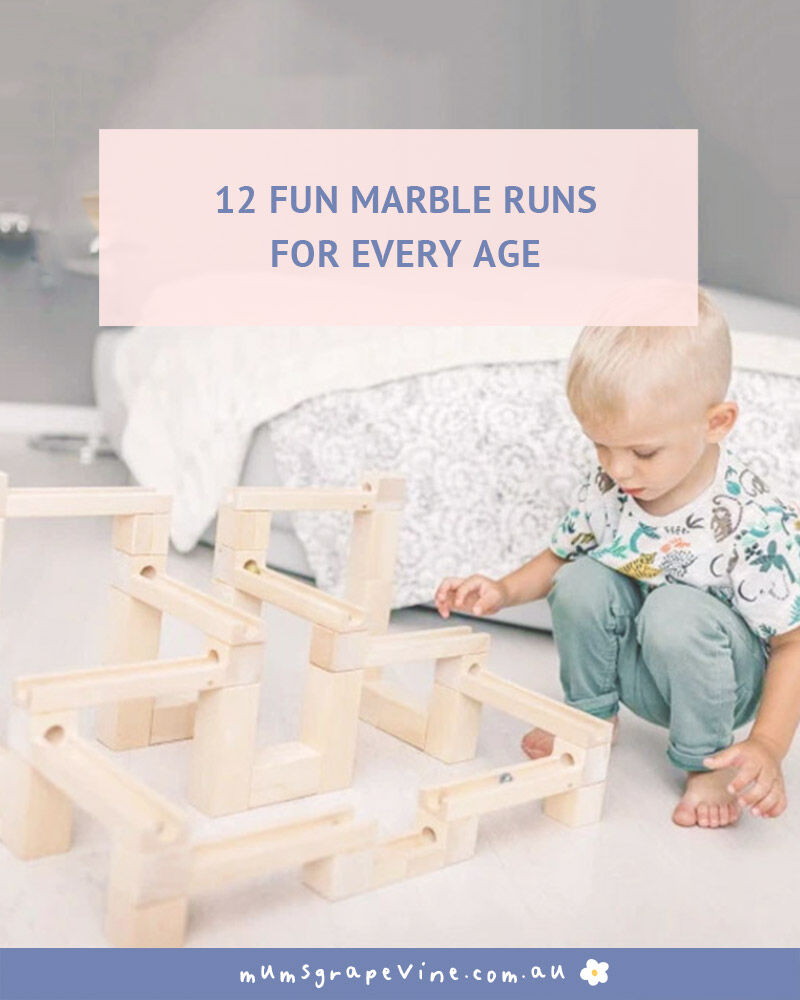 12 kids' marble runs for sensory play
Marble runs can be an exceptional source of enjoyment for many years. We've twisted and tunnelled through a multitude of options to bring you 12 that cater to both young and older engineers-in-the-making.
In no particular order, here are our favourites:
Quercetti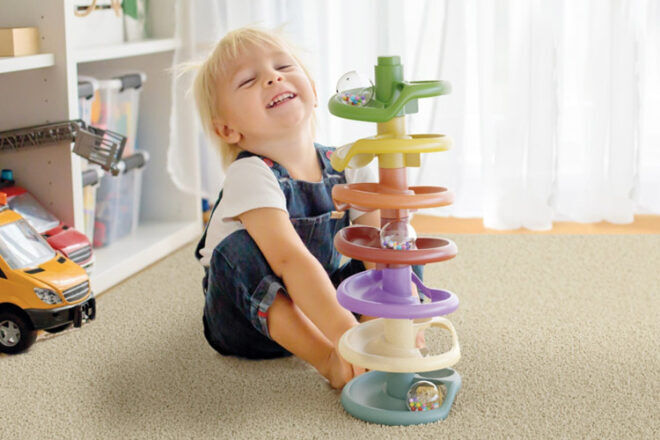 Build high towers and launch colourful balls that rattle and chime as they make their way down the ramp. Great for developing hand-eye coordination and establishing cause and effect in young children.
---
Genius Little Minds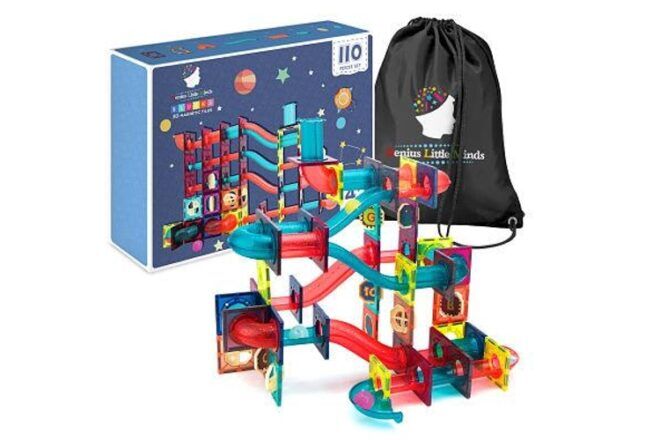 It's not just the marbles in this kit that are speedy, your child's brain will develop rapidly too. Made with natural mineral stone magnets, there are thousands of combinations to engage young minds. And when it's tidying time, the carry case keeps them organised, too!
---
Explore Nook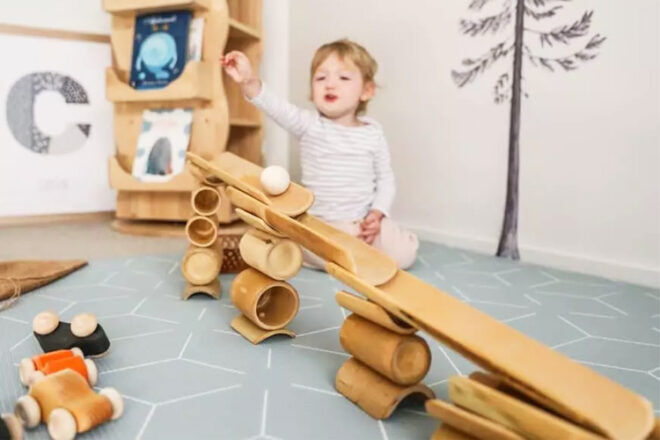 Equip your child with this open-ended learning resource and watch them truly use their imagination to explore and play. Crafted from bamboo, each of the tactile pieces is naturally unique and are simply joined by dowels and holes. Extend their play and take it outside.
---
Quercetti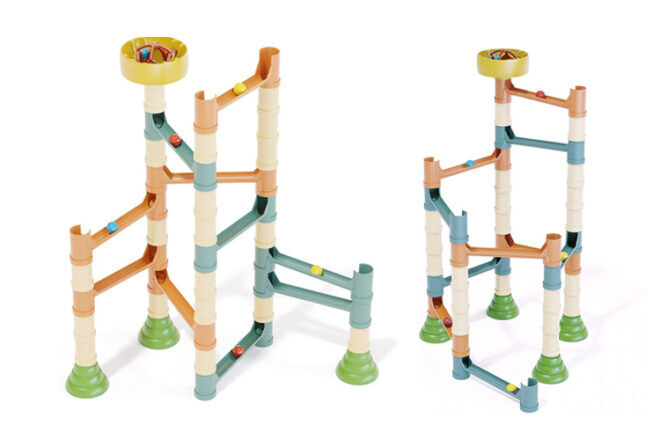 Supporting logical play in a sustainable way, this set is made from eco-sustainable bio-plastic. Kids use the interlocking chutes, bridges and pillars to construct included configurations or make their own creations – direction and challenge rolled into one!
---
Connetix
Ready, set, go! Clear fluted tubes mean that kids can watch the wooden balls zoom through their constructed creation – think of it as the ultimate playground for marbles. Including special effects and S-bend pieces, this set will provide hours of cognitive fun.
---
Hape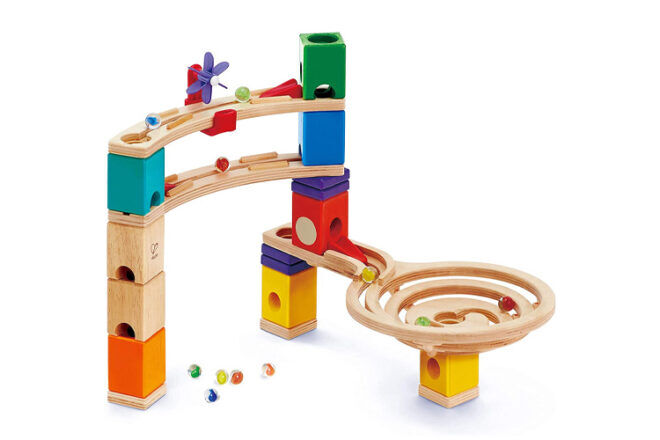 Equip them with this marble run and start them on their STEM journey – not that they'll know it! They'll just be engrossed with the durable wooden blocks and special pieces like the spiral twist, windmill and no less than thirty marbles. The power of play!
---
Kaden
Warning: serious addiction to these may occur! With numerous high-quality sets to treasure and collect, the open-ended beech blocks provide learning opportunities in engineering and maths, teamwork, perseverance, spatial awareness, hand-eye coordination and more.
---
Tiger Tribe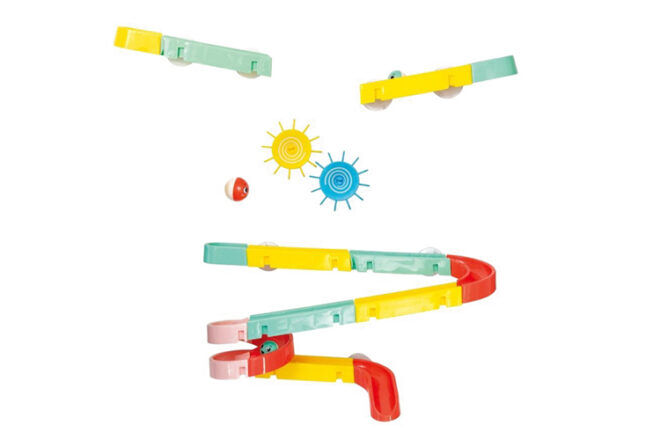 Little ones can soak up quality time in the bath with this toy. Four funny-faced marbles add a splash of extra excitement when careening down vertical drops, spinning cogs and vortex bends. Developing skills in critical analysis whilst in the tub? That's good clean fun!
---
Grimms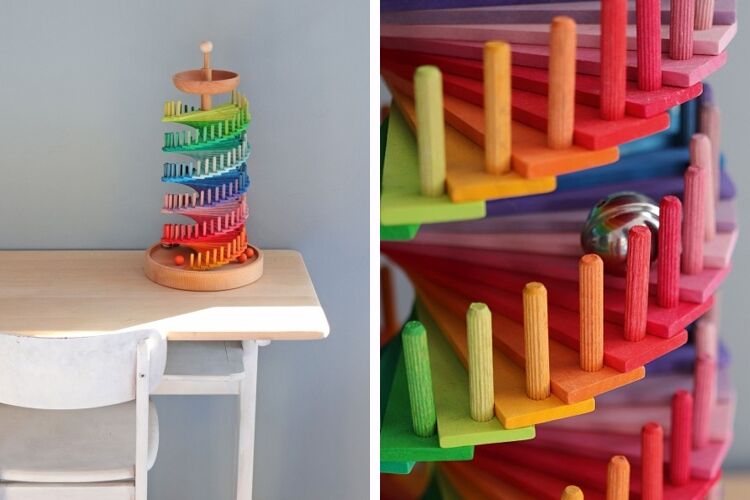 You are invited to a marble race with this compact rainbow run that can be built with double spiral tracks. For a twinkle in the ears, bells also compete! Part run, part sculpture, kids can create a stunning work of art by rearranging the wooded slats how they wish.
---
Udeas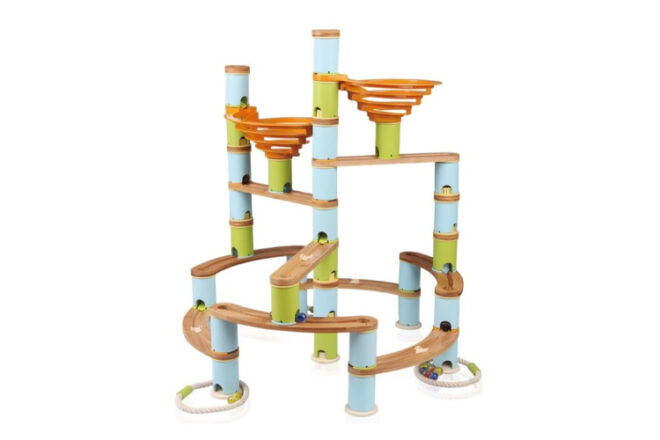 Including handcrafted carbonised tracks, colourful cylinders and sustainable wooden powder spirals that each have a different function, the high-quality components of this range come together in an infinite number of thrilling designs.
---
Kubi Dubi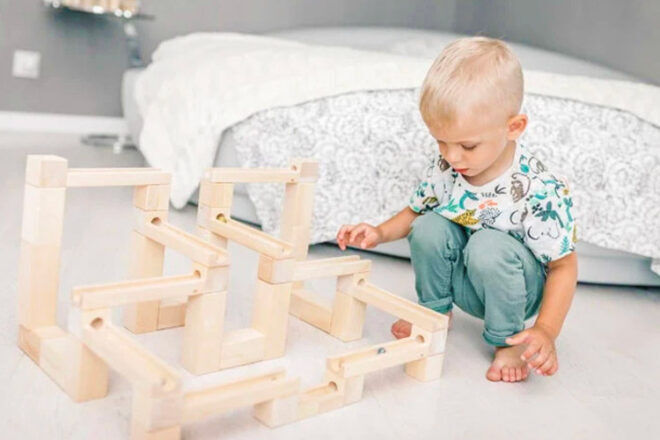 Endless combinations can be made when your children stack, build and create with this hand-finished wooden set. Three metal marbles race quickly down the slides and tunnels. Also included is a quality storage tray to keep your playroom neat and tidy. Bonus!
---
Mindware Q-Ba-Maze
Your children are both sculptors and physicists with these maze kits, creating art forms or animals with interlocking cubes. Tactile steel balls travel in different directions due to the cube opening on two sides. So it's spatial reasoning with every roll!

---
Xyloba
Brimming with heirloom flair, the pieces of this ingenious set are constructed so the marble strikes finely-tuned chime bars to play an iconic song. Alternatively, children can compose their own run giving them the chance to be their own musical maestros.
---
This article is curated by our Editors and includes affiliates and/or paid inclusions. See our Disclosure Policy.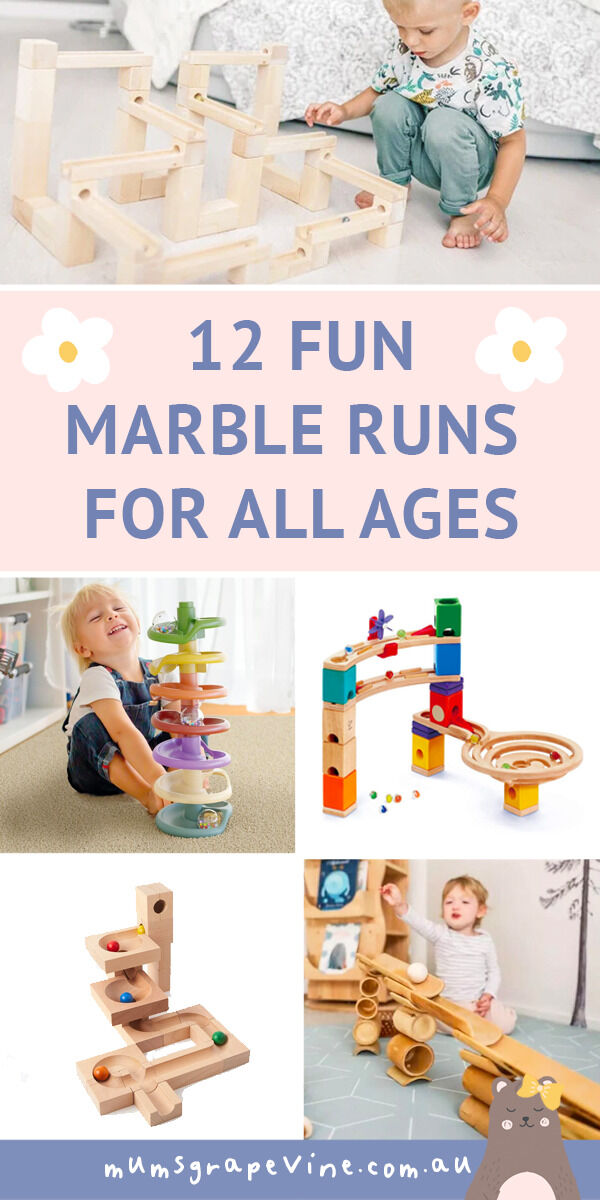 Know a kids' marble run we should add to our list? Contact us and let us know.
Find more fun gear for kids…
Looking for more products for playtime? Our suite of roundups connects you with the coolest toys, homewares and apparel from Australia's top boutique brands.
Read this: 15 creative backyard play ideas