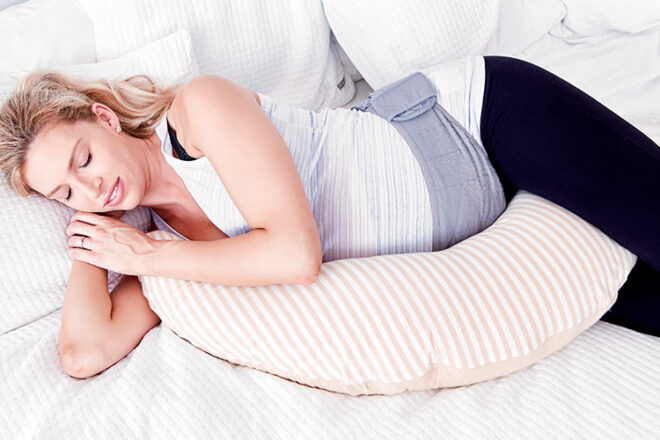 Growing a tiny human is a big job for our bodies and it's quite normal that by bedtime, every bone, bump and brain cell is just about beat. But for many expecting mums, drifting off to sleep during pregnancy is harder than we'd like, but thankfully, a comfy pregnancy pillow can provide the support weary bodies need.
Designed to ease discomfort and target specific aches and pains, pregnancy pillows are worth their weight in gold for getting soon-to-be mums closer to a sound night's sleep. Some styles support the entire body, others target specific areas, but all follow the natural contours of the body to bring comfort where it's needed.
To help you find the right pillow to support your growing bump, we've compiled a handy list of brands that other mums recommend.
What to look for when buying a pregnancy pillow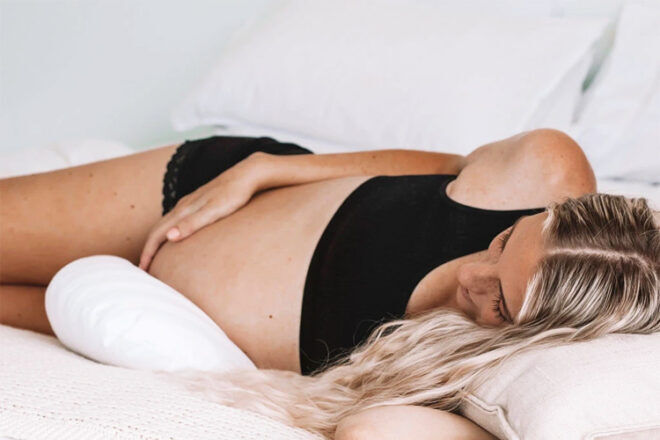 Here are some of the key things to consider when buying a pillow for pregnancy.
Size: Maternity pillows come in all shapes and sizes. Think about the size of your bed, your current sleeping arrangements and if there's room for something else in Snuggletown (sorry in advance, partners!). And if you're often travelling away from home, the size and weight will be a factor here too.
Style: Different pregnancy pillows are designed to target different areas of the body. A full body pillow gives completely different support to that of a butterfly pillow or a pregnancy wedge.
Multiple uses: Some pregnancy support pillows have been designed to double up as nursing pillows once the baby is born. Having a multi-purpose pillow is a great option for new mums wanting to save a few pennies in those early months.
9 pregnancy pillows for every budget
From space-saving styles to full body pillows, our curated roundup will help you track down the perfect pregnancy pillow for your needs.
And the best bit is some brands have offered exclusive offers for Mum's Grapevine readers. Yay! These offers may include exclusions and expiry without notice, so please direct all enquiries directly to the linked website.
Here are 9 comfy pregnancy pillows for mums-to-be:
The Butterfly Maternity Pillow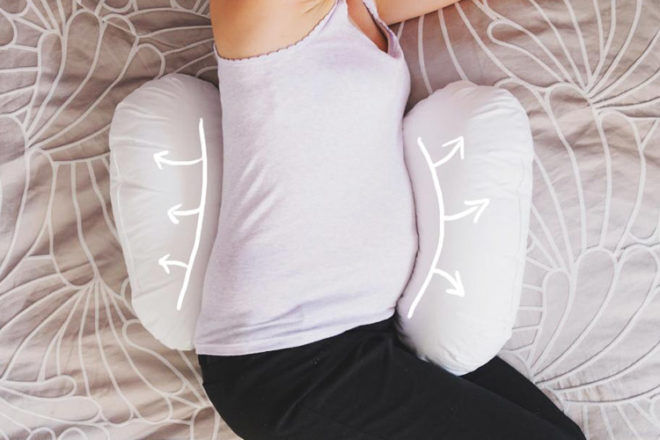 Looking for a maternity pillow that won't take up the entire bed? We found it. Its unique wing design gives expecting mums support on both sides of their growing bump and prevents rolling onto your back in the middle of the night. Ideal for side sleepers, this compact little pillow helps mums-to-be rest easy all through the night.
---
Belly Bean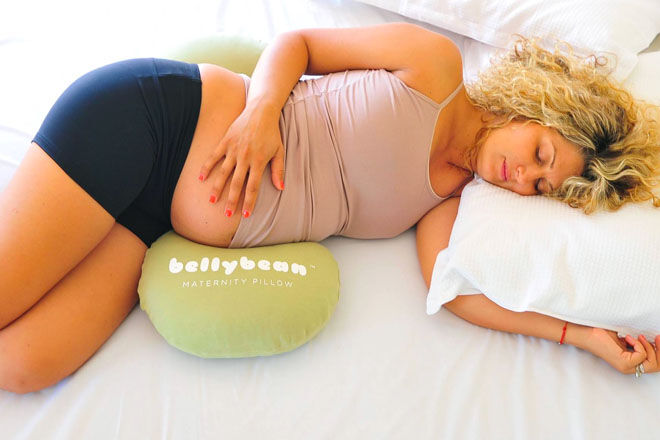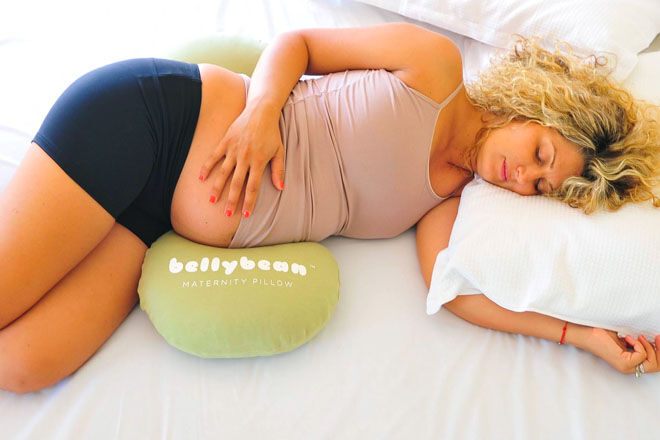 Made in Australia, the Belly Bean is small in size but it's BIG in benefits. Designed to keep growing bumps comfortable while supporting hips and back, it's a favourite for Mumma bears wanting minimal disturbance for baby daddy too. Encouraging side sleeping while pregnant, Belly Bean is available in four dreamy colourways.
---
Ultimate Sleep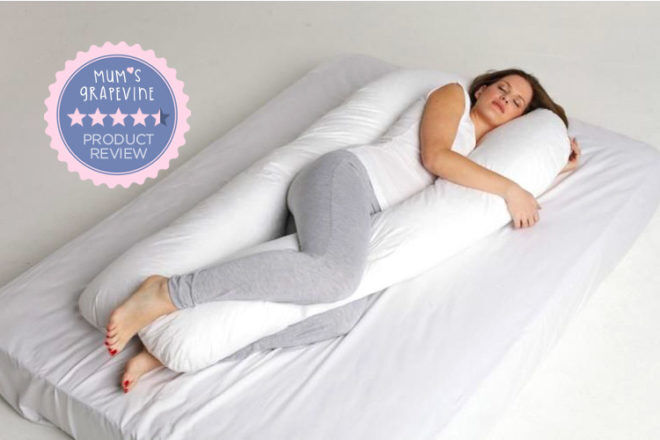 This full body pillow eases the aches mums experience during pregnancy. From swollen feet and ankles to lower back and pelvic pain, the pillow soothes sore joints and muscles, helping them to relax while Mumma sleeps soundly. It's also machine washable and will keep its huggable shape wash after wash.

---
Pregnancy Pillow Co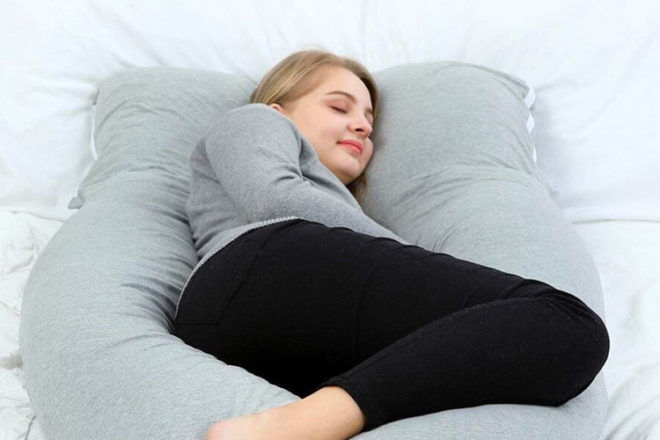 Like a lovely hug, this U-shaped body pillow follows the natural contour of your body to take the strain off tired joints and muscles while alleviating swelling in your legs and feet. Designed for infinite comfort options, it supports the abdomen and back while aligning the hips to help improve posture as that precious baby bump grows.
Pregnancy Pillow Co Discount Code:
Use code 'MGV15' for 15% off storewide.
---
Therapeutic Pillow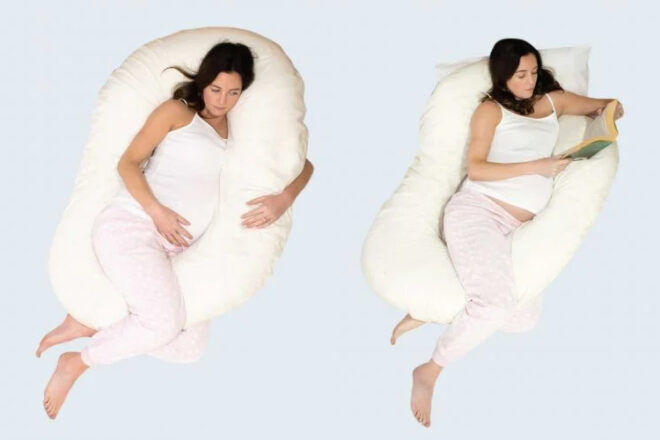 Proudly made in Australia, the CuddleUp supports mums throughout all stages of pregnancy and the busy years beyond. The flexible design means it can be moulded to virtually any shape to ease pain and discomfort on tender areas of the body and ergonomically support the spine and muscles.
---
Growbright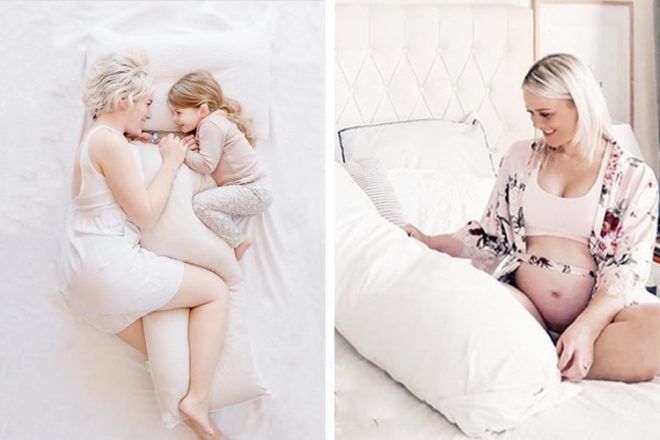 Designed for support where mums need it most, the pregnancy pillow from Growbright gives sore backs, hips and bumps a much-needed break. Firm support allows for a comfortable sleeping position throughout the night and a silky-soft cover made from Tencel fabric helps to regulate the body's temperature. Bliss!
Growbright Discount Code:
Use code 'MGV15 ' for 15% off the Body Support pillow.
---
Mamaway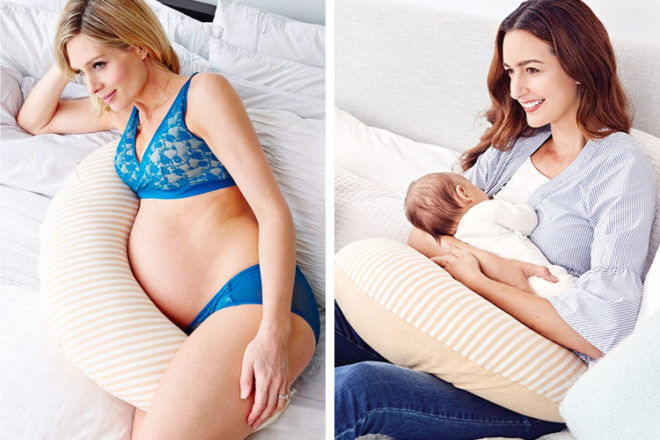 From snuggle companion during the more uncomfortable stages of pregnancy to mum's best friend when her breastfeeding journey begins, this moon-shaped pillow ticks every box. Made from hypoallergenic material with temperature regulating properties, it moulds to mum's body for optimum support and comfort all year round.
Mamaway Discount Code
Use code 'MGV15' for 15% off the Nursing Moon Pillow.
---
Chicco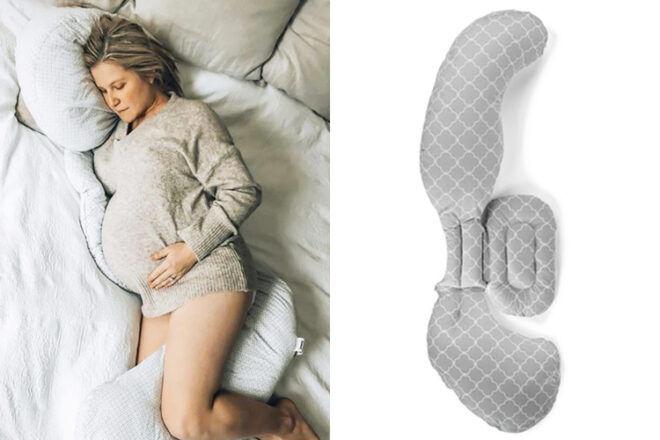 Cleverly engineered to be flexible, modular and adaptable, the Boppy Total Body Pillow supports mums from the head to the toes. It's made up of three separate pieces that can be configured to suit each stage of pregnancy. Developed with physiotherapists, it offers total wellness to the spine and body.
---
Theraline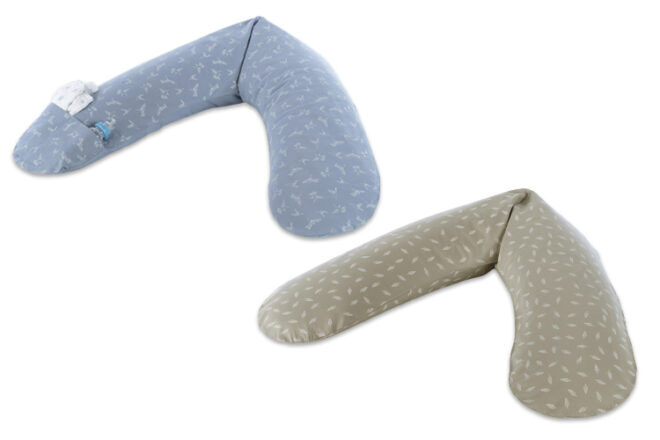 Filled with millions of lightweight microbeads, the antiallergenic Theraline Maternity Cushion conforms to the natural shape of the body and stays put, no matter your position. It's fitted with an ultra-soft, chemical-free cover and it doubles as a feeding pillow for the next exciting stage with baby.
---
This article is curated by our Editors and includes affiliates and/or paid inclusions. See our Disclosure Policy.
Know a maternity pillow we should add to our list? Contact us and let us know.
Find more pregnancy essentials …
If you're after more helpful products for your pregnancy and postpartum journey, you're in the right spot. From practical maternity wear to the best stretch mark creams, here are some helpful roundups to check out next:
Read this: Crazy pregnancy dreams – what they really mean