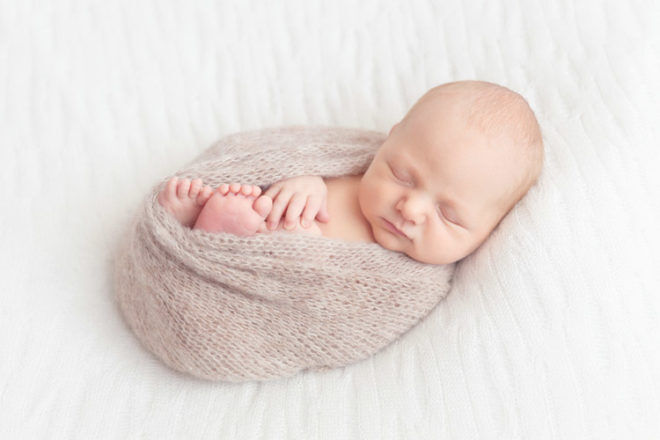 Looking to spice up your baby name list? Look past Isabella, Gabriella and Luca, and set your heart alight with these traditional Spanish names that turn up the heat.
From the Spanish shores to the bustling cities, we've combed the country of Spain for the most adorably Spanish girl names – ones that ooze with authenticity, elegance and grace.
Whether you are looking for a Spanish boy name that sizzles with spunk or simply want a name that honours your roots, these 21 authentic Spanish names for boys and girls are sure to inspire.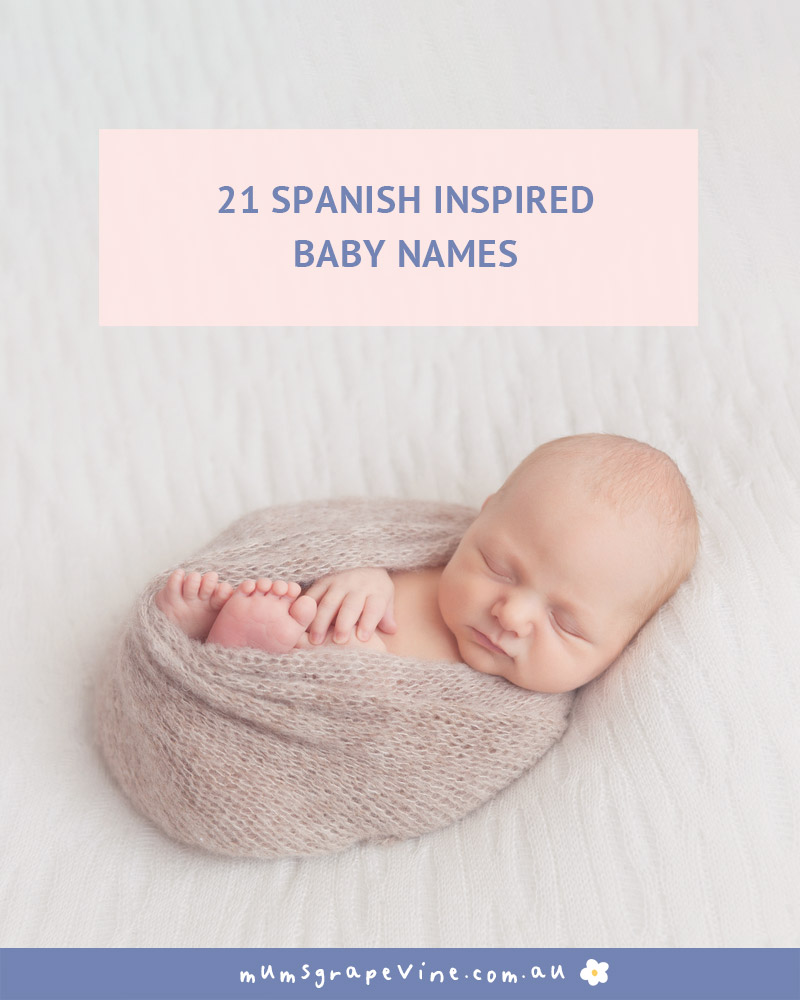 Say Si Si to Spanish names for boys and girls
Sofia: Strong yet feminine, Sofia is also a popular name for royals. Swapping the traditional "ph" for the "f" sets your little firecracker apart from the crowd.
Camila: Pronounced "Ka-MEE-la", Camila is a cute variation of the more popular Mila.
Edenia: The name Eden is another fast-riser in Australia. But how about adding the Spanish "ia" to the end? Edenia means "delight" in Spanish.
Catalina: Meaning "pure", Catalina is as heavenly as they come.
Cruz: David and Victoria Beckham opted for the name Cruz for their son as did Lleyton and Bec Hewitt. It hails from Spain and means "cross" and it's a popular one-syllable name.
Dali: It's a little kooky, sure, but Dali is a nod to the Spanish artist Salvador Dali, who had a penance for peculiar and an eye for melting clocks. Or, you could always go with Picasso…
Iker: Another name etched with Spanish roots, Iker is sure to turns heads. Iker is also the name of famous Spanish soccer player, Iker Casillas.
Zita: A beautiful botanical name, Zita means "little rose". The icon Shakespeare may believe a rose by any other name doesn't sound as sweet, but we tend to disagree with this one.
Violeta: Another name that sticks to the flower-theme, Violeta is a beautifully feminine version of the more popular Violet.
Savannah: Meaning "from the open plain", Savannah stirs up connotations of the desert sun, perfect for your bright little beam of light.
Mora: Spanish for "berry", Mora is as sweet as they come.
Nevada: We may associate it with the American state, but Nevada is also a Spanish word for "snowy". Check out our winter names post for more icy options.
Ines: Another name meaning "pure", Ines is the chosen moniker of Ryan Reynolds and Blake Lively's second daughter.
Malia: It may mean "sea of bitterness", but the name is anything but bitter!
Arlo: Meaning "the barberry", Arlo is one of the most searched baby names. Sure, it may be associated with the main character in Pixar's The Good Dinosaur, but the name comes with a slightly less prehistoric meaning.
Amada: The name selected by Ryan Gosling and Eva Mendes for both their daughters (Esmeralda Amada and Amada Lee), Amada means "to love God".
Alita: Graceful and spirited, Alita means "winged" and certainly rolls off the tongue with elegance.
Abril: Abril means "second" in Spanish but is perfect for a first, or second name for your fiesty tyke.
Mateo: The Spanish version of "Matthew", Mateo means "the gift of God".
Leonardo: Sticking with the "O" ending theme, Leonardo is a name with almost immortal qualities. Meaning "lion bold", Leonardo is also a great choice for babies born in the Leo zodiac.
Tajo: Meaning "day", Tajo is a cute alternative to some of the trendier monikers that end in "o". We're looking at you Arlo, Milo and Leo!
Our Spanish name list may be over, but the baby name fun is only beginning! Have a look at these additional international gems, including Scandinavian names, Irish names and French names. Oui Oui.
---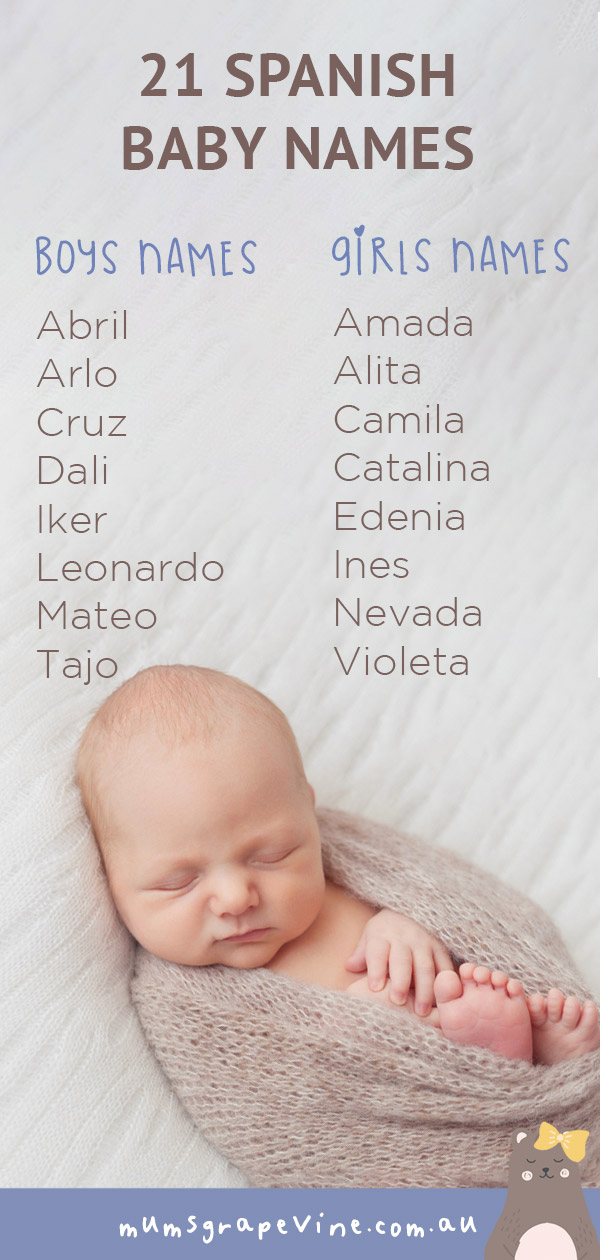 Read next …
Trying to choose the perfect baby name for your little one? Find hundreds of inspirational and unique baby names in these articles:
Join our Facebook groups
Join one (or four!) Mum's Grapevine Facebook groups and chat with other mums due at the same time as you. We have over 20 groups to join!
Click here >> Mum's Grapevine Facebook Groups << and find your group today!