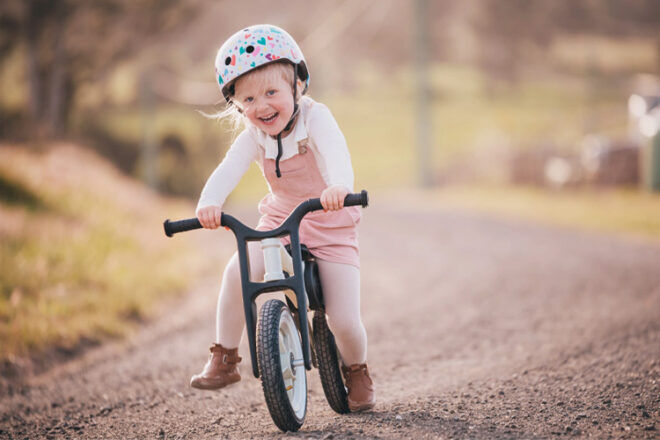 If you're looking for a great way to help your child become confident on two wheels, a kids' balance bike is the answer, and Australia's lineup of styles has never been cuter.
A balance bike is a bike without pedals. Youngsters practise their breaking, steering and using caution skills before progressing to a pedal bike. Best of all, balance bikes teach kids how to ride a bike without the need for training wheels giving them complete control of their riding adventures.
With so many balance bikes out there, it's easy to feel overwhelmed when you're looking to buy one. We've helped by outlining the important features to consider before you make a purchase, and listing the top brands in Australia and where to buy them.
What to look for in a kids' balance bike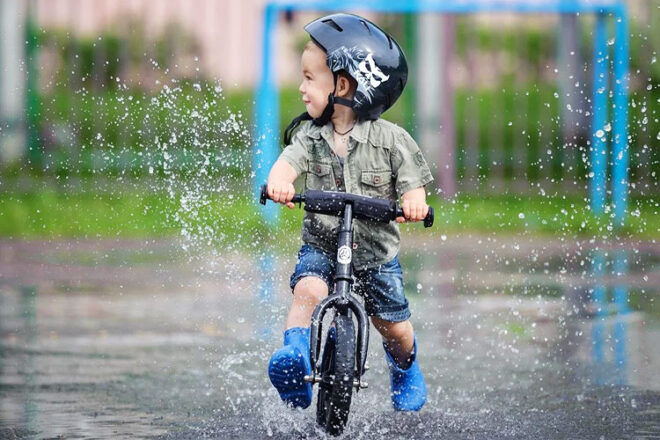 Safety – Whether your little ones want to ride like the wind or cruise at a gentle pace, safety is first and foremost when it comes to any kind of child's ride-on. Look for balance bikes with gripped handlebars that meet Australian safety standards. And remember, helmets are a must.
Weight – We all know young kids don't like to lug heavy things for long, so in the name of an enjoyable riding experience, look for a style with a lightweight frame that can be manoeuvred easily by little beings. The standard rule that bike stores often state is that the bicycle should not weigh more than 30% of your little one's weight.
Height – It's little feet that propel a balance bike along, so it's important that the height is correct for your child's age.
Adjustable seat – For longevity of use, it's great to have a seat that you can adjust when your child has a growth spurt. It's also an excellent feature if you want to be able to have kids share the bike or pass it on to a sibling down the track.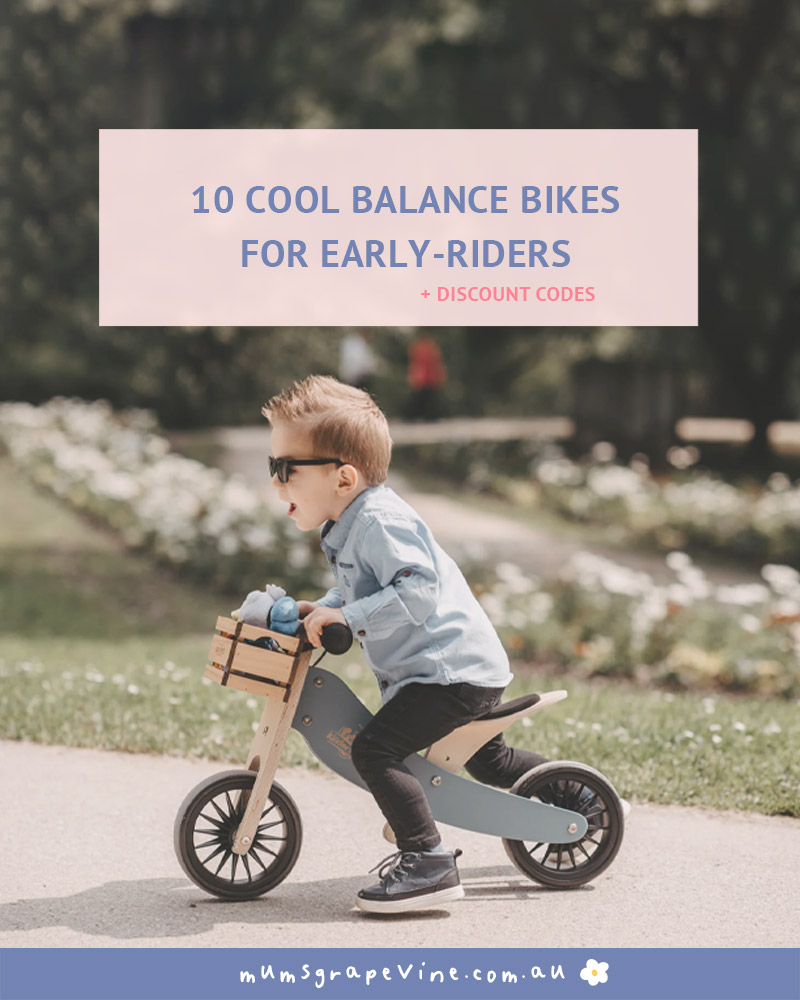 10 coolest balance bikes in Australia
To help get your child riding confidently, we've curated a selection of the top brands in the country.
And the best bit is some brands have offered exclusive offers for Mum's Grapevine readers. Yay! These offers may include exclusions and expiry without notice, so please direct all enquiries directly to the linked website.
Here are 10 balance bikes for kids who love to ride:
Hip Kids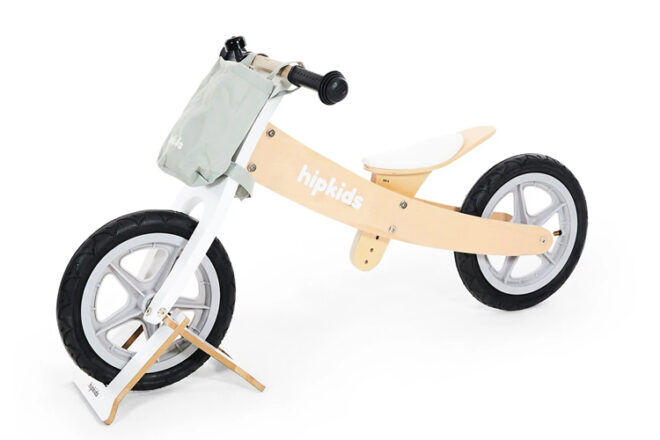 Fully convertible from three wheels to two and back again, this beauty has a sturdy birchwood frame, padded seat and inflatable tyres to keep them on track. Suitable from 18 months to five years, it's even customisable with your child's name for the ultimate gift.
---
Wishbone
This Wishbone ride is one that will stand the test of time. With an adjustable frame, it starts off low and smooth for tots as young as 18 months and converts to a taller ride as kids grow. Made entirely from recycled carpet and bottles, it's a win for the planet too.
---
Hornit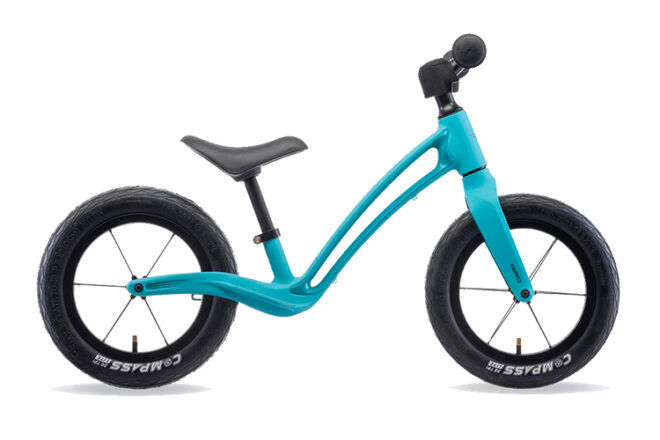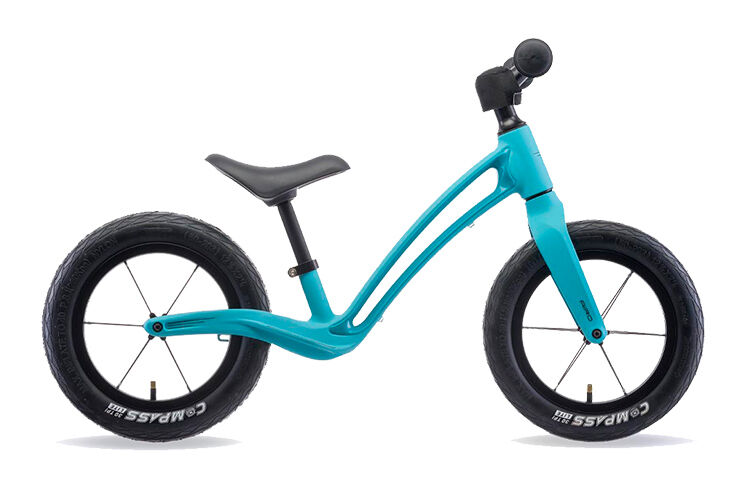 Ultra-lightweight and available in six cool colourways, the Hornit Airo Balance Bike has kids standing out in the crowd. It has grip-taped, contoured footrests for easy gliding, a neoprene stem for extra safety and real rubber tyres for a seriously smooth ride.
---
Micro Scooters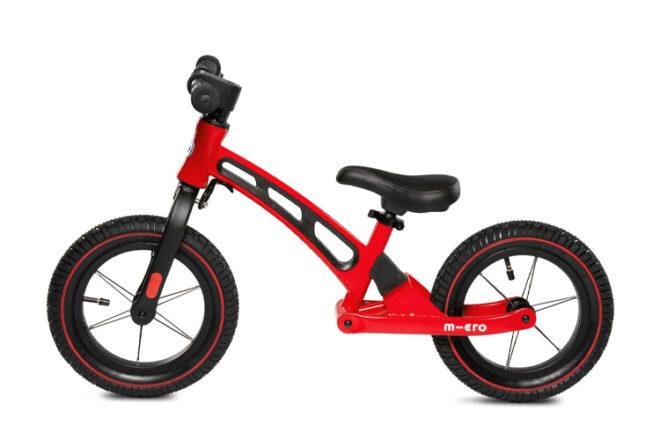 With built-in suspension and air-filled tyres, the Micro Balance Bike Deluxe is a stable and smooth first ride that helps toddlers skip training wheels altogether. We love that it's easy to get on and off and comes with a comfy adjustable seat.

---
Strider
Equipped with mini grips and tyres that never go flat, the Strider Sport is built tough to see kids from 18 months through toddlerhood and beyond. It has a comfy padded seat, extra-long seatpost and tool-free handlebar for adjusting to all those growth spurts.

---
Kinderfeets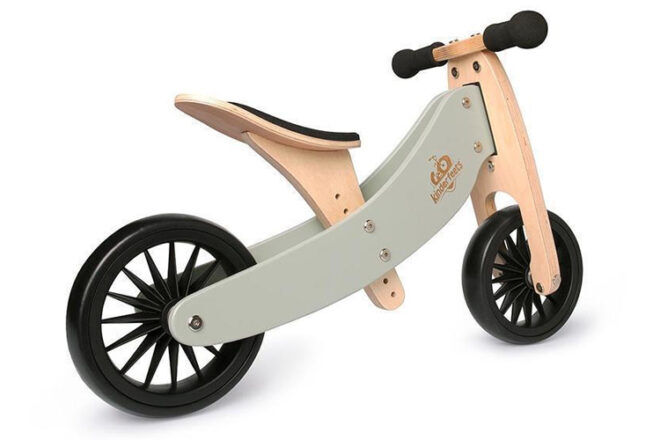 With a cushioned seat and low step-through frame, the Tiny Tot keeps growing bodies comfy through all kinds of adventures. Crafted with solid birch wood, it boasts non-toxic hand grips, an extra-wide base and it converts from a trike to a balance bike in no time.

---
Chicco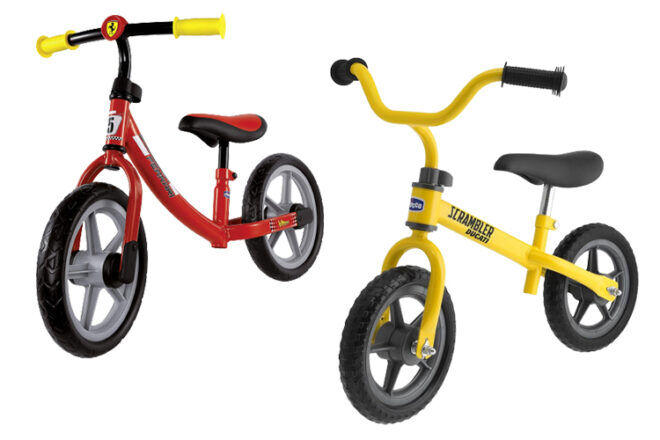 Zoom-zoom! In a choice of Scuderia Ferrari and Ducati Scrambler styles, these sweet rides totally hit the mark for little speedsters. Both use official colours and logos and feature a toddler-proof metal frame, anti-puncture wheels and adjustable seats and handlebars.

---
Trybike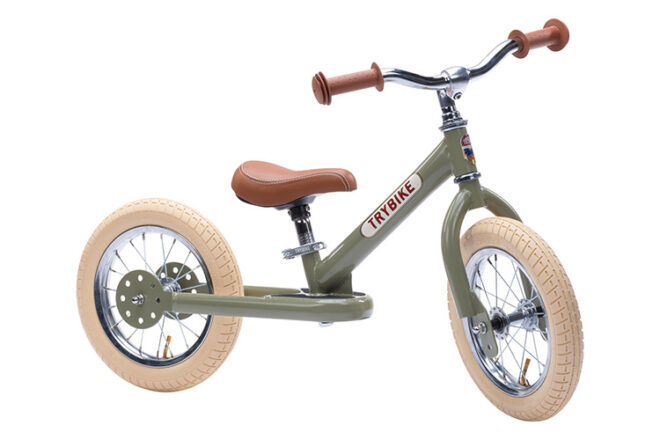 A vintage-style bike for a modern-day kid. The trike easily converts into a balance bike when your child is feeling confident and ready. Pneumatic rubber tyres ensure a smooth ride and maximum manoeuvrability. Your child can ride in safety and style with CoConuts helmets.

---
Little Nation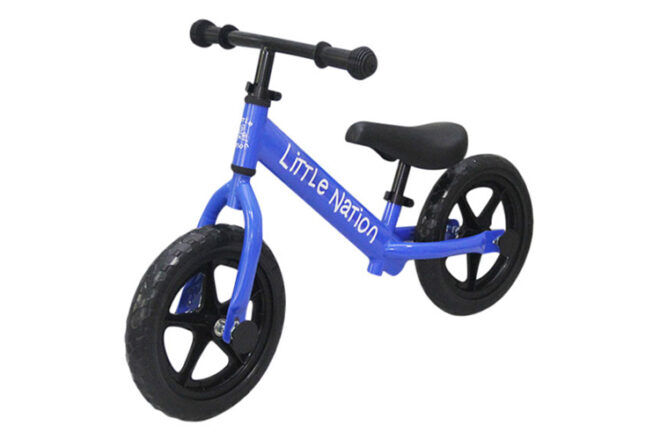 Available in a rainbow of colours to suit all types of tots, these junior rides are as fun as they are durable. Low-maintenance thanks to non-pumping tyres, they're lightweight, scratch-resistant and come fitted with a comfy padded saddle for all little bots, nappy-clad or not.

---
Funny Wheels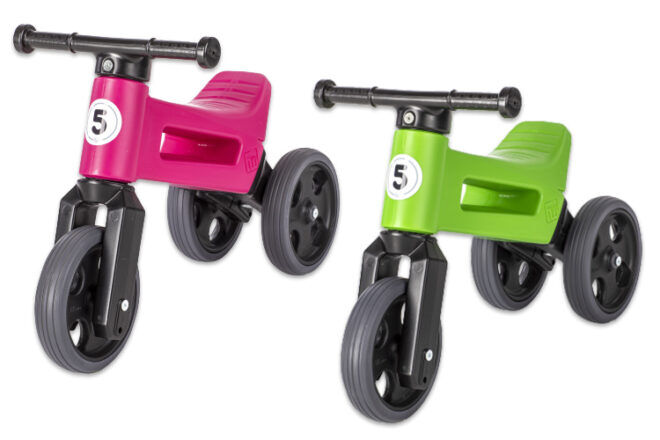 Built for indoor or outdoor hooning, Funny Wheels are ideal for fun-loving tots aged one to four. Comfy handlebars protect tiny hands and grippy tyres hug the sharp turns. Best of all, the seat is height-adjustable and an extra axle converts the bike from three wheels to two.

---
Are balance bikes better than tricycles?
A balance bike is excellent for teaching kids balance and coordination in readiness for their first big bike, whereas a tricycle can be great for learning to pedal. Many parents start with a trike and move on to a balance bike once little one's build up more confidence.
What is the purpose of a kids' balance bike?
Kids' balance bikes teach balance and coordination before progressing to a pedal bike. By using their legs to propel themselves along, they don't have tricky pedals to contend with and have the security of knowing they can use their feet to slow down and stop.
Many kids who start with a balance bike progress to pedal bikes without the need for training wheels.
Can you add pedals to a balance bike?
Most balance bikes in Australia don't come with pedals. That said, there are some brands of convertible kids' bikes that can be adapted to pedal bikes or even trikes.
Do you need a helmet and brakes for a balance bike?
Yes, your child should wear a kids helmet to protect their head in case of falls. Check out our roundup below of the coolest kids' helmets around.
---
This article is curated by our Editors and includes affiliates and/or paid inclusions. See our Disclosure Policy.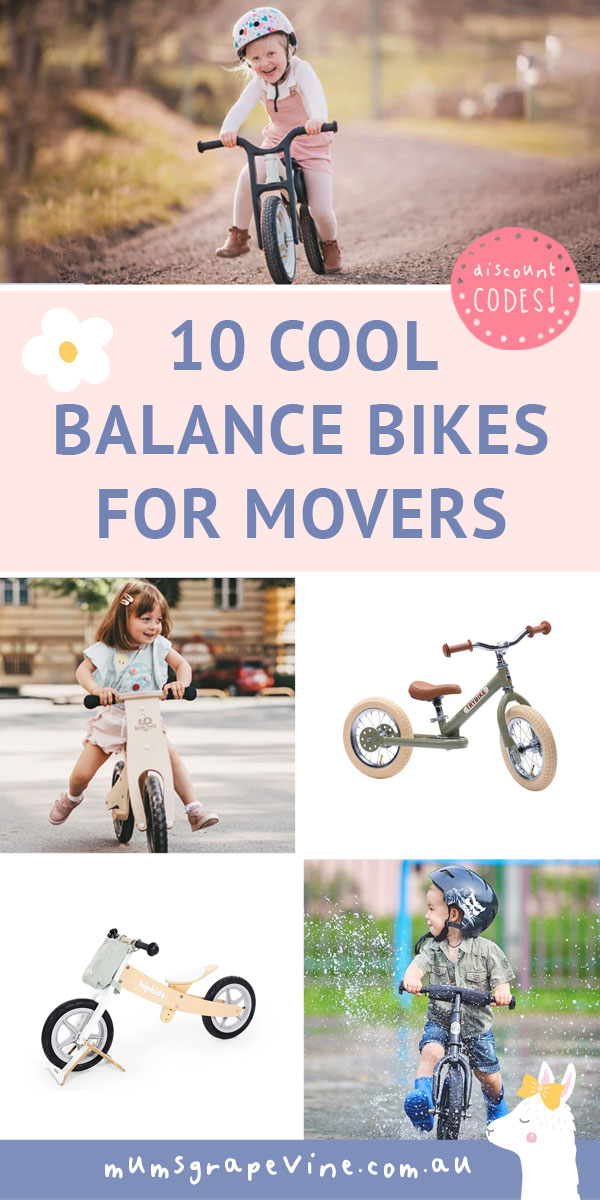 Seen some more fab kids' balance bikes available in Australia? Contact us and let us know.
Read these roundups next …
Hunting for more brilliant gear to get the kids moving and playing? Our roundups include a curated selection of Australia's top brands for bubs, tots and kids.