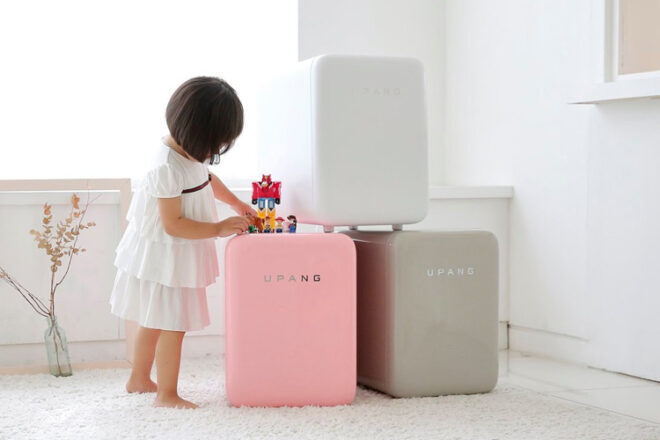 Whether you're bottle-feeding occasionally or excluisvely, a bottle steriliser is going to be your time-saving bestie during the busy first year with baby.
Bottle sterilisers are compact units that use UV light or steam to effectively remove germs and bacteria from feeding accessories. Not only do they allow you to deep-clean multiple items at once, buy you have peace of mind knowing that baby's favourite bottles and teats are germ-free and ready to go when hunger cues are thrown your way.
To help keep baby's bottles squeaky clean, we've scoured the country to find 7 of the best bottle sterilising units available in Australia.
Types of bottle sterilisers available in Australia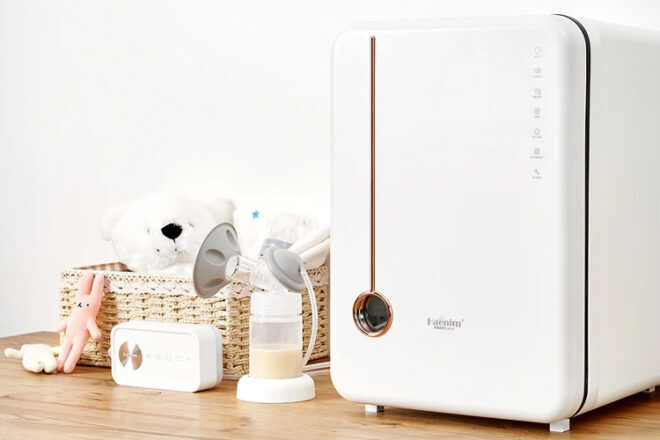 Electric bottle sterilisers – With a small amount of water at their base, electric sterilisers generate steam at high temperatures to rid bottles and attachments of any nasties. They vary in volume but are generally ideal for families that have bottles on high rotation.
Microwave bottle sterilisers – Usually smaller than other units, microwave steam sterilisers are great for parents who are low on space. Being more portable than larger electric units, they're also a fab solution for day trips and holidays.
UV bottle sterilisers – Ready to say goodbye to steam? UV sterilisers use ultraviolet technology to remove dangerous bacteria from bottles and other baby equipment, including toys and all those well-chomped teethers.
Portable bottle sterilisers – These handy units make it easier to feed baby with hygienic equipment when you're on the go. Also called travel sterilisers, they're small enough to fit in the nappy bag and often suitable for either cold-water or microwave sterilising.
---
7 bottle sterilisers for squeaky-clean feeding
Say goodbye to the days of boiling bottles. With a premium bottle steriliser in the home, you'll have bubba's feeding accessories, dummies and toys properly sanitised and ready to go in a jiffy.
Here are 7 bottle sterilises for germ-free feeding:
KIWY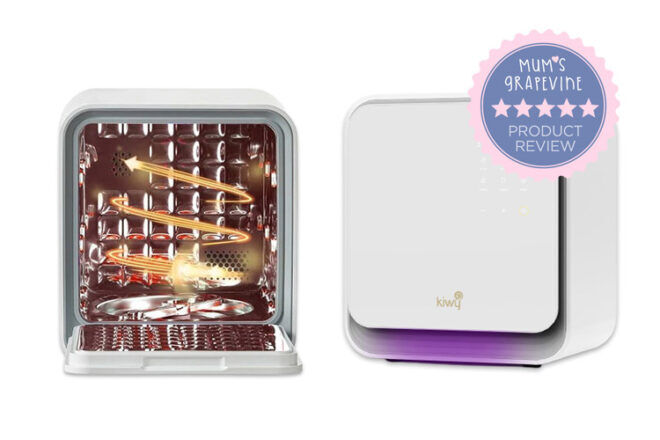 Not only does this efficient bottle steriliser kills 99.99% of bacteria, but it's the first of its kind that also works as a food dehydrator and yoghurt machine. Equipped with long-life rotating UVCLED lights and a HEPA air filter, it's all you need in one machine.
---
Haenim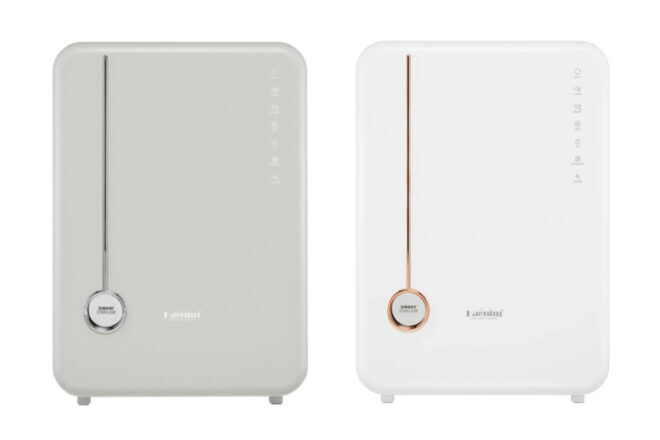 With smart technology, a convenient turbo mode and adjustable racks, the feature-packed Haenim UV Steriliser ticks all the boxes. It comes with a real-time cleaning and drying display and offers 99.99% sterilisation for up to 16 baby bottles at any one time.
---
59S
A one-stop solution for the busy home, the 59S Multipurpose Steriliser uses lightwaves to destroy the DNA and RNA of 99.9% of germs and remove unwanted odours. It comes in a choice of pink or blue and has a nifty carry handle for when you're on the go.
---
Dr Browns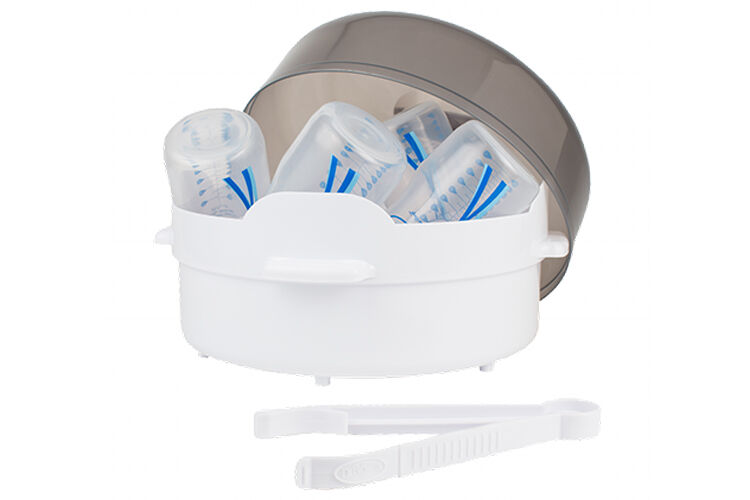 The answer for parents on the move, Dr Browns Microwave Steriliser uses steam heat to eliminate common germs and bacteria from baby's equipment. It comes with a set of tongs for hygienic handling of feeding gear and fits four standard or wide-neck bottles.
---
uPang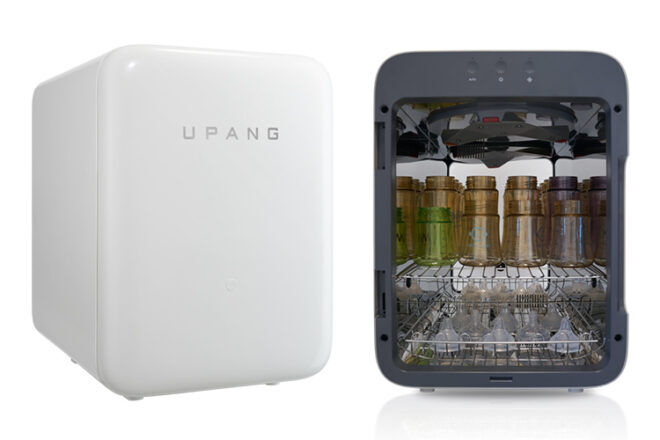 Equipped with rotating UV LED lights for 99% sterilisation, the uPang Plus steriliser features Turbo Mode for extra drying and three control buttons for simple, efficient use. Available in six contemporary colours, it fits into any home seamlessly.
---
Tommee Tippee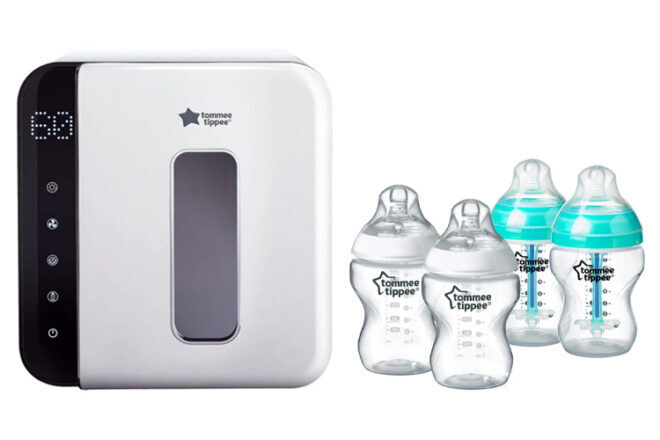 Quick and convenient, the Tommee Tippee Ultra 3-in-1 delivers hygienic, ready-to-fill bottles and attachments in just 35 minutes. Use it to store bottles, dry equipment and sterilise bottles by removing 99.9% of mould and bacteria. Each unit comes with four bonus bottles.
---
Rizeez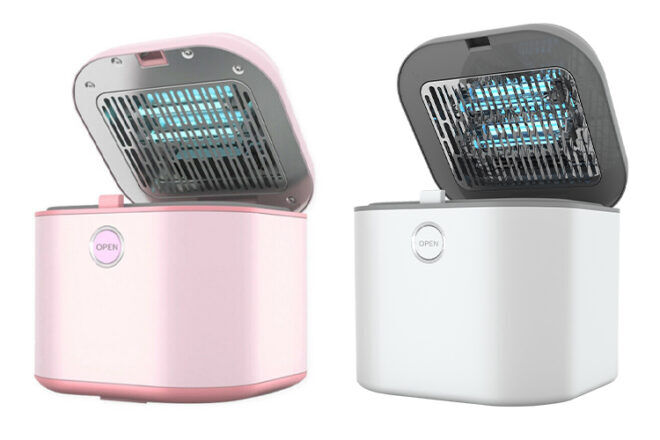 With a Phillips UV sterilising bulb and HEPA air-filter system built into the unit, this device targets fungi, bacteria and other illness-causing nasties. The result? Sterile, dry equipment ready for use in just ten minutes.
---
This article is curated by our Editors and includes affiliates and/or paid inclusions. See our Disclosure Policy.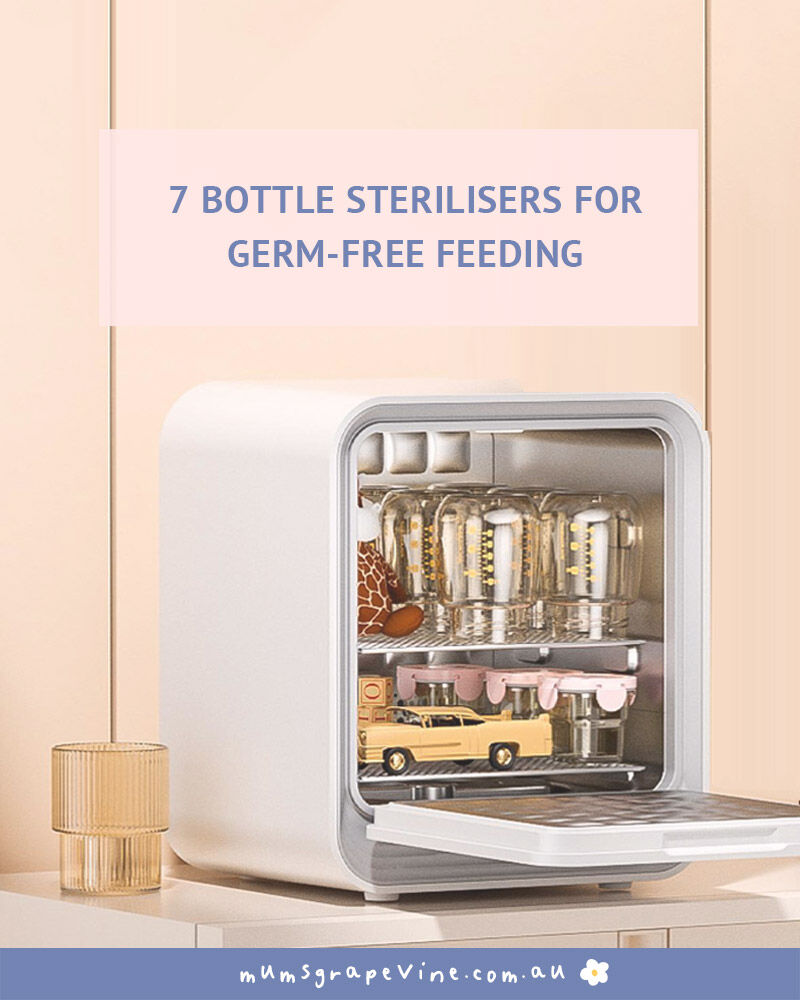 Know a bottle steriliser we should add to our list? Contact us and let us know.
Read these roundups next …
On the hunt for more fab feeding products for bub, you're in the right spot. From handy suction plates for first meals to the best drying racks, take a peek at these roundups for more inspiration.
Read this: 9 tips for keeping bath toys squeaky clean