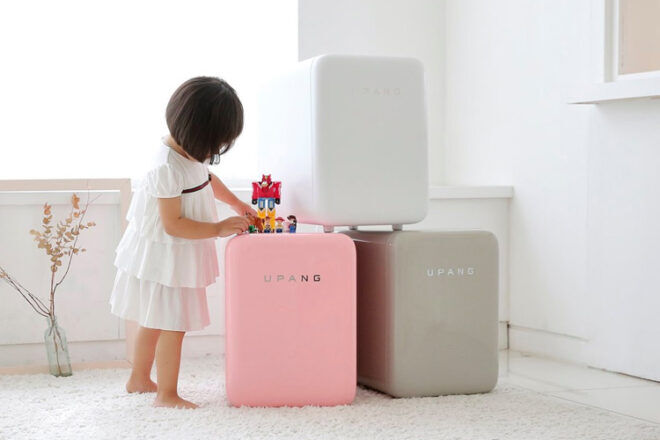 Whether you're bottle-feeding exclusively or only occasionally, a baby bottle steriliser is going to be your time-saving best friend during the rewarding, but busy first year with your little cherub.
Not only do they allow you to deep-clean multiple items at once, but you also have peace of mind knowing that baby's favourite bottles and teats are germ-free and ready to go when hunger cues are thrown your way.
With a premium steriliser in the home, you'll have bubba's feeding accessories, dummies and toys properly sanitised and ready to go.
Types of sterilisers available in Australia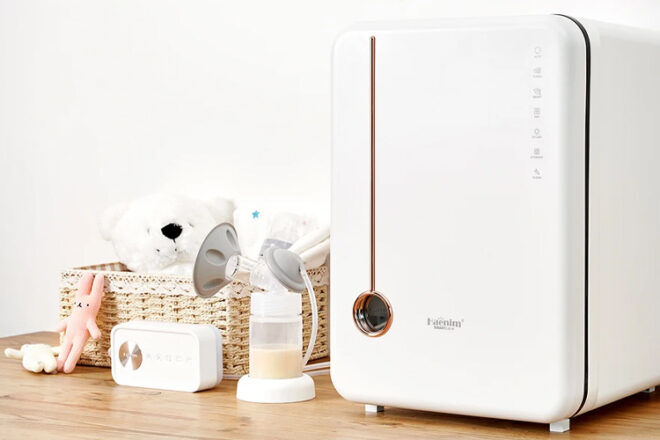 Electric baby sterilisers – With a small amount of boiling water at their base, electric sterilisers generate steam at high temperatures to rid bottles and attachments of any nasties. They vary in volume but are generally ideal for families that have bottles on high rotation.
Microwave sterilisers – Usually smaller than other units, microwave steam sterilisers are great for parents who are low on space. Being more portable than larger electric units, they're also a fab solution for day trips and holidays.
UV sterilisers – Ready to say goodbye to steam? UV sterilisers use ultraviolet technology to remove dangerous bacteria from bottles and other baby equipment, including toys and all those well-chomped teethers.
Portable baby sterilisers – These handy units make life easier to feed baby with hygienic equipment when you're on the go. Also called travel sterilisers, they're small enough to fit in the nappy bag and often suitable for either cold-water or microwave sterilising.
---
8 bottle sterilisers for squeaky-clean feeding
To help you find the right steriliser for you, we've compiled this list of fab brands available in Australia to get you started in your search.
Here are 8 great baby bottle sterilisers in Australia for 2023:
KIWY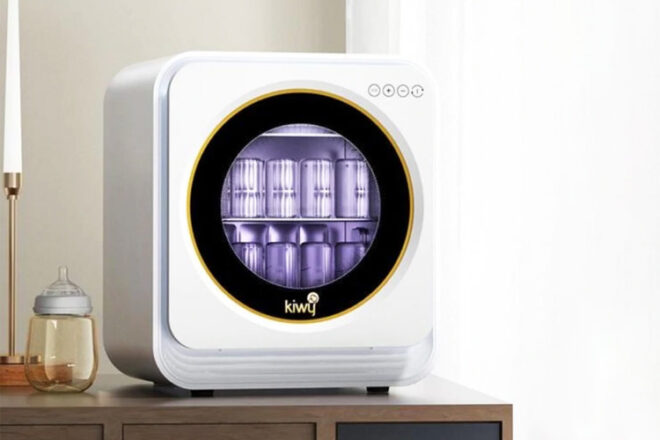 Not only does this efficient UV steriliser kill 99.99% of bacteria, but it's the first of its kind that also works as a food dehydrator and yoghurt machine. Equipped with long-life rotating LED lights and a HEPA air filter, it's everything you need in one machine.
---
Haenim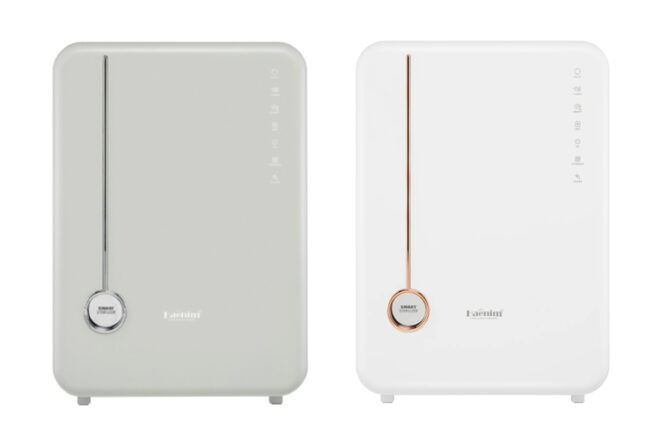 With smart technology, a convenient turbo mode and adjustable racks, the feature-packed Haenim UV Steriliser ticks all the boxes. It comes with a real-time cleaning and drying display and offers 99.99% sterilisation for up to 16 baby bottles at any one time.
---
59S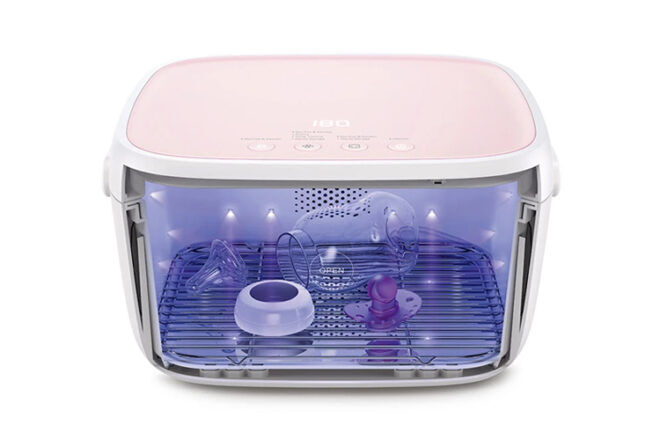 A one-stop solution for the busy home, the 59S Multipurpose Steriliser uses lightwaves to destroy the DNA and RNA of 99.9% of harmful germs and remove unwanted odours. It comes in a choice of pink or blue and has a nifty carry handle for when you're on the go.
---
Dr Browns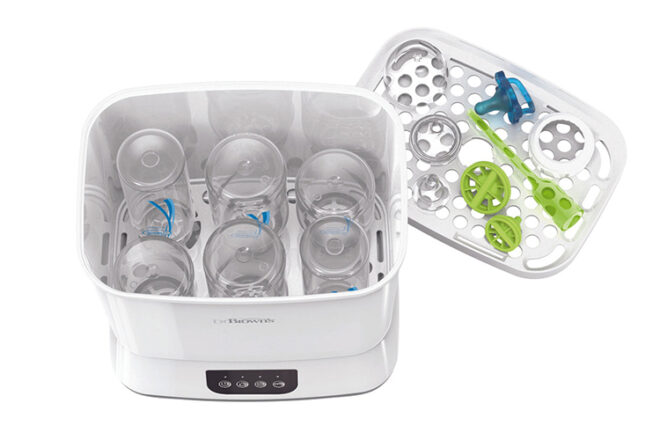 Steam clean, dry and store, Dr Browns Clean Steam Steriliser kills 99.9% of bacteria and includes HEPA filters to capture 95% of airborne particles. And we absolutely love that it fits up to six feeding bottles, plus breast pump parts, dummies and toys.
---
uPang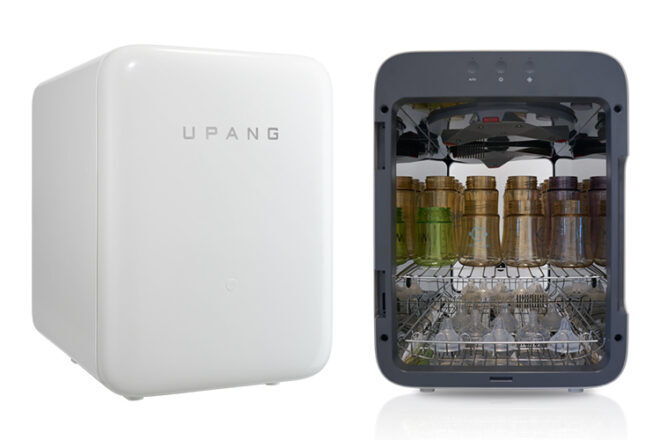 Equipped with rotating UV LED lights for 99% sterilisation, the uPang Plus steriliser features Turbo Mode for extra drying function and three control buttons for simple, efficient use. It's available in six contemporary colours, so it fits into any home seamlessly.
---
New Beginnings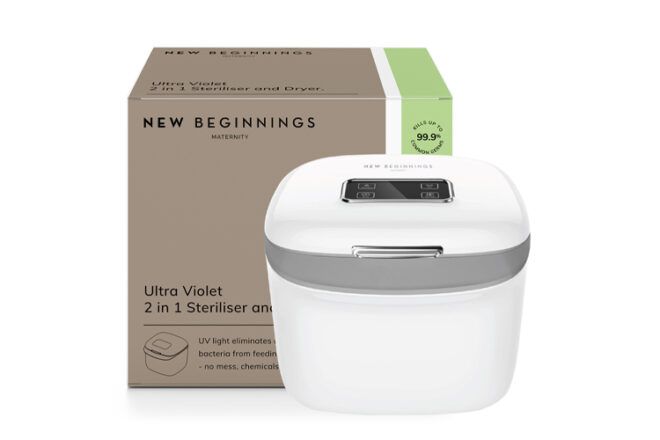 Powerful enough to kill 99.9% of germs, the New Beginnings 2-in-1 Steriliser and Dryer fits up to four bottles at a time, drying in 41 minutes and sterilising cycle in just 11 minutes. And we absolutely love that it's super silent while operating and easy to use with the intuitive touch buttons.
---
Tommee Tippee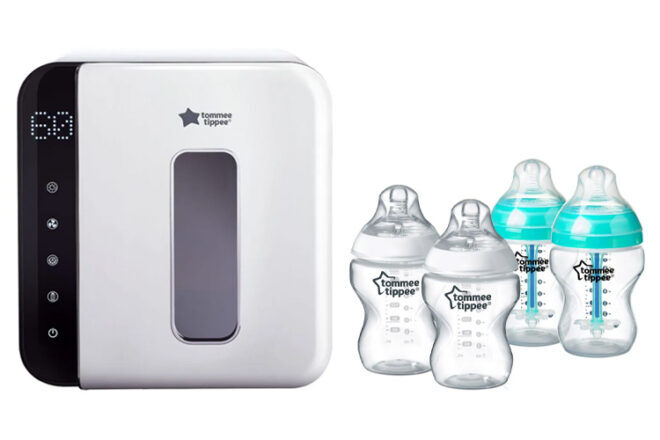 Quick and convenient, the Tommee Tippee Ultra 3-in-1 delivers hygienic, ready-to-fill bottles and attachments in just 35 minutes. Use it to store baby's bottles, dry equipment and sterilise bottles by removing 99.9% of mould and bacteria. Each unit comes with four bonus bottles.
---
Rizeez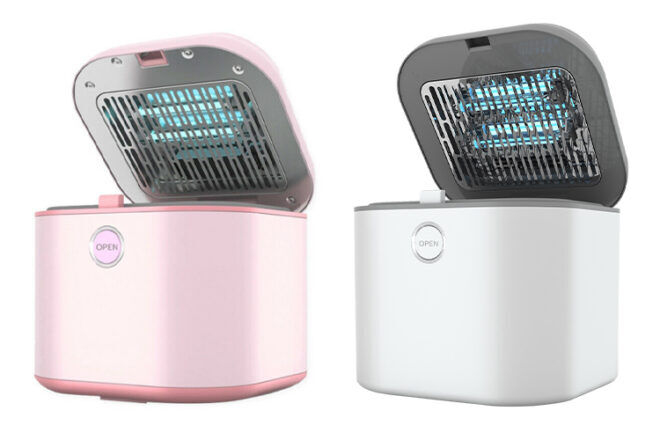 With a Phillips UV sterilising bulb and HEPA air-filter system built into the unit, this device targets fungi, bacteria and other illness-causing nasties. The result? Sterile, dry equipment ready for use in just ten minutes.
---
Your questions answered:
How long do bottles stay sterilised?
As long as you store baby bottles properly, they can stay sterilised for 24 hours. The best place to store baby bottles is in the steriliser with the lid closed. That will keep the contents sterile.
Helpful tips to know before deciding on a bottle steriliser
We asked the huge Mum's Grapevine Facebook community what they wished they knew before buying their sterilisers, and this is the valuable insight they shared:
"I've tried the bags which I use in an emergency when I'm out. I had a microwave one but when I had my second baby I bought an electronic one and absolutely love it." – Sam
"I never got one, just used the microwave bag ones. Cleaned the bottles thoroughly in hot soapy water and then put them in the bags in the microwave." – Jess
"Get a UV one. So easy to wash items, pop them in, dry and keeps them clean. So quick. We still use ours three years on for other household items and toys. " – Liz
"If you get a bench steriliser sure it on a tray as ours made our wood bench warp and crack!" – Vanessa
"I love my steamer it's where his bottles get stored, but dishwasher then steamer does the trick for us." – Megan
" I had a UV steriliser. I loved that I could pop anything into it (not just bottles and dummies) I would do soft toys, my keys and phone in it." – Evonne
"Get an electric steriliser they are a lot better than the microwave ones." – Meaghan
"Was gifted one at my baby shower have used the same one for all three kids." – Fiona
"Get an electric steriliser, so much better than a microwave, or any other way of the steriliser. I had three kids on bottles and tried it all, even the tablets, but electric sterilisers are the best and less time-consuming.  You can put them in there and leave them til you need them. Also, a good drying rack is well worth the money. The one thing also I liked about the electric sterilisers is if you pull the bottles out to dry shortly after they finished they will completely dry quick, other ways of sterilising you'll  have to dry the bottles yourself." – Trish
"Get a UV one. You can also use them for other household items bubs might grab and put in their mouth including car keys, phones etc that you wouldn't want to get wet in a steam one or put in the microwave." – Taye
---
This list is lovingly curated by our experienced editorial team and may include affiliate and/or paid inclusions. See our Disclosure Policy.
Know a steriliser we should add to our list? Contact us and let us know, we've been collating Australia's best baby products into shortlists for over 14 years and we're always happy to support new brands and businesses.
From super-cool drying racks to portable bottle warmers, we have Australia's largest suite of product roundups for new and expecting mums.
Read this: How to bottle feed a breastfed baby
Join the #MGVfam in one of our prized Facebook Groups and meet thousands of other Australian mums all recommending their favourite baby products and unearthing hidden baby shops. And you can too!