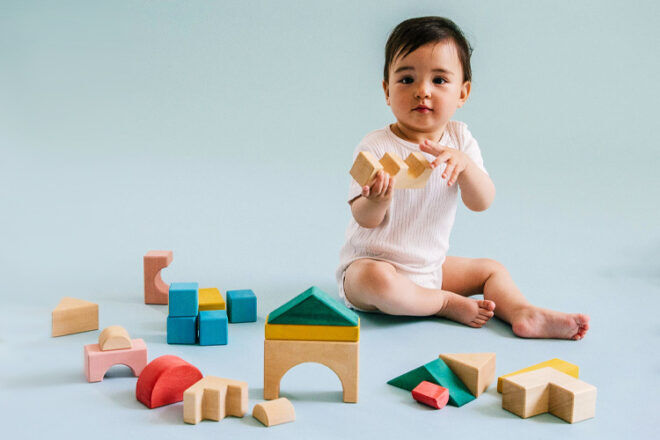 Castle one day, cave the next; building blocks are timeless toys that inspire kids of all ages to think big.
Building blocks are three-dimensional toy bricks used by kids to create structures. Usually made with wood or plastic, they provide children with open-ended play while helping develop fine motor skills and creativity. And from Scandi designs to sensory options, block sets have never looked better.
To help you find the perfect blocks for your budding builder, we've listed the options available in Australia and handpicked a selection of brands that stack up.
Types of toy blocks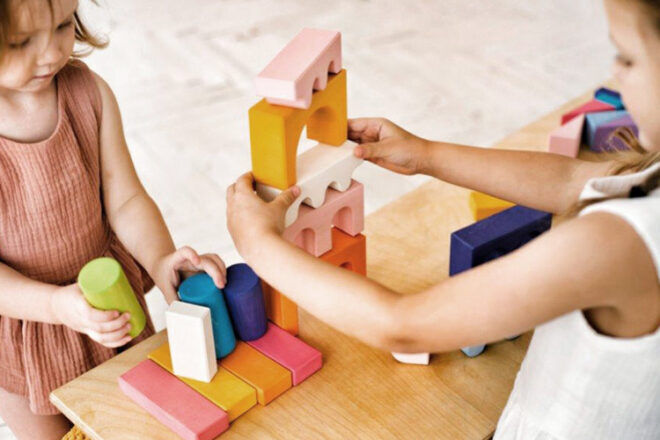 Wooden building blocks are traditional construction toys made from various hardwoods that come in a huge range of colours and shapes.
Magnetic building blocks are children's play bricks or shapes that feature built-in magnets to help them stick together.
Foam building blocks are lightweight cubes and shapes made using high-density foam. They're quiet when they topple and usually don't have any sharp edges.
Sensory blocks are toy bricks that stimulate a child's senses through sight, touch or sound. They may have see-through acrylic windows, built-in sounds or fascinating textures.
24 toy building block sets for budding architects
Check out our handy list of top brands to get little hands moving and the creativity flowing.
In no particular order, here are 24 building blocks for kids:
Raduga Grez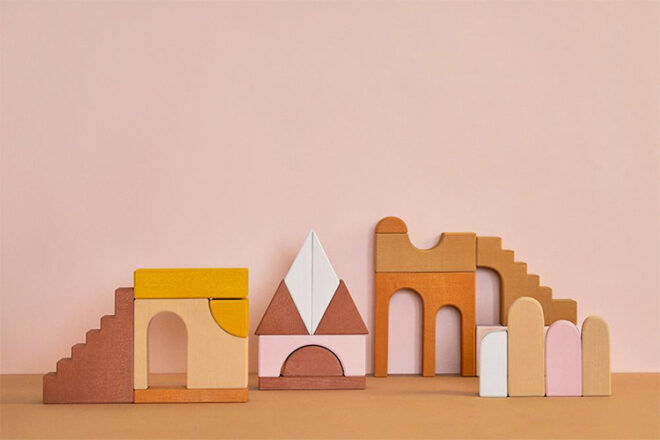 Designed in Russia and crafted from sustainably sourced wood and water-based paints, these quality stairs, arches, roofs and doors make a wonderful addition to your child's collection. Branded as 'apartment' blocks, this is small-space living that's big on x-factor.
---
BAJO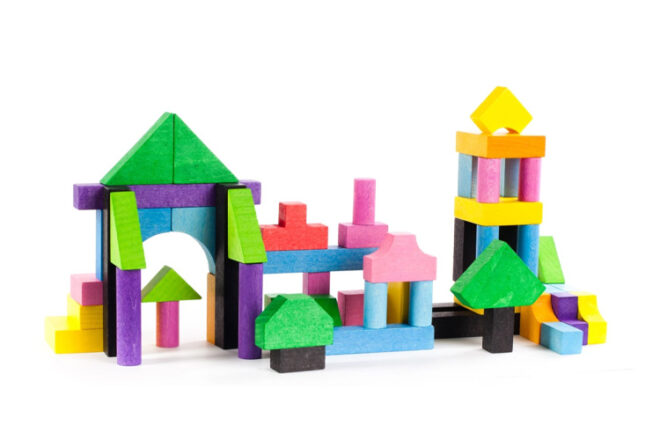 Suitable from 18 months of age, BAJO blocks are handcrafted in Poland using durable, sustainable wood. The set encourages recognition of colours and shapes – and with 102 pieces included, the imagination is the limit with what they'll create.
---
Skandico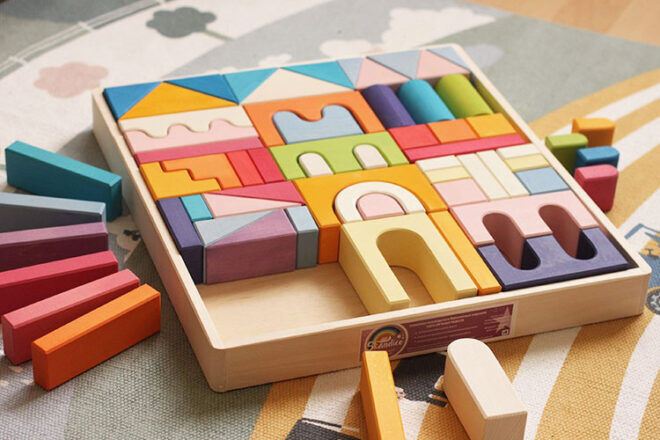 Pass down rainbow fun to future generations with this joyful set that's worth the investment. Handcrafted from Russian limewood, the sensory and inviting shapes are painted in a dazzling array of hues that still allow the natural wood grain to show through.

---
Jellystone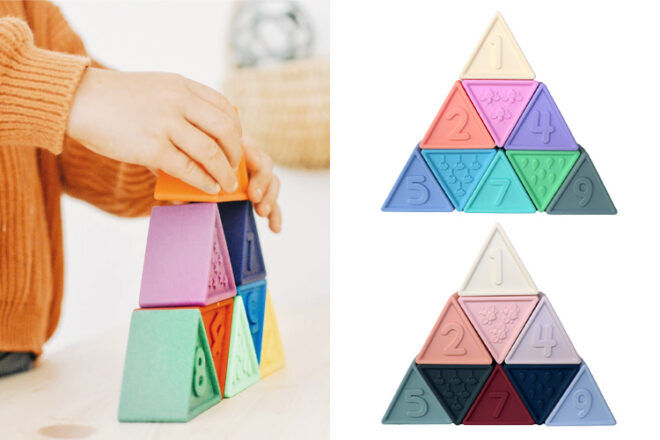 Made with toxic-free silicone, Triblox feature numbers and textured illustrations for increased learning during playtime. Machine-washable, squishy and perfectly sized for little hands, they come in sets of nine blocks and three glorious colour schemes.
---
Micki
Put this cute carton of cuties in their stocking and see them smile. With a contemporary take on traditional colours, your little one will love playing with these 20 smooth wooden blocks. Thanks to their convenient size they're great for on-the-move play.
---
Zookabee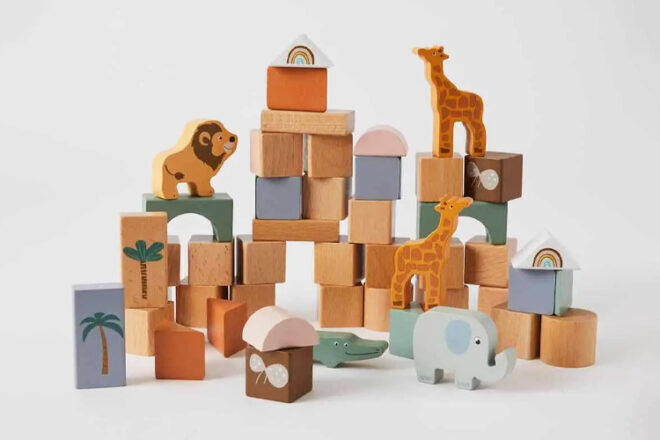 Kids can enter an exciting pastel savannah and play for hours with this 50-piece set. Friendly African animal characters, warm natural blocks and non-toxic painted blocks with cute illustrations make this a great all-round set. Pride rock here they come!
---
Oyoy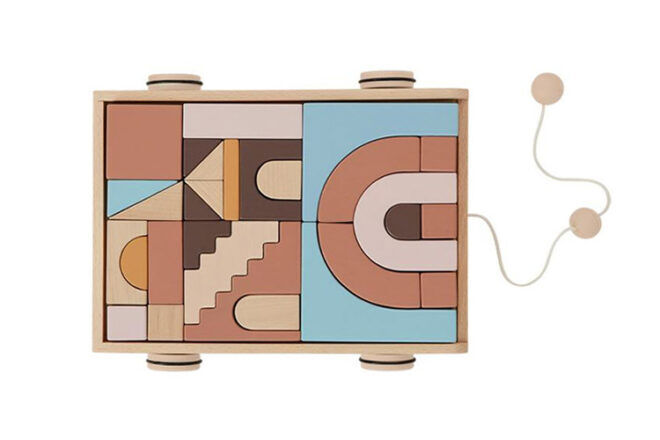 They'll be chuffed as a chariot owner carting this stunning trolley around the house. The shapes and shades are hard not to fall in love with, and after hours of fun constructing forts and facades, it all packs away so pleasingly for another day.
---
Jnr Life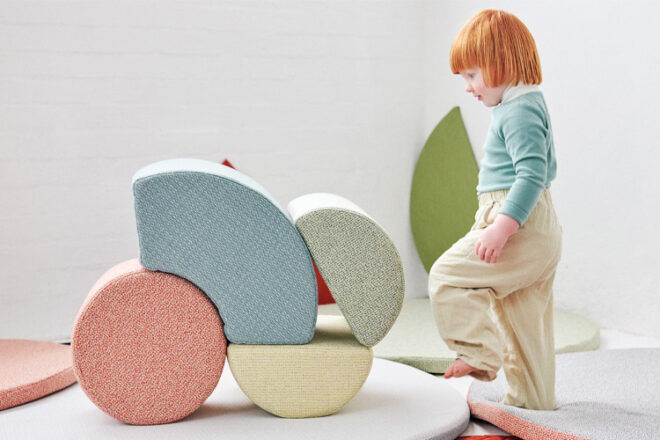 Giant gelato-coloured stacking blocks they can sit, stand, climb and lie on – what could be better? Oversized and densely padded, the play shapes are made from pebble-textured fabric for an added sensory experience. Stacks of fun and modern decor. Win-win.
---
Tender Leaf Toys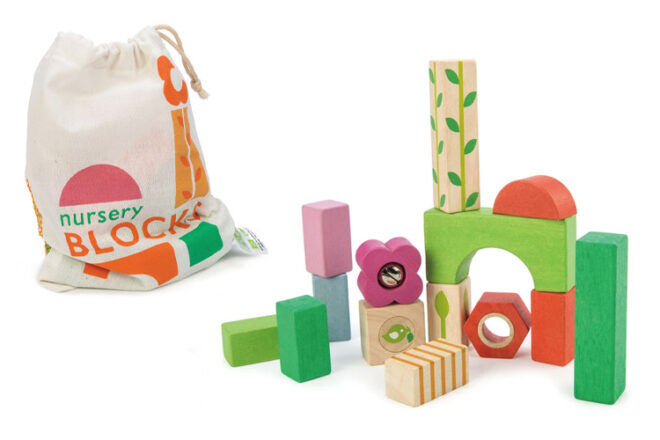 Little hands will love these sensory blocks designed to surprise and delight in numerous ways. Cute, colourful and non-toxic, there's a surprise bell and kaleidoscope. Packing away in its own drawstring bag, it's perfect for travel too.
---
Qtoys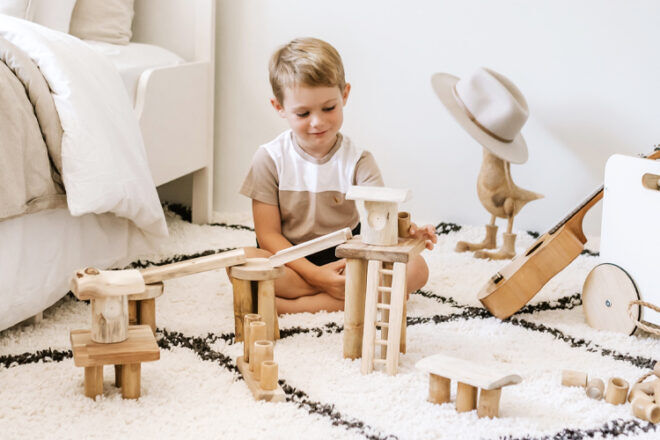 Natural and sensory, no two pieces in this bamboo build set are exactly alike. They can build homes, shelters and platforms for gnomes and fairies as they enjoy calming quiet play. Organic and nature-inspired, this set is perfect for those who love a minimal aesthetic.
---
DJECO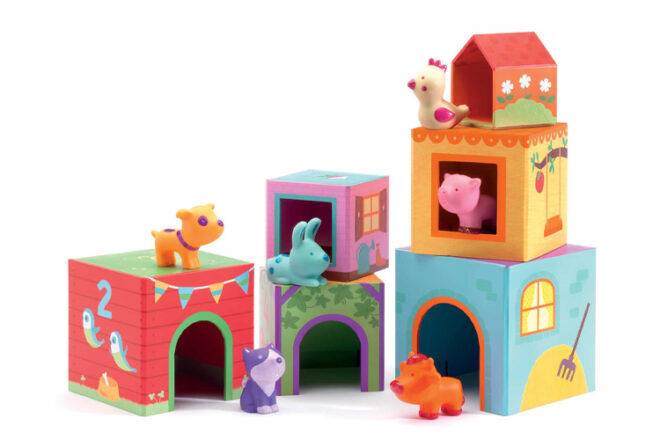 Each box in this happy high rise helps toddlers learn counting, colours and spatial awareness, all the while housing the cutest characters. Not your average stacking cubes, the delightful illustrations and interactive element provide that extra dash of fun.
---
Avdar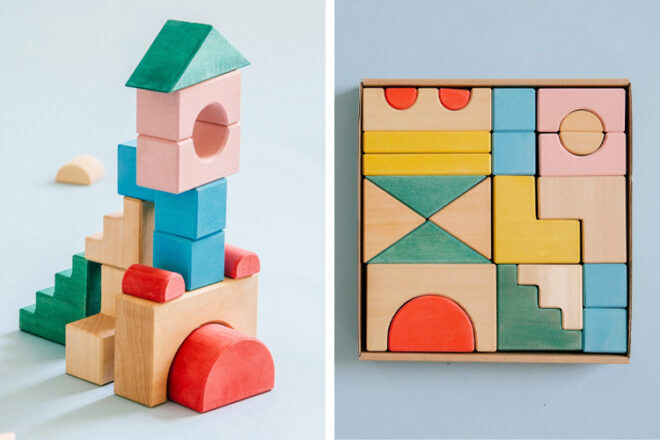 With colours sweet as candy that are almost good enough to eat, these quality limewood blocks are painted in non-toxic hues. Kids can create anything from castles to robots with these versatile shapes. A practical and beautiful addition to their playroom.
---
TickiT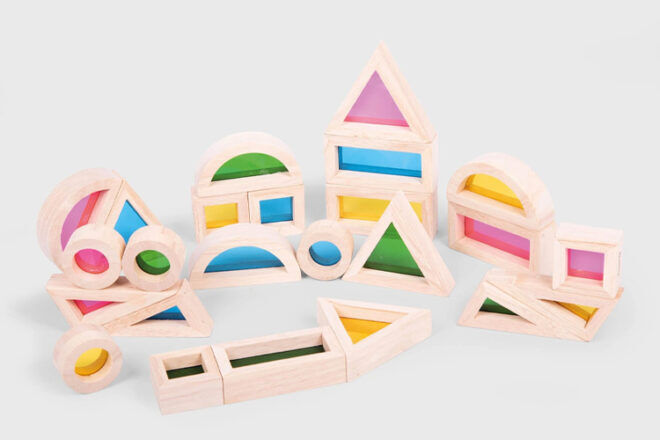 Blocks with a difference? Yes, please! Large and easy to grab, each block features an acrylic window for little eyes to gaze through. Not just pretty, this set is brilliant for developing social and emotional skills through open-ended, colourful play.
---
Kiko+ & GG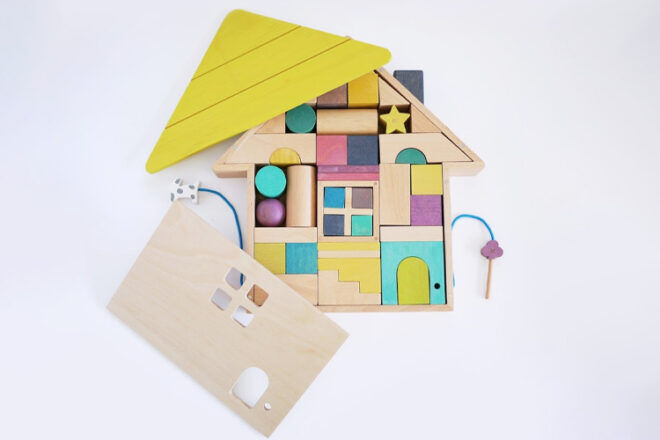 This is the quaintest dwelling we've seen and we want to be at this address playing with these blocks! Lift the house-shaped magnetic cover to reveal blocks of all shapes and colours. The dog and key on a rope is enough to pull at our heartstrings.
---
Areaware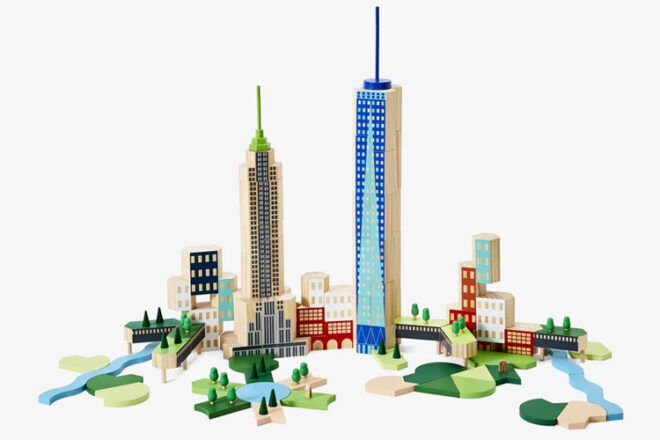 Book a ticket to New York from your living room.  Kids can explore this iconic cityscape, from the highrises down to the rivers. They can be their own town planner – Central Park next to the Brooklyn Bridge? No worries!
---
Minmin CPH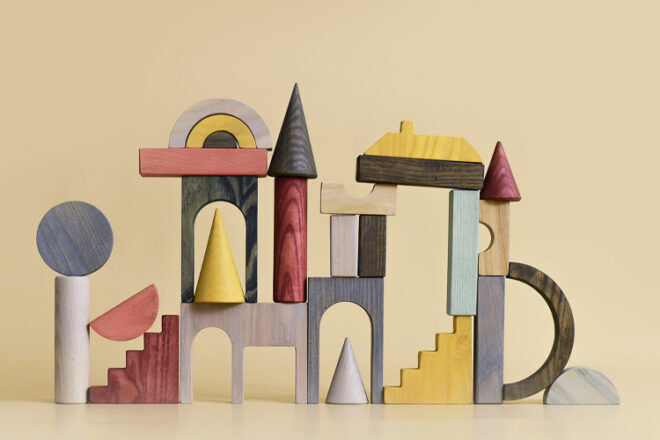 In earthy tones, this set matches any child with a contemplative personality. We're loving the delightfully different mix of shapes from conical to curved. And if we were ever shrunk down, we'd like to stroll through a city made of these.
---
Kapla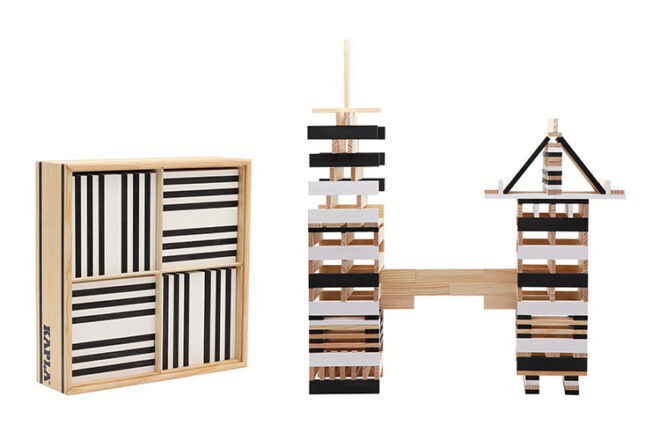 High-contrast and strikingly monochrome, these graphic planks come in a handy timber storage box. With 100 pieces in total, kids can learn perspective, create decorative constructions and explore the beauty of geometry – all in black and white.
---
Avdar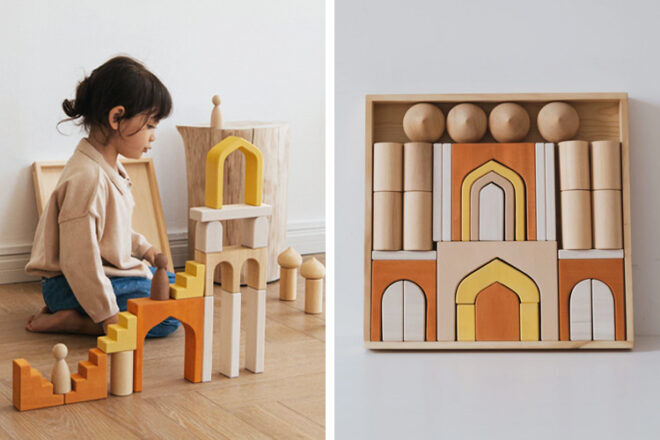 They'll be the maharaja of the street with this noble building block set. Blending a natural scheme with pops of colour, many a palace, tower and turret can be constructed, whilst all being super pleasing to the eye. The merengue-shaped pieces are our favourite.
---
Regenbogenland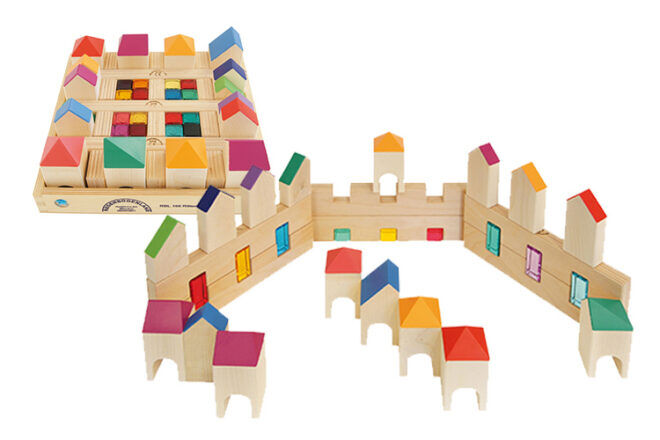 The regal colours and jewels are what will captivate them first, but the scope for creativity is where it's at. In constructing and role-playing magical small worlds, kids can add other toys and figures to complete the scene.
---
Kubi Dubi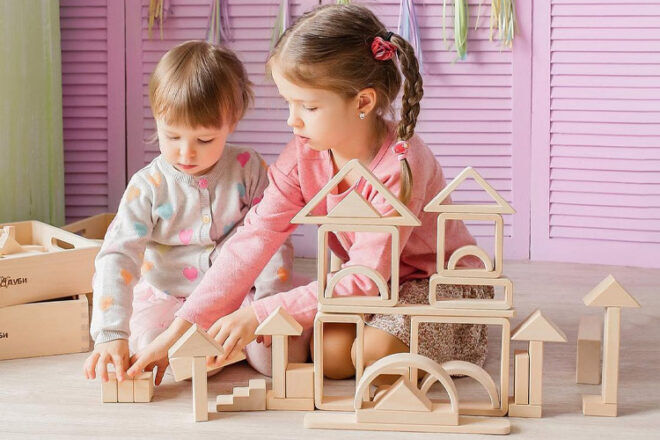 Each set comes with 31 wooden block shapes in various sizes. Squares, rectangles, triangles and semicircles come nested in a box but can be used to create anything from cities to boats to cars. They might be minimalist in colour but not so in scope for endless designs.
---
Liewood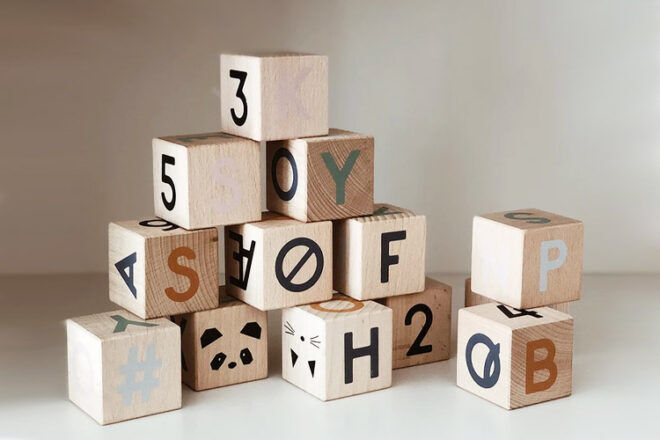 Traditional first blocks with a Scandi twist and they're as pleasing to the eye as they are to hold. Housed in a practical drawstring bag, these quality, high contrast cubes feature letters and illustrations for extra learning opportunities. Gorgeous!
---
Tegu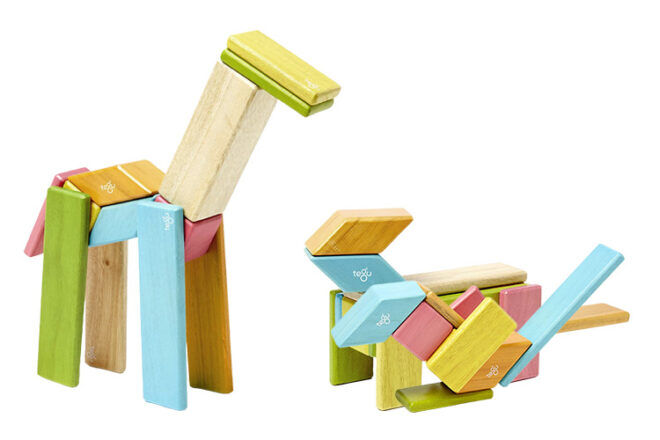 Children will experience a satisfying snap with each magnetic block that they connect together. This 14-piece hardwood set doesn't mandate what they can create, rather gives suggestions and lets their imagination run as wild.
---
Bikeho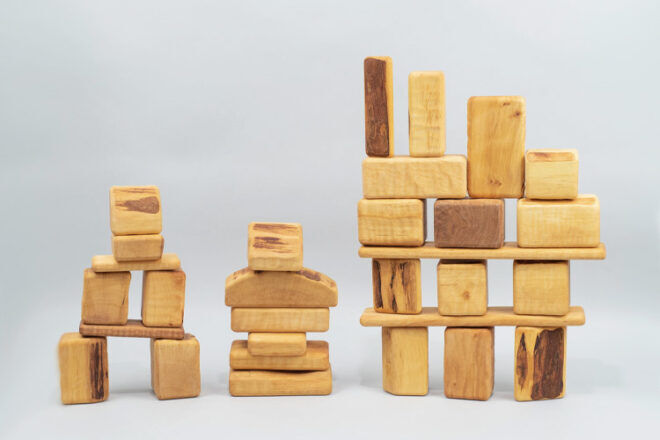 With a natural texture, each piece is handcrafted from a single piece of solid Alder wood and finished with food-safe oil. More complex than standard blocks, the irregular shapes give kids a chance to think about concepts like leverage and balance.
---
Goober Crayons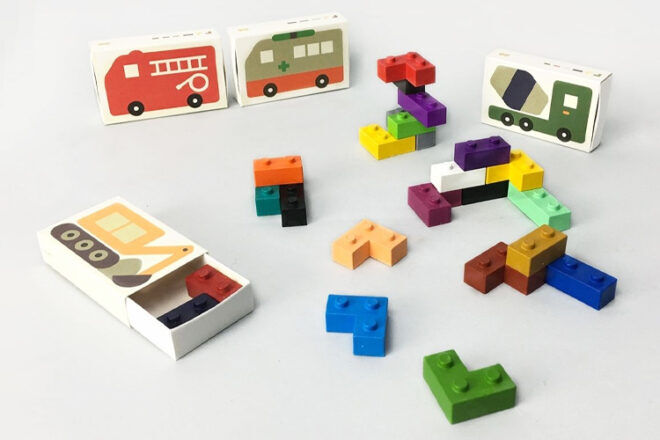 Is it a block, is it a crayon? Pocket-sized and too cool for school, kids can combine play, puzzles and art. Made from natural bean wax, they fit together like regular lego. The boxes are come in two themes and can be used as part of the play.
---
Are building blocks safe for children?
According to Product Safety Australia, building blocks are usually safe for children provided they have no splinters, small parts that pose a choking risk or sharp edges. Always refer to the manufacturer's age recommendation before use.
At what age do kids use building blocks?
Provided they are safe and age-appropriate, babies as young as six months can enjoy swatting and rolling toy blocks. From 12 – 16 months, toddlers might attempt to stack blocks, and by preschool, many kids are attempting bigger builds and taller towers.
How do building blocks benefit kids?
Open-ended in nature, blocks help kids expand their creativity, hone motor skills, learn to share, experiment with cause and effect and improve problem-solving skills. They may be a simple toy, but their benefits are far-reaching.
---
This article is curated by our Editors and includes affiliates and/or paid inclusions. See our Disclosure Policy.
Know some building blocks we should add to our list? Contact us and let us know.
Read these roundups next …
If you're looking for more fun gear for the kids, you're in the right spot. From play tents to tea sets, we list the most coveted boutique brands in Australia.
Read this: 9 ways to support a growing toddler
Continue your search for the best building blocks
Looking for the best toy blocks and still not sure if any of these are right for you? Join one of the Mum's Grapevine Facebook Baby Groups and ask thousands of other mums what they recommend. They are grouped together by baby's birth date so everyone is going through the same stages at the same time.
Click here >> Mum's Grapevine Facebook Groups << and find your group today!