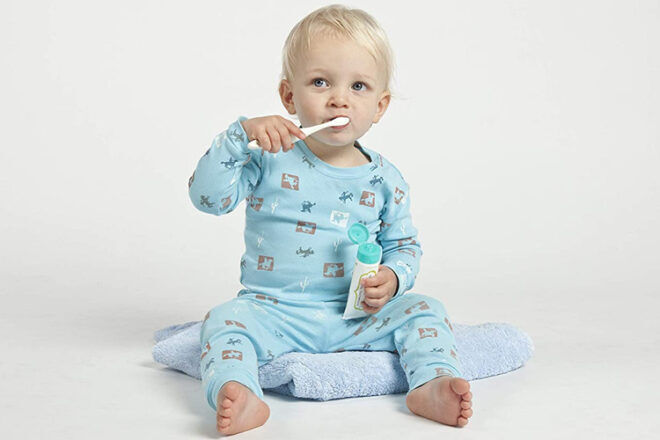 This is the way we brush our teeth … with kid-safe toothpaste. For littlies that haven't quite got the swish and spit, it's inevitable that some of the toothpaste gets swallowed. And a natural kids' toothpaste keeps freshly sprouted toothy pegs germ-free while giving toddlers a fun (and tasty) daily brushing routine to really sink their teeth into.
Formulated with less fluoride than regular toothpaste, kids' toothpaste is safe to swallow and recommended from 18 months to help strengthen teeth, promote healthy gums and prevent cavities and decay.
A little toothpaste goes a long way, so it's worth investing in one that's all-natural, safe and effective.
14 kids' toothpaste brands (safe enough to eat)
To help you find a toothpaste brand that's safe enough to be used by your kids', we've compiled this handy list of brands available in Australia to get you started in your search.
Here are 14 of the best kids' toothpastes in Australia for 2023:
GAIA Natural Baby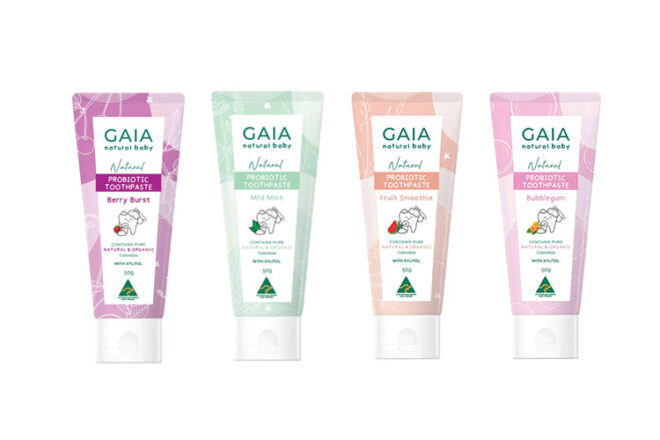 Cruelty-free and lovingly made in Australia, GAIA's natural formulations contain probiotics and xylitol to support oral health. Available in four yummy flavours that are organically derived, they're free from fluoride, artificial colours and flavours. Fruit smoothie or Berry Burst? They'll want to try them all.
---
Grin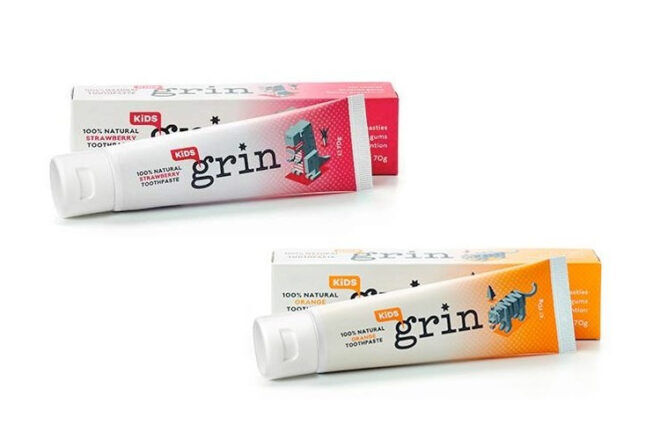 With natural ingredients and zero nasties, this toothpaste is safe for babies as young as six months. Organic Calendula oil, sea salt and aloe vera help inhibit bacterial growth and soothe gums, whilst real fruit flavours satisfy even the fussiest of brushers.
---
Jack N' Jill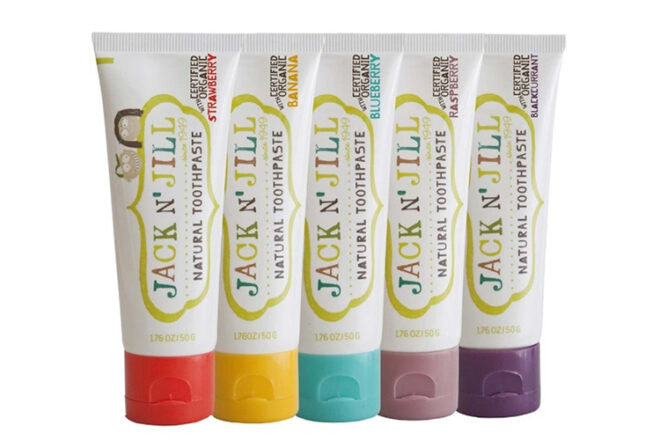 Fluoride, SLS and sugar-free, this swallow-safe toothpaste is suitable for babies as young as six months of age. Proudly Australian made and containing certified organic ingredients such as Xylitol and Calendula, it comes in a fun range of tasty natural flavours.
---
Weleda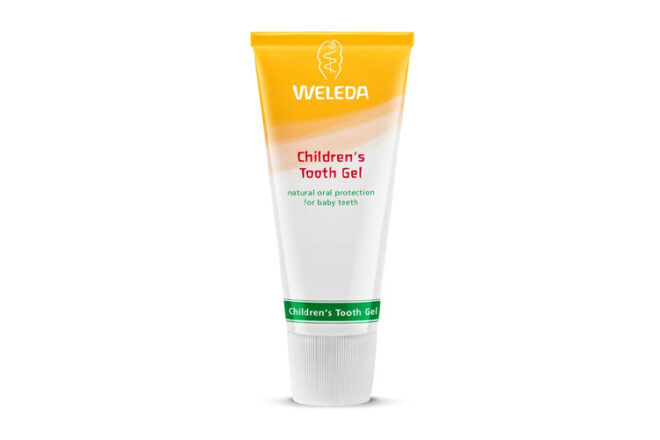 Maintain their mouth's natural balance whilst protecting teeth and gums with this smart toothpaste developed by dentists. With a mild minty flavour to encourage kids to brush, the formulation is free of artificial sweeteners, surfactants and synthetic preservatives.
---
Chicco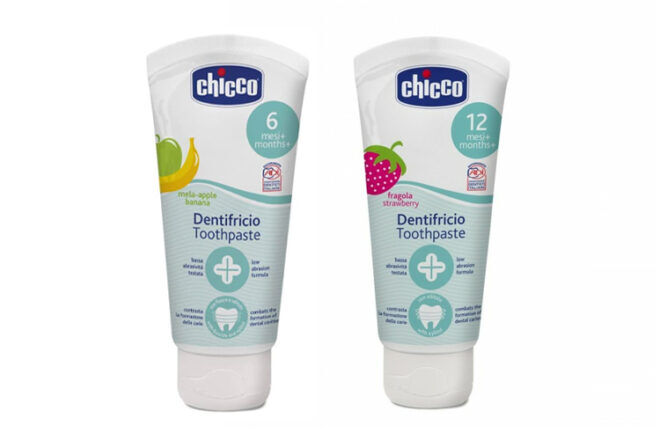 Extra gentle for shiny new toothy pegs, Chicco toothpaste has a low-abrasive formula that nurtures gingival tissue and tooth enamel. Designed especially for baby teeth, it's preservative-free and contains Xylitol to help in the fight against decay.
---
Dr Hisham's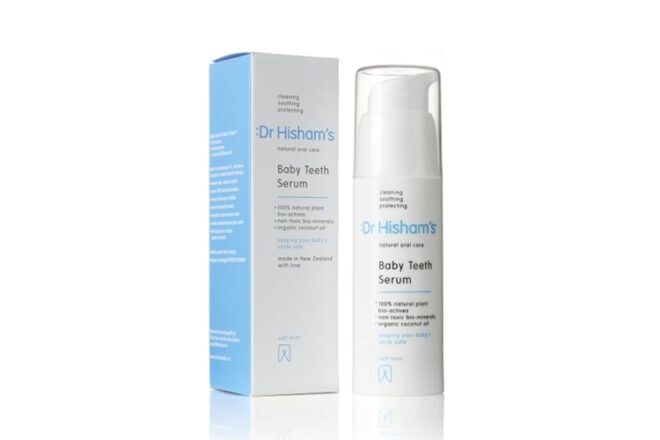 Dentist formulated, eco-friendly and 100% free of toxins, this pH-balanced baby-safe toothpaste is suitable for the whole family. The world's first bio-mineral supplement for mouths and teeth, it promotes a healthy oral microbiome with plant-sourced ingredients.
---
Little Innoscents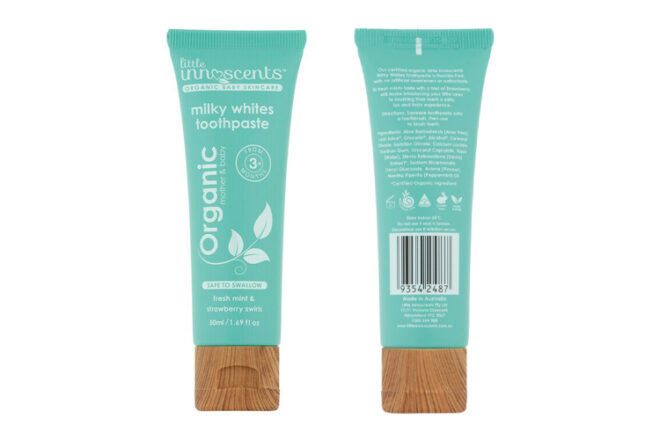 Rich in calcium, Little Innoscents Toothpaste ensures strong healthy teeth and gums, and also contains natural ingredients like spearmint oil and aloe vera juice. But it's the subtle strawberry and fresh feeling in their mouth that your child will adore.
---
Red Seal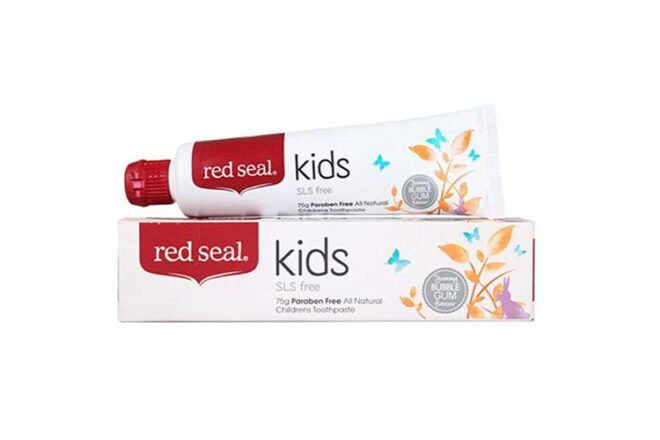 Whilst kids will love the yummy bubble gum flavour, you'll love that it's 100% derived from natural ingredients. With no added parabens, SLS, artificial colours and other nasties, this is a great all-rounder that will keep kids' smiles strong and healthy.
---
Green People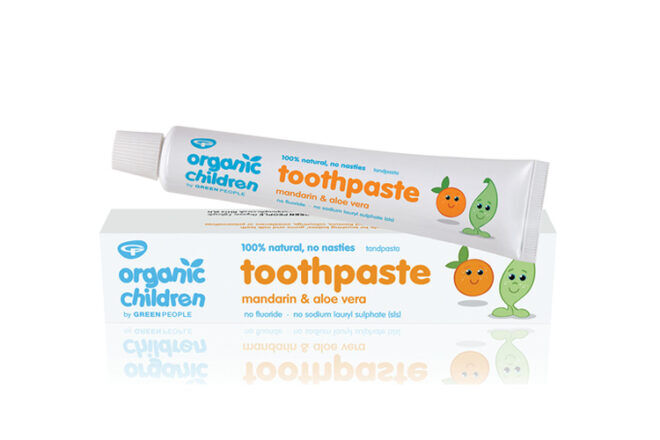 Containing the goodness of antioxidant-rich olive leaf extract to protect delicate gums, Green People toothpaste is suitable for babies' first milk teeth and swallow-safe. Free of nasties like SLS, it comes in a choice of mandarin or spearmint flavours.
---
Dr Brite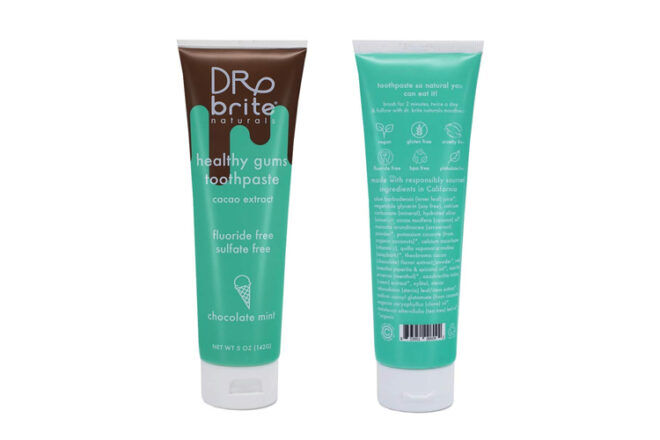 With a choc mint flavour that's good enough to eat (and perfectly safe if they do), this natural toothpaste was formulated by a dentist and a surgeon. It contains anti-inflammatory coconut oil and neem extract to fight stains and prevent cavities.
---
Lavera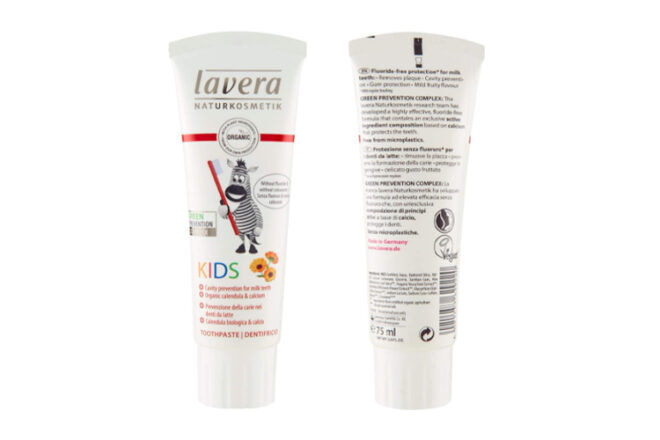 Containing raspberry and strawberry extracts, kids will appreciate these fruity flavours. And you'll appreciate that this certified natural children's toothpaste will help the buildup of plaque and counteract acid when worked into brushing routines.
---
Grants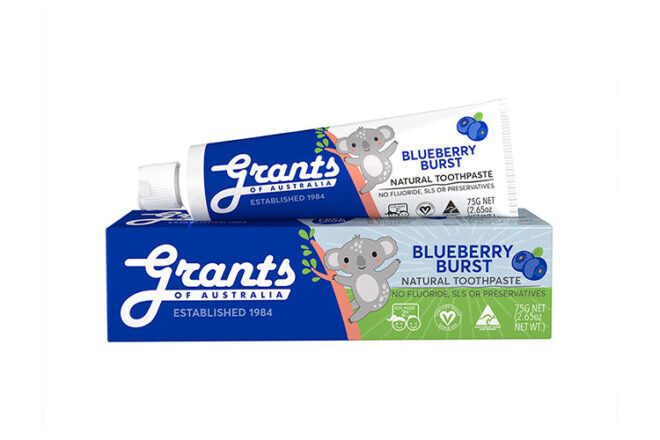 Jam-packed with natural bacteria-fighting ingredients such as Xylitol, Grants toothpaste helps minimise plaque and the risk of tooth decay. With a choice of blueberry or strawberry flavour, this is sure to become their toothbrush's brushing buddy.
---
Nature's Goodness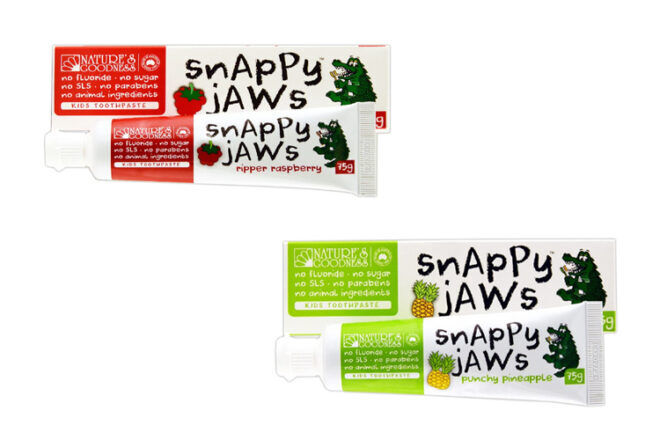 Fruity flavours like punchy pineapple and awesome orange will excite even the snappiest of jaws, all whilst containing no nasties like SLS and sugar. Make brushing a breeze with this fun toothpaste that fights acid-producing bacteria with natural ingredients.
---
Theodent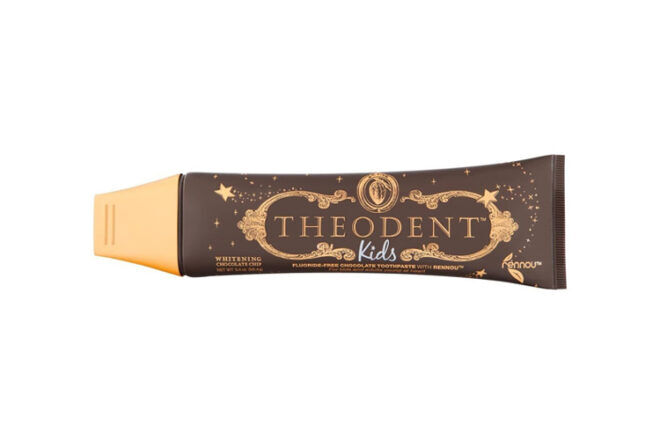 Brushing may be a regular routine, but this is one toothpaste you won't see every day. Harnessing the luxury of the cocoa bean, it tastes like chocolate whilst helping to whiten their teeth. It's also SLS free and safe for little ones to swallow.
---
When should kids start using toothpaste?
According to Raising Children, kids should start using toothpaste as part of their brushing routine from the age of 18 months. That said, some specially formulated and all-natural toothpaste is suitable for babies as young as six months.
What makes children's toothpaste different?
Children's toothpaste contains less fluoride than regular adults' toothpaste. While fluoride helps prevent decay and cavities, young kids are at risk of swallowing too much of it which can lead to fluorosis.
When can children use regular toothpaste?
In Australia, dentists recommend that kids start using regular toothpaste from the age of six to ensure their teeth are well-protected.
The information in this article does not replace professional medical advice. We recommend talking to your dentist before using new dental products.
---
This list is loving curated by our Editors and may include affiliate and/or paid inclusions. See our Disclosure Policy.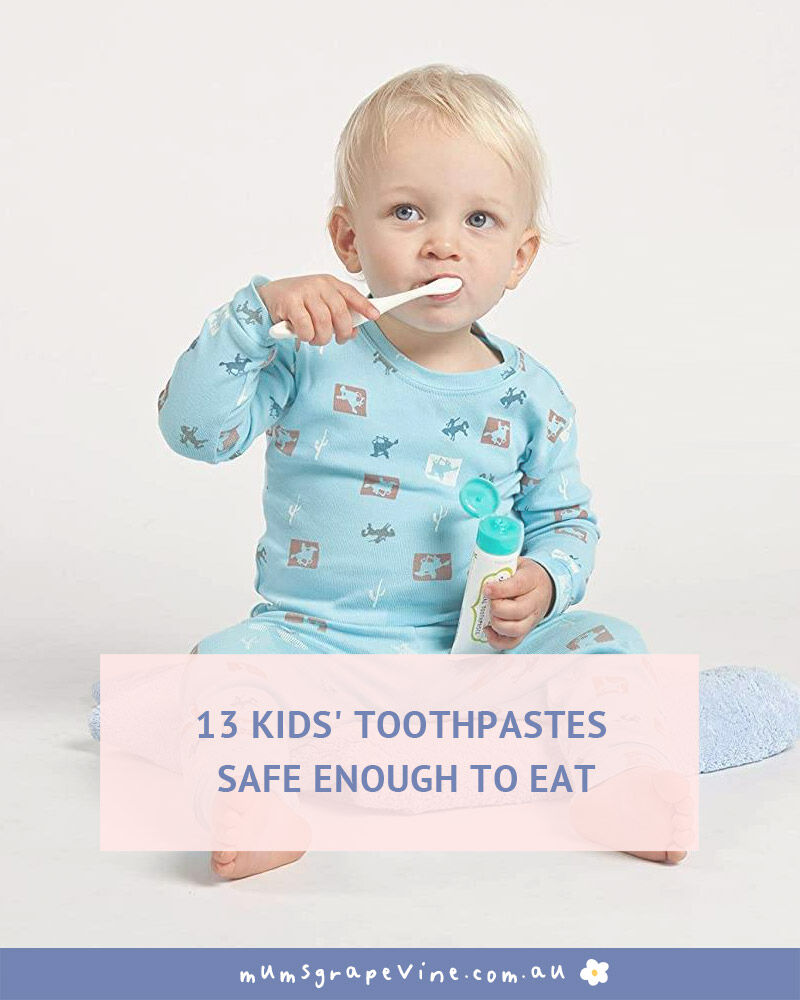 Know a toothpaste brand we should add to our list? Contact us and let us know.
Read these roundups next …
If you're after more gentle products for your little ones, you're in the right place. From natural sunscreen to skincare, our roundups include Australia's best brands and online boutiques.
Read this: 50 ways to soothe baby's sensitive skin