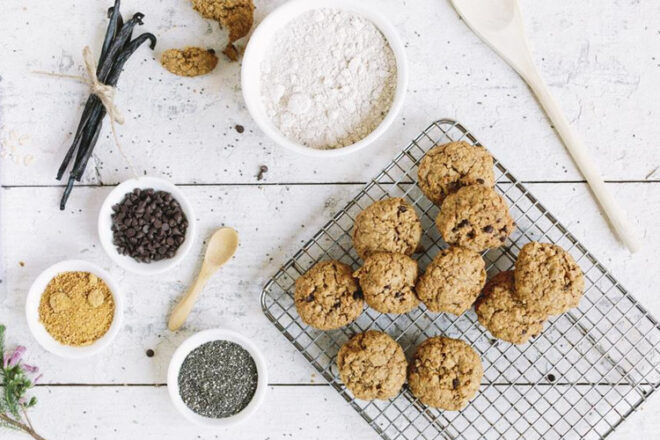 Pop the kettle on, Mumma. Lactation cookies are the buzz breastfeeding snacks topping up milk tanks and nourishing knockers.
Lactation cookies are baked biscuits full of essential nutrients for healthy breastfeeding and increased milk supply. The powerhouse ingredients are known as galactagogues and include brewer's yeast, oats, coconut oil and flaxseed. The ultimate maternity snack, lactation cookies give boobs a boost and get liquid gold flowing.
To help get your milk supply fully stocked, we've followed our noses to the most delectable breastfeeding bikkies Australia-wide.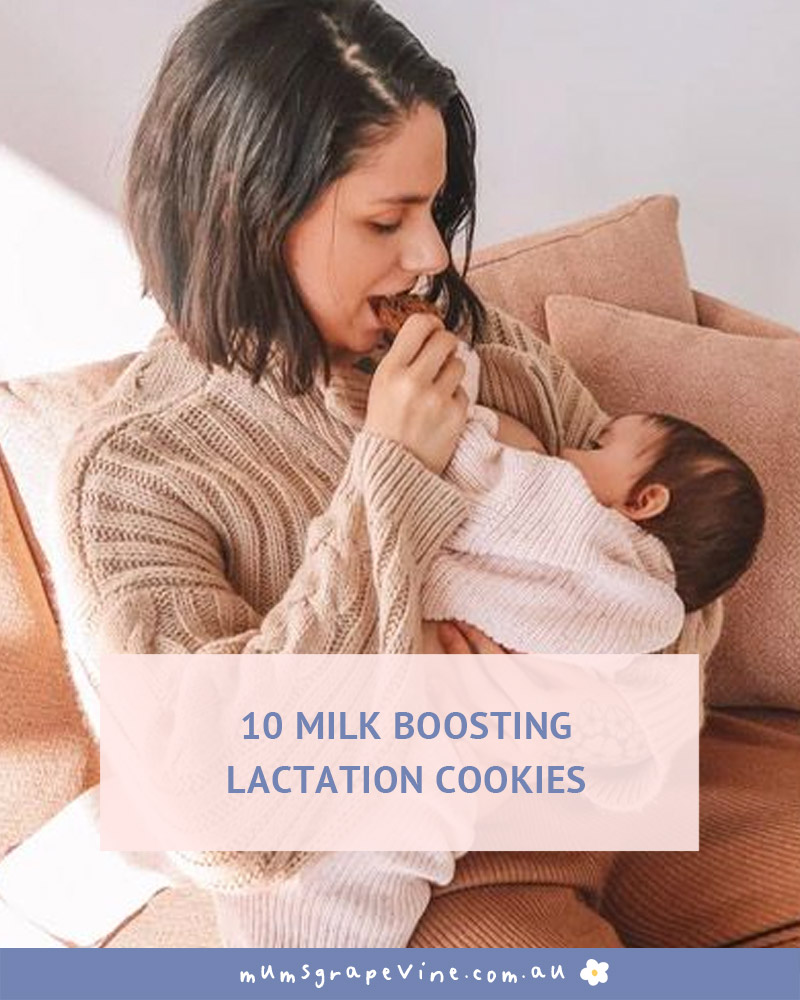 10 lactation cookies for a healthy milk supply
Check out our handy list of top brands in the land and get your milk supply established and flowing.
In no particular order, here are 10 lactation cookies for boosting breastmilk supply.
The Milk Pantry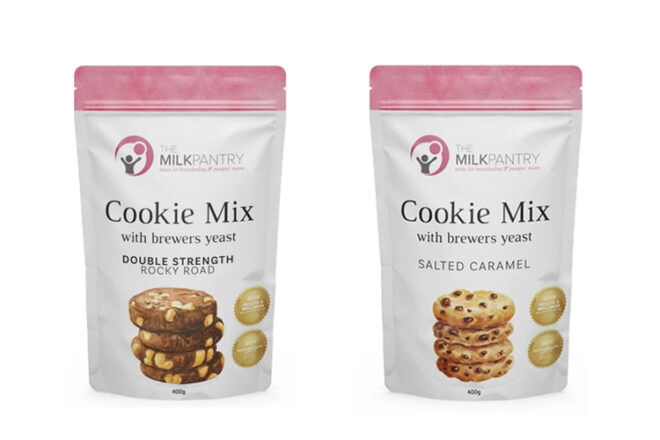 Packed with the goodness of brewers yeast, organic oats and flaxseeds, The Milk Pantry Cookie Mixes make healthy snacking a cinch. There are 12 varieties up for grabs (including gluten-free) and each pre-mix makes around 15 cookies.

---
Boobie Bikkies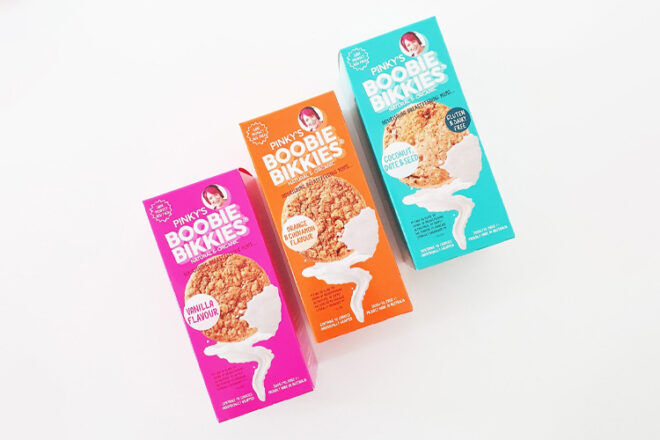 In a choice of three grab-and-go varieties, Boobie Bikkies contain natural and organic ingredients like cinnamon, oats quinoa and coconut to support nursing mums and bubbas. Choose from cartons of ten individually wrapped cookies, or multi-packs.
---
Made To Milk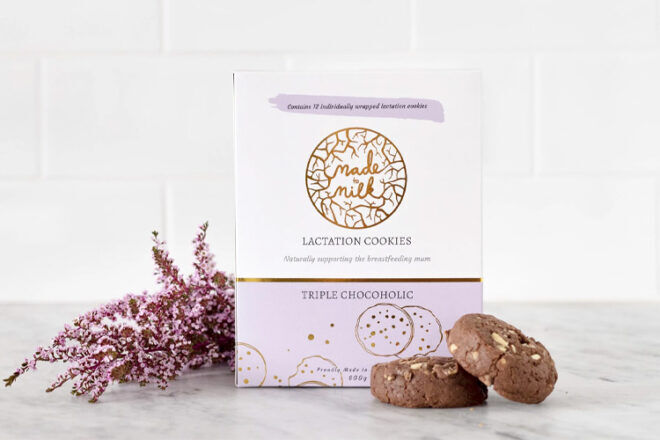 They're the timeless favourites packing a lactation punch. In a choice of milk-choc, white-choc and triple-choc flavours, these babies are jam-packed with flaxseed, oats and brewers yeast to get your liquid gold flowing. Each box contains 12 cookies.
---
Franjos Kitchen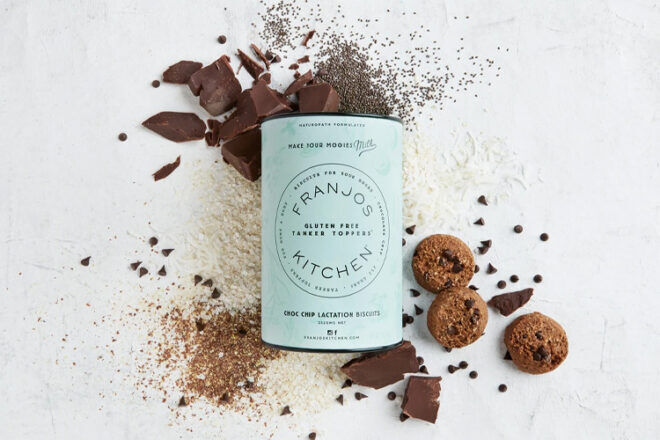 Nourishing and utterly delish, Franjos Kitchen Tank Toppers are 100% natural and loaded with important vitamins and minerals. Developed by two mums with a passion to support breastfeeding women, these morsels have taken not just Australia by storm, but the world.
---
The Yummy Mummy Food Company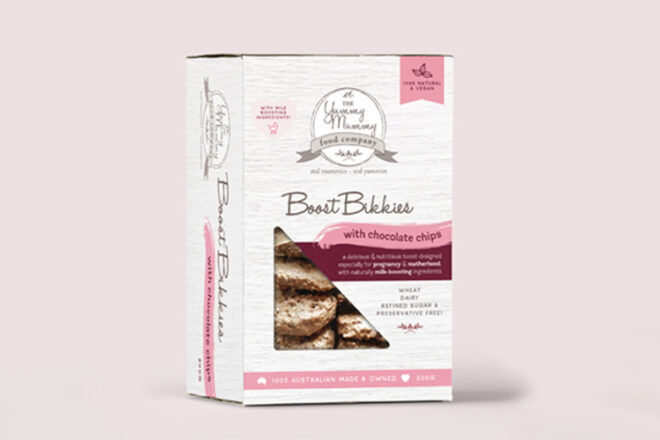 Containing natural herbs and handpicked galactagogues like coconut oil, linseed and oats, Boost Bikkies encourage a healthy flow of breastmilk. With no dairy, wheat, refined sugar or preservatives involved, they're guilt-free and easy on tender tummies.
---
Sweet Graze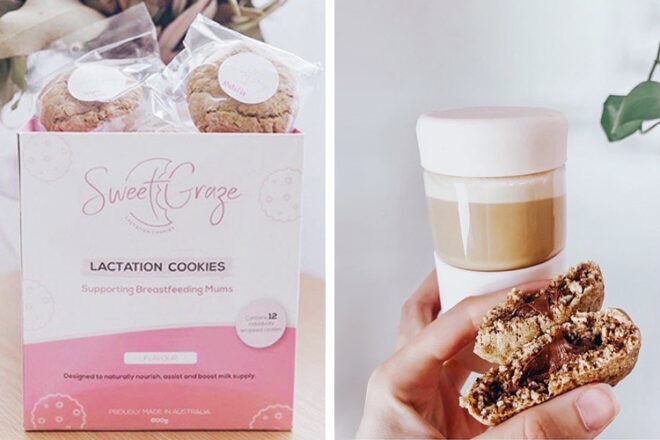 Gooey centres, yass! Choc-a-block with lactogenic ingredients like brewers yeast, flaxseed meal and oats, Sweet Graze cookies are baked fresh for every single order. The range is free from preservatives and artificial additives and includes allergy-friendly options.
---
Hey Mama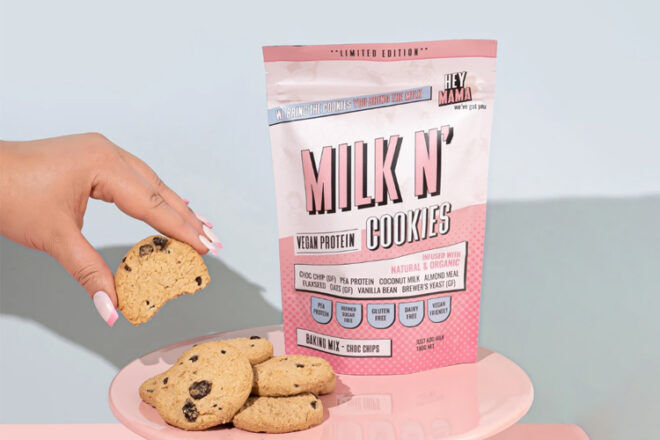 Time to get your Betty Crocker on. Gluten-free and massively yum, Hey Mama Milk N' Cookies comes in a set of three pre-mix packs and makes up to 36 biscuits. The vegan mixture is dairy-free and loaded with the milk-inducing goodness of oats and flaxseed.
---
Super Boober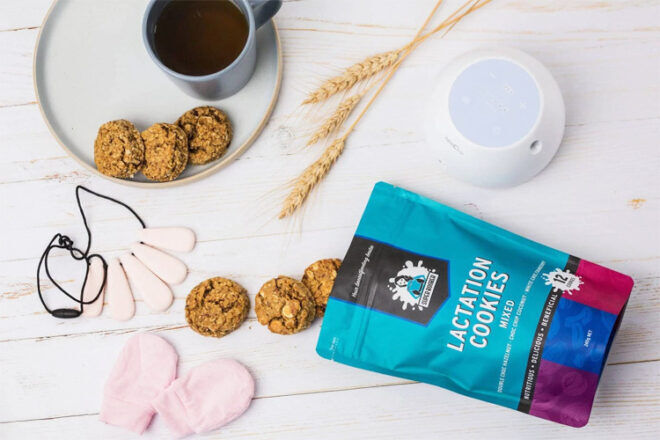 In a jumbo pack of three different flavours, Super Boober is the answer for mums who like to mix it up. Each delicious morsel contains lactation-promoting ingredients including chia seeds, protein powder, oats, brewers yeast and flaxseed.
---
Milky Goodness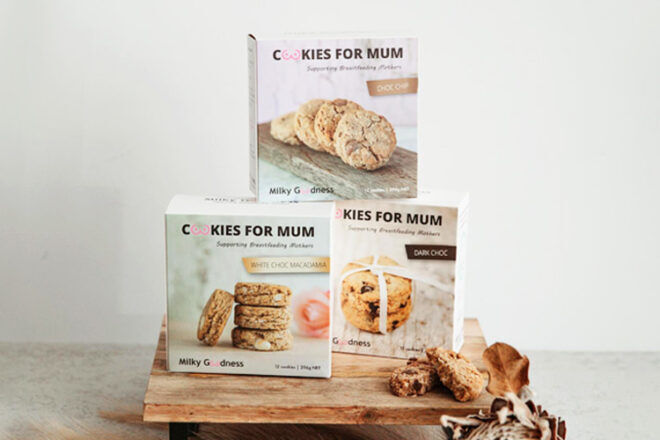 The brainchild of an Aussie mum of three, Milky Goodness cookies uses natural oats and brewers yeast to stimulate milk production and help get feeding on track. And if cookies aren't your jam, there's also chocolate brownies and nourishing granola on the menu.
---
Milky Mothers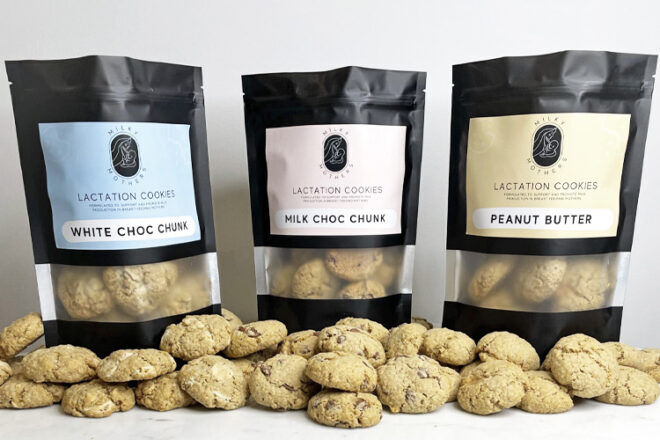 Formulated alongside health professionals, Milky Mothers uses specific vitamins and minerals in its cookies to meet the nutrition needs of breastfeeding mums. Goodness includes stabilised wheat germ, natural oats and brewers yeast.

---
What makes lactation biscuits different?
They may look like regular cookies, but lactation snacks use the milk-inducing goodness of galactagogues to help new mums boost their milk supply. Brewers yeast, oats, coconut oil, cinnamon and flaxseed are all examples of the types in ingredients used in lactation cookies to increase milk flow.
Can anyone eat lactation cookies?
Absolutely. While a nursing mum should get first dibs on lactation cookies, their nutritional benefits usually make them suitable for the whole family. Of course, if there are food allergies in the house, just be sure to check the contents before diving in as many contain wheat, eggs and nuts.
How many lactation cookies should I eat?
Many brands suggest eating one or two cookies each day to support a healthy milk supply. Check the recommended daily serving on the pack before you accidentally scoff the lot!
The information in this article does not replace professional advice. We recommend chatting to your doctor before trying any lactation products.
---
This article is curated by our Editors and includes affiliates and/or paid inclusions. See our Disclosure Policy.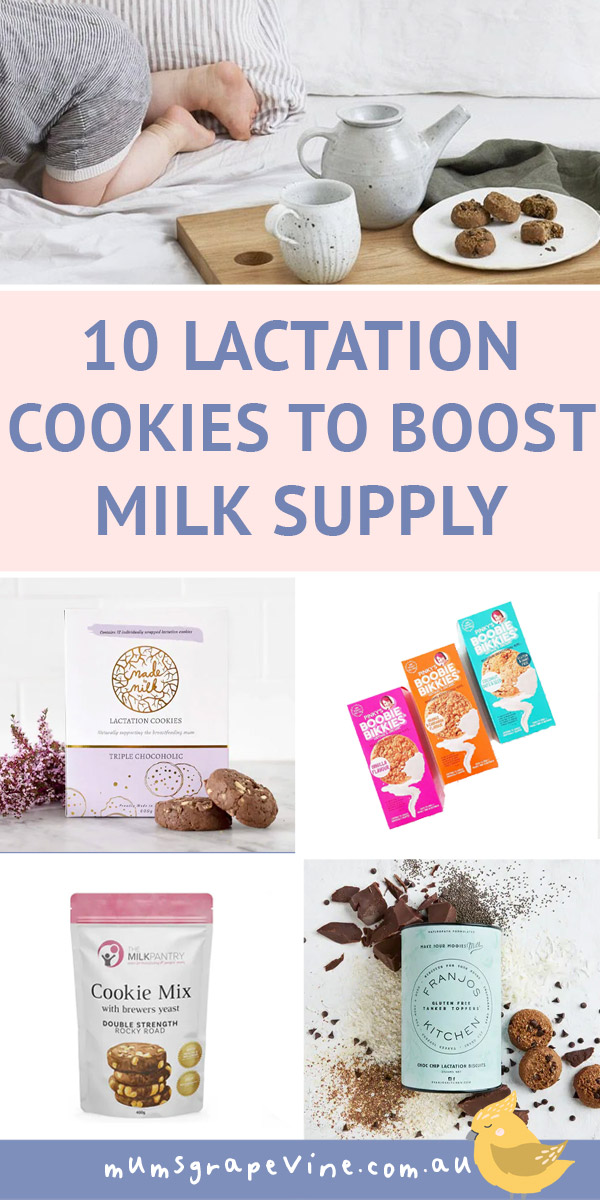 Know a product we should add to our list? Contact us and let us know.
Read these roundups next …
If you're looking for more products to help with breastfeeding, you're in the right spot. From nipple balms to nursing chairs, we list the most coveted boutique product brands in Australia.
Read this: 50 clever ways to increase breastmilk supply
Continue your search for the best lactation cookies
Looking for the best snacks to help milk supply and not sure if any of these are right for you? Join one of the Mum's Grapevine Facebook Baby Groups and ask thousands of other mums what they recommend. They are grouped together by baby's birth date so everyone is going through the same stages at the same time.
Click here >> Mum's Grapevine Facebook Groups << and find your group today!