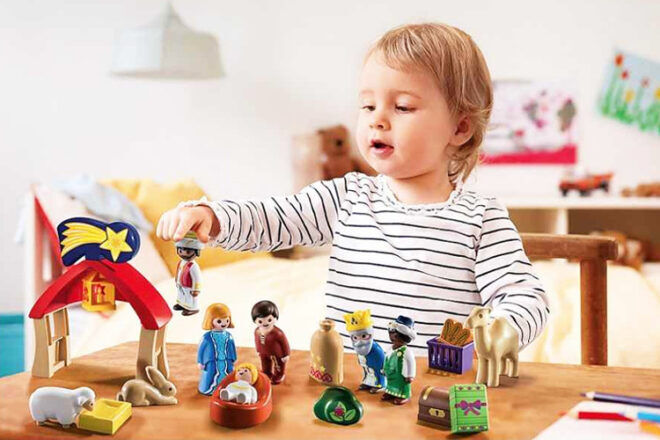 Countdown to Christmas. Christmas tree decorated, tick. Advent calendar ordered, tick. Nativity set unpacked …
Nativity sets are figurines displayed around Christmas time as a creative representation of the birth of Jesus Christ. Some are interactive, allowing children to play out scenes, others are keepsakes created for proud display. And while the Christmas story may be as old as time, modern makeovers have made nativity scenes as beautiful as they are symbolic.
To help you find the perfect set, we've put together this handy list, and we've checked it twice, of Australian nativity sets to get you started in your search – lovingly curated by the Mum's Grapevine editorial team.
Types of nativity sets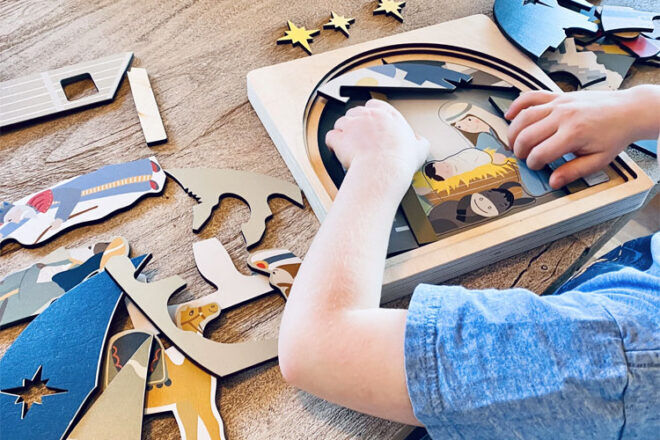 Nativity playsets – Look for sets that contain kid-friendly pieces and consider the ages of your little elves and pick materials to match; durable wood is best for daily play.
Displays – Nativity sets depict a scene, so by their very nature they are treasures to proudly display. Options range from intricate designs to pared-back peg dolls. Pop them on the mantle, a bookshelf or even a window sill for a scene to enjoy all season long.
Keepsake – There's something magical about passing a nativity ensemble from generation to generation. If you are looking for longevity in a set, look for durable materials that will stand the test of time.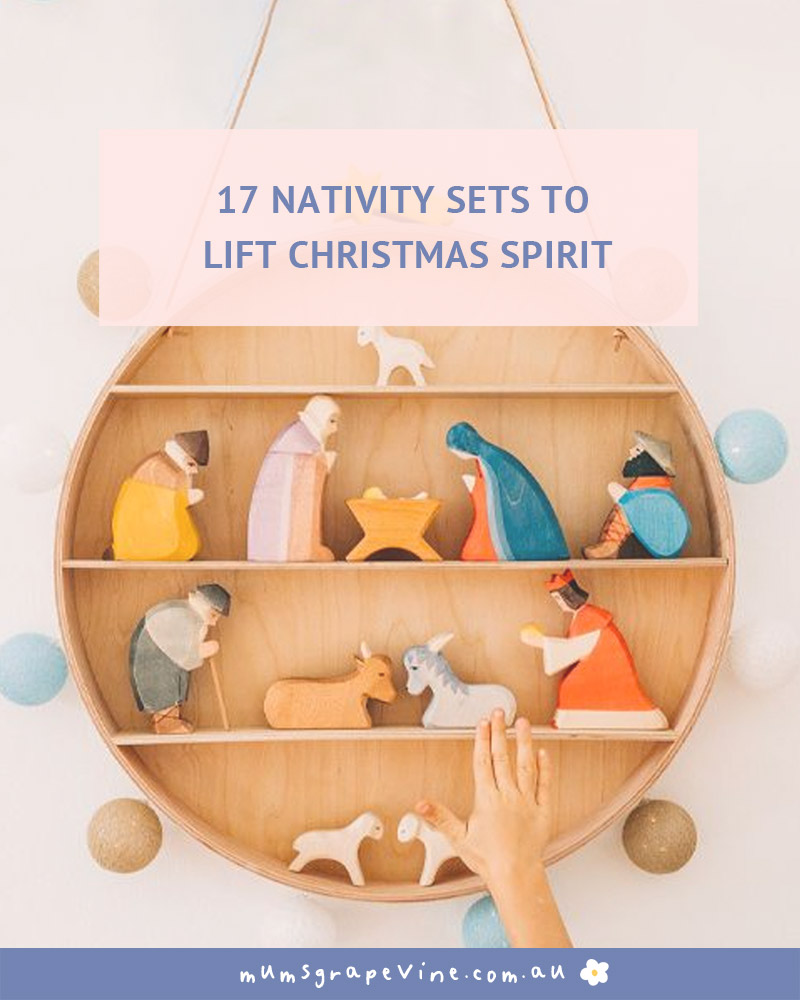 17 kids nativity sets to spark joy
Keep reading for options that can stand the test of time and become something they'll beg you to bring out as soon as the whiff of Christmas hits the air.
Here are 17 nativity sets that spark Christmas joy:
Tooky Toy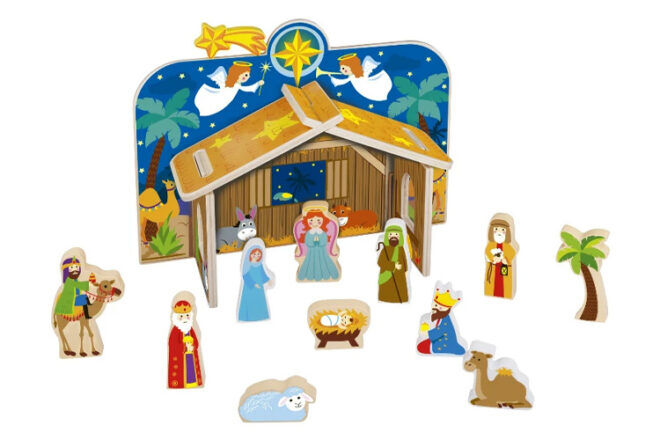 Bright and cheerful, with ten characters to role-play the nativity story with, this set is an all-rounder this Christmas. Durable enough for little hands, it also looks great on display year after year. We love the festive backdrop behind the stable.
---
Playmobil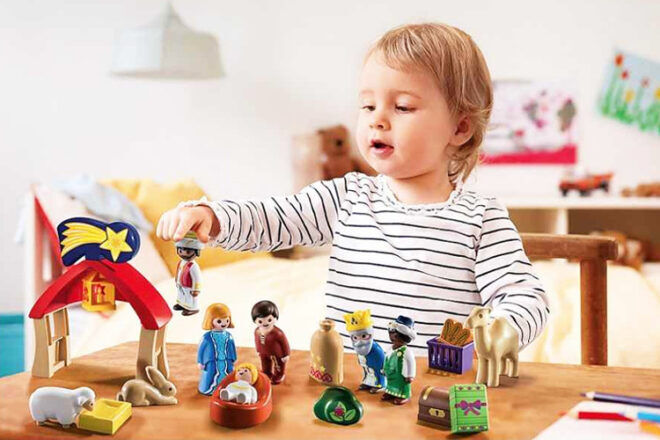 You're never too young to be captivated by the story of Christmas, and this set is designed for toddlers. With no little pieces for them to swallow or lose, they'll have hours of fun interacting with each engaging, uber-cute piece – we honestly can't pick a favourite!
---
Ostheimer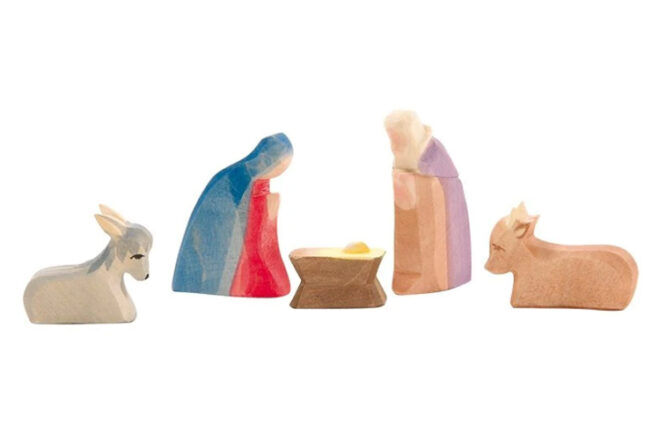 Each of the adorable wooden figures in this set is lovingly hand-crafted in Germany – quality pieces that hold that extra bit of magic. Perfect for open-ended play, this set of five can stand alone, or other animals from the same range can be added to expand the scene.
---
Graupner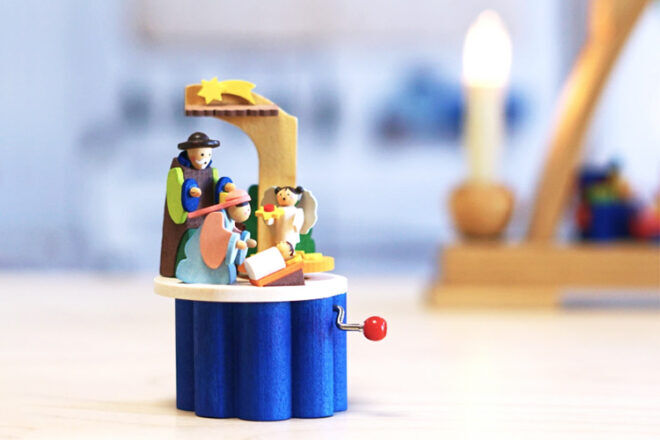 The magic of music boxes lives on with this gorgeous nativity theme. Exquisitely crafted with faces and details painted by hand, 'Silent Night' is played only when the crank is turned. An interactive keepsake for treasuring every Christmas for years to come.
---
Running Press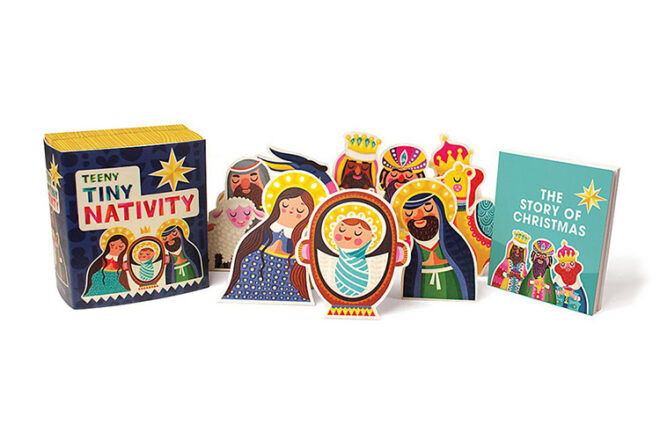 This merry and bright parcel may be small but it contains much cheer. Transforming into a mini stable, pore over the beautifully illustrated wooden characters whilst you enjoy the 88-page mini-book on the story of Christmas! The perfect stocking stuffer.
---
Loving Wood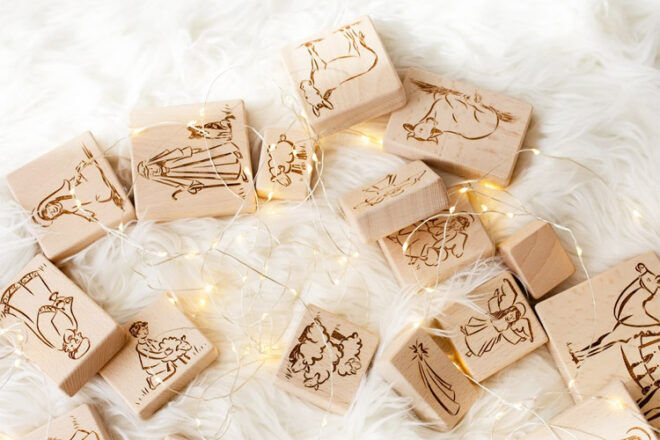 Create calm with a nativity block set made from beautiful solid beech wood. Expertly crafted, from solid beech wood, it includes 17 illustrated pieces including treasured animals. Modern and traditional come together in sets they'll want to treasure.
---
CQM Handmade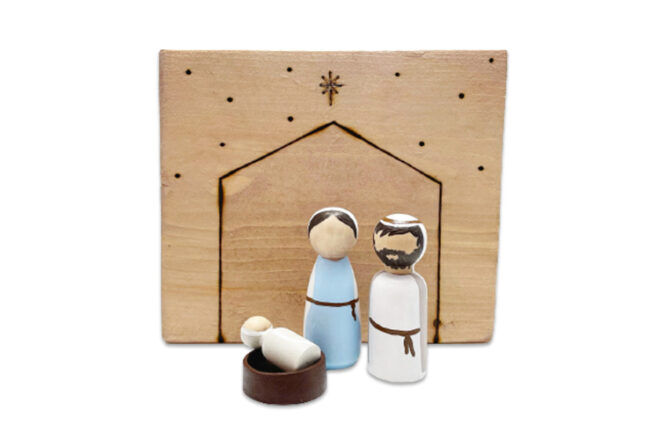 For those wanting a minimalist, but still nostalgic nativity set, this one could be for you. With just the holy family, a sweet lil' manger and a wood-burned block as the stable, adorn any mantle, shelf or window ledge with this cute touch of Christmas.
---
Graupner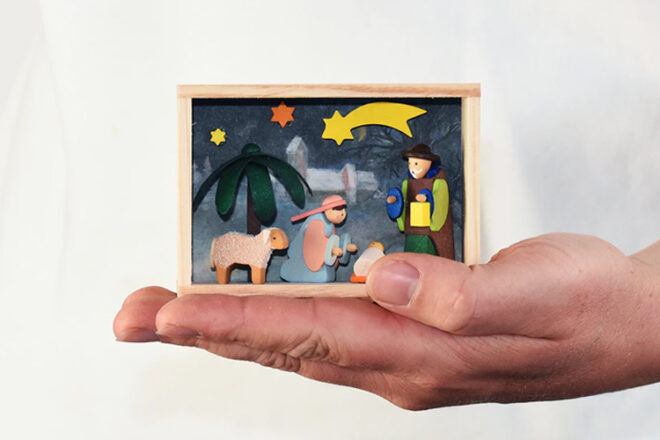 Reminding us of pint-sized Christmas windows, this one packs a quaint and magical punch. An enchanting alternative to a Christmas card (and one you'll definitely want to keep!) there's space on the other side for a message.
---
Nosy Crow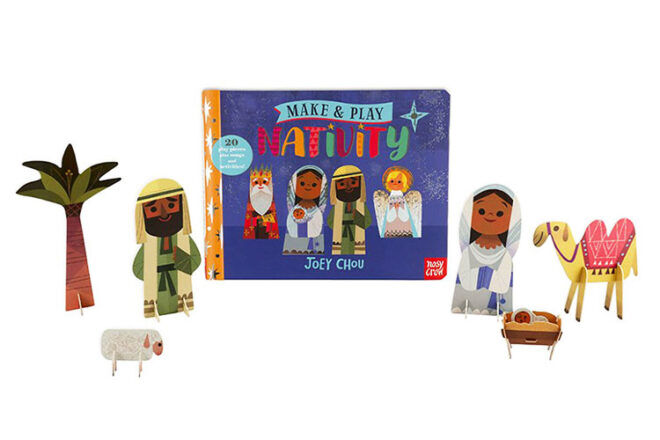 Not just a book, open the cover to discover press-out pieces that slot together to create the perfect nativity scene. Complete with a cute manger, camel and other endearing Christmas characters, kids can also learn carols and make festive crafts. There's even an advent calendar!
---
Pint Size Planet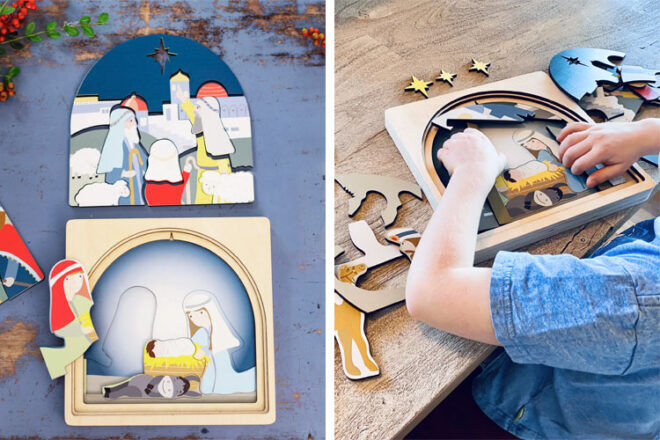 Beginning with the wise men on their journey to follow the star, kids up to 12 will be engaged with four layers of puzzle, each depicting a different scene. The delightful set is made of FSC basswood and designed to last for many Christmases to come.
---
Fisher-Price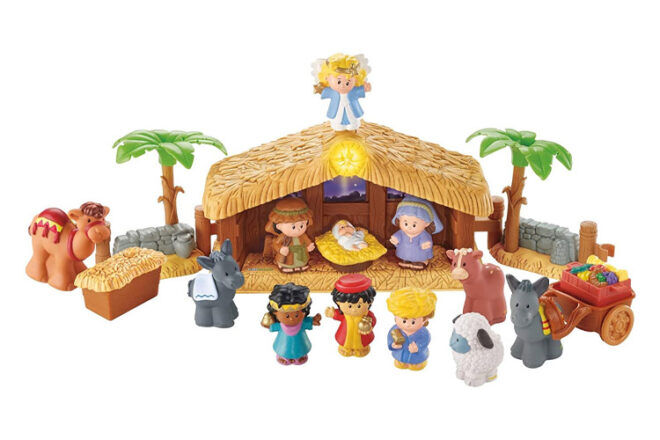 With lights, sounds and bushels of cheer, this set will keep your little people busy for hours. It includes 12 chunky figures that are perfectly sized for toddler hands and a stable for playing out festive scenes. An adorable introduction to the story of Christmas.
---
Made By Joel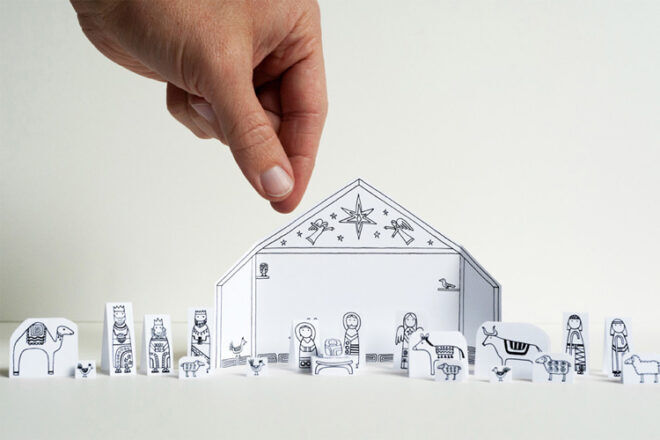 There are lots of printables out there, but this one made us smile. Illustrated by a popular children's illustrator, keep it monochrome or let them colour it in. Perfect for small spaces and designed to fit into a tin, they can cart it from room to room or even send it to a friend.
---
Ostheimer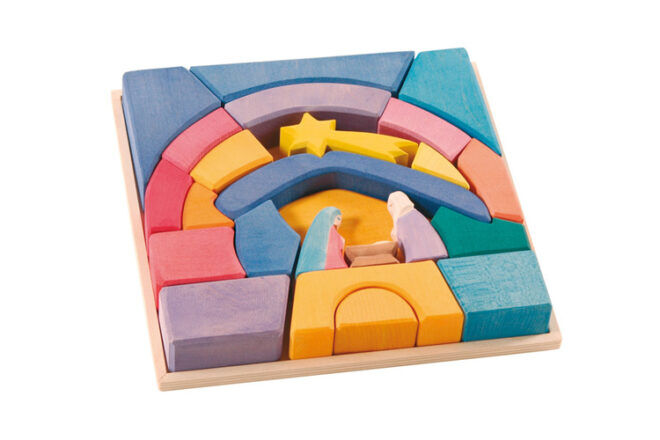 Presented beautifully as a jigsaw on a storage tray, these quality wooden blocks create an open-ended Christmas scene. Organic in shape and sensory to touch, it uses muted tones for a great addition to playrooms year-round.
---
Rostok Toys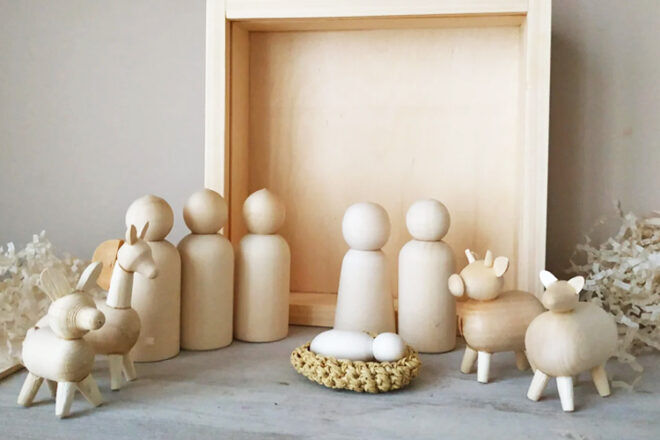 Not all peg dolls are created equal – this handmade Russian nativity set is just too cute! The traditional troupe is given a fresh, minimalist twist. Crafted from natural linden wood and pine, the set includes 11 pieces and arrives unpainted and unvarnished.
---
Moonmo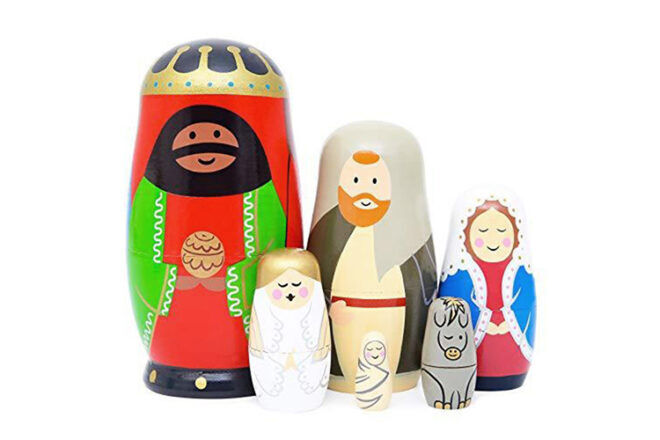 Christmas is a time of joy and these funny faces definitely bring some cheer. Even more endearing is the fact they all nest one inside each other. Display, play or use them to hold small treats, these nativity babushkas bring a fresh take on festive decorations this season.
---
Lanka Kade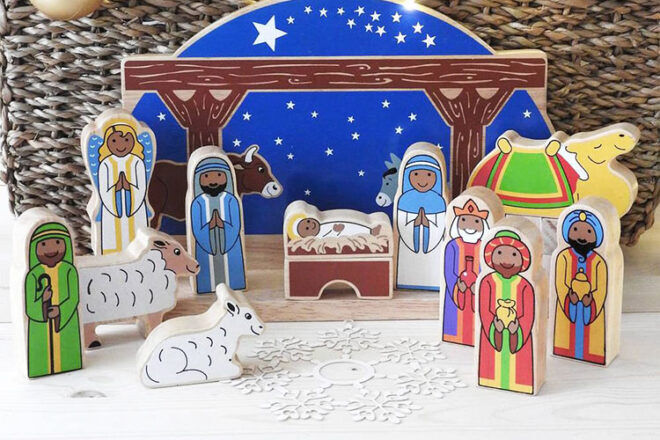 Perfect for little hands, this bright and engaging nativity playset uses only eco-friendly materials. Tactile and durable, we're especially loving the starry backdrop which sets the scene, as well as the contented expression of the camel. It's the little things this Christmas.
---
Cleverpatch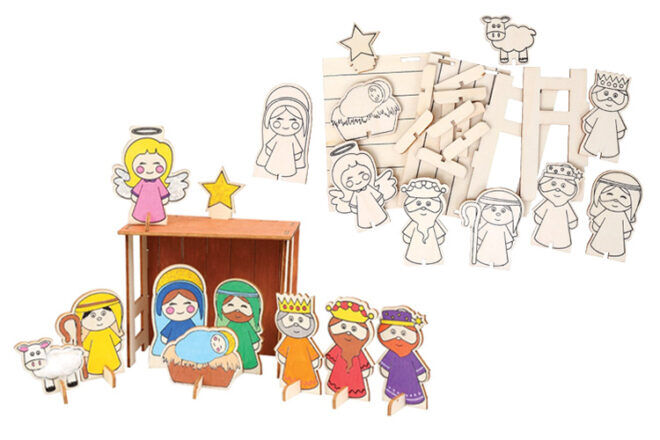 Kids can go to town (well, Bethlehem) colouring their own nativity set. With faces and details already drawn, all they need to add is colour, creativity and perhaps some gemstones to bring the scene alive. Complete with a stable, it's easy to pack down after Christmas.
---
This article is curated by our Editors and includes affiliates and/or paid inclusions. See our Disclosure Policy.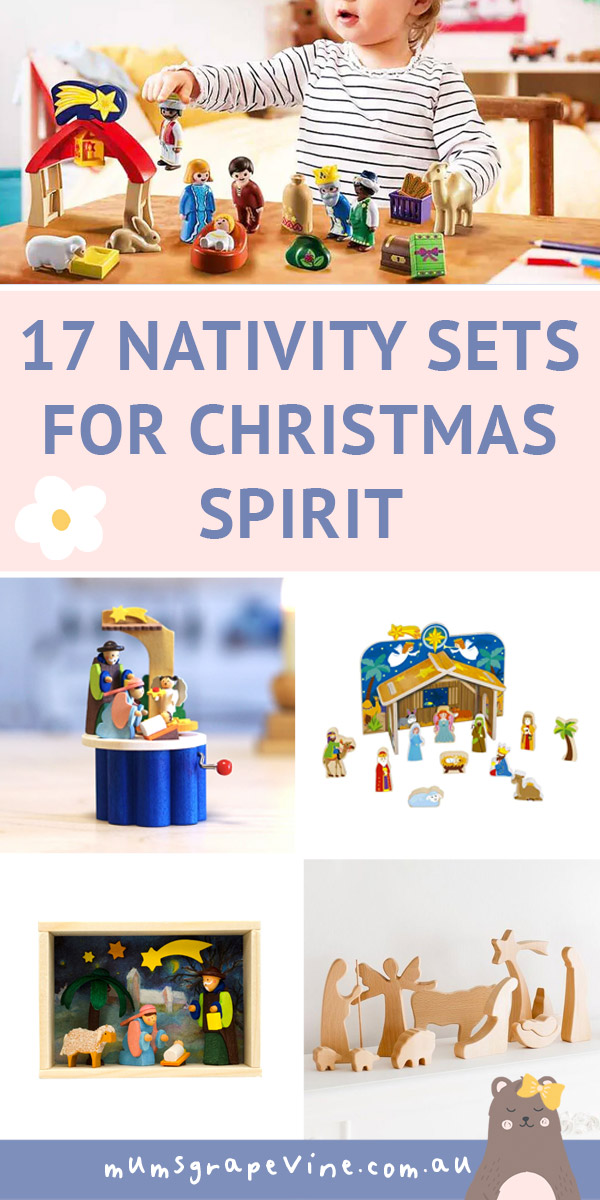 Know a nativity set we should add to our list? Contact us and let us know.
Read these roundups next …
If you're on the hunt for more gifts for the kids, you're in the right spot. Our roundups include a curated selection of Australia's top boutique brands and products, from babushka dolls to toddler trikes.