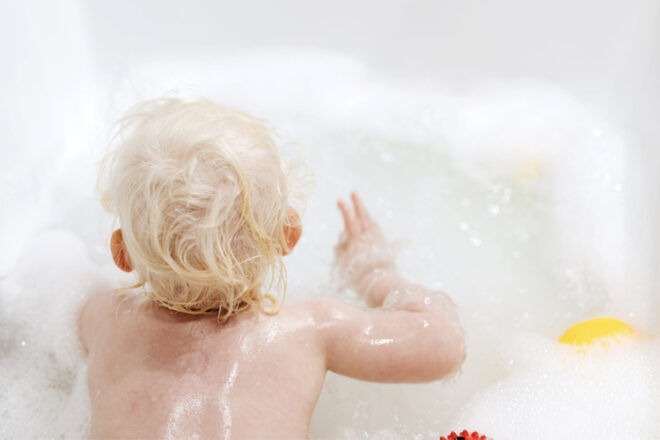 From foam castles to crazy hairstyles, baby bubble bath makes tub time fun for kids of all ages. And the only thing better than bountiful bubbles is a formula that's also gentle on sensitive skin.
Soaking and splashing in a bubble-filled bath is a fantastic way for kids to unwind at the end of a day's play. And apart from creating serious suds that get kids giggling, our favourite baby bubble bath contain natural ingredients that help soothe nappy rash, prevent dryness and nurture sensitive baby skin.
To help you bring bubbly fun to bathtime while caring for young skin, we've shortlisted the baby bubble bath that really scrub up.
OUR PICK OF THE CROP
15 kids' bubble bath with loads of bubbles
With so many bubble bath products in Australia, it's hard to know where to start and what's suitable for children, so we asked the HUGE Mum's Grapevine Facebook community which brands they love. In no particular order, here are the products they recommend.
In no particular order, here are 15 best kids' bubble bath in Australia for 2023. 
GAIA Skin Naturals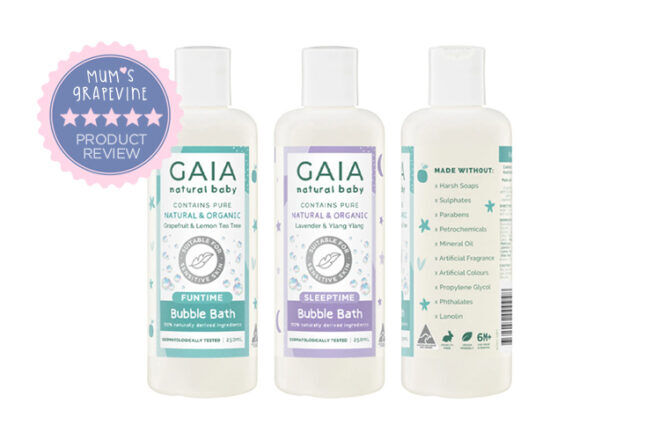 Australian made and owned, GAIA Skin Natural products are the business. No less than 100% naturally derived ingredients make the list, like lemon tea tree, organic grapefruit and organic aloe vera extract. Gentle on sensitive skin, there's nothing artificial to be seen.

---
Organik Wellness & Co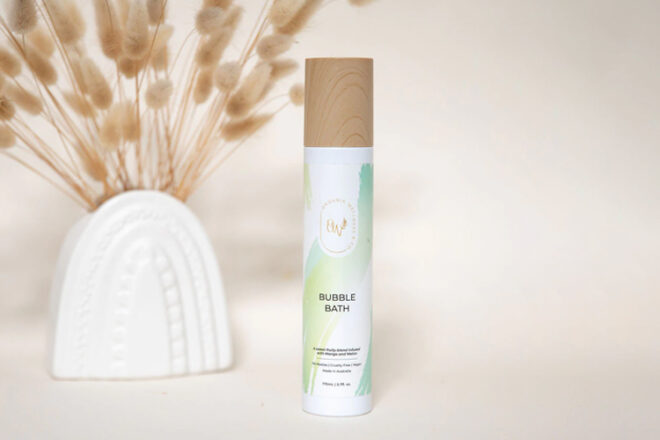 Nourishing and gentle, Organik Wellness & Co Bubble Bath is made here in Australia from toxic-free, vegan ingredients that are gentle on young skin. We love that it's infused with the scent of mango and melon for fragrant and fruity tub time.

---
Allkinds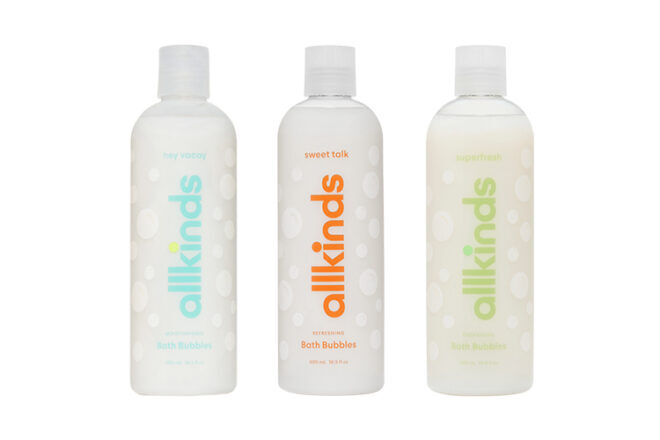 Balanced to maintain the skin's natural pH levels, Allkinds is a rich, moisturising blend that turns bath time into a party. Made in Australia just for kids, it's soap-free, dermatologically tested and contains no SLS or SLES (ie. nasties).

---
Jack N' Jill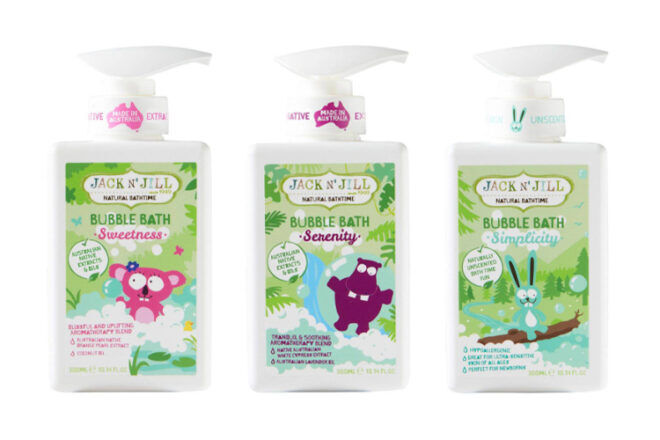 Packed with the goodness of native extracts and organic oils, the Jack N' Jill range gently cleans the skin while it soothes. Each bottle captures the essence of Australia by including native extracts of plants such as quinoa, orange pearl and lavender.

---
Gro To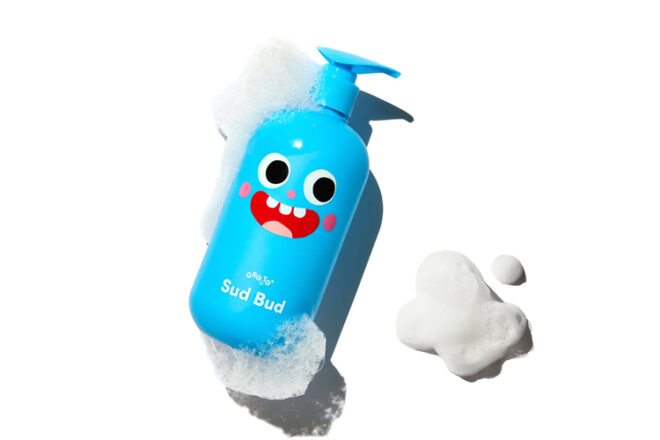 Cute, clean and worry-free, this wacky bathtime bud brings the goods. The plant-based formula softens and soothes dry skin. Scent-wise, it's as though a coconut had a baby with an orange and they all bathed in honey. Their words, not ours!

---
Childs Farm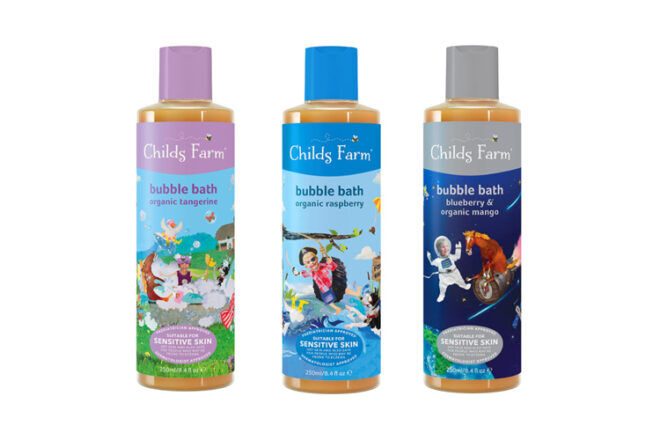 Bubbles fragranced with organic tangerine oil? Yes please! Dermatologist and paediatrician approved as suitable for sensitive skin and bubs prone to eczema, Childs Farm cleanses, moisturises and is both vegan and cruelty-free.

---
Sun Bum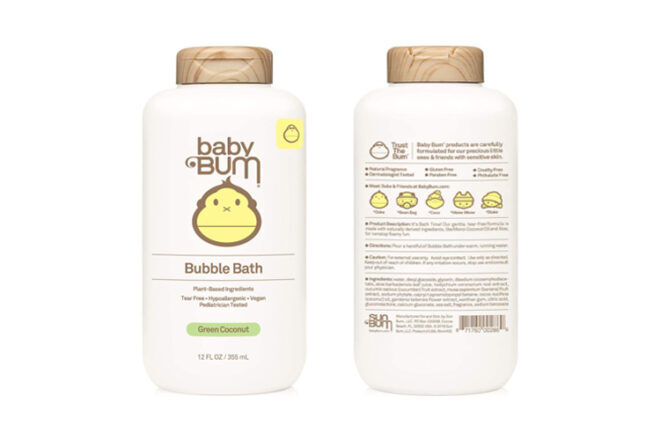 Specially formulated for precious little ones, Sun Bum uses gentle ingredients from the earth and sea to create a tear-free bubble bath for non-stop foamy fun. PH-balanced, it's housed in a cute, minimalist bottle and it's free from gluten, parabens and sulphates.

---
Burt's Bees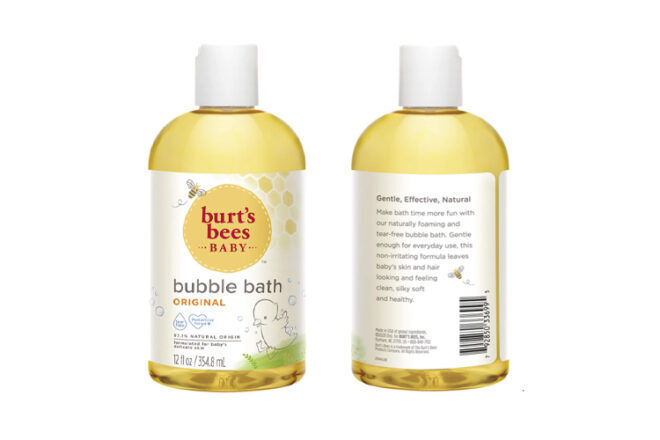 Coconut oil, sunflower oil and proteins gently cleanse your baby bee without irritation or drying. This delicious formula is tear-free and mild on sensitive skin. Just pour three to four capfuls under warm running water to make bathtime fun with foaming suds.

---
ecostore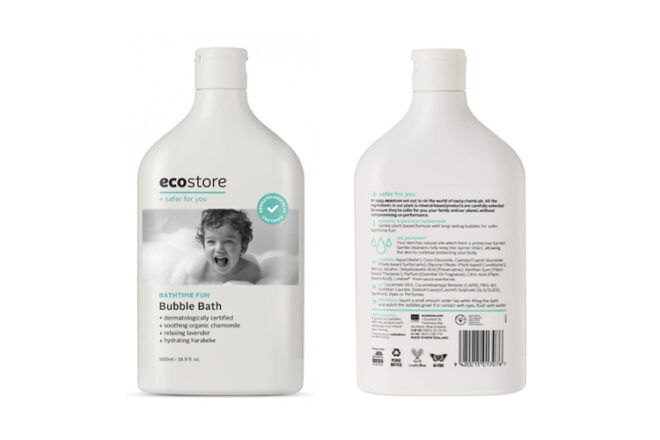 Dermatologically approved for baby's sensitive skin, ecostore uses plant-based ingredients like New Zealand Harakeke to protect and nourish as it cleanses. Better still, it's infused with calming organic lavender oil to prepare little ones for sleepytime.

---
Sebamed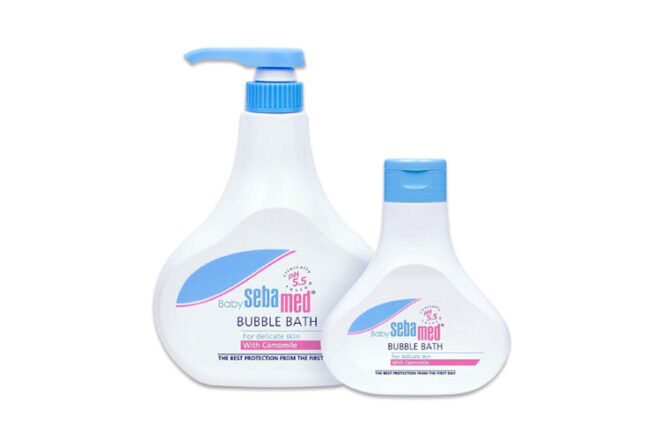 Soap and alkali-free, Sebamed gently cleanses even the youngest skin without drying it out. It has a no-tears formula and contains herbal chamomile extract and natural moisturising elements to protect and hydrate from the first day.

---
Mustela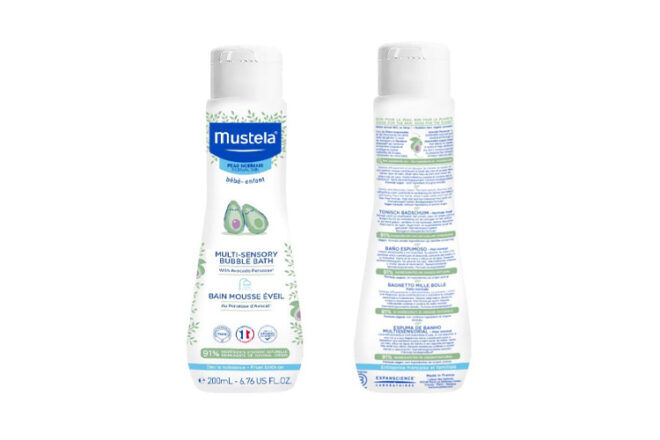 Biodegradable and hypoallergenic, this formulation is made up of 88% plant-based ingredients to nurture kids' skin as they grow. Marine extracts help maintain the skin's water balance, while avocado protects and hydrates.

---
The Honest Co.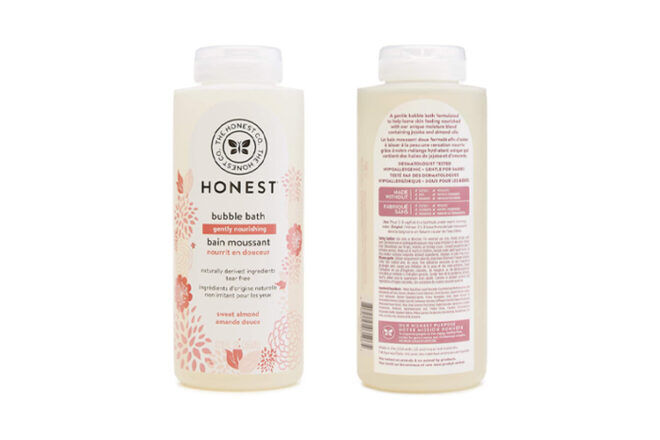 Living up to its name, Honest Co. is made especially for sensitive skin, with no nasties involved. Two to three capfuls under warm running water delivers an aromatic, super foamy bath that's hypoallergenic, extra gentle and tear-free.

---
MooGoo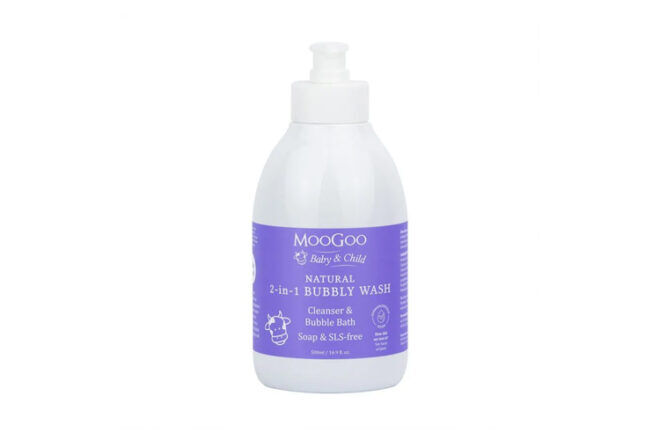 Doubling as a shampoo and wash, this fragrance-free formulation doesn't contain SLS (an artificial bubble maker). What it does contain is super soothing ingredients like colloidal rice bran which leaves even the most sensitive skin soft, content and replenished.

---
Bunjie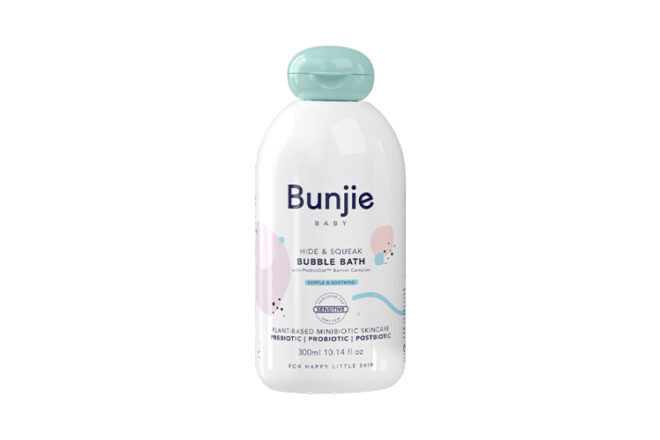 With a bubbly formula that contains ProbioOat Barrier Complex, Bunjie supports strong, happy skin from the first use. Complete allergen-free, it has a beautiful vanilla-citrus scene and contains nourishing moringa oil and magnesium to soothe the skin.

---
Which bubble bath is good for kids with eczema?
On the hunt for a bubble bath that doesn't cause flare-ups? We asked the huge Mum's Grapevine Facebook community how which brands they love for kids with eczema and here is what they had to say …
"I can recommend MooGoo hands down the best for my 6-week premmie daughter with peaches and cream skin" said Jessica
"The Mustela baby range- available at most chemists. I kept going with the moisturizer up to when the kids were in primary school" said Alyson
"My son has eczema and we use Gaia daily with no worries" said Stephanie
"Sebamed is really good for eczema-prone skin and love the very mild scent. Ecostore and Child's Farm are pretty good as well!" said Anne
"Moogoo bubbly wash. I use it as a shampoo also for my boys" said Melissa
"I've used Child's Farm and found that worked really well for my toddler and myself " said Danielle
---
This list is loving curated by our Editors and may include affiliate and/or paid inclusions. See our Disclosure Policy.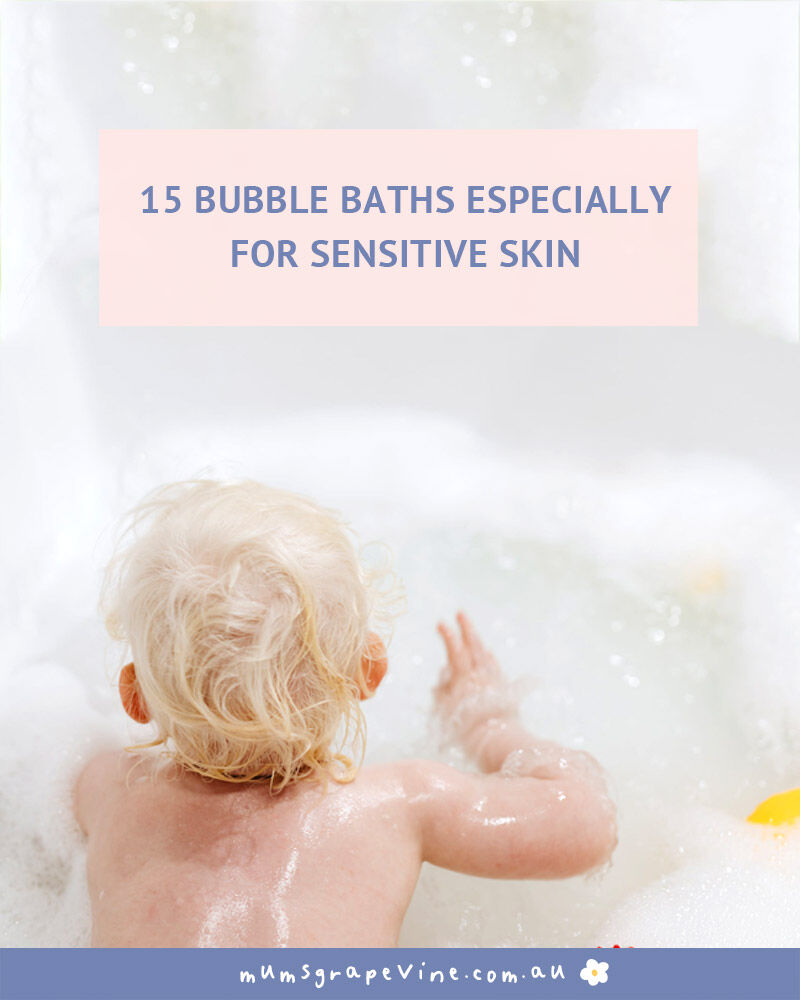 Know a product we should add to our list? Contact us and let us know, we've been collating Australia's best baby product shortlists for over 14 years and we're always happy to support new brands and businesses.
Find more products for bathtime in these lists …
Read this: What temperature should a baby bath be?
Thousands of Aussie mums in our Mum's Grapevine Facebook Groups are asking each other for recommendations on what to buy right now. And you can too! Join today.