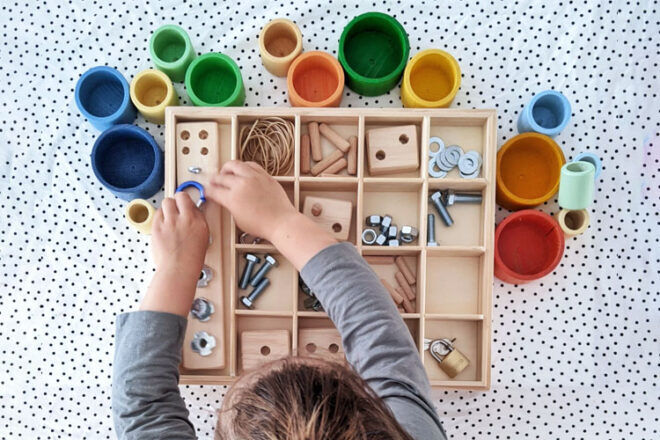 From benches to belts, a kids' tool set opens the doors to creativity and gets tiny tradies taking on fix-ups with confidence.
A kids' tool set is a collection of toy hammers, saws, nuts and bolts used by children for pretend play and building games. Using these versatile tools, little builders can hone skills of problem-solving, build their independence and fine-tune important fine motor skills.
To help you nail the right tool kit for your mini maker, we've searched far and wide to round up our favourites available right here in Australia.
Types of tool kits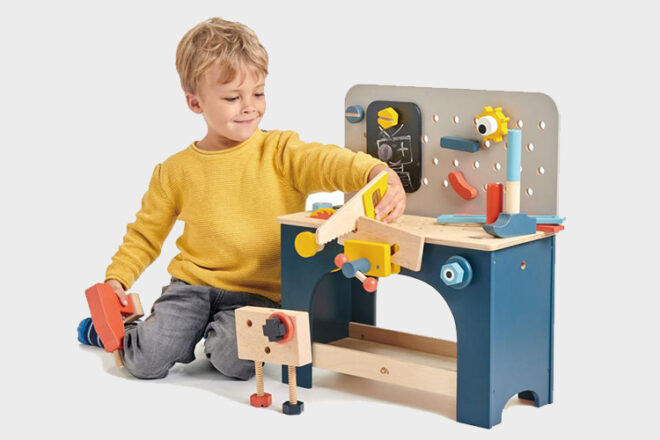 Kids' tool bench are activity tables featuring toy tools and storage features like pegboards, trays and clamps.
Kids' tool belts are wearable utility belts that hold toy tools like wooden screwdrivers and pretend hammers in handy pockets.
Kids' toolboxes are portable boxes or carry-cases used to store toy tools and building blocks.
15 tool kits for kids who love to build
Take a peek at our handpicked list of toy tool kits and watch as tiny tradies take their creativity to new heights.
In no particular order, here are 15 tool kits to spark creativity:
Micki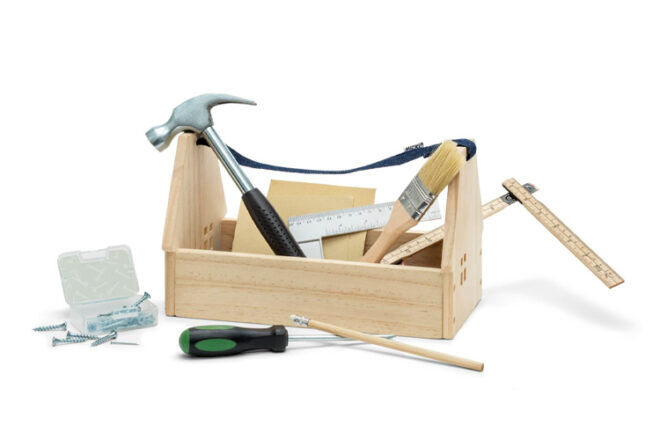 Perfectly sized for little hands, the Micki toolbox contains all the gear little tradies need to get the job done:  hammer, chisel, pen, sandpaper, nails, folding ruler and screwdriver. Shaped like a house, it comes with a carry handle and lined base.
---
Mocka
Suitable from two years of age, the Mocka tool bench is a sturdy all-rounder that would fit into any colour scheme. With a bit of Scandi flair, there's a generous sized pegboard and storage tray as well as tools for tinkering and crafting to their heart's content.

---
Astrup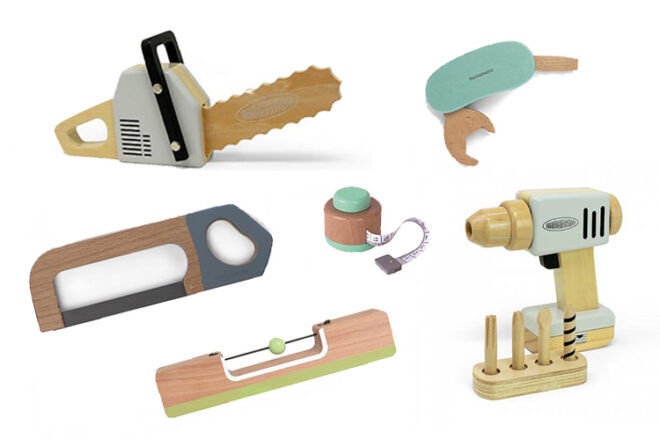 'Measure twice, cut once' is the saying, and with these tools they'll be equipped to do just that. Our eyes go straight to the adorable tape measure, but we can't decide a favourite. Though they're sold separately, they'll soon be a set as we'd probably buy one of each!
---
Hape
For kids with a scientific mind, this workbench will get the wheels and cogs in their heads moving. When kids complete each of the ten different experiments they produce a fun new machine to help them learn about science.
---
Le Toy Van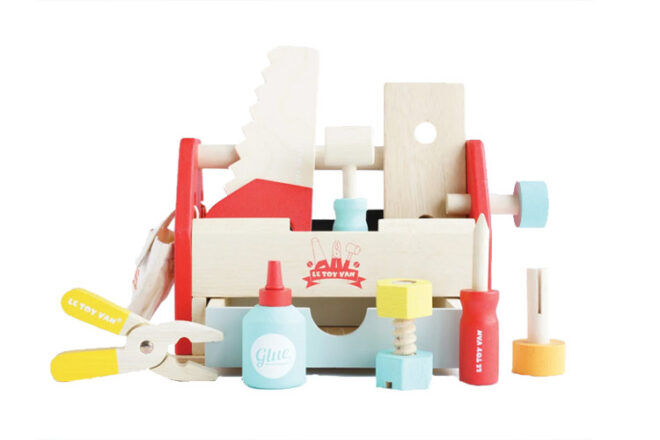 Not all toy tool kits are created equal, this one is a cut above. Chunky, easy-to-grip tools in happy colours and a toolbox with a drawer no less, kids will be well-equipped to tackle odd fixing jobs around the house.
---
Twenty-Seven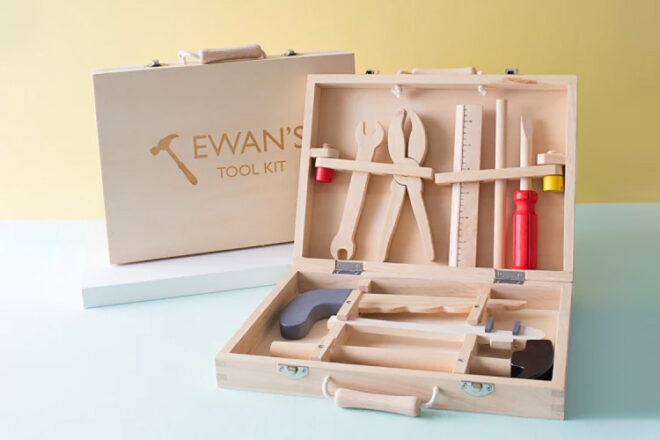 Calling 'round your little tradie to complete a job the living room will be an easy fix with this kit. A smart wooden case keeps everything neat, mobile and organised, and their name on the front is very legit indeed.
---
Plan Toys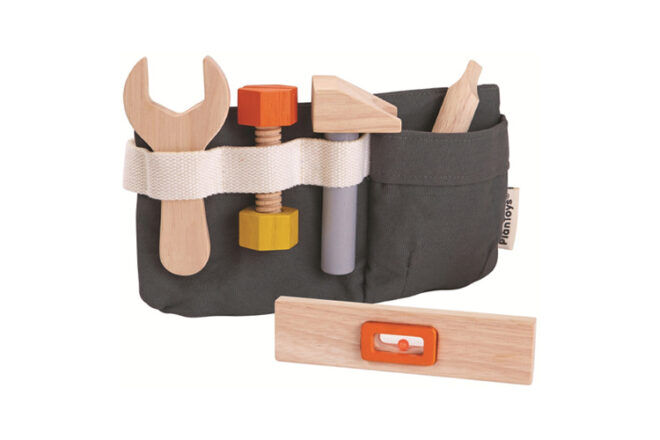 Made with sustainable and kid-safe materials, this mini tool belt is built to last. It comes with a wrench, hammer, screwdriver and the cutest spirit level you ever did see. Plus, it has a fully adjustable strap to see you through years of growth spurts and fix-ups.
Free shipping
with Amazon Prime – get a free 30-day trial
here
.
---
Let Them Play Toys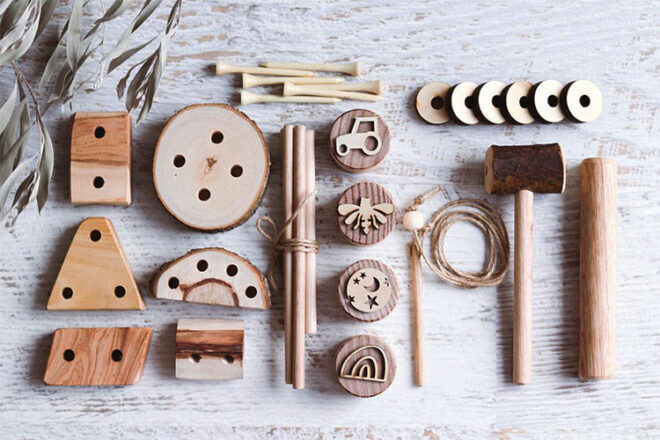 Connect kids to nature with this treasure-trove of tools to encourage open-ended play. Crafted with love, this set provides countless learning opportunities for your child. Great for playing on their own, or with friends or siblings.
---
Moulin Roty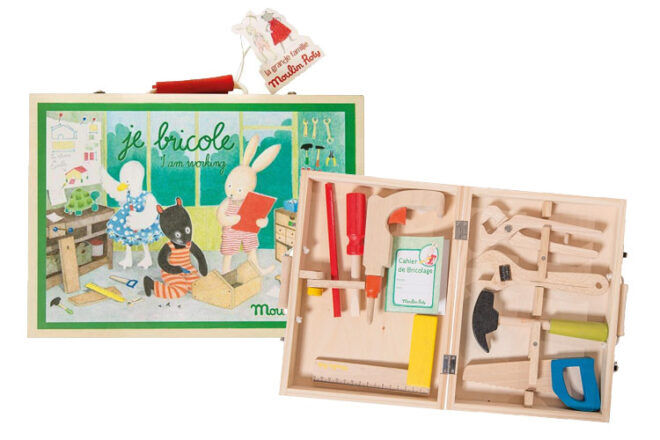 If this wasn't a toy kids tool kit we'd probably borrow it for our own upcycles and DIYs. It's a little carpenter's dream kit complete with every tool they could need – downsized just for them. We love sets housed in carrying cases and this one's no exception.
---
Poltora Stolyara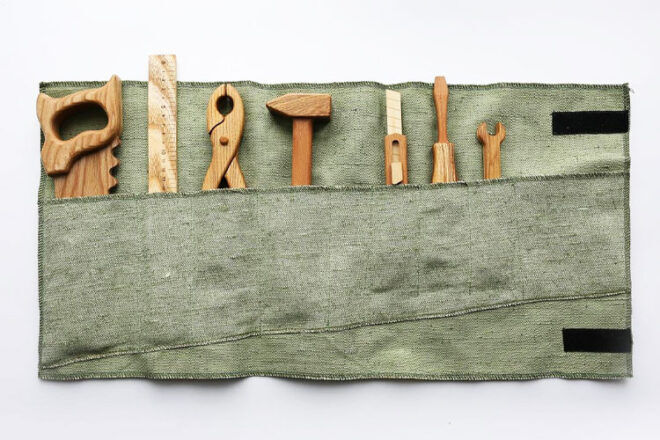 Crafted from solid ash and beech, these tools have moveable elements that help your child be the best carpenter they can be. Corralled in a handy pouch, this set is enviable – even for adults! Pass these down along with the work ethic that comes from making things by hand!
---
Djeco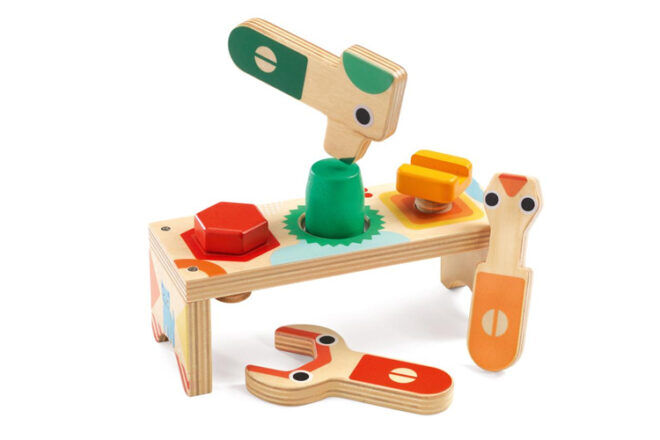 Suitable from 18 months, this Djeco bench helps improve hand-eye coordination, motor skills and colour recognition. Colourful and engaging, there's a dog hammer, chicken screwdriver and a spanner. Each correlates to their respective screws. Too cute!
---
Nesk Kids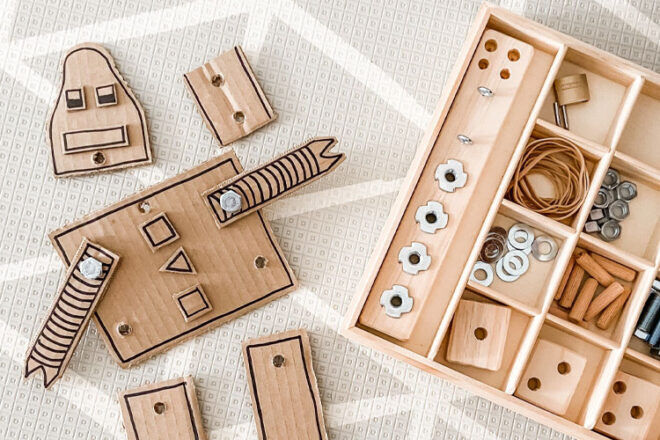 For slightly older DIY-ers, this cool kit will provide hours of educational fun. There's a wooden tinker board, but kids can also collaborate with cardboard as they develop problem-solving, creativity and hand-eye coordination.

---
Janod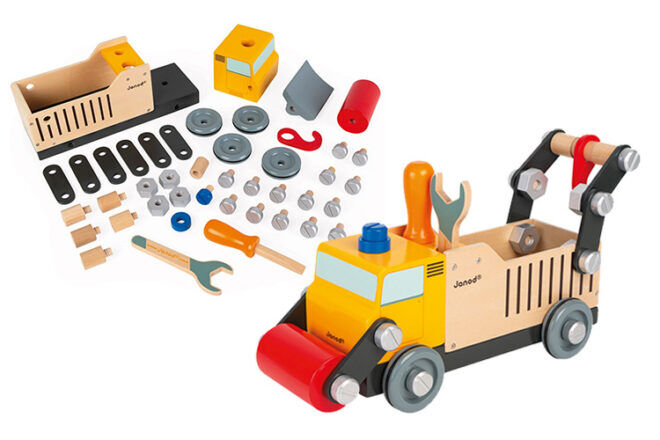 For kids that love construction, this toy will really motor. The fun begins with assembling the truck itself, then watch as they create many work sites for the truck to roll up to. Coming with 43 pieces, the only thing missing is a hard hat.
---
Sebra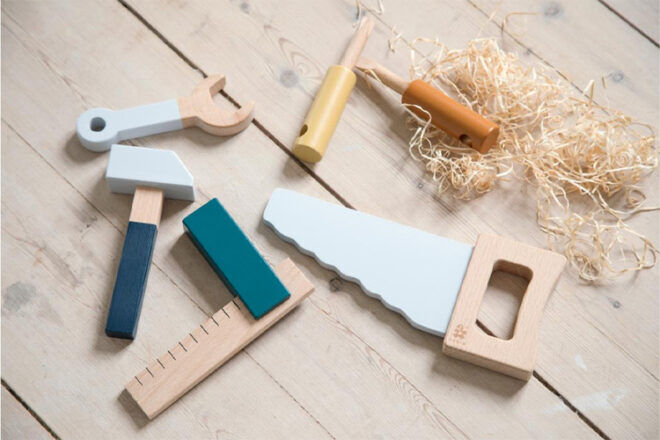 This natural beech wood set really measures up. The tones may be muted, but their creativity will be anything but as they saw, hammer and chisel their way to project perfection. Perfect for the youngest builders, it's suitable from 12 months of age.
---
Tender Leaf Toys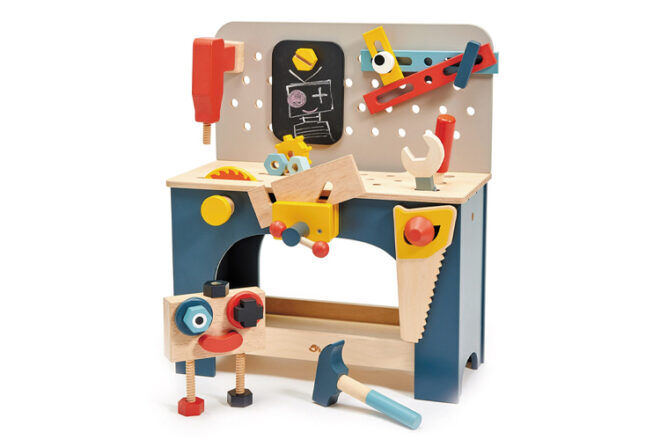 A good design starts with a plan and they can draft it up using the blackboard. This compact tabletop tool bench has a variety of interesting tools to stimulate young minds and keep hands busy. Pops of colour with blonde wood make for a good looking toy too.
---
At what age can kids use tool sets?
Many tool benches and kits are recommended for kids aged three and above because they contain small parts, which is a choking hazard. That said, there are kits available with chunky pieces that are suitable for kids as young as 12 months of age. Be sure to check the manufacturers recommended minimum age before you buy.
How do tool sets benefit kids?
A tool kit helps kids practise hand-eye coordination, creative thinking, problem-solving, counting and sorting. Along with these developmental skills, construction play helps increase kids' confidence and makes for great bonding time with parents and siblings.
---
This article is curated by our Editors and includes affiliates and/or paid inclusions. See our Disclosure Policy.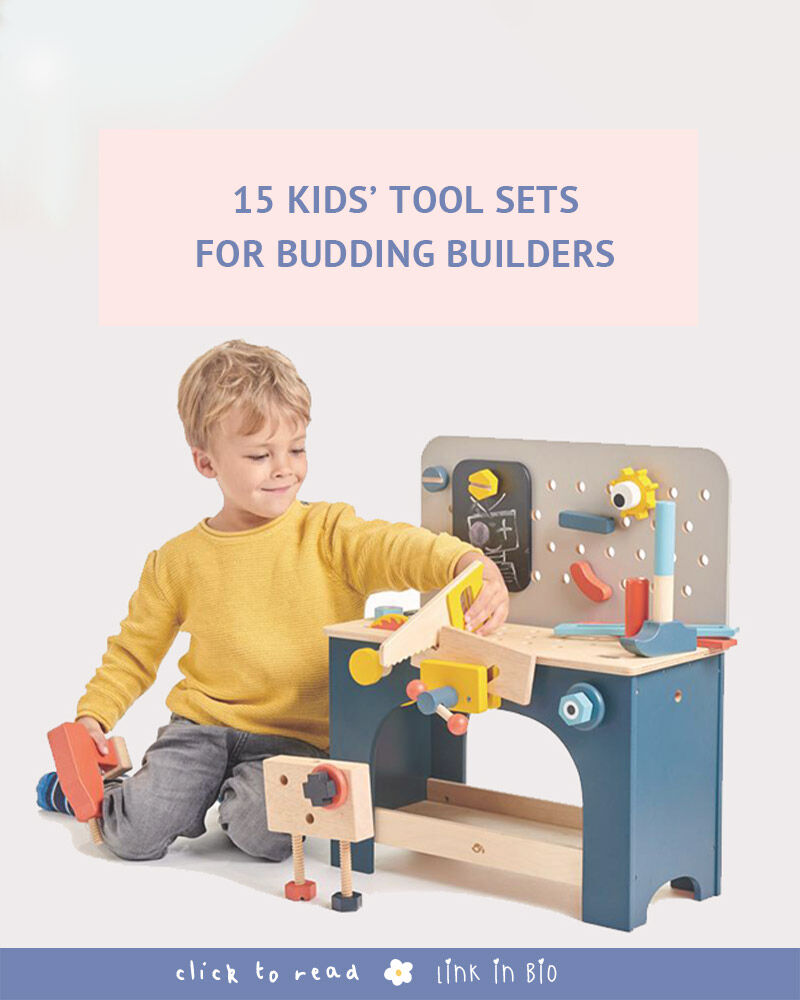 Know a set of kids tools we should add to our list? Contact us and let us know.
Read these roundups next …
If you're looking for more fun gear for the kids, you're in the right spot. From play tents to trikes, we list the most coveted products and brands in Australia.
Read this: Study shows what happens when kids play with dolls