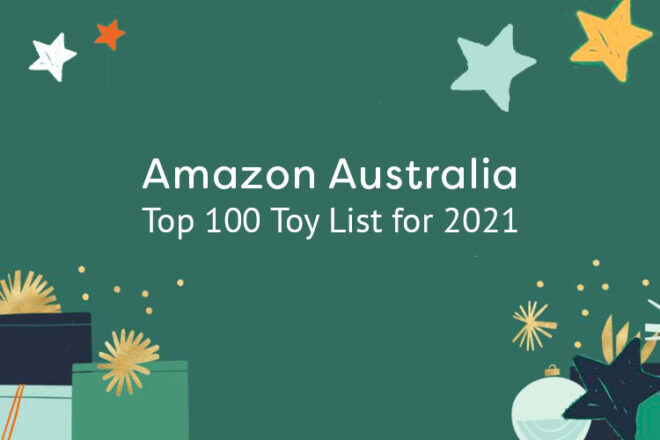 Amazon Australia has today revealed its 2021 Top 100 Holiday Toy List, with the help of its official toy testers, the Amazon Playmakers.
Amazon's gang of pint-sized toy testers, is made up of ten special kids from all corners of the Australia as chosen by the Starlight Children's Foundation. From the coolest LEGO builds to educational toys, these toy-loving tykes have roundup up the world's most irresistible playthings to suit every little personality.
To help you get your hands on the Playmakers' favourites for the festive season, we've put them all in one spot for you. Simply click the image and head over to Amazon Australia to complete your purchase. And if you want it all shipped free, sign up to Amazon Prime and enjoy a free 30-day trial.
Join Amazon Prime
An Amazon Prime membership is the answer to fast and free delivery of the Playmakers Holiday Toys of 2021 Click the below button to join today and get a FREE TRIAL for 30 days. You can cancel at any time.
---
Amazon Top 100 Holiday Toys and Trends for 2021
Ready to shop the most exciting toys of the year? We've grouped them by category to help you — uh-hem, we mean, 'Santa' — gather the perfect Christmas presents for your pipsqueaks.
Toys for creative creators
These hands-on toys get imaginations soaring and tiny hands tinkering. From composing music to constructing masterpieces, they support growing kids to expand their worlds.
---
Hometown heroes
In a year (or two) like no other, it's time to celebrate the heroes in our midst. From essential workers to Mum and Dad, this collection of toys shows Aussie kids how to mimic the people they admire.
---
Toys for kidults
From epic LEGO builds to board games that go on 'till the wee hours, this list inspires teens and grown-ups to ditch the screens and be a kid again.
---
Educational Toys
Playtime teaches little ones so much about the world and the people in it. This list of goodies will keep little learners busy all summer long.
---
Classic superheroes and villains
Whether they're crazy about Star Wars or Spidey, these favourite sets and builds allow brave kids to be the masters of their own universe.
---
Outdoor toys
With summer fast approaching and holidays within sight, it's time to celebrate the great outdoors with these fun-filled beauties.
---
Companion toys
Does baby need a new bestie? Plush teddies and character toys are a trusted source of friendship and comfort for kids of all ages, not to mention fabulous additions to the world of pretend play.
---
Multi-generational play
Gather the whole gang and get set to play. This category brings the whole family together for epic showdowns (and possibly some cheating) that will never be forgotten.
---
Find more gift ideas for kids …
After more gift ideas for your little people? You're in the right place. Our toy roundups include Australia's most coveted brands and products.
Read this: 9 Christmas tree decorations for mini makers