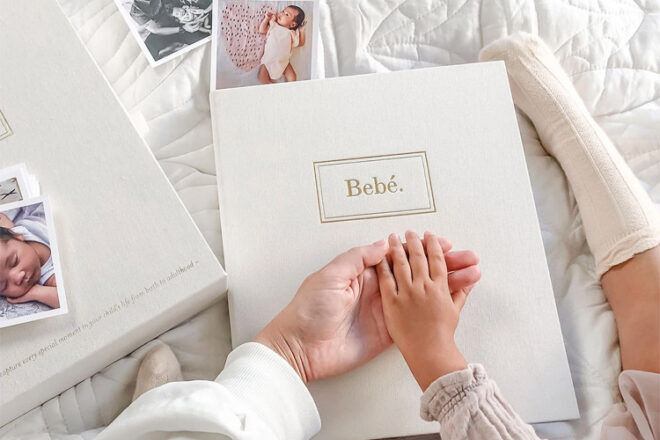 It's the moments that matter when it comes to family. From the early days, one of the most special things you can do is to record the memorable moments in a baby journal. 
Baby record books, also known as baby journals, memento or keepsake books are used to document major milestones and precious memories throughout baby's early years. With easy to follow prompts there's almost always space for photos, mementos, dates and the discoveries of early motherhood.
These bespoke baby books take nostalgia to new heights. We've scoured the country and found 13 beautiful journals that'll have you excited about putting pen to paper.
14 baby record books for memories and milestones
Leaf through our complete list of beautiful journals and start recording the precious moments you don't want to forget.
In no particular order, here are 14 baby record books for recording special events:
Truly Amor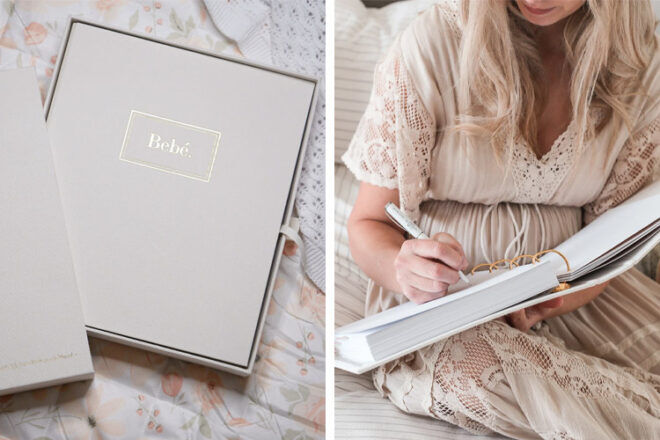 Timeless in design, this keepsake binder includes 338 pages to fill with the special moment of early motherhood. Handcrafted to be as indulgent as it is practical, it includes an 'about me' section, a dedicated spot for letters and endless room to write – and write. Swoon!
---
Hello Fern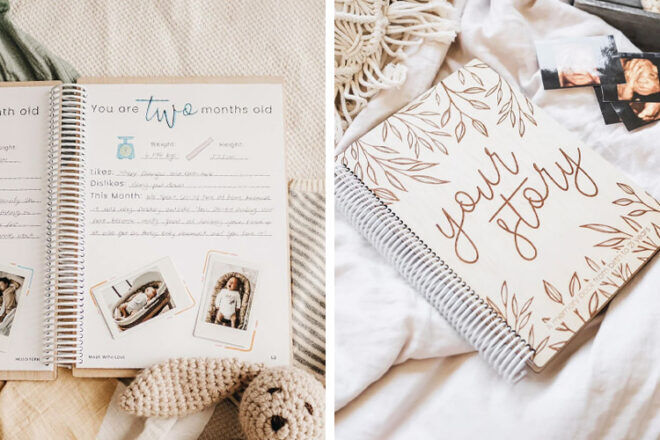 Housed in a personalisable etched timber cover, this gender-neutral A4 book has heaps of special sections for bub – right up to their 21st year. You'll appreciate the large white coil which allows you to fill the book with precious photos and still close easily.
---
Fox And Fallow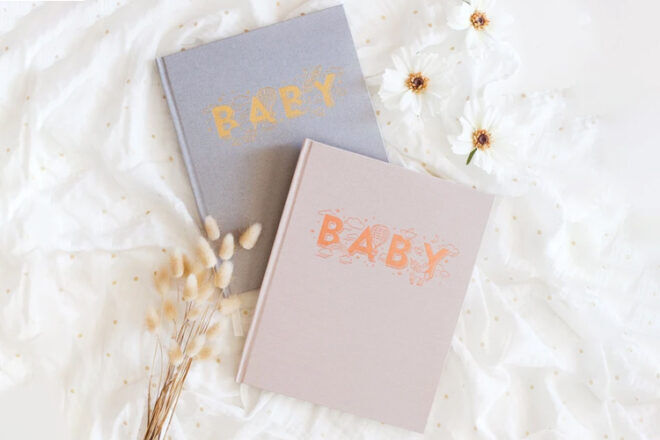 In a choice of two linen gold foil stamped covers in the sweetest shades, this as a wonderful keepsake for the whole family. Record everything from the major milestones and firsts up to kindergarten and primary school in the great lay-flat design.
---
Peachly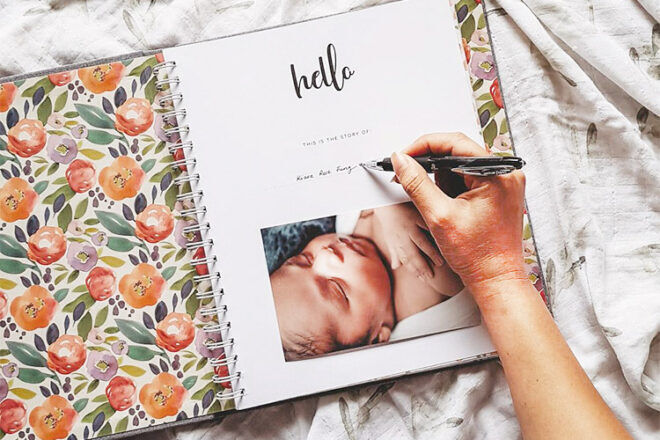 Truly inclusive, this minimalist journal celebrates every type of family from adoptive to LGBTQ+ with terminology that accommodates all. With open-ended prompts, it's a handwritten legacy sprinkled with your photos.
---
Vanda Baby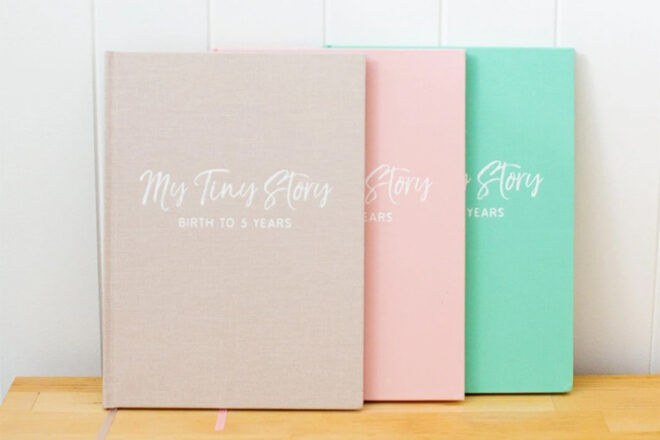 Uniquely designed with one-of-a-kind sections, this 94-page journal is packed with prompts for documenting baby's adventures from birth to five years. It comes in an A4 format with loads of room for photos – so start snapping!
---
Forget Me Not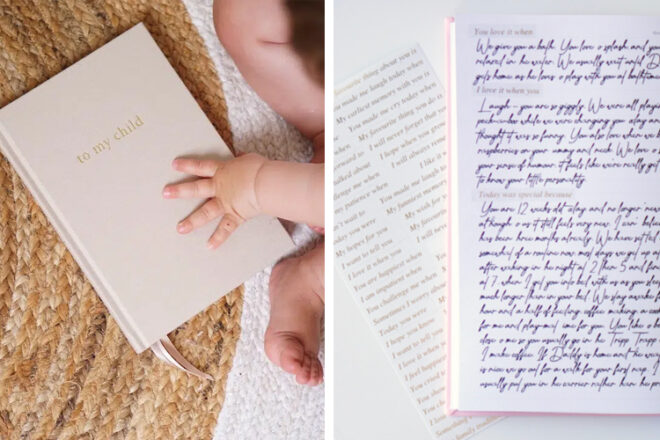 In a first of their kind, Forget Me Not Keepsake Journals come with 140 gold-foil sticker prompts to create a journal truly unique to your family. Each diary comes with three ribbon markers and features 200 blank pages for you to make your own.
---
The Little Details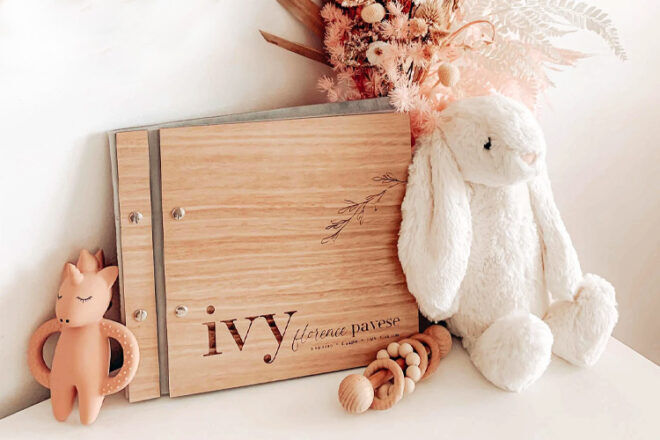 Truly bespoke, the luxurious wooden cover proudly features your child's name. The book highlights their first year in style and there's even a wooden cake topper featuring their name to press out at the back – bet you most baby books don't have that!
---
Moleskine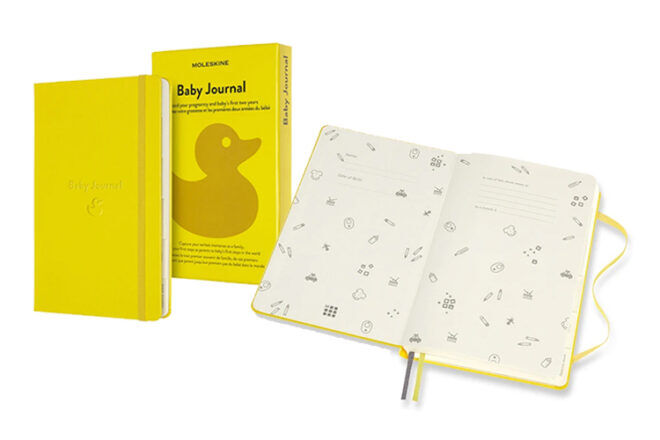 For those that don't prefer pastels, this bright modern Moleskine journal might be the ticket. Record everything from first impressions and first steps on pages with prompts but also free space for journaling. Illustrations are cute and everything's housed in a sturdy box.
---
Belle & Grace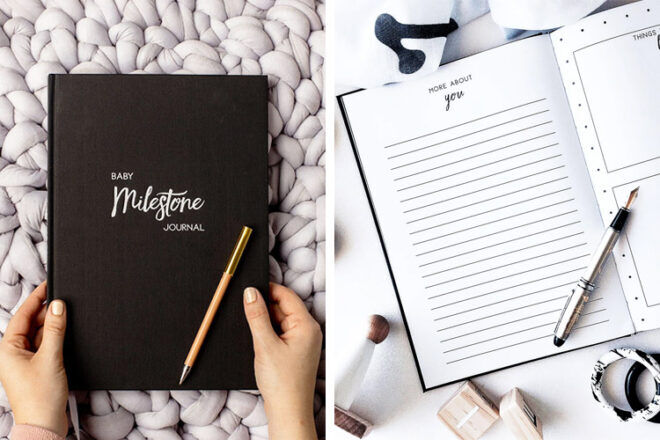 Record those milestones in monochrome! Lovers of simplicity will appreciate these A4 journals where it's your child's story that shines the brightest. Pregnancy through to five years is covered and housed in a linen cover with white debossing.
---
Blossom And Pear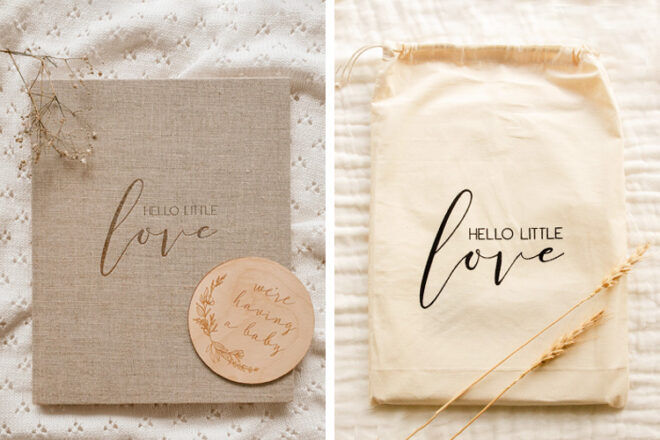 Timeless and totally chic, this memory book is perfect for modern families. The tough part is choosing between the six seriously good hues. With inclusive language and 98 pages, it covers everything from pregnancy right through baby's first five years.
---
Baby Made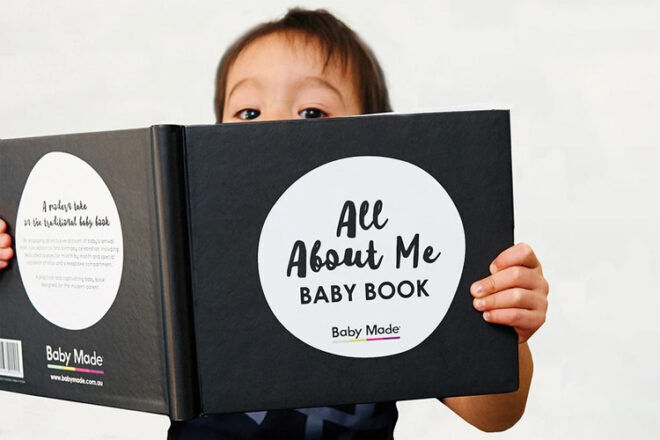 It's all about them with this practical and easy-to-follow record book designed for any type of family configuration. With 48 pages and measuring 18 x 22.5 cm, celebrate every moment up till their first birthday. There's a keepsake compartment at the back too.
---
The Grace Files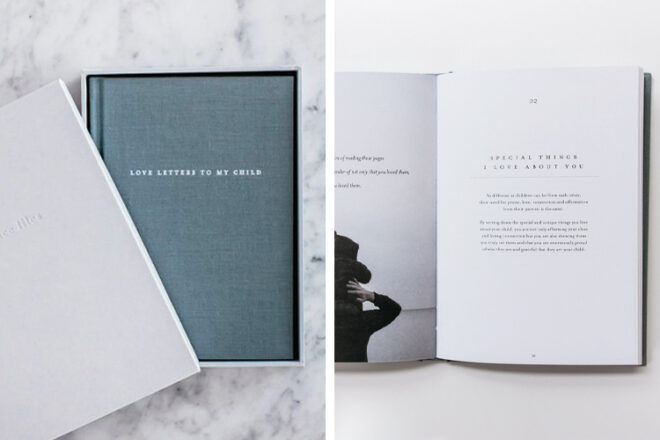 Heart-on-your-sleeve parents will adore recording their hearts on these pages. Moments to remember, words of wisdom and special things they love about their little ones can be captured and together with contemplative photography sets this journal apart.
---
Compendium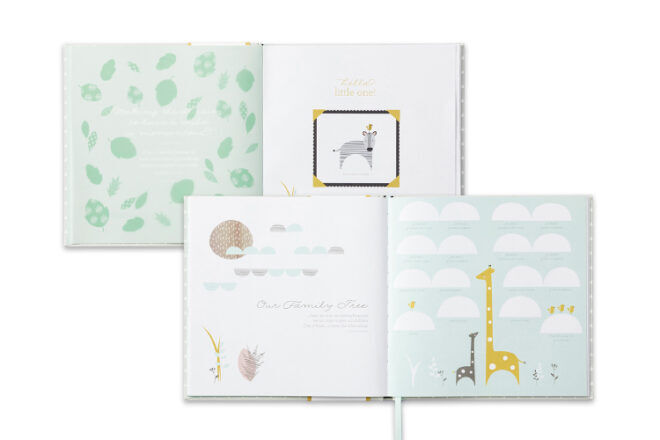 With charming illustrations, this journal turns your babe's special story into the most prized picture book on your shelf. The screen-printed cloth cover is gender-neutral but fun and the thoughtful prompts and quotes add a sweet touch.
---
Blueberry Co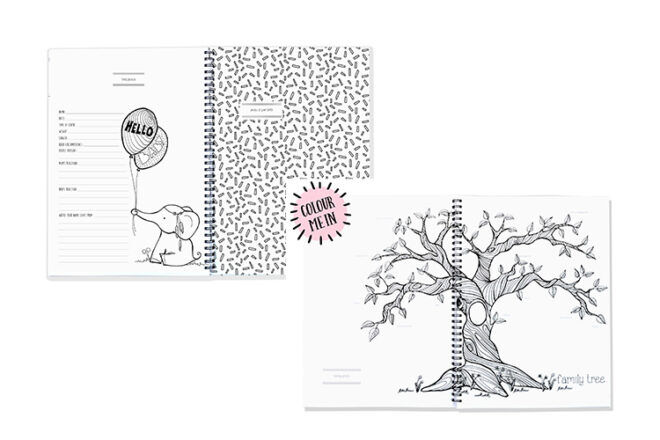 This book starts off black and white but quickly develops into a colourful compendium. Charming illustrations cry out for you to make it your own. Designed to celebrate bloopers and instigate belly laughs, there's also a rainbow family LGBTQ edition.

---
What is the purpose of a baby journal?
Baby journals are used to document special events and milestones in baby's early years so that they're never forgotten. Filled with important memories, maternal discoveries and funny moments, they're family heirlooms that can be passed from one generation to the next.
What do you write in a baby milestone book?
It's up to you how you use your baby book, but some popular additions include labour and birth details, baby's feeding and sleeping routines, adorable first smiles, laughs, tastes, words and steps. Favourite quotes and family trees make interesting additions to your book – and don't forget lots of photos!
When should I start using a baby record book?
As early as you like. Some mums start using a baby book while they are pregnant and include details of check-ups, labour, birth and their hospital stay. Others begin documenting the motherhood journey from baby's early days or months.
---
This article is curated by our Editors and includes affiliates and/or paid inclusions. See our Disclosure Policy.
Know a product we should add to our list? Contact us and let us know.
Read these roundups next …
If you're after more helpful products for the early days with baby, you're in the right spot. From swaddles to cloth nappies, our lists include Australia's most coveted brands and stores.
Read this: When do babies laugh?
Continue your search for the best baby journal
Looking for the best baby record book and still not sure if any of these are right for you? Join one of the Mum's Grapevine Facebook Baby Groups and ask thousands of other mums what they recommend. They are grouped together by baby's birth date so everyone is going through the same stages at the same time.
Click here >> Mum's Grapevine Facebook Groups << and find your group today!