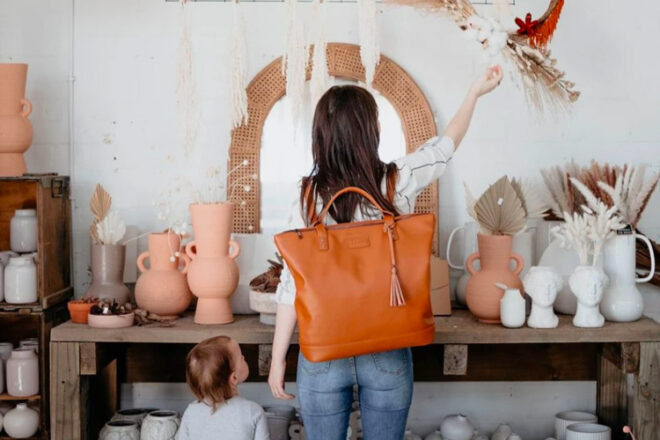 Is there any pre-baby purchase more exciting than a baby nappy bag? It's a mum's lifeline, the best personal nanny we all wish we had toting everything we could possibly need for any baby situation.
A nappy bag is a purpose-built storage bag with multiple pockets and accessories for nappy supplies and other baby essentials. From faux-leather baby backpacks to quality designer bags that no one will ever guess is filled with nappies, Australia's designer bags have a spot for everything you need for life with a baby.
But with so many choices out there when it comes to a great baby bag, where do you start? We've listed some of the styles to consider when you're scouting one out and a selection of brands other parents recommend.
Types of baby bags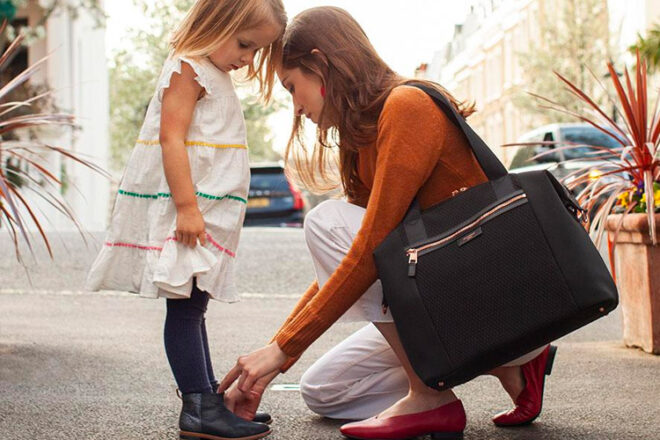 Tote baby bags are larger styles worn over the shoulder or on the arm using two handles. These are excellent options for the mum that carries a lot of baby supplies in her bag.
Messenger baby bags are typically rectangular and have a large shoulder strap that can be worn across the chest.
Backpack baby bags are worn on the back and most dads don't mind carrying them. They are also free up both your hands, which is fantastic if you're babywearing.

11 designer baby bags for busy mums
To help you find the best baby bag in Australia for you and your baby, we've rounded up our favourite brands to help get you started in your search.
Some brands have offered exclusive offers for Mum's Grapevine readers. These offers may include exclusions and expiry without notice. Please direct all enquiries directly to the linked website.
In no particular order, here are 11 reliable baby bags for your essentials:
OiOi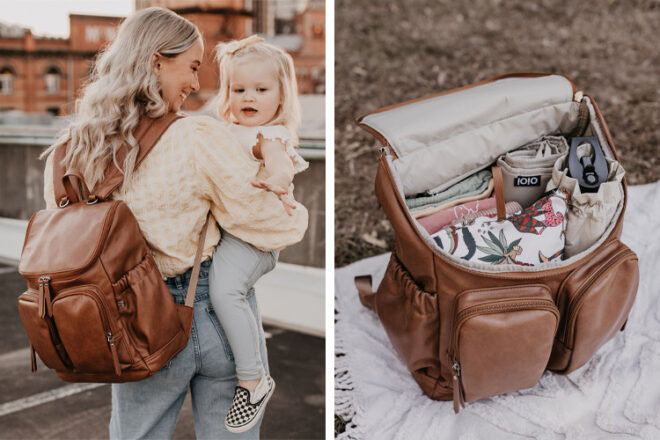 Casually cool and seriously comfy, it's little wonder this OiOi bag is winning the hearts of parents around the country. Crafted from quality waterproof faux leather, it features a wide opening, eight roomy pockets and protective metal feet.
OiOi Discount Code:
Use code 'MGV15' for 15% off storewide.
---
Arrived
With a sleek silhouette and dialled-up luxe, Arrived bags are perfect for the mum who wants an elegant solution for carrying nappies and gear. But it's not all about looks; the Hayes bag has a functional interior with insulated pockets for bottles and room for your tablet.
Arrived Discount Code:
Use code 'MGVARRIVED15' for 15% off orders over $100. Excludes sale items and packs.
---
The Nappy Society
It's the genius universal insert that converts a regular bag into a multi-compartment bag, perfect for parents who can't bear to part with their favourite tote. Made of coated cotton canvas, the organiser comes with pockets for baby bottles plus a change mat.
The Nappy Society Discount Code:
Use code 'MGV15' for 15% off full-priced items.
---
Vanchi
Meticulously designed by Australian mums, the Billie nappy tote converts to four different styles for maximum versatility. Minimalistic and utterly timeless, it uses quality vegan leather and comes with six interior pockets, four exterior pockets and a removable strap.
---
ARCH Bags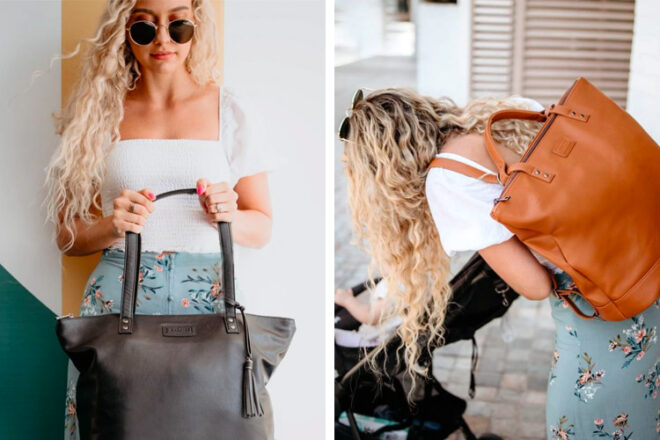 Designed to give parents a bag that doesn't compromise on function, this beauty has it all. The unique strap easily converts the bag from a tote to a backpack when tired arms set in and a roomy main compartment with pockets means essentials have a designated space.
---
ONE NINE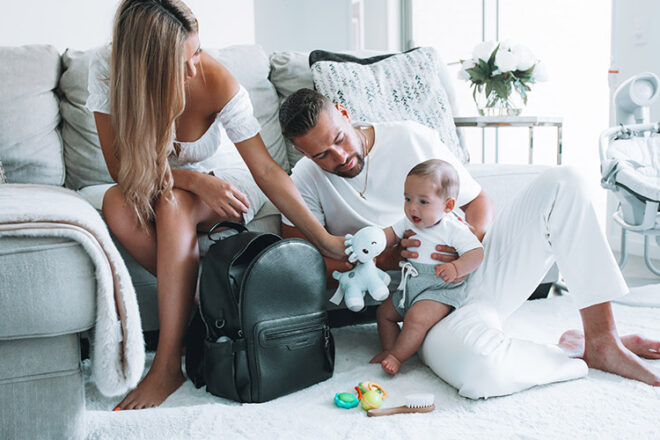 This stunning nappy backpack is the brainchild of two professional athletes. Designed for modern mums and dads, it's gender-neutral and crafted from highly durable top-grain leather. You can even have it monogrammed with up to three letters for free.
ONE NINE Discount Code
Use code 'MUMSGRAPEVINE' for 15% off storewide.
---
LeQueen Bags Australia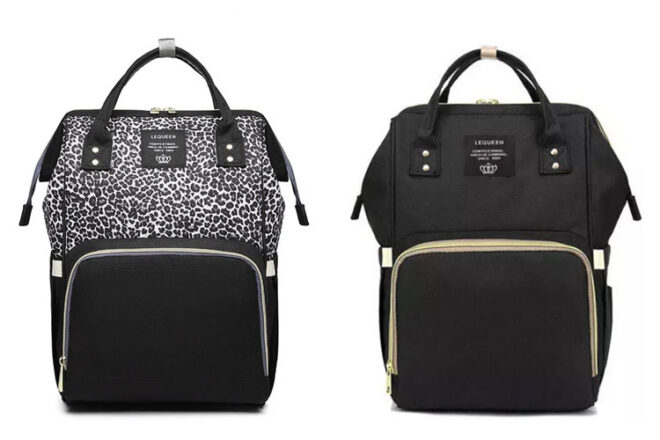 From bags with USB ports to practical totes you'll use for years, there's a nappy bag at LeQueen Bags Australia for every type of parent. Each style comes with insulated pockets for baby bottles, a wipes pocket and secure zip pockets for your valuables.
---
H&N Label
Cleverly designed to see you through the baby years and beyond, H&N Label backpacks are practical, reliable and versatile. Available in waterproof poly-canvas or vegan leather, each comes with labelled compartments that make essential items quick and easy to find.
H&N Label Discount Code
Use code 'MGV' for 15% off storewide.
---
Hannah & Henry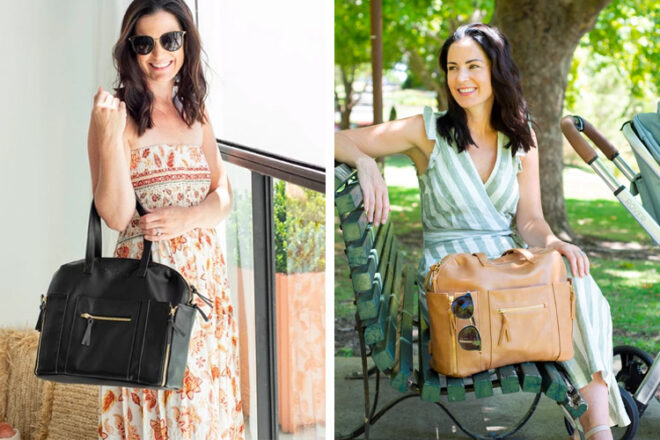 With a total of 13 pockets inside and out, this designer leather bag will see you through every adventure with a baby in tow. The vegan leather outer and durable nylon lining can be wiped clean with ease and there's a nifty privacy pocket to keep valuables safe.
Hannah & Henry Discount Code:
Use code 'MGV15' for 15% off storewide including sale items.
---
Storksak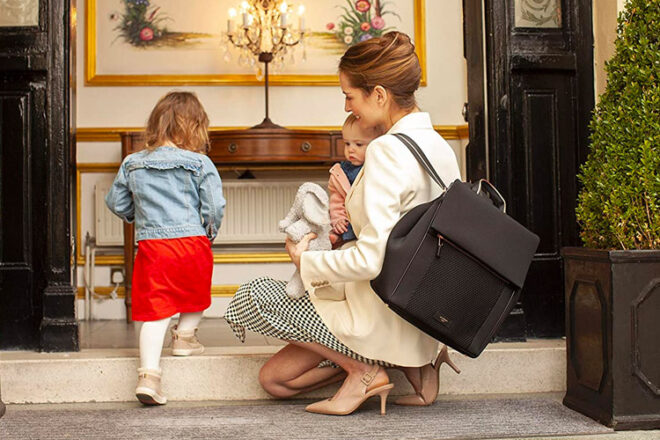 Made from durable Scuba material, the St James is a convertible bag that oozes sports-luxe while giving mum all the pockets and storage she needs. With metal feet and adjustable side panels to increase capacity, they really have thought of everything.
Storksak Discount Code
Use code 'MGV18' for 18% off storewide.
---
Babymel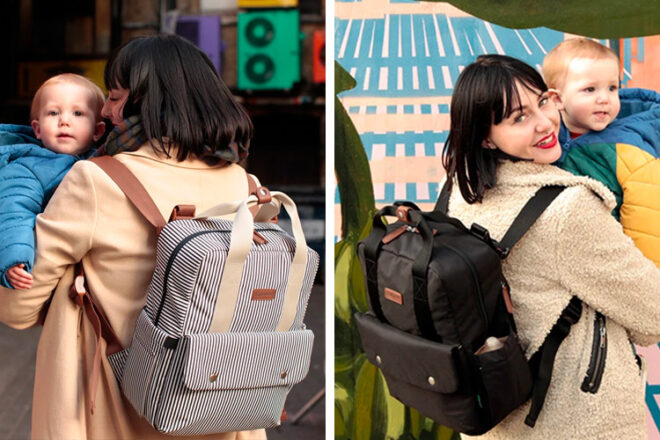 Need a versatile nappy bag? Made from recycled plastic bottles, the Georgi Eco Convertible Backpack is wearable in four different ways. Use the multiway strap to wear it as a backpack, shoulder bag, cross-body or handheld. With seven pockets, it's got you covered.
Babymel Discount Code
Use code 'MGV20' for 20% off storewide.
---
What should I look for in an Australian nappy bag?
The best nappy bags come with features like an insulated pocket for baby bottles, internal and external pockets and room for essentials like a change mat, nappies, wipes and a change of baby clothes. Easy to carry and practical, they often have adjustable straps and stroller clips, plus some brands come with handy baby accessories too.
What accessories do designer nappy totes come with?
Accessories vary from one brand to another, but some baby bags can include a quality padded change mat, stroller clips and adjustable shoulder straps. Some even come with a wipes dispenser and baby wet pouch. The more accessories your bag comes with, the less you have to purchase separately.
What style of diaper bag should I choose?
Your designated bag for baby gear will be your best friend for a good couple of years, so choose a quality style and colour that suits your life. If you like your space, consider a diaper tote style bag. If you like your hands free, consider a backpack. Or if you're a minimalist, a stylish nappy wallet should do the job. If you want to share the bag with your partner, look for a unisex bag designed with modern parents in mind.
Are baby bags necessary?
Unless your regular handbag happens to come with an insulated bottle holder, multiple pockets and room for nappies, a designer nappy bag is super handy. Babies and kids come with a lot of gear and a practical baby bag or backpack will keep you well organised and ready for anything. Trust us, you'll be glad you have one.
What should I pack in a baby nappy bag?
Nappy supplies, wipes, a changing mat, spare clothes and hand sanitiser are must-haves for your nappy bag. You might also like to pack spare baby dummies (they often end up on supermarket floors), nappy cream if baby is prone to rashes, and of course, toys. The right baby nappy bags have space for everything you need.
How long do you use baby bags?
Many parents will use baby bags or a backpack right through the baby stage to late toddlerhood or the toilet training stage when you no longer need to carry as many nappy supplies. But with so many colour options and how stylish modern baby bags are, there's no limit to how many years you'll use one.
---
This article is curated by our Editors and includes affiliates and/or paid inclusions. See our Disclosure Policy.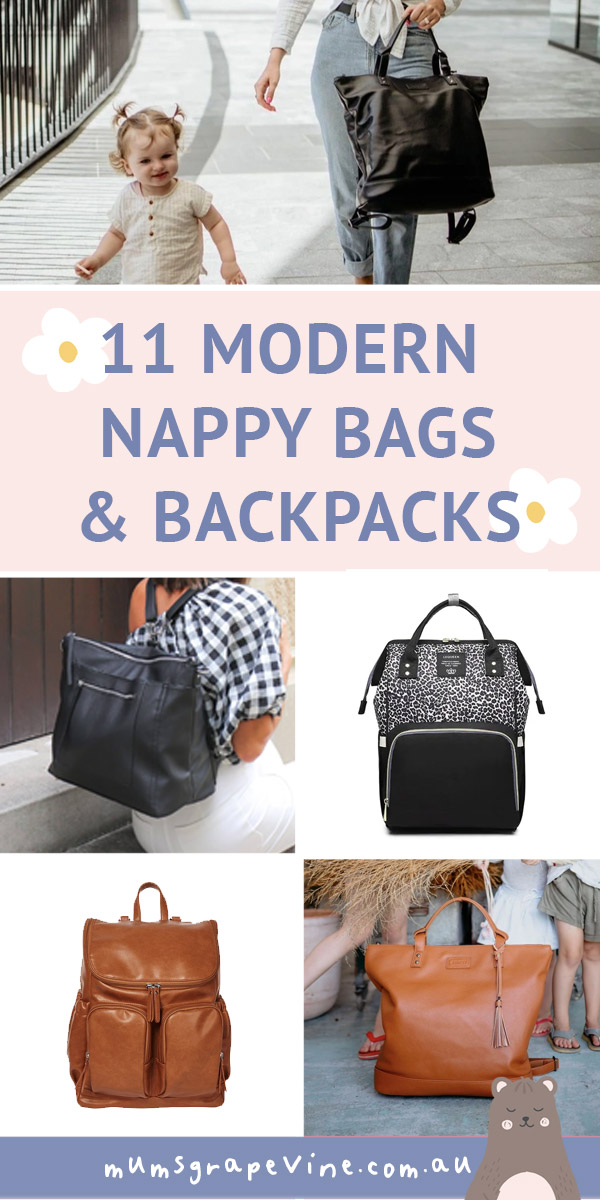 Know some baby bags we should add to our list? Contact us and let us know.
Read these roundups next …
If you're looking for baby products that make life a little easier, you're in the right spot. From baby carriers to teethers, we list the most coveted products in the country.
Read this: Mums reveal 7 tips for stress-free nappy changes
Continue your search for the best nappy bags
Looking for the best baby bags and still not sure if any of these are right for you? Join one of the Mum's Grapevine Facebook Baby Groups and ask thousands of other mums what they recommend. They are grouped together by baby's birth date so everyone is going through the same stages at the same time.
Click here >> Mum's Grapevine Facebook Groups << and find your group today!