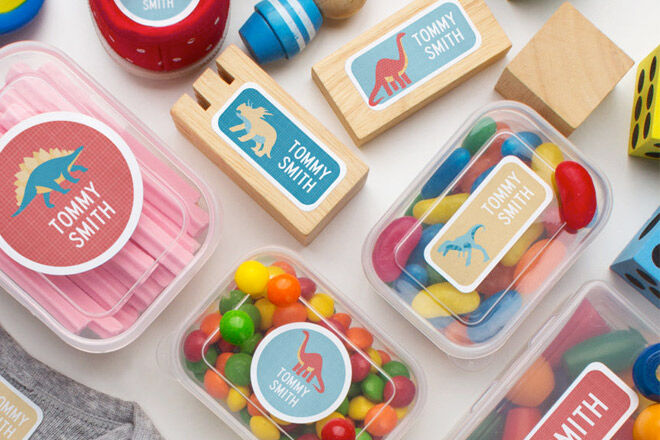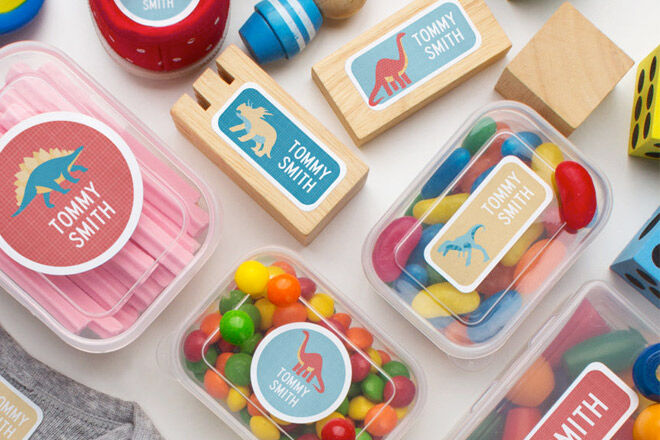 Raise your hand if you've ever been to Lost Property. With school starting soon and an average of 350 identical hats present in the playground, it's time to find some fun name stickers to ensure every kids' item comes home.
Kids' name labels are stickers that are applied to clothing and possessions that have a child's name or other identifying information printed on it. Armed with an iron or sticker sheet, parents across Australia are looking to make sure that the same school jumper they leave with is the same one that comes home.
To help you find name stickers that stay stuck and stand out, we've scouted the best brands in Australia.
Types of kids' name labels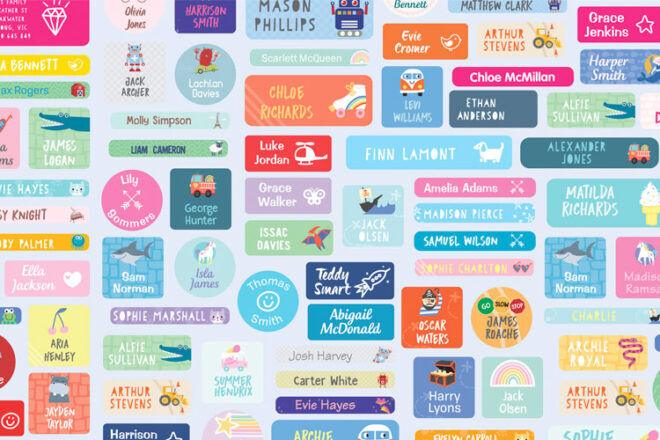 Adhesive kids' name labels are strong, scratch-resistant stickers used to identify objects like containers, drink bottles, books and stationery.
Iron-on name labels are fabric tags that stick to clothing with the heat of an iron. Washing machine and dryer safe, they're a permanent solution to garments on high rotation.
Shoe labels are waterproof, tough sticky labels that hold tight to the insole of a shoe and resists fading and rubbing.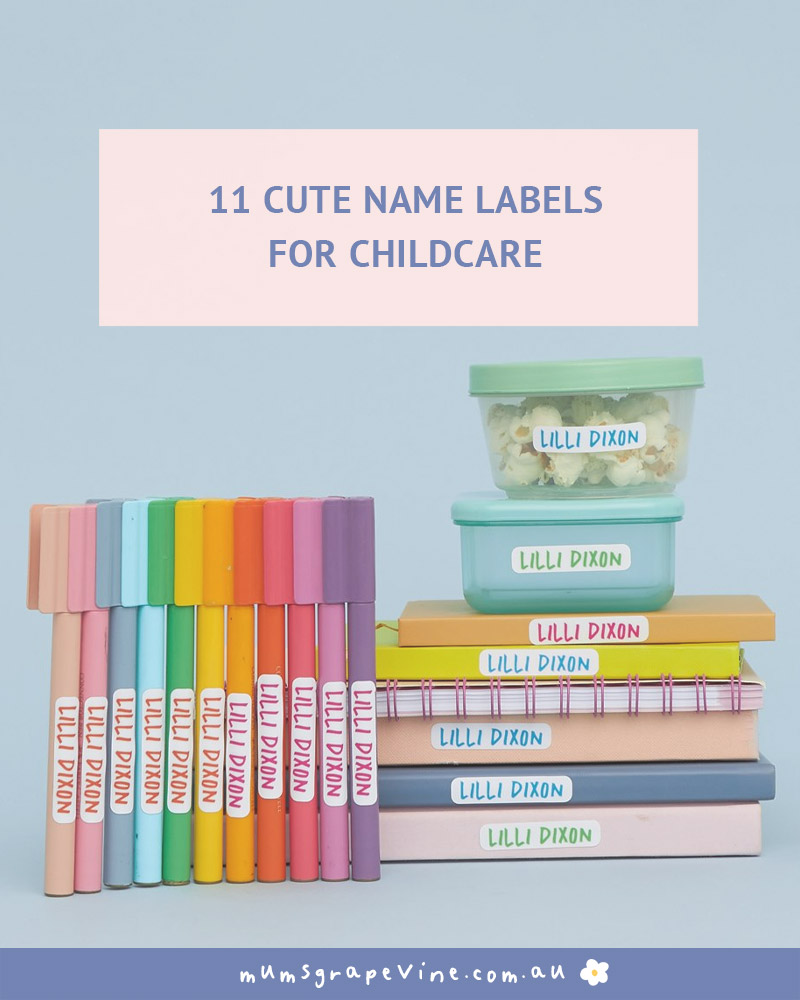 11 kids' name labels for school and daycare
Check out our lineup of personalised stickers that'll help you take the 'lost' out of Lost Property.
In no particular order, here are 11 name labels that are totally cool for school:
Bright Star Kids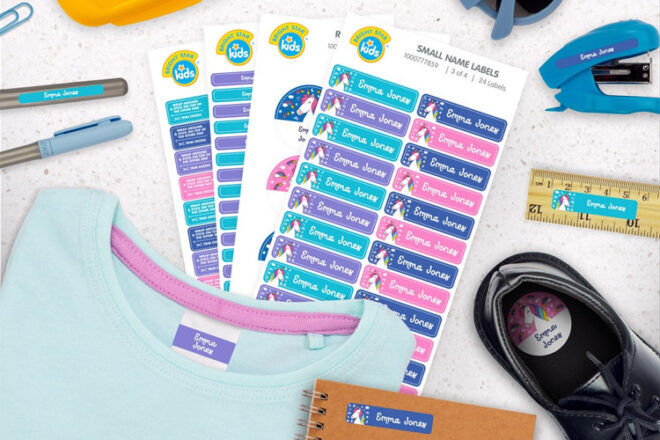 Grab a cuppa, there are so many gorgeous designs. Washer, dryer, microwave and dishwasher-safe, the comprehensive mix of labels ID everything from pencils to pinafores in style. Find ironing fiddly? Bright Star Kids have clothing labels that adhere with no heat.
---
TinyMe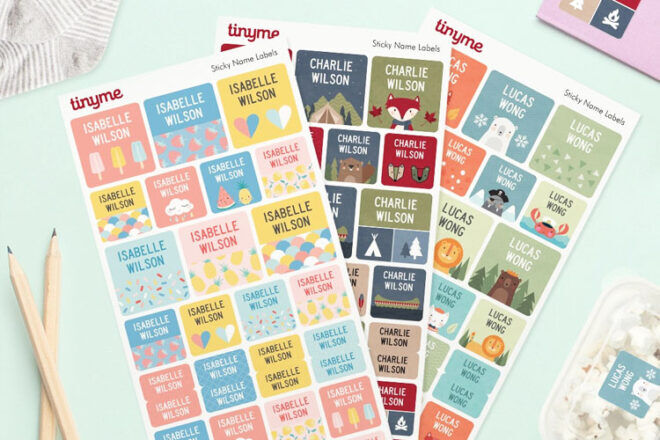 Coated for extra scratch-resistance, Tinyme labels bowl us over with cute whilst impressing us with their quality and value. Choose from hundreds of sweet characters to accompany your kid to school and customise like a pro to perfectly suit your needs.
---
Stuck On You
Versatile and made to last, Stuck On You name labels are scratch-resistant, microwave safe and even fine to pop in the freezer. Just choose your shape, colours and icons and you've got a handy set of stickers for all their school gear.
---
Future Folk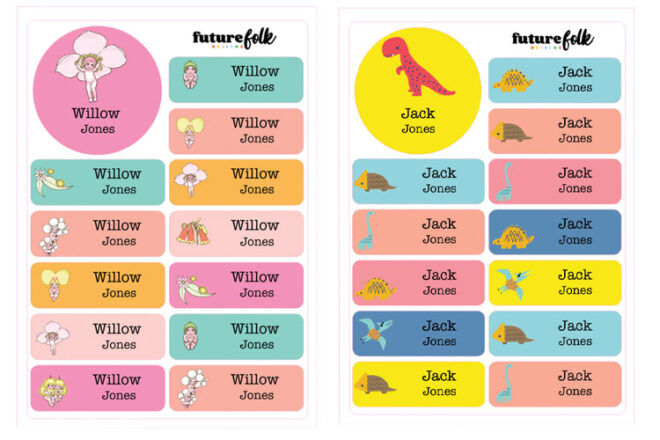 Future Folk Personalised Sticker Pack ($24.95)
Add to cart (and a pack with our own names too). Quirky-cool and full of vibes, this pack of 72 mixed labels are made of durable vinyl with high-tack adhesive. Choose from gorgeous hues, fonts and graphics – if you can. We see these labels in your future, for sure.

---
Mella and Moi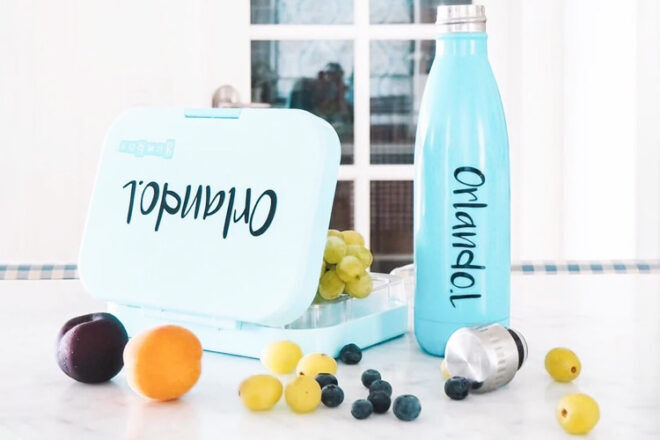 They'll have sophisticated supplies once you're done applying these. The versatile school pack contains 14 vinyl name labels in varying sizes for different possessions and will adhere perfectly to surfaces like glass, faux leather, plastic, chalkboard and sealed wood.
---
Morning Blush Co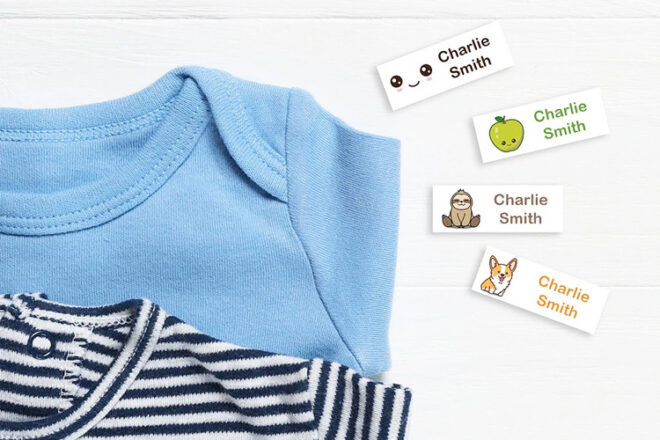 Samoyed or sloth? Panda or pug? The aww factor is on high with the icon choices for these simple, sweet iron-on labels. Choose from either white or semi-transparent and personalise with your child's name in the clear, easy to read font.
---
Ana Josie Designs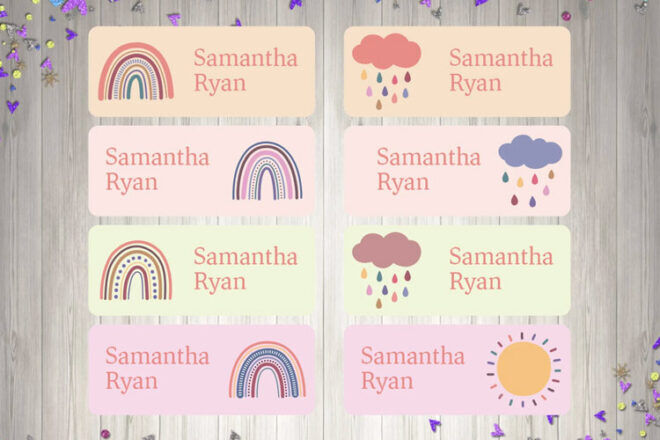 Super sweet labels that pack a punch in the durability stakes? Yes, please. In a variety of delightful designs, the waterproof stickers are personalised with your child's first and last name and come in a range of handy sizes to suit all their stuff.
---
OZ Labels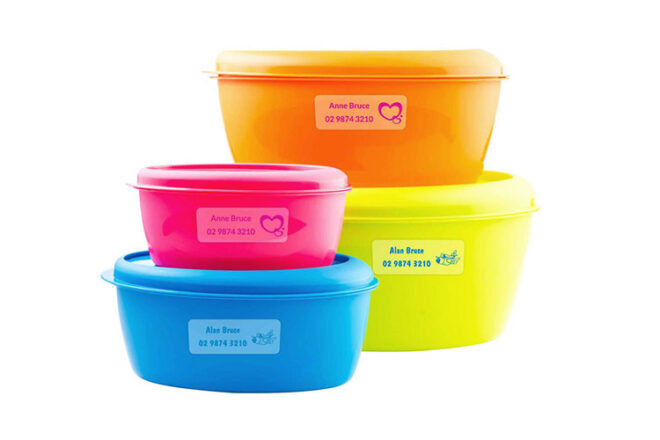 For those that want a more minimalist aesthetic, label lunch boxes and drink bottles with name stickers that feature clear backgrounds. And if you're handy with the sewing machine, OZ Labels have sew-on clothing labels. Very professional.
---
Zazzle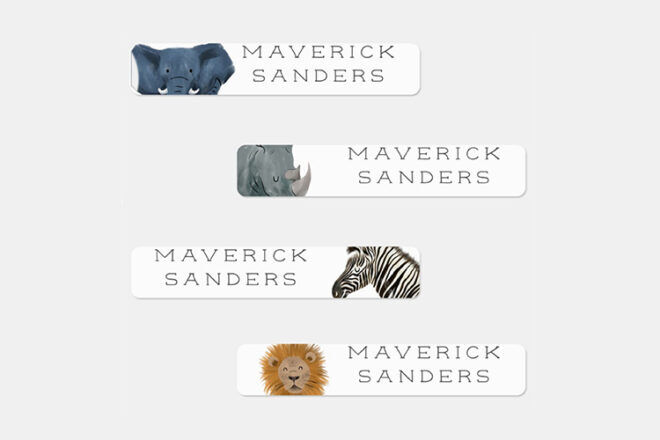 As if out of a children's storybook, the illustrations on these labels really captured our heart. Choose from waterproof adhesive or clothing labels in different shapes and sizes so you can coordinate their possessions in style. We love.
---
Teachit Co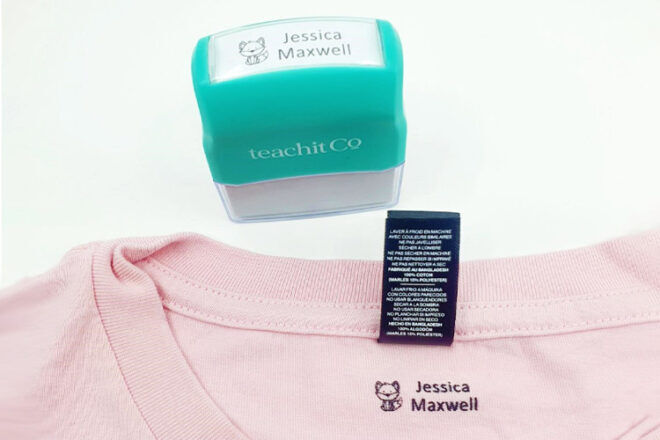 Get stamp-happy with this labeller that just makes sense. Ink for up to 1000 markings are included, and it's resistant to chafing and sweat. Washable and customisable with heaps of cute icons to choose from, just open the box and start stamping.
---
Stuck On You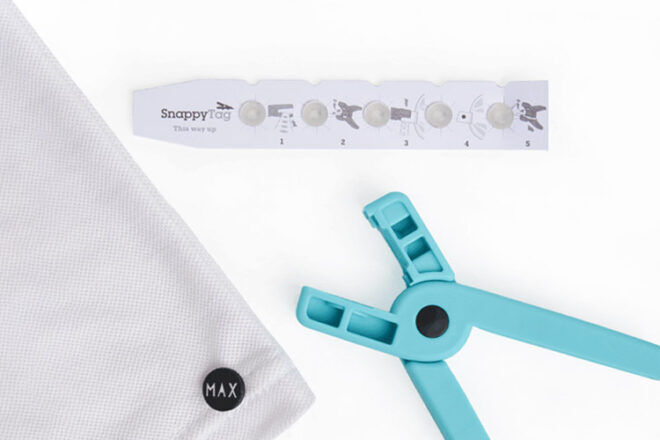 Armed with the Snapplicator, quickly and easily label any garment with the 25 included Clip-On Tags. Designed to withstand the rough and tumble of washers, dryers and kids, the tags are reusable and long-lasting. A perfect subtler option for older children. Snap to it!
---
This article is lovingly curated by our editorial team and includes affiliates and/or paid inclusions. See our Disclosure Policy.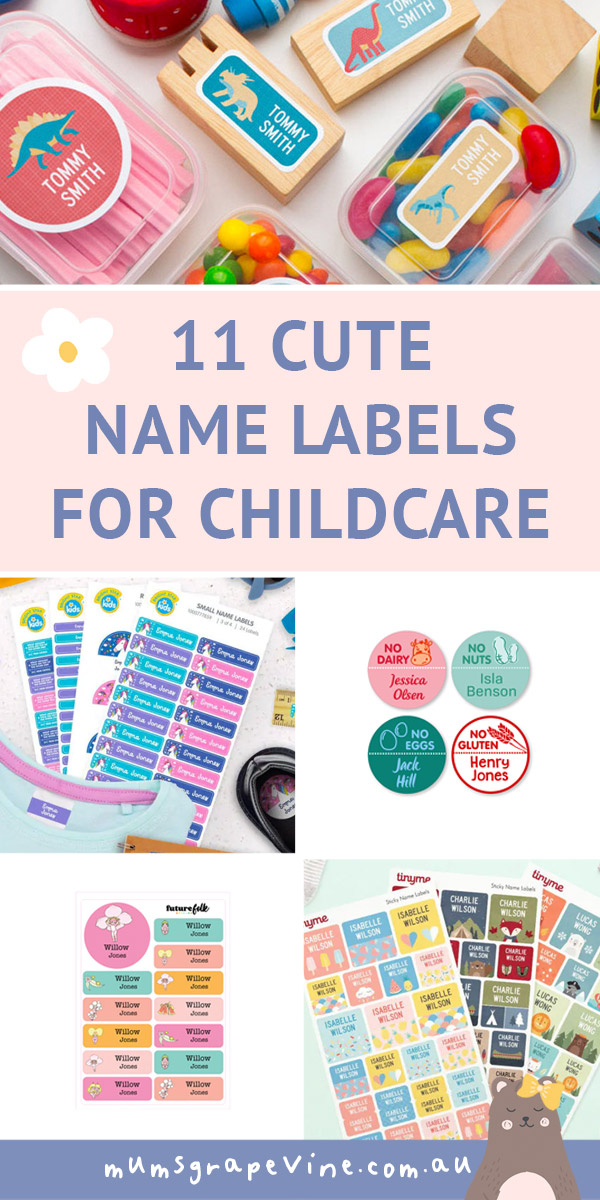 Know some kids' name labels we should add to our list? Contact us and let us know.
If you're after more helpful products for school, you're in the right spot. From drink bottles to bento boxes, our lists include Australia's most coveted brands and stores.