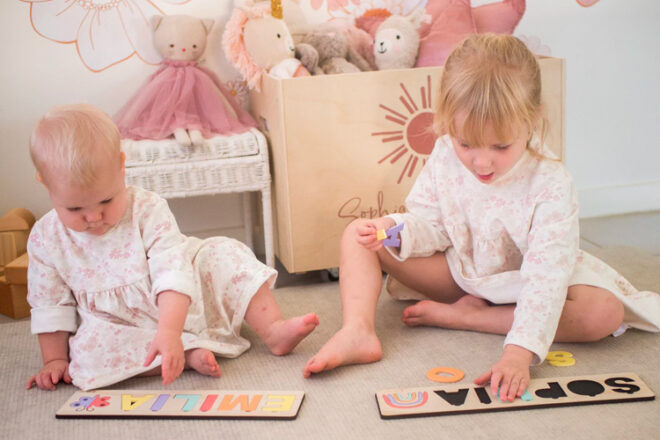 The next best thing to having your name up in lights is having it in wood. Whether you're looking for an educational aid for your child or a perfect gift, a personalised name puzzle fits the bill.
A fabulous (not to mention fun) way to introduce early literary concepts to kids, wooden name puzzles make a very special gift that teaches preschoolers invaluable problem-solving and fine motor skills, while learning to recognise, spell and write their names.
To help you find that perfect personalised puzzle, we've pieced together a list of adorable name puzzles available right here in Australia.
OUR PICK OF THE CROP
12 Best Name Puzzles For Learning
We know little minds are eager to learn, so to help you find the perfect tool to help kids learn to spell their name, we set out on search for the cutest, most irresistible name puzzles in town.
In no particular order, here are 12 of the most popular name puzzles in 2023.
Timber Tinkers Co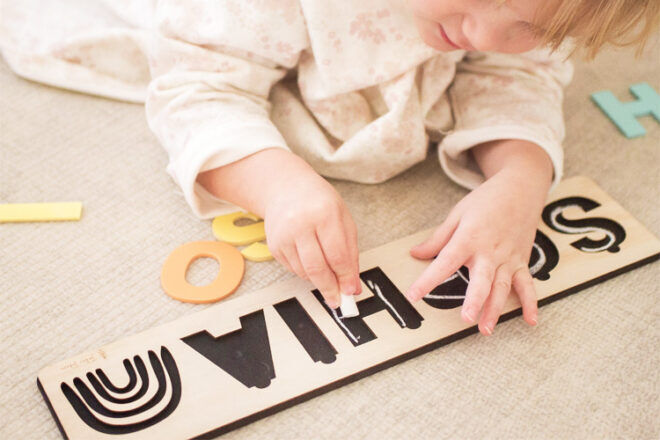 We adore this sweet gift for combining so many elements of early learning in one adorable piece. Use the wooden letters to develop literacy skills and name familiarity or use the hidden chalkboard to practise writing! Just beautiful.
---
Tinyme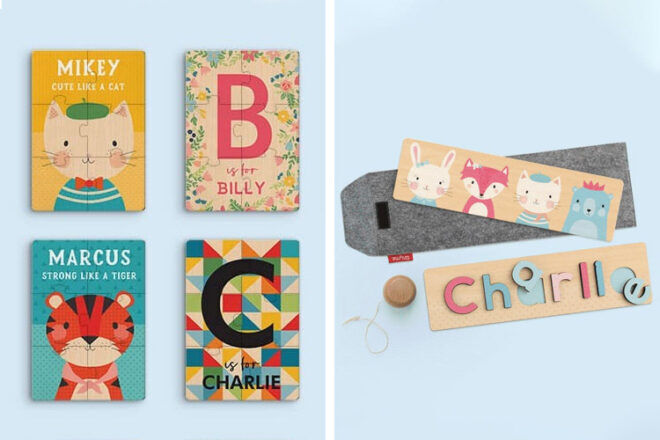 Super cute and totally unique, Tinyme puzzles come in a choice of formats to suit every age and stage, from wooden name puzzles to tangrams and double-sided jigsaws. Made to the highest standards, they're the gifts that keep on giving.
---
Stuck On You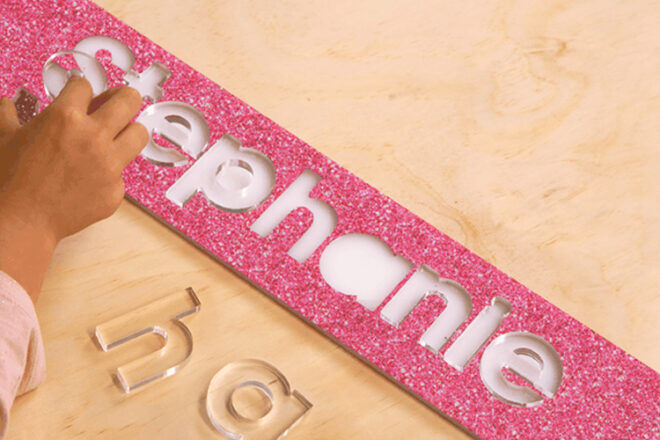 If you're after a puzzle that doubles as snazzy decor, look no further. Stuck On You glitter editions use acrylic with a sparkly finish for a piece that you'll definitely want to show off. Premium blackwood styles are also available in a choice of large and small sizes.
---
Amy Dsigns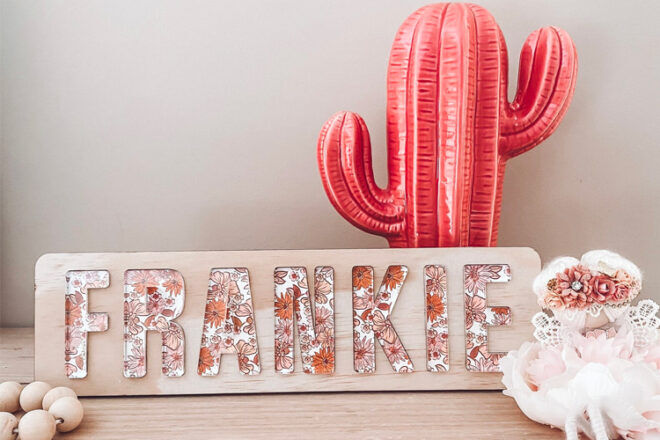 Made with a premium plywood base, these unique puzzles feature a paper backing that's visible through the chunky clear, acrylic letters. Measuring up to 45cm depending on the length of your child's name, there are three paper designs to choose from.
---
Little Design Shed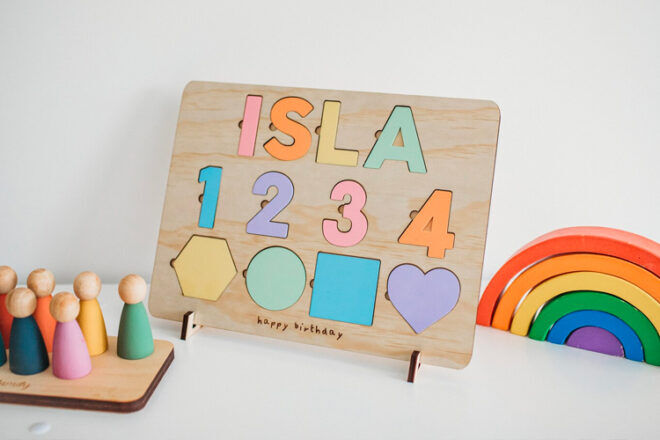 Handmade in Melbourne, these wooden puzzles combine shapes, letters and customised messages for a gift to cherish forever. Measuring up to 52cm, they're available in a choice of natural or coloured styles with storage bags optional.
---
Bright Star Kids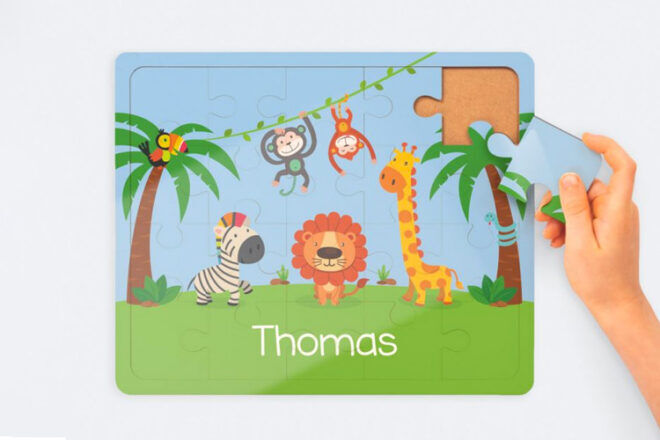 Made with a premium wooden backing and glossy finish, bright Star Kids puzzles are built tough to see kids through years of play and learning. Easy to clean and brilliantly vivid, they come in a huge range of fonts and designs, from llamas to superheroes.
---
Baxter Designs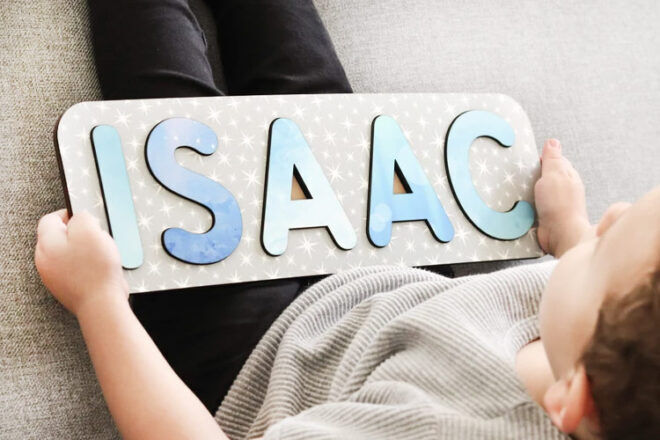 After a particular colour combination? Baxter Designs puzzles come in a huge variety of options to suit any decor theme and personality. Made locally here in Australia with MDF, they measure 40cm in length and feature handpainted letters.
---
My Personalised Gifts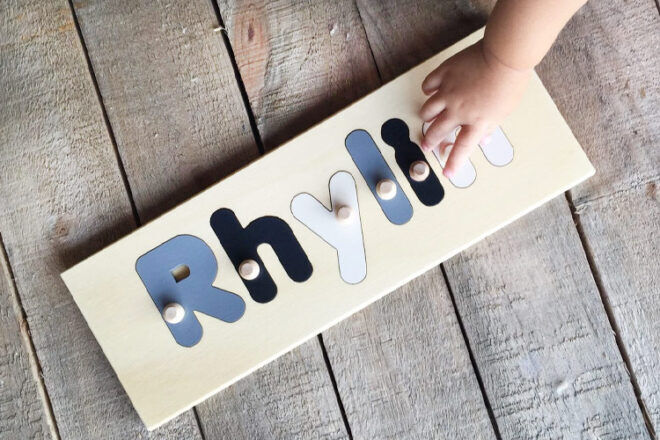 With perfectly sized handles on each letter of these puzzles, they couldn't be more perfect for the youngest of learners. It is fully customisable right down to the colour scheme, shapes and special engraved message on the back of the puzzle board.
---
Arcadia Dreams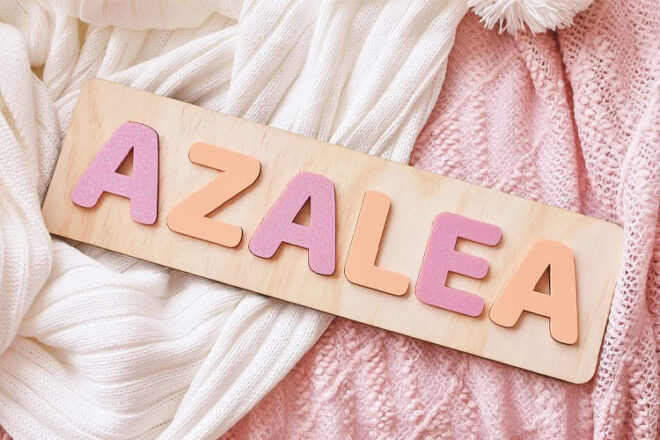 Handmade to order, Arcadia Dreams wooden puzzles are both simple and beautiful. To order, just choose the colours you like, enter in your child's name and select one of the 14 adorable design options on offer.
---
Sweet Little Luna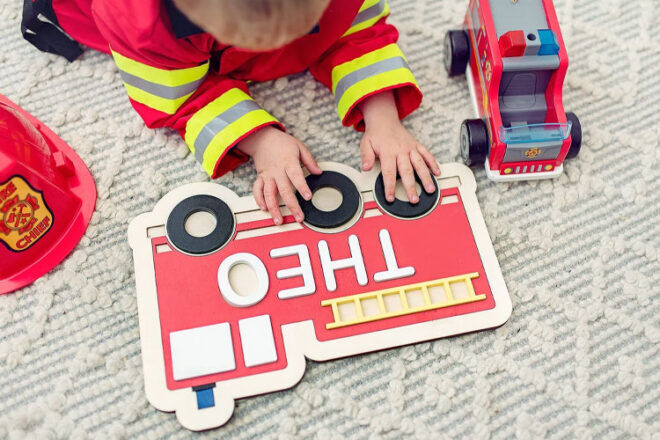 Handmade with love here in Australia, Sweet Little Luna puzzles are gifts they'll never forget. Available in a huge range of personalised options, they're made with plywood and feature smooth, raised letters that are easy for little hands to manage.
---
Crafty Roo
Will it be crazy-cute dinos or zany zebras? These gifts come in an adorable range of themes that are nearly impossible to choose from. They're brought to life here in Australia with durable wood and vibrant paints and customisable with up to 11 letters.
---
Bear Timber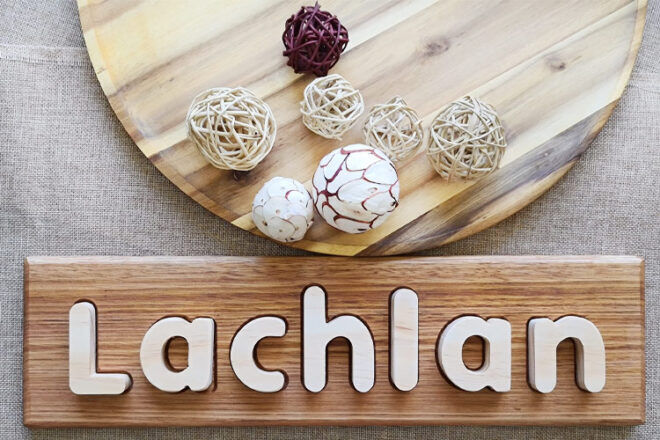 We don't know what we love more, the cute, chunky letters or the natural Tasmanian oak base. These beauties are deliberately created with large letters to help preschoolers learn to recognise their names. Each comes with its own calico storage bag.
---
Are puzzles safe for babies to play with?
Most puzzles in Australia are classified as a toy only suitable for children aged three years and above because they contain small parts.
But, while babies need to wait a while before playing with puzzles, personalised styles like the beautiful brands listed above make gorgeous decor pieces in the meantime.
What are the benefits of jigsaw puzzles for kids?
Puzzles with large chunky pieces like those featured in our list help kids develop their fine motor skills, dexterity, problem-solving and memory skills. A healthy challenge for growing toddlers, they're heaps of fun and a timeless toy for kids to play with again and again.
---
Know a name puzzle we could add to our list? Contact us and let us know, we've been curating Australia's best baby products into helpful lists for over 15 years and we're always happy to support new brands and businesses.
Read next …
Ask other mums
Looking for a Name Puzzle and still not sure if any of these are right for you? Join the huge #MGVfam in one of our private Facebook Baby Groups and ask thousands of other mums with babies the same age as yours which ones they recommend. Join today!
We want you to know
At Mum's Grapevine, we're a team of passionate mums (with 19 kids!) and over 15 years of experience researching and writing about all things baby and parenting. Our reviews of recommended products, like the ones in this post, may include paid inclusions, but we promise to only feature products that we truly believe in and have used or seen ourselves. We want to ensure that you, our readers have access to the latest and greatest products in the parenting world, and we're committed to maintaining our high standards of quality and honesty. See our Disclosure Policy.
Thank you for trusting us to be your go-to source for all things baby-related.
xoxo