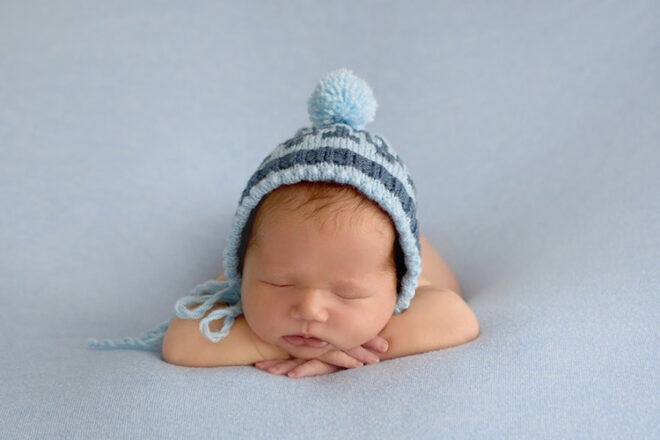 With enough gods and goddesses to pack the Parthenon (or even the MCG), the fascinating world of Greece and Greek mythology is still among the richest sources of names for babies of today. Who doesn't want to be named after the god of luck or the goddess of harvest?
Even if you're not familiar with the historical happenings of ancient Greece, Greek names offer up options that are cutting-edge and modern enough for even the coolest of kids.
We've got a list of 26 Greek names that each have tales ticked off by the gods. Let's dive in.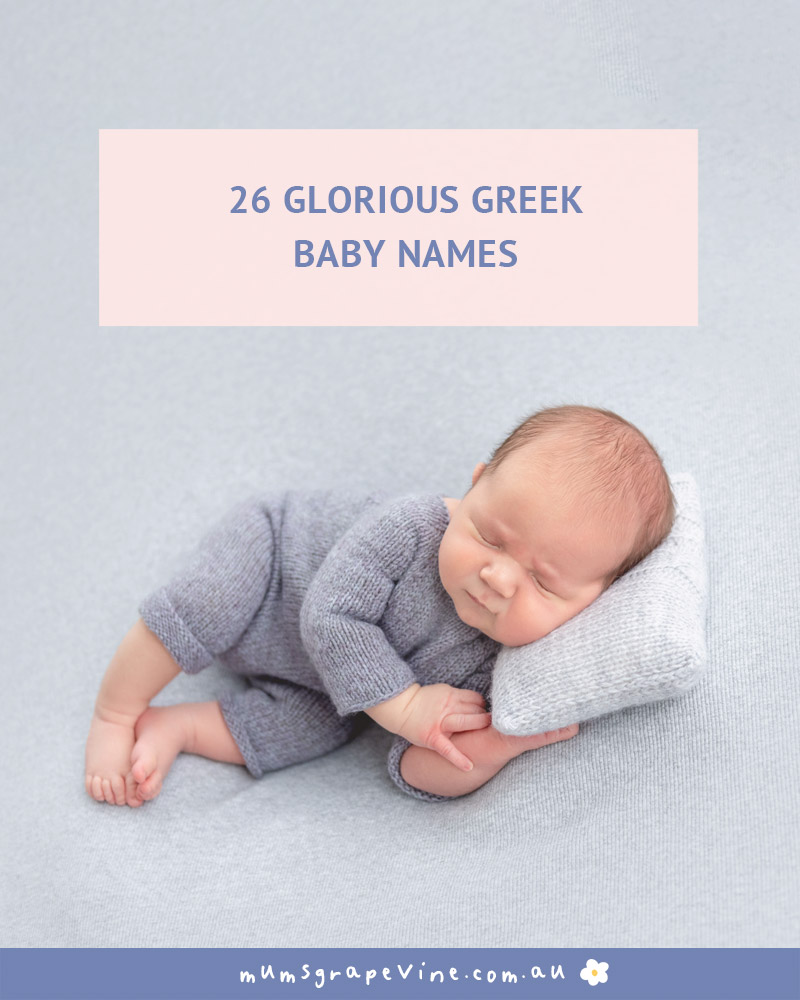 Greek Boy Names
Calix: Straight out of the gates is a Greek name that you might want to bestow on the little man. It means 'very handsome' and it sounds very cool too.
Georgios: It may be one of Greece's most popular boys' names, but with the good, honest meaning of 'farmer' and 'earth worker' it's not hard to see why.
Hermes: He's known as 'the messenger' but the god of so much more: trade, wealth, luck, fertility, sleep, language, and travel – phew! If that's not impressive enough there's also its famous fashion connection.
Jericho: If you're looking to arrive at a place-name, this one's got biblical street cred. Jericho has many roots, the Greek translation is 'moon city.'
Leander: He was a lovestruck young man in Greek mythology with the translation 'lion man.' Signifying both power and romance, did you know it's also the name of a baby brand?
Ozias: Meaning 'salvation' in the Bible, it's an unusual name that could be given a familiar flair with Ozzy or Oz for short.
Vander: Not to be confused with Xander, this modern-sounding moniker means 'good man' or 'family of' and that sounds pretty good to us.
Spiro: Derived from Latin it means 'I breathe' – a beautiful meaning to give your little one as soon as they come into the world.
Zephyr: It's a name with the coolest air, Zephyr was the Greek god of the west wind. Shortened to Zeph or Zee, it's a modern name with origins from mythology.
Greek Girls Names
Althea: Poetic and ethereal, be soothed by this name for your little goddess meaning 'with healing power.'
Chloe: Many think of France, but Chloe comes from ancient Greece. She was the Greek goddess Demeter of agriculture and harvest. Meaning 'young green shoot' it's a nature-inspired name too.
Daphne: River god Peneus saved Daphne from Apollo's romantic obsessions by transforming her into a laurel tree. It's a name with an interesting tale for sure!
Evanthe: Fit for a royal and budding with beauty, would you consider giving your little a name meaning 'fair flower?'
Iris: Iris was the goddess of the rainbow which in Greek mythology is a multicoloured bridge from heaven to earth. Representing power and majesty, the three petals of the flower represent faith, wisdom and valour.
Maia: Names are given from parent to child – perhaps the Greek word meaning 'mother' might be the ticket. Maya is the more popular spelling, but we love Maia too.
Ophelia: Although not a Greek goddess, this namesake still ranks as heavenly. Will the beautiful meaning of 'help' assist you in your name search?
Phoebe: We probably all know of a Phoebe, but did you know it's another name for the goddess of the moon and hunting? This meaning might capture your interest.
Philena: Is there a Phil in your family? Honour him with this Greek name meaning 'lover of mankind.'
Sophelia: Like Sophie or Sophia but with a few more bells and whistles. The pretty Sophelia means 'wisdom, helper' – two things we'd wish for our daughters to be.
Greek Unisex Names
Attie: Attie may be the cutest sounding name on our list but it could also be the smartest. In Greek origin, it means 'wise', something we all wish our children will be.
Dion: Whether a little god or goddess, they'll be a 'child of heaven and earth' with this short but strong name.
Echo: They're your beloved offspring after all, so why not name them Echo? A name to pass down generations, it means the same in Greek as it does in English.
Indigo: Rich and deep, Indigo might just make a splash on your shortlist. Meaning 'Indian dye' it's one of the most appealing and colourful names.
Kyrie: Will the unisex Greek name meaning 'lord' ascend to the top of your list? You can pronounce it ky-ree or keer-ee.
Odell: Odell as a name has many origins but in Greek it's 'ode' or 'song.' An extra special name to dedicate to your child, it's definitely got a ring to it.
Orion: Squint and it kind of looks like Onion, but nothing about Orion won't make you cry. In Greek myth, Orion was a mighty hunter, perfect for strong little boys or girls.
---
Facebook conversations
Read over 300 Greek baby boy names other mums loved over on our Facebook page (click the comments number, or date stamp below).
---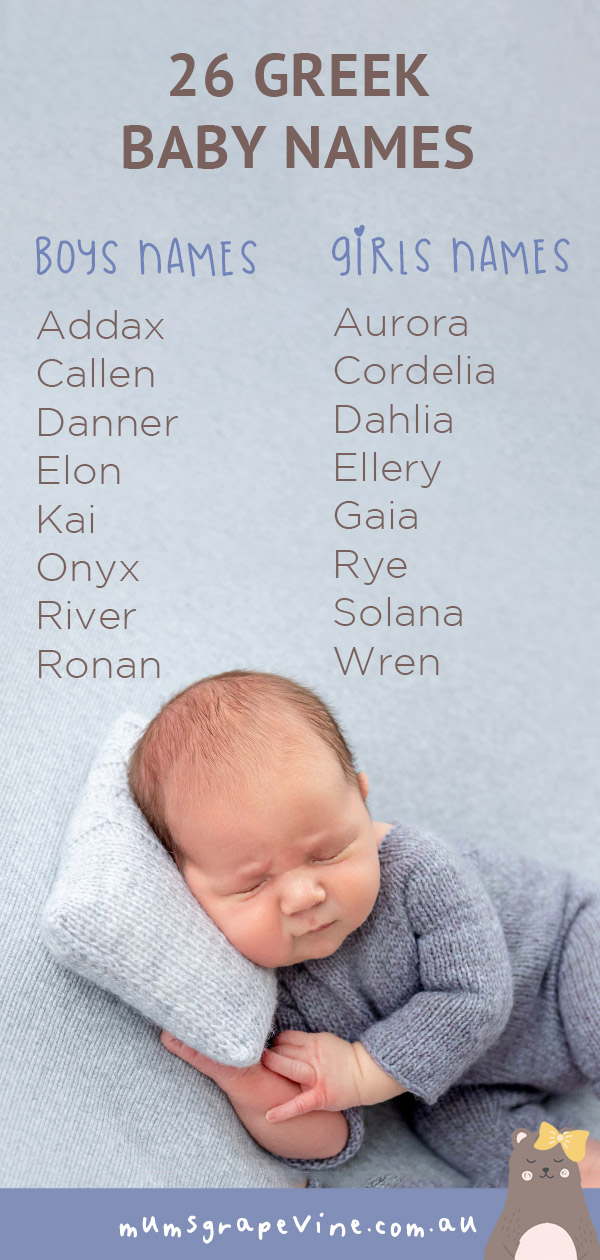 Read next …
Trying to choose the perfect name for bub? Find hundreds of inspirational and unique baby names in these articles:
Ask the Mum's Grapevine community
If you're not already a member of one of our great community groups – jump on and find one that's right for you! Once you've joined, you can ask other mum's what baby names they love (you can even do a poll on the names in your top list!). That's the best thing about being in a Mum's Grapevine Facebook group: there's always someone on who can give you a helping hand.
Click here >> Mum's Grapevine Facebook Groups << and find your group today!