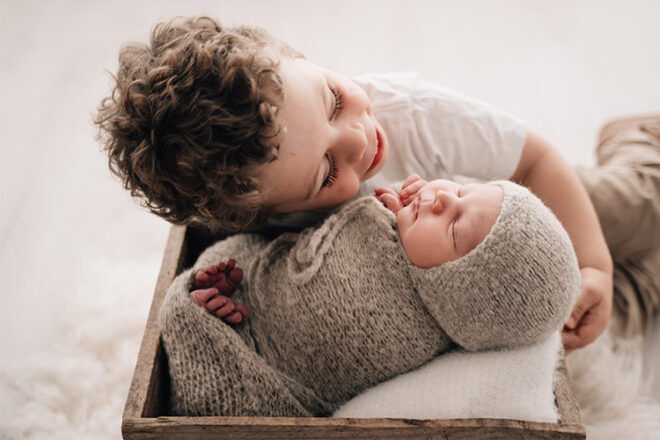 Living an idyllic life in the picturesque Barossa Valley, Sarah, an emergency nurse, and Rhys, a carpenter and plumber seemingly had everything they could ever want. Except for children.
The couple navigated the painful world of infertility for years, before having their first baby, Angus, in 2019, thanks to IVF. And their path to a second child was just as difficult. There were multiple rounds of IVF and failed transfers. Until their very last frozen embryo.
One final shot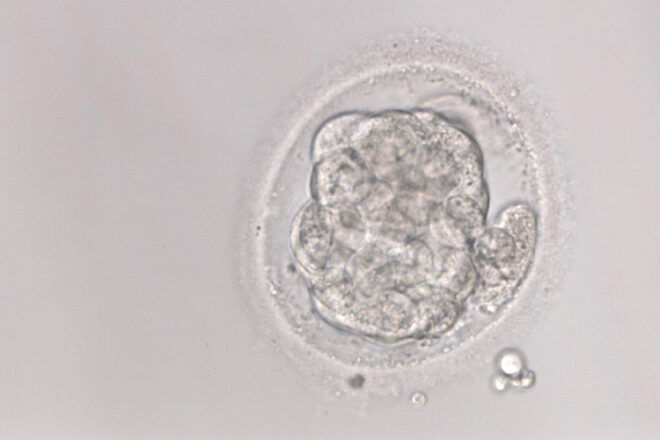 There was no known cause for the couple's infertility. While Sarah has endometriosis and a low AMH (egg count), doctors didn't think they were the cause. The lack of answers only added to their pain. "Whilst we were trying to conceive, everyone around us was having babies, it was a really hard time."
But then, finally, a little miracle.
"Lucy was our lucky last frozen embryo," Sarah explains to Mum's Grapevine. "It was months worth of medications – tablets, injections, patches, and pessaries – glamourous, I know – and 13 weeks' worth once we were pregnant with her!"
But Sarah and Rhys couldn't breathe easy. At five weeks Sarah started to bleed. "This continued until nine weeks. Each and every time I'd go to the toilet I'd be an absolute wreck, back to the hospital again we'd go. It was heartbreaking. At 16 weeks I had an early oral glucose tolerance test – I had gestational diabetes again. However, I was able to manage with diet alone which was excellent.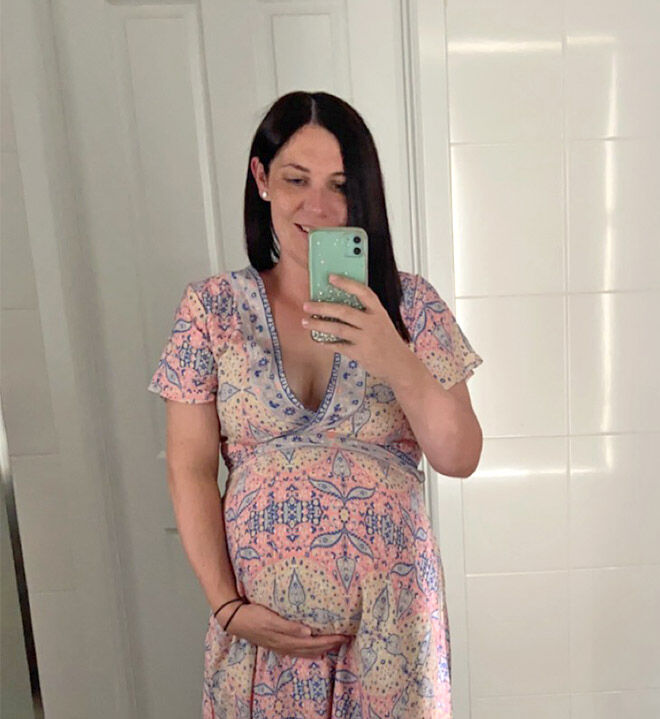 "At 32 weeks we were decorating Lucy's nursery when I felt a gush of fluid. Thankfully it eventuated to nothing and wasn't amniotic fluid. However, my fundal height was always measuring small, people would always comment that I didn't look pregnant, which added massively to my anxiety-induced pregnancy as it was. We were very closely monitored by our midwife team and the hospital which we are very grateful for."
'She's finally here'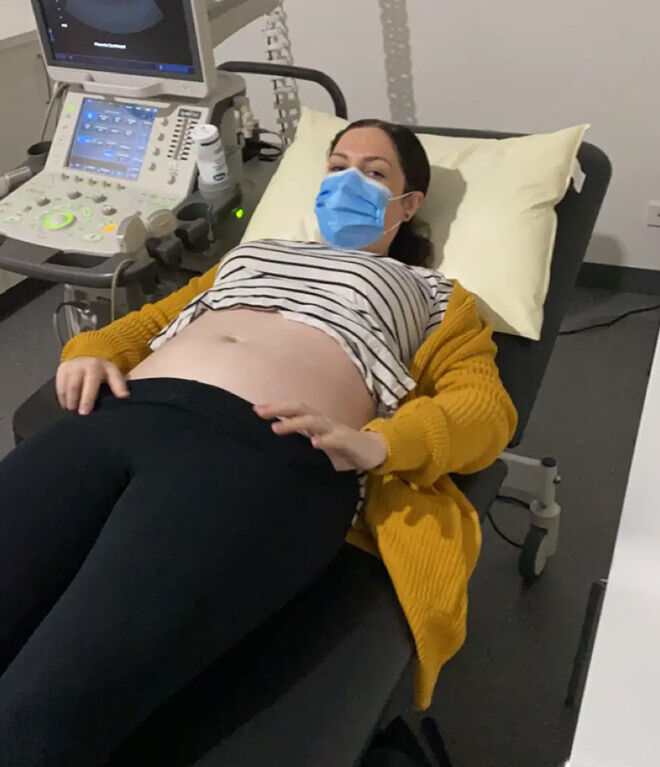 Sarah neared the end of her pregnancy with a huge sense of relief, as well as anxiety. It was suggested by her healthcare providers to induce before 4o weeks. "In the weeks leading up to our induction I had episodes of reduced movements which was truly frightening – we just wanted her earthside. So when it came to 39+4 with Lucy, we were well and truly ready for our induction.
"We were booked for induction on the 10 April, 2021 however, got a call to say we had been bumped. To say I was distraught was an understatement, I was petrified something would happen to her while we were waiting. The next night we went in for an induction and the midwife checked me and said I was 5cm dilated. She did a stretch and sweep and said go home, 'I think we will see you overnight', she added. Nope, she was wrong! Lucy was stubborn.
"So at 7 am in we went to meet our MGP midwife. I was hooked up to the CTG, had some monitoring and she broke my waters. She said to go for a walk see if we could get things happening. I had one or two contractions as we strolled around the block of the hospital, it was surreal. We were going to meet our little girl. I happen to work at the hospital we birthed at, so we saw some familiar faces awkwardly. We also took some photos together, listened to my birthing playlist and just hung out in the birthing suite. They were happy for me to wait, but we opted to get the show on the road and had an IV cannula inserted. They started the medications and within 10 minutes I was in established labour, with stacking contractions. It was so very different to my first labour.
"Once we were in established labour things were escalating quickly, I felt most comfortable just pacing and standing next to the bed. My husband Rhys was amazing birth partner, rubbing my back and telling me that I could do it. I felt nervous as the contractions were coming in hard and fast, I remembered the feeling, I wanted to meet Lucy. I was starting to get really uncomfortable. They stopped the IV medication and disconnected me, I ripped off my bra which is all I had on and my midwife laughed and said okay we are getting somewhere now.
"I didn't have any checks during labour at my request, however, I said I felt that I needed to push and it started. I needed the gas/air at this point, I felt Lucy move down, I couldn't bend over anymore. Rhys was so encouraging and he was truly down the business end. I felt Lucy's head, he told me he could see her beautiful eyes and that she had hair, just like Angus. At this point, our midwife asked Rhys if he was going to catch her, and he did, one big final push and out she came. Rhys caught her, I heard an almighty cry from Lucy and then laid down on the bed where Rhys handed me our little girl.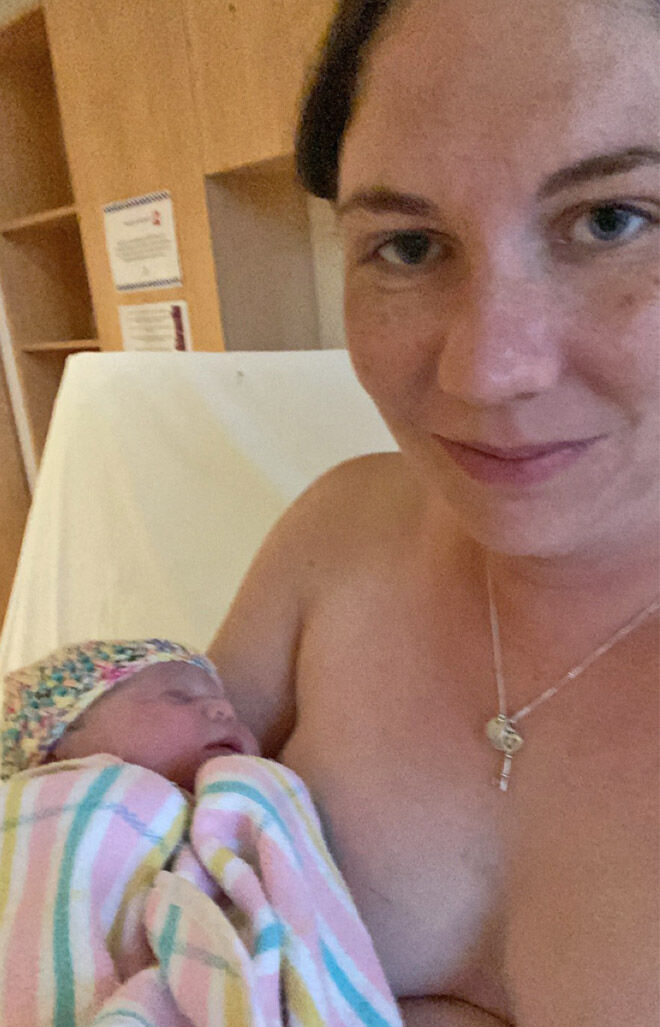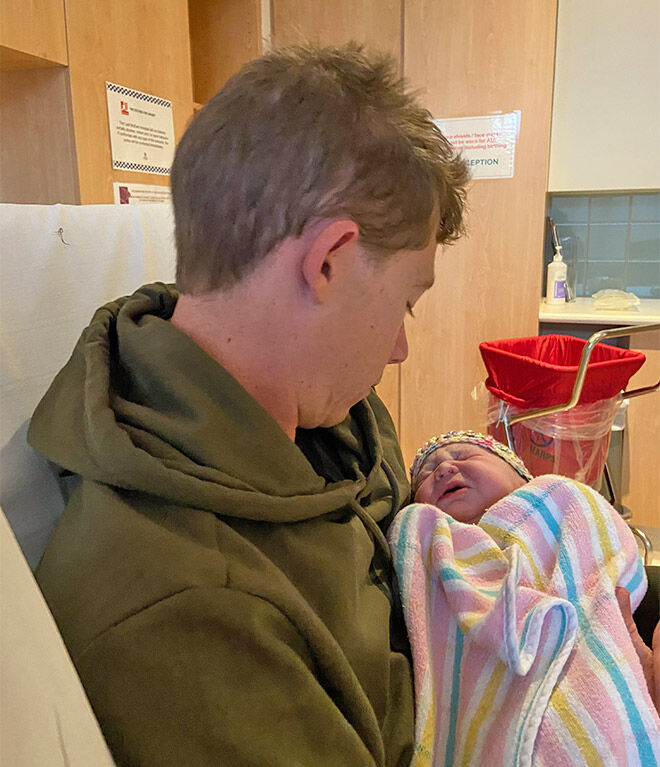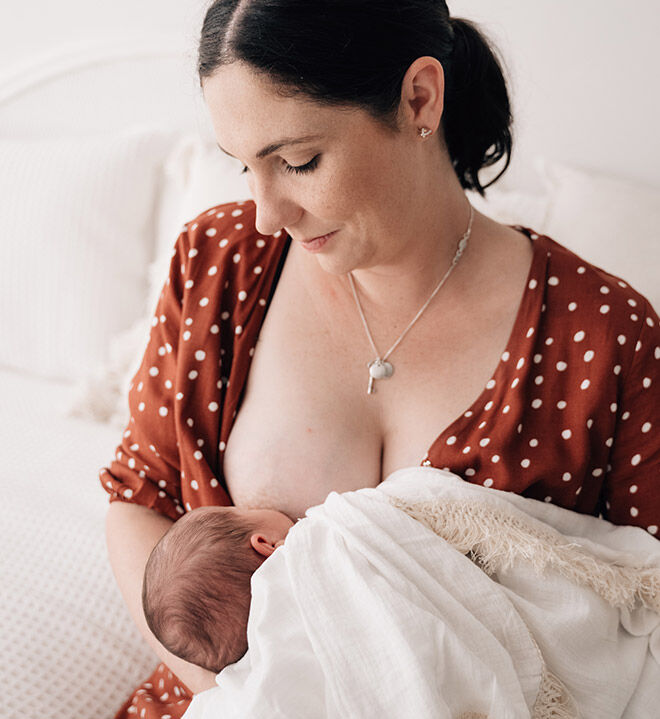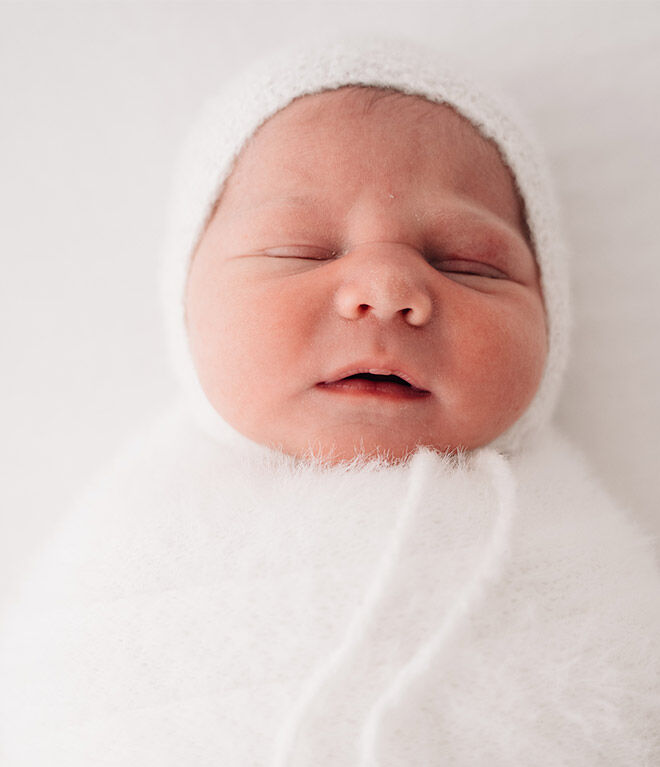 "It was so emotional for us, she was here. We cried happy tears, Lucy cradled in my arms. Angus and Julia Stone's cover of 'Stay' was playing, we lay on the bed together, just listening to music and still in disbelief she was here. Then came delivering the placenta which was a challenge, it was a bit stuck, but we got there. We were able to have delayed cord clamping, Rhys eventually cut the cord, we just lay there having cuddles, we didn't do the weigh or anything for at least an hour.
"She was here, she was finally here.
"Our son's favourite song came on, Angus Stone – Broken Brights. We cried some more happy tears. During my pregnancy my fundal heights were all off, a growth scan predicted Lucy would measure small, well, she was 8lb 8oz. She wasn't small, she was a beautiful chunky girl.
"Our family is now complete with our beautiful Angus and Lucy. After infertility, complicated and very anxiety-inducing pregnancies we are complete as a family of four. We thank our care teams, fertility specialists and our families for being our biggest supports and making it possible."
Images: Fable & Fig
---
Got your own birth story you're itching to tell? We're always on the lookout for new stories to feature. Submit your birth story.