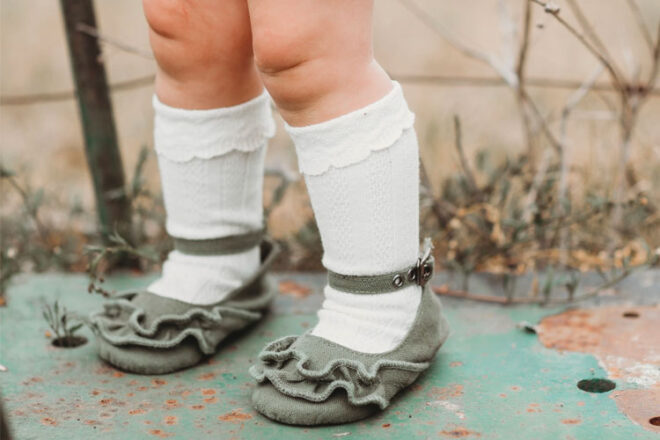 Little feet, there's not much cuter. And with all that standing, cruising, walking and running, the right pair of baby shoes are pretty important.
Baby shoes are designed specifically to protect and support infant feet at different stages of development. From rubber-soled to leather, there's a colour and style available to ensure they put their best foot forward on every outing – even if it's only 10 centimetres long.
To help you find baby shoes that fit, we've trekked through the options to bring you the best brands available in Australia.
Types of baby shoes in Australia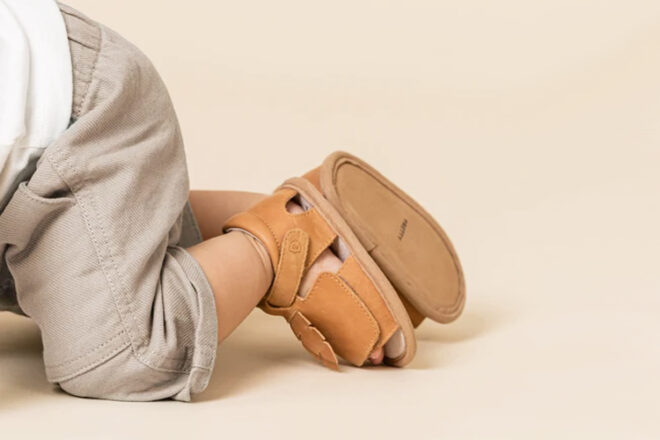 Soft-sole baby shoes are lightweight shoes with a fully flexible base usually made of suede or leather. For newborn or pre-walker babies, they keep feet warm and protected and allow for natural movement with no restrictions.
Pre-walker baby shoes are shoes for infants that are cruising or almost walking. They have a more durable, supportive base but are still bendable and unrestrictive.
First-walker baby shoes are designed to support a baby's developing feet as they start walking. They have a moulded sole usually made of rubber.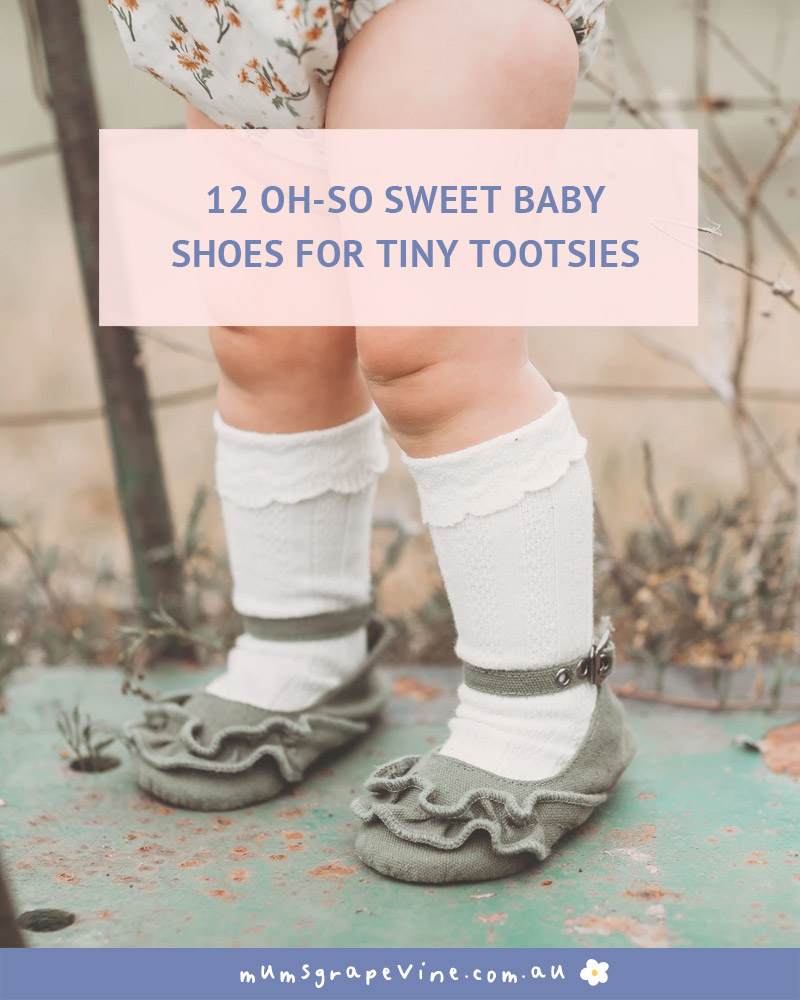 12 beautiful baby shoes for growing feet
Choosing the right pair of shoes is essential when it comes to your child's foot health. Use our handy list to scout out the perfect pair that supports and protects growing feet.
In no particular order, here are 12 baby shoes for developing feet:
Just Ray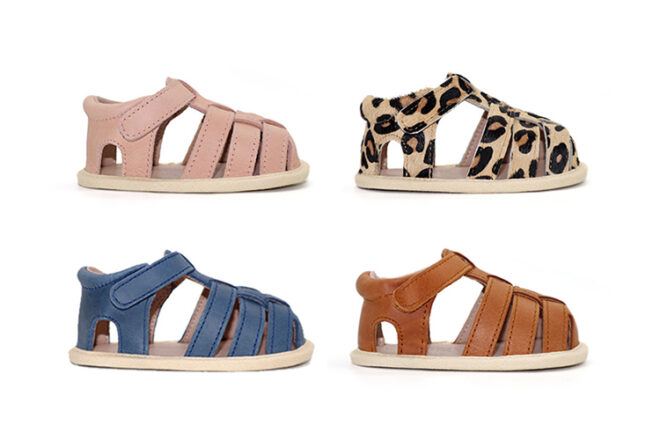 These shoes aren't just cute, they're also fully lined and have a cushioned back panel and innersole. Made of 100% genuine waxed leather, they come in four colours and either a soft or flexi-rubber sole depending on bub's size.
---
Kit & Kate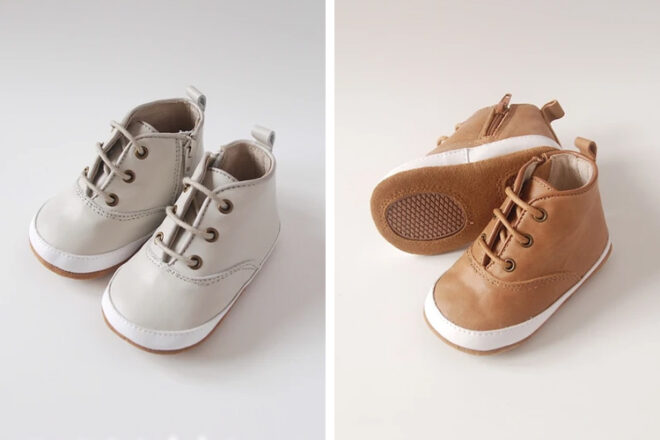 Perfect for posing but durable enough for play, this soft and natural leather boot is a great all-rounder. It features a wide, comfortable shape to let feet develop safely, a handy side zipper and non-slip pads for extra grip.
---
Wild Chase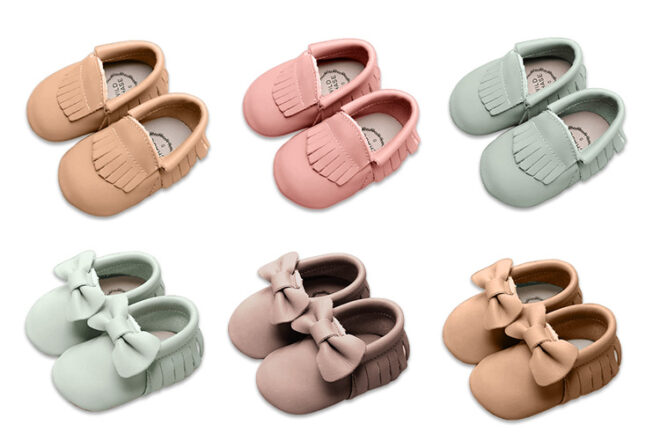 Ticking the box for all-season cuteness, Wild Chase baby moccasins give that barefoot feeling while protecting and supporting tiny feet. In a choice of frills or bows, each is made with love from 100% genuine leather with all-natural insoles.
---
Pretty Brave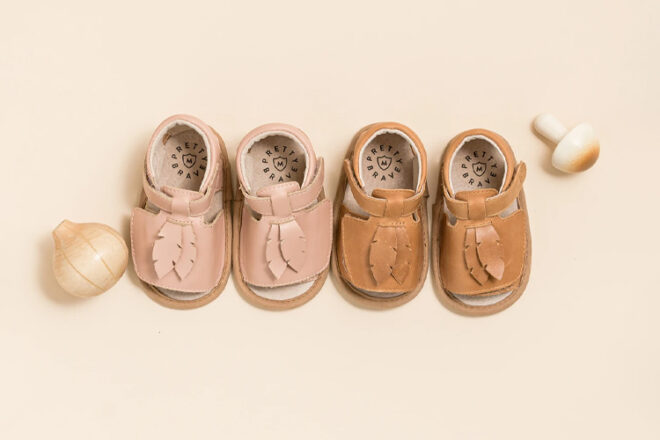 With cut-out detailing and rounded edges, these chemical-free beauties are as pretty as a picture. Made from ultra-soft leather that will stand up to lots of crawling, they come with easy-use Velcro straps and flexible soles.
---
Attipas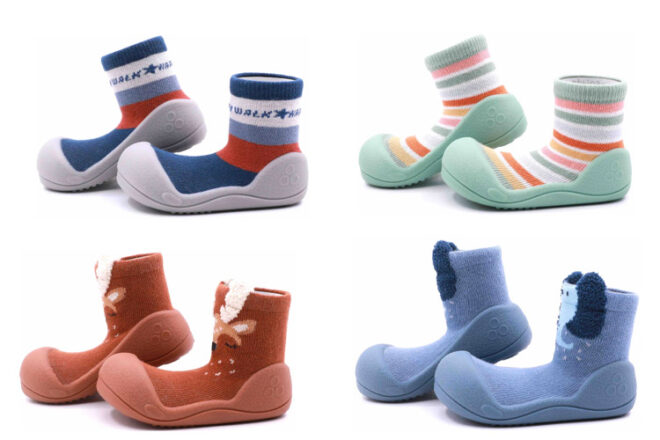 Lightweight, breathable and too cute for words, Attipas baby shoes are designed to allow busy little bees to move freely as they play and potter. Made without nasty chemicals, they're strong, machine-washable and as comfy as wearing socks.

---
Bobux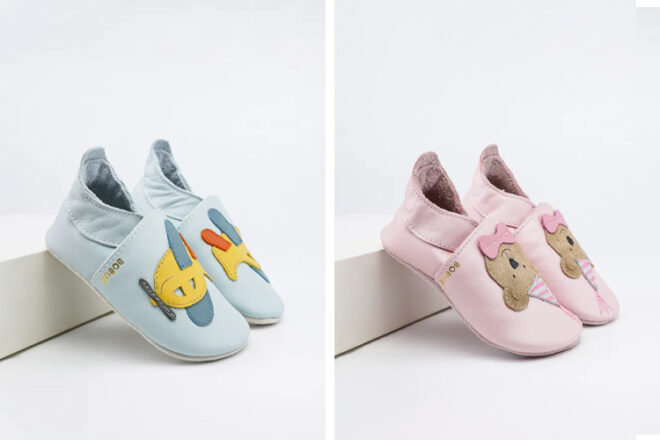 Expertly designed to be as fun as they are comfortable, Bobux baby shoes use premium, ultra-soft leather to encase and protect tiny toes. They have an elasticated ankle for easy on and off and they come in a spectacular range of styles.
---
Tip Toe Joey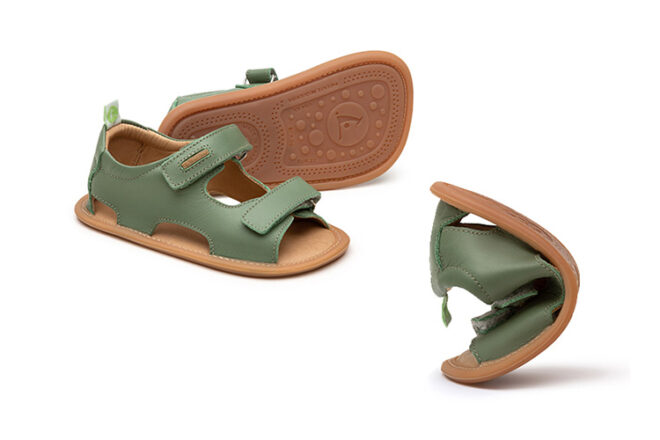 Packed with benefits, the FreetoGrow wide toe box allows toes to spread freely, whilst the flexible ThintoFeel non-slip rubber soles mimic the sensation of barefoot walking. Breathable, extra comfy and extra smart.
---
Gertrude And The King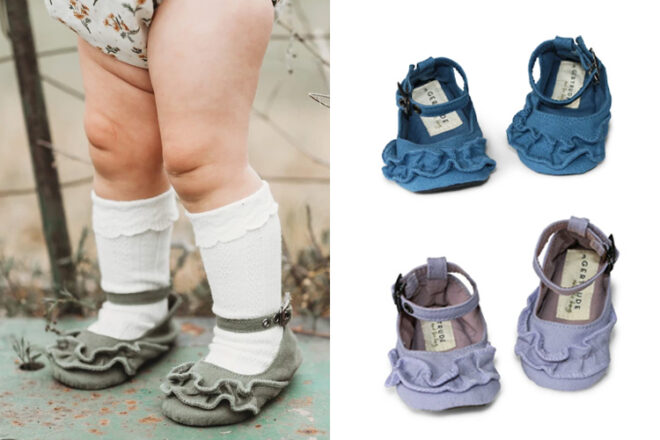 Free from thick soles, these lightweight and crazy-cute Mary Janes make the perfect footwear for non-walking bubs who are enjoying lots of floor play. Made from cotton canvas, they're chemical-free, ultra-flexible and machine-washable – mamas rejoice!
---
Skeanie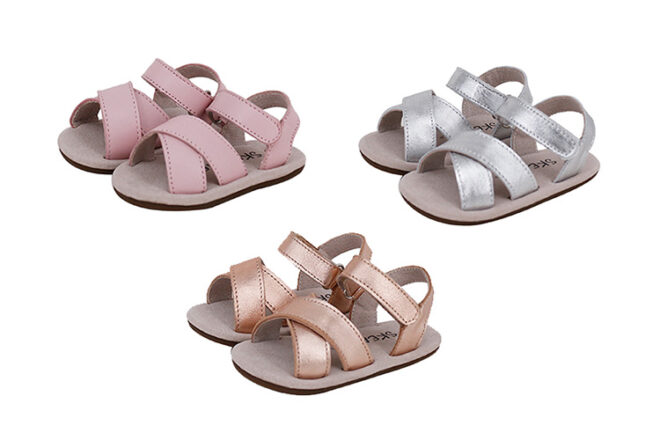 Podiatrist-designed, these pre-walker sandals are made from buttery-soft leather and help support your child's developing feet. Available in three shades, the hook and loop fastener keeps the shoes fitting snuggly.
---
Komuello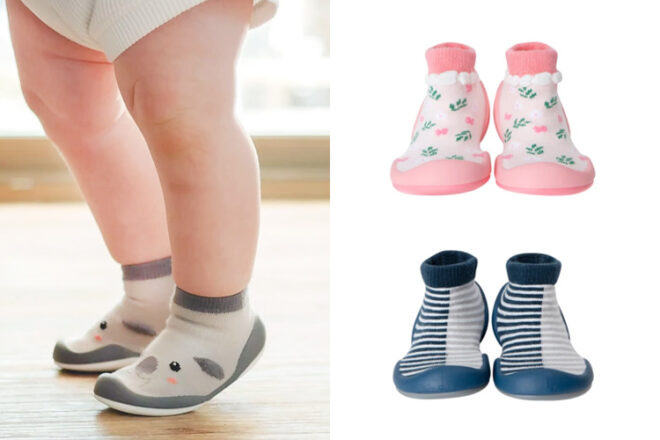 Available in a huge range of themes and colours, Komuello machine-washable baby shoes offer bubs comfy, practical support for exploring the world. They feature air holes for ventilation, a unique bee-hive sole for grip and they're suitable for water play.
---
Walnut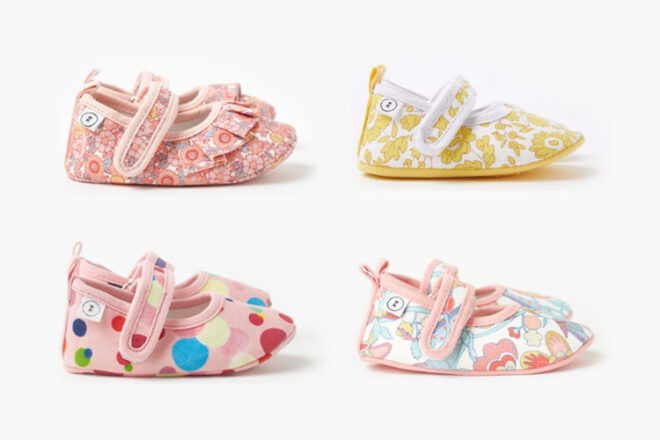 When we're not swooning over the delicious Liberty prints, we're focusing on the easy-use Velcro strap, padded insoles and PVC stippled soles for extra grip. Made of lightweight breathable canvas, these beauties bend form and function.
---
Burberry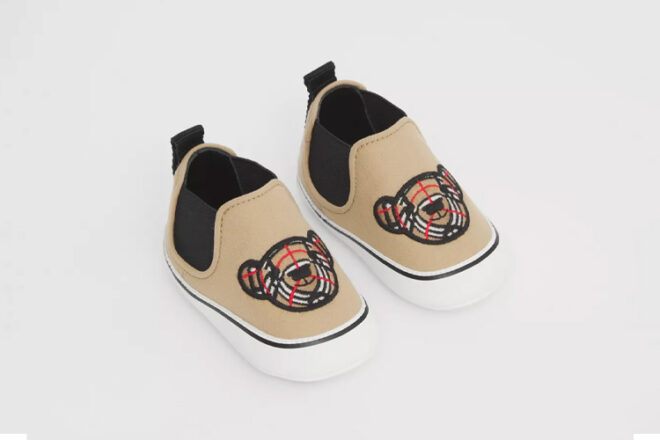 Their feet may be little but there's no expense spared here. Super-soft leather lining pairs beautifully with English-woven cotton gabardine and Burberry's signature embroidered teddy. It's luxury in miniature.
---
When can babies start wearing shoes?
Prior to walking, babies can wear shoes, but only for warmth and protection. It's recommended that barefoot is best to support balance, sensory feedback to the feet, coordination and posture so when they're starting to walk, always ensure shoe soles are soft and flexible.
How do I measure my baby's foot for shoes?
Measure the length of your child's foot in a straight line from the end of the big toe to the back of the heel. Always measure both feet as one is usually larger than the other. You should purchase the size that fits the larger foot.
---
This article is lovingly curated by our Editors and may include affiliates and/or paid inclusions. See our Disclosure Policy.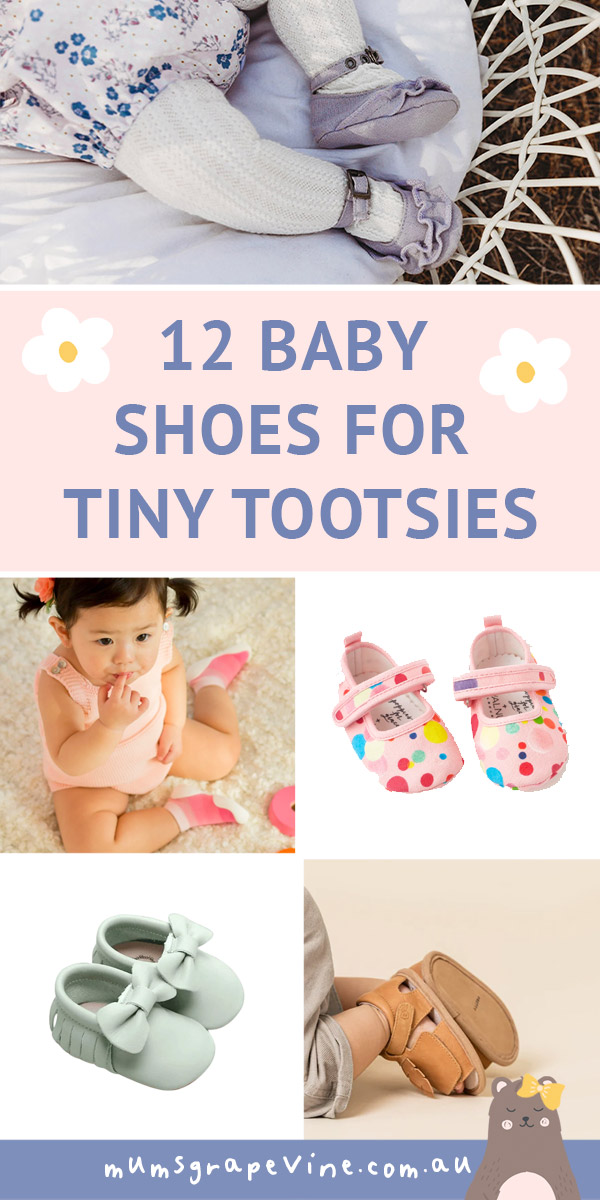 Know a sweet pair of baby shoes we should add to our list? Contact us and let us know.
Read these roundups next …
If you're after more helpful products for bub, you're in the right spot. From cot sheets to cloth nappies, our lists include Australia's most coveted brands and stores.
Read this: Why you should iron baby clothes
Continue your search for the best baby shoes
Looking for the best soothers and still not sure if any of these are right for you? Join one of the Mum's Grapevine Facebook Baby Groups and ask thousands of other mums what they recommend. They are grouped together by birth date so everyone is going through the same stages at the same time.
Click here >> Mum's Grapevine Facebook Groups << and find your group today!