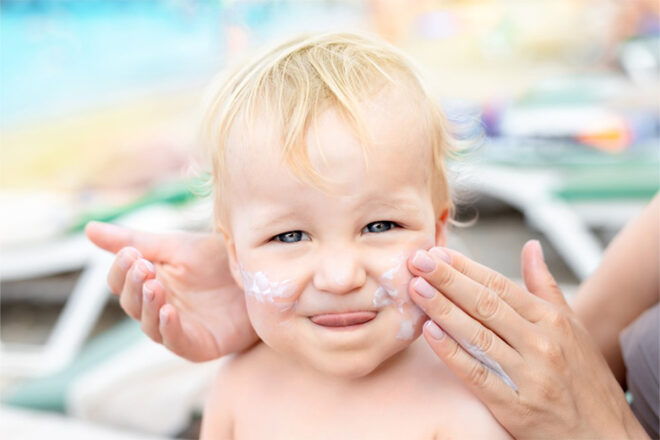 We all know to slip, slop, slap our kiddies before heading out in the Australian sun. But it can be tricky to know what baby sunscreen to use on your child's delicate skin.
Baby sunscreen is specially formulated to protect young skin from harsh sun rays. Gentle and easy to apply, sunscreen for babies is usually water-resistant and often made with natural ingredients that don't irritate sensitive skin.
Kitted out with a broad-rimmed sun hat and protective swimwear, the only thing bub needs to be beach-ready is a reliable baby sunscreen.
What to look for when buying baby sunscreen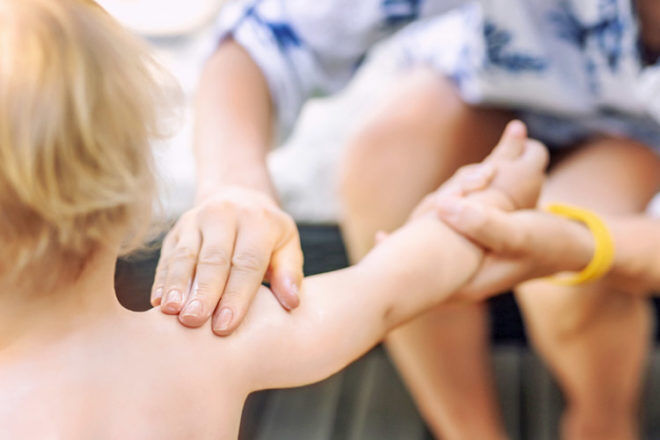 Here are a few things to think about when buying sunscreen for babies and kids in Australia:
SPF: Sunscreen is recommended for all ages to protect parts of the body like tiny hands and faces that can't be covered up, and a high Sun Protection Factor (SPF) is important. The number tells you how long the sun's UVB rays would take to redden your skin if you apply the sunscreen exactly as directed compared with the amount of time without sunscreen.
Ingredients: Where possible, look for a baby sunscreen with natural ingredients. Mineral-based sunscreens often use zinc oxide and titanium oxide. These natural 'blockers' sit on top of babe's tender skin, providing broad-spectrum coverage that reflects both UVA and UVB rays.
Water-resistance: Venturing to the beach with plans to stay on the sand? Just like when playing at home, little ones find a way of getting wet and messy. A water-resistant sunscreen will keep them protected from the harsh sun despite the spills and splashes.
---
8 sunscreens for babies and kids in Australia
To help you find the best baby sunscreen for a day in the sun, we've compiled this handy list of brands to get you started in your search.
In no particular order, here are 8 baby sunscreens available in Australia:
Wotnot
Reef safe and packed with jojoba, shea and aloe vera, this sunscreen soothes sensitive and eczema-prone skin from three months. Wotnot knows wot not to include too; it's free from sulphates, petrochemicals, parabens, artificial preservatives and chemical UV absorbers.
---
Little Urchin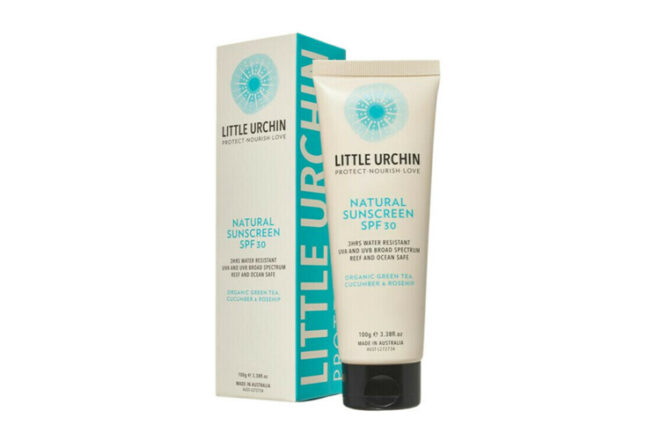 Reef safe and environmentally friendly, Little Urchin uses organic ingredients rich in antioxidants to protect the whole family from UVA and UVB rays. With a clear, non-greasy finish, it's water-resistant for up to three hours and suitable from six months of age.
---
Surf Baby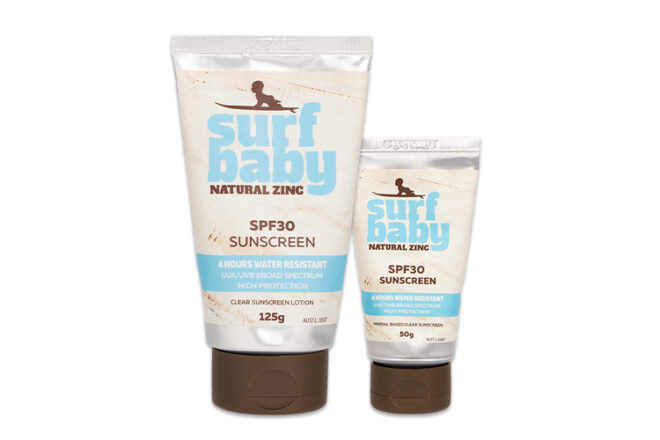 Created in Australia especially for little people, Surf Baby offers toxin-free sun protection in and out of the water. It's the only preservative-free, non-nano zinc sunscreen without chemical UV absorbers that has an SPF30 with four-hour water resistance.
---
Grahams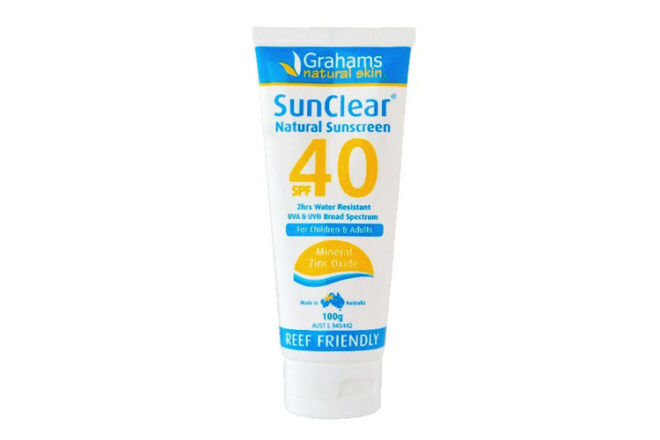 Using only natural ingredients that protect sensitive skin from the sun's harsh rays, this broad-spectrum sunscreen is formulated especially for dry, eczema-prone skin. Suitable for all ages, it offers two hours of water resistance while little ones dip and dive.
---
Gilly Goat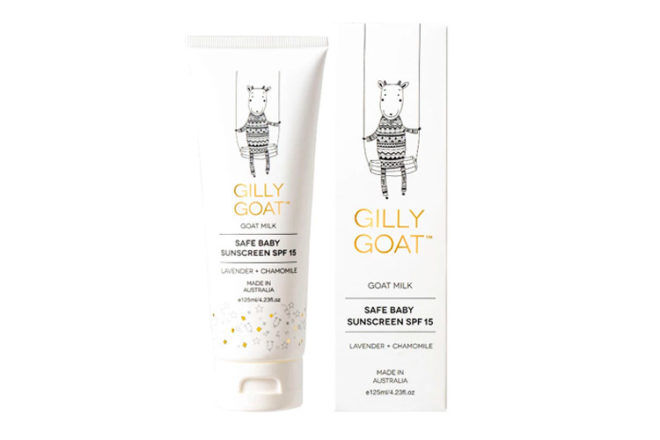 Enriched with the benefits of goat milk, aloe vera, Vitamin E, lavender and chamomile, this dreamy sunscreen is non-greasy and easy to rub into the skin. With a base of zinc oxide, it provides non-chemical protection from the harmful effects of the sun.
---
EK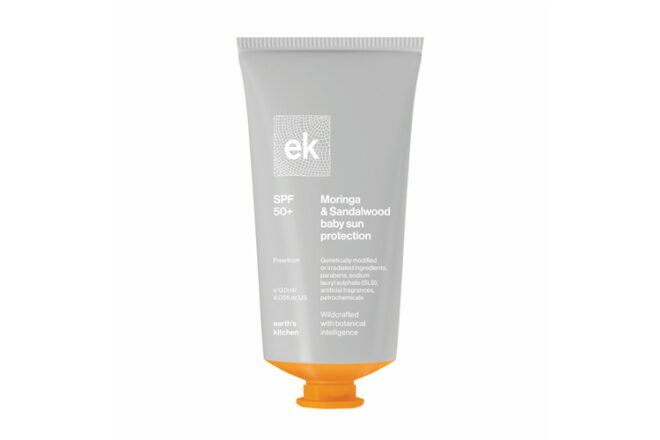 Certified natural and formulated using organic and wildcrafted ingredients, EK sunscreen is gentle on sensitive skin while providing powerful protection against harmful sun rays. Chemical-free, it is reef safe, biodegradable and comes in recyclable packaging.
---
Skinnies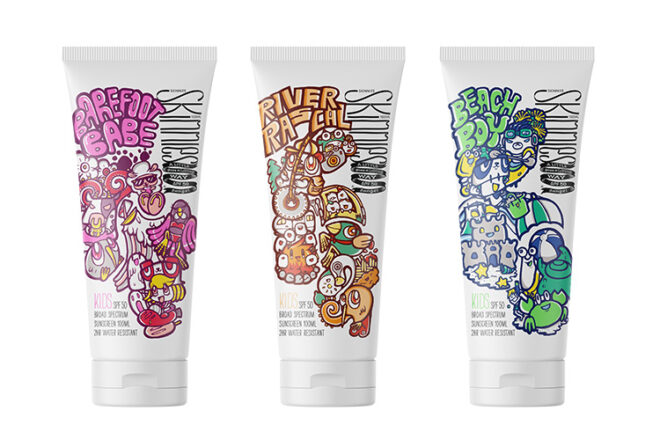 A game-changer in kids' sunscreen, Skinnies is sustainably made in New Zealand without water for less use and less waste. With the added goodness of coconut oil and aloe extract to calm the skin, it has a gel-like consistency that rubs in clear and adapts to any skin tone.
---
This article is curated by our Editors and includes affiliates and/or paid inclusions. See our Disclosure Policy.
Know a baby or kids sunscreen available in Australia that we should add to our list? Contact us and let us know.
Read these roundups next …
If you're after more fab gear for a fun-filled summer, you're in the right spot. From beach tents to picnic rugs, our roundups include Australia's most coveted brands and stores.
Read this: 13 clever ways to keep baby cool in summer
Continue your search for the best baby sunscreen
Looking for sunscreen for your little ones and still not sure if any of these are right for you? Search online by jumping into one of our closed Baby groups and ask thousands of other Australian mums what they recommend – 'What to buy' is the most talked-about topic.
Click and join your group today!