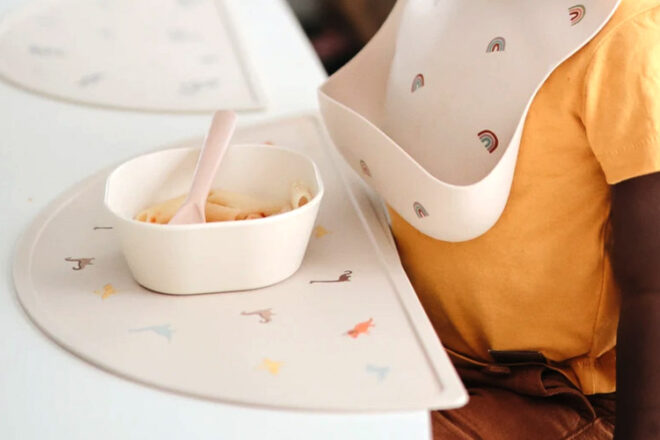 From colourful and entertaining to massively cute, toddler mealtimes are a lot of things. They're also messy, which is why kids' placemats have become the sanity-savers mums can't do without.
A kids' placement is a tabletop accessory that catches spills and protects surfaces. Designed from silicone or BPA-free plastic, they absorb heat, capture food that didn't make the mouth and keep dinner debris contained. And from dreamy half-moons to lovable animals, contemporary styles take the family dinner game interstellar.
We've scoured the lands and hunted down the tastiest placemats for messy little foodies.
12 kids' placemats available in Australia
A fab set of kids' placements not only transforms the dinner table, but it also takes the 'urgh' out of cleaning up afterwards. Check out our handy list for kids' placemats you'll wonder how you ever did without.
In no particular order, here are 12 kids' placemats other mums are raving about:
Kiin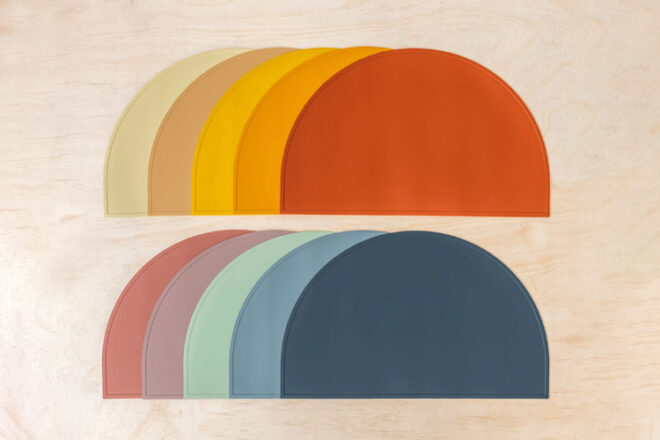 Available in a rainbow of colours, Kiin placemats are generously sized to be perfect for all kinds of messy kids' activities. They are made using 100% food-grade silicone which is completely water-repellant, bacteria-resistant, allergy-friendly and quick to dry.
---
Bright Star Kids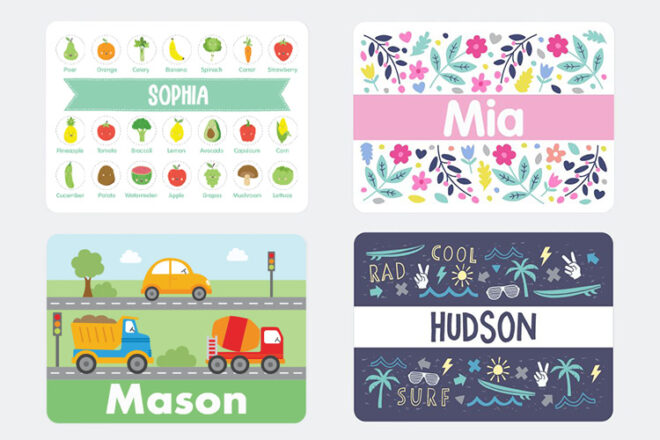 If you want to customise your placemats for the little people in your life, look no further. Bright Star Kids placemats come in a gigantic range of designs to suit every little foodie. They each have a durable wooden backing, scratch-proof surface and round corners.
---
Montessori Mates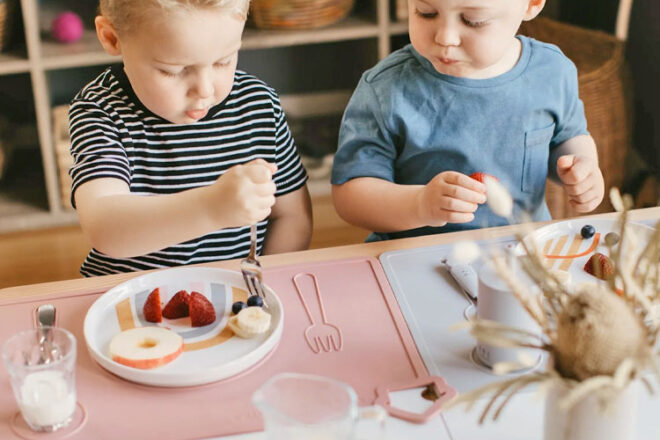 Designed to promote the development of independence and self-confidence, Montessori Mates Silicone Placemats are the perfect mealtime addition. Easy to wipe down and available in a rainbow of colours, we love that you can save time by popping them in the dishwasher to clean.
---
Hey Doodle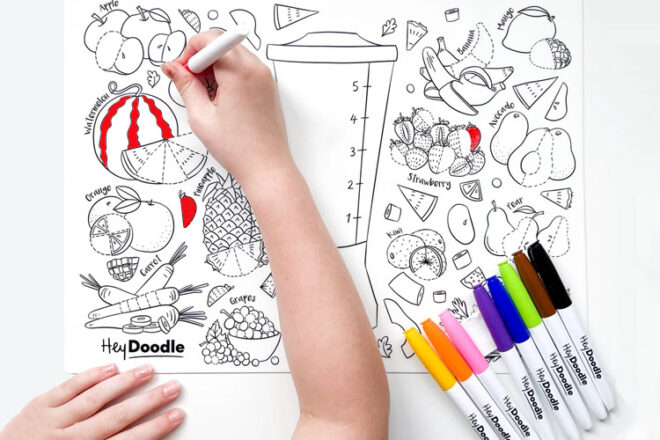 Colour in, wipe clean, repeat. Eco-consciously designed to be reused again and again, Hey Doodle's thick colouring placemats are the answer to keeping creative kids entertained at the dinner table. Choose from regular mats or mini mats for smaller artists.
---
Spatz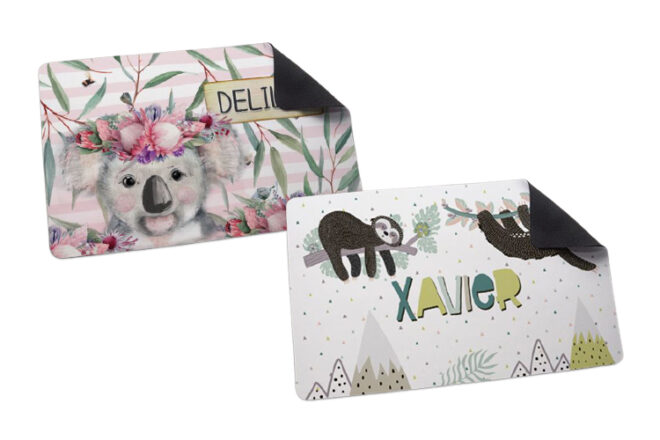 Illustrated and printed here in Australia, Spatz placemats are the ultimate mealtime accessory. They're a cinch to wipe clean and come with a very handy non-slip backing that helps keep dinner firmly where it belongs. Personalised with a name or special message.
---
OYOY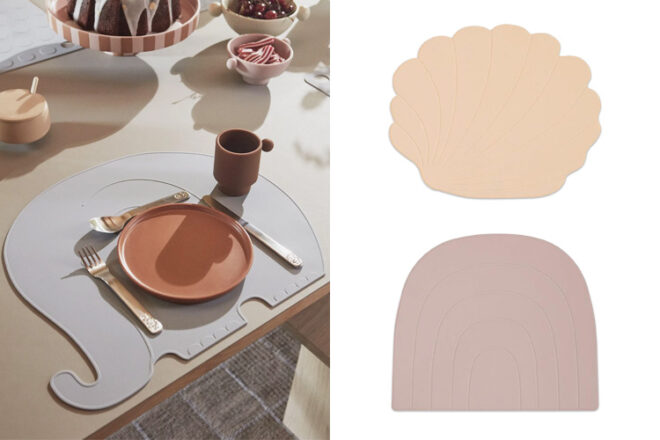 We're swooning in a big way over these playful Scandi numbers. Made using 100%  silicone, they're simple to clean and large enough to accommodate all of the kids' tableware, including a cup. From shells to elephants, these bring something extra special to mealtimes.
---
BARE & BOHO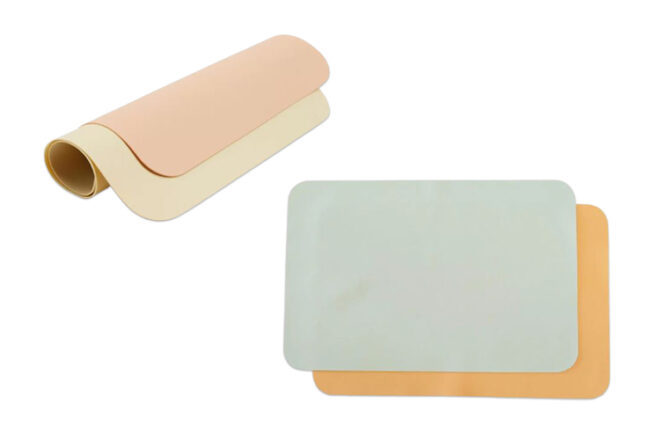 Timeless and durable, these practical placemats get a big tick from us for their versatility. They use 100% food-grade silicone and come in sets of two in a choice of colour schemes. They're also microwave, freezer and dishwasher-safe. That's handy.
---
We Might Be Tiny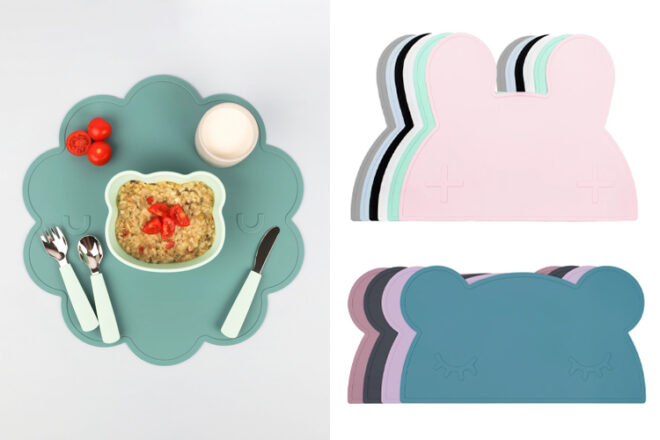 Available in a choice of adorable minimalist designs, We Might Be Tiny award-winning Placies not only look sensational on the table but also save your sanity when it comes to spills. Made with toxic-free silicone, they're oversized, durable and dishwasher safe.
---
Stuck On You
Designed and customised here in Australia, Stuck On You placemats bring extra sweetness to mealtimes while helping keep the mess contained. They use non-toxic silicone that's simple to wipe down and they're customisable with up to 15 characters.
---
Mushie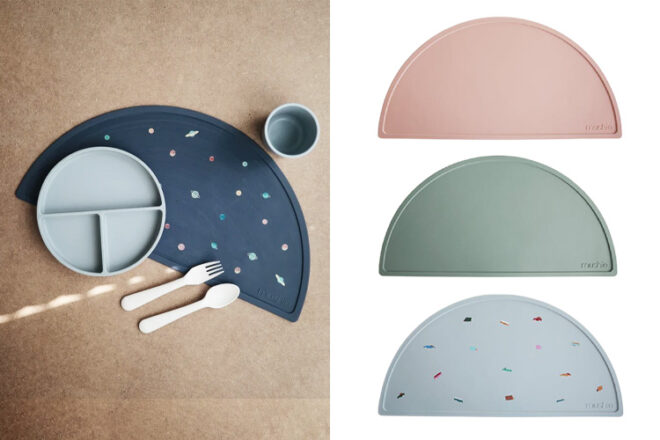 These beautiful Swedish-designed tabletop accessories are made of stain-resistant silicone and completely free of nasties like BPA and phthalates. They come in 14 exquisite options, from muted tones to playful prints. We can't choose!
---
Green Sprouts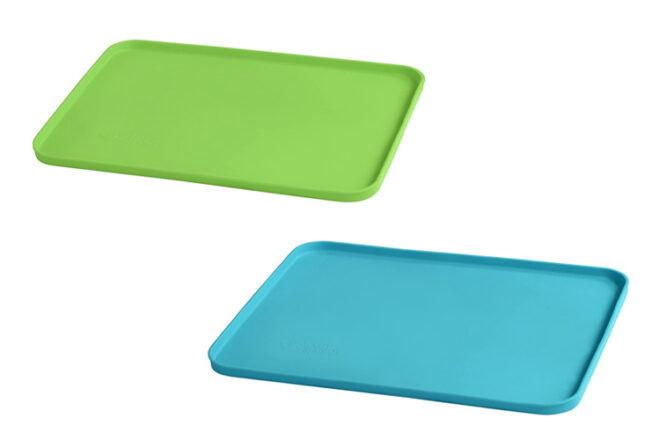 With genius raised edges that keep food on the mat and not the floor, the Green Sprouts silicone placemat is spacious and highly versatile. Use it for lunch, then wipe it clean and enjoy it as a dedicated art mat. It's slip-resistant and petroleum-free.
---
Sweet Me Up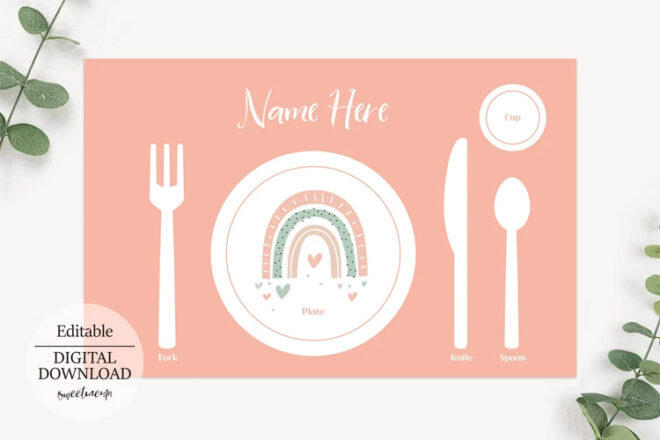 Here's a budget-friendly option that not only makes an adorable place setting for little ones but also teaches them the proper position of cutlery. There are nine downloadable designs to select from and each is customisable with your child's name.
---
Are kids' placemats necessary?
Unlike the high chair, placemats for kids aren't an absolute essential, but they sure are a sanity saver. Kids are messy eaters in the early years and a placemat protects tables and keeps fallen food in one spot for quick and easy clean-ups.
What are some alternative uses for placemats?
Placemats definitely aren't reserved for mealtimes. Use them as a base for playdough creations, sticky craft projects, even drawing and writing to protect tabletops and contain materials.
What type of placemat is best for kids?
The best kids' placemat is one that's easy to clean, made of non-toxic materials and big enough that it captures most spills and splats. A raised edge, or lip, is particularly handy for feeding bubs and young tots who are new to the food game. And don't forget, a placemat should also be fun and lovely to look at – because mealtimes are supposed to be enjoyed.
---
This article is curated by our Editors and includes affiliates and/or paid inclusions. See our Disclosure Policy.
Know some placemats we should add to our list? Contact us and let us know.
Read these roundups next …
If you're looking for more mealtimes helpers for bubs, tots and kids, you're in the right spot. From sippy cups to icy pole moulds, we list the most coveted boutique brands in Australia.
Read this: 5 fuss-free ways to up your family's veggie intake
Continue your search for the best kids' placemats
Looking for placemats for your little ones and still not sure if these are right for you? Join one of the Mum's Grapevine Baby Groups and ask thousands of other mums what they recommend. They are grouped together by baby's birth date so everyone is going through the same stages at the same time.
Click here >> Mum's Grapevine Facebook Groups  << and find your group today!