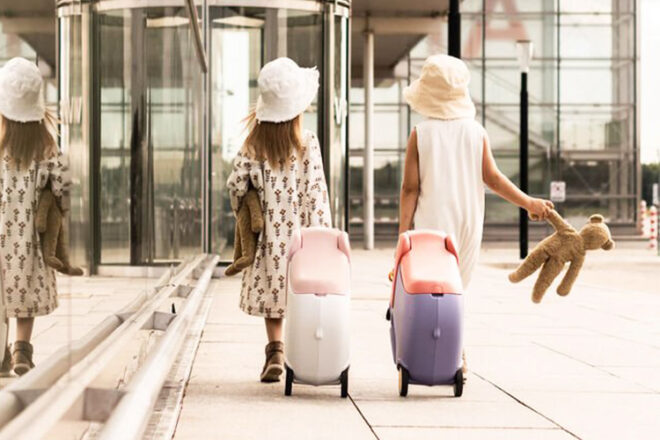 Whether vacays involve jetting overseas or pitching a tent on the coast, kids' suitcases make family travels smoother for everyone – because it's not just the destination that matters, but how you get there.
Kids' suitcases are compact and lightweight pieces of luggage, perfectly sized for storing treasures while travelling. From zippy wheelie bags to ride-on cases that wow, kids' luggage is designed to be easy for little ones to pack and carry themselves all by themselves. And that's a mighty big win.
To help you find the right luggage for your little jet setter, we've travelled the lands and put Australia's best options in one handy spot for you.
Types of kids' suitcases: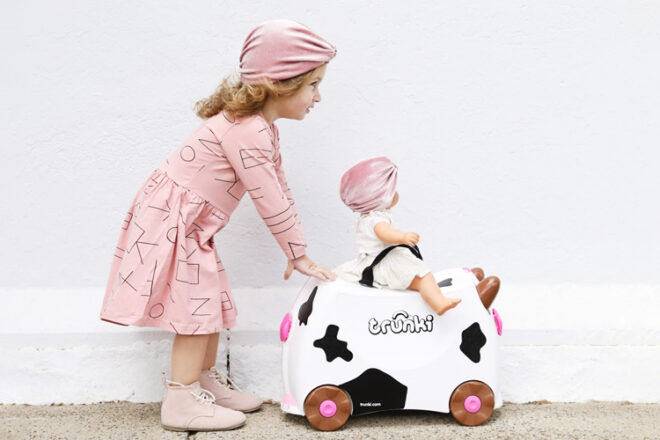 Wheelie bags are equipped with up to four wheels on the base and a retractable handle that makes cruising through airports smooth and easy. Many are small enough to qualify as cabin luggage.
Ride-on luggage comes with robust wheels on the base and a comfortable saddle for little ones to sit in. Kids can either propel themselves along with their feet or have a parent pull them with an included strap or handle.

9 fun kids' suitcases available in Australia
Keep belongings safely packed and ensure the kids travel in style with a supercool suitcase just for them.
In no particular order, here are 9 kids' suitcases for family travel:
Adairs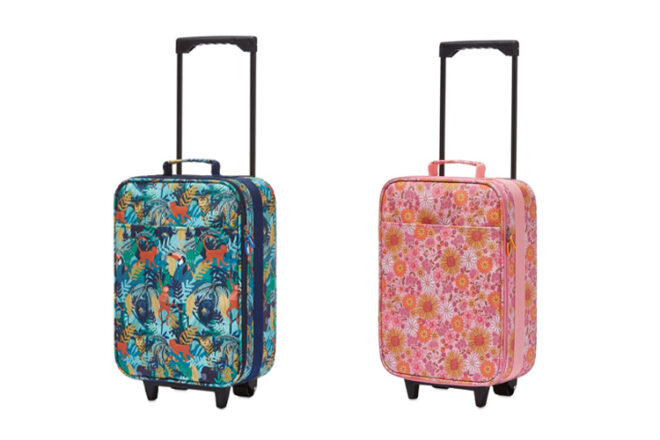 Available in a choice of Jungle Fun or Floral Dreams, these classic wheelie bags make the perfect companions for adventures big or small. Each is made using weather-resistant materials and features smooth wheels, a roomy interior and an easy-grip handle.
---
Olli Ella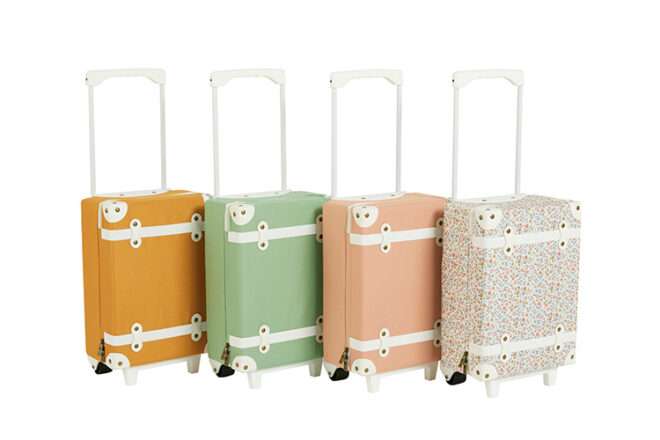 Retro vibes meet modern convenience in this spectacular children's suitcase from Olli Ella. Available in four stunning colourways, they have retractable handles, two wheels, an internal zip compartment and a built-in elastic band for holding Teddy. Too cute.
---
Skip Hop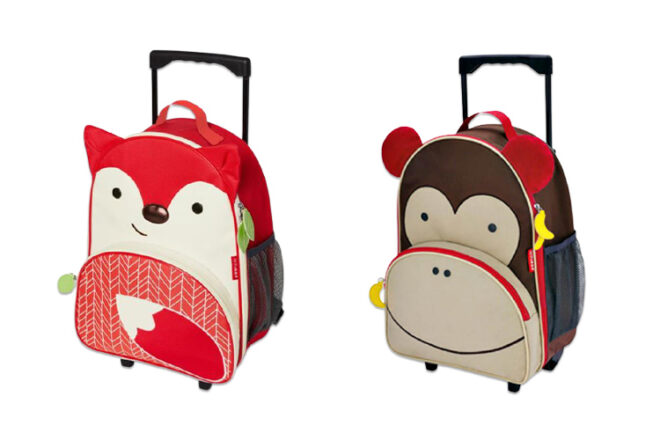 If your littles are particularly enamoured of their Zoo Lunchies, they'll love these larger instalments. Well-sized for overnight stays or short trips, they come with a mesh divider for easy organisation, a front zip pocket, matching zipper pulls and a retracting handle.
---
Penny Scallan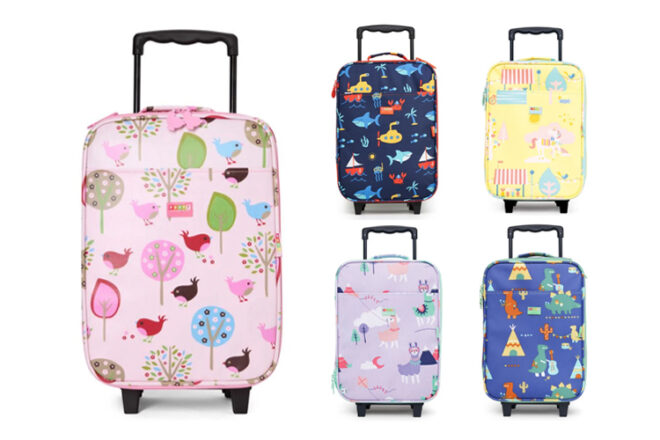 Spacious, easy to clean and pretty as a picture, Penny Scallan suitcases stand out in the crowd. Made using premium 100% cotton canvas with a water-resistant coating, they have one large central compartment, fun zipper pulls and personality in spades.
---
Trunki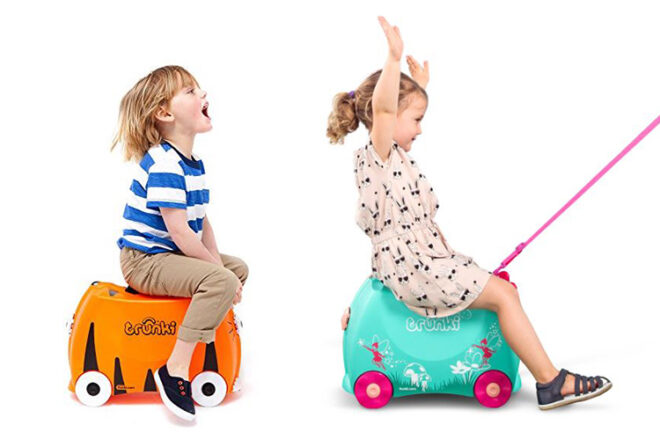 Innovative, practical and seriously fun, Trunki ride-on suitcases are more than just luggage – they're travel companions. Each of the adorable styles features secret compartments, an internal pouch, carry handles and a parent strap for pulling littlies along.
---
Samsonite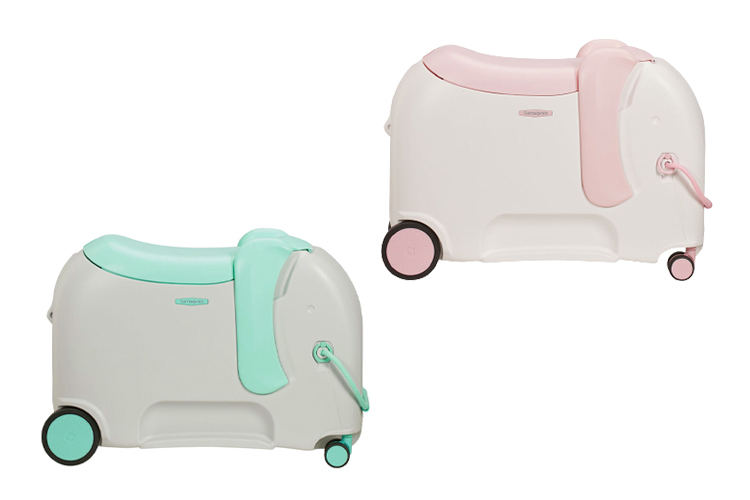 Dream by name, dreamy by nature. Made by experts in luggage, these contemporary kiddie ride-ons tick all the boxes for convenient travelling: ergonomic straps, interior cross ribbons, a retractable handle and four wheels for a rolling good time.
---
Zinc Flyte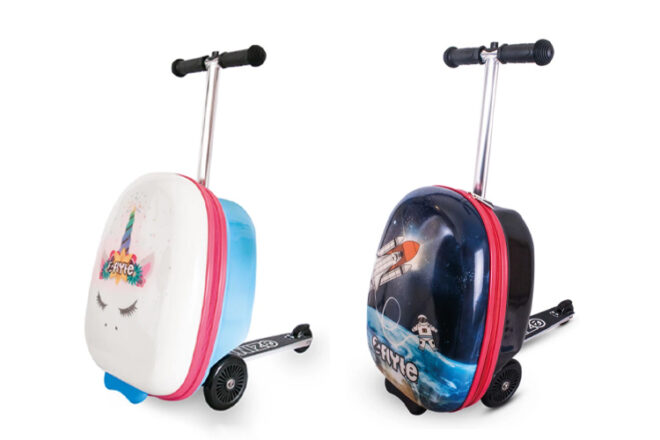 Why walk when you can scoot? The adaptable Zinc Flyte works as a 25-litre suitcase, pull-along trolley and as a zippy children's scooter. Cabin-sized, it comes in nine brilliant designs and features a splash-proof exterior, stable steering system and room for everything.
---
Micro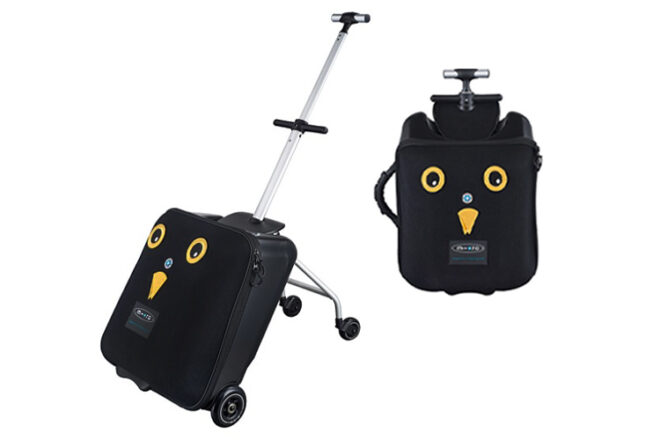 Equal parts functional and fun, Micro ride-on luggage is an innovation in family travel. The push of an ergonomic button extends the legs and transforms the compact bag into a ride-on suitcase, giving kids a comfy spot to rest while on the move.
---
Stephen Joseph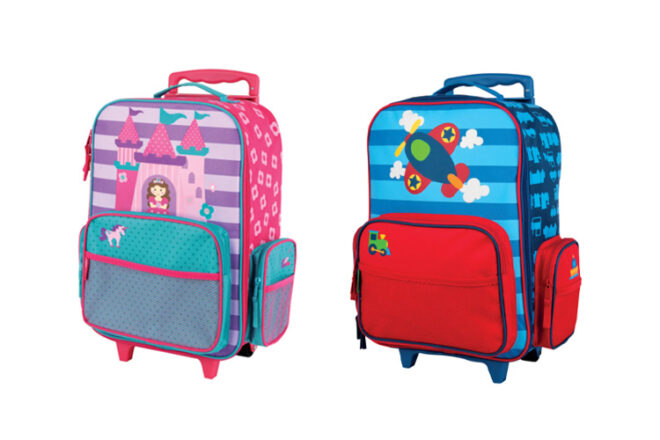 In sweet themes and bright colours, these will be a cinch to spot on the luggage carrousel. Chemical-free and expertly made to go the distance, they have extendable handles, handy pockets for keeping treasures organised and they fit in overhead compartments.
---
This article is curated by our Editors and includes affiliates and/or paid inclusions. See our Disclosure Policy.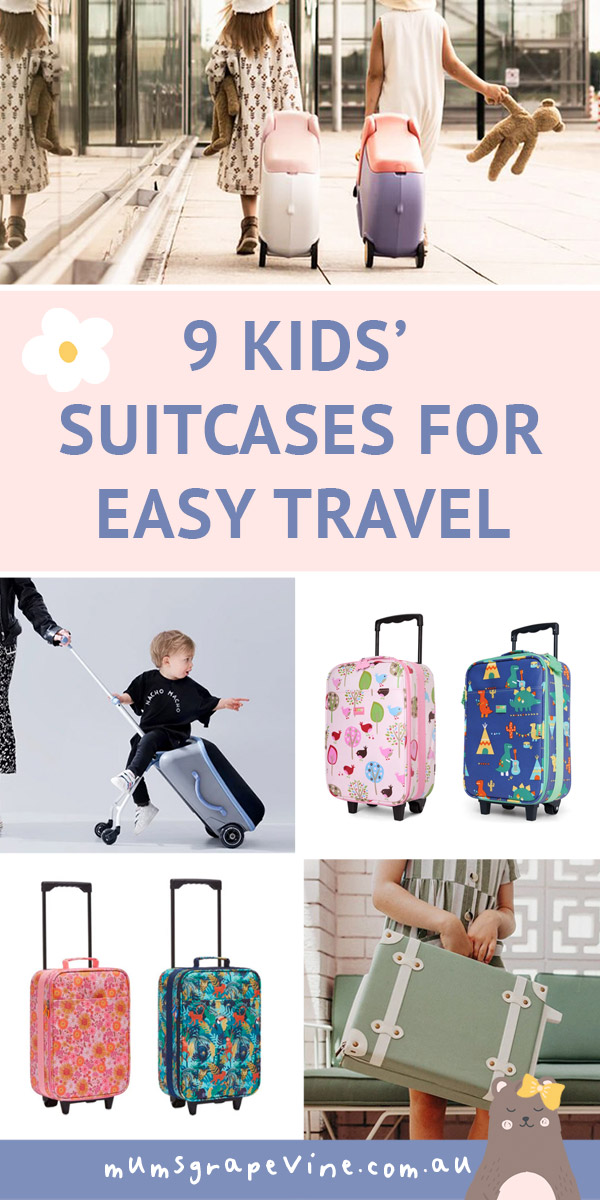 Know a fab mini suitcase we should add to our list? Contact us and let us know.
Read these roundups next …
If you're after more must-haves for travels with little ones, you're in the right spot. From nappy wallets to travel prams, our roundups include Australia's most coveted products, including the ones you don't know about!
Read this: Helpful tips for flying with babies