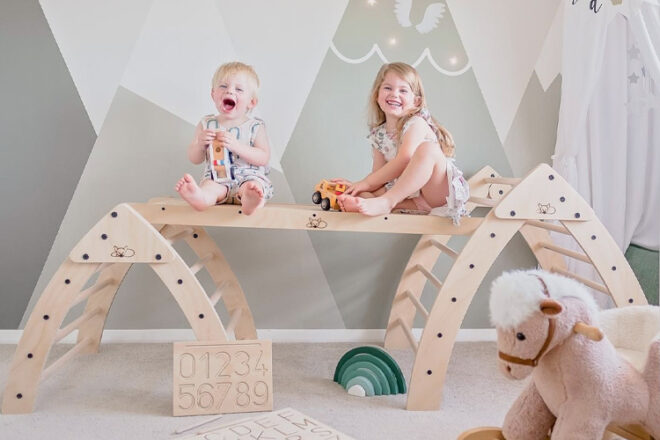 A Pikler triangle is a triangular climbing frame with rungs that babies as young as six months can enjoy for open-ended play. Available in lots of shapes and sizes, it's the buzz toy that has everybody talking.
While many link Pikler triangles to Montessori equipment, it was actually created by Hungarian paediatrician Dr Emmi Pikler more than a century ago to help little adventurers crawl and climb their way through developmental milestones. Some styles are suitable for outdoor use, others are best used on top of a baby play mat inside the house.
Keep reading to find out what you should consider when you're looking to buy one for your toddler and discover a selection of the top brands in Australia.
What to look for when buying a Pikler Triangle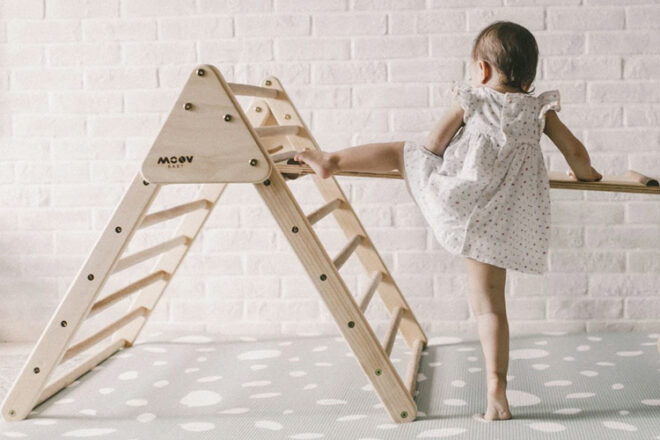 There are lots of Pikler triangle variations in Australia, some are bigger, some smaller and some have special features. Here are some of the key things to look for when shopping around:
Safety: While there are no mandatory safety standards for Pikler triangles in Australia, some companies are voluntary meeting the Australian Standards for Playground Equipment & Surfacing and Safety of Toys.
Age appropriateness: The advice is to be guided by your child's own developmental stage. However, most triangles come with a recommended age range.
Folding frame: A unit that folds is easy to pack away and store, which is handy if you don't have much space.
Size: This depends on your child's age, and also how much room you have available. Mini Pikler Triangles are perfect for babies trying to learn to stand.
Weight limit: Most Pikler Triangle climbing frames have a hefty weight limit that will take the weight of a couple of babies or toddlers.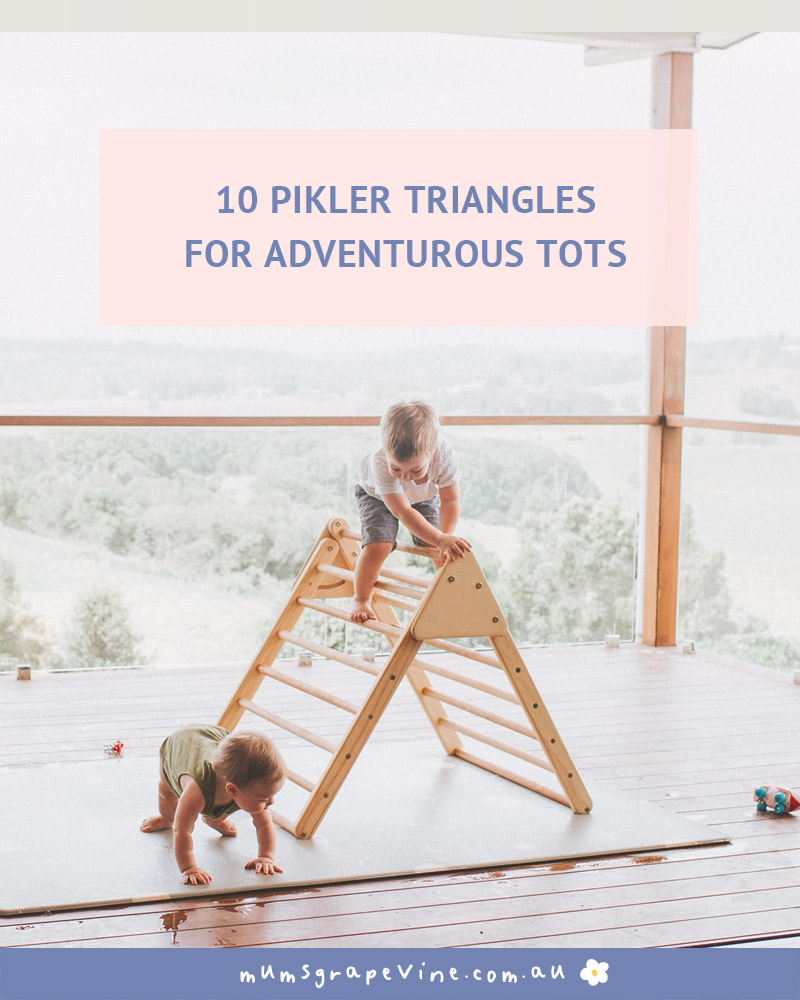 10 Pikler triangles available in Australia
To help you find the right climbing frame for your active baby or toddler, we've compiled this handy list of brands available in Australia.
In no particular order, here are 10 Pikler triangles for tiny explorers:
Hubby Made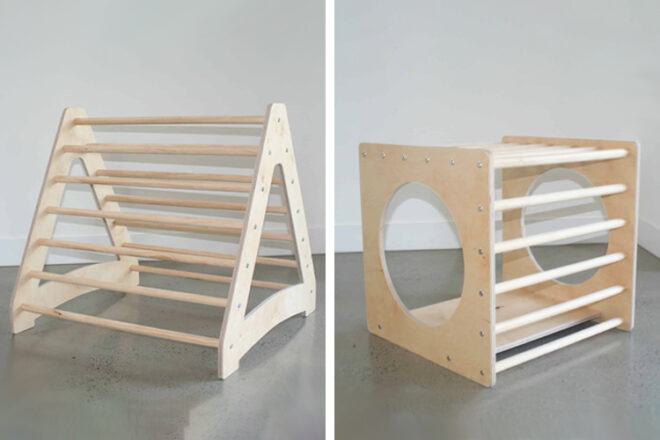 Designed to grow with children as their gross motor skills develop, Hubby Made climbing frames come in various heights, shapes and sizes. Choose from beautifully handcrafted wooden triangles, cubes, ladders and slides for the ultimate fort, cubby or castle.
Foldable options: No
Add ons: Slippy slide, ladder, cube
Assembly required? Yes
Age recommendation: 6 months – 5 years

---
Fox Wood Co.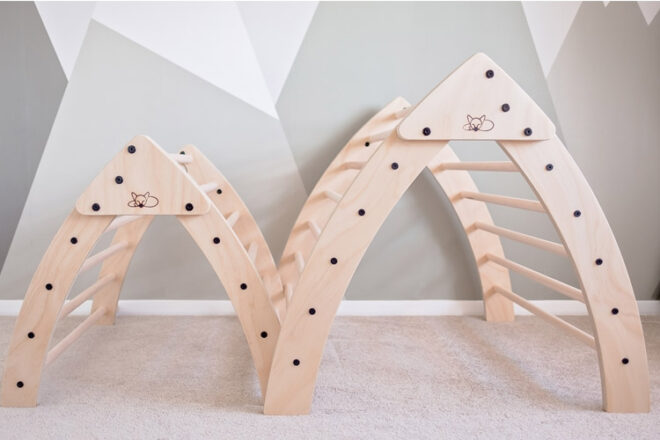 Made with love in Australia from sustainable materials, the Fox Wood Co. range includes foldable and regular arches in sizes for all ages. Each is suitable for indoor or outdoor use and can be partnered with slides and ladders for next-level challenges.
Foldable options: Yes
Add ons: Shape-sorter cube, slide and marble run, ladder, wobble rocker
Assembly required? Yes
Age recommendation: From 6 months
---
Hip Kids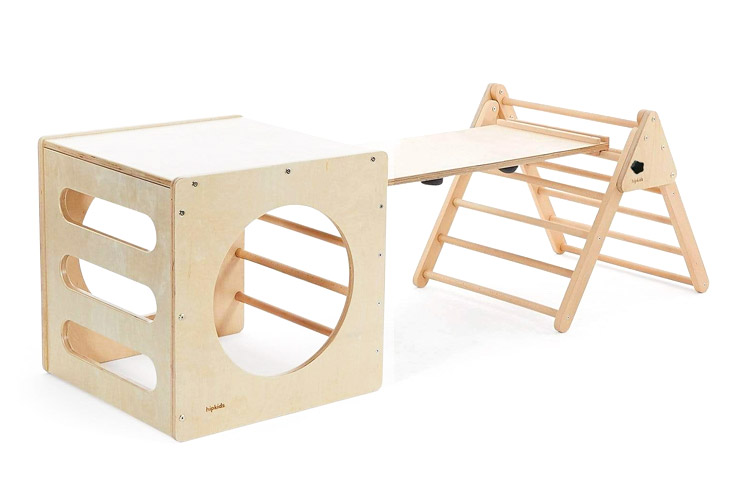 With optional add-ons that include rock walls and rockers, the Hip Kids Play Triangle keeps little climbers active for hours. It's made using premium birch plywood, finished with quality varnish and helps strengthen little limbs while keeping boredom at bay.
Foldable options: No
Add ons: Cube, rock wall & slide and rocking boat/stepper
Assembly required? Yes
Age recommendation: From 18 months
---
Nimble Kids

From shape-sorting styles to rainbow dowels, Nimble Kids' Pikler range offers little explorers a safe place to climb and adventures-a-plenty. Each frame is made with sustainably sourced Australian hoop pine and comes either semi or fully assembled out of the box.
Foldable options: Yes
Add ons: Standard ramps, magnetic whiteboard
Assembly required? Some assembly required for the Small Pikler & Shape Sorter
Age recommendation: 6 months – 6 years
---
Jenjo Games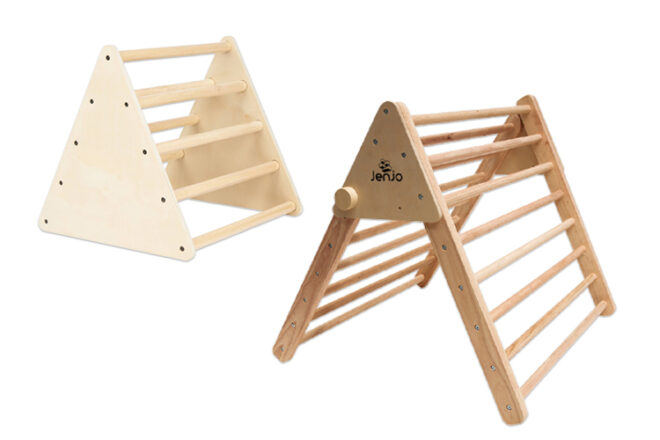 Available in a choice of two sizes to cover all ages, the Jenjo ClimbA inspires active exploration from as young as six months of age. It uses premium varnished hardwood for maximum longevity and strength and comes with a hex key for simple assembly.
Foldable options: No
Add ons: Cube, seesaw, arch, ladder and rock climbing frame
Assembly required? Yes
Age recommendation: From 6 months (ClimbA Mini), from 3 years (ClimbA)
---
Little Nation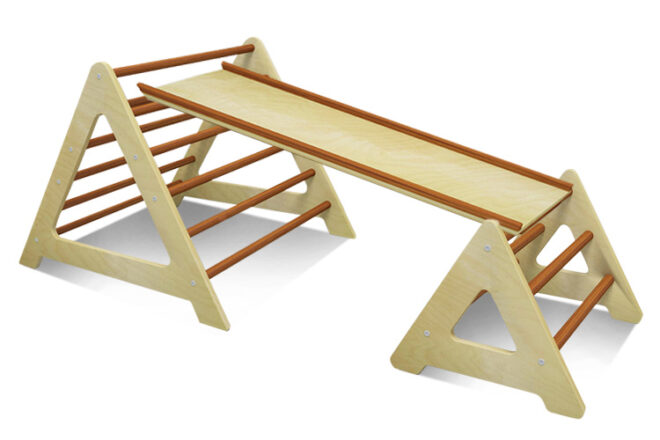 Made using premium polished birchwood plywood and solid beechwood, this complete Pikler set stands up to years of toddler adventures. Simple to assemble and collapsible for storage, it's sold with two triangles and a matching ramp.
Foldable: No
Add ons: 2 triangles and a slide included in the set
Assembly required? Yes
Age recommendation: 6 months – 7 years
---
Tinnitots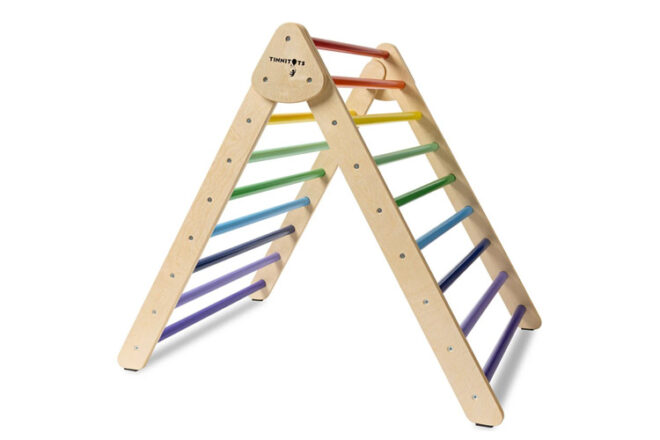 Specially crafted using premium birch wood, the Tinnitots play triangle offers tots years of active play. Easily foldable, it comes with grip pads and non-toxic rainbow dowels and it meets Australian and New Zealand standards AS /NZS ISO 8124.
Foldable: Yes
Add ons: 2-in-1 climber slider, wooden net
Assembly required? Yes
Age recommendation: From 7 months

---
MOOV Baby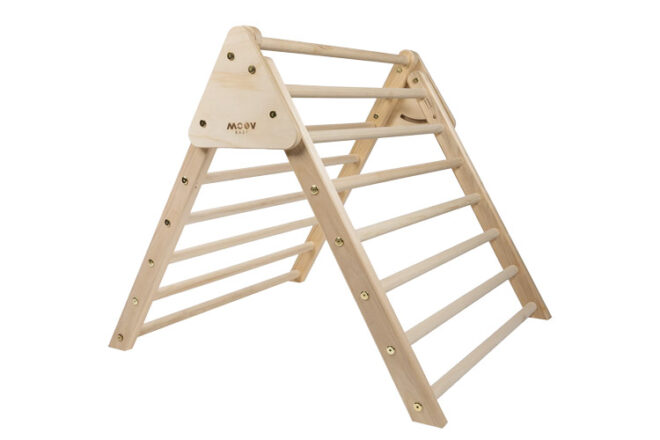 Handcrafted from sustainably sourced hoop pine dowels, MOOV Baby Folding Triangles are built to last and simple to store. They're suitable for indoor or outdoor use and are proudly assessed and certified to meet Australian Standards AS4685 and AS8124:6.
Foldable: Yes
Add ons: Rock climbing ramp, climbing ladder, play cube, rocking boat
Assembly required? Yes
Age recommendation: From 6 months

---
My Happy Helpers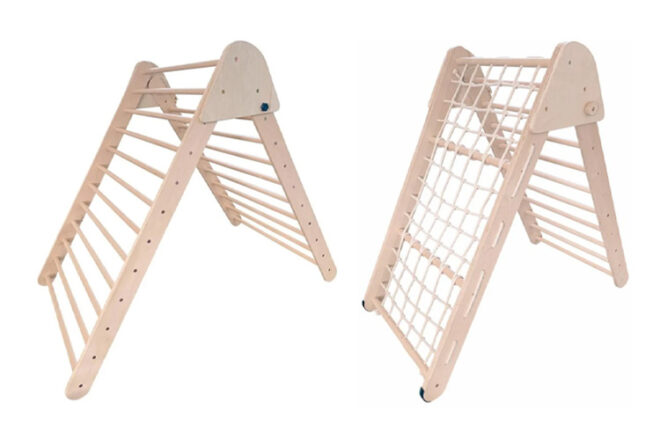 Lightweight and stable, My Happy Helpers climbing frames inspire little adventurers to reach new heights. They use hardwearing birch and come in assorted heights for kids of all ages. Each meets the Australian and New Zealand standards AS8124: 1, 2, 3 and 6.
Foldable options: Yes
Add ons: Blackboard, scramble net, cube and boat rocker
Assembly required? Yes
Age recommendation: From 6 months
---
The Wooden Toy Co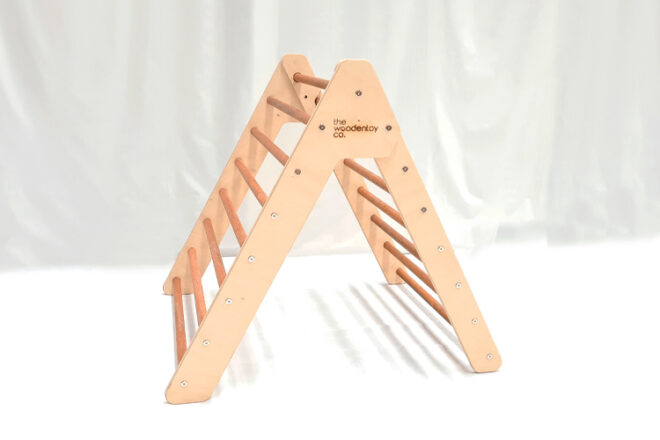 Built tough from structural birch plywood and 25mm Merbau dowels, this versatile range includes small and large triangles in both fixed and folding options. Each Pikler and add-on piece is suitable for outdoor play and meets Australian safety standards.
Foldable options: Yes
Add ons: Cube, climbing ramp
Assembly required? Yes
---
Are Pikler triangles safe for babies?
Provided play triangles are structurally sound, suitable for your child's age and used under direct adult supervision at all times, they can be enjoyed safely.
What are the benefits of a Pikler triangle?
Play triangles are known to work wonders for the physical and cognitive development of babies, tots and kids. They strengthen muscles, improve children's spatial awareness and get little bodies moving at their own pace. And by facilitating lots of open-ended play, young imaginations are given the freedom to thrive. It's little wonder the Montessori community loves this minimalist climbing frame.
What are some of the add-ons for a Pikler play triangle?
Optional extras that can be added to a triangle vary between brands but often include ramps, rock walls, slides and smaller frames. These add versatility to the equipment and help extend play as children grow and become more confident.
---
This article is lovingly curated by our Editors and includes affiliates and/or paid inclusions. See our Disclosure Policy.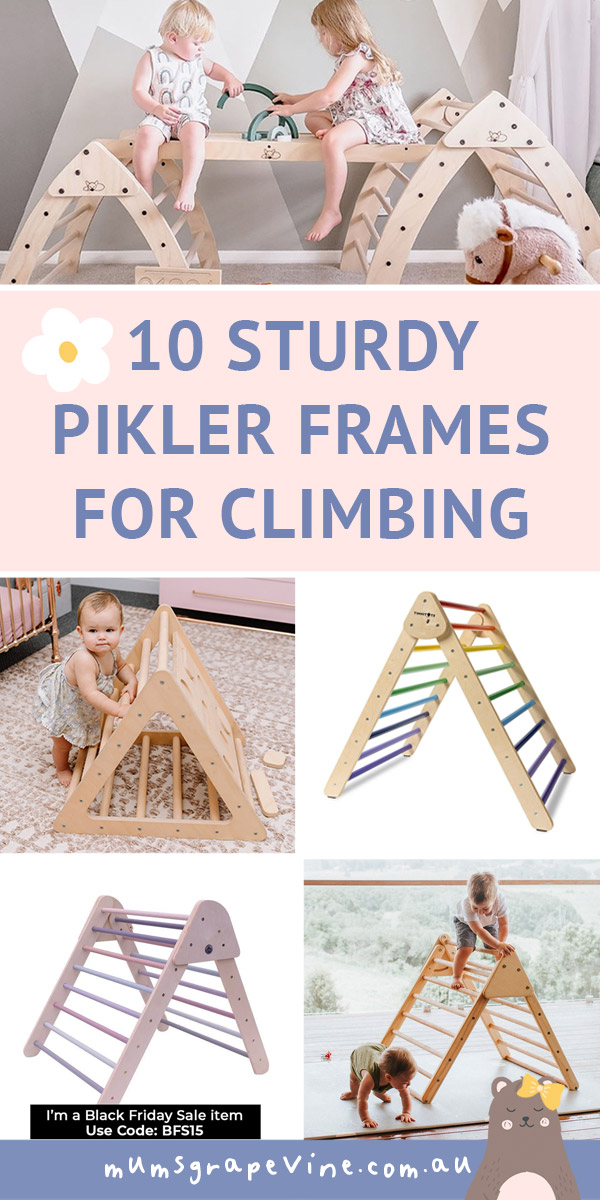 Know a Pikler we should add to our list? Contact us and let us know.
Read these roundups next …
If you're after more must-haves for playtime, you're in the right spot. From teepees to bicycles, our roundups include Australia's most coveted products, including the ones you don't know about!
Read this: 20 fun games to build gross motor skills
Continue your search for the best Pikler triangle
Looking for a baby climbing frame and still not sure if any of these are right for you? Continue your search online by jumping into one of the Mum's Grapevine Facebook Baby Groups and ask thousands of other Australian mums what they recommend.
Click and join your group today!