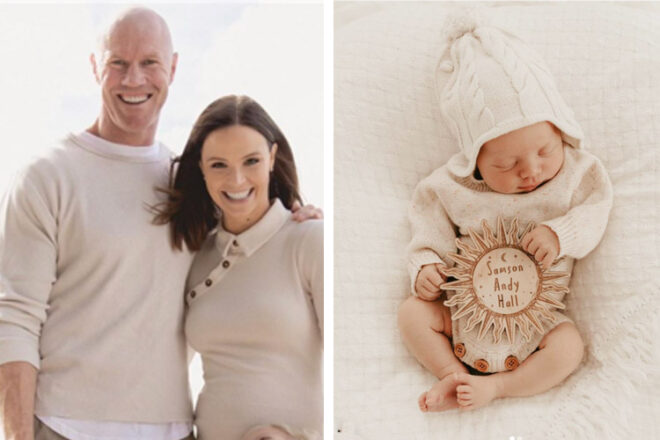 Influencer and children's entertainer, Lauren Brant, has welcomed her third son with former AFL Player Barry Hall.
☀️🧡 Samson Andy Hall 🧡☀️
Our beautiful baby boy arrived Earth Side 26/10/2021, at 6.18am as a perfect 3.535kg & 51cm bundle 🌻
We have been in a complete love bubble of newborn smells, noises, kisses and cuddles.
Miller & Houston are besotted with their baby brother and our hearts are just SO full.
Thank you for your well-wishes, love & support while we took some time off the grid…and now be prepared for lots of baby squish on your feed 😉
View this post on Instagram
Lauren shared an adorable image of baby Samson, along with a text graphic explaining why they chose his name.
"This baby boy gave us strength to appreciate, respect and surrender to both the gift and impermanence of life," she shared.
"We were blessed with him a few days before our beautiful Sandra passed. He was the 'light' through our grief," she explained, referring to the tragic death of her sister-in-law in February this year.
"In choosing a 'name' we wanted to honour our son's special connection to Sandy. We experienced a deeply spiritual week of strong messages from her through symbols of sunshine & sunflowers that were being told to us via Miller & Houston," she explained.
"The meaning & origin of Samson is 'sun' and Biblically, he was endowed with strength.
"Samson's middle name is 'Andy', which is in honour of his Daddy, who's middle name is 'Andrew'. A special little touch – when written with his first initial reads: S.Andy."
"My Nephew also reminded us that the place we spent our last family holiday together was at Mt Samson."
"Samson Andy Hall, our darling third son, is just as beautiful, strong and special as his name is. We are so in love."
Lauren Brant and Barry Hall's bittersweet baby joy
Television personality Lauren Brant and her ex-AFL footballer beau Barry Hall have had a bittersweet, but beautiful, 2021. The couple secretly married in February, just two weeks before Lauren's sister-in-law passed away from cancer. The newlyweds then announced they were expecting their third baby.
In a series of Instagram posts, Lauren detailed the heartbreak and pure joy the couple has experienced over the past few months. The pair tied the knot earlier this year, as their sister-in-law Sandra battled bowel cancer. "In amidst the twilight of heartache, hopelessness and suffering," Lauren wrote on Instagram, "We found the purest joy, a transformational discovery. Barry and I married, completely engulfed in [nothing but] LOVE. A moment so true, time stood still – souls together, silently understanding that LOVE is transcendental.
"That it is all that matters and all we have. From this place – our marriage will be lead and cherished. May our Angel Sandra, rest in peace – as we always remember her joy in celebrating us – as the Maid of Honour."
View this post on Instagram
The former Hi-5 star also revealed the universe bought them yet another gift. "We have always put faith in our stars aligning and surrendered to the timing of the universe. Welcoming the newest Master Hall, October 2021. The world needs more confident, kind, empathetic, beautiful men and we believe that's why we have been blessed with a third to guide and love unconditionally."
The new bub will be a little brother for two-year-old Houston and four-year-old Miller. Lauren says while the past few months have been difficult, she's happy and excited about life, and will continue spreading awareness of bowel cancer.
"I believe by realising what good could come of Sandy's suffering – that being 'able to save the lives of others' – making a point of spreading her message successfully and receiving so many well wishes for our marriage and pregnancy, was so beneficial in my healing process.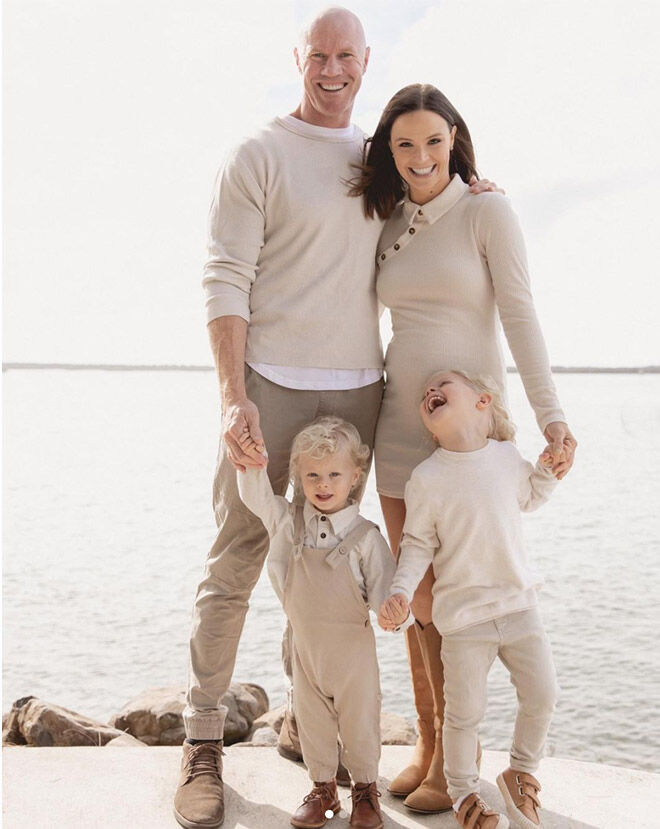 "This absolutely doesn't mean my heart is not broken by the loss of my sister, or that some days will be terribly hard. It means I've truly understood the gift of life and what beauty I have all around me. Sandy will continue to teach us daily.
"I really can't find the words to explain what it's like when your loved one is dying in front of you, and you know that you nor anyone else, can do a thing to save them. With no hope – there was no sense of time, space or physicality. Nothing materialistic mattered, we merely functioned – but all in an extremely vulnerable and fragile state with our hearts right open and all our emotion on our sleeves."
Lauren says it wasn't a conscious decision to keep their marriage and pregnancy a secret. "Nothing was planned, it just happened in pure surrender. This was true to Barry and my story too. When our beautiful Sandy passed, it was onto the funeral and then our stagnant 'new version of reality.' From that day – we coped, in unfamiliar territory … and that was it!
"We had no desire to share anything – I felt that I was emotionally bankrupt and exhausted and couldn't give or take from anyone other than my family. The family held each other. When Tyron (Lauren's brother and Sandy's husband) told us Sandy had asked him to share her message, via our personal story- we said yes without hesitation.
"Today, for the first time since Sandy passed, I feel how any newly-wed and pregnant Mumma should. It's my absolute pleasure to now share with the world, our surreal (tragically perfect) love story."