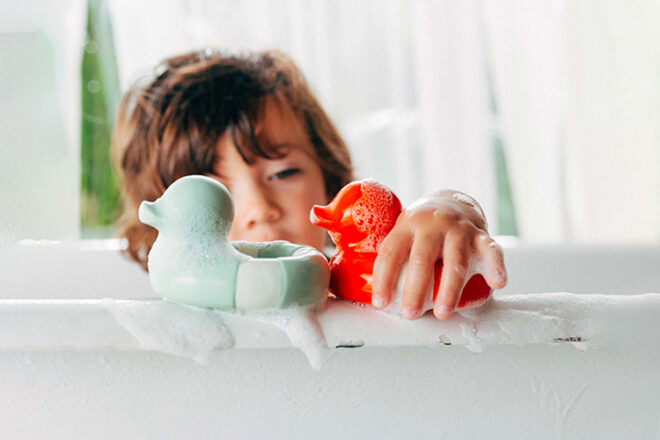 Rub a dub dub, babies and kids love spending time in the tub, and a bubbly bath with their favourite toy is the perfect way to end their day.
Bath toys are specifically designed for water play and entertainment. But not all bath toys are created equal. Some have holes in the bottom and trap water night after night, quickly filling with mould and bacteria. Yuk.
For squeaky clean kids and squeaky clean toys, put the bath toys with holes back on the shelf and opt for one of these sealed and safe alternatives instead.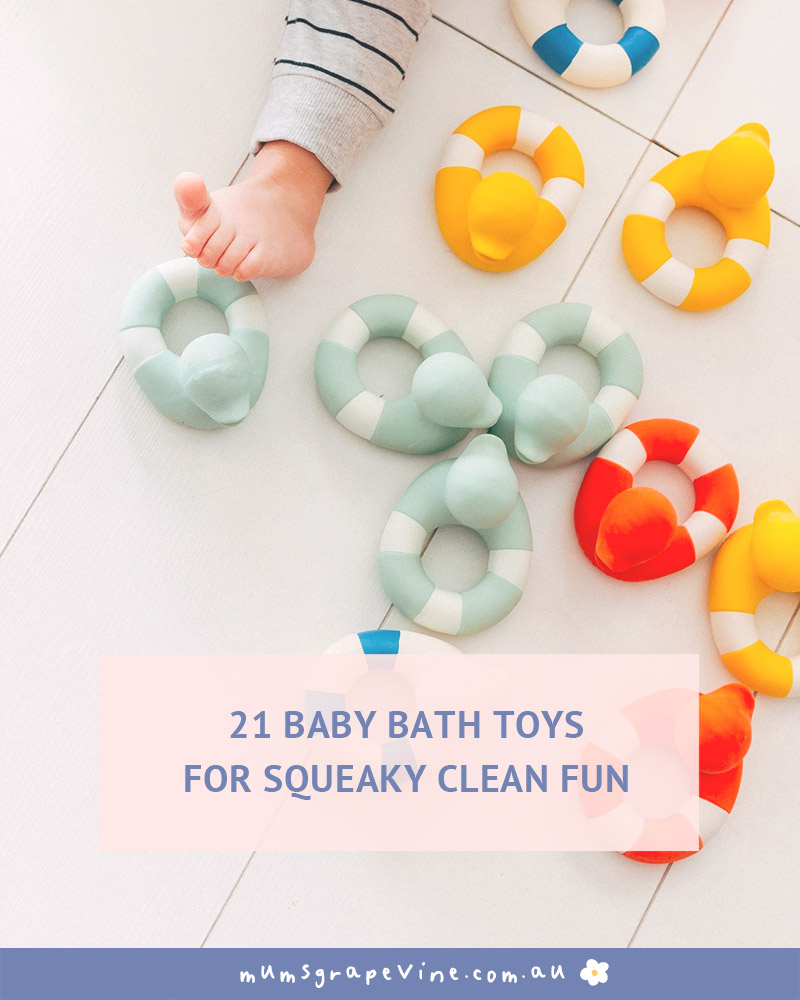 21 fun bath toys for babies and kids
Check out our list of bath toys for splash-happy bubs, all available right here in Australia.
In no particular order, here are 21 bath toys for babies and kids.
Whale to go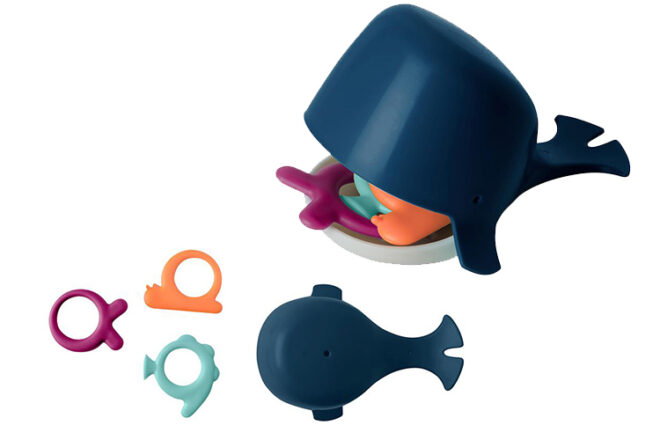 Please feed the animals. Toddlers will have oodles of fun gobbling up sea creatures by gripping the tail fin. With jaws safe for little fingers, this bath toy encourages hand-eye coordination and is made without BPA or PCV.
---
Stacks of fun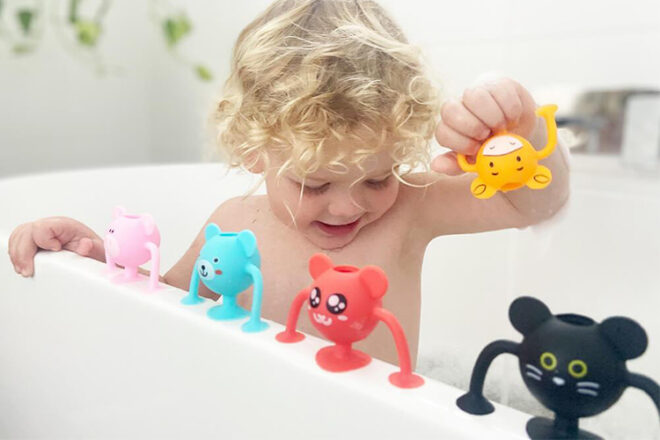 Stick em, stack em, squirt em! Encourage the use of imagination and develop fine motor skills with these fun BPA-free silicone suction z00-critters from Cherub Baby.
---
Aussie animals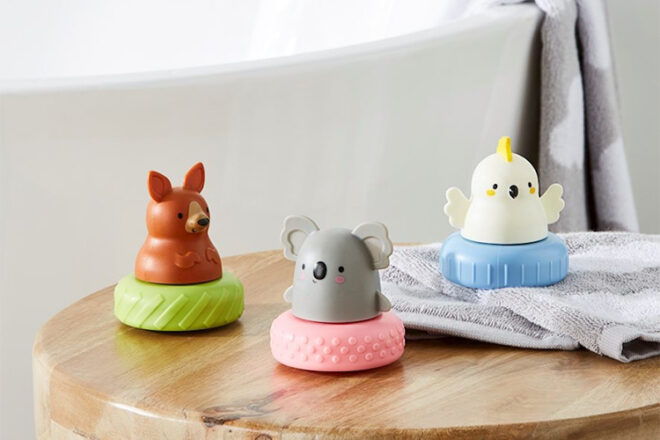 Float, squeeze, sprinkle, mix and match. Join these bobbing Aussie pals on a sensory bathtime adventure. When filled with water, clued-in kids will spot different draining patterns from each tyre. And Mummas, rejoice, they can also go in the dishwasher.
---
Rainball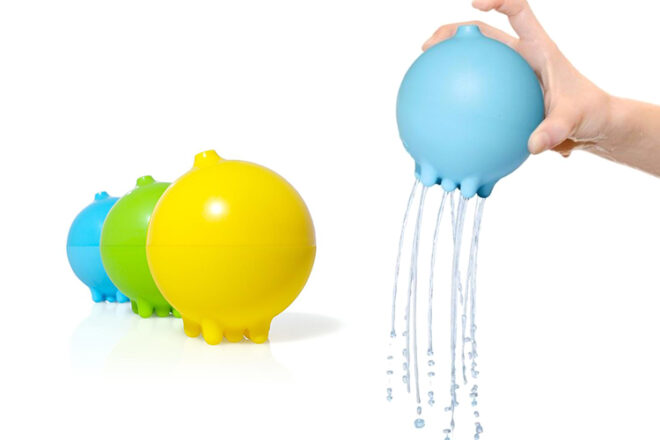 Having a ball whilst learning about physical principles? Now, this is a smart bath toy. A finger seals the water in, and when removed water streams from the tentacles below. Arousing curiosity and imagination, it's made from silicone and is easily cleaned.
---
Bath art

Creative creatures will get a kick out of bath time thanks to the clever bath crayons from Honeysticks. Made from natural beeswax and coloured with food-grade pigments the bright, chunky crayons wash off easily without staining the tub. Winning!
---
Cute critters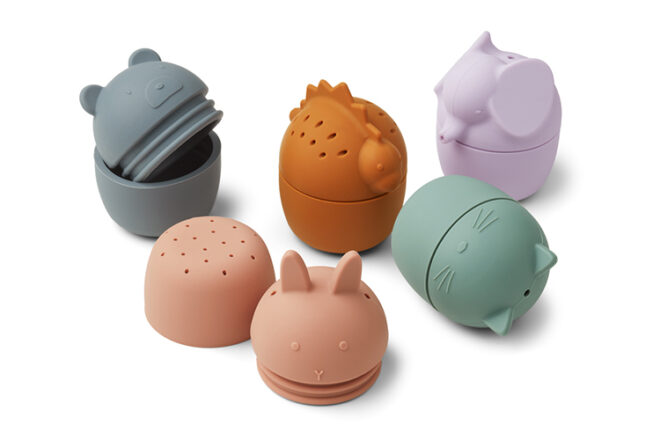 This adorable line-up in new shades will look as good on the side of the bath as they will in it. Made of silicone, they float effortlessly and spray water in different ways. The design has been updated so they can be split apart for easier cleaning.
---
Lift off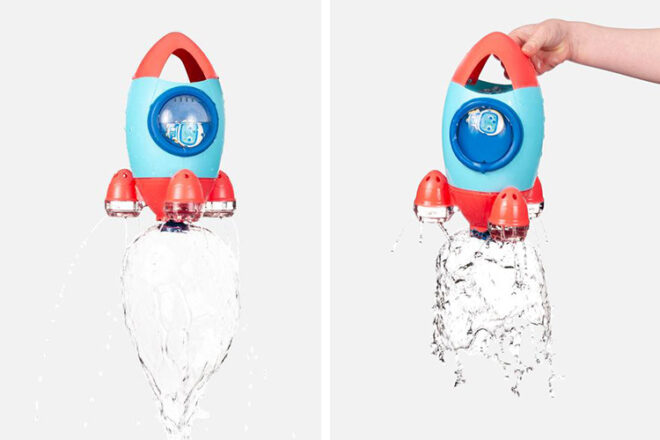 Three, two, one – bath time is ready to blast with this super cool BPA-free rocket. Packed with features, it creates a supersonic dome, has spinning jets and an astronaut they can watch bob in space. Create confidence with the feeling of water over their heads.
---
Cheeky monkey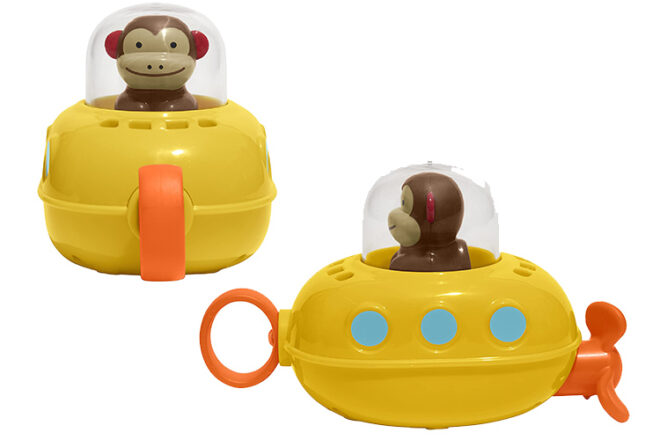 Bring delight to their bath routine with this cheeky monkey. When the string is pulled, the propeller sets the submarine in motion, turning your bath into the coolest ocean around. Great for building motor skills and learning about floating and sinking.
---
Pastel pals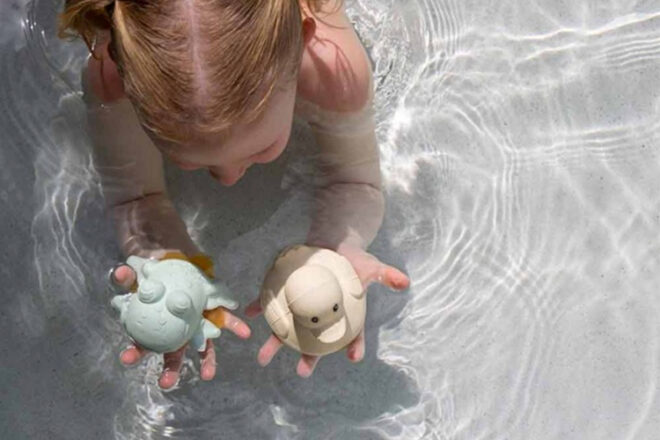 Keep bub's bath free from mould and grime with the all-natural, biodegradable rubber bath toys from Hevea. These sweet darling duos are super soft and tactile to touch without the use of BPA, plastics or PVC (in order words, nasty toxins).
---
Modernist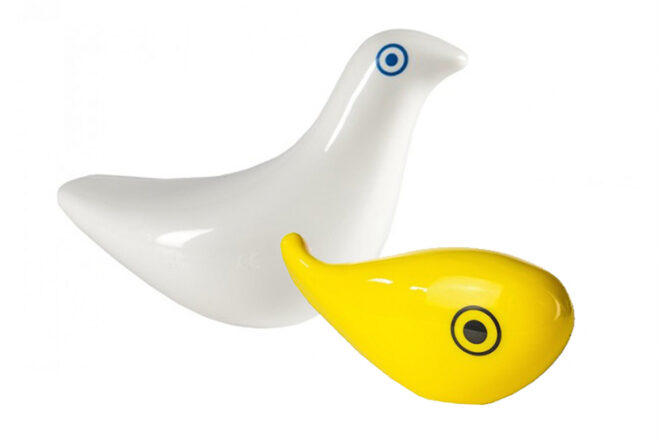 For the minimalist at heart, these modernist friends make bath time fun without taking away from your simple bathroom aesthetic. Beautifully shaped and expert floaters, they were the winner of a Duke of Edinburgh's Design Award in 1970, no less.
---
Ocean animals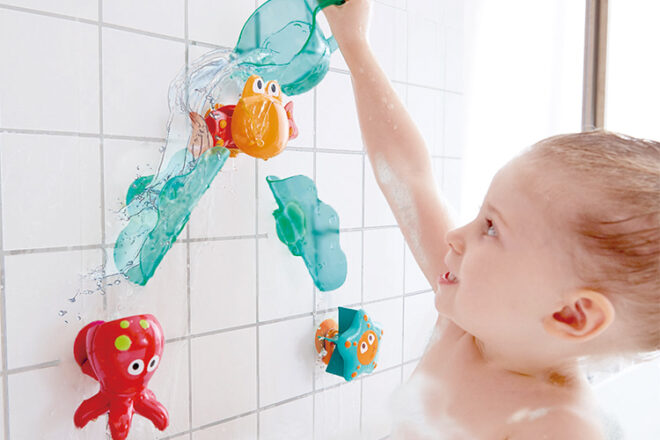 https://prf.hn/click/camref:1011l9zxB/pubref:hape-bath-toy/[p_id:1011l57367]/destination:https%3A%2F%2Fwww.theiconic.com.au%2Focean-cascade-1366899.html" rel="noreferrer sponsored noopener">Hape Ocean Cascade ($49.99)
Turn your bathroom wall into the ocean surf. Attaching with strong suction cups, kids will see that running water makes the animals come to life, dance and spin. We can almost hear the tune of 'Under the Sea'.
---
Gone fishing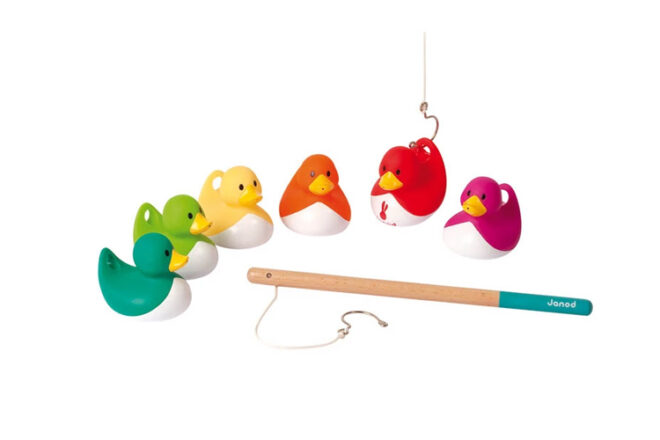 Making the classic rubber ducky even more fun, they can fish to their hearts' content with no less than six quacky pals. Including two fishing rods and a handy storage net, they can be played with either in or out of the bath.
---
Bath bookworms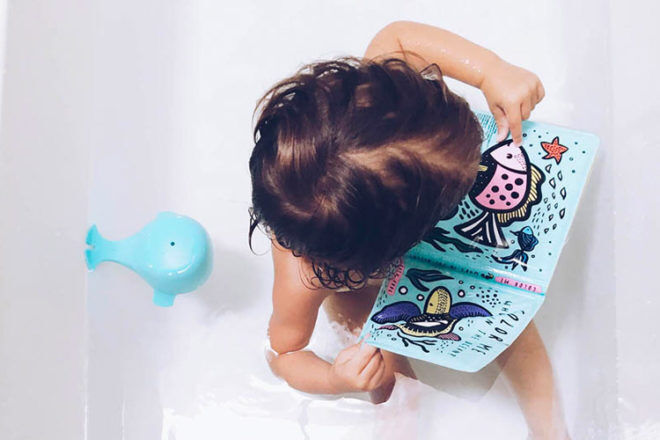 Bookworms and bathtime collide thanks to this super-duper bath book. More than just beautiful illustrations, this high-contrast book changes colour when dipped into the water. Now that's pretty special.
---
Sail with me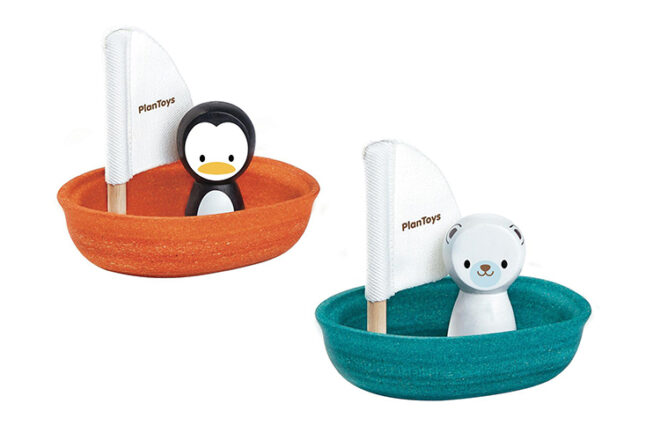 Made sustainably from natural rubberwood trees and safe water-based dyes, these companions are a simple yet sweet addition to their bathtime routine. It's hard to choose between the penguin or the polar bear – so why not get both?
---
Wave your wand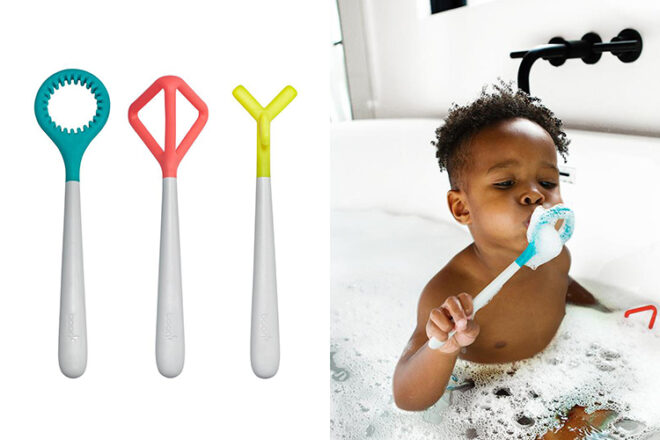 Made from high-quality ABS plastic that doesn't contain nasties, these will magically make bathtime even more fun! Including three different wands in modern colours, they'll be blowing bubbles and stirring up soap suds in style.


---
Whaling good fun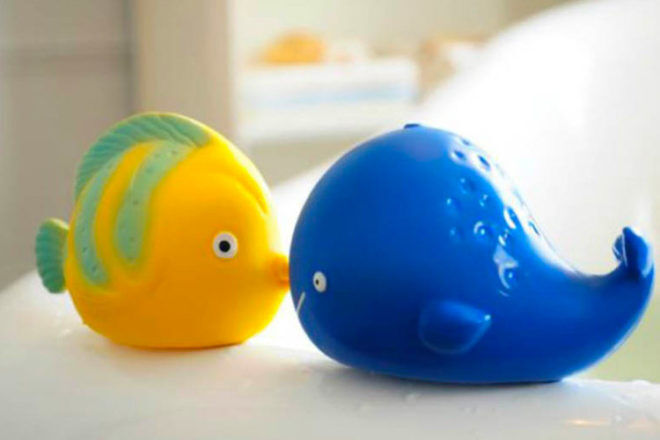 Completely sealed to keep bacteria and mould at bay, Kala the whale is perfectly sized for baby to grasp. There are multiple textures for tactile exploration and the 100% pure natural rubber is ideal for teething tots to chew on.
---
Water slide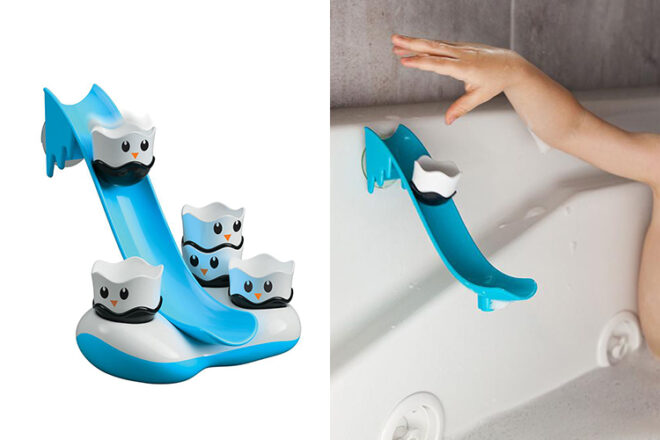 There's just something about a water slide that always brings a smile, adults included. With weighted bases to slide, wobble and bob with ease, the penguins can be stacked or stationed in the divots. With all parts fully sealed, no mould can get inside.
---
Bathing bee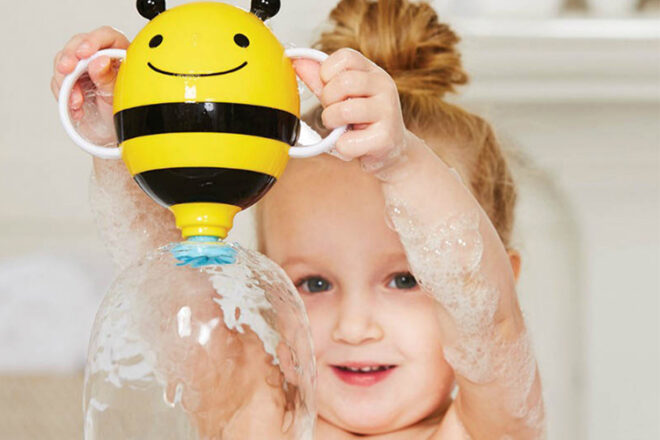 Create a buzz at bath time with Skip Hop's signature adorable bee, Brooklyn. Toddlers will delight in the flowing water whilst learning about cause and effect. With easy-grip handles, this PVC free toy will be something they reach for time and time again.
---
Jellies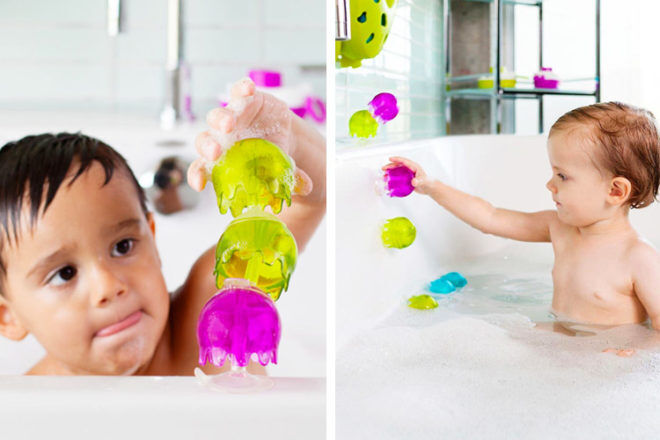 These seriously cute suction cups stack and stick to wet surfaces like walls and the bathtub, transforming bath time into building time. The hard part is getting bub out of the water afterwards!
---
Puzzles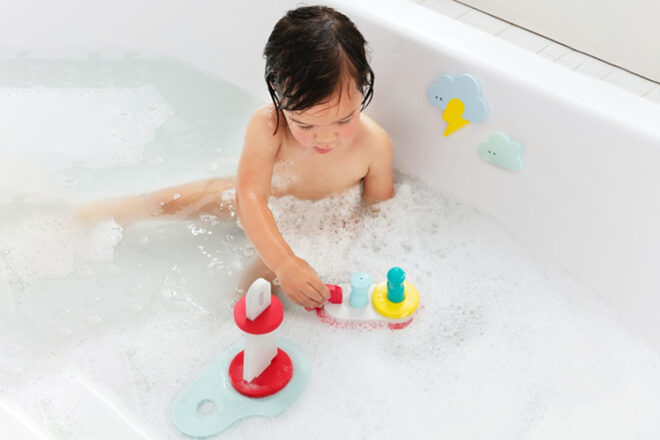 To the rescue! Build the lighthouse scene, have them float or simply stick them to the side of the bathtub. Stimulating creativity and imagination, time in the tub will fly by as wee ones play with this colourful foam puzzle.
---
Bobbing boats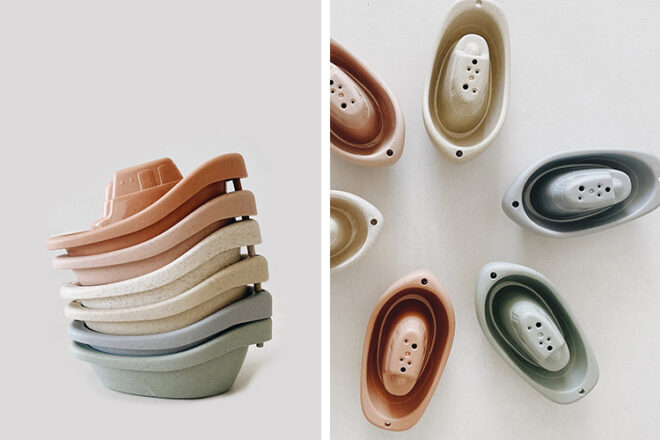 Keep bathtime calm with the soothing colours of these six sweet wheat straw boats. Connecting together, they build hand eye coordination and fine motor skills. Take them on your next beach trip where they also double as sand moulds.
---
Glow Sticks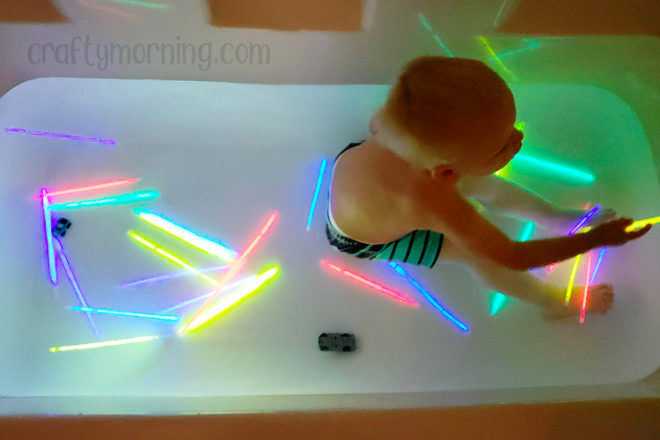 And finally, why not turn Friday night bath time into a Friday night disco?! This genius idea from Crafty Morning sees glow sticks transform the water into a florescent pool of fun for little ones. Just be sure to supervise soaking sprouts at all times.
---
This article is curated by our Editors and includes affiliates and/or paid inclusions. See our Disclosure Policy.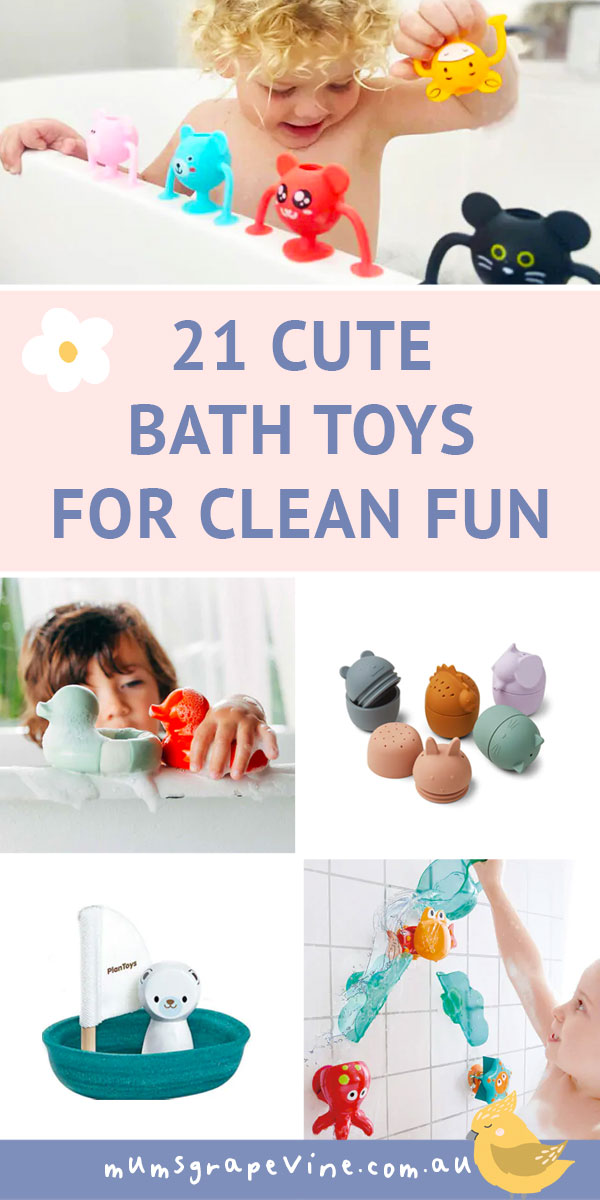 Read these roundups next …
Looking for more gentle products to use on baby's skin? From cot sheets to bathtubs, we have the largest suite of product roundups in Australia.
Read this: 15 ways to get toddler loving bath time
Continue your search for bath toys
Looking for bath toys and still not sure if any of these are right for you? Continue your search online by jumping into one of the Mum's Grapevine Facebook Baby Groups and ask thousands of other Australian mums what they recommend.
Click and join your group today!