Listen for a second mum, that's the sweet sound of silence. Baby dummies are a godsend for soothing newborns, one suck at a time.
A baby dummy is a natural rubber, silicone or plastic nipple substitute that an infant suckles on to help them settle. Also known as soothers or pacifiers, they are capable of triggering a newborn's innate calming reflex to help baby sleep. Available in almost every colour under the sun, bub can be coordinated as well as content.
Types of baby dummies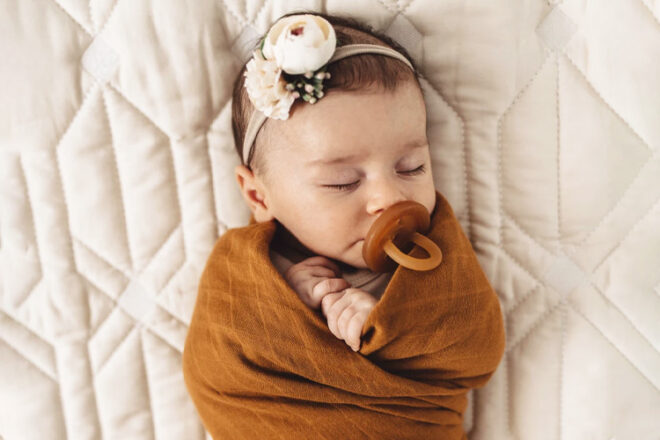 Cherry-shaped dummies are a popular choice when it comes to choosing a soother. With a round top, they're similar in shape to many traditional bottle teats.
Orthodontic dummies are ergonomically shaped pacifiers designed to facilitate healthy dental development. They are usually round on one side and flat on the other.
Symmetrical dummies are often recommended for breastfed babies as they're similar in shape to mum's nipples. They usually have a smaller top than cherry-shaped styles and always sit correctly in baby's mouth.
OUR PICK OF THE CROP
16 dummies for newborns and babies
With so many baby dummies available in Australia, it's hard to know where to start, so we consulted the HUGE Mum's Grapevine Facebook community of Australian mums and listed their most popular choices below.
In no particular order, here 16 of the most popular baby dummies in 2023.
BIBS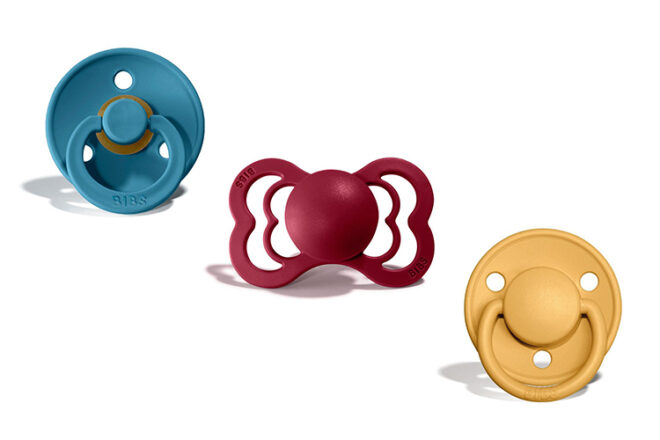 Calm bub, in colour! Made ethically in Denmark from 100% food-safe materials, BIBS dummies come in a colour for every baby. Our pick is the BIBS Dummies De Lux Glow which features a cleverly designed nipple that mimics breastfeeding – and even glows in the dark.
---
Medela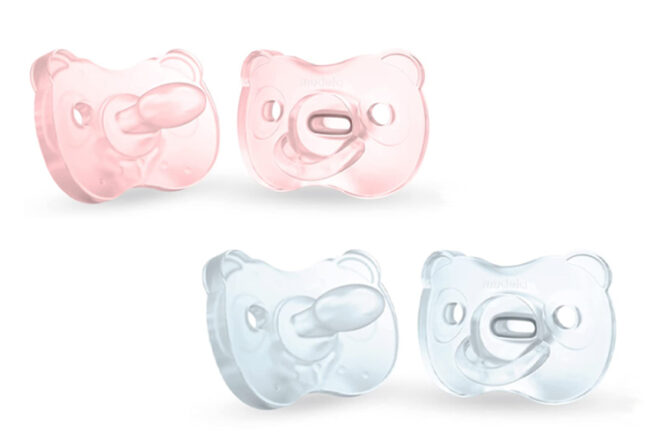 Ultra-soft and as light as a feather, the Medela silicone baby dummy is expertly created to support natural suckling in newborns and growing babies. Swiss-made, it's BPA and BPS-free and comes in a choice of clear, pink and blue hues.
---
Bumi Bebe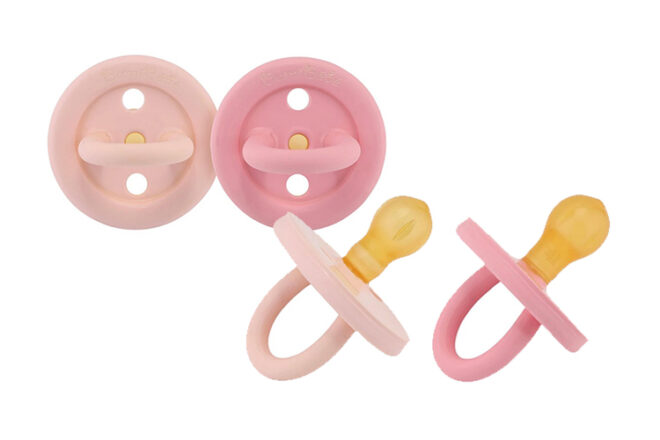 These natural rubber dummies are not just planet-friendly, but they're cute as a button. Featuring a round nipple, they're soft and gentle on bub's face and contain no nasties. We're also digging the retro vibes and cotton candy shades.
---
Chicco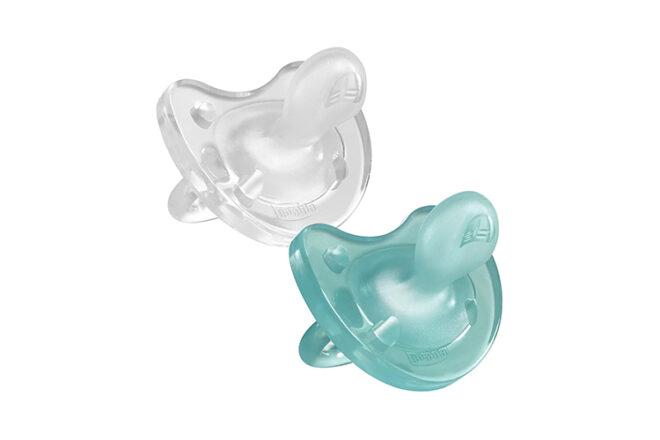 With science behind it, the Physio Soft Soother helps promote the correct development of your little one's palate. The grooved and angled shape encourages the uniform distribution of tongue pressure and the super-thin base ensures proper mouth closure.
---
Dr Browns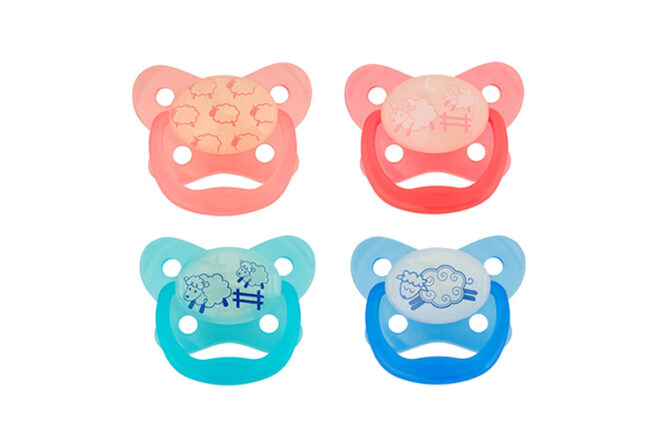 It's a high five to low-pressure comfort and a design that helps prevent dental conditions like crossbite. Developed by a paediatric dentist, the BPA-free, soft, suction-release bulb spreads wider as they suck and the air channel reduces suction. It also illuminates at night.
---
Natural Rubber Soothers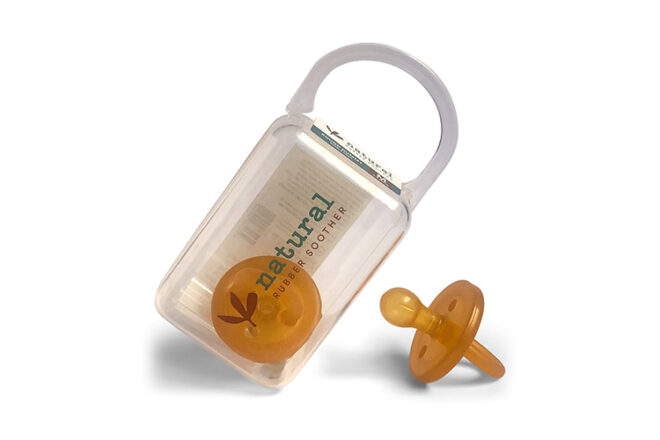 Here's a great all-rounder and we're not just talking about the shape. This single-piece 100% sustainable natural rubber soother is hygienic, free from all nasties and aids breastfeeding. Choose from eco paper packaging or reusable cases.
---
Tommee Tippee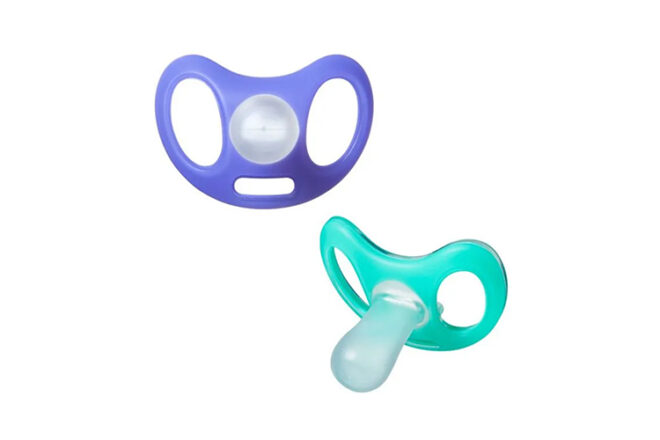 This phthalate-free soother has an open shield that curves away from bub's delicate face, and the airflow from the large holes prevents moisture build-up that leads to irritated skin. Easy to clean, the durable silicone teat is symmetrical in shape.
---
Doddle & Co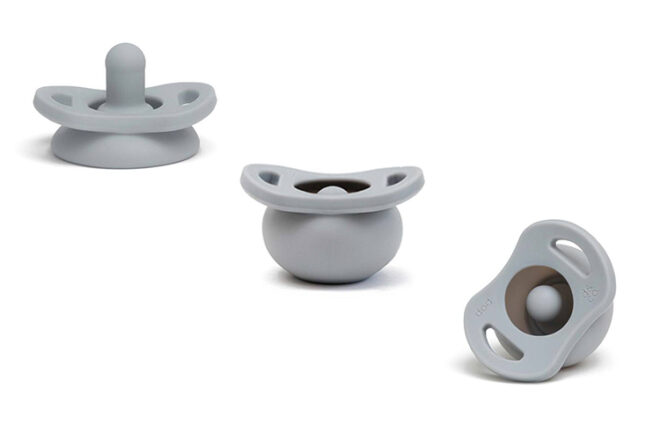 Mummas rejoice, this silicone dummy is a clever 2-in-1 that eliminates the need for a case – just pinch to tuck the nipple away. Super stylish and free of nasties, the nipple easily withstands teething gnaws. Simply pop into the dishwasher to clean.
---
Mininor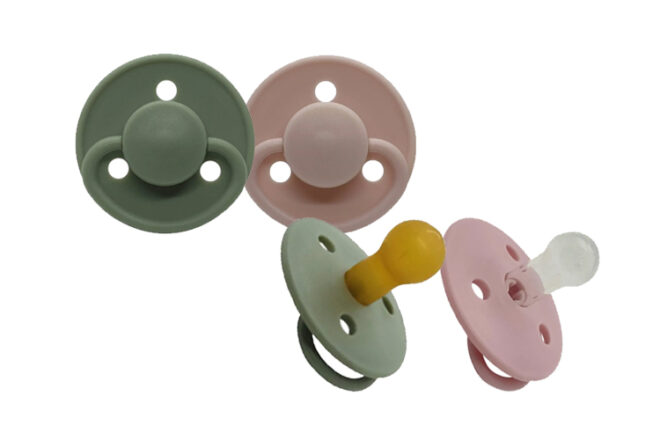 Made of superior quality, Mininor are the preferred dummies in many hospitals across Denmark. 100% recyclable, the classic cherry-shaped teat of Mininor dummies mimic a mothers nipple providing comfort and security . Available with a latex or silicone teat.
---
Hevea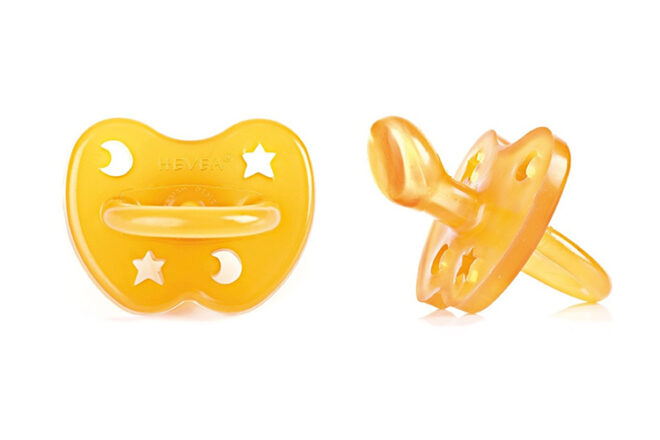 Hevea's timeless style is carried on one suck at a time with this orthodontic design. It's made from a solid piece of hygienic 100% natural and biodegradable rubber and features star and moon shapes that provide ventilation and vacuum around the mouth. Clever.
---
Haakaa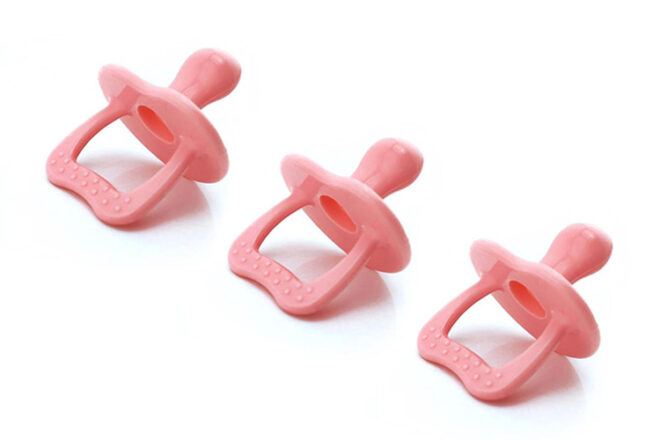 Lovingly designed to mimic the shape of mumma's breast, this soft, 100% silicone dummy is an all-rounder. Its u-shaped design promotes natural breathing through the nose, and if there's a cranky teether on your hands, it can be popped into the freezer to bring relief.
---
NUK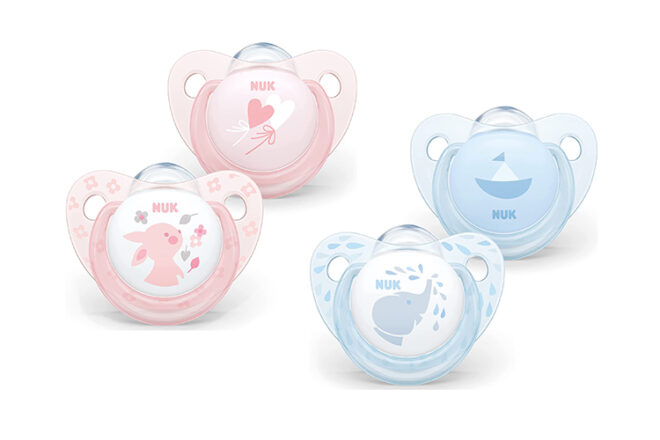 The sweet design is cute, but the benefits are what you'll appreciate. The asymmetrical shape on all NUK soothers is designed to promote an optimal interplay between the lips, palate, jaw and tongue. This two-pack also comes with a reusable sterilising case.
---
Avent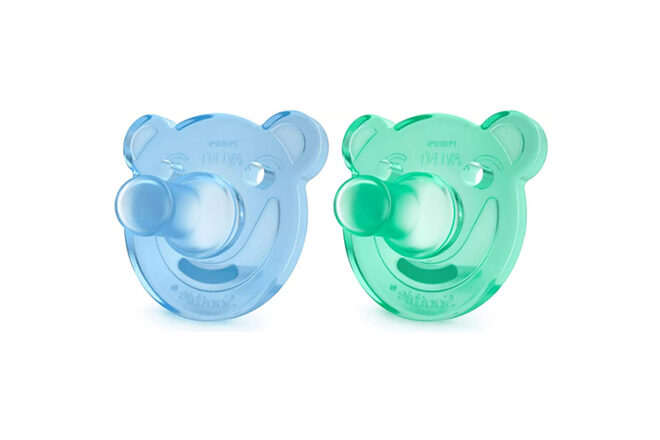 The unique shape of these 'beary' cute dummies means you can put your finger in the nipple to help them suckle. Made of BPA-free medical-grade silicone, the collapsible nipple has a symmetrical shape that respects your baby's palate, teeth and gums as they grow.
---
Nanobebe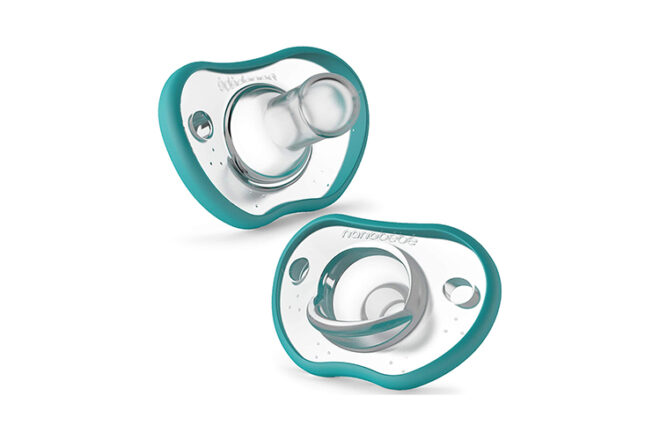 Bend and flex! Lightweight and ergonomically designed, this 100% silicone one-piece pacifier flexes to stay in baby's mouth. It's contoured to comfortably frame their face and the extra soft nipple reminds them of mum.
---
Jollypop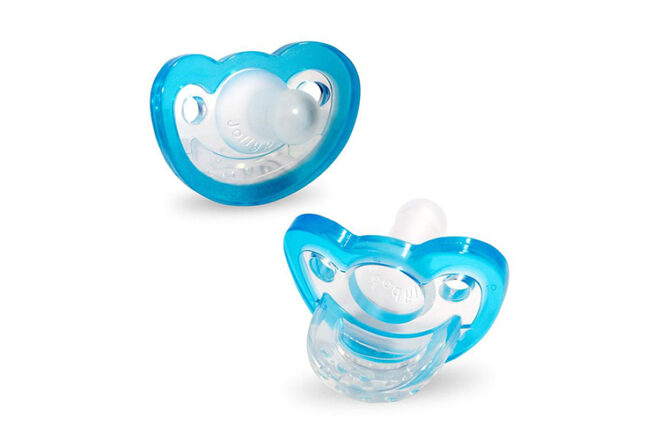 It's soft, flexible and the preferred dummy used in hospitals across Australia for 0-3-month-olds. With a curved shape and no hard inner guard, the silicone Jollypop is super comfortable for bub. You'll love the easy-to-hold loop handle with nubs for extra grip.
---
Sophie La Girafe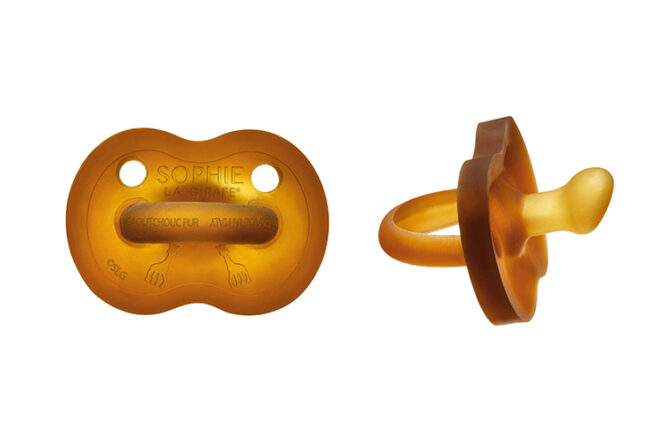 It's Sophie La Girafe to the rescue again, this time to soothe and settle. Made from one solid piece of 100% rubber, it has holes for ventilation giving extra comfort. Ergonomically designed to adapt to bub's face, there are two age ranges to choose from.
---
Fred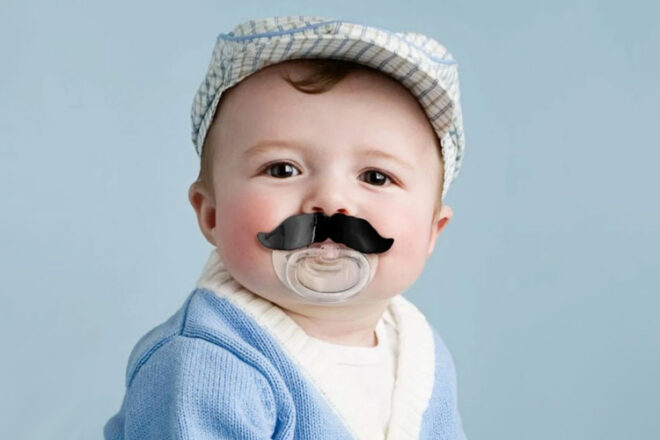 Combine a moving mouth with a moustache and giggles are on the cards. Light-hearted parents will enjoy photo opportunities with their little man either awake or asleep. Designed for 0-6 months, it uses non-toxic plastic and food-grade silicone.
---
FAQs: Your Questions Answered
Are dummies safe?
Dummies are safe for babies provided they meet Australia's mandatory safety standards, which includes being aware of the age recommendation and maximum length of use on the label before giving it to your baby. And if you plan on using a dummy chain, bear in mind specific safety standards also apply to them.
Mums Grapevine regularly reports on product recalls for baby supplies and toys, so follow our Facebook Page to stay in the loop of important safety recalls.
When can I introduce a dummy?
Bottle-fed babies can use dummies from birth. If you're breastfeeding, it's recommended to wait 4-6 weeks in order to establish a good nursing routine. That said, studies have shown that unrestricted dummy use in healthy, full-term newborns has no impact on the continuation of breastfeeding.
How should I clean a pacifier?
If babies are younger than six months it's recommended to sterilise dummies for newborns. Tots over six months are more resistant to infections and you only need to wash the pacifier in soapy water. Always clean baby's dummy regularly.
Why do babies like dummies?
Sucking on a dummy has a settling and soothing effect on little ones, especially younger babies, easing anxiety and helping them sleep. It's the same reason that many babes doze off while breastfeeding!
When should I wean baby off a dummy?
This is very much a personal choice, but many health professionals advise ditching the dummy by around 12 months of age. This can be easier said than done if baby's dummy has become a regular feature at bedtime, so check out our guide to getting rid of the dummy for tips on how to wean your little one.

Know a dummy we could add to our list? Contact us and let us know, we've been curating Australia's best baby products into helpful lists for over 15 years and we're always happy to support new brands and businesses.
Ask other mums
Looking for a baby soother your bub will love and still not sure if any of these are right for you? Join the huge #MGVfam in one of our private Facebook Baby Groups and ask thousands of other mums with babies the same age as yours which ones they recommend. Join today!
We want you to know
At Mum's Grapevine, we're a team of passionate mums (with 19 kids!) and over 15 years of experience researching and writing about all things baby and parenting. Our reviews of recommended products, like the ones in this post, may include paid inclusions, but we promise to only feature products that we truly believe in and have used or seen ourselves. We want to ensure that you, our readers have access to the latest and greatest products in the parenting world, and we're committed to maintaining our high standards of quality and honesty. See our Disclosure Policy.
Thank you for trusting us to be your go-to source for all things baby-related.