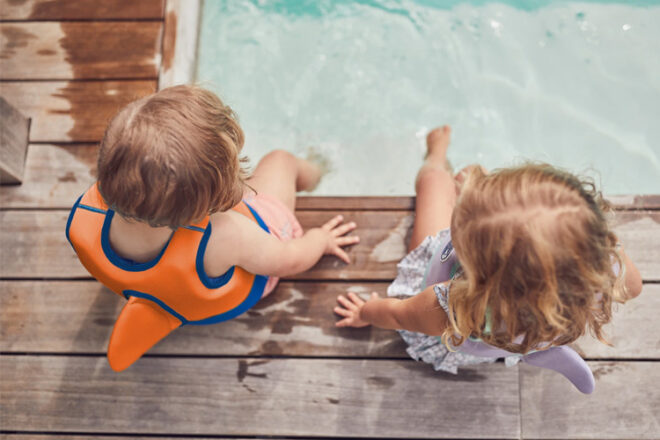 Learning to swim is a thrilling milestone for water-loving babies and kids, and a fab set of floaties helps them take the important first steps.
Kids' floaties are buoyancy aids that help little learners become more confident in the water. Available in the form of inflatable armbands, swim vests and floats, they're designed to be used under constant adult supervision while little ones splish and splash the day away.
We've scoured the country and rounded up a collection of swim accessories that will totally float your boat.
What to look for in kids' floaties: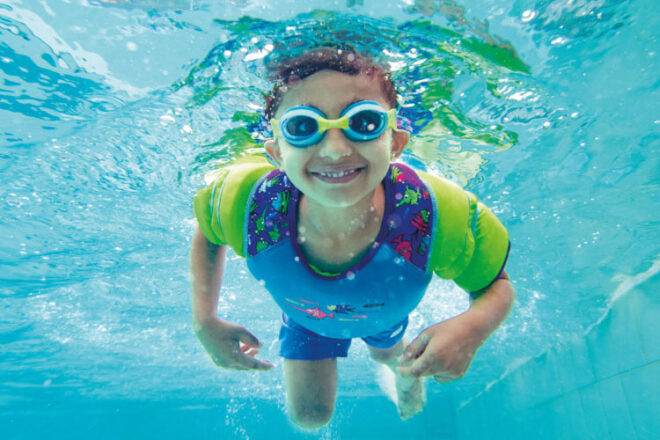 Safety – Always look for floatation devices that meet the mandatory Australian Standard AS/NZS 1900:2014 for flotation aids and ensure they are used under constant adult supervision.
Comfort – The best kids' floaties are comfy ones that give kids the freedom to move easily during supervised play. Avoid sharp edges, scratchy materials or tricky buckles that might pinch little fingers.
Type – Many babies start out wearing inflatable armbands in the early stages of water play, graduating to swim vests and back floats when they begin learning swimming techniques. In fact, some swimming schools in Australia use back floats with young learners.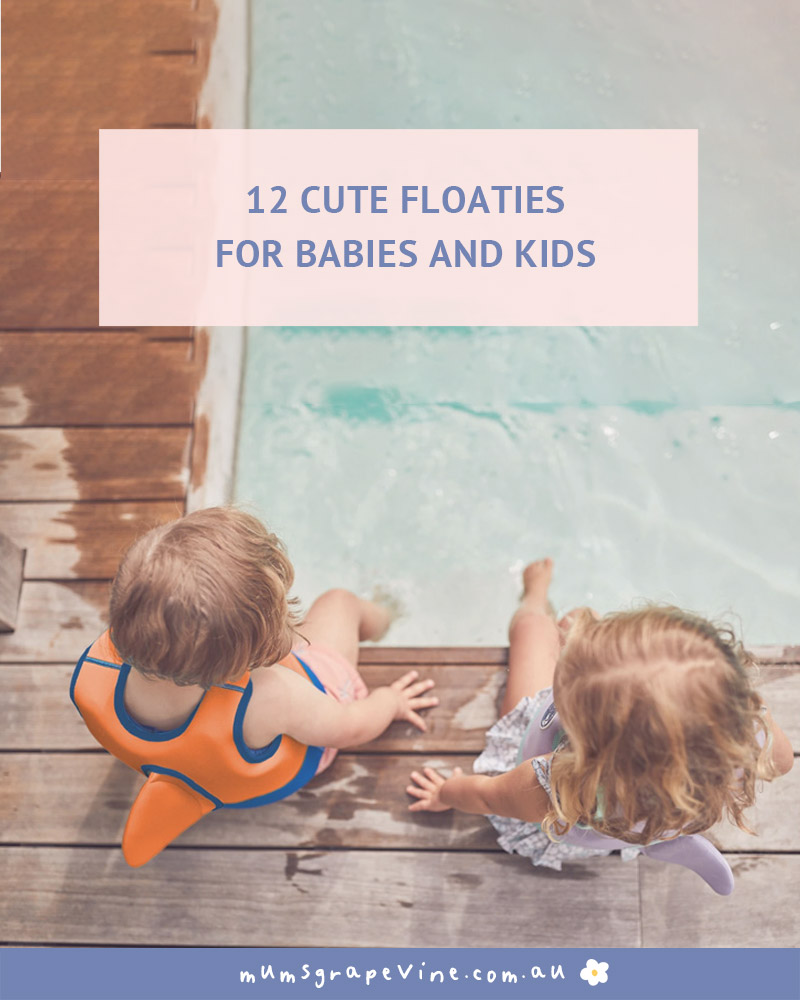 12 fun floaties for babies and kids
Take a peek at our sea-seriously cute lineup of inflatable armbands, swim vests and floats for extra buoyancy in the water.
In no particular order, here are 12 kids' floaties for new swimmers:
Cotton On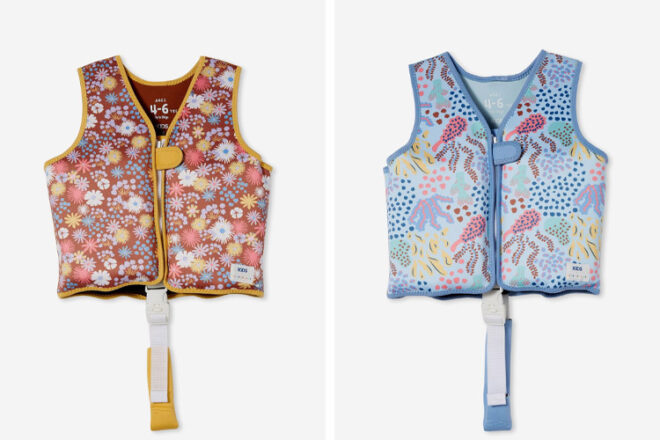 We're head over heels for this Sage x Clare collab and the fact that it comes as a swimming accessory means we get to enjoy it all summer long. Available in four bohemian prints, they feature a zip-up front, Velcro tab and kid-friendly buckle.
---
Wahu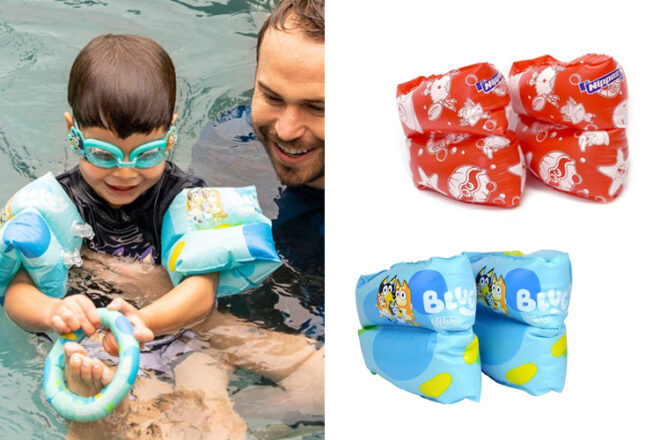 With a contoured shape that accommodates any number of delicious baby rolls, Wahu Armbands come with scratch-free seems and dual air chambers with safety valves. Choose from three colour options in small sizes for new swimmers and large for growing tots.
---
Sunnylife
Making water play cuter than ever, Sunnylife Swim Vests are bright, fun and positively unmissable. Each vest has an anti-ride safety strap between the legs and is manufactured to the most rigorous safety standards. Will it be fluoro dinos or golden unicorns?
---
Zoggs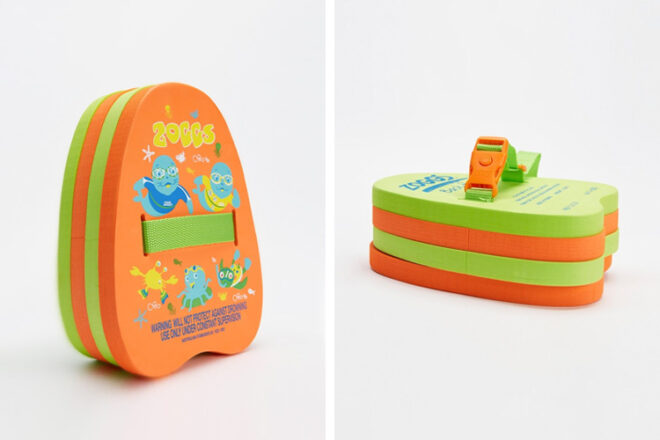 A popular swim-essory at many Aussie pools, the Zoggy Back Float is comprised of EVA foam layers that can be added or removed depending on the buoyancy required. It comes with a kid-safe buckle and it's suitable for little fishies from two to six years.
---
Swimtrainer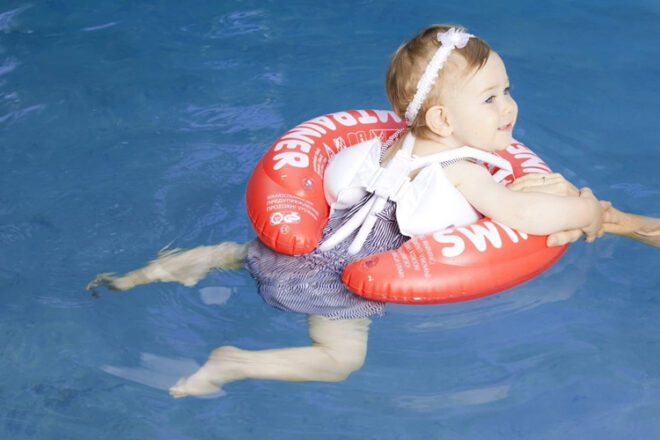 Available in two sizes for babies from three months right up to six years, the Swimtrainer float keeps little bodies in the correct position for learning to swim. It's been helping kids' play safely in the water for over 20 years and certified to Australian safety standards.
---
Speedo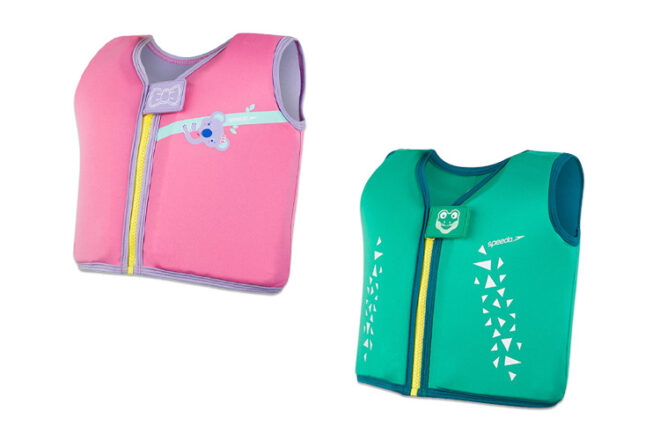 From the brand synonymous with swimming sports, Sea Squad buoyancy vests are specifically designed to free up little arms as kids learn to swim. Manufactured to Australian safety standards, these cuties take swimming outfits to another level.
---
Sunnylife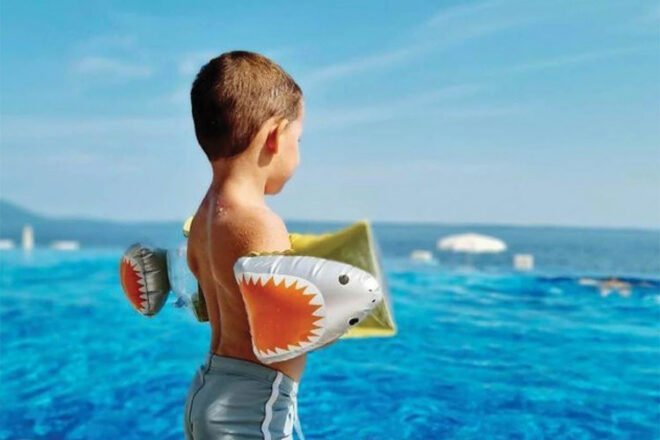 Uh-oh, the sharks are out. A part of Sunnylife's insanely cool collection of kids' floaties, these shark armbands are ready to make a splash this summer. Made using non-toxic, phthalate-free PVC, they give little ones extra buoyancy as they splash and play.
---
Heccei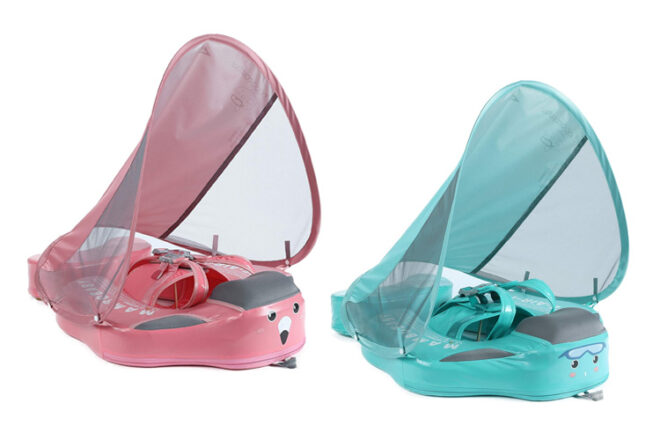 Packed with safety features that include a tip-prevention tail and a removable UV canopy, the Mambobaby promotes the correct body position for practising strokes. It uses quick-drying, antibacterial foam, which means there's no need for inflation.
---
Coleman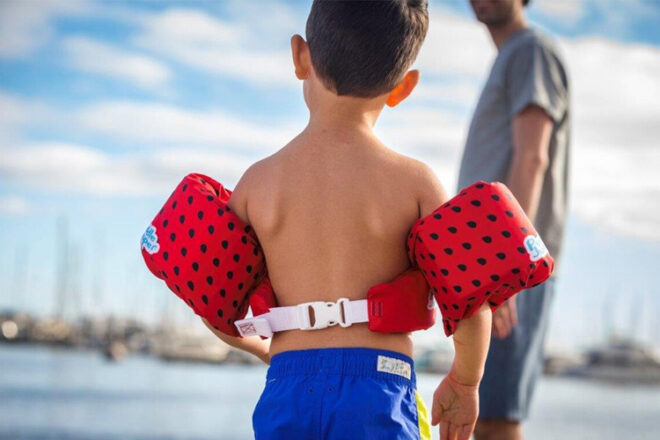 Created to keep kids in a stable and upright position in the water as they learn to swim, Coleman's crazy-cute Puddle Jumpers help build confidence during water play. Certified to meet Australian safety standards, they fit little bodies from 15-25kg.
---
Zoggs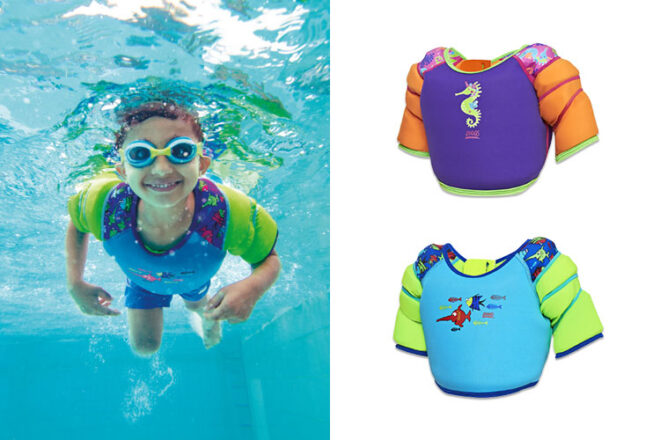 To fly through the water, they'll need a pair of wings. Zoggs' popular Waterwings vests aren't just comfy, they also provide fixed buoyancy and promote a natural swimming position in the water. Will it be Sea Unicorns or the Sea Saw?
---
Wahu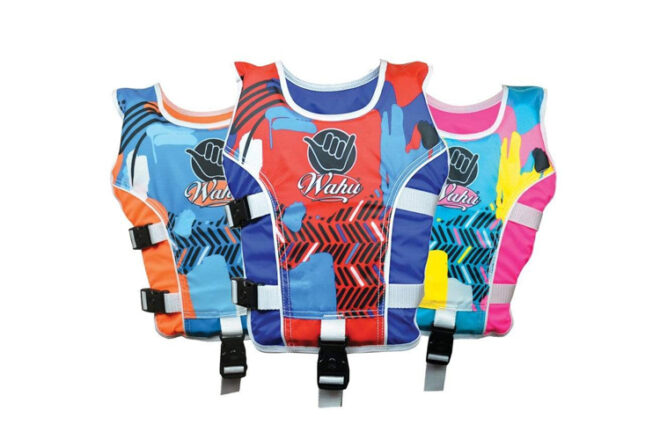 Lightweight, ergonomic and fully adjustable, these high-vis swim vests keep kids' buoyant in the water – and easy to spot. They're fitted with nylon webbing straps and buckle clips and they're available in a range of colours and sizes to suit tykes from two years to six.
---
Bestway
Build with a secure seating position and comfy backrest, the Bestway Baby Swim Seat supports water babes as they kick and propel their frolicky legs.  It has three air chambers for maximum buoyancy and it's suitable for littlies up to one year.
---
Are baby floaties safe?
Baby floatation devices, such as inflatable armbands, are designed to familiarise children with water, but they are not intended to be used as safety devices, like life vests. According to Better Health, floatation devices should never replace adult supervision as there is always a risk of children tumbling or slipping out of the device.
What ages are baby floaties for?
Some baby floaties such as armbands and swim seats are suitable for use with bubs as young as three months. Swim vests and other floats are often more suitable for older tots and preschoolers who are ready to learn swimming techniques.
Is a swim vest the same as a life jacket?
No. A kids' swim vest should never be used in place of a life jacket or as a safety device. A kids' swimming vest is a tool for extra buoyancy while kids are learning to swim under adult supervision.
---
This article is lovingly curated by our Editors and includes affiliates and/or paid inclusions. See our Disclosure Policy.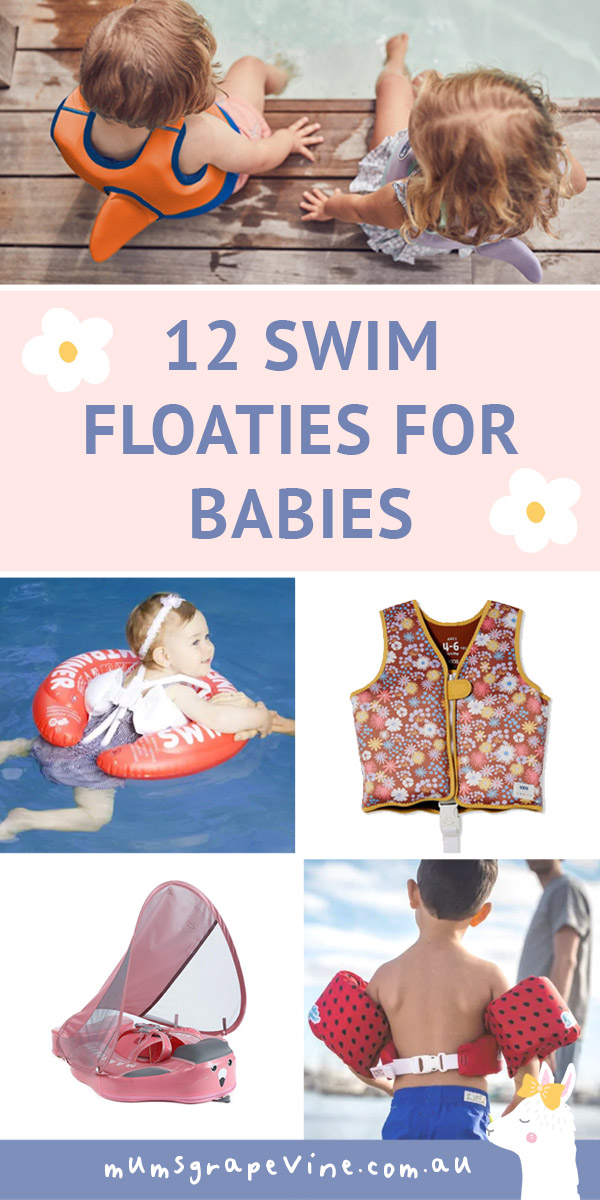 Know some kids' floaties we should add to our list? Contact us and let us know.
Read these roundups next …
If you're after more gear for a fun-filled summer, you're in the right spot. From beach tents to picnic blankets, our roundups include Australia's most coveted brands and stores.
Read this: 13 clever ways to keep baby cool in summer
Continue your search for the best baby floaties
Looking for reliable products for your little ones and still not sure if any of these are right for you? Search online by jumping into one of our closed Baby groups and ask thousands of other Australian mums what they recommend – 'What to buy' is the most talked-about topic.
Click and join your group today!