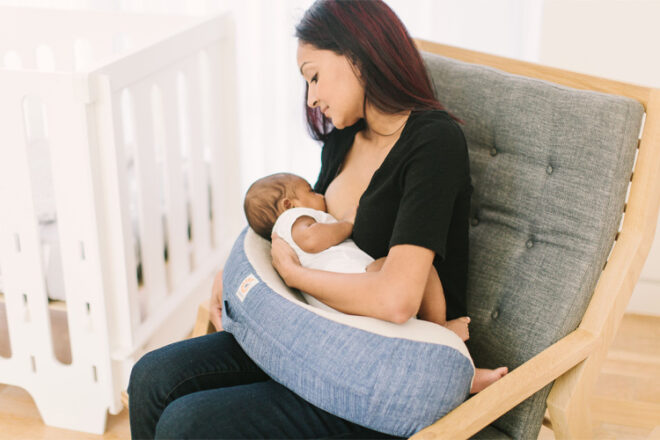 When it comes to feeding a baby on demand, any help is welcomed. Designed to support the correct breastfeeding position, a good nursing pillow reduces strain on your arms, wrists, back and shoulders, leaving you to feed in comfort.
Some breastfeeding pillows have other purposes too, which is why they are often an essential item on the pre-baby checklist. Whether it be as a sleep aid during the later stages of pregnancy, a cushion for postpartum care or sitting support for baby, a little extra comfort goes a long way.
To help you find the right support for feeding time, we've scouted out the comfiest nursing pillows in Australia.
What to look for when buying a nursing pillow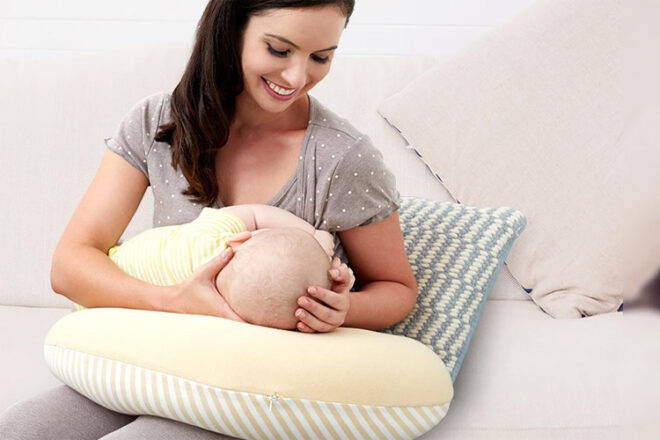 Washability: We all know that babies can be messy little eaters when starting solids, and the same goes for milk feeds too. Breast milk left on fabric for too long may stain and start to smell, so look for nursing pillows with a removable cover or one that can be spot cleaned at the very least.
Size and shape: Feeding pillows come in all shapes and sizes so it's important to find the right fit for your lifestyle. Is travel often on the cards? Then a compact pillow that's practical and portable may be just what you need. Storage space is another thing to consider before buying a pillow that's too bulky.
Multi-use: Some nursing pillows double up as maternity pillows and even support tots during tummy time. Having a multi-purpose pillow is a great option for new mums wanting to save a few pennies in those early months.
---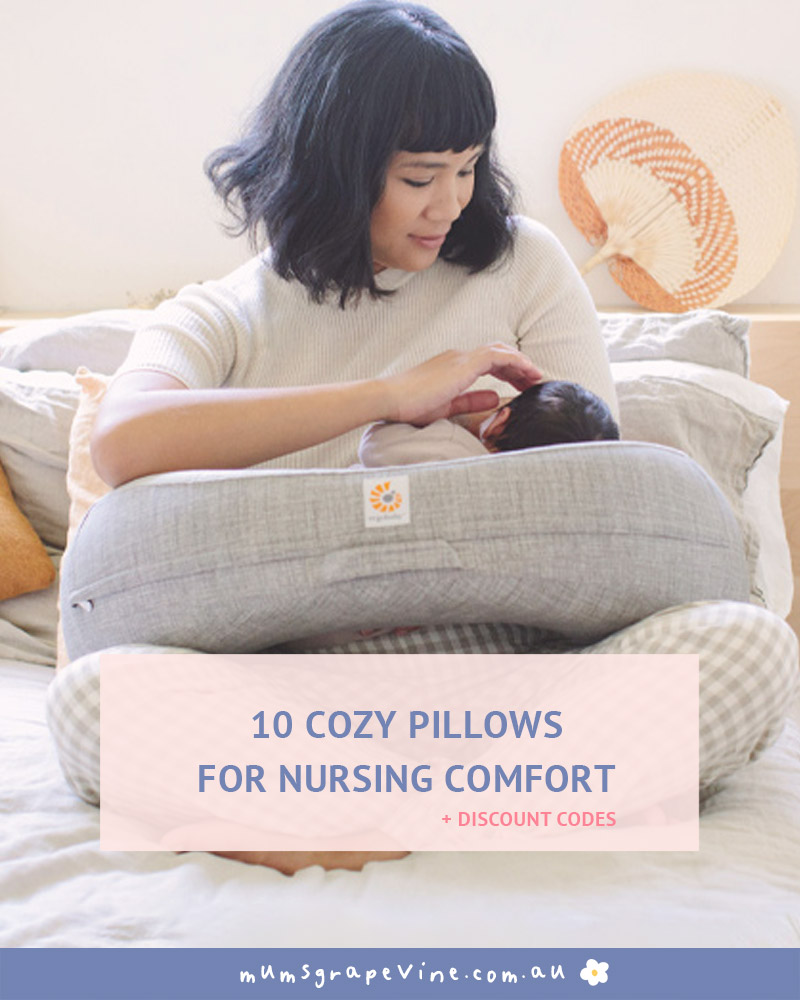 10 soft nursing pillows for breastfeeding mums
A nursing pillow takes the ache out of feeding and makes those special moments even sweeter. Check out our complete list of favourite products and find the perfect match for you and bub.
Some brands have offered exclusive offers for Mum's Grapevine readers. These offers may include exclusions and expiry without notice. Please direct all inquiries directly to the linked website.
Here are 10 supportive nursing pillows for easier breastfeeding:
Mamaway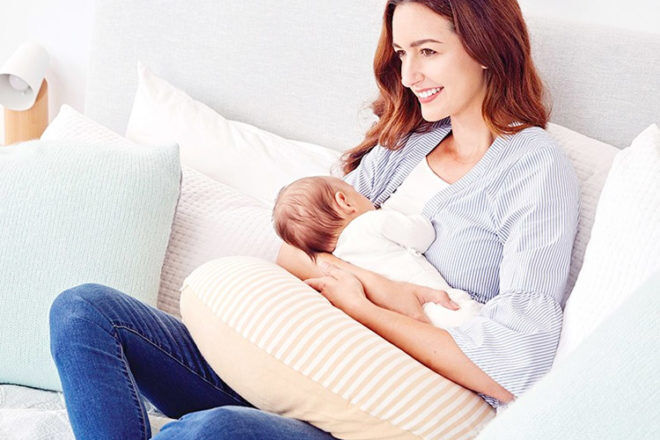 Made using soft fabric with hypoallergenic foam, this clever nursing pillow keeps you and bubba cool during feeding. Providing optimum firmness, it can be used in a multitude of ways – from pregnancy pillow and postpartum cushion right through to sitting support.
Mamaway Discount Code
Use code 'MGV15' for 15% off the Nursing Moon Pillow.
---
Chicco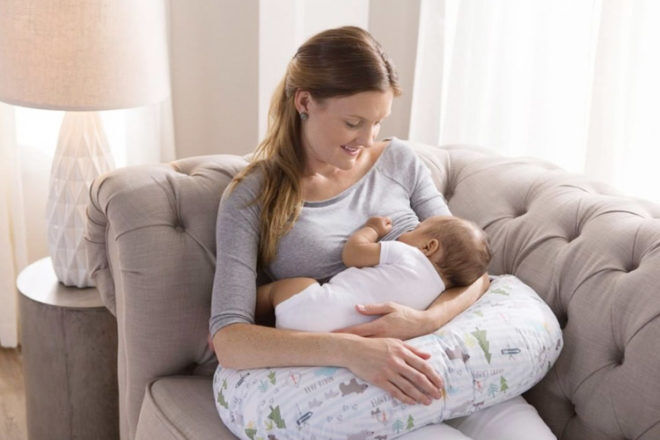 Designed to keep its shape over time, the Boppy Nursing Pillow is there for both baby and mum during the special months of bonding. Completely machine-washable, it also assists with tummy time and works as a sitting support when bubba grows.
---
Growbright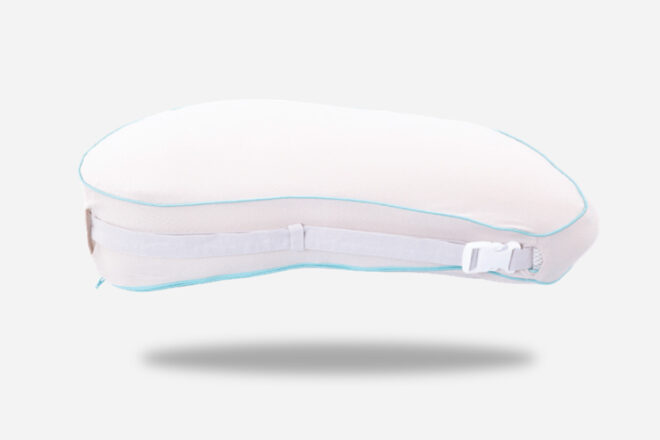 Created with both mums and bubs in mind, the Growbright Airnest nursing pillow has an angled body to keep baby elevated and help with digestion. Ultra-breathable and hypoallergenic, it comes with washable inner and outer covers for fuss-free, easy care.
Growbright Discount Code
Use code 'MUMSGRAPEVINE15' for 15% off the Airnest Nursing Pillow.
---
New Edition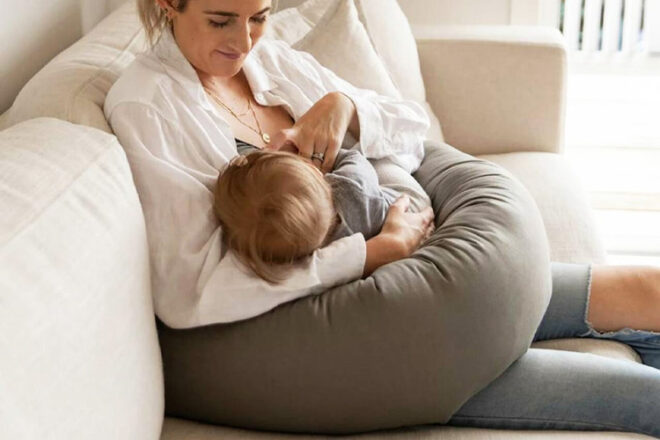 Available with either memory foam or pure wool filling, New Edition's breathable nursing pillows support mums and bubs through the early years and beyond. Designed and made in New Zealand, they boast a 100% linen washable cover and handy pockets for the straps.
---
My Brest Friend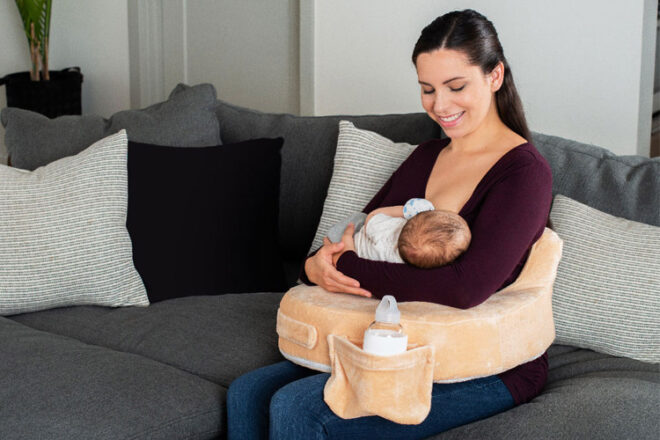 Endorsed by the Australian Breastfeeding Association, My Brest Friend supports both mother and baby during feeding. It features a secure, wrap-around design that maintains ideal positioning and posture. And a handy little side pocket keeps essentials within reach.
---
Cocoonababy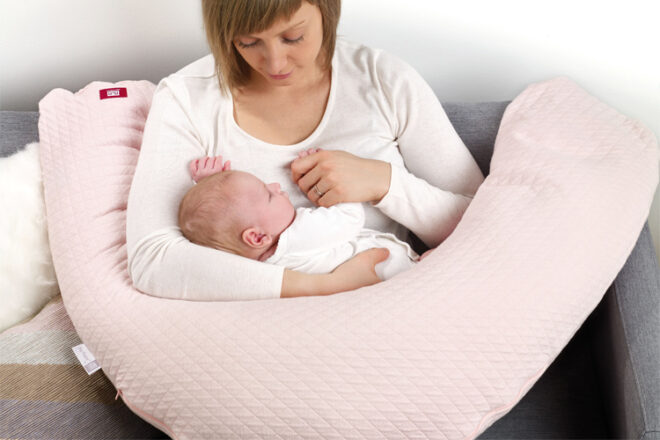 From the busy months of breast and bottle-feeding to the boisterous years of play, the Big Flopsy is a cosy companion that supports bodies big and small. The certified non-toxic micro-pearl pillow and cotton cover are machine-washable at 30 degrees.
---
Ergobaby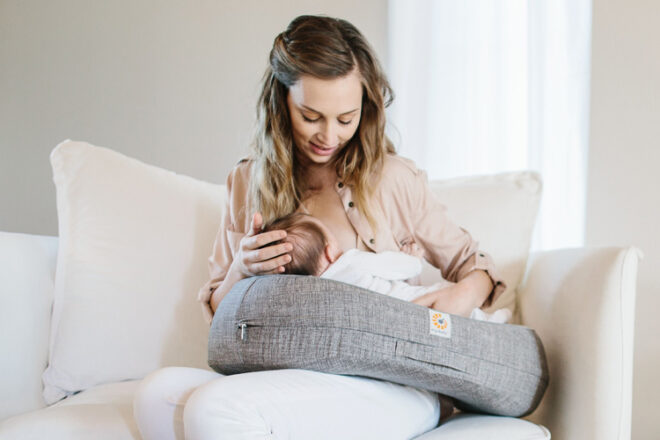 Supple yet firm, the Ergobaby nursing pillow provides mum and baby with ultimate comfort around the clock. Designed to reduce slouching and improve posture while feeding, it also promotes tummy-to-tummy contact in those early months. And it's machine washable too!
---
EasyFeed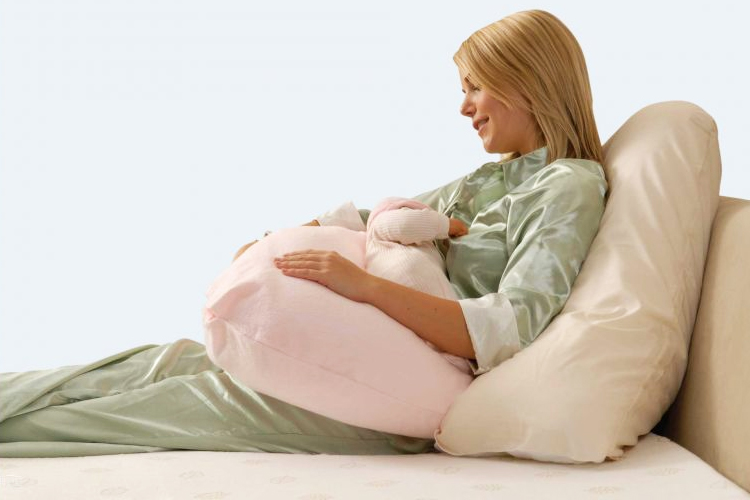 Ideal for both breast and bottle-feeding, the Australia-made EasyFeed is gently angled to help babes swallow and breathe easily. It reduces neck, back and shoulder strain in mums and features a waterproof, bacteria-resistant cover that wipes clean.
---
BabyBaby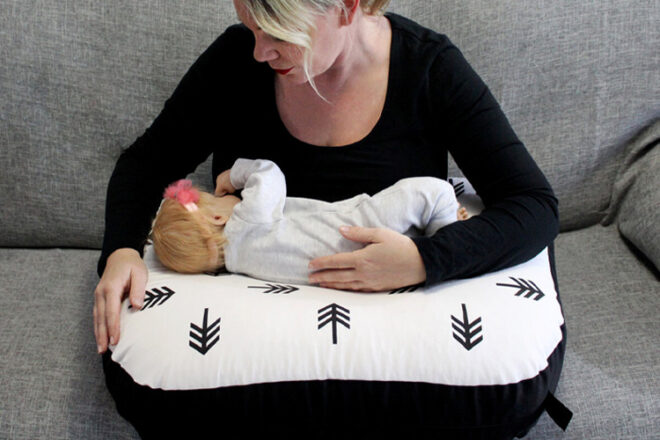 Cleverly designed to distribute baby's weight evenly, this height-adjustable breastfeeding pillow takes the pressure off caesarian wounds and helps with recovery. The large surface area makes it possible to nurse twins and the 100% cotton cover is machine-washable.
---
Adairs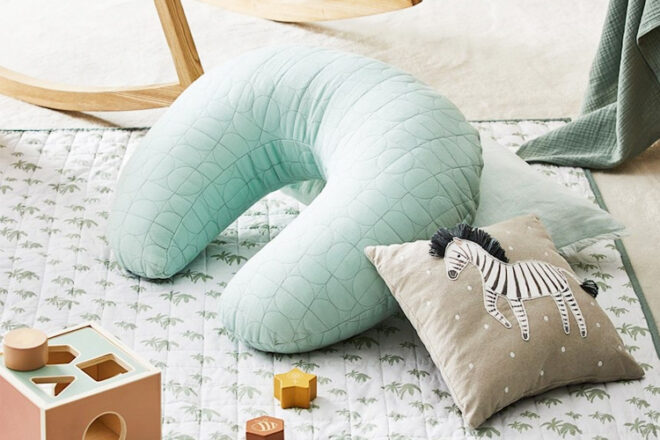 Incredibly compact and super cute, this u-shaped pillow positions baby comfortably for breast and bottle feeding. Available in a range of designs, it has a removable quilted cover for easy washing and there's even matching bedlinen available separately.
---
This article is curated by our Editors and includes affiliates and/or paid inclusions. See our Disclosure Policy.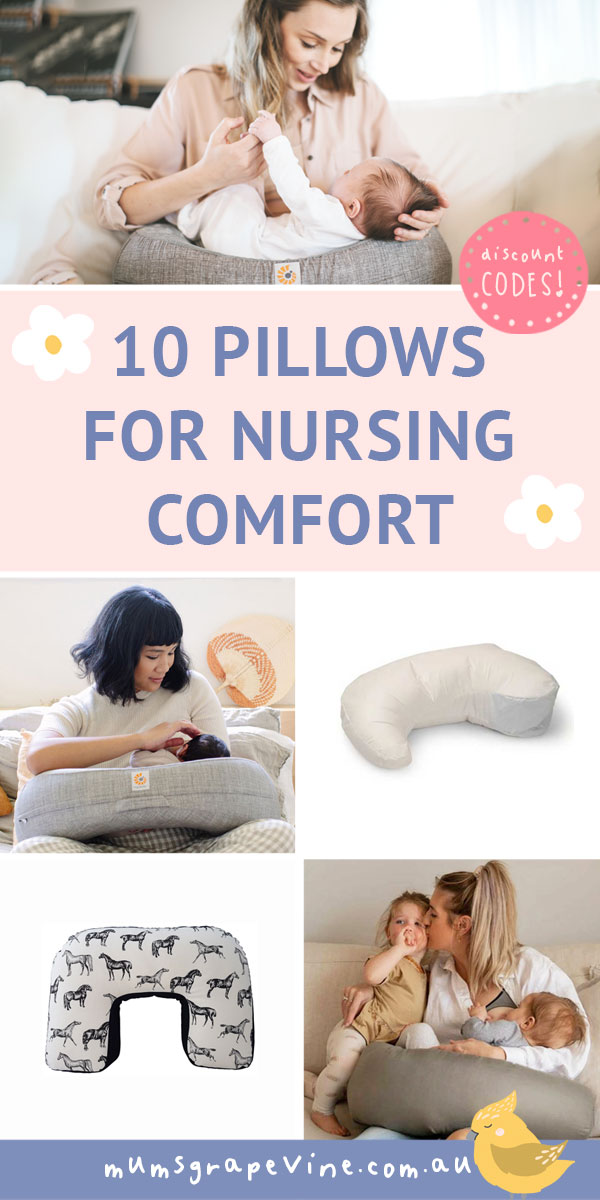 Know a brand of nursing pillow we should add to our list? Contact us and let us know.
Read these roundups next …
If you're after more helpful products for your breastfeeding and postpartum journey, you're in the right spot. From nursing clothes to the best breast pumps, here are some helpful roundups to check out next:
Read this: Mastitis symptoms and how to manage them
Continue your search for the best nursing pillow
Looking for a nursing pillow and still not sure if any of these are right for you? Search online by jumping into one of our closed Baby groups and ask thousands of other Australian mums what they recommend – 'What to buy' is the most talked-about topic.
Click and join your group today!