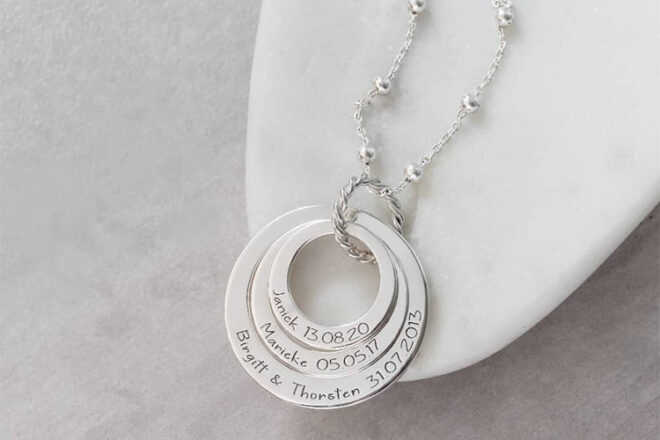 A beautiful piece of jewellery is both sentimental and sweet and it's all about keeping your loved ones close. And w've uncovered 16 beautiful brands creating name necklaces and wearable treasures you'll proudly show off for many years to come.
Personalised jewellery is traditionally necklaces, bracelets or rings that feature a name or element of identity. You can choose to showcase initials or kids' names, but these days there's also the option of immortalising fingerprints (human or fur baby), handwriting or even children's drawings.
And they make wonderful gift ideas for new mums.
OUR PICK OF THE CROP
16 Best Personalised Jewellery brands
To help you find a personal piece of jewellery, we've compiled this list of fab brands available in Australia to get you started in your search.
In no particular order, here are 16 of the best Personalised Jewellery brands in Australia 2023.
Deja Marc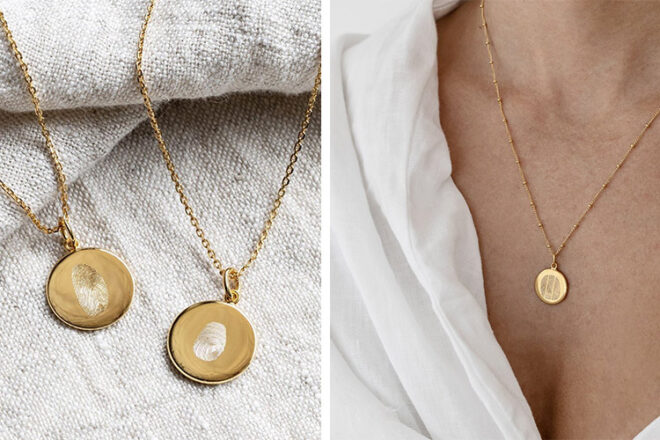 The name is inspired by the Spanish phrase, 'deja tu marca' which means 'leave your mark', and it's fitting for this brand that creates fingerprints, paw prints and handwriting jewellery in precious metals.
---
UbyKate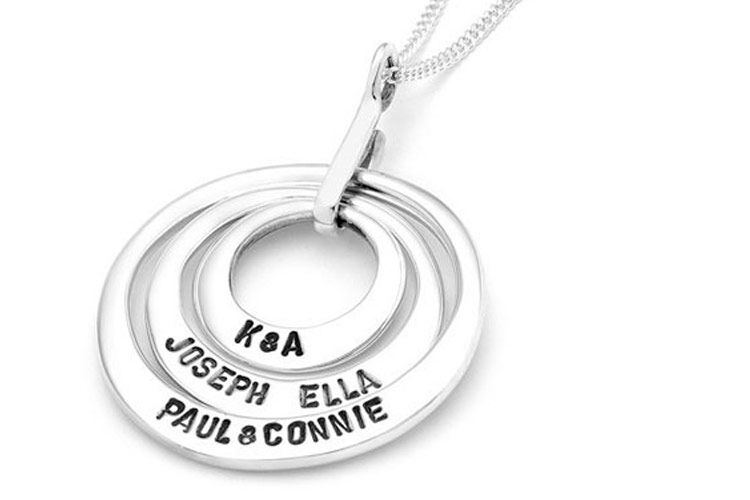 Keep your loved ones close to your heart with the Ubercircles necklaces from UbyKate. Crafted from solid gold and sterling silver, there are many gorgeous designs and combinations to choose from.
---
Smallprint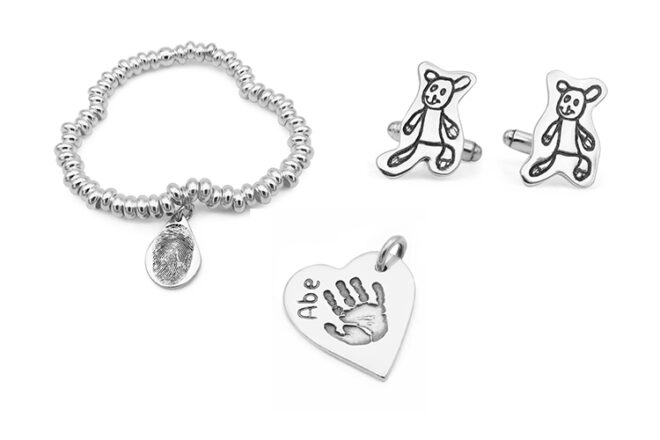 Did you know that Smallprint is the originator of the fingerprint jewellery concept? Individually handmade, you can capture all types of prints as well as names or words in precious silver to treasure forever.
---
Oak & Luna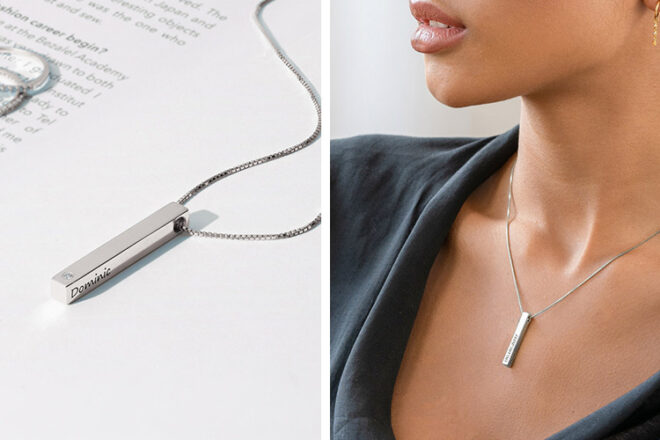 Ultra-chic, sleek and versatile enough to pair with anything, this necklace has four sides to personalise. There are different platings to choose from and an option to add a diamond (girl's best friend). Wear alone or with other necklaces for a beautifully layered look.
---
Bvlgari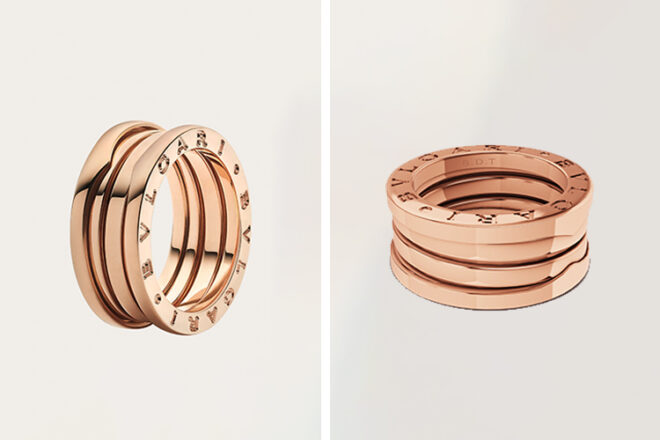 Drawing its inspiration from the Colosseum of Rome, the spiral of this rose gold statement piece is a metaphor for the harmony of past, present and future. Emboss with up to three characters on the inside to hold your loved ones close.
---
Bluebird Co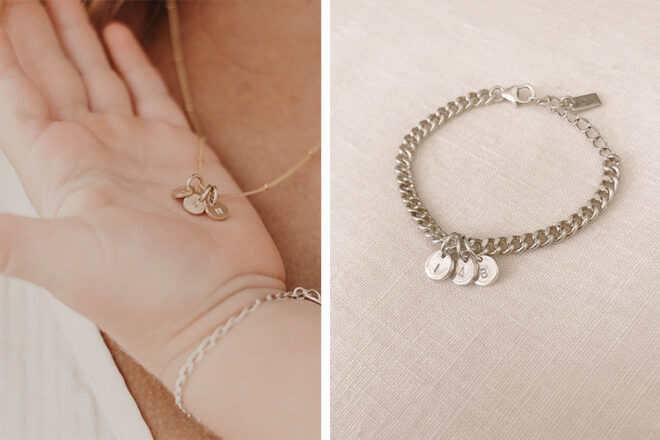 Delicate, intimate, feminine – have up to six initials represented of your nearest and dearest. Made from 9ct gold, each pendant is lovingly hand-stamped. Presented in a velvet box, these make a stunning gift to a friend, family member, or of course, yourself.
---
Linden Cook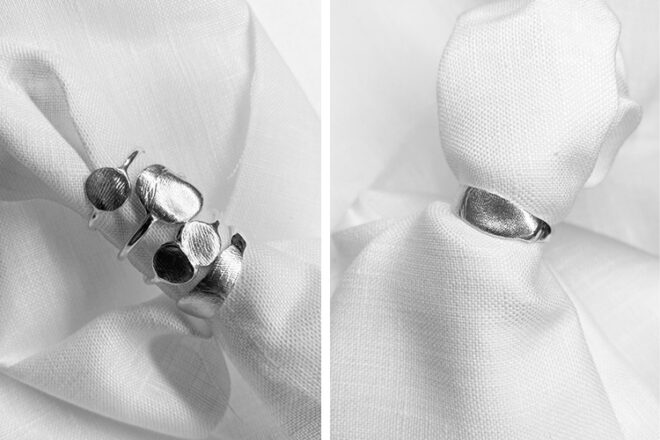 Wear a piece of sculpture with these fingerprint rings everyone will be asking about. Ethical, sustainable and conscious, a lost wax casting technique is used to create them. Choose from silver, yellow, rose or white gold in a polished or matt finish.
---
Koolaman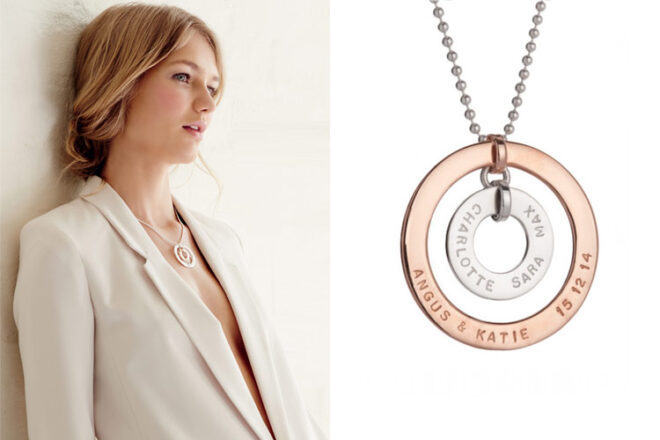 A beautiful duet of Koolaman's most popular pendant designs, this necklace combines two pendants with up to 68 hand-stamped characters to capture all your loved ones. Earrings, cufflinks, rings, bracelets and bangles are also available. How will you choose?
---
Minetta Jewellery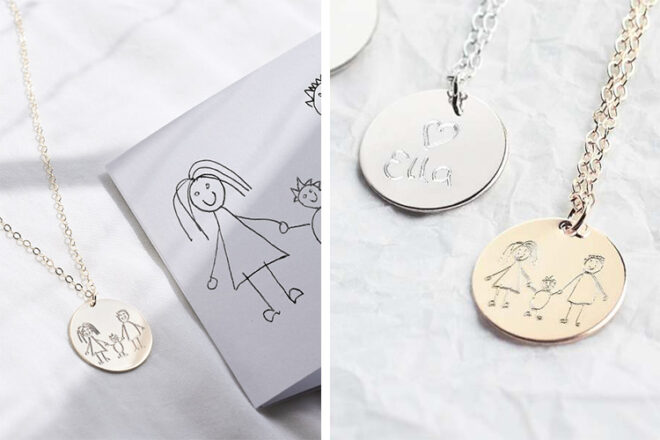 Immortalise your child's drawings or handwriting in a custom necklace that will become a treasured keepsake for generations. You can select from a range of materials and necklace lengths but it's all about what's on that disc – what piece of art will you choose?
---
Ruusk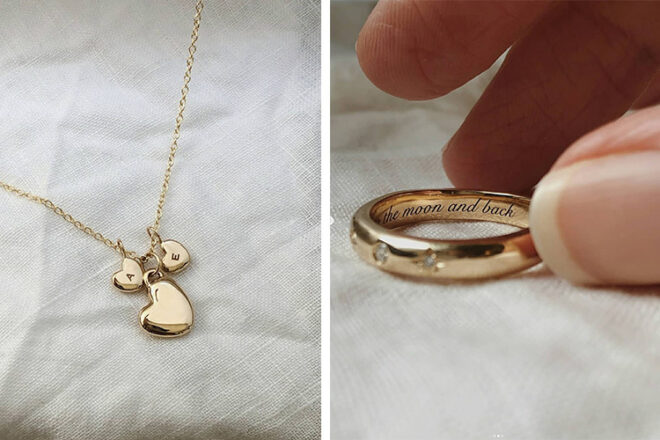 Tell your story and find a unique heirloom piece to treasure for generations at Ruusk. All pieces are made to order, consciously crafted and customisable to encourage meaningful and intimate connection. Think vintage flair for the modern mum.
---
Stamp and Shine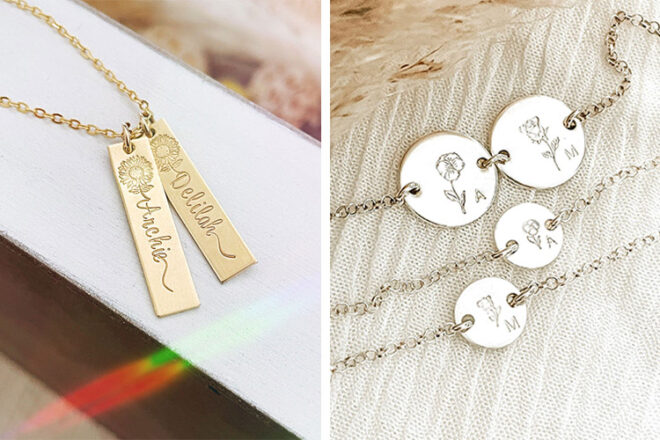 Calling all romantics! For those that adore florals, Stamp and Shine have you covered. Choose from beautiful necklaces or twin with your mini-me with matching bracelets adorned with your birth flowers. Every piece is hand stamped, and we're in love.
---
Lisa Angel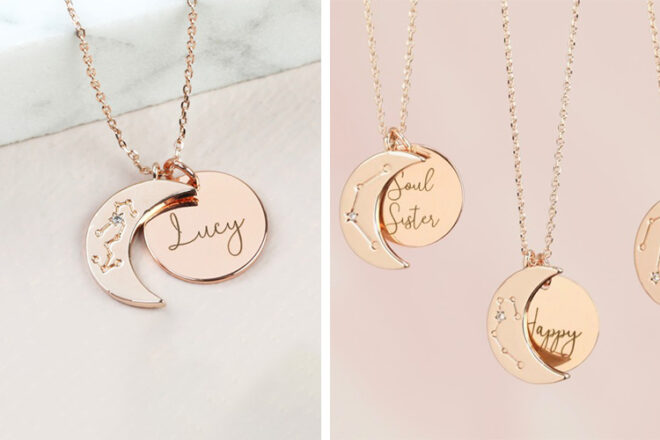 If you're celestially-minded this design might be on the cards. In 14ct rose gold plated brass, it has a star sign constellation on a moon pendant combined with an engraved disc bearing any script you'd like. We're in love with this perfect pairing.
---
Art to Charm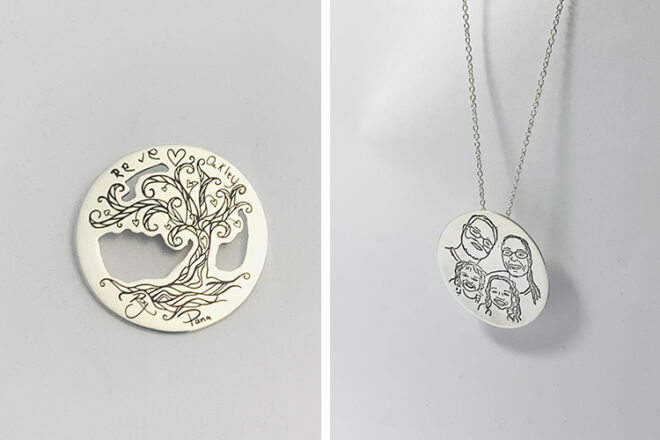 Create something totally unique; a statement piece to make you smile. Almost any form of art on paper can be turned into wearable art. And with seven different sized discs to choose from (and sing double-sided), your vision can really come to life.
---
Natalie Marie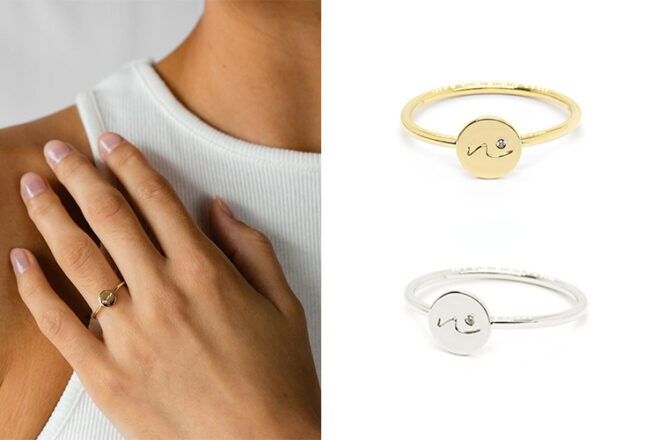 For the minimalist Mumma who doesn't want to compromise on quality, this classic piece might be the ticket. Featuring a hand-engraved solid 14ct gold disc set on a fine round band, your initial of choice can be highlighted with a stunning white diamond.
---
Silvery
Skillfully created in 925 sterling silver, we are loving the Double Hoop necklace that tells your family's story with names and birthstones in one stunning and cohesive piece. Don't miss Silvery's other items which are all handcrafted with love in Sydney.
---
Kellective by Nikki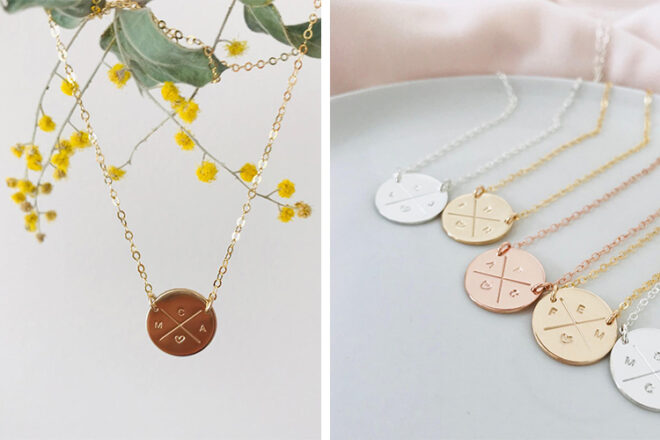 Dainty, delicate and simple, every piece in the Kellective by Nikki range is handmade. Grab a cuppa because there are so many designs and the fun is in the choosing. This stunner features up to 4 initials which you can swap for the cutest little symbols under the sun.
---
This list is lovingly curated by our experienced editorial team and may include affiliate and/or paid inclusions. See our Disclosure Policy.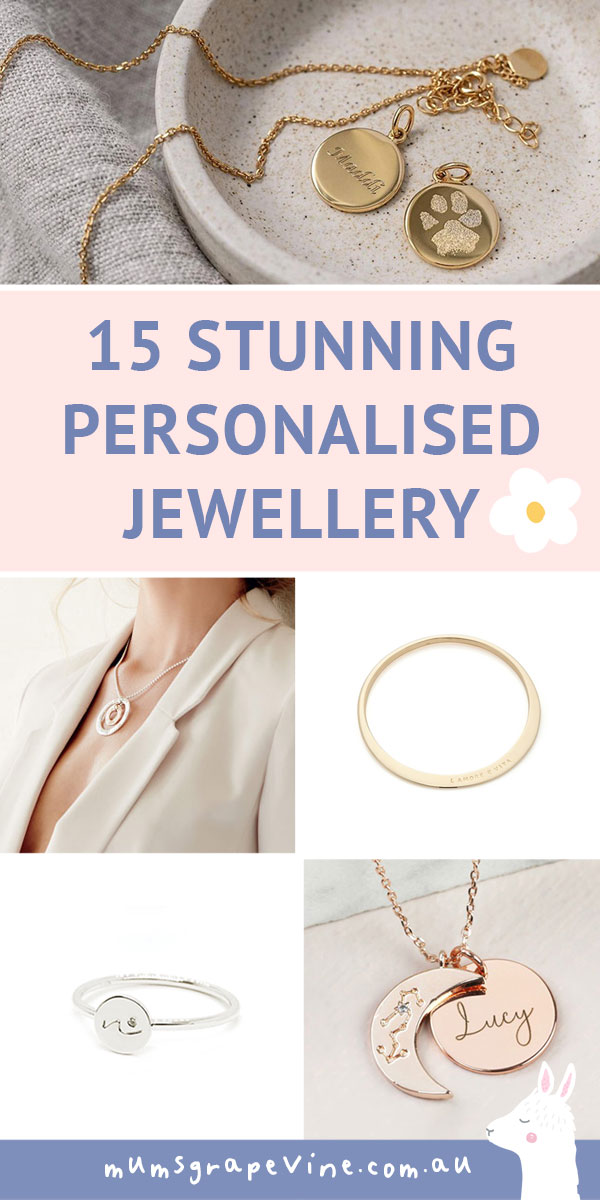 ---
Read next…
If you're looking for a stress-free Mother's Day you're in the right spot! From our huge 'hint list' of gift ideas for new mums to easy breakfast ideas the kids here are more helpful articles to check out next.
Thank you for trusting us to be your go-to source for all things baby-related.
Happy shopping 😀