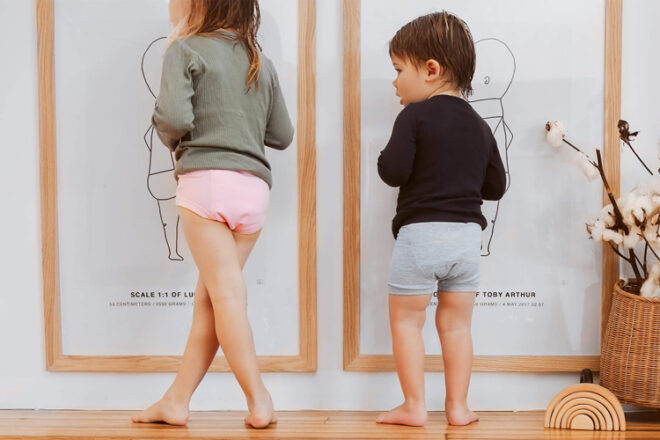 Pop out the potty and get on guard, the toddler's starting toilet training. Luckily, there are training pants that help them transition with less mess and less laundry. It's not sorcery, it's just smart.
Training pants are specially designed waterproof underwear for young children in aid of toilet training. Looking like regular undies, they help toddlers transition out of nappies by allowing them to feel the sensation of wetness, whilst the absorbency contains one wee or poo.
We've handpicked a list of reusable training pants available in Australia and answered some questions about how to find your go-to pair.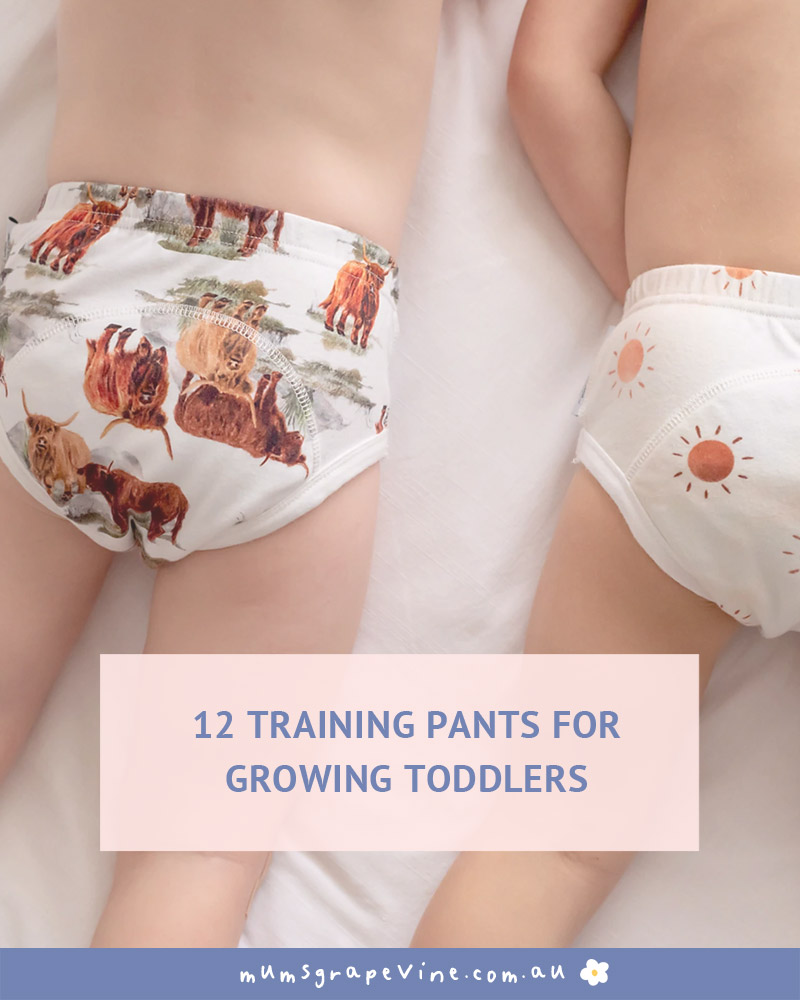 12 reusable training pants for transitioning success
A great pair of training pants helps your child achieve toilet training success while saving your carpet and sanity at the same time.
In no particular order, here are 12 training pant brands we love:
Conni Kids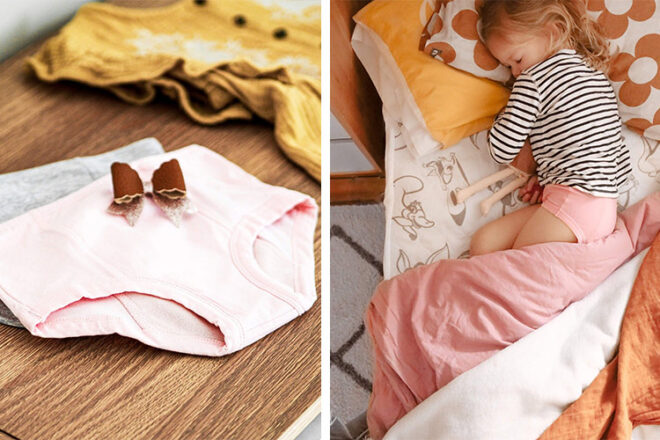 They'll be chuffed with these little numbers that look so much like real undies. Featuring four-layer protection from the front waistband all the way to back, they're lightweight, machine washable and tumble dryer safe.
---
Tuti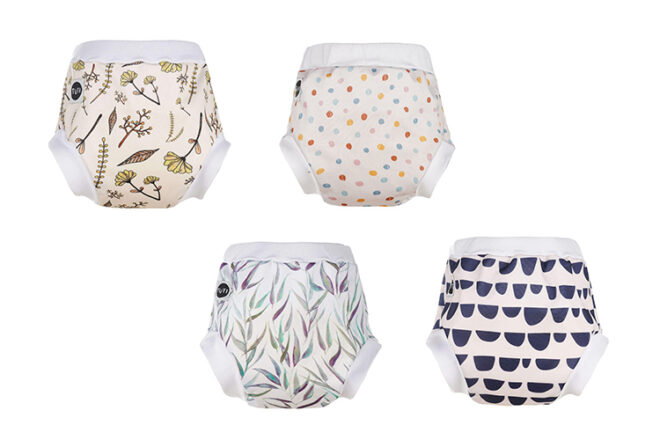 Save the carpet, save the clothes. Available in gorgeous designs, these waterproof PUL (soft cotton lined) beauties have a padded gusset and stretch cotton leg bands and waistband to make things all the more comfortable for your little trainer.
---
Brolly Sheets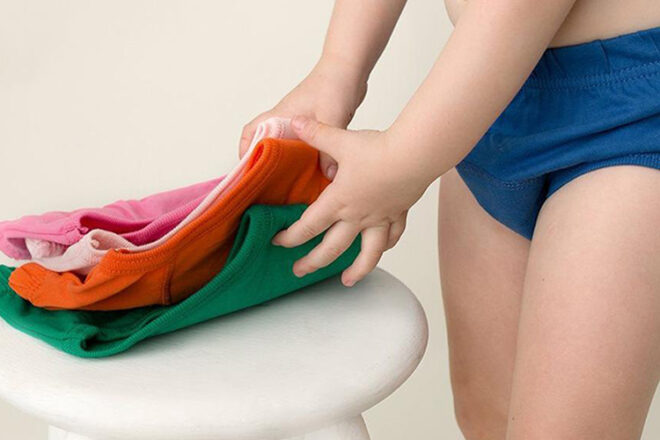 These cotton jersey numbers are snazzy and available in five rainbow shades. Easy for your toddler to take on and off, they aid in toilet training independence and give you that extra bit of security, especially when you are out. Too good.
---
Designer Bums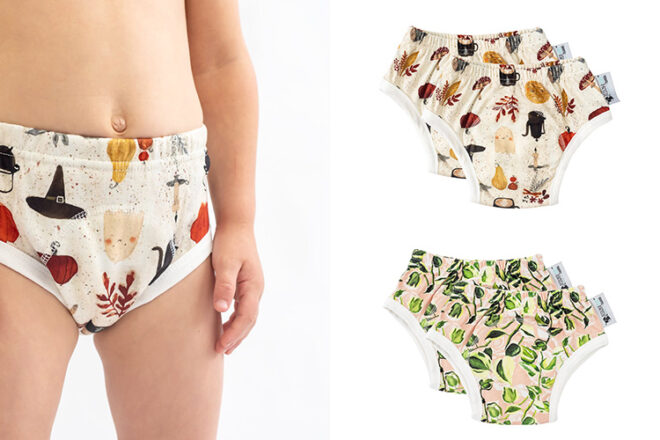 Made from premium GOTS certified organic cotton jersey, your toddler can toilet train in style. How will you choose between the cool prints? With no harmful chemicals or materials in sight, they are kind to the environment and of course, to the skin.
---
Waladi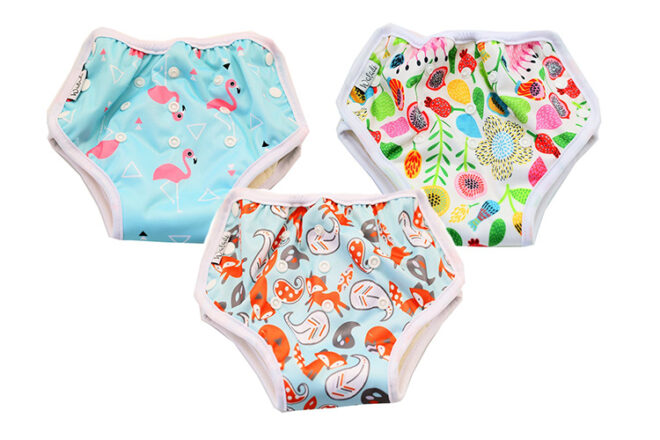 These attractive, quick-drying toilet training companions will fit trainees anywhere from 3.5 to 15kg due to their built-in snap system. It's designed to contain one wee or poo, but to be washed and reused over and over saving you lots of moolah.
---
Close Parent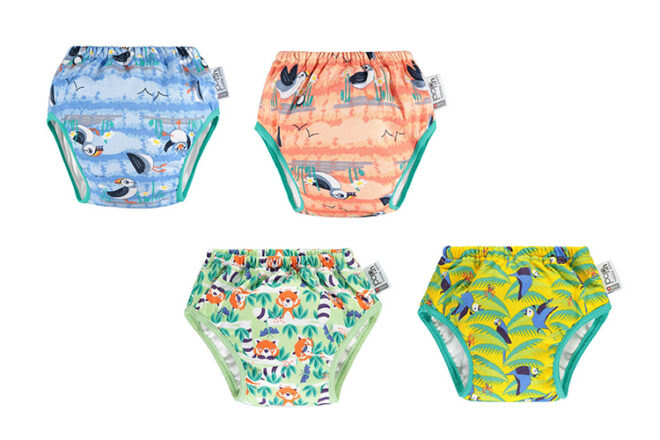 Taking the puddles out of potty training, these well-made training pants are soft and comfortable on your child's skin. Tucked away out of sight are the waterproof and absorbent components but all they'll be focused on are the gorgeous prints and being a big kid.
---
Bare and Boho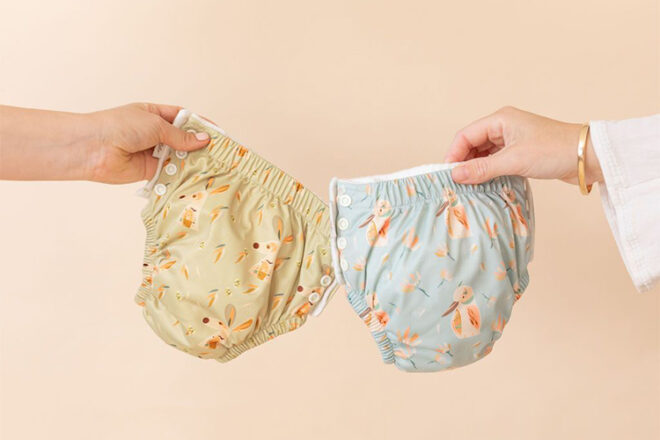 With extra snaps on the side for practicality, these training undies help bring awareness to bodily functions due to no stay-dry lining. Available in sweet unisex prints by Australian artists, the comfy lining is made from bamboo-cotton fleece.
---
Kidsaroo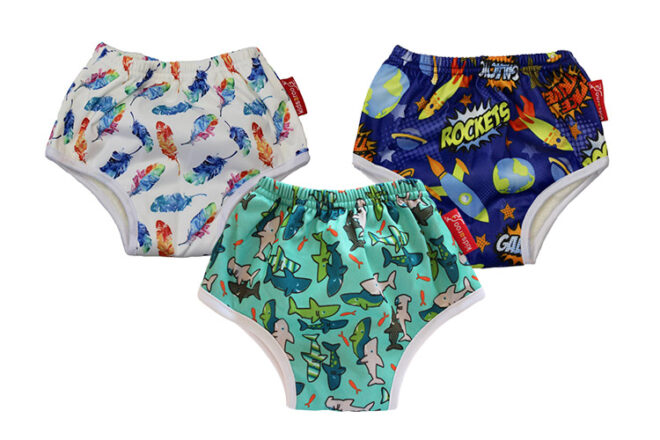 En route from the supermarket trolley to the toilet? Stress less! With the perfect amount of stretch in the waist and just a little in the legs, these nappy pants are super soft and comfortable not crunchy and provide enough absorbency to get you through.
---
Bambino Mio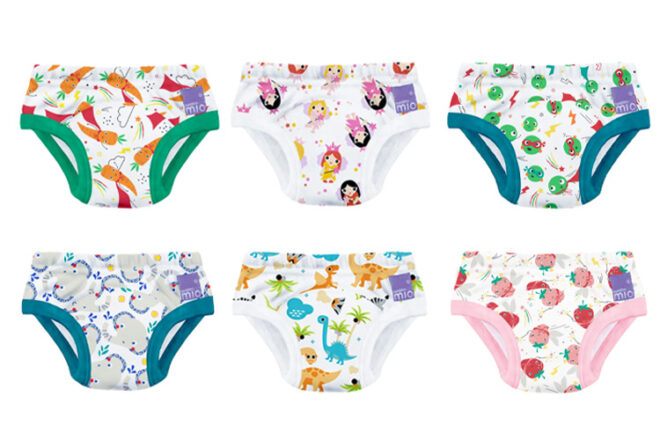 In a handy pack of five, these unisex undies have a concealed water-resistant layer for containing little accidents. They allow your little one to feel wet so they can make their transition faster. And being washer and dryer safe, they're easy-care too.
---
Pea Pods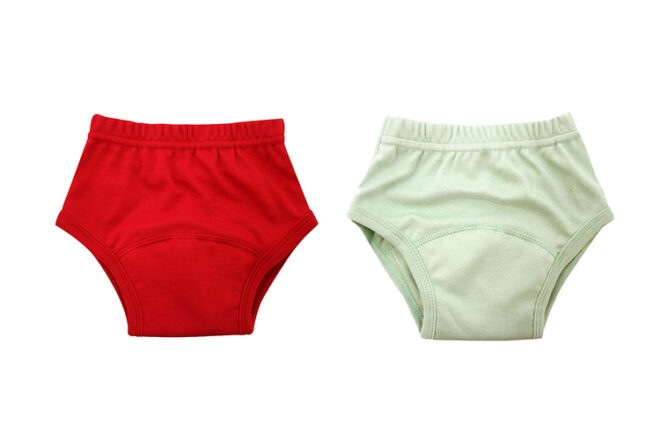 Its soft bamboo lining and exterior are super comfy, and with sizes ranging from S-XL, toddlers from 12-18kg are covered! You'll want to pack a pair or three of these washer and dryer compatible handy helpers when you're out.
---
Bilbi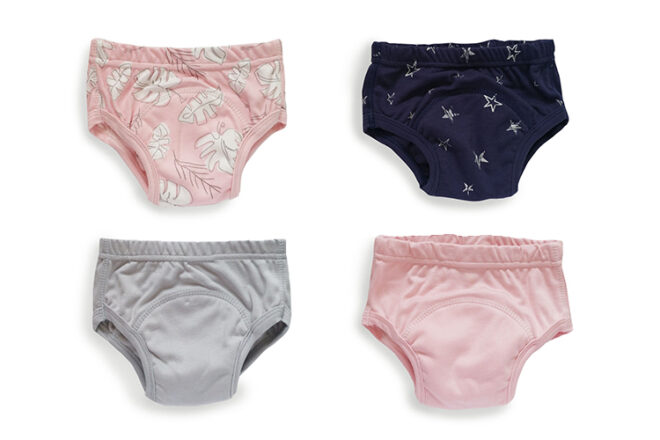 Available in sweet prints or plain shades, Bilbi Training Pants are made of soft cotton bamboo jersey. With a built-in absorbent core and comfy elastic waist, tots can just pull up and go. A great staple for their toilet training journey.
---
Rudie Baby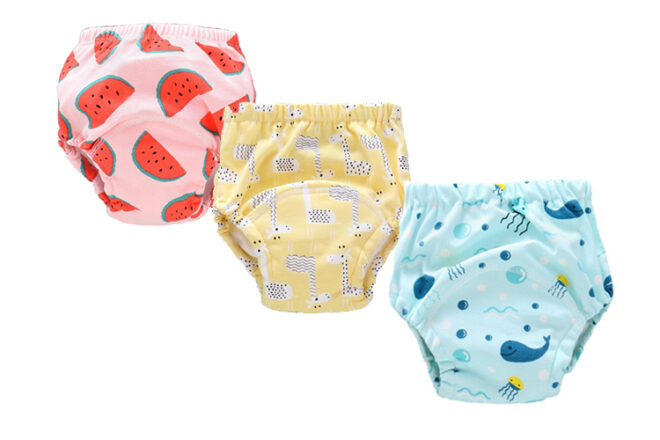 Soft to the touch and comfy to wear, the hardest part will be choosing between the great prints. Used alone during the day or with added boosters at night, this 2-in-1 gem will have them on their way to independence in no time.
---
Are training pants suitable for overnight?
Training pants generally contain one accident. However, for extra absorbency overnight, some come with the option of being able to insert additional boosters. Unless specified, overnight boosters don't contain as much liquid as a traditional nappy so it's best to start using overnight training underwear once your child is generally dry while sleeping.
What materials should I look for?
Apart from the necessary waterproof material required for containing moisture, training pants should have no 'stay-dry' lining so that toddlers are able to still feel the sensation of wetness. Also, look for materials like cotton or bamboo that are going to be comfy against their skin.
How do I clean training pants?
First, scrape off any solids into the toilet and rinse the training pants prior to washing. Then, either hand-wash or machine-wash in warm water with gentle laundry detergent. For those that can go into the dryer, it's best not to dry them on high heat. Always check with the manufacturer's instructions first.
---
This article is curated by our Editors and includes affiliates and/or paid inclusions. See our Disclosure Policy.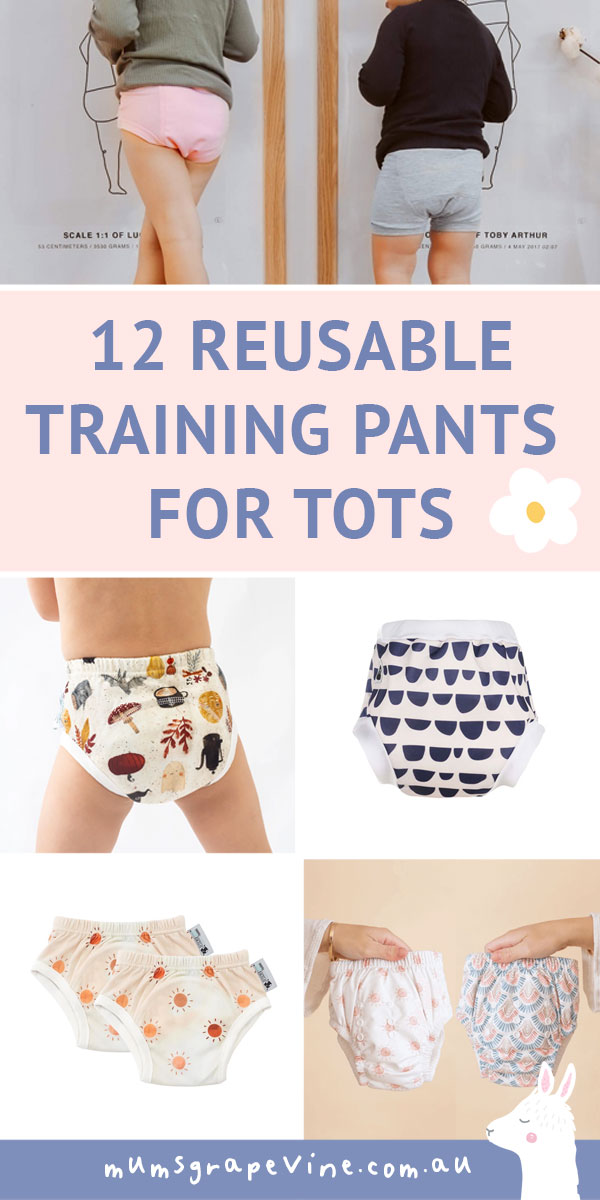 Know an excellent training pants brand we should add to our list? Contact us and let us know.
Read these roundups next…
Looking for more toddler essentials? Our roundups include the most coveted brands and products in Australia from dreamy night lights to training potties.
Read this: How to teach kids to poo in the toilet
Continue your search for the best training pants
Looking for reliable products for your little ones and still not sure if any of these are right for you? Search online by jumping into one of our closed Baby groups and ask thousands of other Australian mums what they recommend – 'What to buy' is the most talked-about topic.
Click and join your group today!