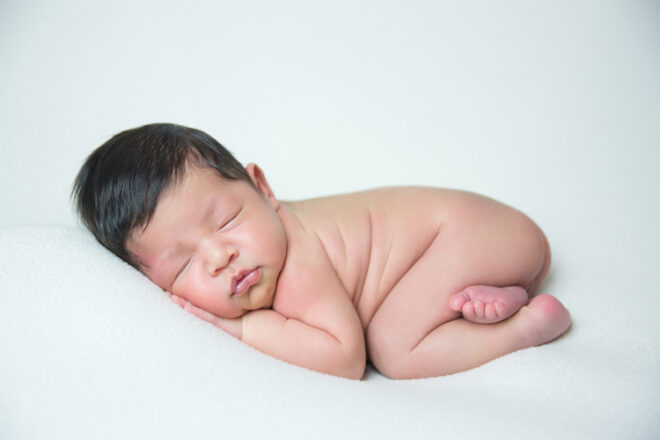 India may be far from our Aussie shores, but if you're looking for a name that's rich yet modern, then you might want to lean in. Indian baby names might be your ticket to the unique and interesting moniker you're looking for, with a healthy dose of spice and colour mixed in.
With more glamour than Bollywood and Hollywood combined, let's take a look at 29 Indian names and their meanings.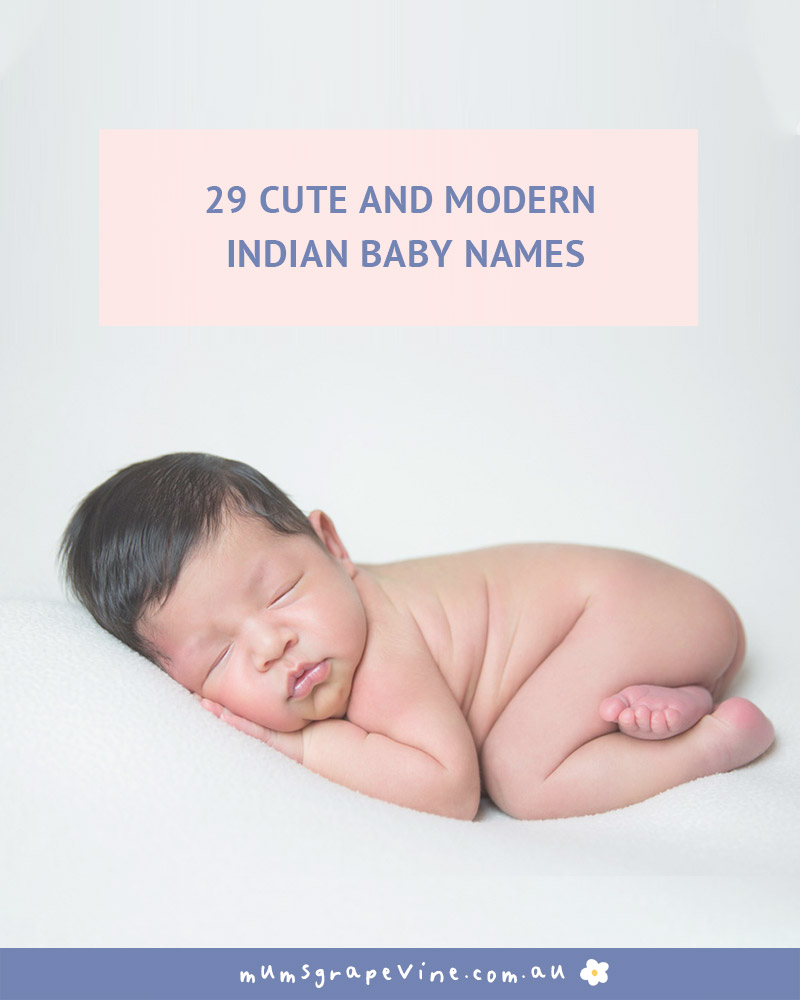 Indian baby names for boys
Aayush: If a name can place a child in good stead then this one might take the cake. Meaning long life, vigour and health, it's what we want for our sons.
Arnav: Aussies love the ocean, and Arnav means the sea. Aussies also love to shorten names – Arn or Nav perhaps?
Chitaksh: Should observers comment on your baby's beautiful eyes, you can say 'Right? Chitaksh means one with attractive eyes'.
Deven: With a familiar ring to it, this unisex Hindi name means 'divine' and is a winner in our books.
Ehsaan: This modern-sounding name is also one with great depth. Meaning 'compassion,' it's a trait every person should possess.
Gautam: It's common in India, not here. But with the meaning 'the bright one in the darkness' and 'full of life, wise' it's a diamond in the rough.
Hridaan: Believed to mean 'a generous heart,' Hridaan is a name that we find very inspiring.
Johar: Fitting for the apple of your eye, the name Johar is a fresh take on Joe and means 'jewel.'
Kunal: Sanskrit for lotus and 'one who sees beauty in everything', it's also the name of a Himalayan bird.
Mahesh: Set him up to be a leader with a name that means 'great ruler'. It's of Hindi origin and can also be pronounced mahe-sh.
Milan: You may think of Italian influences straight away but did you know Milan is also of Sanskrit and Hindi origins? It means union, to meet, joining, grace and favour.
Prathan: Firstborn sons will know their place in the family with a name that's derived from the Sanskrit word meaning 'first.'
Rohan: If the meaning of ascending is not cool enough, fans of Lord of the Rings will know Rohan as the fictitious kingdom of horsemen.
Shashi: With a celestial name meaning 'moonlight' how can you go wrong in the name stakes? This dreamy moniker is appropriate for both boys and girls.
Varun: Looking for a name associated with water? For all those avid surfers and swimmers, naming your son 'water god' might see him follow in your footsteps.
Indian baby names for girls
Aditi: Children are known for their boundless energy and Aditi has the same meaning. Pronounced ahh-dee-tee, how cute is this name?
Ambar: A different spelling for the more common Amber, this gemstone-inspired name is also of Arabic origin.
Arya: Indian goddesses abound, and this pretty name is another one for the goddess Parvati meaning noble and respectable.
Eesha: High in the glam stakes, Eesha means desirable, attractive, supreme and divine. Also spelt Isha, it's also the name of a meditation practice.
Dhara: Naming your daughter after one of the four elements is always a great idea in our books, Dhara means earth.
Harsharli: Many will say their goal in life is to be happy and this name means just that: 'one who is happy'. We think Sharli is nice for short.
Keya: It may be short, but this name is more short and sweet than short and sharp. For those wanting a floral name, this translates simply to 'flower.'
Lavanya: This Sanskrit name has class written all over it. Meaning grace, beautiful and charming it has a regal ring.
Nakshatra: Calling all celestial-loving mummas, this beautiful Sanskrit name means star or constellation.
Prachi: 'First rays of the sun, morning' is the meaning of this one, no truer when she wakes at the crack of dawn.
Saira: A twist on Sara, it means traveller, princess and poet. If that's not cool enough, there's also a bird called the Yellow Saira making it an animal name too
Urmi: Water-loving parents will adore Urmi which is inspired by nature. It speaks of waves, the ocean, becoming manifest and speed.
Yashi: Perhaps this name might go straight to the top of your list for it means famous, successful, victorious and glorious! We're not comparing our child to anyone else's, right?
Zoya: This uber-cool name has plenty of meanings: life, rejoicing, alive, love, radiant. A true celebration as far as names go.
---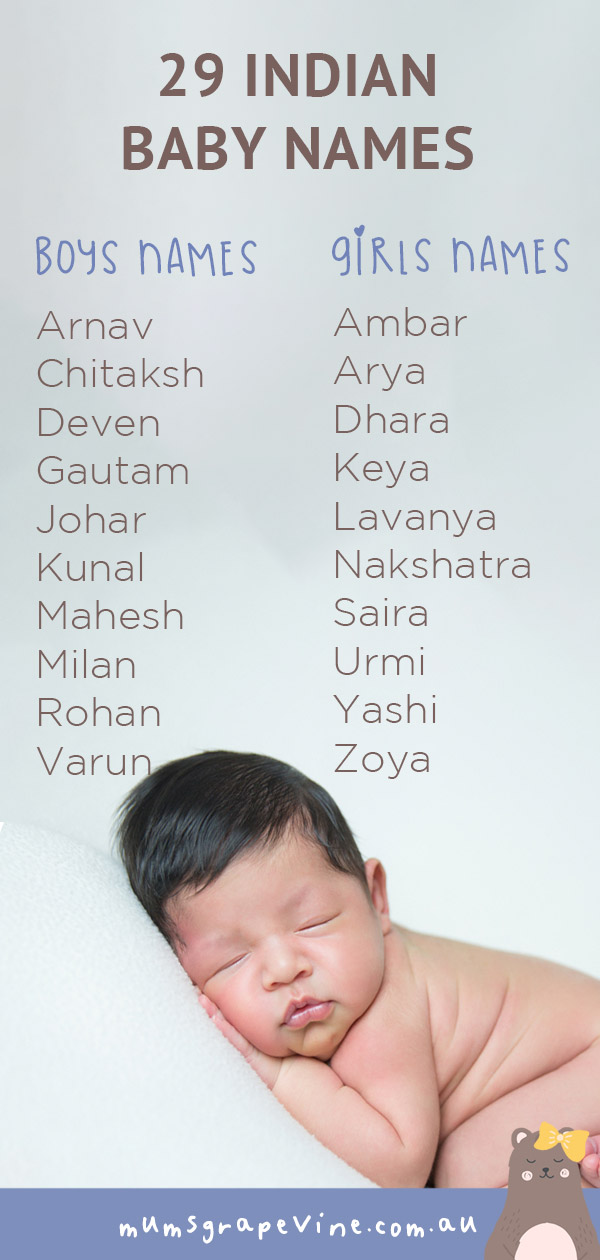 Read next …
Trying to choose the perfect baby name for your little one? Find hundreds of inspirational and unique baby names in these next articles:
Join our Facebook groups
Join one (or four!) Mum's Grapevine Facebook groups and chat with other mums due at the same time as you. We have over 20 groups to join!
Click here >> Mum's Grapevine Facebook Groups << and find your group today!