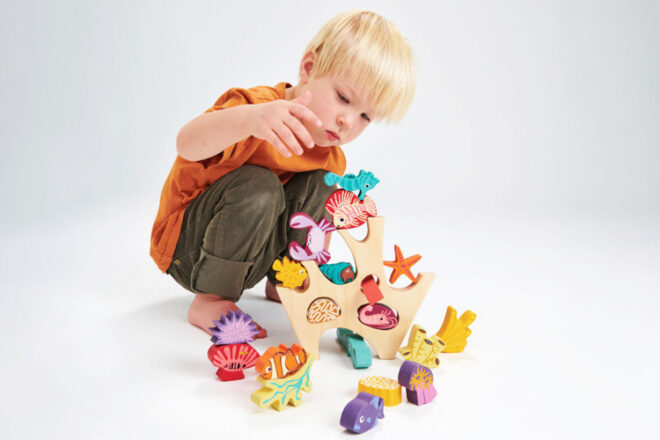 Whether it's during playtime on the mat or stacking cheese cubes at lunch, it seems as soon as they can sit up they want to stack up, which is why stacking toys are such a hit in the early years.
Stacking toys encourage babies and toddlers to problem-solve, expand their creativity and develop their fine motor skills through play. Totally giftable and cute enough to double as kiddie decor, they're classic learning toys that little hands love to reach for.
And the best bit? What goes up must come down, of course! To keep their little fingers busy and little minds even busier, we've scouted out the coolest stacking toys in town for babies and toddlers.
OUR PICK OF THE CROP
19 stacking toys for learning and play
With so many stacking toys on the market in Australia, it's hard to know where to start, so we asked the HUGE Mum's Grapevine Facebook community which sets they love the most.
In no particular order, these are the stackable toys they tried, tested and recommended.
Viga Stacking Cubes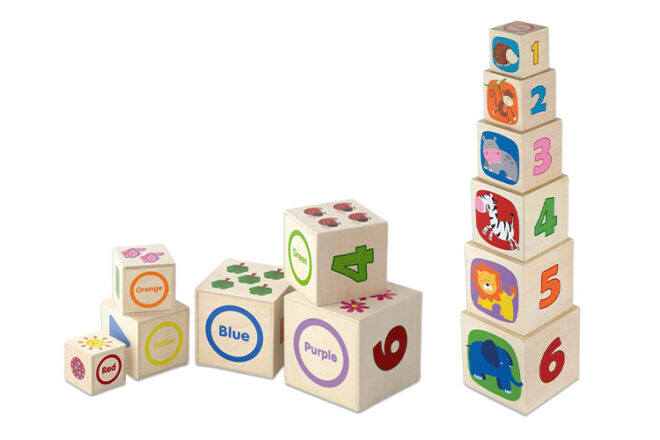 Suitable for toddlers from 12 months of age, Viga Stacking Cubes come in a set of six, with vibrant numbers, words and imagery on every piece. We love that they're made of durable wood and can be nested as well as stacked ($26).
---
Janod Cocoon Stacking Stones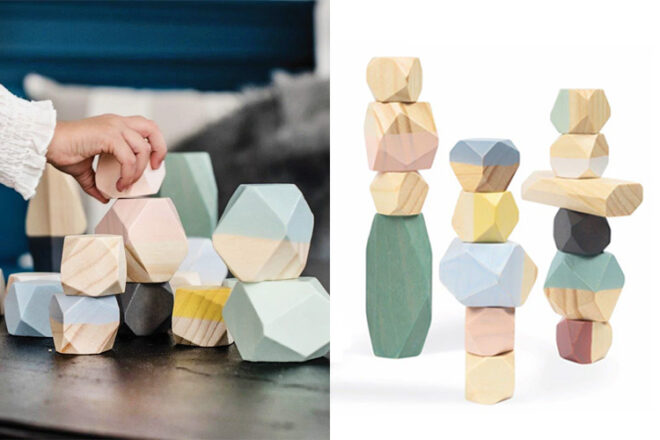 Lightweight and smooth, French-designed Janod Cocoon Stacking Stones are recommended for toddlers aged two years and above. We love the modern muted tones and smooth, flat sides for endless stacking possibilities ($69.95).
---
Le Toy Van Petilou Stacking Veggies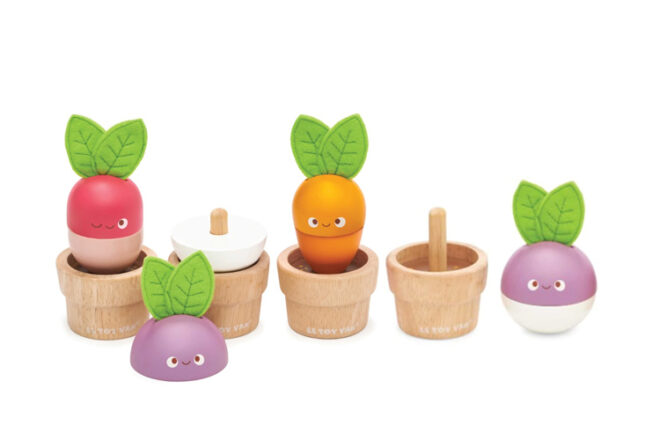 Made of rubberwood and suitable for two years, Le Toy Van Petilous Stacking Vegies include a carrot, beetroot and radish, each with hand-sewn leaves. We love that the super cute and chunky pieces are perfectly sized for little green thumbs ($44.95).
---
Grimms Rainbow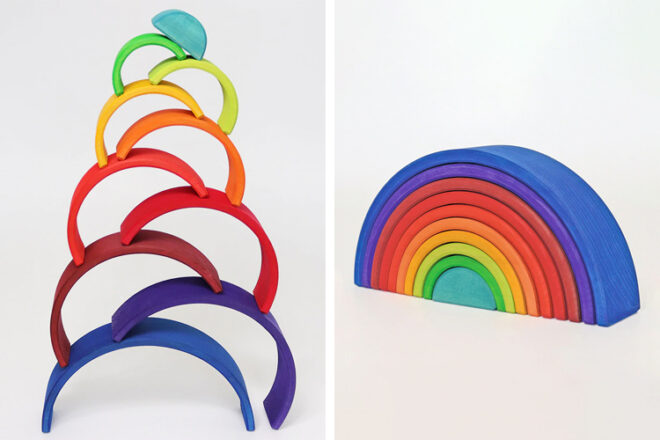 Comprising ten glorious coloured pieces, the Grimms Rainbow is made in Germany from non-lacquered lime wood for a rustic, durable finish. We love how versatile this set is for open-ended play – and that it looks beautiful on shelves! ($259.18).
---
Boon Fleet Stacking Boats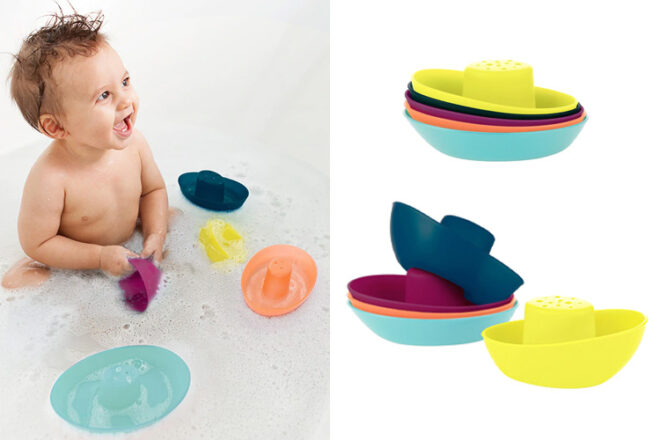 Perfect for the little ones who love bath play, Boon Fleet Stacking Boats are water-safe and made using quality ABS plastic that's totally free of nasties. We love that kids can use them to scoop, stack and pour – in the tub and at the beach ($16.95).
---
Goki Stacking Tower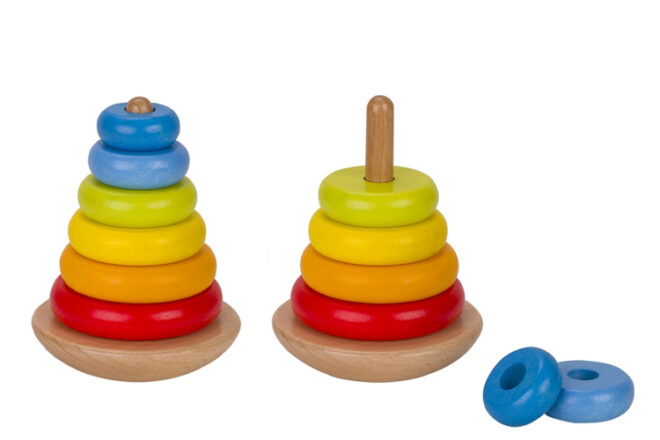 A colourful classic, the Goki Stacking Tower is made in Europe from durable wood and is suitable for toddlers aged two years and up. We love the coordinated colours and the way it encourages little learners to stack by size ($26.95).
---
Mushie Stacking Cups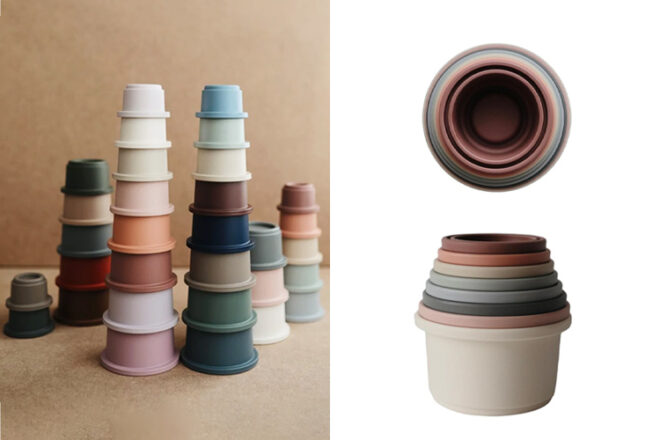 Inspired by the tower 'Rundetårn' in Copenhagen, Mushie Stacking Cups include eight PCV-free pieces in assorted tones. We love that each cup features assorted cutouts on the underneath for fun water play ($34.95.)
---
Hape Counting Stacker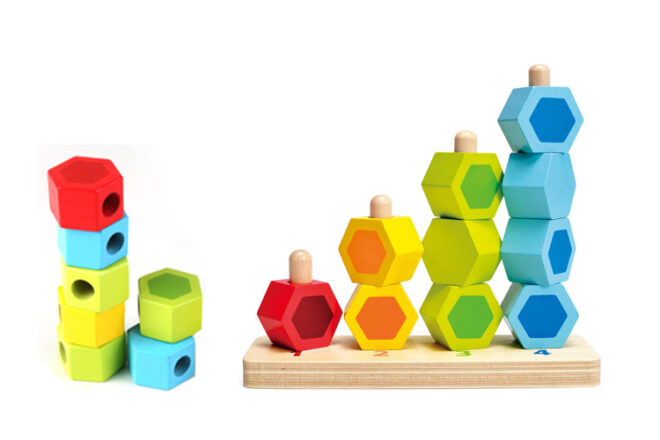 Built tough for years of fun, the Hape Counting Sorter is perfect for little ones from 12 months and uses eco-friendly materials. We love that it teaches colours, counting and fine motor skills in one compact set ($15).
---
Green Toys Stacking Cups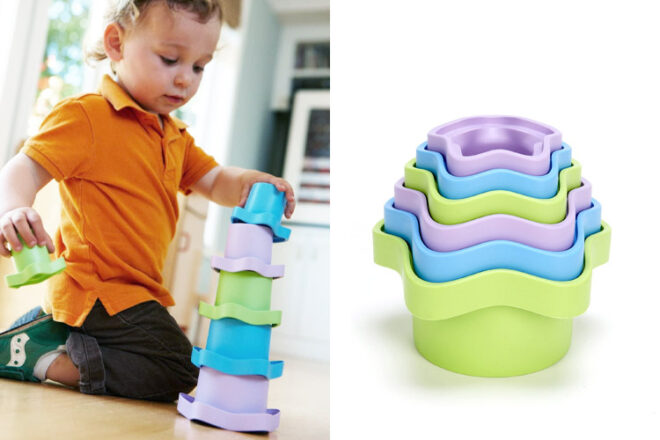 Made using 100% recycled plastic, Green Toys Stacking Cups include six pieces in graduating sizes and they're suitable from just six months of age. We love that each cup comes numbered from one to six and is dishwasher-safe ($24.95).
---
Lamaze Rainbow Stacking Rings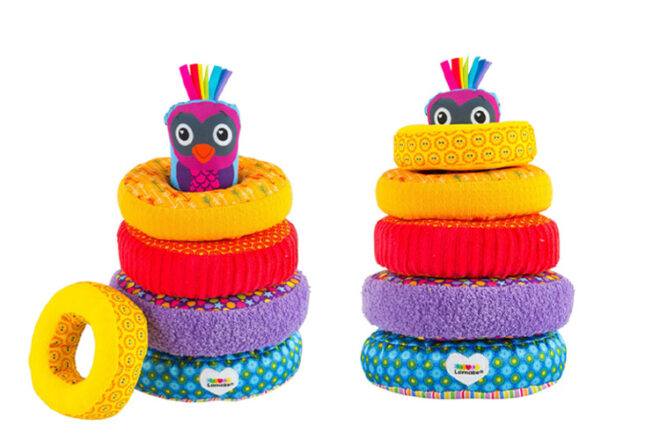 Designed for babies from six months of age, Lamaze Rainbow Stacking Rings use bright colours, soft fabric and fun textures to stimulate all of the senses. We love that these rings don't make a sound when hurled across a room by a mighty tot! ($34.95).
---
Discoveroo Windmill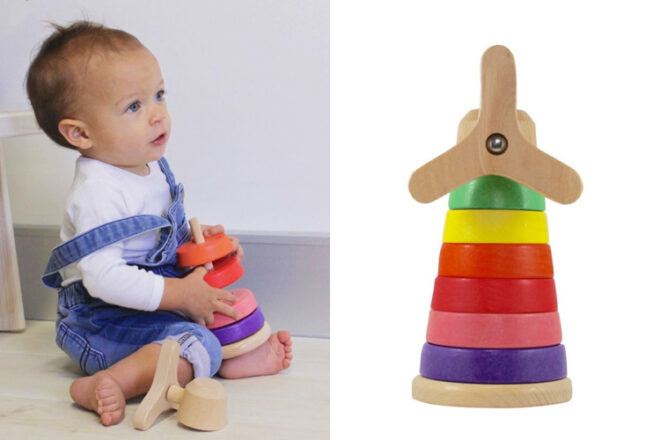 An adorable spin on a classic toy, the Discoveroo Windmill uses sustainable plantation beech wood and child-safe paints. We love that each coloured piece has two holes so that toddlers can investigate fun angles and dimensions ($45.99).
---
Liewood Dag Stacking Tower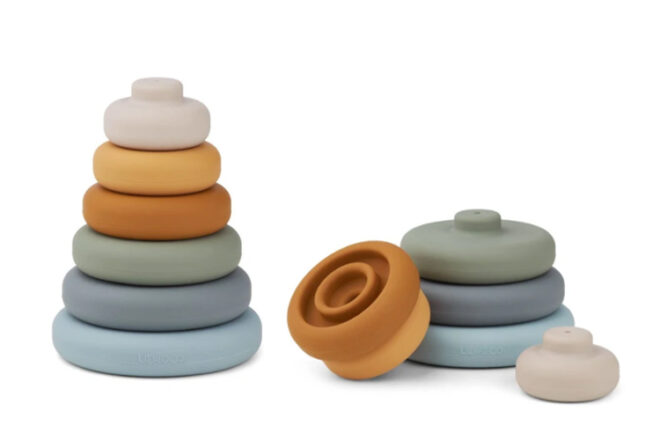 A Scandinavian take on the traditional stacker, Liewood's Dag Stacking Tower uses 100% BPA-free silicone to be super smooth for young hands to hold. We love that it's ultra-lightweight and a cinch to clean at the day's end ($60).
---
Tiger Tribe Stack & Pour Egg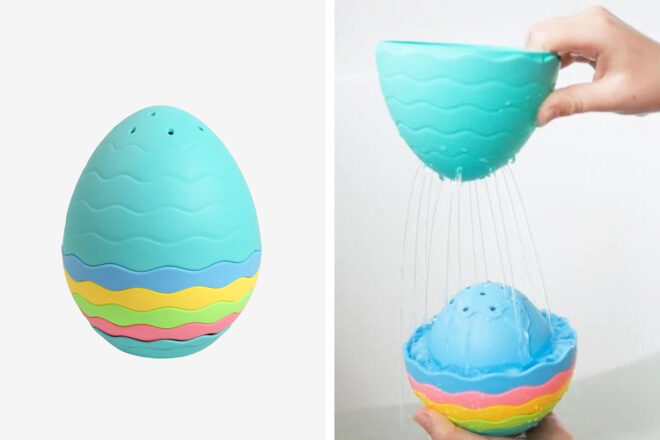 Ready for floor play or water play, the Tiger Tribe Stack and Pour Egg includes six stackable sections, each with different holes for creating water effects. We love that this BPA-free toy will thrill toddlers right through to grade-schoolers ($15).
---
Fat Brain Toys Tobbles Neo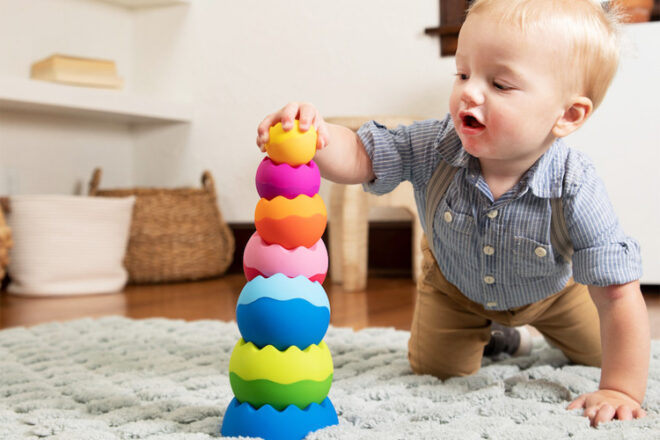 Combining motion with tactile play, the award-winning Fat Brain Toys Tobbles Neo includes six weighted spheres that stack, wobble, nest and spin in different ways. We love the use of dual colours and unique grippable textures for little hands ($38.95).
---
Areaware Block Party Wooden Duck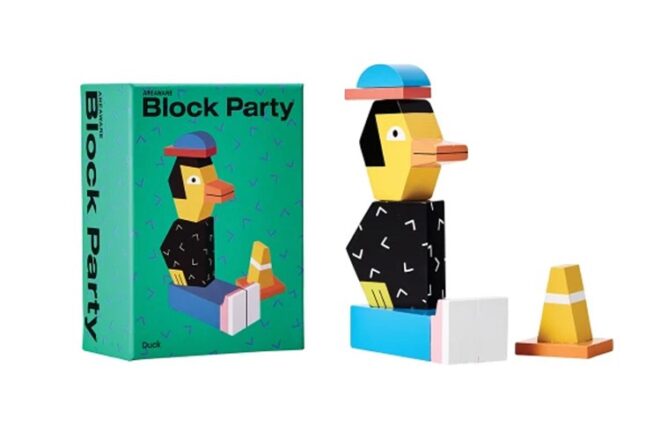 Quirky, fun and that little bit different, the Areaware Block Party duck comprises five colourful pieces that tots can stack and arrange in whatever order they like. We love that it's compatible with other sets in the range for creative mixing and matching ($69.95).
---
Tender Leaf Toys Stacking Reef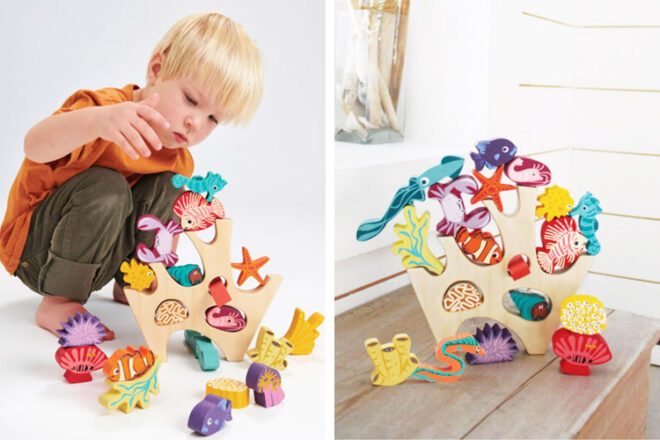 Suitable from 18 months, The Tender Leaf Toys Stacking Reef includes a squid, fish, prawn, eels, seahorse, crabs, starfish, urchin, anemone and four pieces of coral. We love that this unique stacking toy doubles as a sealife playset ($59.90).
---
Done By Deer Stacking Cubes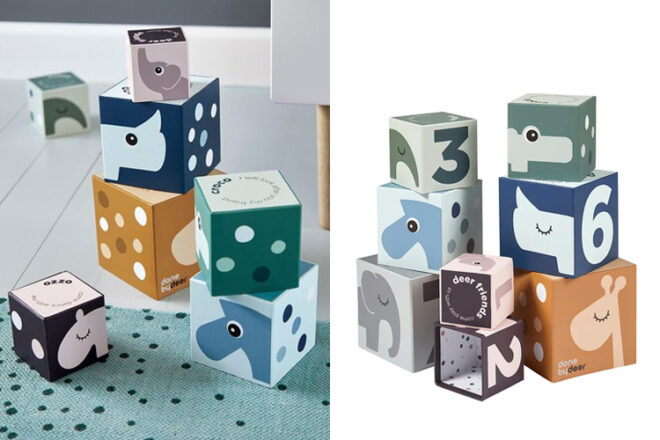 Suitable from birth, Done By Deer Stacking Cubes include four wipe-clean cardboard cubes, each decorated with animal imagery, colours and numbers. We love that you can hide things inside each cube for little people to discover ($39.95).
---
Plan Toys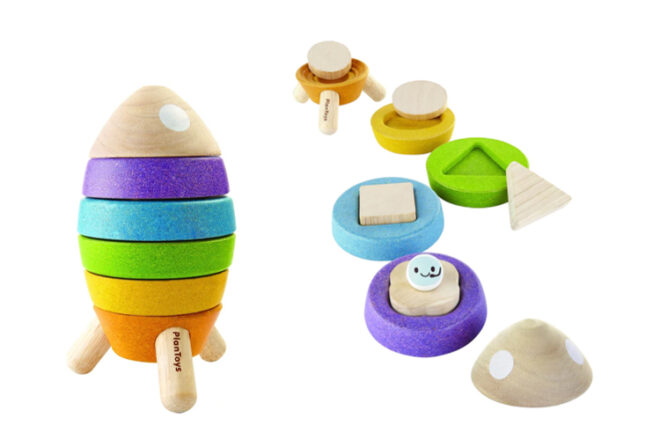 As cute as it is durable, the eco-friendly Plan Toys Stacking Rocket uses non-latex rubberwood and water-based, kid-safe dyes. We love that it incorporates mini sorting shapes and an astronaut ready to lift off! ($42.95).

---
Petit Collage Bunny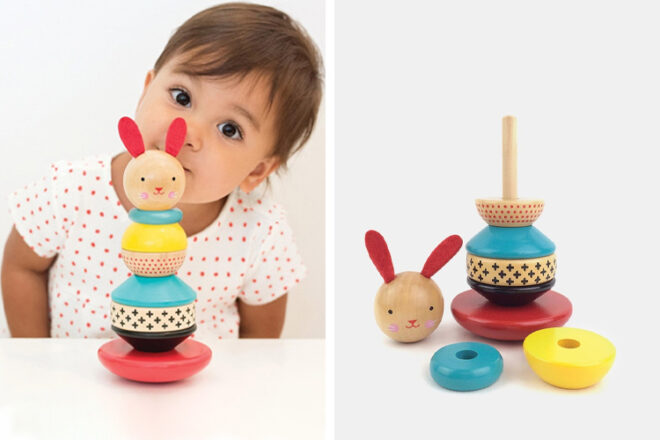 Cute as a button and oh-so giftable, the Petit Collage Bunny uses beech wood and water-based paints for longevity and quality.  We love the unlimited 'outfits' kids can stack together with this set – and those sweet felt bunny ears ($38.95).

---
Know a stacker we should add to our list? Contact us and let us know, we've been curating Australia's best baby products into helpful lists for over 15 years and we're always happy to support new brands and businesses.
Read next …
Ask other mums
Looking for a maternity sports bra and still not sure if any of these are right for you? Join the huge #MGVfam in one of our private Facebook Baby Groups and ask thousands of other mums with babies the same age as yours which ones they recommend. Join today!
We want you to know
At Mum's Grapevine, we're a team of passionate mums (with 19 kids!) and over 15 years of experience researching and writing about all things baby and parenting. Our reviews of recommended products, like the ones in this post, may include paid inclusions, but we promise to only feature products that we truly believe in and have used or seen ourselves. We want to ensure that you, our readers have access to the latest and greatest products in the parenting world, and we're committed to maintaining our high standards of quality and honesty. See our Disclosure Policy.
Thank you for trusting us to be your go-to source for all things baby-related.