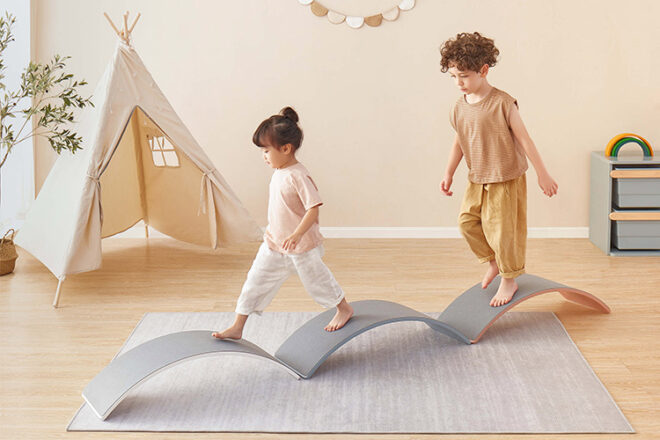 You may have heard the buzz around kids' wobble boards and balance boards. Lean in because you might have just discovered the perfect addition to the playroom. But what exactly are these curvy creations?
A kids' balance board helps children better develop balance and coordination, core strength and open-ended creative play. Also commonly known as a toddler wobble board are see-saw one minute, slide the next, balance boards get kids' bodies and minds moving.
With all the climbing, rocking, resting, sitting and playing they'll be doing, it's a versatile and healthy investment.
OUR PICK OF THE CROP
12 wobble boards for balance & creativity
To help you in your balance board search, we consulted our huge Facebook community of Australian mums and listed their most popular choices below.
In no particular order, here are 10 popular balance boards for 2023
Wobbel Board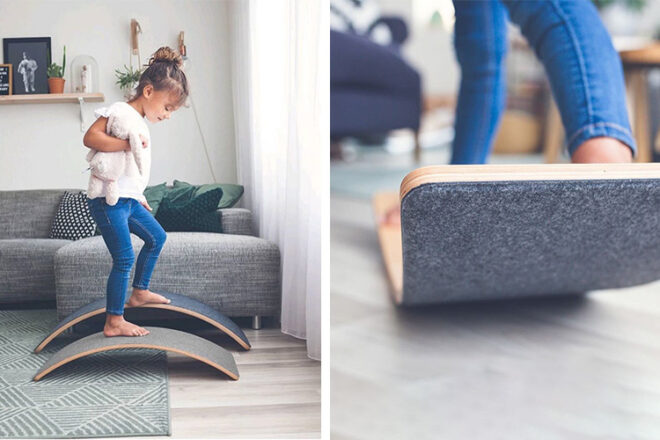 A magnet for children, the Wobbel is a quality, robust redesign of the traditional Steiner (Waldorf) balance board. It's designed for indoors but can be used outdoors as well with sufficient care.
---
Kinderfeets
Keeping energetic kids engaged for hours, the Kinderfeets Kinderboard is a worthy addition to any playroom. This one is made of eco-friendly, sustainably sourced bamboo plywood but there are other materials and colours available to suit your style.
---
Wobbel Board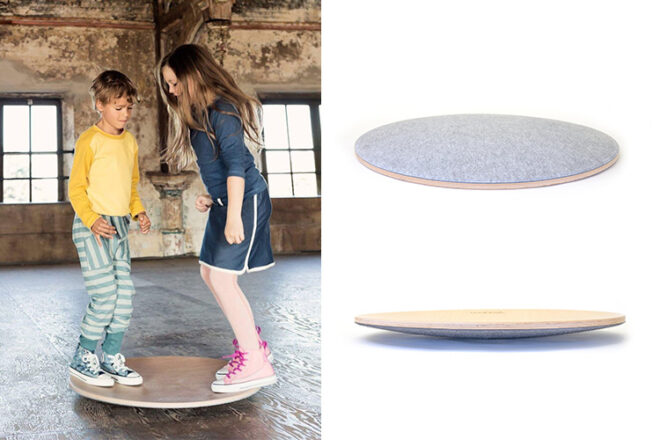 The number of uses this well-rounded toy has will have your head spinning! Kids can balance, sit, rock, play ball or car games or even walk with it. And parents, you can use it to stretch your lower back or to strengthen your core at a standing desk. Too cool.
---
HipKids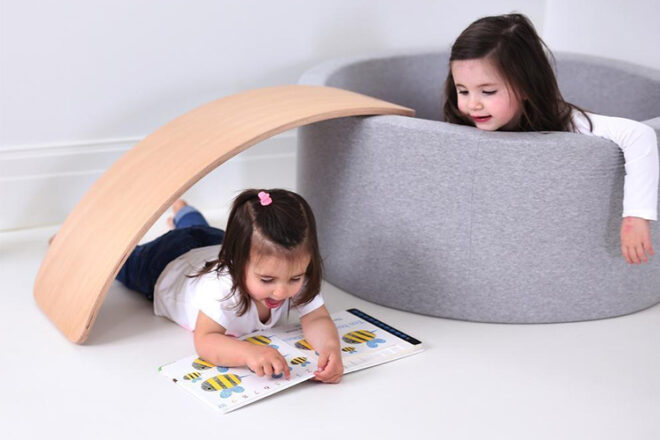 Get the kids moving, and away from their screens! This board helps strengthen little legs and core muscles whilst also being a favourite prop for fun and games. Made of super strong, 100% beech wood, the uses are limited only to their imagination.
---
Plan Toys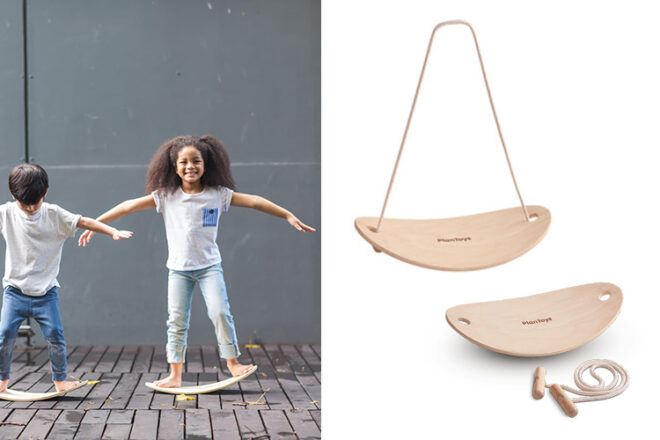 Compact in size but big on benefits, this sustainable rubber wood board helps build their physical strength and body control. Tuck under the arm and bring it outside or to Nan and Pops. The removable rope is great for support when needed.
---
Q Toys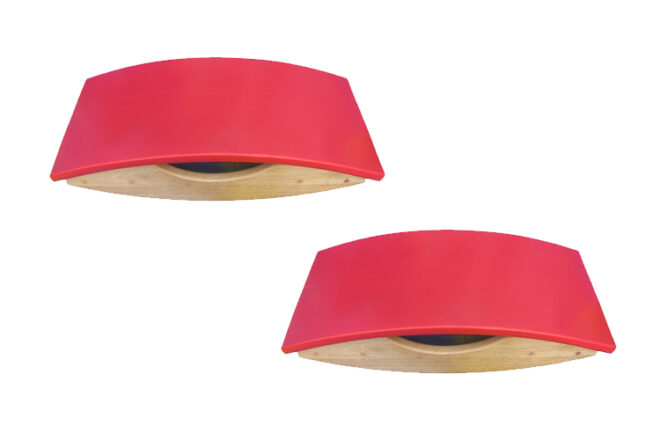 Made of plantation rubber wood, this toy will have kids practising their balance whilst having a tonne of fun at the same time. Made of child-safe materials and non-toxic it's perfect for daycares, kindergartens as well as the family living room.
---
Jenjo Games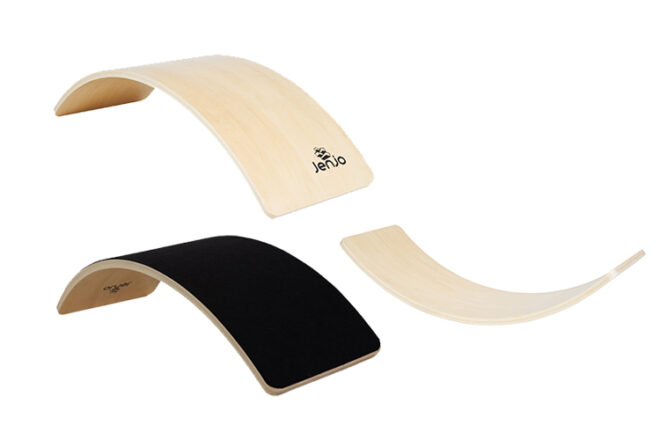 Promoting mental and physical development, this high quality birch plywood wobble board is backed with felt for increased stability. For use indoors or outdoors, this board is a great all-rounder for any family.
---
Boori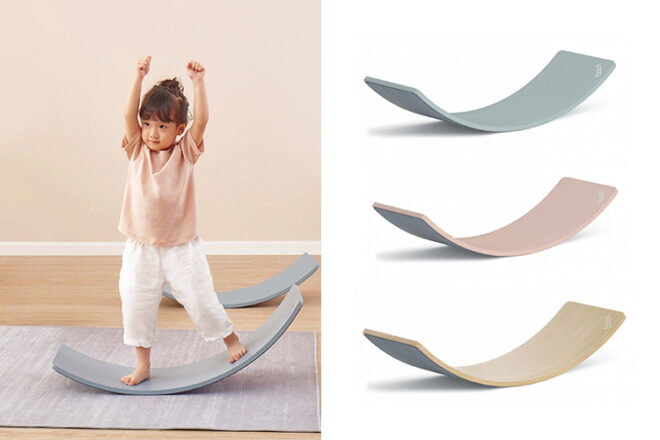 Cue calm colours and soft curves! Crafted from sustainably-sourced engineered timber, the board promotes imaginative play and nurtures your little one's curiosity. The felt anti-slip base means they can play safely and quietly whilst floors are protected.
---
Funyards Australia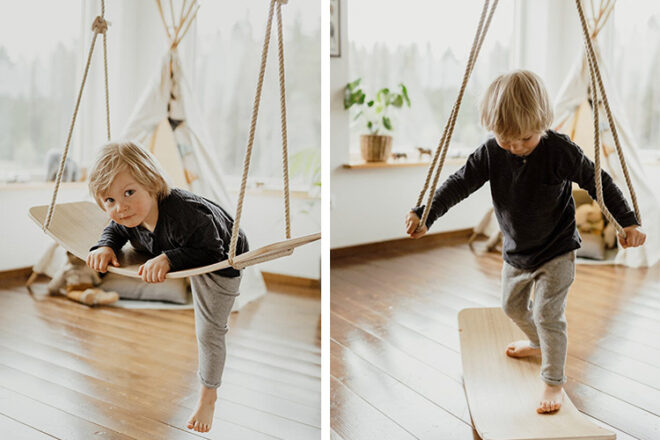 Accept an invitation to play with this scandi-approved 2-in-1. Once safely installed, switch from a swing to balance board quickly and easily with no tools. It's crafted from FSC certified Finnish Baltic birch wood with an American oak veneer.
---
Kinderfeets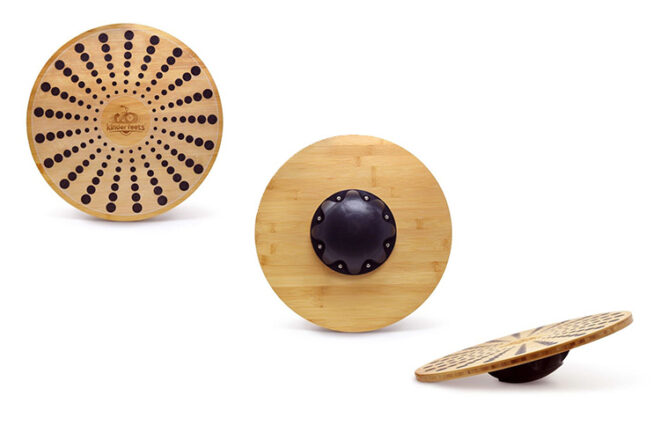 This ain't a UFO, it's been positively identified to build your family's physical strength, posture and agility! Suitable for ages from 3 years to adult, the Kinderfeets balance disc features an EVA emery grip pattern for traction.
---
My Happy Helpers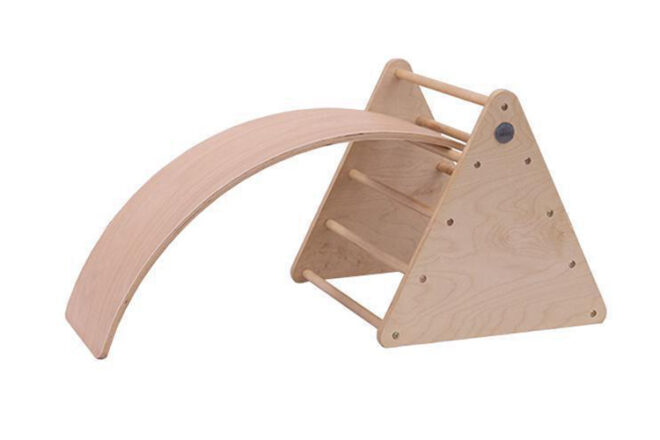 Hard to resist, this set allows your little one the choice of climbing, balance, motor skill exploration and open ended play, depending on their ability and courage. Configure the balance board however you like or use it separately for even more fun.
---
Fat Brain Toys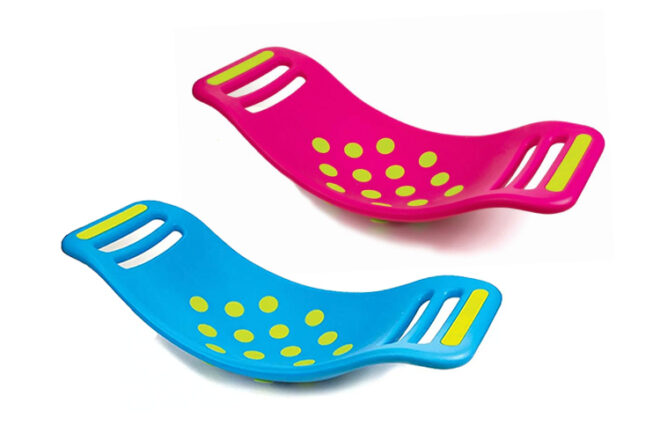 With a sound just like popping bubble wrap, the 14 silicone cups on the Teeter Popper make for an auditory experience as well. Kids can balance on it, rock it, spin it, flip it and sit on it. The options are endless and they choose how to play.
---
FAQs: Your questions answered
What age can my child use a balance board?
From around the age of three, boards for balancing can be used for the activity of standing and balancing. However, younger tots can also interact with it by using it as a seat, for climbing or as a prop in pretend play. You'll need to check the manufacturer's weight limit for each specific product, but many wobble boards will comfortably hold the weight of an adult meaning the whole family can make use of it.
What are some tips for safe use of a wobble board?
Firstly, ensure the board is suitable for your child's age and only used under direct adult supervision. Place it on a flat, horizontal surface with plenty of clear space around it. Beware of fingers and toes at the edges and teach your child from the first time to never hold the edges. Barefoot or non-slip shoes are best to prevent slipping.
What are the benefits of a wobble board?
Balance boards are toys that have far-reaching benefits for children. They get little bodies moving and help strengthen muscles, improve children's spatial awareness, sense of balance, coordination and confidence. They can be a great aid for children with special needs such as Attention Deficit Hyperactivity Disorder or Autism, assisting with balance, motor skills and co-ordination. Balance boards also encourage kids to get creative by facilitating lots of open-ended play.

Know a wobble board we should add to our list? Contact us and let us know, we've been curating Australia's best baby products into helpful lists for over 15 years and we're always happy to support new brands and businesses.
Read next …
Ask other mums
Looking for a maternity sports bra and still not sure if any of these are right for you? Join the huge #MGVfam in one of our private Facebook Baby Groups and ask thousands of other mums with babies the same age as yours which ones they recommend. Join today!
We want you to know
At Mum's Grapevine, we're a team of passionate mums (with 19 kids!) and over 15 years of experience researching and writing about all things baby and parenting. Our reviews of recommended products, like the ones in this post, may include paid inclusions, but we promise to only feature products that we truly believe in and have used or seen ourselves. We want to ensure that you, our readers have access to the latest and greatest products in the parenting world, and we're committed to maintaining our high standards of quality and honesty. See our Disclosure Policy.
Thank you for trusting us to be your go-to source for all things baby-related.