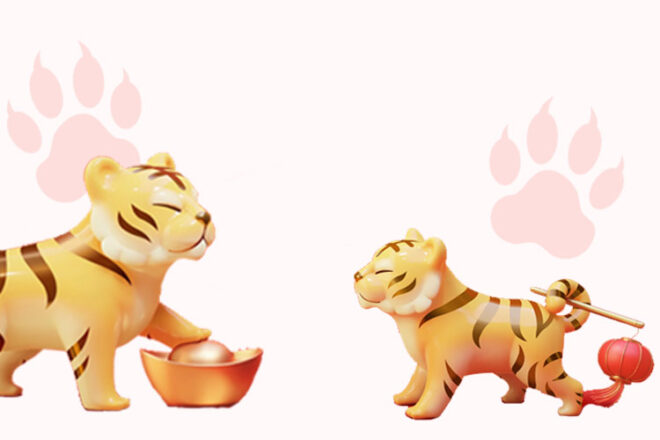 Roarrrr – it's officially the Year of the Water Tiger. If you have a little cub due this year you can expect an energetic baby with a strong personality, according to Chinese astrology.
The Lunar New Year starts this year on easy to remember February 1, and babies who arrive from now until January 21, 2023 are born little felines.
It's time to get purring and find out exactly what the Chinese zodiac says about your little one's Year of the Tiger personality.
Year of the Water Tiger
While the western new year is always celebrated on December 31, the Chinese New Year starts on a different date each year. That's because it's based on the lunar calendar – it will normally fall between January 21 and February 20.
The Chinese zodiac follows a 12-year cycle, and according to Asian astrology the year you're born and the animal this represents says a lot about the type of person you'll become.
Even though the animals are cycled through every 12 years, there are different varieties. This is the first year of the Water Tiger since 1962.
What it means for your baby
When we think about tigers, the image of strength and presence comes to mind. You don't mess with a king (or queen) of the jungle and the same can be said for little ones born in the Year of the Tiger. They will be courageous and daring with a strong commitment to the greater good.
A little cub born in 2022 will also be fiercely independent with strong self-esteem. Other people will be drawn to their bold, larger-than-life and cheerful personalities. They're natural-born leaders and will revel in being the centre of attention. Feature-wise, you're likely to see their intense eyes as soon as they're earthside.
Those born in the year tiger are loyal and charming but absolutely need their personal space. They can also be rebellious and stubborn at times and will need to learn how to acknowledge others' feelings.
A Water-Tiger bub will work tirelessly in life to achieve their dreams. You can be proud that these dreams involve helping change and better the world, a worthy quest to get their paws into.
Good luck in the Year of the Water Tiger
There are certain elements and colours that are particularly lucky for babies born in the year of the tiger, so if you haven't settled on a nursery theme, this could help.
The colours blue and green are considered lucky for Tigers, as are the numbers one, three and seven. The plum blossom is considered a favoured flower and the direction they should head? North.
It's recommended Tigers steer clear of white and the numbers four and nine.
Naming your young cub
According to Chinese astrology, the Tiger is strong on Wood and Water elements as part of its astrological chart. The union of these two elements is considered to be a good one – water nourishes wood, which in turn creates a sense of stability.
Rebalance your child's energy channels by choosing a baby name that's connected to the other elements of metal fire and earth:
Malo
Declan
Iri
Edan
Hayden
Kay
Ignatius
Aurelian
Avner
Samson
Seraphin
Adam
Adan
Yale
Clay
Jasper
Edom
Indiana
Denver
Sydney
Lambert
Landry
Oscar
Alban
Elwin
Yamin
Kann
Aza
Tarek
Tenessee
Find more Zodiac Traits in these articles…
Thousands of Aussie mums in our Mum's Grapevine Facebook Groups are asking each other for baby name suggestions right now. And you can too! Join today. Groups are segmented by babies age.