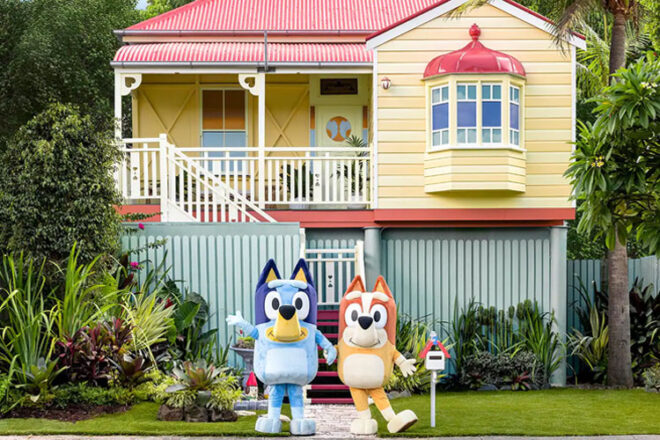 Bluey fans, get ready to pounce because the iconic Heeler Family home from Australia's very own award-winning kid's show is being listed on Airbnb. One lucky Aussie family will have the opportunity to live like the Heelers for the ultimate Bluey-themed weekend in Brisbane, Queensland.
Airbnb has partnered with BBC Studios, co-commissioner and global distributor of the hit show, on this one-of-a-kind (and let's face it, ahh-mazing) Bluey fan getaway.
Nestled on a quiet, tree-lined street in one of Brisbane's most picturesque neighbourhoods – the city which has inspired the show's colourful backdrop – the house has been entirely customised to bring the cartoon experience to life, featuring quirky details Bluey fans will recognise from the Heeler family home in the show.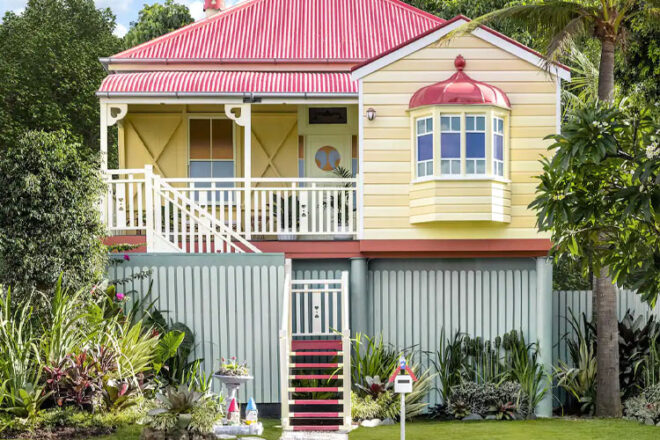 From the moment guests step onto the front lawn, they'll be transported to Bluey's imaginative world as they spot familiar touches like the red letterbox, bone-shaped chimney, and charming bay window.
Inside, the interior has been re-imagined with a breezy Mid-Century aesthetic coupled with playful pops of colour. The girls' playroom with its signature rainbow canopy, kiwi rug and numerous toys – including Bluey's beloved Chattermax toy and magic xylophone – is the ultimate setting for creative play and make-believe.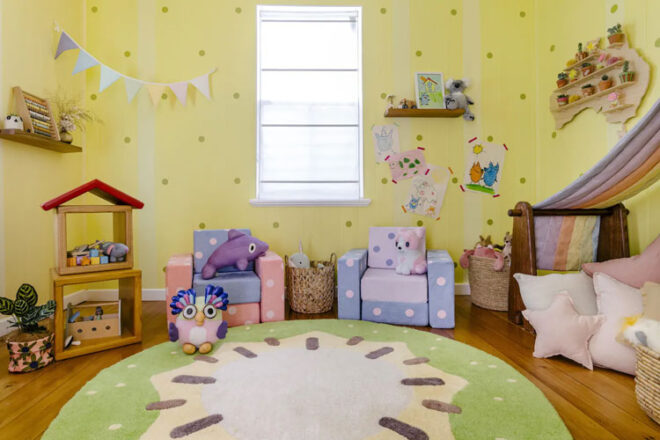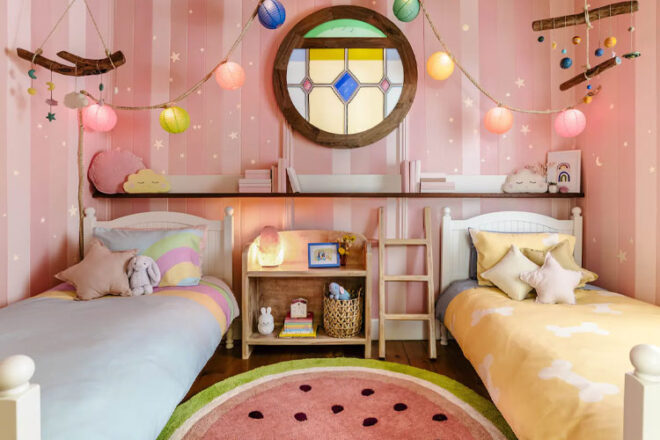 Kids can stay overnight in Bluey and Bingo's Bedroom, equipped with two single beds fitted with a custom stained-glass window feature, colourful hanging lanterns, cloud cushions and, of course, a hand-crafted watermelon rug.
Once the putdown's done, and the kids are snuggled down with Bingo's Floppy and Grey Dancer toys, parents can retreat to Bandit and Chilli's airy and plant-filled Master Bedroom – complete with a queen-sized bed, rattan furnishings and neutral hues.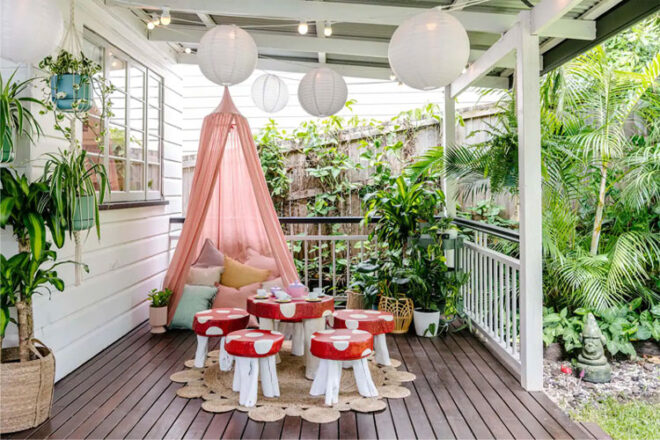 The backyard is a verdant oasis for family games – like Horsey Ride and Keepy Uppy – with a BBQ, kids'-sized trampoline, Grannies' car, custom toadstool seats and bespoke dog garden gnomes. Yummy snacks can be found in the fully stocked fridge, including Bandit's famous duck cake.
What's included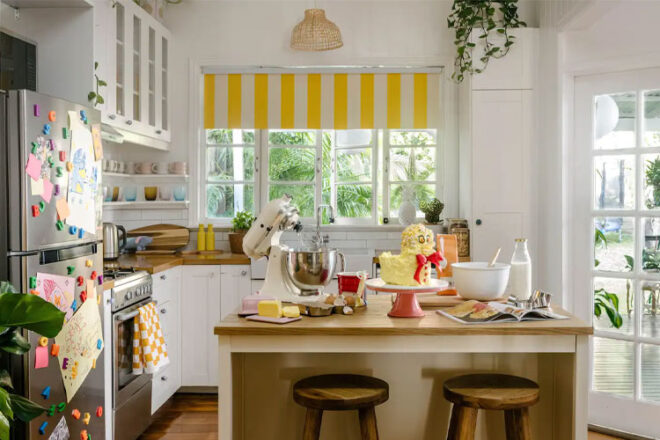 An exclusive behind the scenes tour of the Ludo Studio, where Bluey is created
A Chinese takeaway feast in the lush backyard (don't forget the spring rolls!)
An afternoon decorating the Heeler's famous duck cake, where the whole family can test their culinary skills
A puppet-making craft session featuring Bluey's famous Bob Bilby character (a local Aussie marsupial)
Dates and costs
This two-night stay*, which sleeps two adults and two children, will take place from Friday, February 18 to Sunday, February 20 for only AUD $20** (or AUD $10 dollarbucks a night!). All guests must be residents of Australia.
Bookings are available on a first-come, first-serve basis and open on Tuesday, February 15 at 8:00 AM AEDT at airbnb.com/bluey. To request to book, guests must have a verified Airbnb profile, a history of positive reviews and be aged 18+.
And if you miss out – there's more!

For families that miss out on the stay or are located outside Australia, an Online Experience hosted by one of the Bluey composers Jazz D'Arcy, part of the team behind the music in the series, along with Brisbane-based children's choreographer, Cherie Lange, will be available for kids and their parents. Ten spots will be available to book in each of three distinct time zones (Australian, US and UK).
Hosted live from Bluey's house, the whole family can participate in this fully interactive online workshop where guests will be dancing, singing and laughing as Jazz and Cherie recreate some of the most beloved songs and dance moves from the show.
Bookings for the Online Experience sessions open on Tuesday, February 15 at 8:00 AM AEDT at airbnb.com/blueyexperience. Guests who request to book the Online Experience must also have a verified Airbnb profile and be aged 18+.
For more information and to book, visit Airbnb.