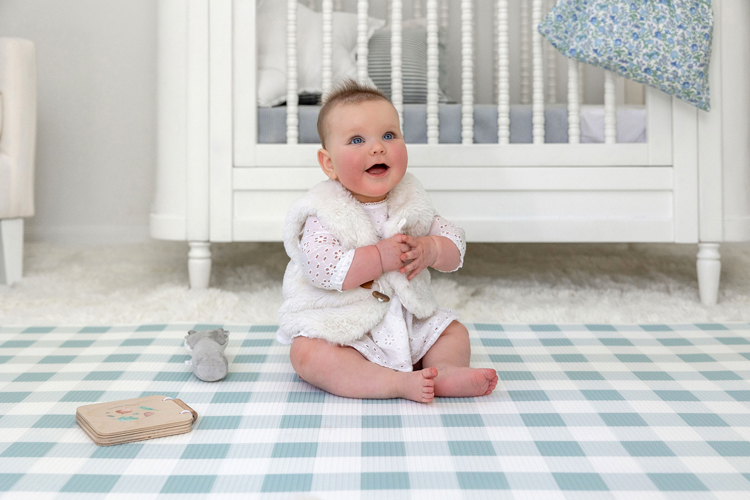 Must-haves for little people who love to tinker, baby play mats provide the perfect padded surface for tummy time, learning and lounging.
A baby play mat is a soft, padded floor mat for babies to play on. Well-sized, it's the perfect place for tinkering with toys and enjoying tummy time, which typically starts at around three or four months of age. Whether you're after a playful addition to the nursery, a dedicated spot for play dates or a luxe new look for the lounge, there's a baby mat out there to suit your needs.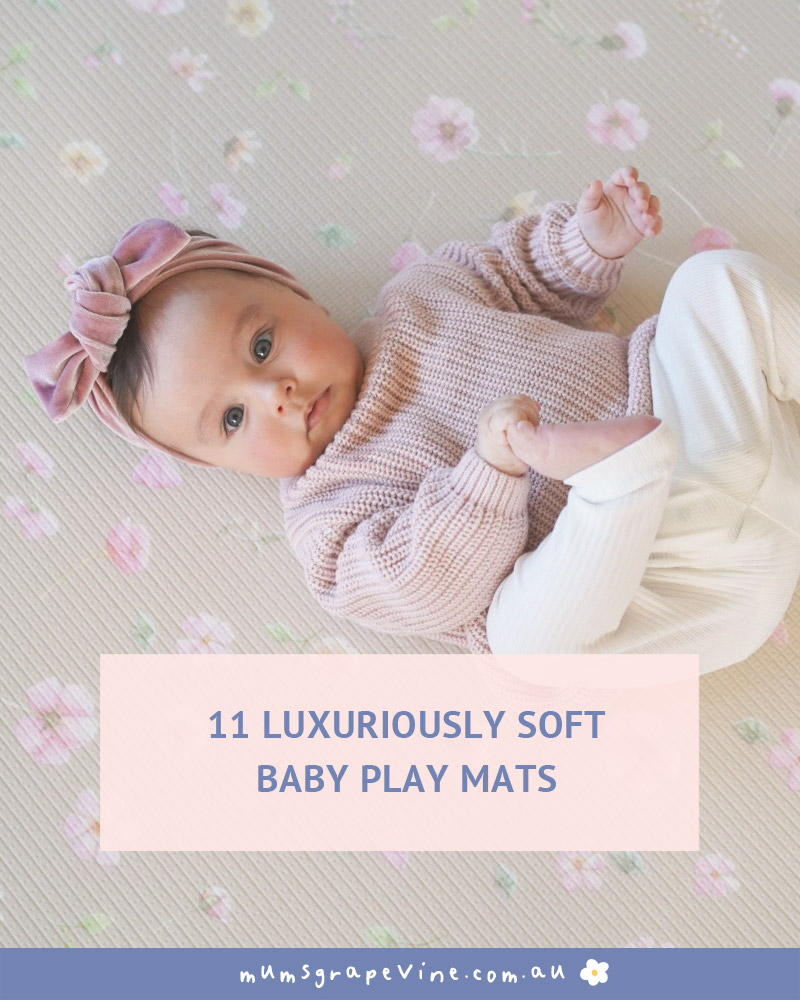 OUR PICK OF THE CROP
11 padded play mats for tummy time
To help you find the best mats for your little one, we've compiled this list of fab brands available in Australia to get you started in your search.
Here are 8 of the best play mats in Australia for 2022:
Rugabub Reversible Play Mats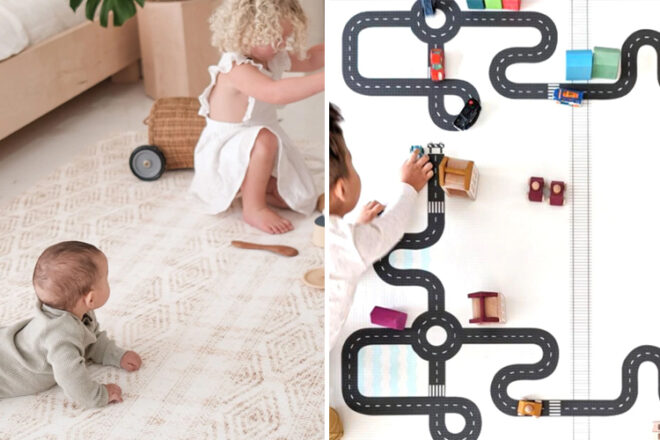 Crafted from non-toxic and biodegradable materials, Rugabub memory foam play mats are PVC and BPA free, hypoallergenic, and extra thick. We love the huge range of reversible designs: roadmaps on one side and contemporary designs on the other (from $159.95).
---
Freddy & Co Reversible Play Mats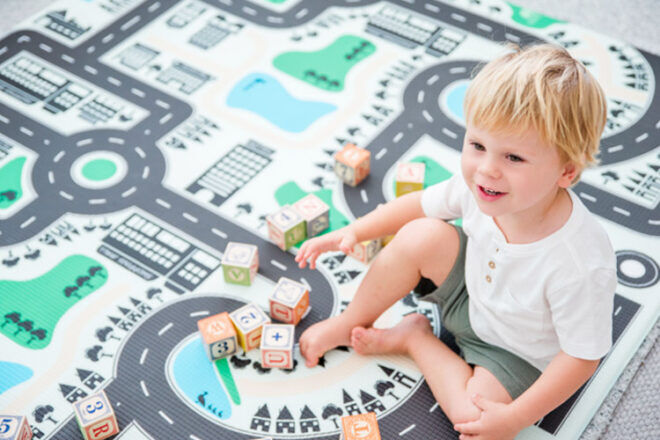 Family-owned and operated, Freddy & Co non-toxic polyurethane foam (TPU) mats are educational and functional. Designed by local artists in collaboration with teachers, we love that they are waterproof and ultra-thick to protect against tumbles (from $149.95).
---
Little Wiwa Play Mats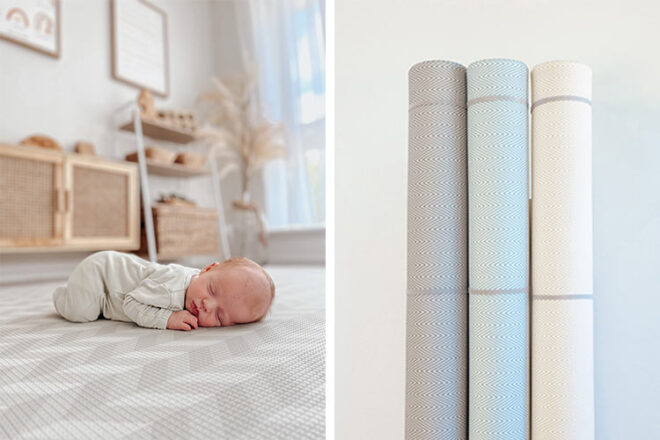 Reversible with simple and elegant designs, the award-winning Little Wiwa play mats are waterproof, non-toxic and thickly padded with biodegradable TPU foam. We love their Scandinavian inspired minimalist designs and neutral colourways (from $99).
---
Luxe at Play Non-Toxic Baby Mats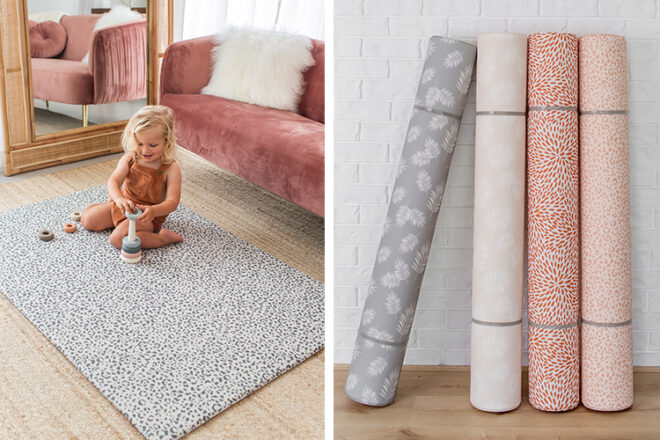 Luxuriously thick and water-resistant, Luxe at Play non-toxic floor mats are made from high-quality TPU material – free from nasty colour stabilisers and plasticisers. We love that each padded mat boasts two contemporary designs and is easy to roll up and take anywhere (from $115).
---
Softly Summer Padded Play Mats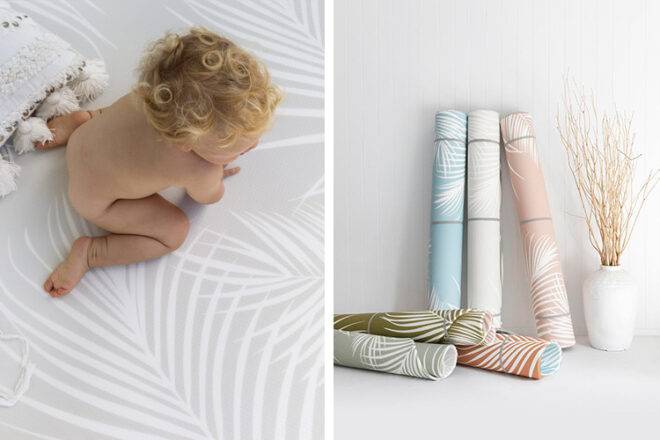 Free from nasty chemicals, stabilisers and plasticisers, Softly Summer biodegradable play mats are finished with an allergy-friendly surface that won't harbour dust mites. We love the new vegan leather design that folds up easily with a matching leather belt (from $115).
---
Marmalade Lion Baby Play Mats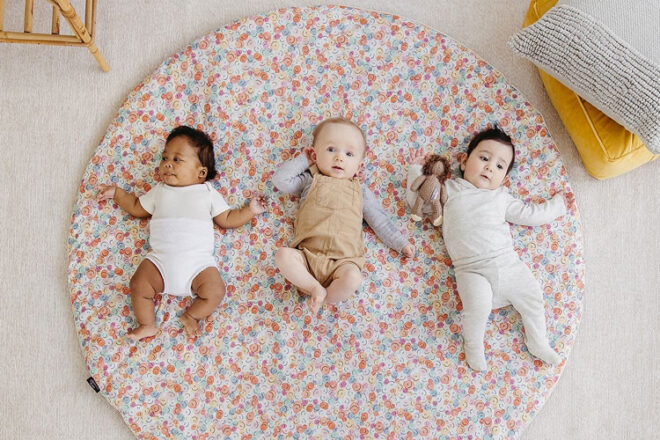 Designed for use inside and out, Marmalade Lion play mats feature a thick memory foam insert that is body temperature activated to keep your little one comfy no matter the surface. We love that the interchangeable covers are specially coated for easy clean-ups (from $164).
---
Mikró Australia Reversible Play Mat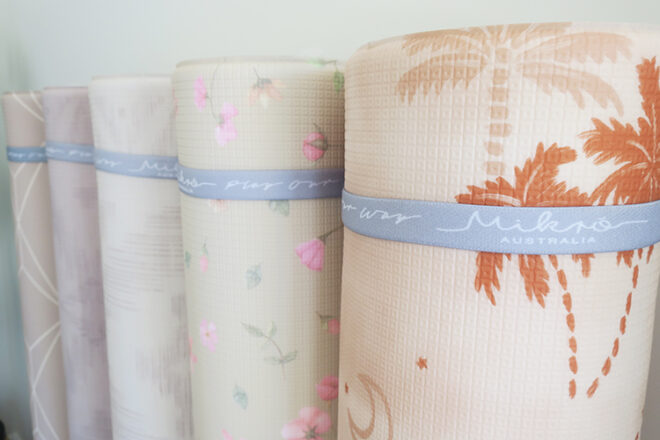 With a durable, water and scratch-resistant outer coating, Mikró non-toxic floor mats use thick, baby-safe foam core to provide perfect padding and absorb impact from falls. We love the collaboration with a local artist for a truly unique design (from $99).
---
Grace & Maggie Designer Playmats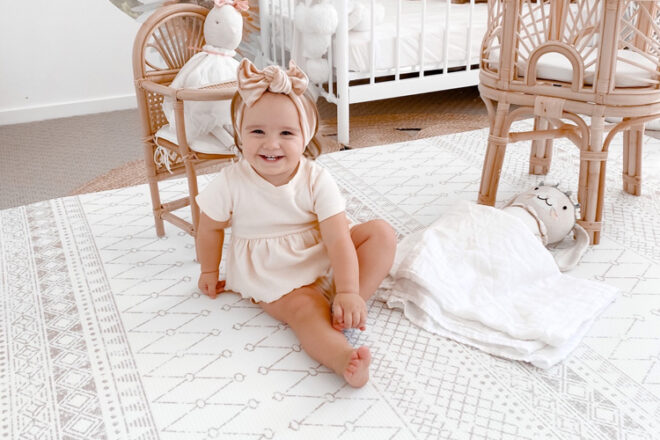 Created from next-generation non-toxic TPU foam, Grace & Maggie eco-friendly playmats are non-flammable, biodegradable and free from latex, BPA and PVC. We love the reversible designs and distressed texture that gives the mats a plush rug feel (from $99).
---
Henlee Quilted Vegan Leather Play Mats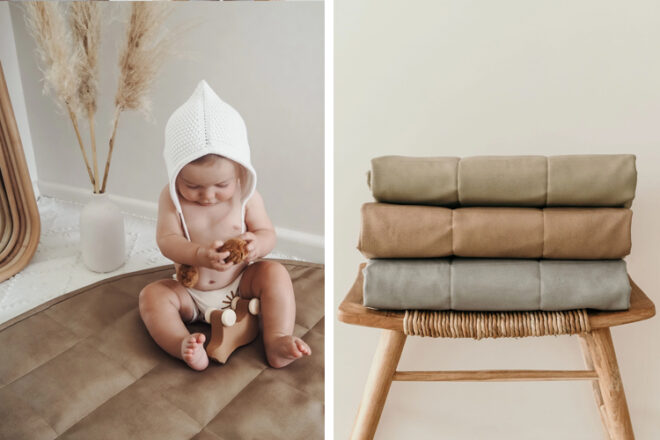 Stain-resistant and easy to wipe down, Henlee play mats feature buttery-soft vegan leather non-toxic exterior and quilted thick polyester filling to create a soft and supportive base. We love the easy storage and aesthetics these mats bring to modern living ($174.95).
---
Little Nation Reversible Play Mat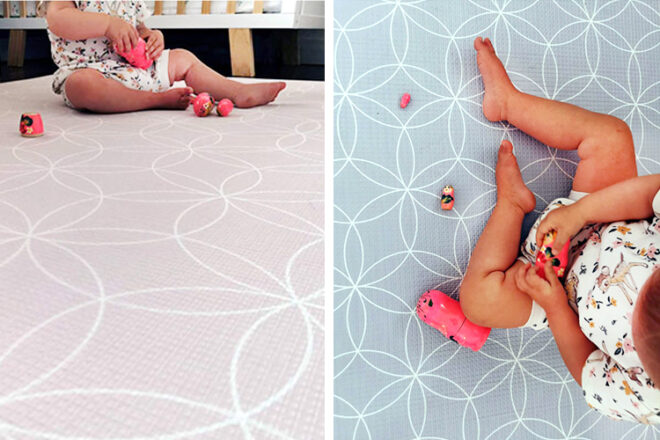 Durable and waterproof, Little Nation reversible play mats use 1.5 cm thick TPU foam to cushion falls without being overly spongey. We love that it's made of one single piece and a cinch to wipe clean (from $129.95).
---
Munchkin & Bear Padded Play Mats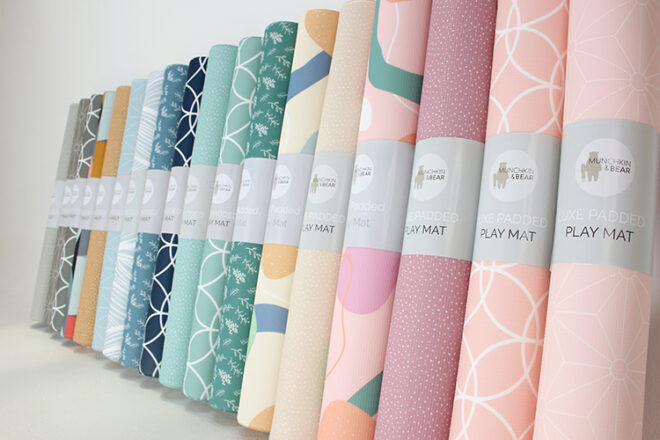 Available in 35 stunning combinations, Munchkin and Bear's multi-award-winning play mats are ultra-thick, super soft and squishy and hypoallergenic, encouraging even the grown-ups to get down and play in comfort. We love their waterproof, wipe-clean surface (from $99.95).
---
Tips for buying a baby plat mat
Padding and cushioning: Look for a padded play mat made with non-toxic foam for cushioning in the event of tumbles.
Strength and durability: Pick a style that is sturdy enough to withstand different environments like the park and beach.
Ease of washing and drying: Anything made for a little one is sure to encounter Vegemite smears and a good amount of dribble, especially when teething. Having a floor mat that washes and dries well means it can be back in action in a jiffy.
Waterproof surface: Because during nappy-free time, expect 'wee' sprinkles! A waterproof playmat wipes clean quickly and protects your precious flooring underneath.
Overall size and shape: Think about where the mat will 'live' when choosing the size. Some are available in different sizes to suit the needs of the whole family. And many double as a great yoga mat.
Got a tip we should add? Let us know contact us.
---
Is a play mat worth it?
While not essential in the same way a cot is, play mats make a safe, dedicated play space for babies. Easy to clean, a padded play mat also protects babies from germs, dust and debris typically found on household floors. And many are double sided.
What age can a baby use a play mat?
From birth! A padded play mat made with safe materials can be used from day one as a comfortable place to play and practise tummy time, which the Royal Children's Hospital recommends to begin from birth.
Are foam mats safe for babies?
There has been some consumer discussion about potentially toxic substances found in foam play mats, but according to Product Safety Australia, extensively tested mats  taken out specifically for the chemical formamide in baby mats has shown no safety risk to children.
What are some ways to use a play mat?
The sky is the limit with all the imaginative play you can enjoy with babies on their own mat. In the early months, tummy time strengthens neck, shoulder and arm muscles on a baby mat. You could also position a play gym over the mat for overhead entertainment. Once sitting up, a mat provides the perfect surface for play with safe toys such as cloth books, teethers and rattles.
How is a play mat beneficial for babies?
Play-time mats help the development of gross motor skills and fine motor skills through open-ended play. Easy to clean, they encourage wee ones to explore the world. And given their padded surface, they're perfect for learning to crawl and walk without worrying about falls.
---
This list is loving curated by our Editors and may include affiliate and/or paid inclusions. See our Disclosure Policy.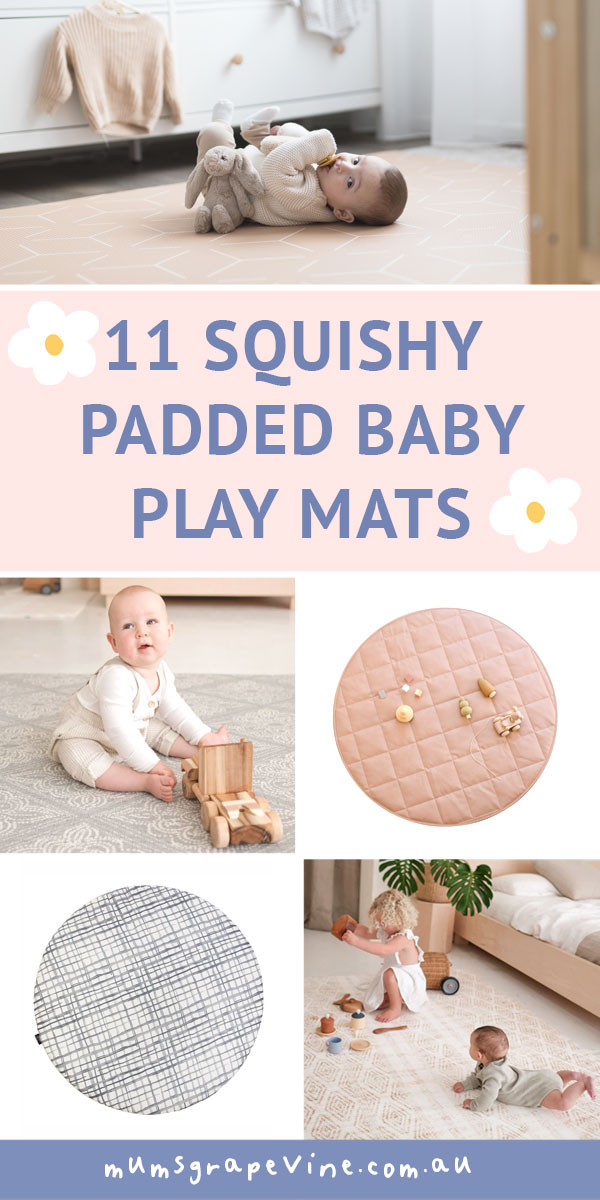 Know a padded play mat we should add to our list? Contact us and let us know.
Thousands of Aussie mums in our Mum's Grapevine Facebook Groups are asking each other for recommendations on what to buy right now. And you can too! Join today.