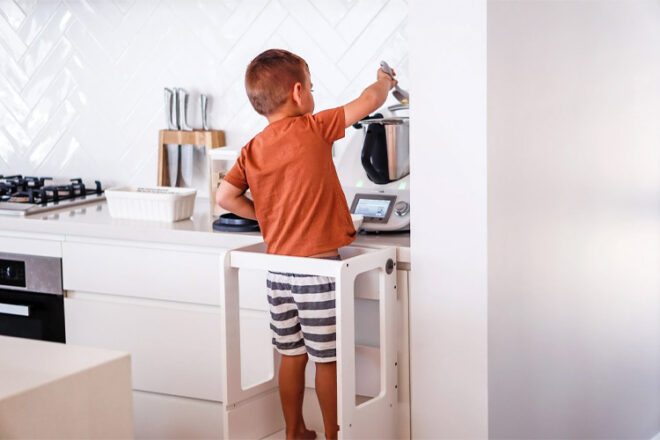 Little helpers love getting involved in everyday tasks, but instead of pulling a wobbly chair up to the kitchen bench, it's worth investing in a sturdy learning tower.
Learning towers, also called kitchen helpers, are wooden frames with raised platforms that give kids the extra height they need to reach a bench or table. Taking inspiration from Montessori learning, learning towers give children a safe place to interact with the family and learn to be more independent while staying out of harm's way.
To help take daily activities with toddlers to new heights of fun, we've scouted out a selection of sturdy learning towers available right here in Australia.
What to consider before buying a learning tower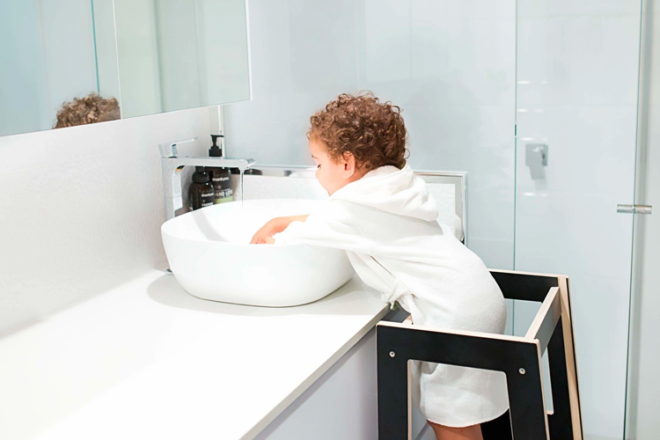 Here are some of the factors to consider when buying a kitchen helper in Australia:
Type: While they all look different, they are all crafted with a similar structure – a section to stand on and a section with a rail to keep toddlers safe and steady. Some are foldable, others have step sections that fold away. There are also height-adjustable options that grow as your child does.
Weight limit: Most have quite a large weight limit (up to around 100kg) but it's always worth checking.
Safety: There are no mandatory safety standards in Australia for kitchen helpers, but some Australian-based manufacturers adhere to voluntary standards, so check their product description.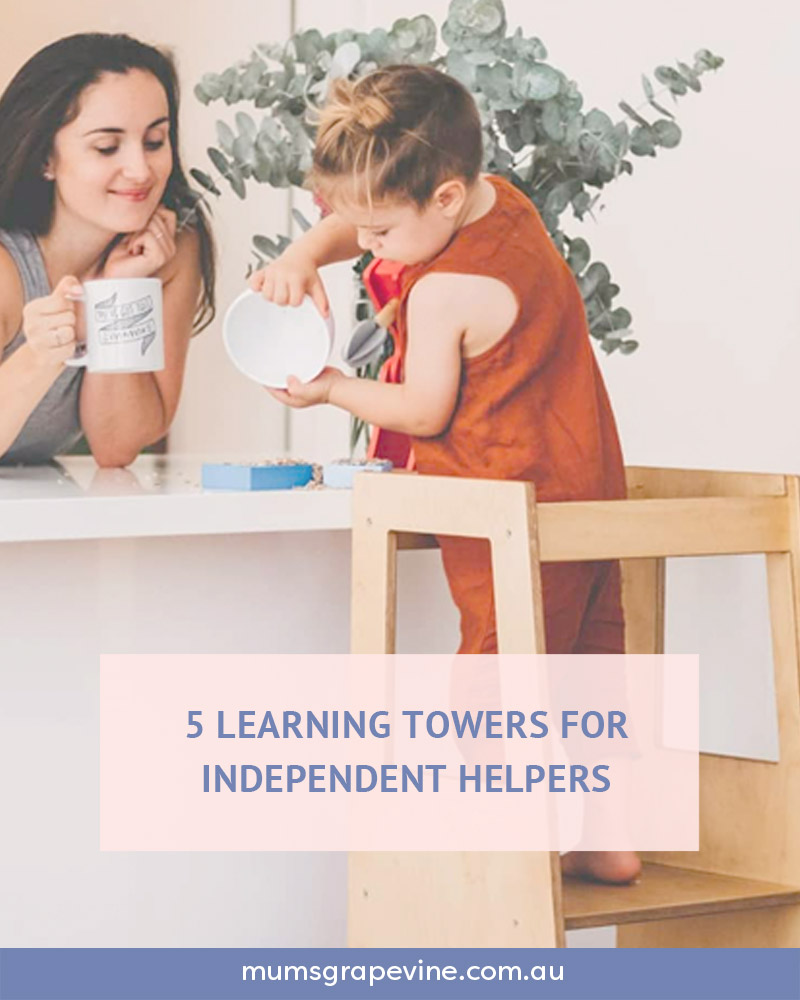 ---
OUR PICK OF THE CROP
6 safest learning towers available in Australia
With so many learning towers in Australia, it's hard to know where to start, so we asked the HUGE Mum's Grapevine Facebook community which brands they love. In no particular order, here are the kitchen helpers they recommend.
My Happy Helpers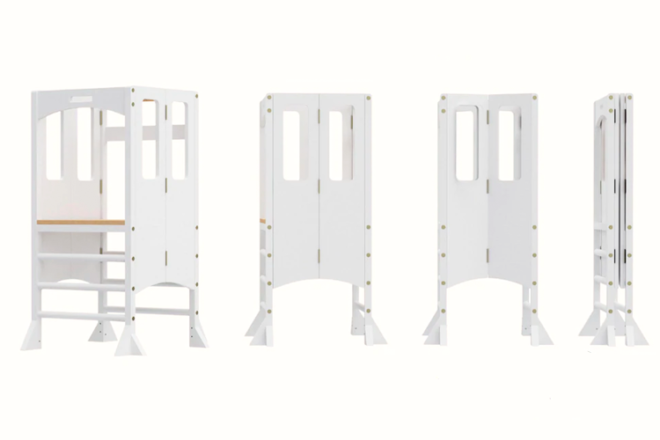 Able to be stored away, My Happy Helpers Bi-Fold Learning Towers have three adjustable height settings, 2-sided safety locks, soft closing hinges and protective edging. Suitable from 12 months of age we love that they arrive fully assembled ready to use straight out of the box.
---
Hubby Made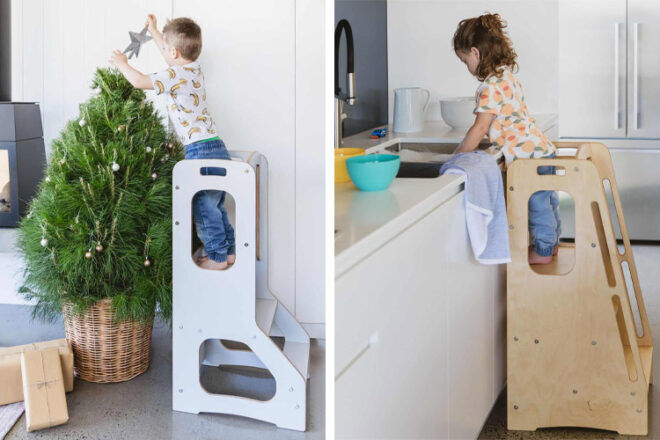 Available in a choice of MDF, bamboo or plywood styles, Hubby Made Toddler Chef Stools are height adjustable to four settings and hold up to 80kgs. We love that they come in single, tandem and twin sets.
---
Bamboo Helper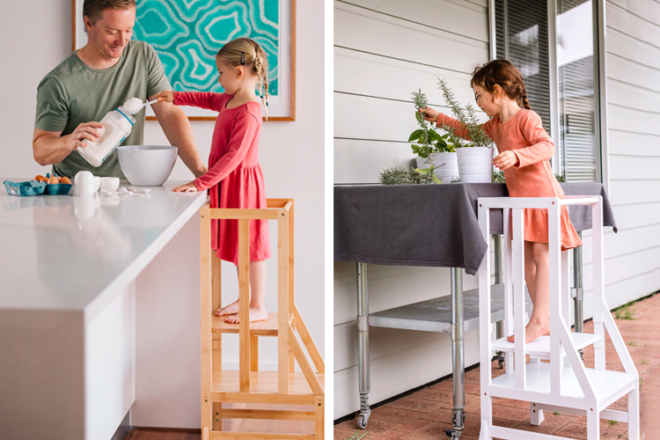 Crafted using solid bamboo, Bamboo Helper Toddler Towers come in a choice of white or natural and adjust to three different height settings. We love that they are light enough to carry around the home or garden.
---
Little Nation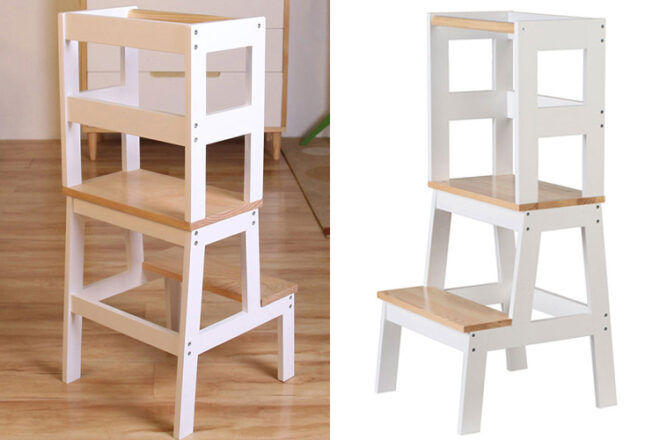 Simple to assemble and equipped with a safety bar, the Little Nation Oscar Learning Tower boasts a solid frame made of pure New Zealand pine and a two-level design with wide platforms. We love the minimalist design that will fit right in anywhere.
---

Made in Australia, Little Big Learning slimline learning towers feature two height adjustments and a removable chalkboard that doubles as a safety backing panel as recommended for kids under two. We love the additional conversion kit which takes the single to a double.
---
BillerCraft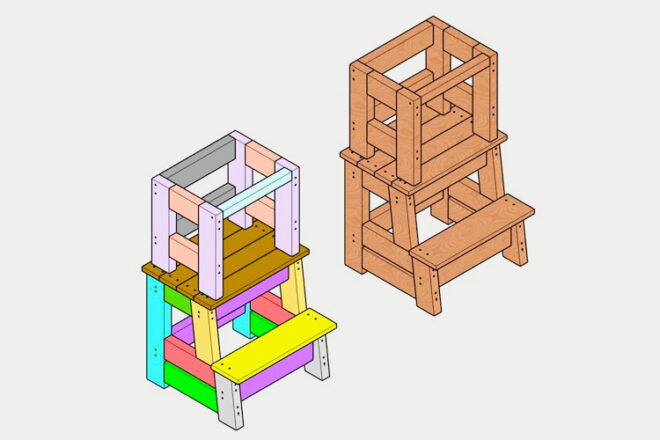 Feeling handy? Have a go at crafting your own kitchen helper with these DIY plans. Using around $30 worth of materials and basic tools you could whip up your very own learning tower in a few hours (well, maybe!).

---
Is a learning tower a good investment?
Thinking of getting a learning tower for your toddler? We asked the huge Mum's Grapevine Facebook community how often they use their kitchen helper and this is what they said …
"100x a day haha we got a My Little Helper because it can change heights. Love love love it" said Amanda
"Mate- get one! Any type! We use it alllll day. I got ours from the local carpenter and it converts into a table and seat" said Hannah
"My bub is 15 months, LOVE it, uses it every day throughout the day" said Esther
"Use it all day. Our little one loves helping in the kitchen. Eating while standing in it. Ours also turns into a table & chair" said Bec
"Same as everyone else. We use ours multiple multiple multiple times a day. He eats at it, we bake and cook dinner at it, we FaceTime family at it, oftentimes he just stands at it to talk to me while I'm having coffee at the bench so we just kind of hang out at it. One of our most used purchases" said Jessica
"Honestly one of the best things we bought for him. Bought it at 16 months old and he's just turned 3 and uses it every day" said Megan
Read all the comments below and join the conversation!
---
We would never recommend a product we haven't seen, used, tried ourselves or been recommended to us by a mum from our Facebook groups. See our Disclosure Policy.
Seen a kitchen helper we should add to our list? Contact us and let us know, we've been collating Australia's best baby products into shortlists for over 14 years and we're always happy to support new brands and businesses.
Thousands of Aussie mums in our Mum's Grapevine Facebook Groups are asking each other for recommendations on what to buy right now. And you can too! Join today.