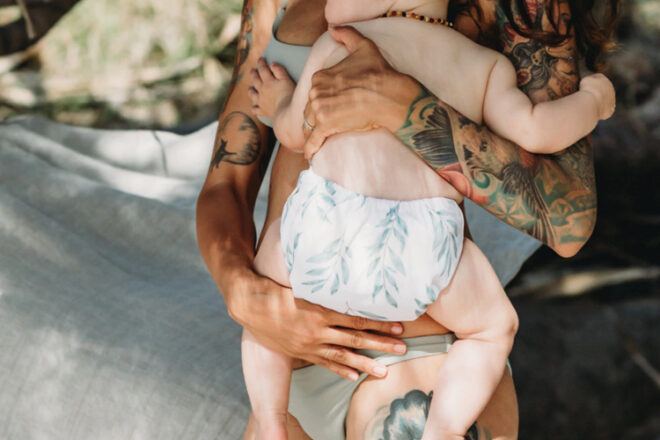 Reusable cloth nappies have come a long way from the terry-towelling squares, safety pins and pilchards our grandmothers used to use. Nowadays, Australian cloth nappies are wonders of modern technology, carefully crafted to be comfortable, absorbent, easy to use and cost-effective.
Choosing the right Australian cloth nappy for your baby takes a bit of research, so to help a mama out, we've put together a list of points and styles to consider when you're scouting out the perfect reusable nappy to adorn that adorable little botty.
Types of reusable cloth nappies
All-in-one nappies (AIO) are similar to disposable nappies in that the cover and absorbent inner layer are attached. But while an AIO diaper means there's no need to add inserts, it also means you'll have to wash the whole thing when it's dirty.
All-in-two nappies (AI2) are made up of an outer shell and an absorbent insert that snaps into the cover. When wet, simply change the insert for a fresh one and reuse the cover. This means less washing.
Fitted nappies are reusable styles that are fully absorbent and worn with a waterproof cover over the top.
Pocket nappies are fitted with a built-in pocket for inserting liners and boosters for extra absorbency.
One-size-fits-most nappies (OSFM) are available in a single size and equipped with adjustable snaps or velcro to grow with your baby. Many brands will see you from newborn to toilet training with just one size.
Know another style we should add? Let us know contact us.
16 reusable nappy brands (loved by mums!)
To help you find a super-cute cloth nappy for your baby's tooshie, we've compiled this list of fab brands available in Australia to get you started in your search.
Here are 16 of the best reusable nappies in Australia for 2022:
EcoNaps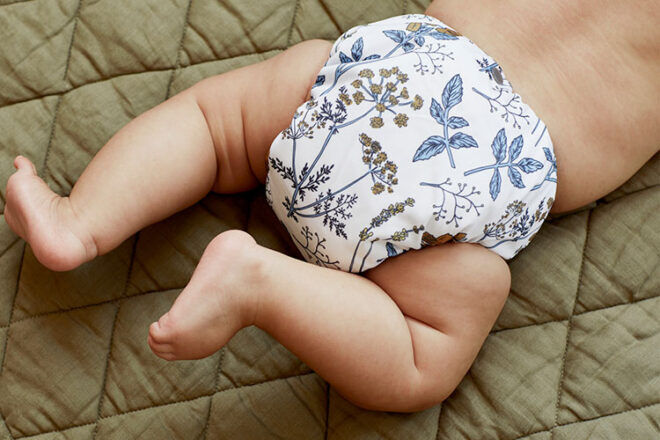 Designed in Byron Bay, EcoNaps resize easily with the snap of a few buttons to accommodate bubs from 3.5-16kgs. They're wearable as a pocket or with a thirsty bamboo insert for leak-free absorbency at night ($34.95).
EcoNaps Discount Code:
Use code 'MGVBESTNAPPY15' for 15% off modern cloth nappies.
---
Pea Pods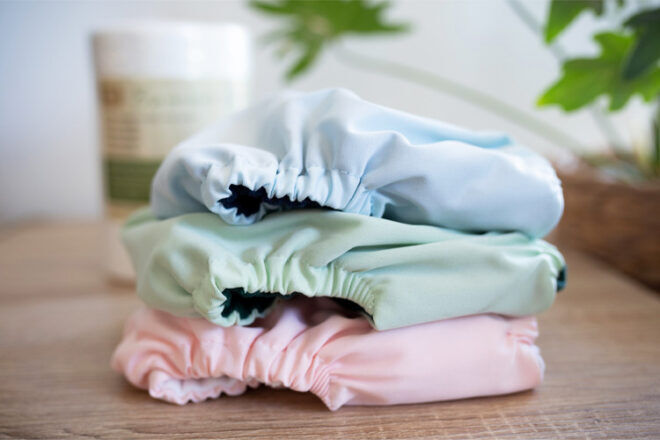 A complete unit that includes an absorbent insert, Pea Pods feature internal leg elastic that adjusts like a bra strap for a snug fit. We love the trim fit and that you can add microfleece night boosters for up to 12 hours of protection ($24.95).
Pea Pods Discount Code:
Use code 'MGV15' for 15% off storewide.
---
Baby BeeHinds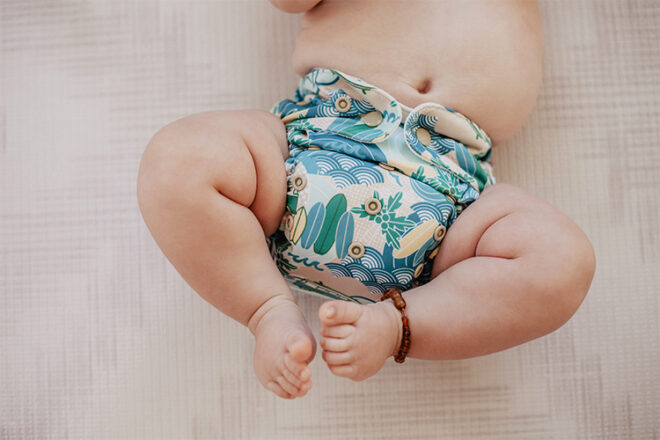 Available in several one-size styles, all in one, fitted and a night one, Baby BeeHinds award-winning nappies offer high absorbency and wide coverage that keeps everything contained. They also come in economical multipacks (from $30).
Baby BeeHinds Discount Code:
Use code 'MGV' for 15% off full-price nappies & accessories.
---
Bare & Boho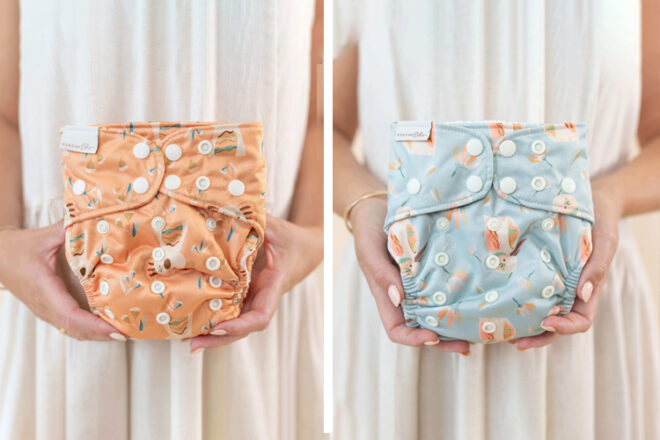 Available in multipacks of up to 15 items, Bare & Boho reusable cloth nappies feature four layers of absorbent cloth and double-layered gussets for leak protection. The outer shells are conveniently water-resistant and simple to wipe down ($64.95).
Bare & Boho Discount Code:
Use code 'MGV-Nappy-BB' for 20% off Cloth Nappy Bundles, Singles and Nappy Inners.
---
My Little Gumnut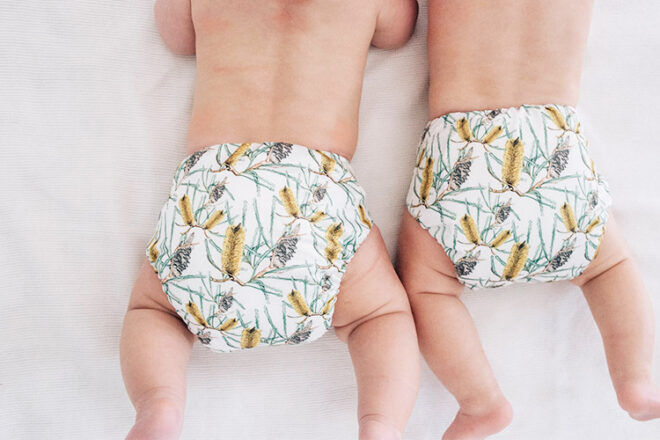 Ready to use, My little Gumnut nappies come with a breathable, water-resistant outer shell and a super thirsty bamboo insert. The clever bamboo fleece pockets wick away moisture from bub's skin keeping nappy rash at bay (from $16.95).
---
Bambino Mio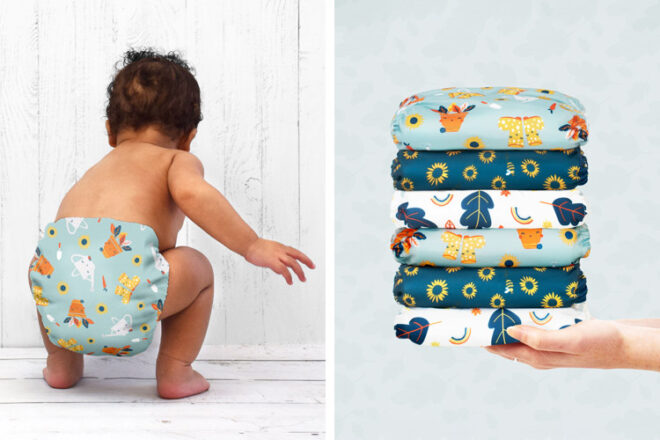 Gentle on sensitive skin, award-winning Bambino Mio Australia reusable nappies are 'OEKO-TEXs standard 100 certified' and engineered for dryness. We love that the stretchy waterproof fabric caters to wriggly bubs on the move (from $31.99).
Bambino Mio Discount Code:
Use code 'MGV15' for 15% off storewide.
---
Close Parent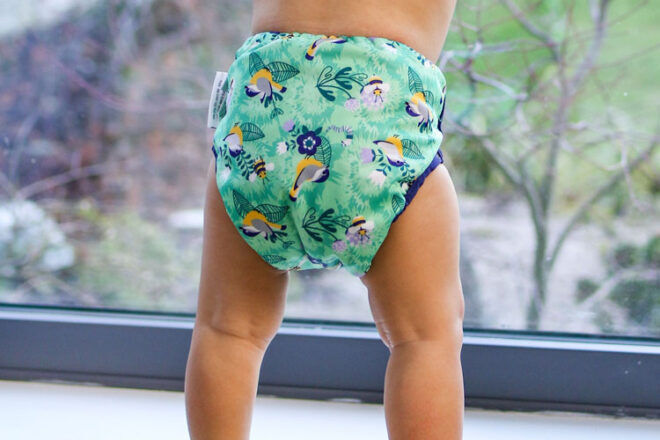 Fitted with adjustable poppers, Close Parents 'Pop-In' modern cloth have a waterproof outer shell and smart absorbent core that holds wetness in place. We adore the animal prints and that they're as easy to use as disposable nappies (from $24.95).
---
Pekpi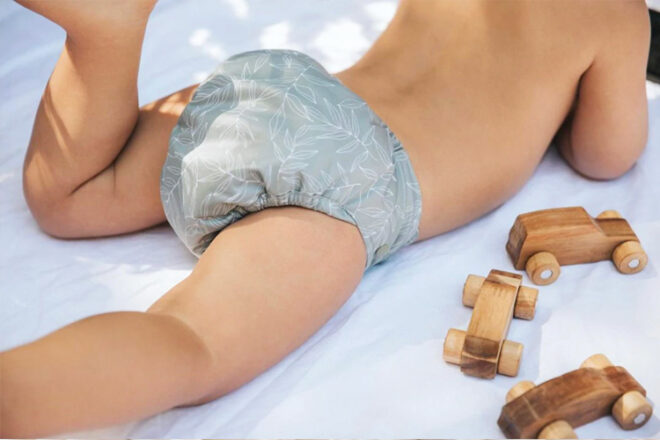 Made using 100% recycled materials in every shell, Pepki modern cloth nappies boast double gussets, two absorbent six-layer inserts and a trim fit that reduces bulk between legs. Printed in a neutral palette they pair well with everything ($34.95).
---
Mumma Bear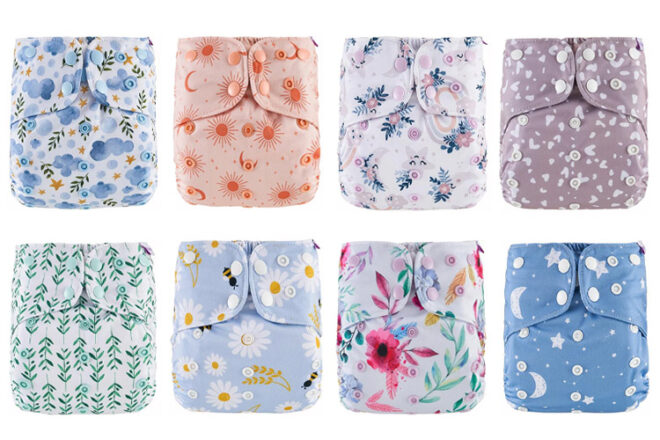 Machine-washable and super fast-drying, Mumma Bear cloth nappies feature double-row snaps, tummy elastic and multiple rise settings to fit growing bodies. And the roomy back pocket fits extra inserts for when bub (finally!) sleeps through ($17.99).
---
Mimi & Co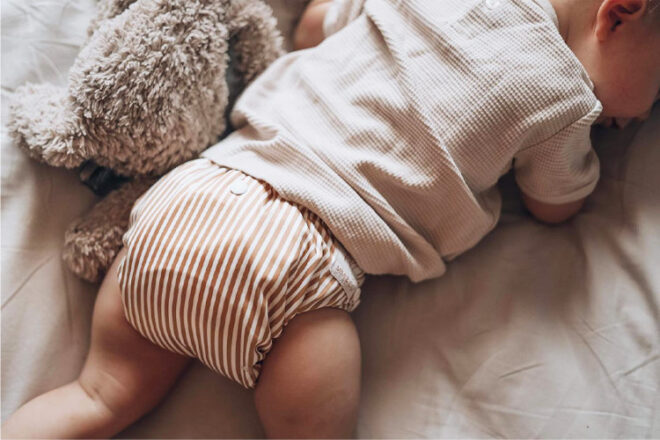 A true newborn to toilet training nappy, Mimi & Co reusable all-in-two nappies feature a jersey stay dry layer, stretchy PUL and neutral prints. Each diaper is customisable with a snap-in or pocket insert to cater for all absorbency needs ($34.99).
Mimi & Co Discount Code:
Use code 'MGVROYALTY' for 15% all full-priced items.
---
Modibody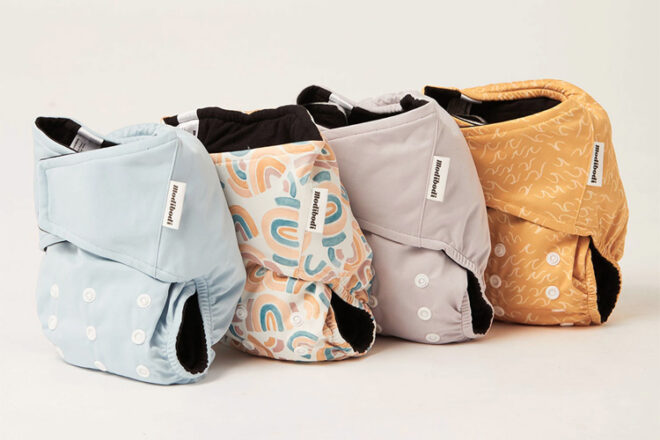 Lab-tested to hold over one litre of liquid, Modibody reusable nappies feature a unique black lining that wicks away moisture, resists stains and stops solids from sticking. And being machine washable, they are as simple to use as disposables ($38.50).
---
Little Eco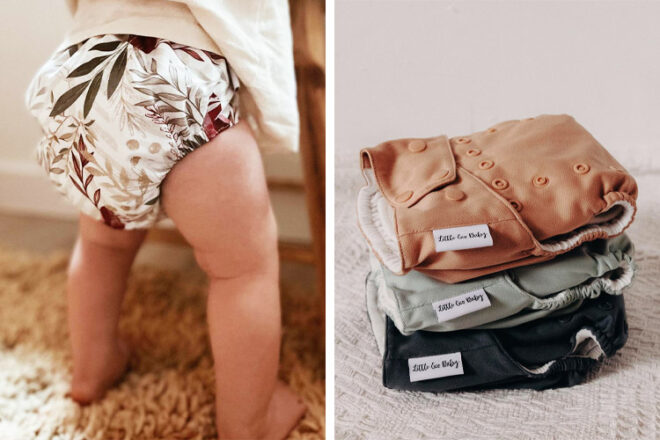 Both eco-friendly and effective, Little Eco Easy Snap nappies combine a waterproof cover, made using recycled plastic bottles, with two interchangeable bamboo inserts. We love that the compatible bamboo liners are available to buy separately by the roll ($34.95).
Little Eco Baby Discount Code:
Use code 'MGV20' for 20% off all nappies and wet bags.
---
Ella & Maeve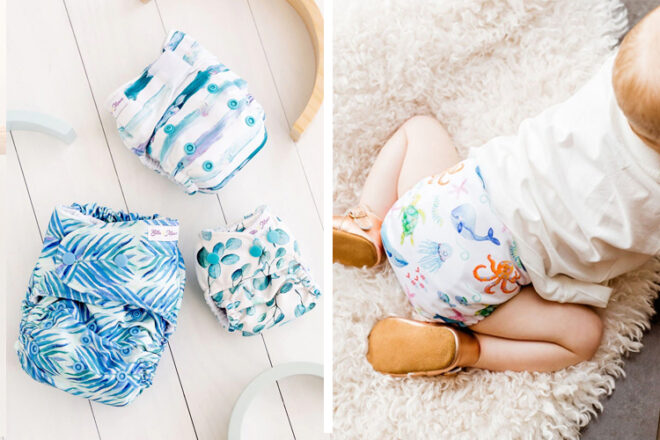 Made in Australia, Ella & Maeve reusable cloth nappies feature breathable outer shells and a suede stay-dry layer to reduce wetness. They are also available in a teeny-tiny premature size for newborns weighing as little as 1.8kg (from $44.95).
Ella & Maeve Discount Code:
Use code 'MGVVIP' for 15% off storewide.
---
Alvababy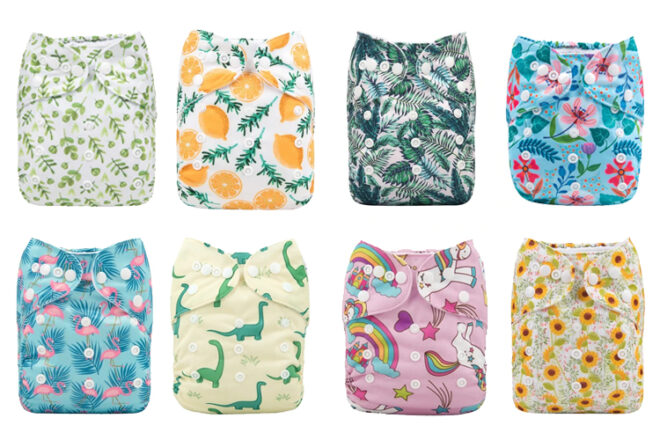 Breathable and waterproof, Alvababy OSFA nappies are fitted with comfy leg elastic and adjustable snaps to fit babies from 3-15kgs. Their nature-inspired designs are fun and being able to choose from four different compatible inserts is a bonus (from $8.95).
---
Monarch Store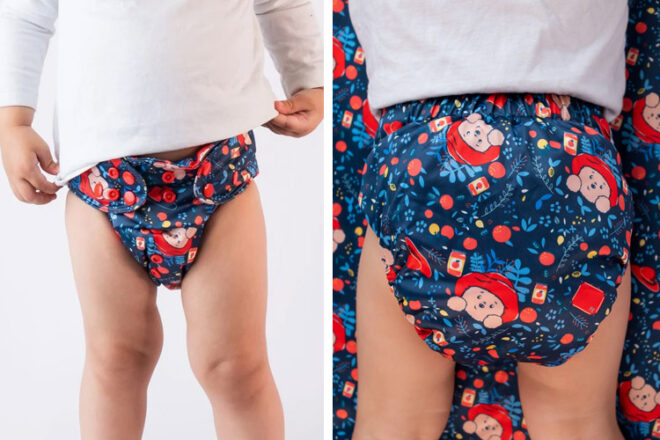 Playful and practical, Monarch Store's hand-painted nappies include up to four stackable inserts for high absorbency. We love that these are super adaptable and even double as swim nappies just by changing the insert! (from $22.95).
Monarch Store Discount Code:
Use code 'MUMSGRAPEVINE' for 20% off all items excluding licensed collections.
---
Colmena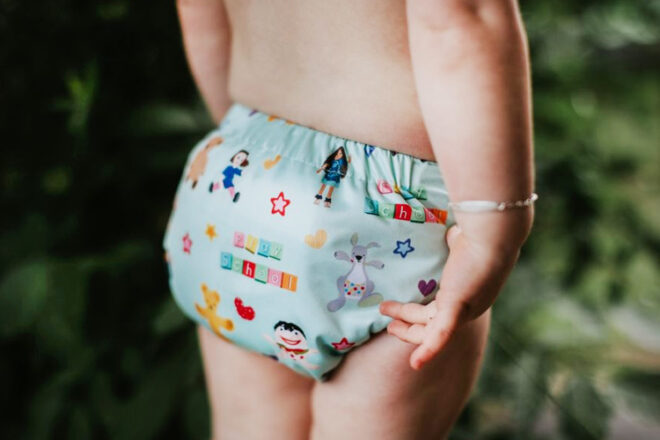 From Spot and Thomas to Playschool and The Wiggles, Colmena one-size reusables feature prints from Australia's most loved children's characters. We love that they come with a choice of bamboo-blend inserts plus thick back elastic to prevent gaping (from $16.95).
---
Tips for starting out with Cloth Nappies
Thinking of starting with reusable cloth nappies? We asked the huge Mum's Grapevine Facebook community for their top tips for mums starting out with cloth nappies.
"That you might not save any money because you end up with a stash of 200, the prints are addictive" – Cindy
"Hire a kit first to find what works best for you and bub before buying an entire stash" – Katrina
"Need larger sized clothes than standard disposable nappies your little one wears" – Michelle
"Having a breastfed and cloth nappied baby is very cheap!!!!" – Simone
"Ask for them as baby shower gifts." – Louise
"That's it's not that hard!!!!!! And not as scary as everyone thinks." – Nadia
"Get a silicone-type dish scrubber to help clean the nappies but better yet, use a liner." – Lillian
"Spending more money on quality inserts is well worth it!" – Jahs
"Start at 3 months of age, that way you don't feel like you are washing 10-15 reusable  diapers a day as babies use a lot in the initial stage." – Raquel
"That you need a decent washing machine that actually reaches the required temperatures and lengths of washes for it to work and be sanitary." – Lana
"Don't go cheap… go quality and try lots of Australian cloth nappy brands." – Christine
"You need a dryer. So much harder if you only have a small amount and require the sun to shine." – Elle
See all comments from the Mum's Grapevine Facebook Page below – or join the conversation!
---
How many reusables do I need?
You'll need at least 25 if you plan on using reusables exclusively right up until toilet training. The exact number will vary depending on the composition and your bub's toileting habits, but our mums recommend having about three or four days' worth available at any one time.
How do I clean reusable cloth nappies?
First, scrape off any solids into the toilet and rinse the nappy well prior to washing. Then, either hand-wash or machine-wash it in warm water with gentle laundry detergent and fabric softeners. Avoid using hot water and high drying heat because it can damage waterproof covers.
---
This list is loving curated by our Editors and may include affiliate and/or paid inclusions. See our Disclosure Policy.
Know a brand of Australian cloth nappies we should add to our list? Contact us and let us know, we've been collating Australia's best baby products into shortlists for over 14 years and we're always happy to support new brands and businesses.
If you're feeling overwhelmed by what to buy for your baby, you're not alone. Join the #MGVfam a and ask 1000's of mums with babies the same age as yours what they recommend >> Mum's Grapevine Facebook Baby Groups.