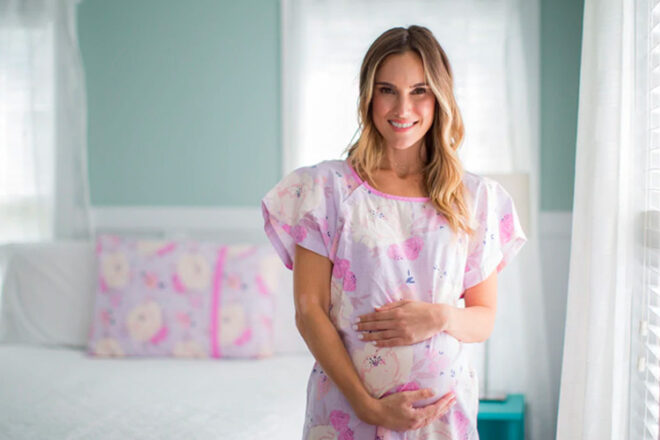 It's time to pack your hospital bag for baby's birth and suddenly you're faced with an unexpected fashion dilemma: What do you wear to deliver your baby? Enter birthing gowns.
Comfortable, practical and pretty, a birthing robe is a garment that you can give birth in, wear in hospital and even at home. Also known as a maternity gown or delivery gown, there are plenty of options with clever in-built features.
Gone are the days of the thread-bare hospital gown with a bum-flashing back. Feel comfy and covered on d-day and beyond with a maternity robe you can truly glow in.
OUR PICK OF THE CROP
10 birthing gowns for labour and delivery
With so many birthing gowns available in Australia, it's hard to know where to start, so we asked the HUGE Mum's Grapevine Facebook community which styles and brands they love. In no particular order, these are the garments they tried, tested and recommend.
Silk And More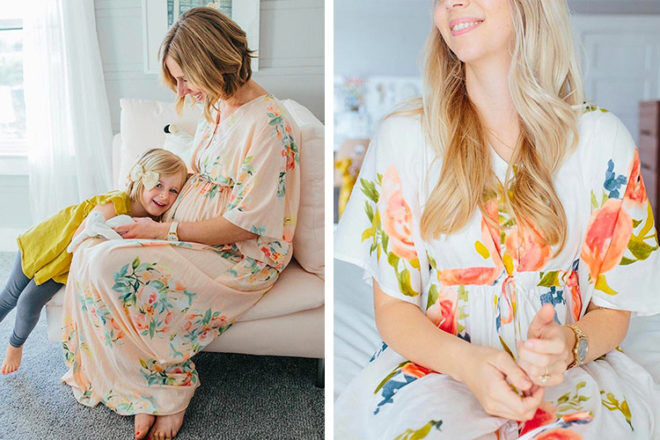 For all stages of late pregnancy, delivery and post-baby recovery, Silk and More have designed maternity kaftans in an array of beautiful prints. We love how you can customise your kaftan additional buttons on the back (from $64.40 + $13.17 shipping)
---
Gownies Hospital Gowns
With press-snaps down the back for an epidural, Gownies cotton birthing gowns also feature snap-down flaps for breastfeeding and skin on skin contact. We love the loose fit and extra room – important during and post-birth (from $54.95).
---
Baby Be Mine 3-in-1 Labour, Delivery, Nursing Gown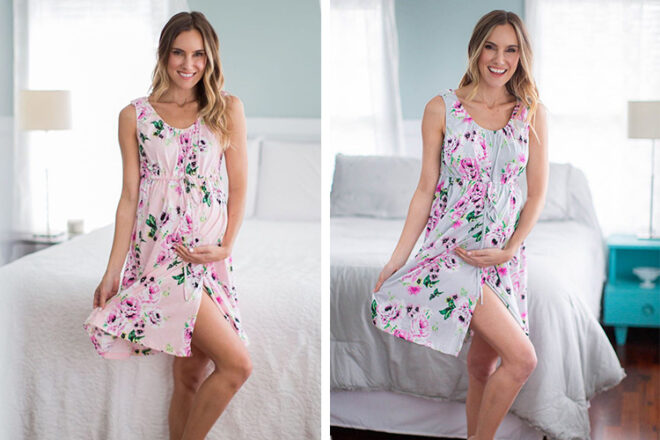 Cleverly designed with lots of features, the Baby Be Mine gown has a stretchy, pull-down neckline for skin-to-skin, snaps down the back for back rubs or pain relief as well as on the shoulders for feeding. We love the prints and front flap for fetal monitoring ($64.95).
---
BG Birthing Gown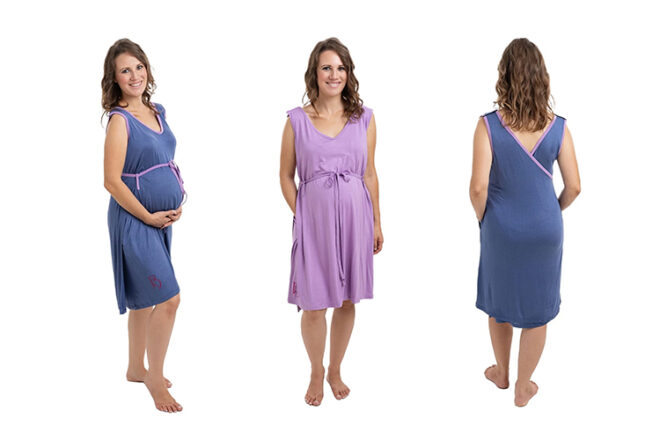 With the flexibility to wear it back-to-front, the BG birthing gown is indulgently comfortable with deep pockets for fetal monitors and keeping essentials close. We love the velcro at the shoulder for breastfeeding and also that it's machine-washable ($64.95).
---
Seraphine Organic Cotton Birthing Gown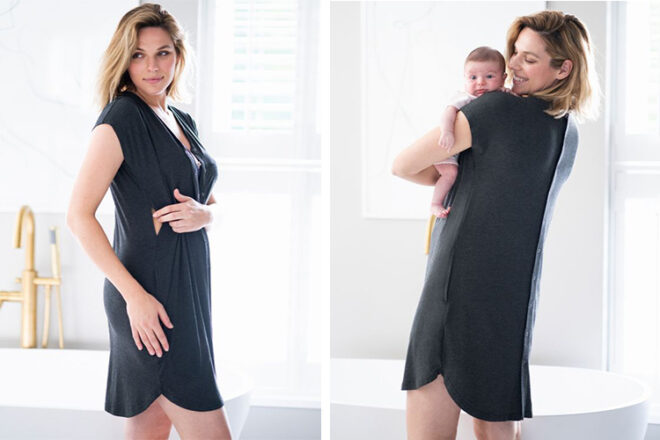 Sleek and dark, the Seraphine organic birthing gown has snap buttons down the back and front for epidural, breastfeeding and skin-to-skin. We love the discreet side openings for fetal monitoring straps and that the gown is also available in midi (from $79).
---
Modmom Hospital Delivery Gown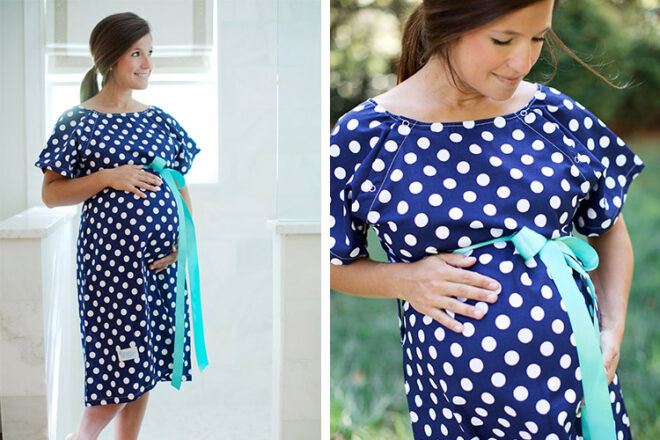 Designed with labour in mind, the Modmom 100% cotton delivery gown has buttons down the back and on both sides so you don't need to disrobe. We love the variety of beautiful prints and sash's that add a pop of colour to the delivery room ($65.18)
---
Comfy Clothing Delivery Gown and Maxi Dress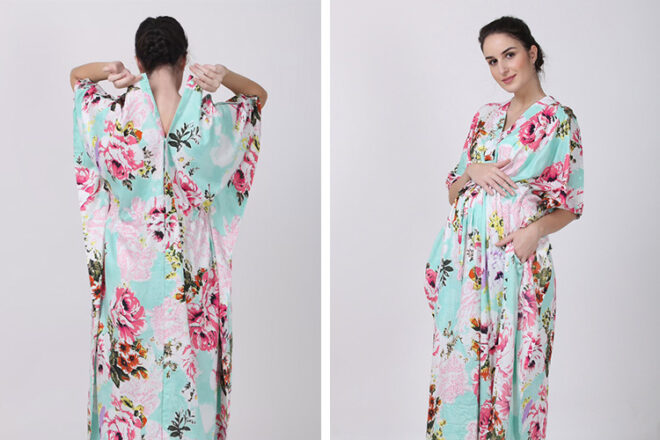 Making for fantastic first pictures, Comfy Clothing cotton delivery gowns are super soft and have handy snaps at the front and back for access during labour. We love that it doubles as a maxi dress that you can wear before and after birth ($101)
---
Lait & Co Chemise and Robe Hospital Set
Featuring adjustable straps and breastfeeding access, this Lait & Co set is made from soft smooth jersey and is both practical and pretty. We love having the option of wearing the chemise on its own or throwing on the robe when chilly ($89.95).
---
Frida Mom Labour and Delivery Gown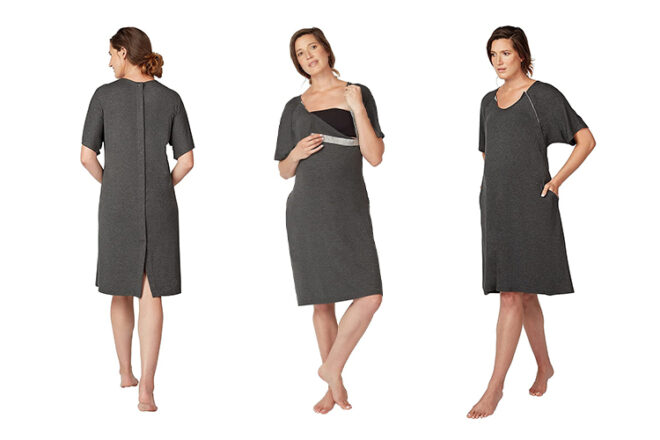 With buttons in all the right places, the Frida Mom delivery gown has discreet access for an epidural and a fold-down front panel for feeding. We love the super-soft jersey material and the easy-wear charcoal colour ($57.61).
---
Bae The Label Under Wraps Robe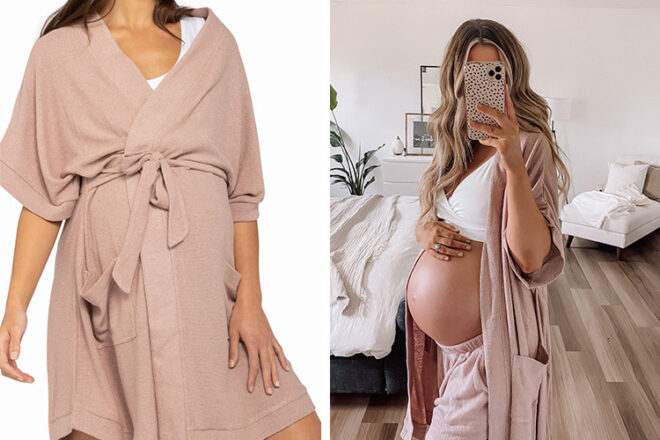 Super cosy in lightweight crepe knit fabric, the Bae The Label maternity robe has wide sleeves and adjustable ties for comfort. We love the stylish colours and relaxed fit, it's a must for your hospital bag ($99).
---
This article is lovingly curated by our editorial team and may include affiliates and/or paid inclusions. We would never recommend a product we haven't seen, used or tried ourselves. See our Disclosure Policy.
Thousands of Aussie mums in our Mum's Grapevine Facebook Groups are asking each other for recommendations on what to buy right now. And you can too! Join today.