3/3 mums would recommend Oricom's range of connected baby monitors
Get the best of both worlds with Oricom's new range of video baby monitors with dual-mode viewing options.
So much more than just baby monitors, Oricom's range of connected units are WiFi-enabled, giving you the option to view your little one directly on the parent unit via the FHSS digital wireless connection, or by WiFi using the Hubble Club for Partners App on smart devices.
Each monitor boasts two-way communication for soothing from afar and preloaded lullabies to help little ones settle at sleepytime.
Three models have been released and available exclusively at Baby Bunting.
Premium Nursery Pal
Skyview Nursery Pal
Nursery Pal
Touchscreen Nursery Pal Premium
At the top of the range is the Premium Nursery Pal with a huge 5″ touchscreen parent unit, motorised pan-tilt and zoom camera, superior night vision, two-way communication, handy room thermometer and more.
Nursery Pal Skyview Baby Monitor with Cot Stand
If you don't have a place to sit or mount a baby monitor, the Skyview is for you. Included with the monitor is a flexible overhead cot stand that safely attaches to almost any cot or bassinet giving you unobstructed overhead viewing. Bliss.
The Nursery Pal is the extra pair of eyes and ears you didn't know you needed in the nursery. While it doesn't have the motorised camera of the Premium model, it does come with a super-strong magnetic mount on the camera base that's easy to reposition and hold at the perfect angle for optimal viewing.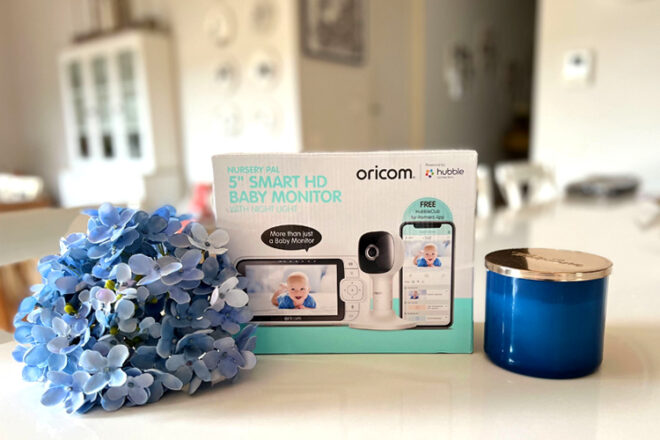 But don't take our word for it, we asked three mums from the Mum's Grapevine Facebook Groups to road-test each of the Oricom Connected Baby Monitors listed above. Here's what they had to say:
Samantha Fitzgerald, mum of Fionn
Samantha reviewed the Oricom Touchscreen Nursery Pal Premium Baby Monitor.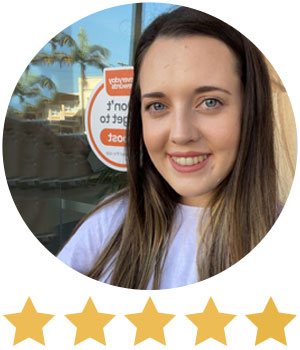 'It's a monitor that has everything you could think of or need'
The Oricom Touchscreen Nursery Pal exceeded my expectations with all of the different functions.
So far we have been using the parent unit to monitor bub at night which I love because it's a great size and very clear but today I set up the App as I wanted to try it on my phone first to show my partner how to use it (and it's very easy to set up).
I assumed I would just be able to view the room on the mobile. But on the app, you can tilt/zoom the camera, take photos/videos, speak to Bub, play music/white noise, set up a motion sensor etc. There is also an option for sleep advice and parenting tips on the app.
There are lots of other pretty handy features like room temperature display, music, two-way communication etc. We are having fun playing around with it and figuring out all the features.
If anyone is on the lookout for a monitor, the tilt and zoom function is super handy and perfect for any parents with toddlers who can get out of bed as you can search the room with the monitor.
Samantha has taken a great video showing how the touchscreen works to move the monitor around the room.
---
Bianca Maher, mum of Vinnie
Bianca reviewed the Oricom Nursery Pal Skyview Baby Monitor with Cot Stand.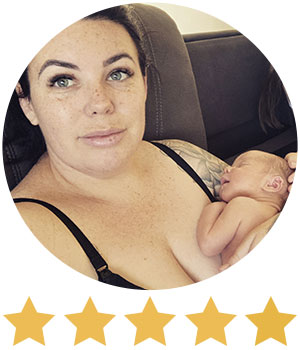 'This monitor is AWESOME'
I was actually on the hunt for a monitor that can be used on a bassinet, cot and provide a temperature reading at the least, but when I was selected to review the new Oricom Skyview Nursery Pal Monitor and read the specs – it can do those and heaps more!
The stand is perfect for a bassinet. For now, I have connected the stand to the co-sleeper bassinet, secure and super high. The stand is tall, hubby is 6'4″ and you can bend the gooseneck taller than him.
Definitely suited to any parent, even if you have more than one child, you can connect multiple cameras to one unit and see all views at once. Even toddlers, as you can mount the wall mount base up high where they can't reach.
It is easy to use! It's not complicated but has all the latest features with clear video. Being able to watch him live with sound is really cool.
I was able to do housework or watch the tv and check on him through the app or the parent hub without any major receiving delays. As the sound or movement happened, I was able to see within 1-2 seconds. I've been able to check his feeding and wake times with the app which means I don't need multiple apps to track everything.
Hubby can watch him through the app too when he's away at work, and talk to him.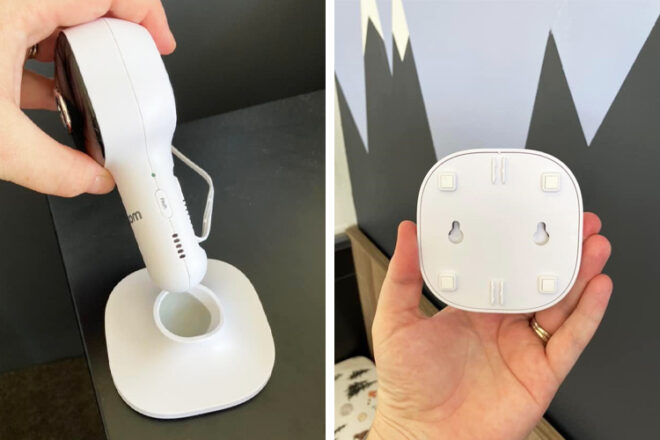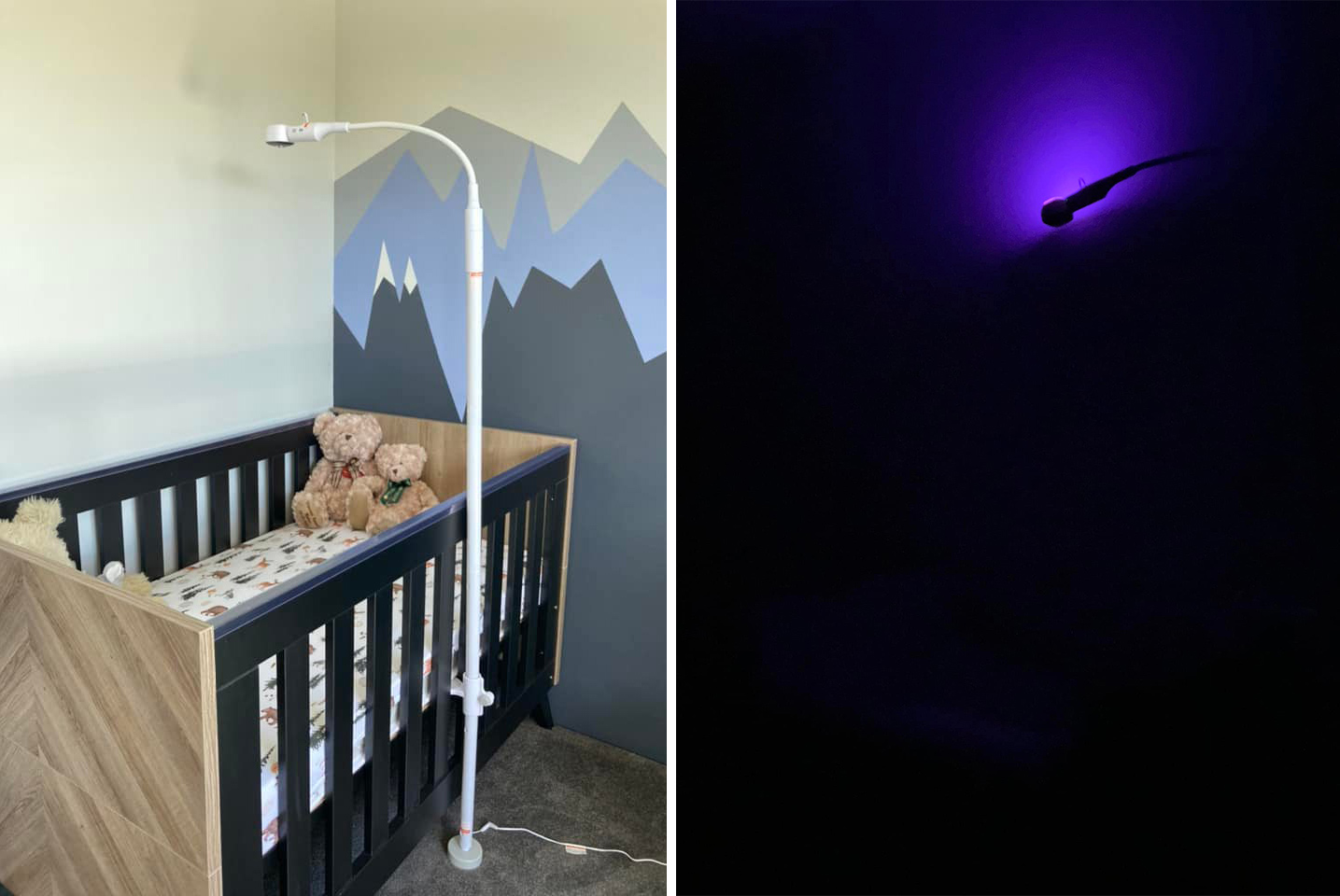 The night light has been amazing, our lamp is too bright, so the monitor's night light is a perfect glow to be able to see to feed and change without waking him. You can change the colour, the strength of the glow & turn it on or off all from the app.
Another cool feature – you can set up the light & lullaby to automatically come on at certain times. Even for wake periods, good to create that routine for Bub, which I've started doing with Vinnie, so now my room is dark but I have the nightlight turn on at 8.30 pm when it's time to feed and sleep.
Bianca took a great video showing the clarity of the parent unit.
---
Belinda Chapman, mum of Ted
Belinda reviewed the Oricom Nursery Pal Baby Monitor.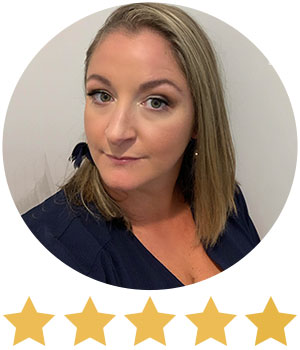 'I was so surprised at all the cool features of this monitor'
The Oricom Nursery Pal monitor far exceeded my expectations. There are so many functions within the monitor unit and Hubble app, and the connectivity and picture clarity was fantastic.
I was sceptical about getting a monitor that utilised wifi, but the ability for the Oricom Nursery Pal to interface with my mobile via the Hubble App is by far my favourite feature. Being able to remotely view images and also change all of the settings is super convenient. The app also has a baby "diary" section which allows you to record and track baby growth and also feeding, sleeping and nappy schedules.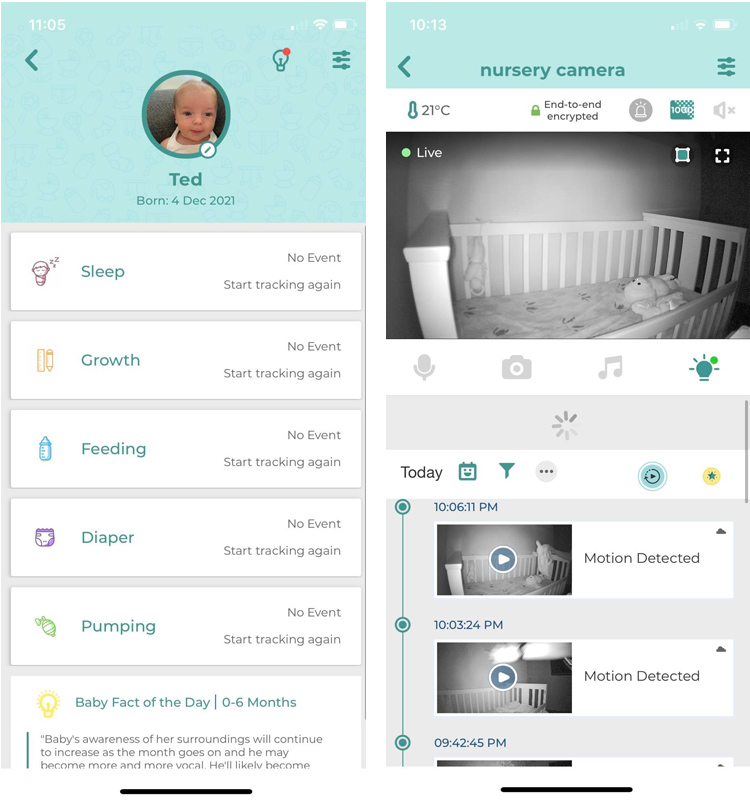 I also love that this monitor is more than just a monitor. The nightlight function and white noise/lullaby function negate the need for multiple nursery devices!
The camera is sleek and can pan, tilt and zoom, and also has a fully programmable night light. There is the ability to connect to multiple cameras, so it would suit families wanting to watch multiple areas or children at the same time.
Belinda has done a fantastic video as she unpacked the box and set up the video monitor. 
---