Whether you're heading off on bub's first road trip or your mini-me is a frequent flyer, a travel pram or stroller is a handy accessory that makes family holidays more comfortable for everyone.
Travel prams are lightweight strollers that fold down into compact units that are small enough to travel with. In fact, some are compact enough to take on planes as carry-on and fit in the overhead compartments.
Domestic carry-on luggage allowances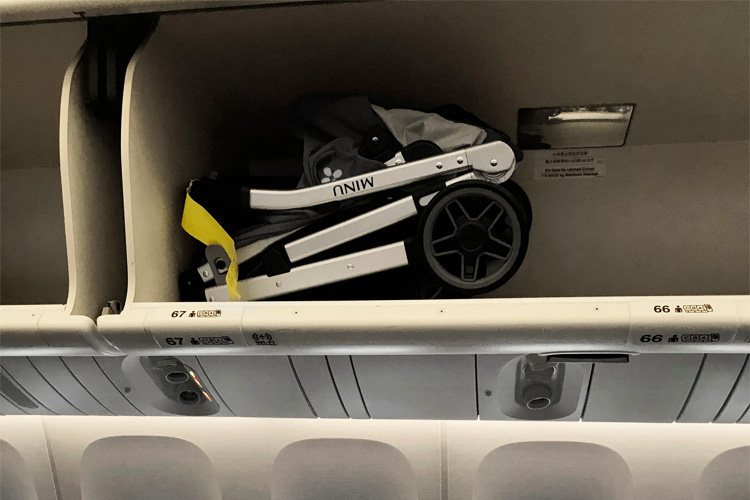 Carry-on restrictions vary between airline carriers in Australia. We've checked with the airlines and listed their carry-on weight and dimension allowances.
When checking if your pram meets the requirements of the carrier you're flying with keep in mind that the stroller weight listed by the brand may not take into account any accessories like pram liners, sunshades, cup holders etc.
We recommend always checking your pram's total weight before you travel.
Virgin Australia
Dimensions: 56cm x 36cm x 23cm
Weight: 7kg
QANTAS
Dimensions: 56cm x 36cm x 23cm
Weight: 10kg
Jetstar
Dimensions: 56cm x 36cm x 23cm
Weight: 7kg
Rex Airlines
Dimensions: 56cm x 36cm x 23cm
Weight: 7kg – 15kg depending on fare type
Even if you're taking a baby carrier on your travel, there are times when only a stroller will do.  To help you find the perfect stroller for your next adventure, we've put the top brands in one handy spot for you. Bon voyage!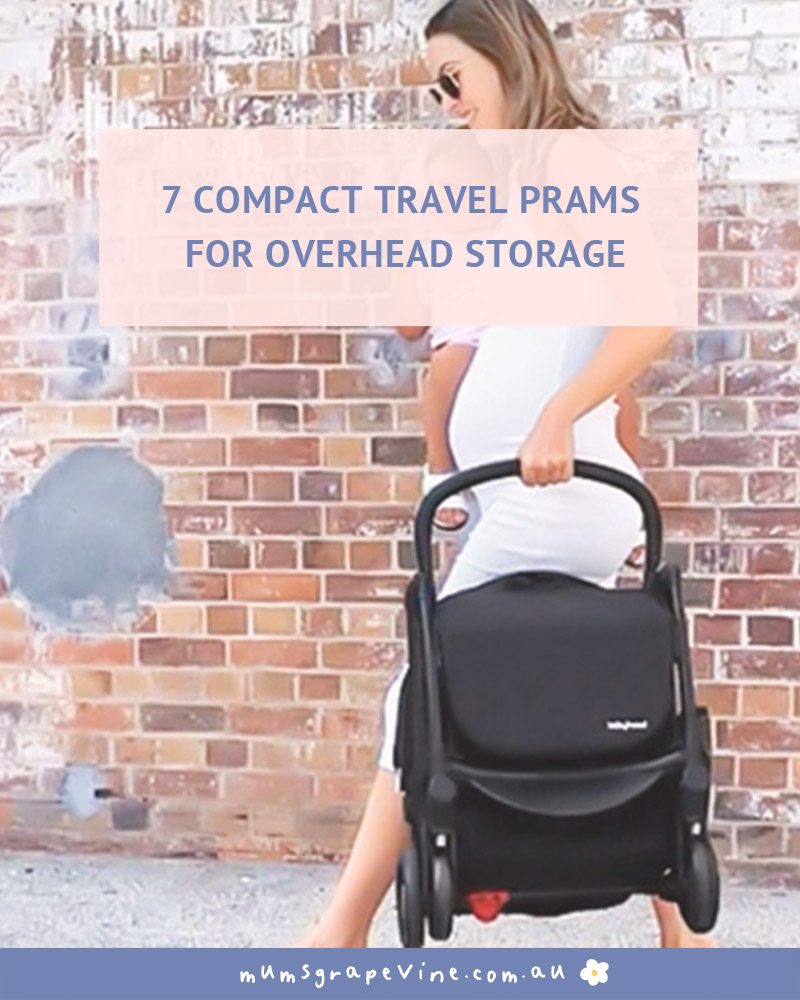 OUR PICK OF THE CROP
7 travel strollers compact enough for carry-on
With so many travel prams on the market in Australia, it's hard to know where to start, so we asked the HUGE Mum's Grapevine Facebook community which brands they've used and loved. In no particular order, here are the recommended products.
Bugaboo
Equipped with a one-second fold, the Bugaboo Butterfly boasts a large, fully reclinable seat, extendable hood and 8kg of underneath storage. We love that it meets the requirements for carry-on luggage by the International Air Transport Association.
Folded dimensions: 54cm x 45cm x 23cm
Weight: 7.3kg
Suitable for: 6 months to 22kg
---
Silver Cross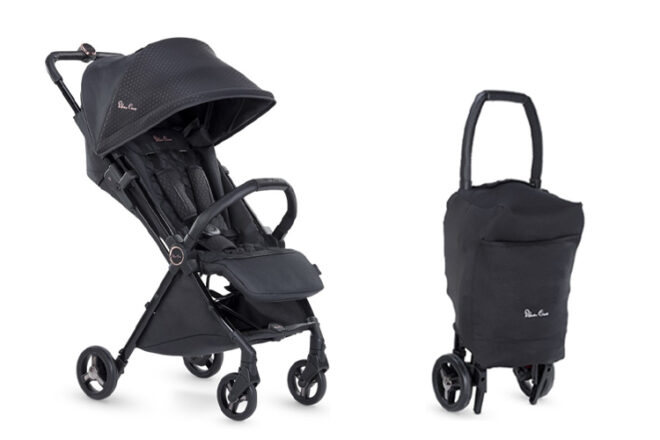 Ultra-lightweight and compact, Silver Cross's Jet Eclipse travel pram is cabin approved for most major airlines. Complete with UPF50+ sun canopy and optional travel system adaptors, we love that it transforms from a full-size stroller to a compact pull-along.
Folded dimensions: 55cm x 30cm x 18cm
Weight: 5.9kg
Suitable for: birth to 15kg
---
Edwards & Co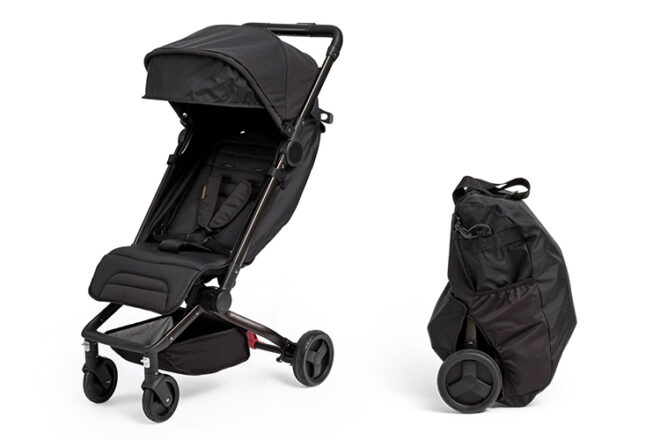 With puncture-proof PU wheels, the Edwards & Co Otto stroller has a fully reclinable seat, UPF50+ sun cover and a one-hand folding mechanism. We love the complimentary storage bag that allows you to pull it along or carry over the shoulder.
Folded dimensions: 49cm x 41cm (with wheels removed)
Weight: 7kg
Suitable for: birth to 20kg
---
UPPAbaby
With a handy one-step fold, UPPAbaby's Minu lightweight stroller has all-wheel suspension, a fully reclining multi-positioning seat and an extendable pop-out UPF50+ canopy. We love that it comes with a storage bag and built-in carry handle and shoulder strap.
Folded dimensions: 58.4cm x 52cm x 29.2cm
Weight: 6.7kg
Suitable for: birth to 23kg (with additional birth kit)
---
Babyhood
Fitted with a smooth glide wheel system and auto-fold mechanism, Babyhood's latest Air Compact stroller is newborn-ready and travel system compatible. We love the zip-open sun drape for complete protection from head to toe and free rain cover and bumper included.
Folded dimensions: 54cm x 48cm x 23cm
Weight: 6.6kg (without accessories)
Suitable for: birth to 18kg
---
Maclaran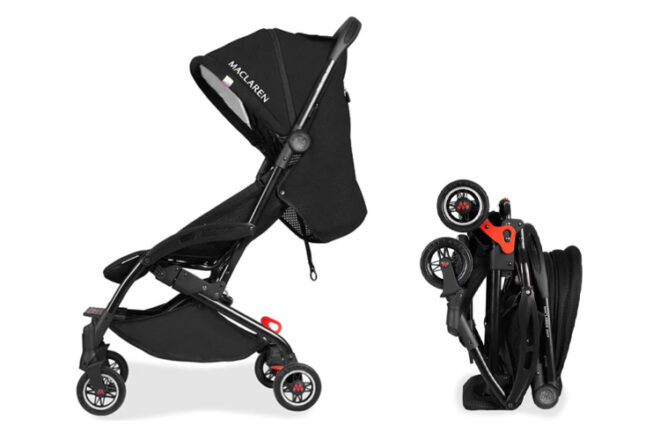 Car-seat compatible with leading brands, the Maclaran Atom comes fully loaded with extras including a raincover, infant comfort pack, seat liner and storage bag. We love the one-hand compact umbrella fold for quick pack-ups on the go.
Folded dimensions: 53cm x 45cm x 24cm
Weight: 6.4kg
Suitable for: birth to 25kg
---
GB Pockit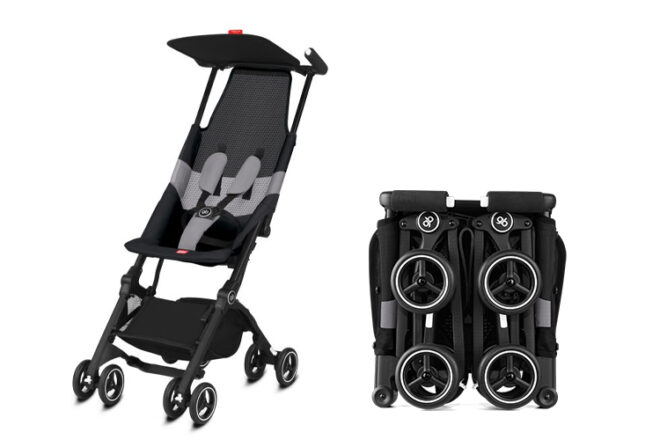 A featherlight pocket rocket, the GB Pockit Air All-Terrain folds down into an uber-compact unit small enough to fit in the overhead lockers of planes and large handbags. We love the breathable mesh backrest for keeping bubs cool in warm destinations.
Folded dimensions: 35cm x 30cm x 18cm
Weight: 4.7kg
Suitable for: 6 months to 22kg
---
Read the comments and find out which travel prams other mums have taken on planes:
---
Can travel prams go on airplanes?
Yes, select travel prams are permitted onboard airplanes if they are compact and lightweight enough to meet the cabin baggage allowance.  Of course, always check with your airline before you travel as cabin allowances vary with fares.
What are the benefits of a travel pram?
There are so many benefits to having a travel pram with you on holiday, starting with being able to pop baby into the stroller the second you step off the plane. A compact stroller also makes it faster to get around with young kids and gives them a place to sleep while you're on the go.
What features should I look for in a travel stroller?
Aside from a compact, lightweight design, look for reclining seats so that kids can rest, a sun-safe canopy, good ventilation and a storage basket for your snacks and shopping. Many travel strollers also come with storage bags and shoulder straps for easy carrying.
---
This shortlist has been curated by our senior editorial team and may include affiliates and/or paid inclusions. We would never recommend a product we haven't seen, used, tried ourselves or been recommended by a mum from our Facebook groups. See our Disclosure Policy.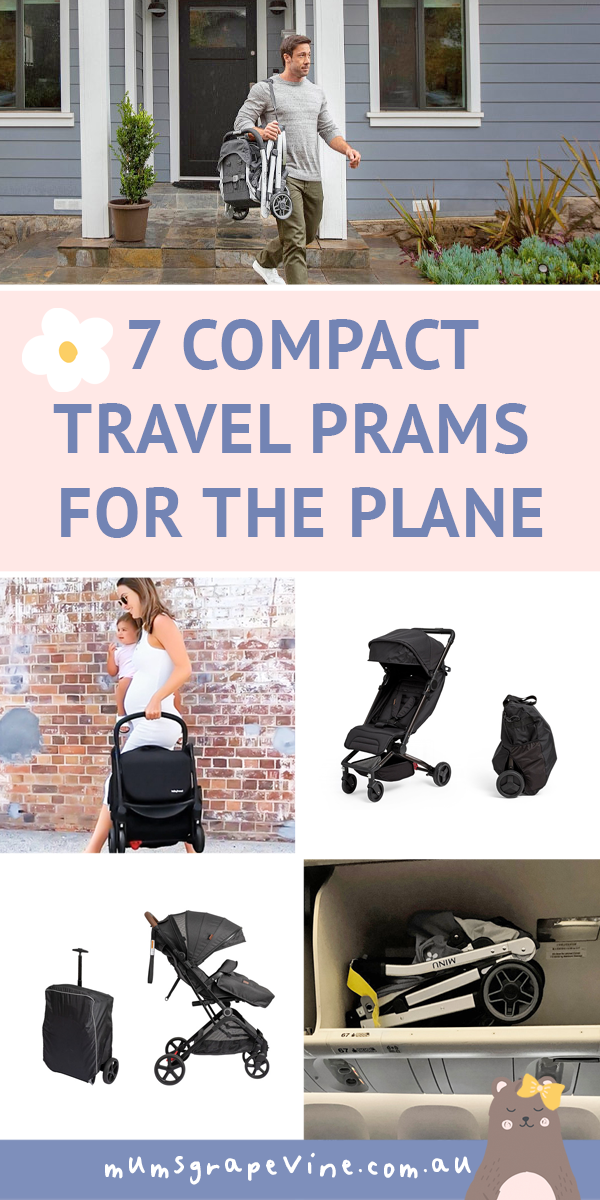 Know a travel stroller we should add to our list? Contact us and let us know, we've been collating Australia's best baby products into shortlists for over 14 years and we're always happy to support new brands and businesses.
Find more baby prams and accessories in these lists …
Read this: Helpful tips for flying with babies
Thousands of Aussie mums in our Mum's Grapevine Facebook Groups are asking each other for recommendations on what to buy right now. And you can too! Join today.