Whether you're heading off on bub's first road trip or your mini-me is a frequent flyer, a travel pram or stroller is a handy accessory that makes family holidays more comfortable for everyone.
Travel prams are lightweight strollers that fold down into compact units that are small enough to travel with. In fact, some are compact enough to take on planes as carry-on and fit in the overhead compartments.
Domestic carry-on luggage allowances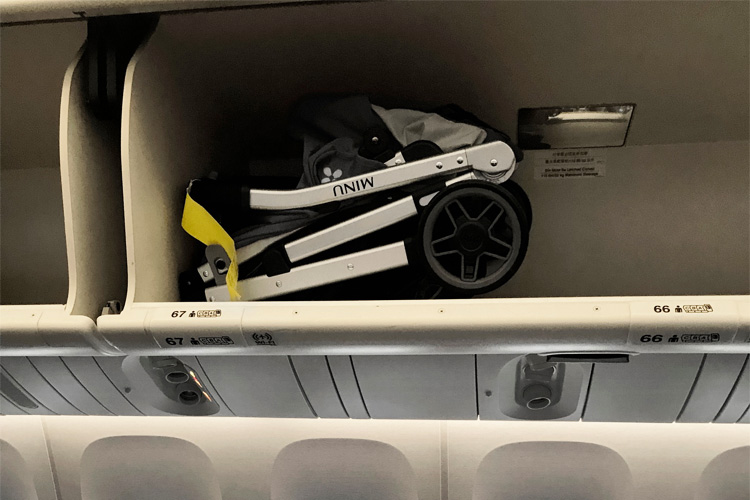 Carry-on restrictions vary between airline carriers in Australia. We've checked with the airlines and listed their carry-on weight and dimension allowances.
When checking if your pram meets the requirements of the carrier you're flying with keep in mind that the stroller weight listed by the brand may not take into account any accessories like pram liners, sunshades, cup holders etc.
Size and weight restrictions for overhead luggage
We always recommend rechecking your pram's total weight before you travel.
Virgin Australia
Dimensions: 56cm x 36cm x 23cm
Weight: 7kg
QANTAS
Dimensions: 56cm x 36cm x 23cm
Weight: 10kg
Jetstar
Dimensions: 56cm x 36cm x 23cm
Weight: 7kg
Rex Airlines
Dimensions: 56cm x 36cm x 23cm
Weight: 7kg – 15kg depending on fare type
OUR PICK OF THE CROP
8 travel strollers compact enough for carry-on
Even if you're taking a baby carrier on your travels, there are times when only a stroller will do. We consulted our huge Facebook community of Australian mums and listed their most popular choices below.
In no particular order, here are 8 popular Travel Prams we recommend for 2023.
BABYZEN
Only taking seconds to fold, the BABYZEN YOYO² Pram is compact and cabin approved. Extremely strong and super light thanks to its high-quality materials, we love that all seat fabrics are washing machine friendly. Optional newborn pack available.
Folded dimensions: 52cm x 44cm x 18cm
Weight: from 6.2kg
Suitable for: 6 months to 22kg
---
Leclercbaby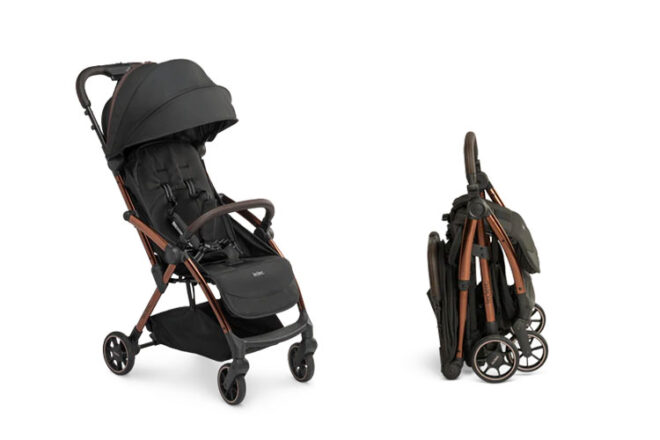 Meet the Leclerc Baby Influencer Stroller—a style icon, safety champ and comfort expert all in one! With its chic design in three fabulous colours, quick-fold magic (1.5 seconds flat) and cozy seat, it's the ultimate travel companion for trendy tots. Fly high with fashion and function.
Folded dimensions: 56cm x 24cm x 47cm
Weight: 6.6kg
Suitable for: Birth up to 22kg capacity
---
Bugaboo
Equipped with a one-second fold, the Bugaboo Butterfly boasts a large, fully reclinable seat, extendable hood and 8kg of underneath storage. We love that it meets the requirements for carry-on luggage by the International Air Transport Association.
Folded dimensions: 54cm x 45cm x 23cm
Weight: 7.3kg
Suitable for: 6 months to 22kg
---
Silver Cross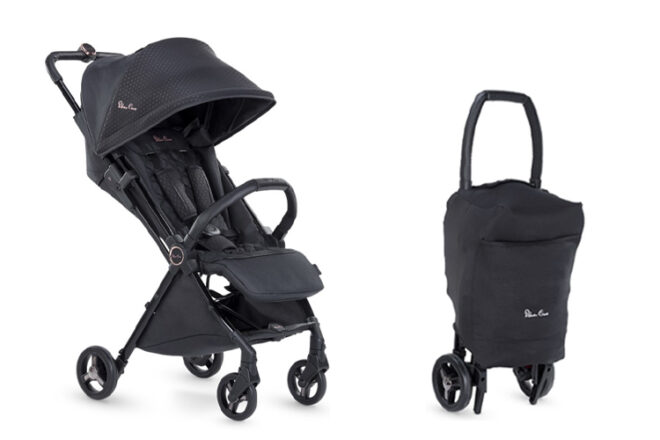 Ultra-lightweight and compact, Silver Cross's Jet Eclipse travel pram is cabin approved for most major airlines. Complete with UPF50+ sun canopy and optional travel system adaptors, we love that it transforms from a full-size stroller to a compact pull-along.
Folded dimensions: 55cm x 30cm x 18cm
Weight: 5.9kg
Suitable for: birth to 15kg
---
Edwards & Co
With puncture-proof PU wheels, the Edwards & Co Otto stroller has a fully reclinable seat, UPF50+ sun cover and a one-hand folding mechanism. We love the complimentary storage bag that allows you to pull it along or carry over the shoulder.
Folded dimensions: 49cm x 41cm (with wheels removed)
Weight: 7kg
Suitable for: birth to 20kg
---
UPPAbaby
With a handy one-step fold, UPPAbaby's Minu lightweight stroller has all-wheel suspension, a fully reclining multi-positioning seat and an extendable pop-out UPF50+ canopy. We love that it comes with a storage bag and built-in carry handle and shoulder strap.
Folded dimensions: 58.4cm x 52cm x 29.2cm
Weight: 6.7kg
Suitable for: birth to 23kg (with additional birth kit)
---
Babyhood
Fitted with a smooth glide wheel system and auto-fold mechanism, Babyhood's latest Air Compact stroller is newborn-ready and travel system compatible. We love the zip-open sun drape for complete protection from head to toe and free rain cover and bumper included.
Folded dimensions: 54cm x 48cm x 23cm
Weight: 6.6kg (without accessories)
Suitable for: birth to 18kg
---
Karion Kids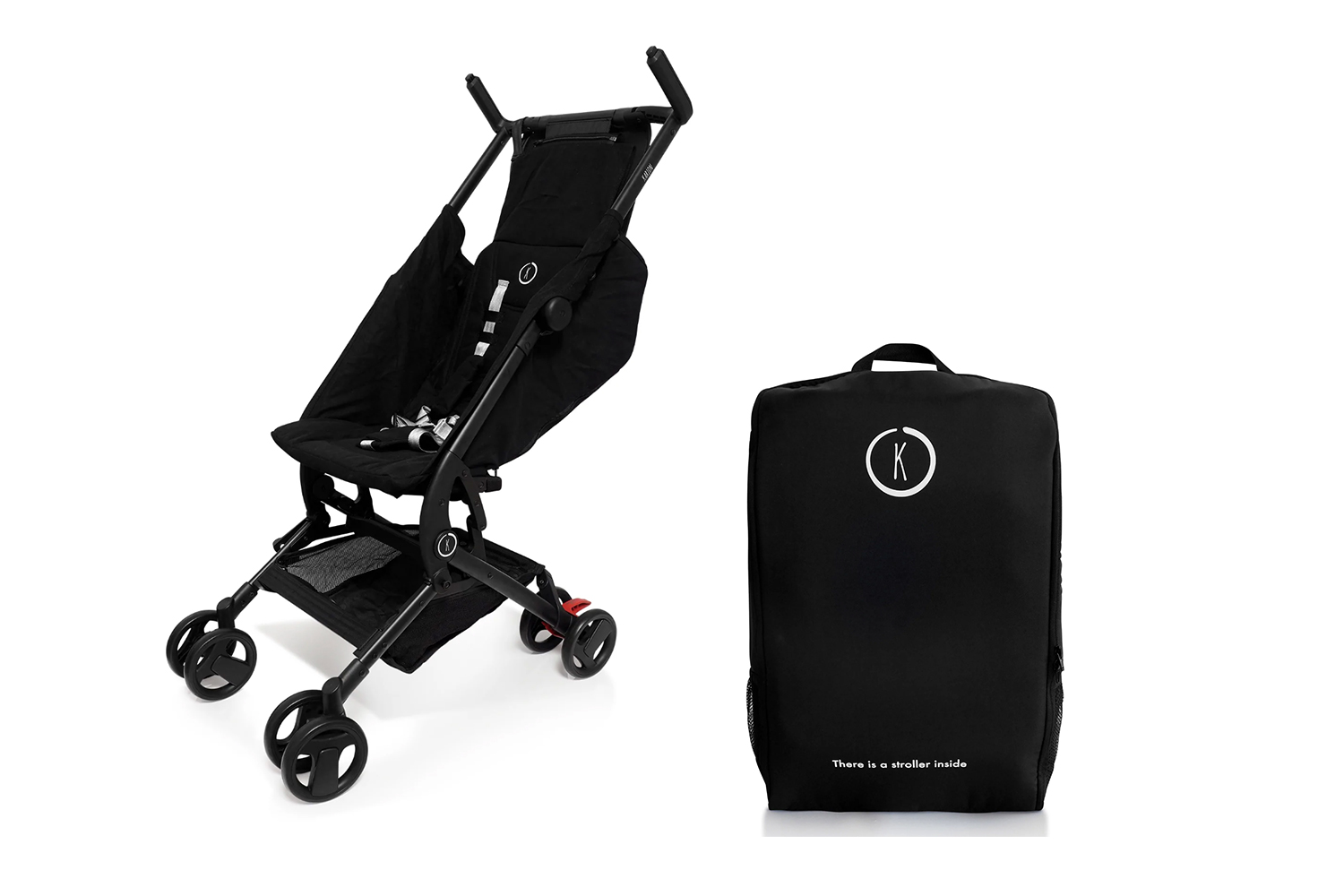 Ultra compact, light-weight and suitable for all terrains, the Karion Travel Stroller folds out in seconds with a flick of the wrist. Equipped with an SPF 50 sun shade, solid wheel base and strong frame, you can carry it as a backpack or shoulder bag. Airport game: strong.
Folded dimensions: 50cm x 33cm x 20cm
Weight: 4.9kg
Suitable for: 6 months to 17kg
---
Read the comments and find out which travel prams other mums have taken on planes:
---
Can travel prams go on airplanes?
Yes, select travel prams are permitted onboard airplanes if they are compact and lightweight enough to meet the cabin baggage allowance.  Of course, always check with your airline before you travel as cabin allowances vary with fares.
What are the benefits of a travel pram?
There are so many benefits to having a travel pram with you on holiday, starting with being able to pop baby into the stroller the second you step off the plane. A compact stroller also makes it faster to get around with young kids and gives them a place to sleep while you're on the go.
What features should I look for in a travel stroller?
Aside from a compact, lightweight design, look for reclining seats so that kids can rest, a sun-safe canopy, good ventilation and a storage basket for your snacks and shopping. Many travel strollers also come with storage bags and shoulder straps for easy carrying.

Know a travel stroller we should add to our list? Contact us and let us know, we've been collating Australia's best baby products into shortlists for over 15 years and we're always happy to support new brands and businesses.
Read next…
Read this: Helpful tips for flying with babies
---
Ask other mums
Looking for stroller to take on holidays and still not sure if any of these are right for you? Join the huge #MGVfam in one of our age-based private Facebook baby groups and ask thousands of other mums with babies the same age as you, which one they recommend.
Click here and be matched to your Mum's Grapevine Facebook groups today!
We want you to know
At Mum's Grapevine, we're a team of passionate mums with over 15 years of experience researching and writing about all things baby and parenting. Our reviews of recommended products, like the ones in this post, may include paid inclusions, but we promise to only feature products that we truly believe in and have used or seen ourselves. We want to ensure that our readers have access to the latest and greatest products in the parenting world, and we're committed to maintaining our high standards of quality and honesty. See our Disclosure Policy.
Thank you for trusting us to be your go-to source for all things baby-related.