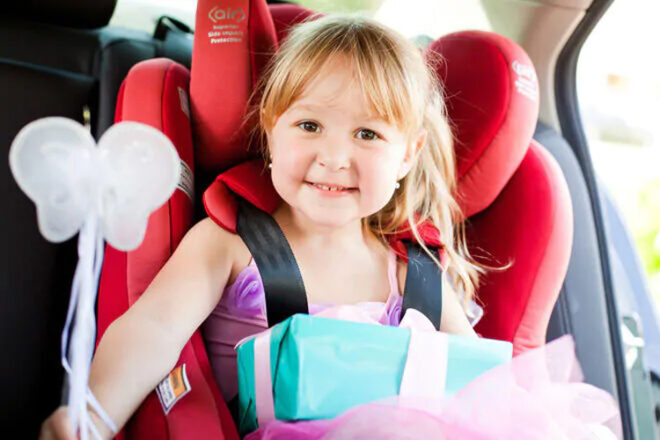 Anyone who has ever been in even the most minor of car accidents will know that they are pretty traumatic. It should come as no surprise that there are some pretty detailed car seat rules regarding how children are restrained in vehicles. After all, we all want our little ones to be kept as safe as possible!
We're very well aware that rules for some things can be complicated, and vary from State to State. Thankfully, for once, Australian States and Territories managed to get together over coffee and muffins. And because coffee and muffins always lead to good things, they worked out uniform child restraint rules across the country.
The basic rules are:
Babies must be in a rearward-facing child car seat until they are 6 months old.
From 6 months to 4 years, you can use either a rearward-facing or a forward-facing child car seat. The seat must have an inbuilt harness (ie. not your car's seatbelt). You will also need to check on the height markers for your seat. More on that later in the article.
From ages 4 to 7, use either a forward-facing child car seat or, when they have outgrown that, an approved booster seat. When they're in an approved booster seat they can start to use the car seat belt.
Kids aged 7 and older should be in an approved booster until they outgrow it, then they can use an adult seatbelt (as long as they're tall enough for it to fit properly).
Source: Child Car Seats
Beyond the basics:  Car seat rules explained
So as we said that's your basic run down. But there are some other things to be aware of… so here's our overview of what the rules mean to help you safely secure your children.
Birth to six months
Rearward-facing
Inbuilt harness
Back seat only, no front seat
Children up to six months old must use an approved rearward-facing infant restraint. This type of restraint is held in place by a seatbelt or ISOFIX anchor, and the top tether strap. This will mean your baby will be facing the rear of the vehicle, and be secured with their seat's inbuilt harness system.
Children up to six months must not travel in the front seat of a vehicle that has two or more rows of seats. If you drive a car with only one row of seats (eg. single cab utility vehicles), a car seat can be fitted to the front row. But you must ensure there is no airbag in that position, and that an appropriate child restraint anchorage point is available.
Six months to four years of age
An approved rearward-facing infant restraint, OR
An approved forward-facing child safety seat with an inbuilt harness. A forward-facing restraint is held in place by a seatbelt or ISOFIX anchor, and a top tether strap. The seat faces forward and incorporates a six-point harness.
Back seat only, not the front seat
Children in this age group must not travel in the front seat of a vehicle that has two or more rows of seats.
It's really important to note that, whilst the law states that it's legally ok, most safety groups recommend keeping children rear-facing for as long as possible.
Rearward facing is still the safest position for your little one to be in if you have an accident. Many parents turn their children prematurely because they think they look cramped. But, according to the Royal Children's Hospital, even having their legs crossed or hanging is safer than turning them around early.
If you look on your car seat, you should be able to find some height markers to help guide you in this process.
Four to seven years
An approved forward-facing child safety seat with an inbuilt harness, OR
An approved booster seat with either a lap-sash seatbelt or child safety harness
The older they get, the more complicated it gets. Children aged four years up to seven years may use either an approved forward-facing seat with a built-in harness or an approved booster seat with a seatbelt or safety harness.
Children from four to seven years of age can only sit in the front row of a vehicle with two or more rows when all other seats are occupied by children younger than seven in an approved child restraint.
Once again, your car seat should have some height markers to help guide your decision-making process. Other things to look out for when looking for booster seat readiness are:
Their eye level is higher than the back of the seat
Their shoulders do not fit their restraint comfortably anymore
The top level of the restraint's shoulder straps is below your child's shoulders.
Booster seats
If the booster seat comes with a tether strap, it must be anchored to the child restraint anchorage point. However, some booster seats meet the Australian Standard (AS/NZS 1754) but don't come with a tether strap. These don't need to be anchored in the vehicle, simply follow the manufacturer's installation instructions.
Children in booster seats must be restrained by a suitable lap and sash type approved seatbelt. You must also ensure that their seatbelt is properly adjusted and fastened.
If your child is sitting in the middle seat of the car, and only has a lap seat belt, you may like to consider a safety harness. When purchasing, make sure they meet Australian standards. Similar to the standard seatbelt, you'll also need to make sure they are appropriately adjusted and fastened.
Booster cushions
A booster cushion is simply a booster seat, without the side wings. You can often find these really cheaply online, but they're not recommended. This is because they provide no side impact protection in a crash.
Booster cushions have been deleted from the Australian Standard for child restraints (AS/NZS 1754). Although booster cushions are no longer allowed to be manufactured in Australia, they are still legal to use.
Dickie seats
A 'dickie seat' is a retro-fitted seat that is usually fitted to the cargo area of a station wagon. According to Vic Roads, children aged four years and older can ride in these kinds of seats. It's important to note, however, that they do not offer the same level of protection as a booster seat. There's no side impact protection, and usually no safety features like airbags in the back of the car. A child safety harness must be used on a dickie seat that has only a lap belt fitted.
Seven years and over
An approved booster seat with either a lap-sash seatbelt or child safety harness, OR
An adult seatbelt with no booster seat once they are over 145cm tall.
Booster seat
If a child is over seven years and still fits in a booster seat, they should still continue using it until they have outgrown it, and are tall enough for the adult seatbelt to fit properly. Legally this means they must be a minimum of 145cm before they can ditch the booster.
Seatbelt
Just because the law says your child is tall enough, once again doesn't mean that moving them up is the safest choice. Thankfully, Raising Children have provided a handy five-step test.
Children are big enough to ride safely with an adult seatbelt if:
They can sit with their back firmly against the back of the seat
They can bend their knees comfortably over the front of the seat cushion (ie. their legs aren't just sticking straight out)
The seatbelt sash sits across their mid-shoulder
The lap belt sits across the top of their thighs
You can rely on them to stay in this position for the entirety of your car trip.
If the child outgrows their current booster seat, but can't wear the adult seatbelt correctly, it's worth looking for a larger booster seat. Lap-sash seatbelts provide greater protection than lap-only seatbelts. If there is a lap-only seatbelt in your car, you can add a properly fitting, Australian standard approved, child safety harness.
Finally, remember that the back row of seats is still the safest place in your car. Therefore you should always encourage your children to sit in the back, even if they're out of their booster seat.
Public Transport and Taxis
Riding on buses
Restraint is not required if the bus seats more than 12 passengers
If there is a restraint available, use it
A driver of a bus designed to seat over 12 adults is not required to ensure passengers are in a restraint. However, if there's a restraint is available, it should be worn.
Rising in taxis
Bring your own child restraint
If no restraint is available, use seat belts
Do not share a seatbelt with your child
No kids under four in the front seat
Whether or not to use a car seat in a taxi confuses many parents, especially as the rules vary from state to state. The short version is that it is recommended you provide your own child restraint.
In NSW it's actually the law that passengers under 12 months be in a car seat. Not all taxis will have a child restraint however all taxis do have an anchor bolt.
You should always check your state's requirements before travelling.
Choosing a safe restraint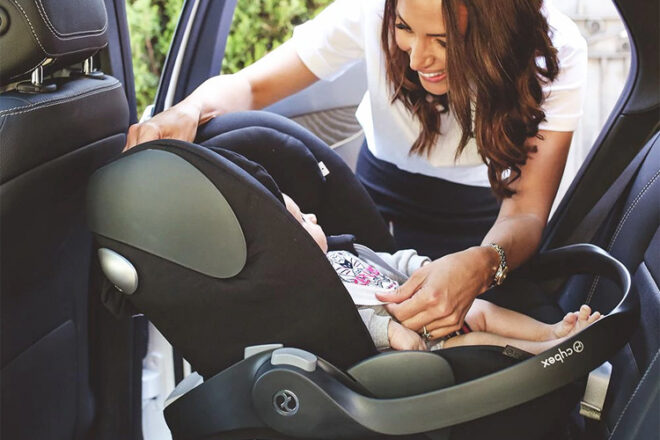 We are very lucky in Australia as we have exceptionally strict requirements covering materials, design, construction, performance, testing and labelling. This means that any approved child restraints must comply with Australian Standard (AS/NZS1754). Likewise, any accessories like restraints, covers, or padding sold in Australia must meet with Australian Standard (AS/NZS 8005).
The Child Car Seats website provides a very handy tool to find and compare car seats across the Australian market.
As long as you are purchasing a restraint that meets the Australian standard, and is appropriate for your child's age and size, you can rest assured that it is a safe restraint.
Likewise, you should also ensure that you are following the manufacturer's instructions not only for installation but also for use. This also includes any guidelines surrounding shoulder height markers to ensure the appropriate use of the seat.
Most stores will allow you to "test" fit car seats to make sure they will fit in your car. This can be particularly important when looking at some of the more expensive convertible seats. The extra side padding is wonderful, but for many people just too big for their vehicle.
It's always worthwhile getting your seat professionally fitted or checked, particularly if you're a first-time parent. Most baby stores offer this service. Otherwise, you can also contact agencies like Kidsafe or your local motoring body like RACV to find someone who can help.
Finally a word on purchasing car seats from overseas retailers, or bringing them with you from another country. Child restraints and booster seats purchased overseas, including ISOFIX compatible child restraints, do not comply with the Australian Standard for child restraints. You will need to ensure that you purchase a child seat that is certified using the Australian standard.
Using a second-hand restraint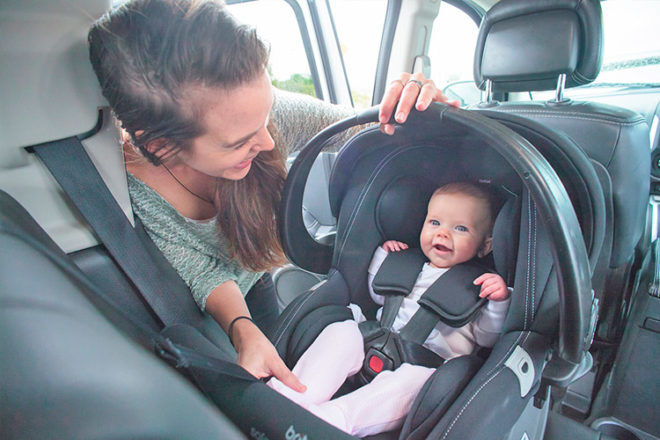 We understand that car seats are very expensive. Raising children suggests that, if you are considering using a second-hand child restraint or booster seat check that:
It meets the Australian Standard AS/NZS 1754. This information should be visibly labelled somewhere on the seat.
It has not been in a crash.
The seat is not more than ten years old. Once again, manufacture dates should be printed on the seat.
All the parts, including the instruction booklet, are included.
There are no splits, cracks or stress marks on the restraint shell.
There is no mould on the seat.
The straps are not frayed, worn or damaged.
The buckles work smoothly and click into place securely.
What if my child is bigger/smaller than the guidelines?

Luckily there's a little bit of common sense leeway allowed here. Yes, the rules refer to age (instead of size, height and weight). In saying that, however, the current laws also acknowledge that there can be wide variations in the height and weight of children of the same age.
If your child is smaller than the specifications for their age, they should be kept in their current child restraint until they reach the appropriate shoulder marker. Likewise, if your child is too large, they may move to the next level of child restraint.
More information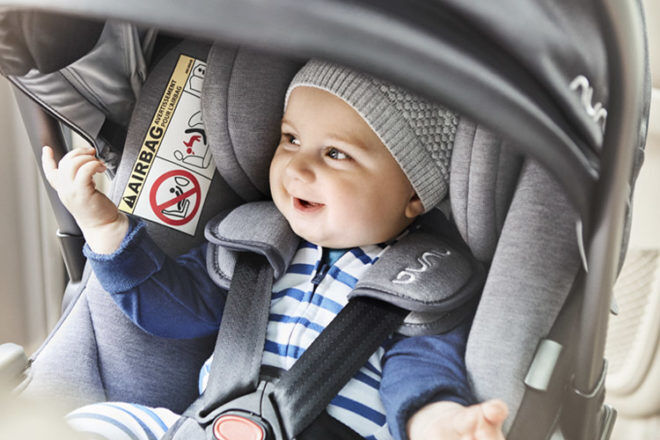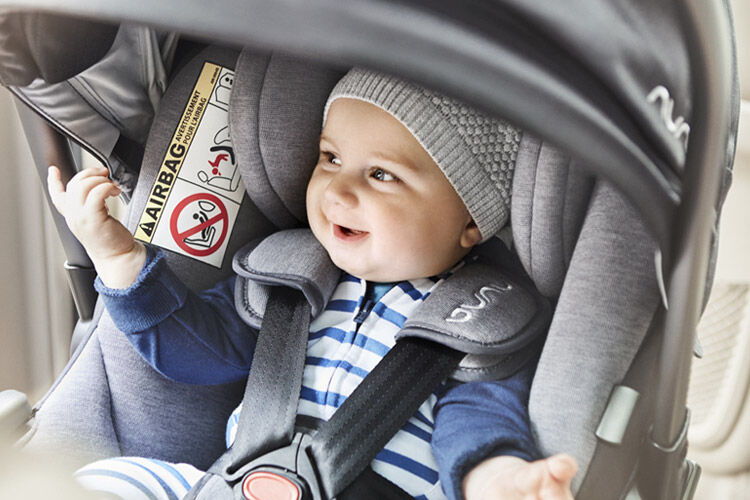 National:
State sources:
Whilst we've done our best to interpret the relevant laws, please make sure you check the official sites above to make sure this information is ship-shape and current. Happy travels!
---
Read next …