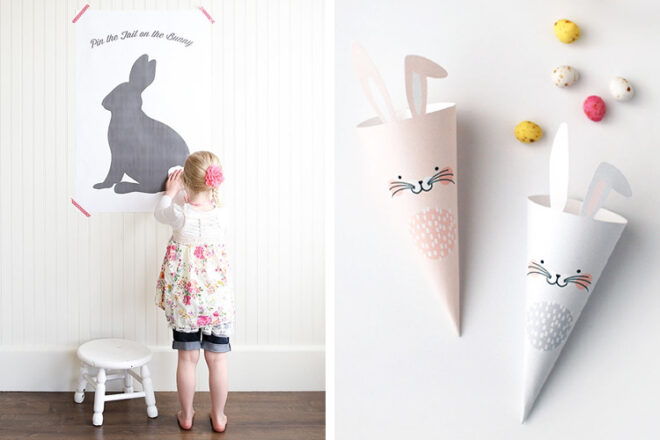 Easter is just around the corner which means it's time to prepare some eggstra-cool activities to do with the kids. Whether you're heading to an Easter egg hunt or staying home, our list of free Easter printables will keep little hands nice and busy this season.
Free Easter printables can be accessed easily, downloaded fast and printed off in a jiffy – and they are a fuss-free way to get crafty with the kids this Easter. From beautiful buntings to fun treat boxes, we've got printables for all your Easter needs.
24 free Easter printables for crafty kids
To help get your Easter off to an egg-cellent start, here are 24 free Easter printables for you and the kids to play with at home. Ready to get your craft on? Hop to it!
1. Easter Wheels
Zoom zoom! The Egg People will be ready to zoom around town helping with Easter deliveries thanks to these nifty sets of wheels. Check out some of the other free Easter printables up for grabs, including a game board and egg stands. (via Mr Printables)
2. Bunny bunting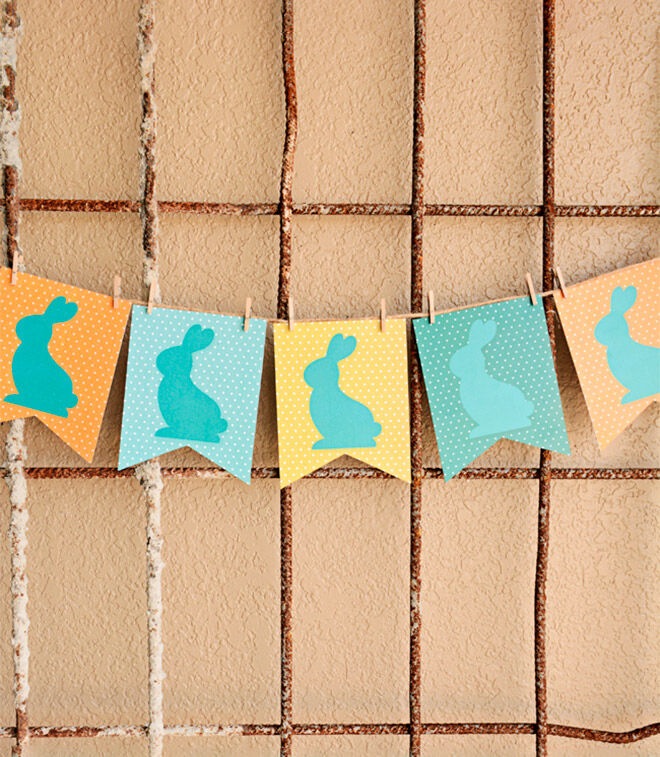 There's something about bunnies that makes everybody's heart melt, and this free printable bunting is no exception. Hang them in the kids' rooms for some extra festivity, or even on the fridge for a guaranteed 'aawwww' from all your guests. (via I Should Be Mopping The Floor)
3. Bunny ears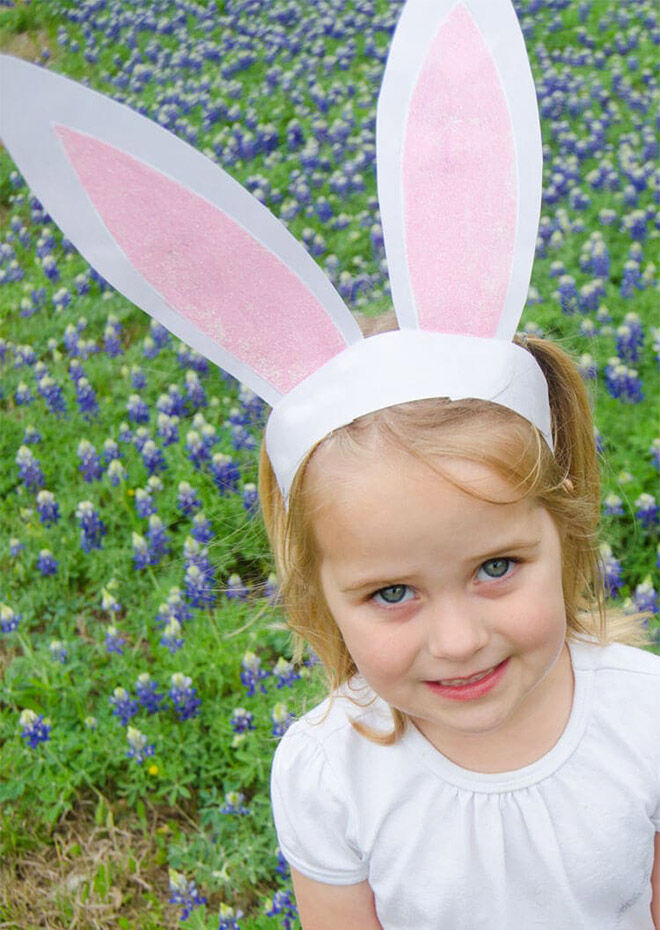 Little munchkins will be cuter than the Easter bunny thanks to these adorable printable bunny ears. All you need is some scissors, glue and optional pink glitter to create the perfect fuss-free Easter ears. (via I Heart Naptime)
4. Adorable animals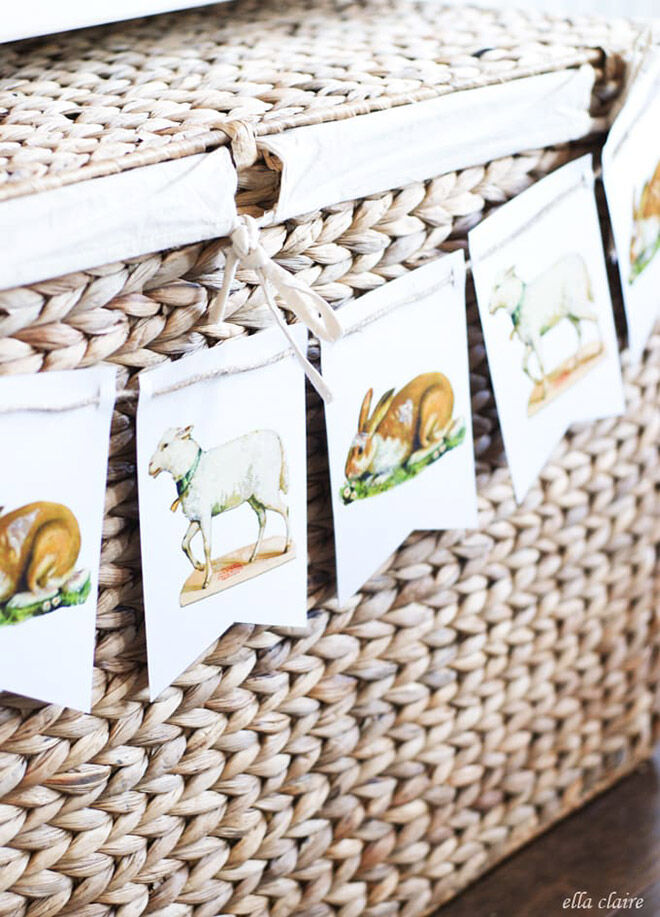 If you're hosting a more 'rustic' Easter event then this bunny and lamb banner is just the ticket. Thread with twine, hang from curtain rails or across your table and let the adorable illustrations do all the talking. (via Ella Claire Inspired)
5. Beautiful baskets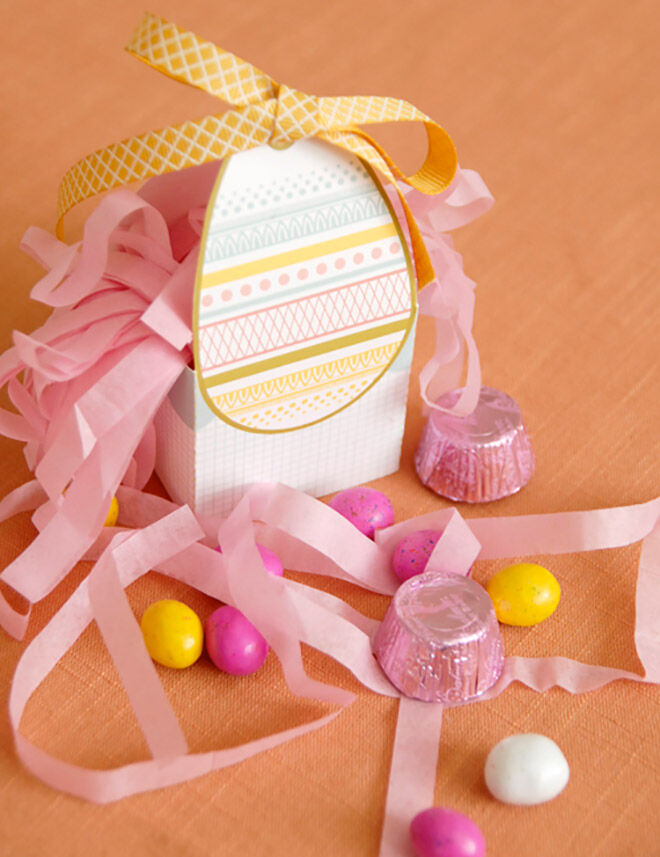 Make someone hop with happiness with a DIY basket full of bunny-themed treats. Fill with lollies, games, notes and more goodness for an Easter egg-stravaganza! (via Melissa Esplin)
6. Say thanks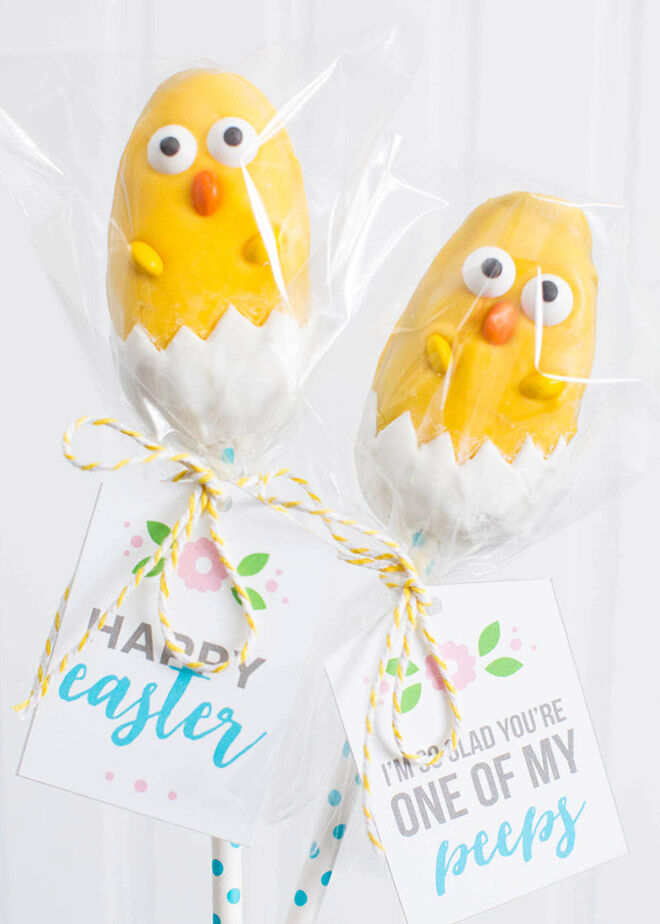 These free Easter printables make the perfect finishing touch to those baked goodies you'll be whipping up with the kids. Cute, quirky and colourful, you can count on lots of smiles when you dish these out. (via The Inspiration Board)
7. Crazy carrots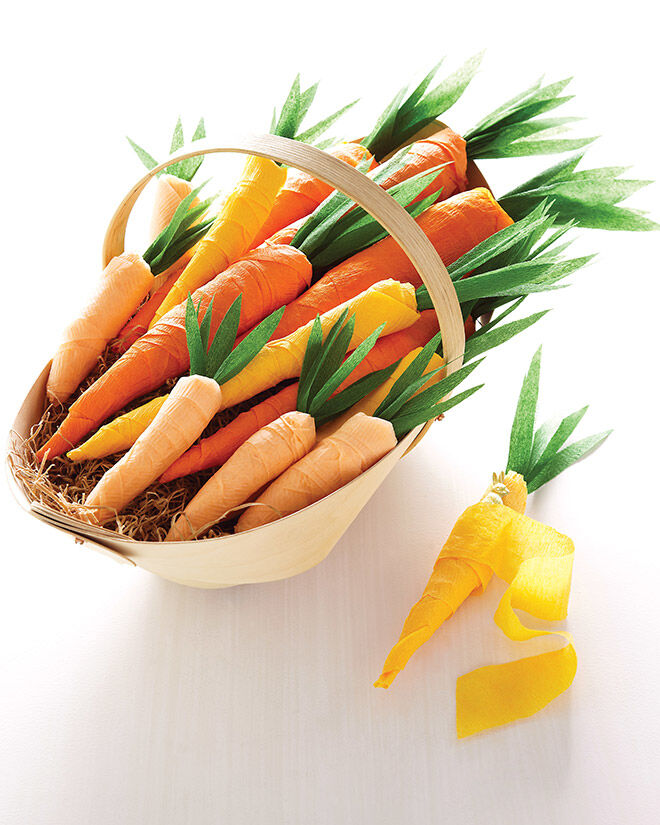 Whip up a bunch of crepe paper carrots for an Easter centrepiece that absolutely sings. Just print off the carrot template and trace the outline onto coloured paper. Roll them up, add some green stalks and you have a feast fit for a…well, bunny! (via Martha Stewart)
8. Pretty ears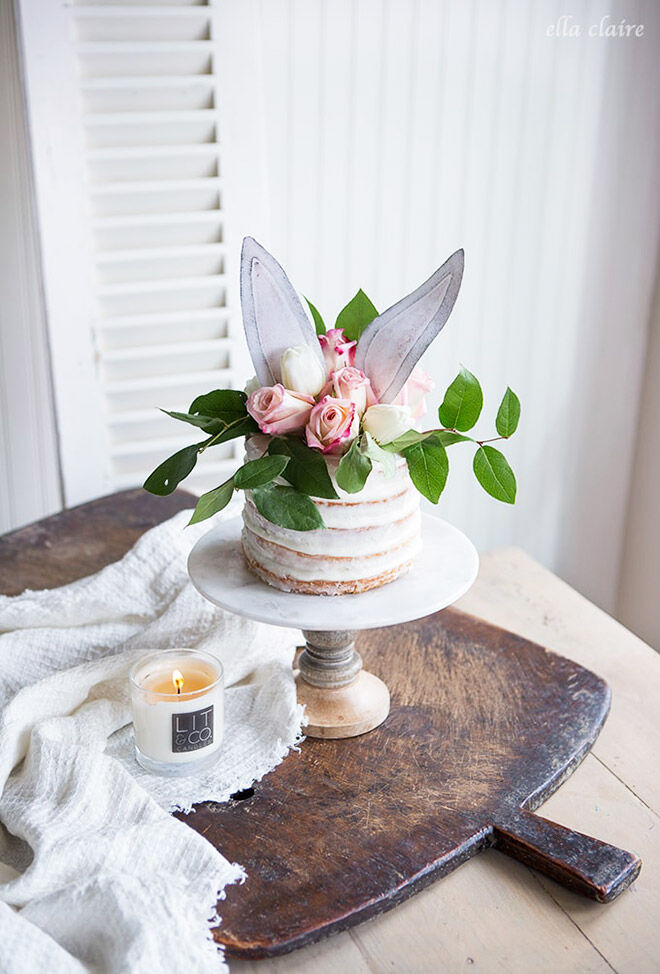 Bunny ears aren't just for the kids. Spruce up your Easter dessert with this easy-peasy printable set of fluffy ears. Add some whiskers, eyes and a sweet little nose for even more fun. (via Ella Claire & Co)
9. Postcard art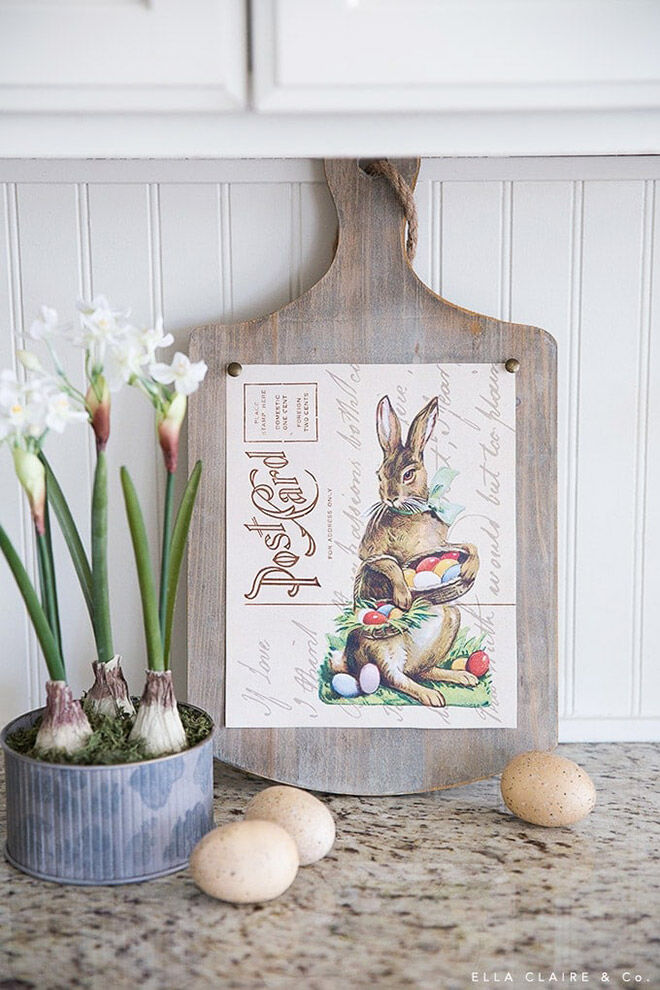 Earthy and rustic, yet pretty as a picture. This printable Easter postcard is a simple way to add some Easter flair to your kitchen or living room without too much fuss. Mount them on clipboards, chopping boards or just pop one on the fridge. (via Ella Claire & Co)
10. Egg Holders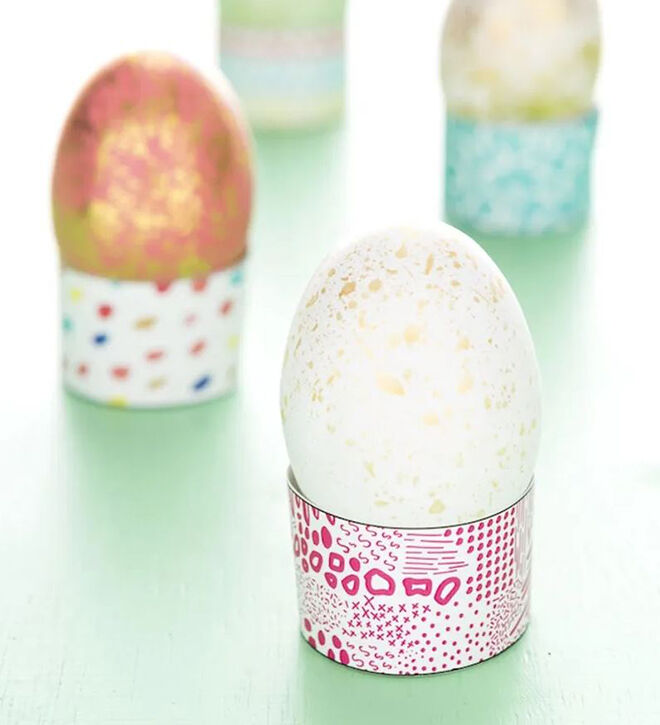 Give those Easter eggs the perfect perch this season. These free Easter printables include four glorious patterns and take mere seconds to put together. Try printing on thicker paper stock if you plan on using them for real eggs. ( via Brit Co)
11. The ultimate hunt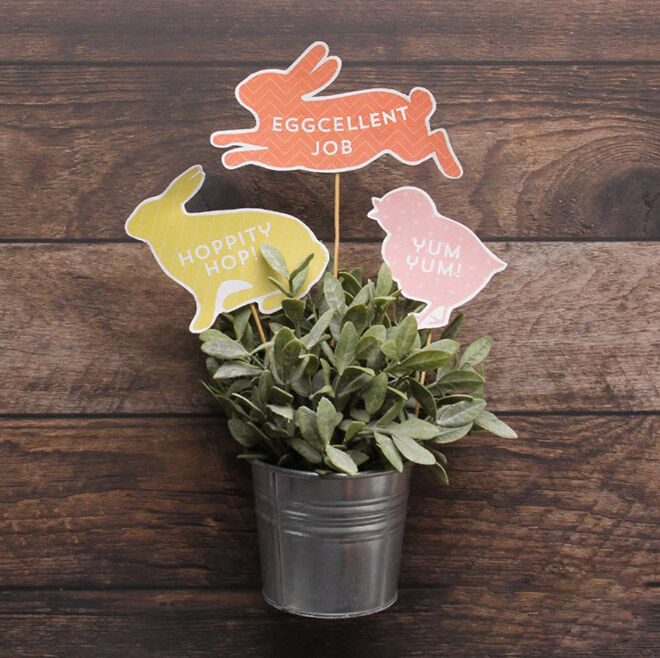 Want a beautiful Easter? Tinyme has all the gorgeous tools for making your Easter egg hunt truly spectacular. The complete set includes sweet bouncing bunnies, adorable signs to placing around the yard, arrows and more. (via Tinyme)
12. Easter treat boxes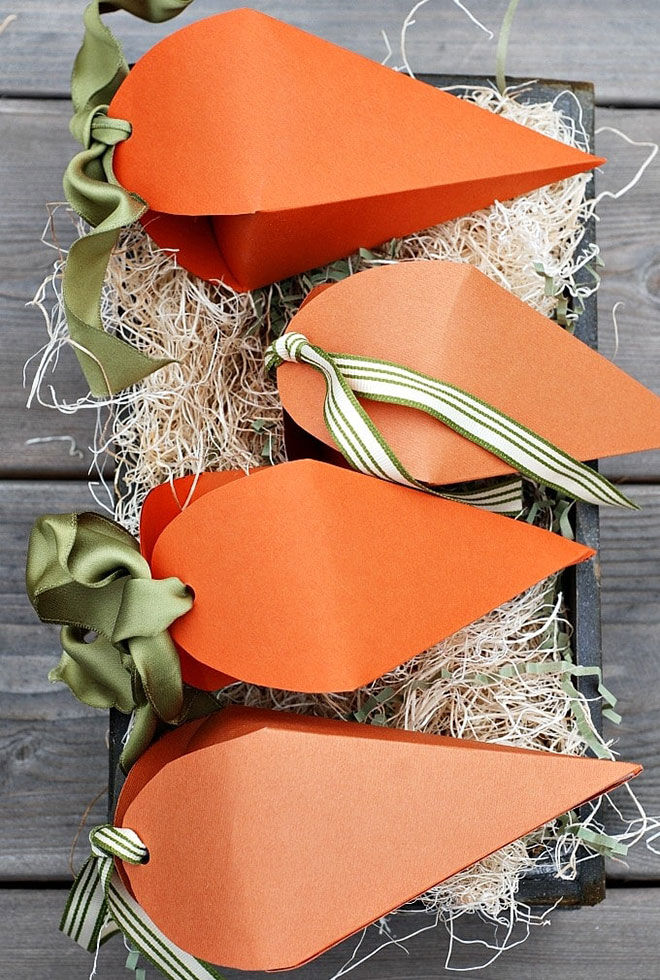 Here's a fun way to wrap up those Easter goodies! Bright, easy and oh-so-unique, these carrot gift boxes will have your friends and family grinning from ear to ear. (via Ella Claire & Co)
13. Easter Colouring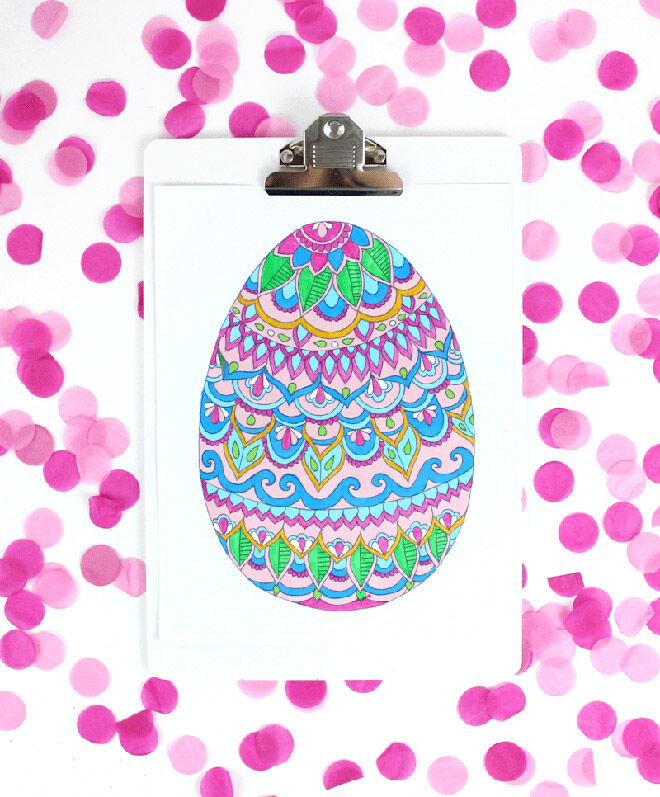 Little artists will be kept nice and busy with this beautifully detailed colouring page. Print out multiples so kids can experiment with different shades and tools. (via Line Across)
14. Easter Origami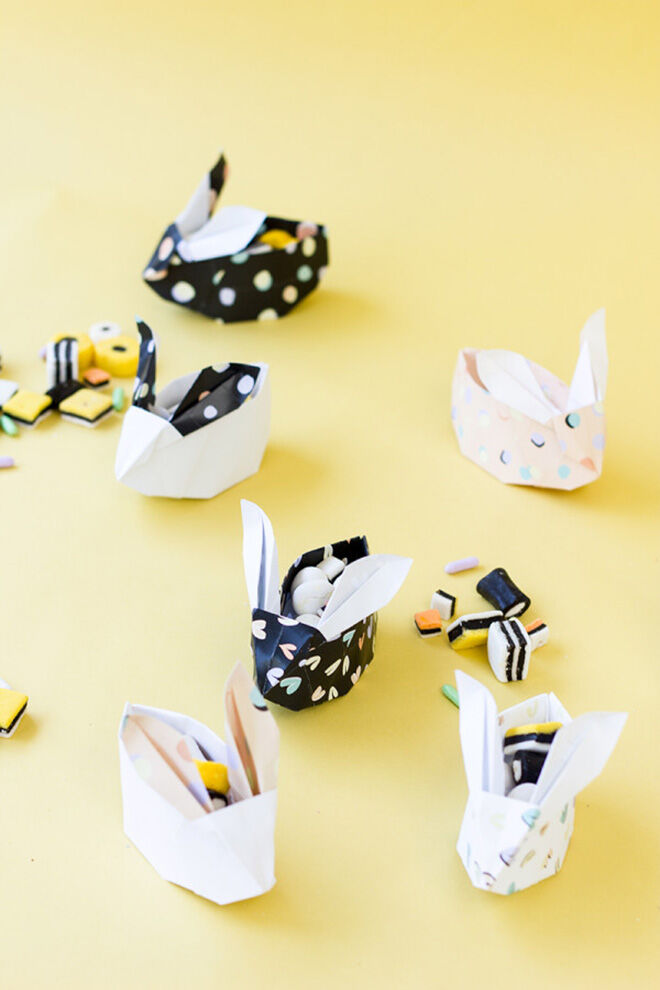 We're loving these hoppy little origami bunnies for delivering sweet treats to friends and decorating the house. Not only are they super cute, but they're also a great introduction to origami for younger kiddos. (via Studio DIY)
15. Carrot Cones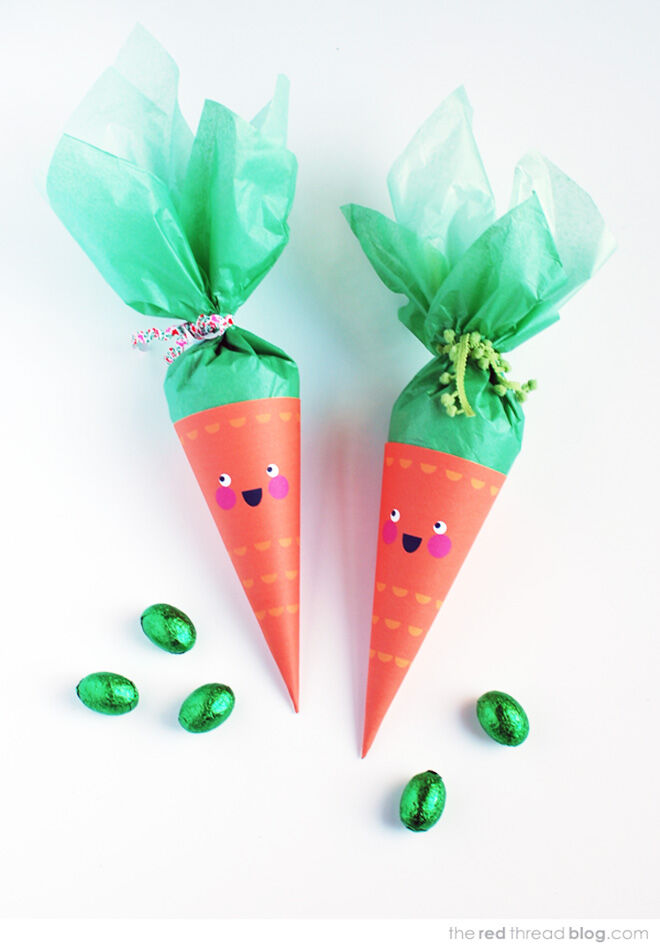 Carrot cones, anyone? These cuties only need some mid-weight paper, tissue paper and tape to become the perfect little gift boxes for mini eggs or other tiny treats. Don't forget some green ribbon for tying the top! (via We Are Scout/The Red Thread Blog)
16. Easter Egg Hunt Game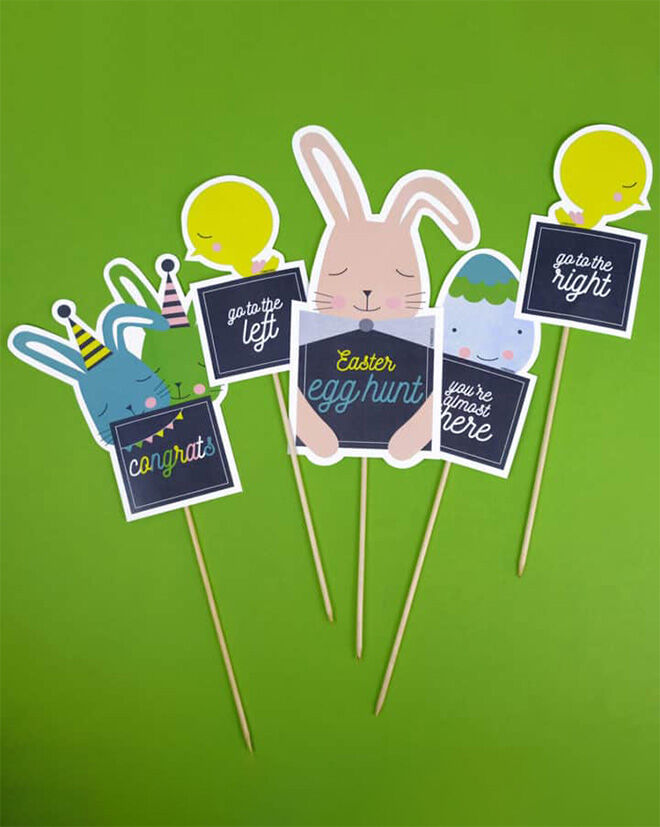 Grab yourself some bamboo skewers, and print out these signs for an Easter hunt the kids will absolutely love. The set includes four full-colour signs that are ready to print onto white paper stock. (via Hello Wonderful)
17. Easter Scavenger Hunt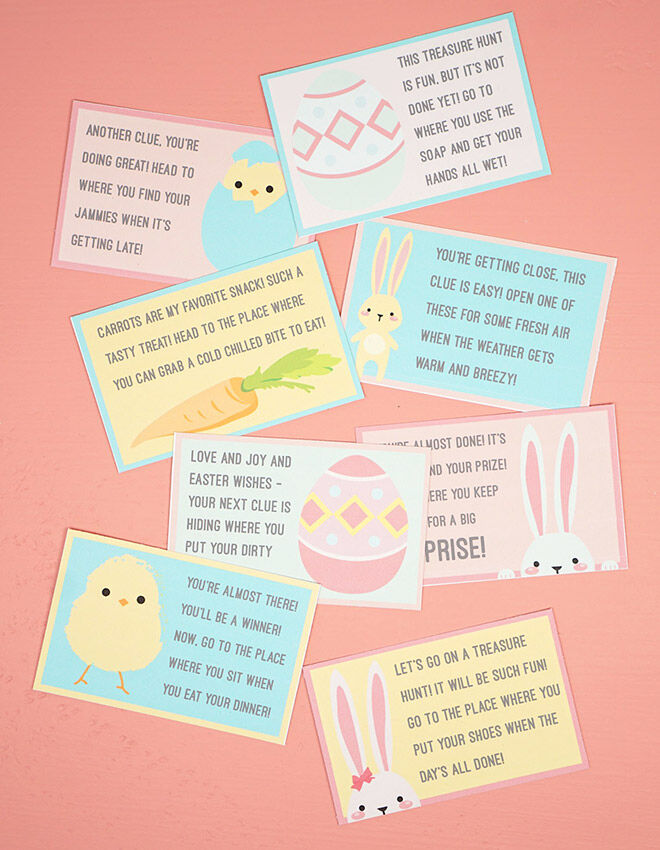 Scavenger hunts can take quite a lot of planning, but this set of free easter printables will have you sorted in no time. There are eight hunting cards included plus some tips on the blog page about where to hide each clue. (via Happiness is Homemade)
18. Bunny Banners

If you're after some Easter decor that will fit in with just about anything, it's hard to go wrong with this set of printables. In black, charcoal and natural hues, they're as contemporary as they are cute. (via Hanna Nilsson Designs)
19. Bunny Baskets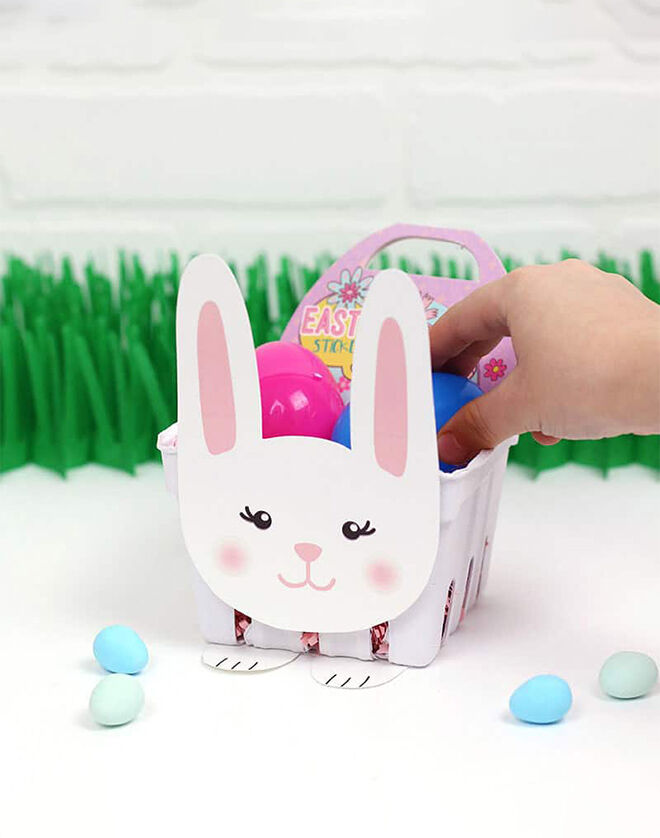 Spruce up your egg cartons or mini baskets with these sweet bunny faces and feet. The file is already coloured, so all you need to do is print, cut and stick. (via Persia Lou)
20. Pin the Tail on the Bunny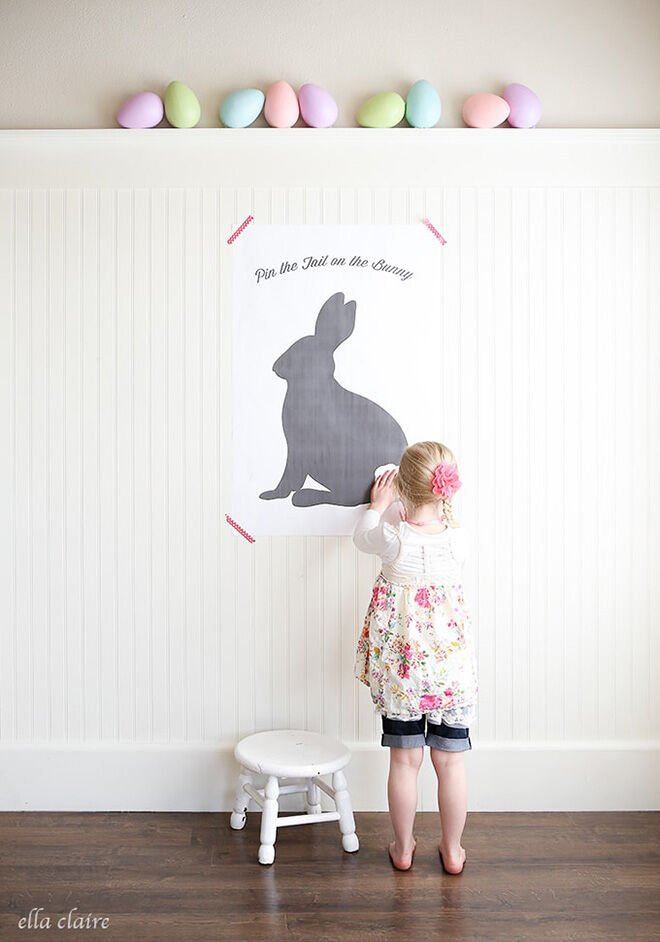 This is such a clever spin on a classic game that always has the kids (and the grown-ups) in stitches. The file comes ready to print in a large size, perfect for your Easter party. (via Ella Claire & Co)
21. Easter Tags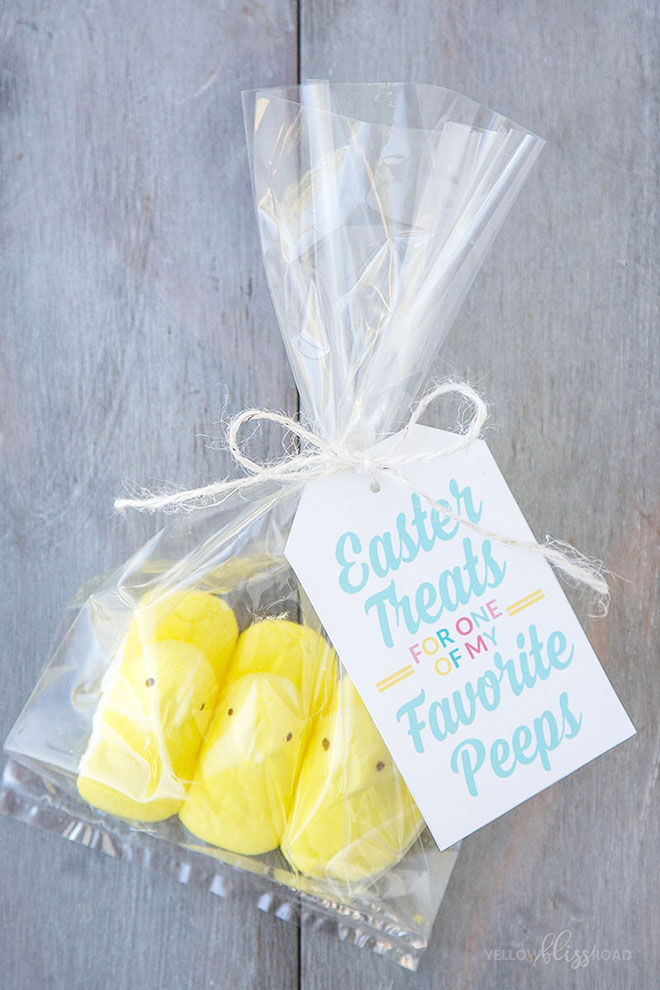 Treat your favourite peeps this Easter with a homemade bundle of goodness. Whether it's some delicious Easter biscuits or DIY chocolate eggs, everyone will love their easter treats that little bit more thanks to these super cute swing tags. (via Yellow Bliss Road)
22. Bunny Prints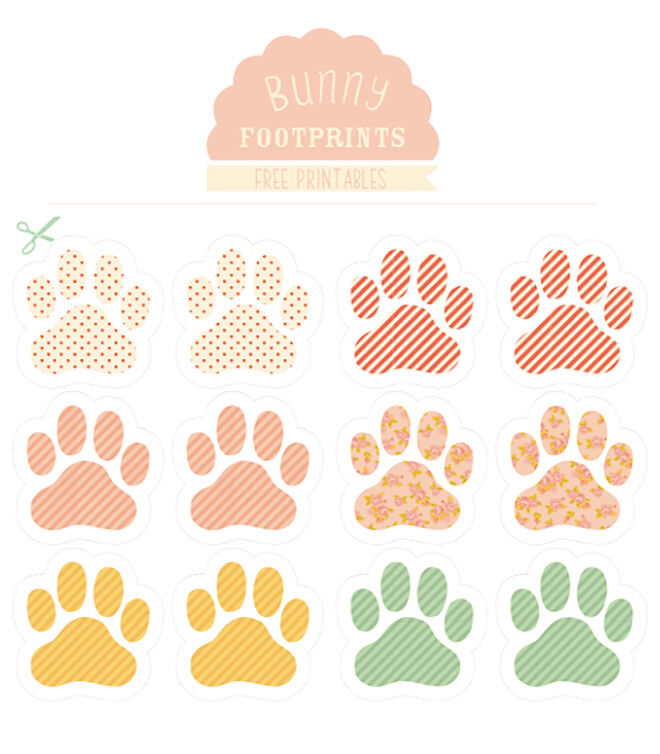 Print up these perfect paw prints and place them around the house for your little ones to discover on Easter morning! Already coloured, these prints are ready to print, cut and use. (via Love Mae)
23. Cute Cupcakes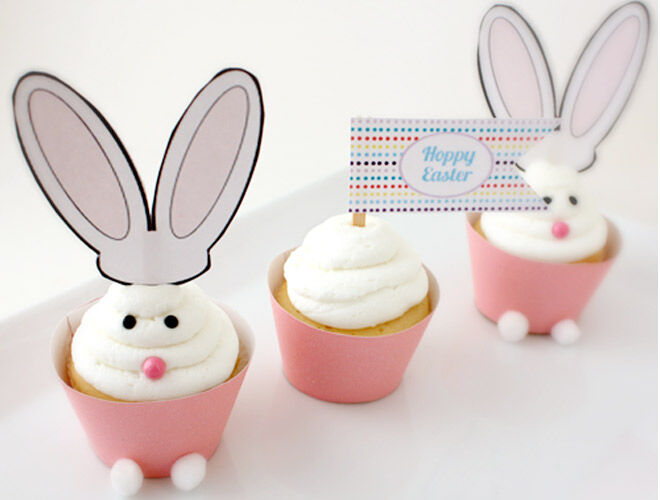 These bunny-themed cupcakes are almost too cute to eat! Well….almost. Turn your everyday cupcake treat into a hop-happy bunny with these pretty printables. (via Thirty Handmade Days)
24. Cute cones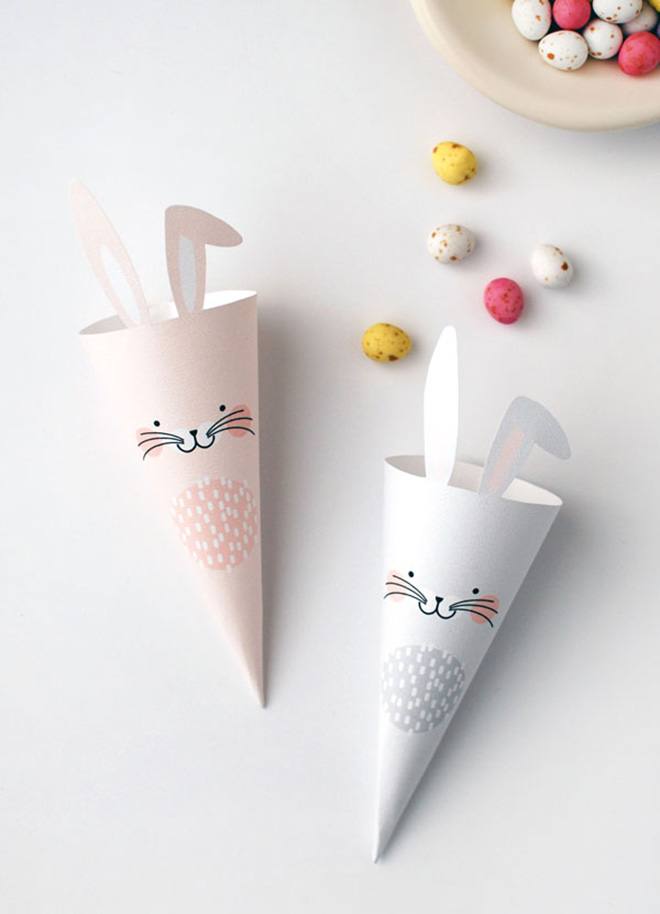 Good enough to gobble, these adorable bunny-themed cones are perfect for filling for treats and they're easy enough for kiddos to make themselves. (via We Are Scout)
---

Read next …
Thousands of Aussie mums in our Mum's Grapevine Facebook Groups are asking each other for recommendations on great gear for kids right now. And you can too! Join today.