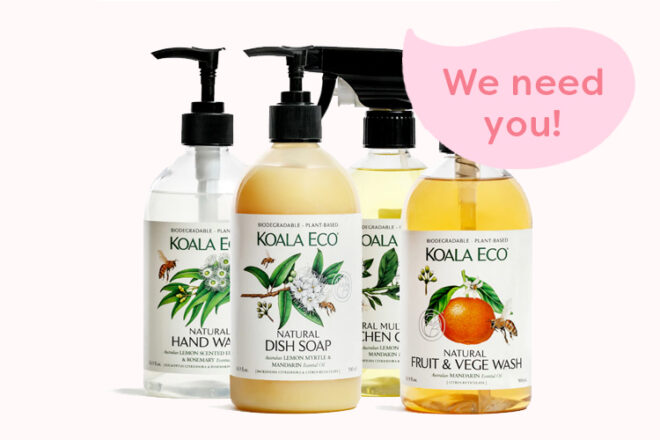 Hi mummas,
Welcome to the Mum's Grapevine product review program. We have loads of products for you to review and the best bit is you get to have your say and keep all the amazing things we send you.
This week we're looking for three (3) mums to try out the Koala Eco Kitchen Collection.
Safe for use around babies and animals, Koala Eco's range of household products harness the power of potent plant-based ingredients and Australian essential oils.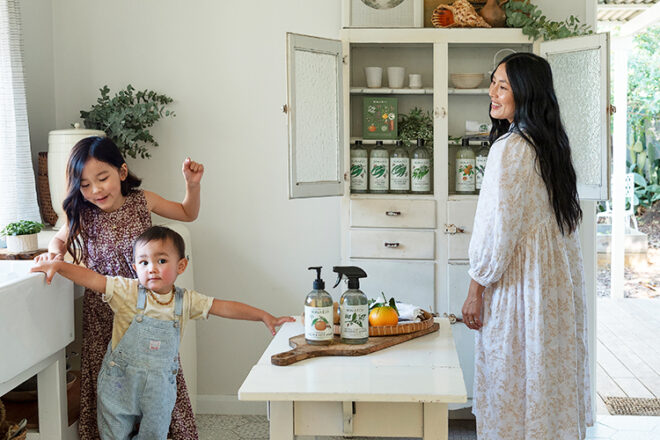 The hero of the Koala Eco Kitchen Collection is the Lemon Myrtle & Mandarin Multi-Purpose Kitchen Cleaner. Not only does it smell divine, it effortlessly cleans and removes 99.9% bacteria from food prep areas including the fridge, microwave and dishwasher, without the need for any toxic chemicals.
Also included in the Kitchen Collection is the Natural Fruit & Vege Wash that removes residual pesticides, oils, waxes and yucky farming chemicals from fruit and veg, a Natural Dish Soap tough enough to cut through grease and food particles, and an all-natural anti-bacterial hand wash.
All Koala Eco packaging is made using 100% post-consumer waste and is both refillable and recyclable.
Applications are now closed.
Three (3) mums will each receive the Koala Eco Kitchen Collection to try out at home, including 1 x 500ml Lemon Myrtle and Mandarin Dish Soap, 1 x 500ml Lemon Myrtle and Mandarin Multi-Purpose Kitchen Cleaner, 1 x 500ml Mandarin Fruit and Vege Wash and 1 x 500ml Rosalina and Peppermint Hand Wash.
All we ask in return is that you give an honest review including photos and/or videos using the products.
If you would like to participate, simply fill in your details below and you'll be notified via email if you've been selected.
Good luck!