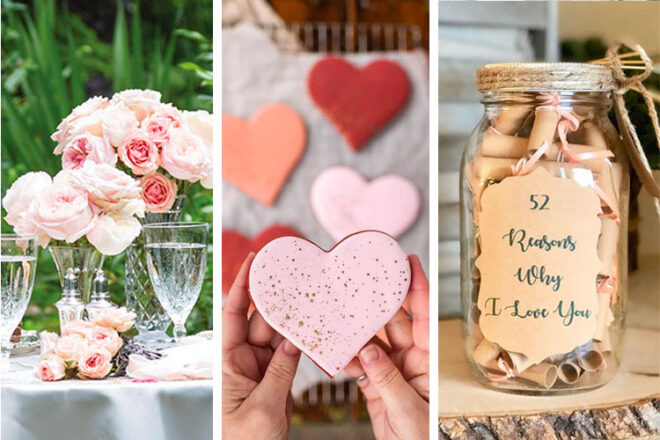 Get some ideas for your own mum, help the kids make something special for Granny … or drop a few casual hints to your husband! Here are some of our favourite ideas for meaningful and fun Mother's Day gifts.
1. Make a thumb-print heart canvas

A card or a canvas featuring hearts made from your family's fingerprints … it doesn't get more awww than this! KiwiCo makes this with her kids for Valentine's Day, but we think it would make a superb Mother's Day craft. (via KiwiCo)
2. Bake cookies with love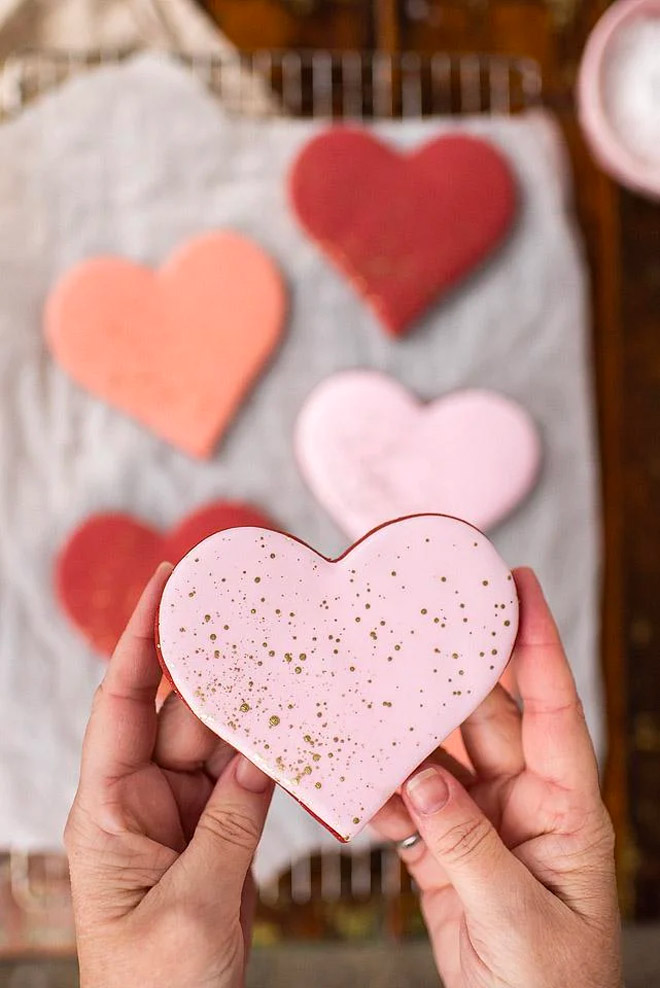 Make heart a list of words that describe your mum and write them in icing on some cookies.. (via XOXO Bella)
3. Fill a jar with your thoughts

This long-lasting gift is a jar filled with loving thoughts – one for every day of the year. Make your own personal notes, or if you get stuck for ideas, visit TheBumbleComb on Etsy and buy their custom jar and printable PDF with 52 Ways You Are The World's BEST Mother. (via TheBumbleComb)
4. Make a door hanger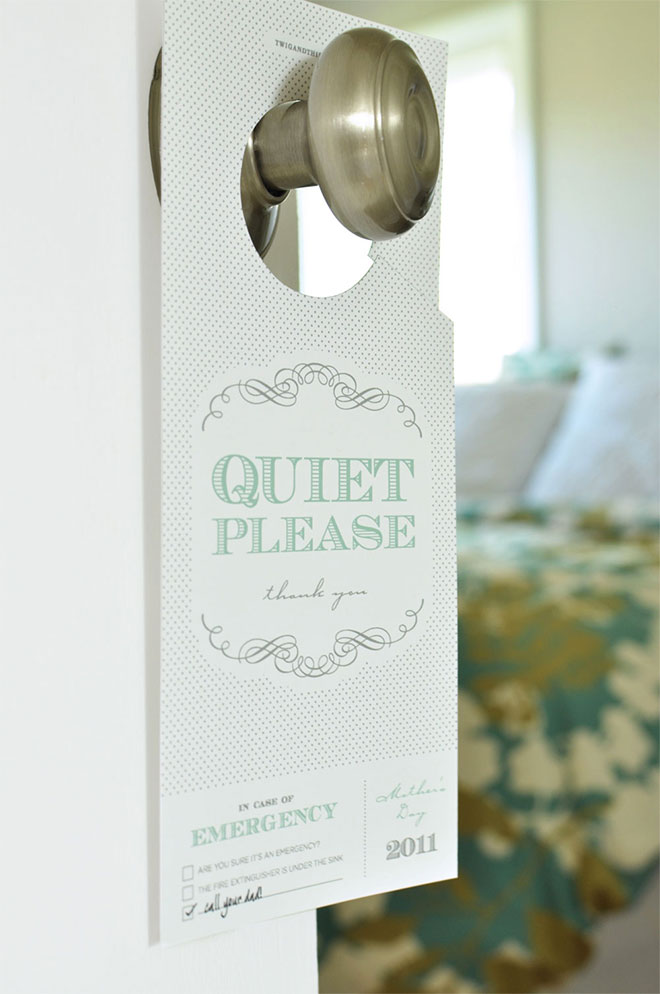 It's the gift every mum really wants – a sleep-in. Get this free printable door hanger! But husbands be warned – any woman worth her salt will be trying to hang this up every other day of the year too. (Hey, it's worth a shot …) (via Twig and Thistle)
5. Make cupcakes with cute toppers

How about having a girly tea party and baking cupcakes together? Make sure you top them off with these gorgeous printable cupcake toppers too! (via I Scream for Buttercream)
6. Frame printable wall art

A lovely sentiment and a beautiful illustration … and it's free from Li'l Magoolie! Simply download here, print and frame. (via Diaper Style Memoirs)
7. Decorate slipper cookies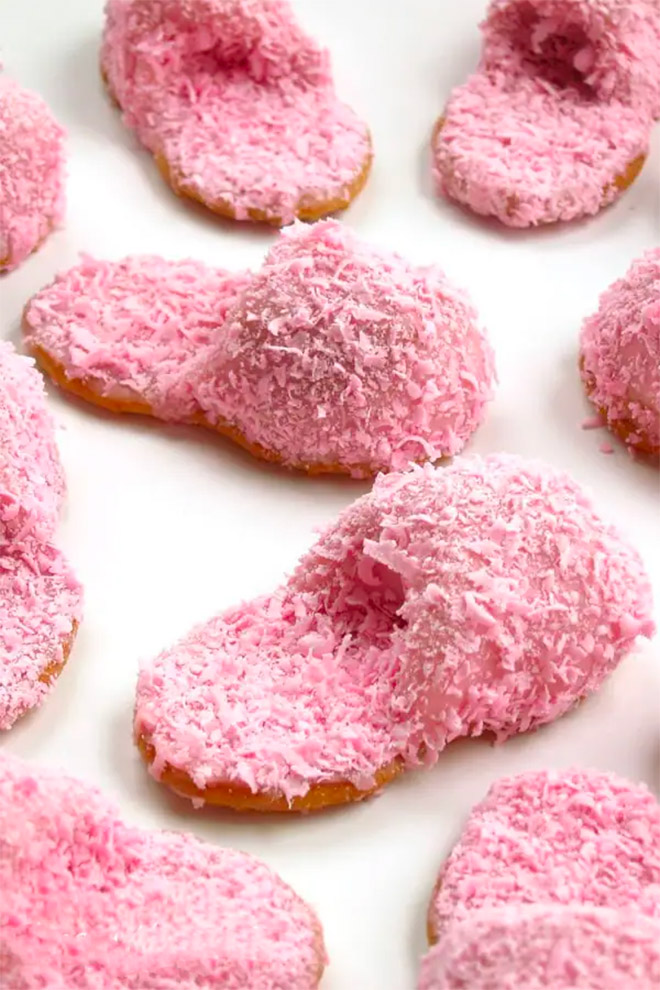 Slippers for Mother's Day is a bit of a cliche … but not when you can eat them! Decorate biscotti or other oval-shaped biscuits with icing and pink-tinted shredded coconut. (via Hungry Happenings)
8. Make a keepsake card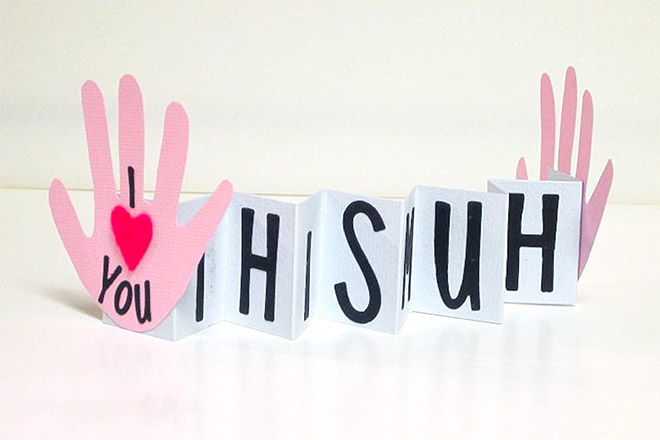 I love you thiiiiiiiiis much! Use your child's handprints to make this clever card – you'll look back in years to come and wonder how their little hands were ever that tiny!  (via Snap Craft Much)
9. Have a garden party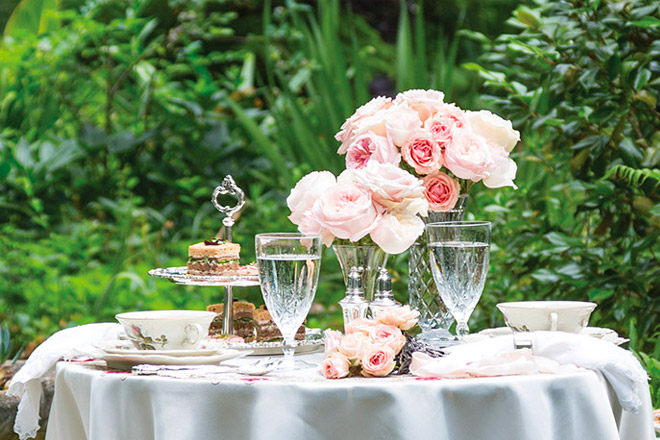 If the weather is fine, get outside and host a garden party filled with yummy treats and presents. Get some inspiration at I Am Baker (including a delicious rainbow cake made with real fruit cake layers instead of food dye – gorgeous!) (via Victoria Mag)
10. Make pretty paper flowers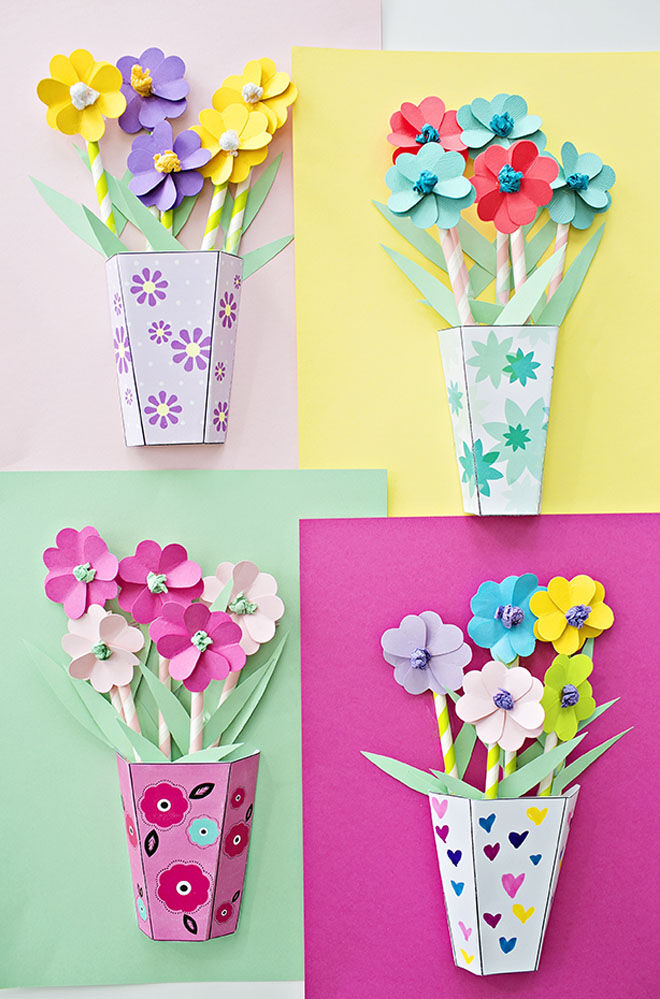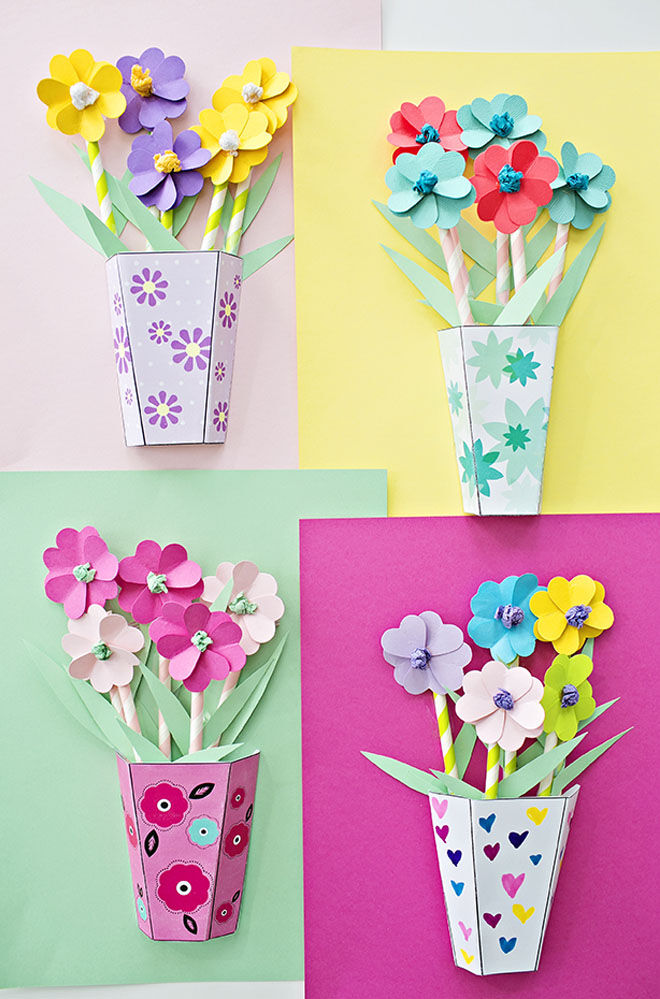 A modern bouquet that lasts forever. Older kids can help with cutting out circles and gluing the petals. We have lots more Paper Flower ideas here. (via Hello, Wonderful)

11. Cook bacon, egg and toast cups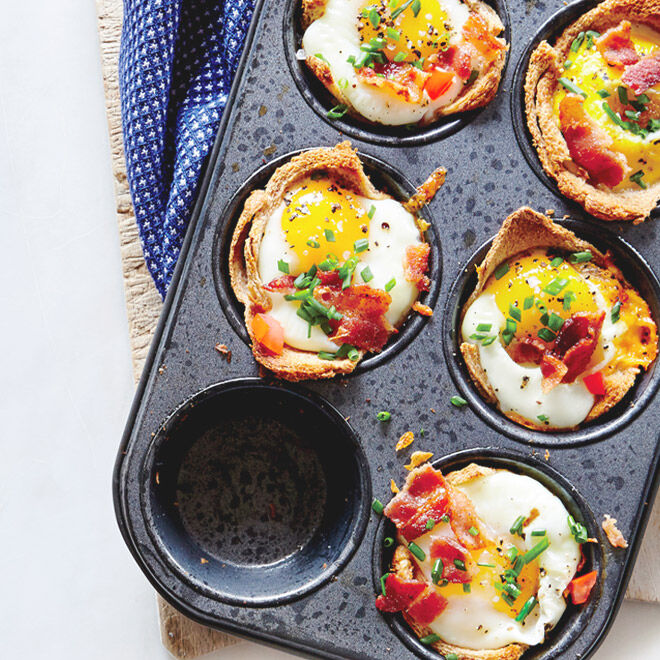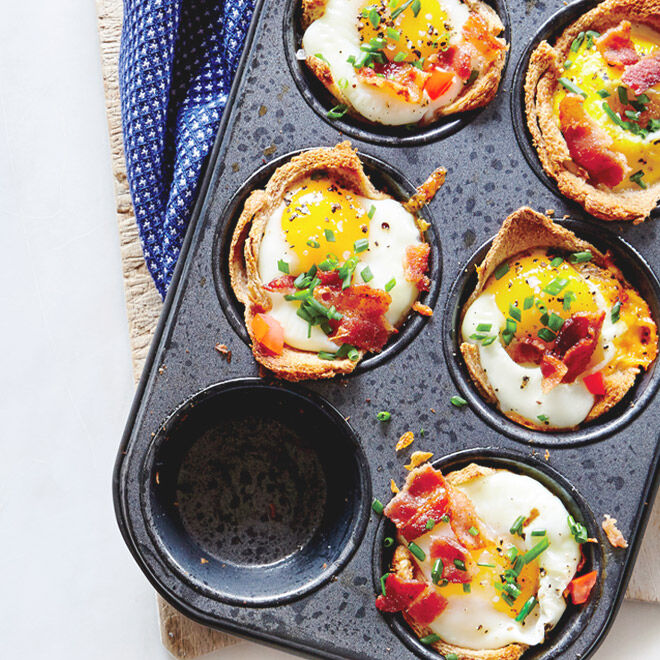 Everything that's good about breakfast, all wrapped up in an individual serve! We'd be pretty happy to eat these in bed on Mother's Day. Get the recipe here. (via My Recipes)
12. Make homemade bath fizzes

Bath bomb molds can be bought online or a silicone ice-cube tray will do the trick to create these beautiful bath bombs that can be customised with food dye and essential oils. Get the instructions here. (via Creative Green Living)
13. Grow flower pot desserts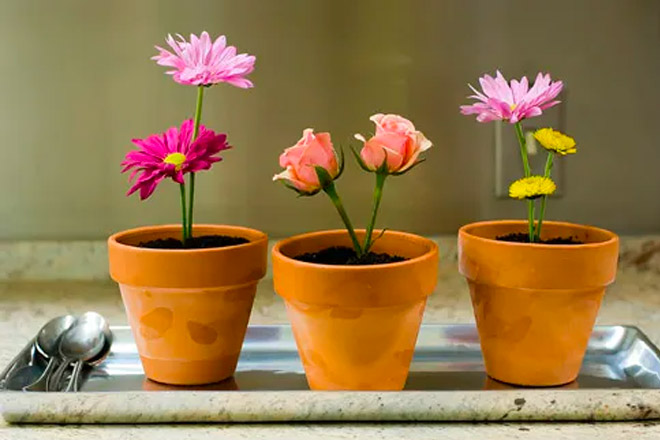 Layers of cake, ice-cream and crushed-up Oreo cookies (for the 'soil') are placed in a flowerpot with a fresh flower in the centre. Yum! Get the instructions here (via The Pioneer Woman)
14. Personalise a breakfast tray

Breakfast in bed is even more special when it comes on a hand-decorated tray. Add your own personalised touch with a handwritten message too. Get instructions for this idea here. (via brit+co)
15. Pour tea cup candles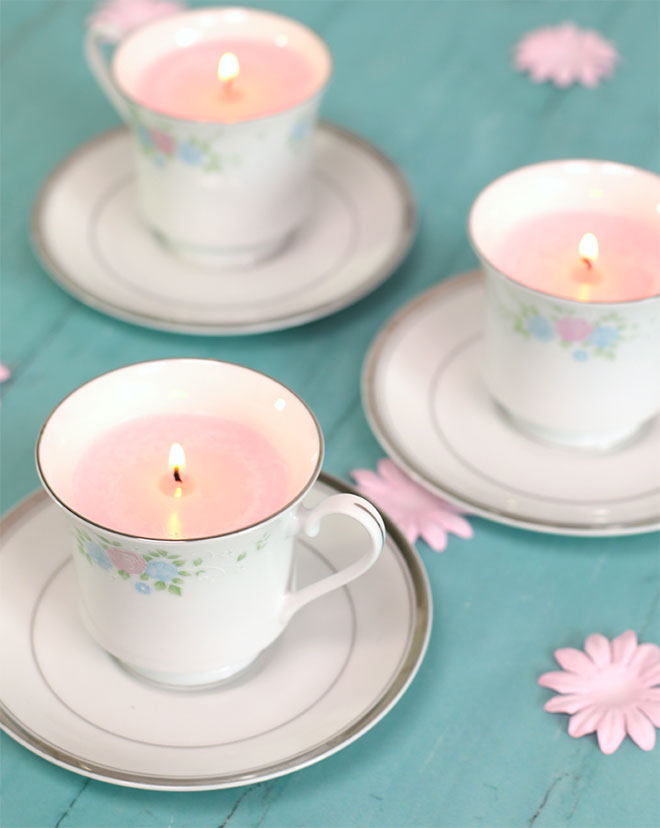 Scour op shops for beautiful vintage tea cups and then make your own collection of candles. Get the instructions here. (via The Craft Patch).
Read next …
If you're keen to drop the family a few more hints about Mother's Day pressies, have a look these articles next.