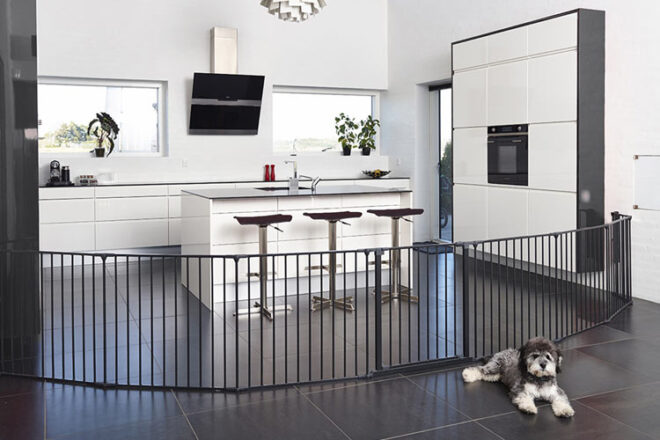 Toddlers have a knack for roaming where they shouldn't. And once walking, parents either need to grow eyes in the back of their heads or secure the zone as a child-friendly space. Thankfully, BabyDan has a baby safety gate for every kind of space.
Danish designer BabyDan is a global leader in home child safety and makes all its products in Denmark from top-quality materials.
From large open-plan living spaces with fireplaces to rental properties with sliding doors, BabyDan's large and innovative range of baby gates has a safeguarding solution for every setting.
What you need to know about baby gate safety
Before you buy your safety gate, there are some important safety factors to be aware of. Here's a summary:
Spaces between bars – The gaps between bars must be between 50 mm and 95 mm so that babies aren't able to force their heads through the spaces.
Bars must be verticle – Gate slats must always be in a vertical position as children are surprisingly adept mountaineers and love to climb.
Avoid horizontal base bars for stairs – A bar across the base of a safety gate poses a tripping risk which is especially dangerous around stairs.
Avoid diamond-shaped accordion gates – This can cause a child's head or clothes to become trapped.
Refer to Product Safety Australia for more buying tips and details.
OUR PICK OF THE CROP
10 child safety gates for all spaces
With so many baby gates in Australia, it's hard to know where to start, so we consulted the HUGE Mum's Grapevine Facebook community which brands they love.
In no particular order, here are 10 of the more popular safety gates.
Safety gates for rentals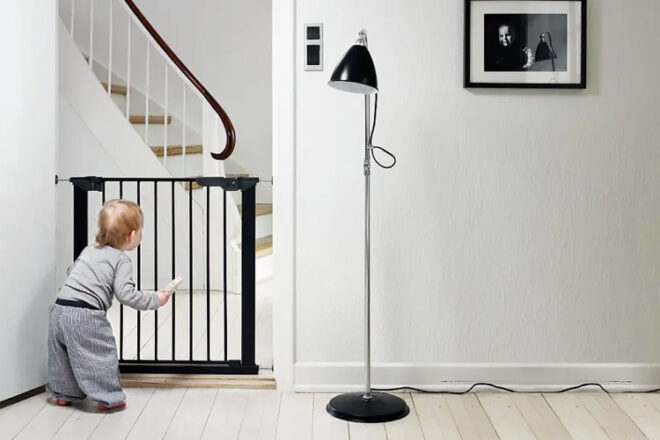 With no tools required for installation, the BabyDan Premier is a temporary safety solution, ideal for renters. We love that the pressure-fitted gate opens in both directions and up to six extensions are available for wider doorways and areas.
Width: 73.5cm – 79.6cm (without extensions)
Height: 72cm
---
Baby gates for stairs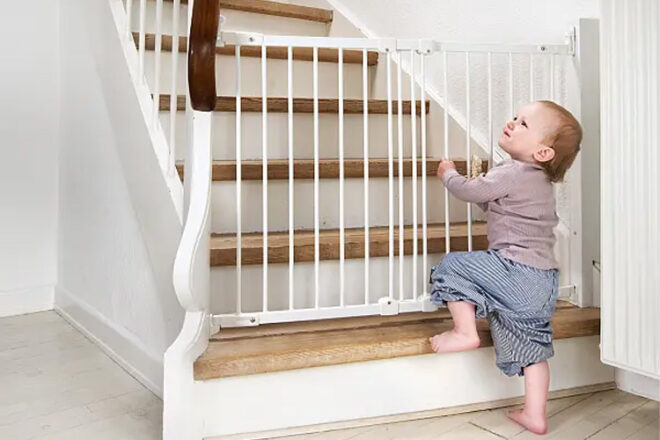 With no base bar to trip over, the BabyDan Flexi Fit is ultra-flexible, fitting the outside and inside of doorways, even at a diagonal angle. We love that it's width-adjustable and removes in seconds without having to reach for the toolbox.
Width: 67cm – 105.5cm – 106.8cm (without extensions)
Height: 74cm
---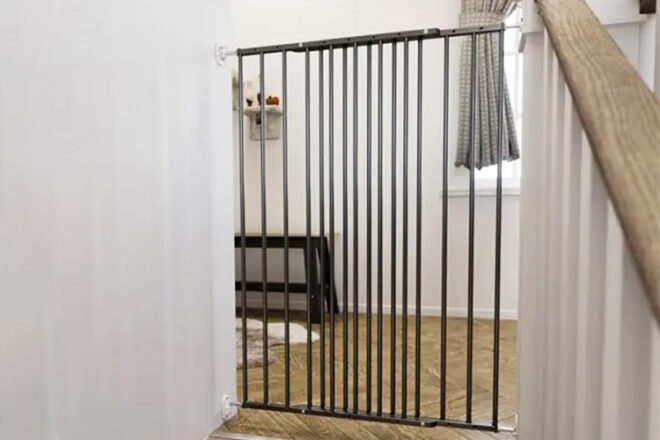 With a double safety-lock system, the MultiDan opens in both directions with one hand and has a quick-release system for easy detachment. We love that there's no bottom bar to pose a tripping risk around stairs.
Width: 62.5cm – 106.8cm (without extensions)
Height: 72.5cm
---
Baby gates for tight spaces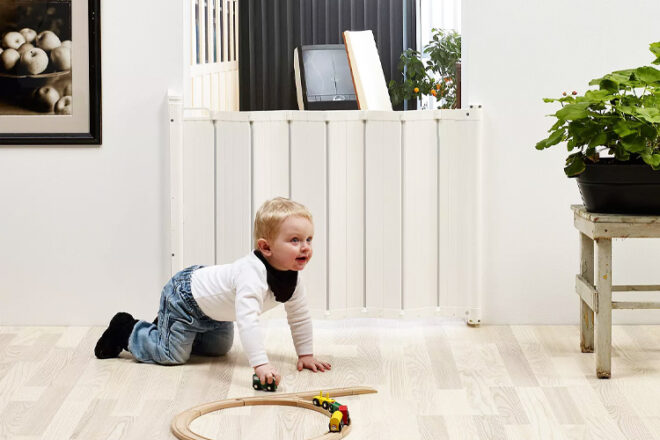 Unlike any other baby gate, the Guard-Me retractable gate folds back to one side rather than swinging open or closed, making it almost invisible when not in use. We love that it's perfect for tight spaces and mounts to the inside or outside of any opening.
Width: 64.5cm – 89cm (without extensions)
Height: 69cm
---
Safety gates for extra-wide spaces
As its name suggests, the BabyDan Flex Configure System comes in various sizes to suit your space perfectly. We love that there is the option to add more than one gate to properly secure hazard hotspots like the kitchen, fireplace or balcony doors.
Width: large: 90cm – 223cm / extra-large: 90cm – 279cm (without extensions)
Height: 70.5cm
---
Portable, standalone playpens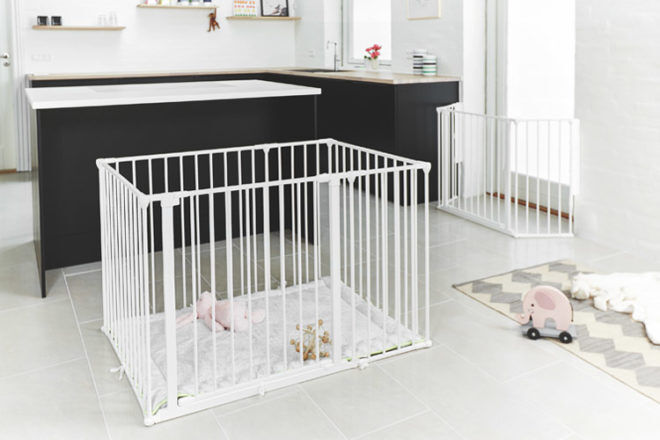 With a padded floor mat included, the BabyDan Flex Playpen makes a cosy standalone barrier that keeps bubs safe and protected while you answer the phone. We love that as little ones grow, the modular system easily adapts to your needs.
Width: 70cm x 102.cm
Height: 70.5cm
---
Baby gates for fireplaces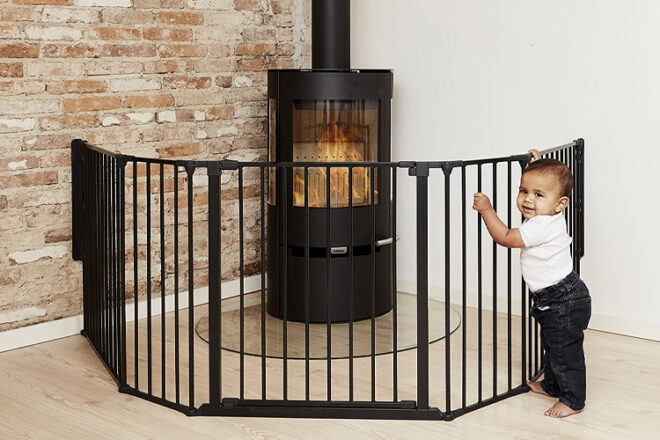 Ideal for securing any type of fireplace, the Flex Configure System comes in two different extendable sizes and an extra-tall version. We love how versatile this gate is – use it as a fireplace barrier in the early years and a room divider later.
Width: large: 90cm – 223cm / extra-large: 90cm – 279cm (without extensions)
Height: 70.5cm
---
Extra-tall safety gates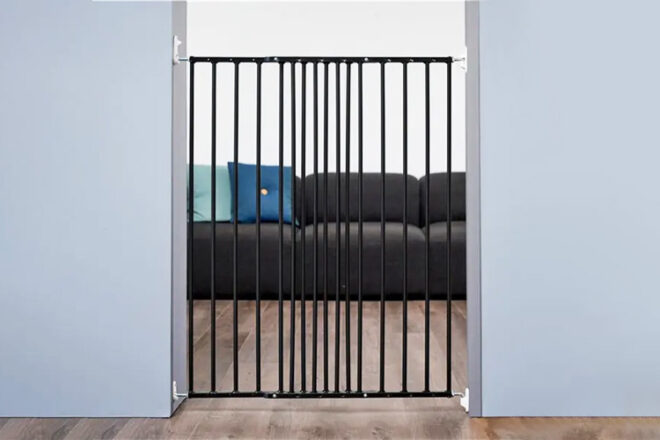 Available in black or white, the BabyDan MultiDan Extra Tall is a wall-mounted, extendable safety gate that works well as both a baby gate and a pet gate. We love the handy quick-release system for fast detachment and that it opens in both directions.
Width: 62.5cm – 106.8cm (without extensions)
Height: 103cm
---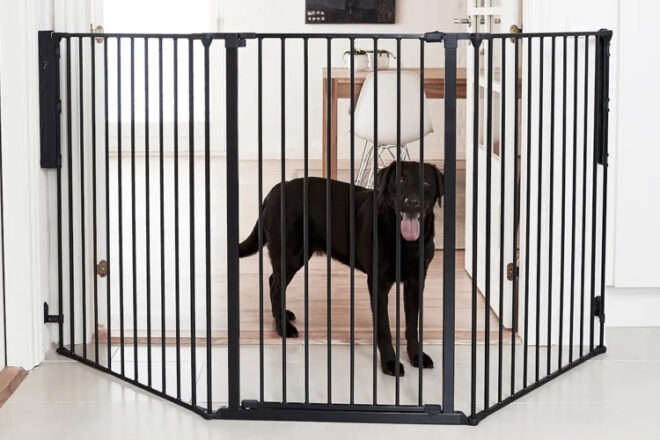 Flexible and adjustable, this extra-tall edition of the Flex Configure is completely modular and fantastic for pets as well as bubs. We love being able to add additional panels and gates where required.
Width: 90cm – 221cm (without extensions)
Height: 104.5cm
---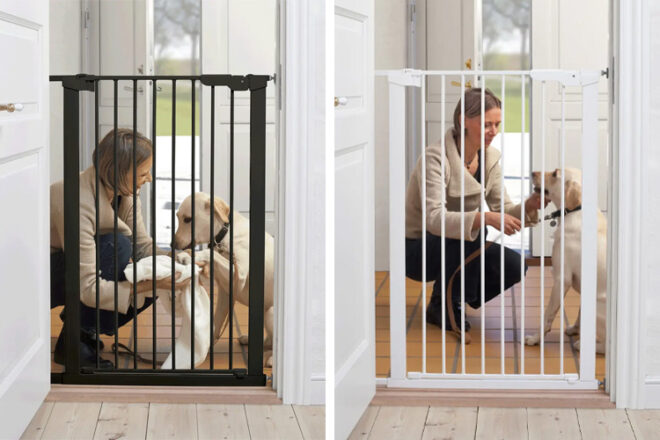 A true pressure-fitted gate, the extra tall Premier Pressure Gate offers the convenience of tool-free installation and extra height for protecting older toddlers and pets. We love that it opens in both directions with just one hand.
Width: 73.5cm – 79.6cm (without extensions)
Height: 104.5cm
---
Know a gate we should add to our list? Contact us and let us know, we've been curating Australia's best baby products into helpful lists for over 15 years and we're always happy to support new brands and businesses.
Ask other mums
Looking for a maternity sports bra and still not sure if any of these are right for you? Join the huge #MGVfam in one of our private Facebook Baby Groups and ask thousands of other mums with babies the same age as yours which ones they recommend. Join today!
We want you to know
At Mum's Grapevine, we're a team of passionate mums (with 19 kids!) and over 15 years of experience researching and writing about all things baby and parenting. Our reviews of recommended products, like the ones in this post, may include paid inclusions, but we promise to only feature products that we truly believe in and have used or seen ourselves. We want to ensure that you, our readers have access to the latest and greatest products in the parenting world, and we're committed to maintaining our high standards of quality and honesty. See our Disclosure Policy.
Thank you for trusting us to be your go-to source for all things baby-related.
xoxo